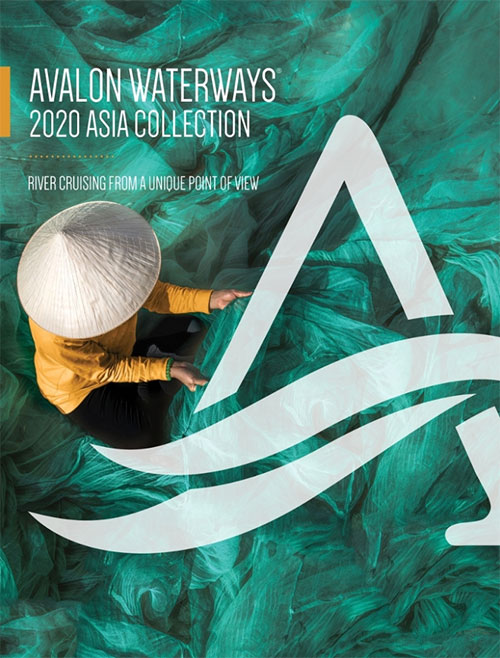 Guaranteed Low Prices on Globus Vacations - Asia River Cruises
NEW! 2020 Now Open for Sale! Journey with Avalon Waterways along the legendary rivers of Asia to experience an unforgettable fusion of distinctive sights, colorful cultures and ancient traditions. Discover the magic of Asia and the Avalon advantage.
Escorted Tour
Escorted Tours are our most popular product. Escorted tours are normally conducted by a tour director who takes care of all services from beginning to end of the tour. Escorted tours normally include flights, hotels, transportation, transfers to the airport/hotel, most meals and sightseeing. Escorted Tours are conducted by motor-coach and usually no more than 2 nights are spent in each location visited. Escorted Tours are usually fast-paced and prices include much of the sightseeing.
River Cruise
A River Cruise is basically a tour that is conducted on a small or medium sized cruise-ship and travels via rivers instead of rail or road.
Tour Itinerary
Days
Operator
Quality
Style
Starts
Ends
Price

Spirit of the Ganges 2020

07

Days

Globus

First Class

River Cruise
1 - Light

8+ years old
36
Kolkata
Kolkata
India
$2,809View Tour

Mekong Discovery (Southbound) 2022

08

Days

Globus

First Class

River Cruise
1 - Light

8+ years old
36
Phnom Penh
Ho Chi Minh
Cambodia, Vietnam
$3,139View Tour

Mekong Discovery (Northbound) 2022

08

Days

Globus

First Class

River Cruise
1 - Light

8+ years old
36
Ho Chi Minh
Phnom Penh
Cambodia, Vietnam
$3,129View Tour

Mekong Discovery (Northbound) 2021

08

Days

Globus

First Class

River Cruise
1 - Light

8+ years old
36
Ho Chi Minh
Phnom Penh
Cambodia, Vietnam
$2,429View Tour

Mekong Discovery (Southbound) 2021

08

Days

Globus

First Class

River Cruise
1 - Light

8+ years old
36
Phnom Penh
Ho Chi Minh
Cambodia, Vietnam
$2,429View Tour

Mekong Discovery (Northbound)

08

Days

Globus

First Class

River Cruise
1 - Light

8+ years old
36
Ho Chi Minh
Siem Reap
Cambodia, Vietnam
$2,339View Tour

Mekong Discovery (Southbound)

08

Days

Globus

First Class

River Cruise
1 - Light

8+ years old
36
Siem Reap
Ho Chi Minh
Cambodia, Vietnam
$2,339View Tour

Colorful India & the Ganges River 2020

13

Days

Globus

First Class

River Cruise
1 - Light

8+ years old
56
New Delhi
Kolkata
India
$5,249View Tour

16 reviews

Fascinating Vietnam, Cambodia & the Mekong River (Southbound) 2021

13

Days

Globus

First Class

River Cruise
1 - Light

8+ years old
36
Siem Reap
Ho Chi Minh
Cambodia, Vietnam
$3,559View Tour

16 reviews

Fascinating Vietnam, Cambodia & the Mekong River (Northbound) 2021

13

Days

Globus

First Class

River Cruise
1 - Light

8+ years old
36
Ho Chi Minh
Siem Reap
Cambodia, Vietnam
$3,539View Tour

Colorful India & the Ganges River with Kathmandu 2020

16

Days

Globus

First Class

River Cruise
1 - Light

8+ years old
56
New Delhi
Kathmandu
India, Nepal
$6,069View Tour

Fascinating Vietnam, Cambodia & the Mekong River with Bangkok (Southbound) 2022

16

Days

Globus

First Class

River Cruise
1 - Light

8+ years old
36
Ho Chi Minh
Bangkok
Cambodia, Thailand, Vietnam
$5,059View Tour

Fascinating Vietnam, Cambodia & the Mekong River with Hanoi & Ha Long Bay (Northbound) 2022

16

Days

Globus

First Class

River Cruise
1 - Light

8+ years old
36
Hanoi
Siem Reap
Cambodia, Vietnam
$5,049View Tour

Fascinating Vietnam, Cambodia & the Mekong River with Bangkok (Northbound) 2022

16

Days

Globus

First Class

River Cruise
1 - Light

8+ years old
36
Ho Chi Minh
Bangkok
Cambodia, Thailand, Vietnam
$5,009View Tour

16 reviews

Fascinating Vietnam, Cambodia & the Mekong River with Hanoi & Ha Long Bay (Southbound) 2021

16

Days

Globus

First Class

River Cruise
1 - Light

8+ years old
36
Hanoi
Ho Chi Minh
Cambodia, Vietnam
$4,299View Tour

16 reviews

Fascinating Vietnam, Cambodia & the Mekong River with Hanoi & Ha Long Bay (Northbound) 2021

16

Days

Globus

First Class

River Cruise
1 - Light

8+ years old
36
Hanoi
Siem Reap
Cambodia, Vietnam
$4,269View Tour

16 reviews

Fascinating Vietnam, Cambodia & the Mekong River with Bangkok (Southbound) 2021

16

Days

Globus

First Class

River Cruise
1 - Light

8+ years old
36
Siem Reap
Bangkok
Cambodia, Thailand, Vietnam
$4,259View Tour

16 reviews

Fascinating Vietnam, Cambodia & the Mekong River with Bangkok (Northbound) 2021

16

Days

Globus

First Class

River Cruise
1 - Light

8+ years old
36
Ho Chi Minh
Bangkok
Cambodia, Thailand, Vietnam
$4,219View Tour

16 reviews

Fascinating Vietnam, Cambodia & The Mekong River With Hanoi & Ha Long Bay - Northbound 2020

16

Days

Globus

First Class

River Cruise
1 - Light

8+ years old
36
Hanoi
Siem Reap
Cambodia, Vietnam
$4,169View Tour

16 reviews

Fascinating Vietnam, Cambodia & The Mekong River With Hanoi & Ha Long Bay - Southbound 2020

16

Days

Globus

First Class

River Cruise
1 - Light

8+ years old
36
Hanoi
Ho Chi Minh
Cambodia, Vietnam
$4,149View Tour

16 reviews

Fascinating Vietnam, Cambodia & The Mekong River With Bangkok - Northbound 2020

16

Days

Globus

First Class

River Cruise
1 - Light

8+ years old
36
Ho Chi Minh
Bangkok
Cambodia, Thailand, Vietnam
$4,109View Tour

16 reviews

Fascinating Vietnam, Cambodia & The Mekong River With Bangkok - Southbound 2020

16

Days

Globus

First Class

River Cruise
1 - Light

8+ years old
36
Siem Reap
Bangkok
Cambodia, Thailand, Vietnam
$4,089View Tour

Colorful India & the Ganges River with Southern India & Varanasi 2020

18

Days

Globus

First Class

River Cruise
1 - Light

8+ years old
56
Cochin
Kolkata
India
$6,629View Tour

The Heart of Cambodia & Vietnam – (Northbound) 2021

18

Days

Globus

First Class

River Cruise
1 - Light

8+ years old
36
Ho Chi Minh
Hanoi
Cambodia, Vietnam
$5,899View Tour

The Heart of Cambodia & Vietnam (Southbound) 2021

18

Days

Globus

First Class

River Cruise
1 - Light

8+ years old
36
Siem Reap
Hanoi
Cambodia, Vietnam
$5,889View Tour

The Heart of Cambodia & Vietnam – (Northbound) 2020

18

Days

Globus

First Class

River Cruise
1 - Light

8+ years old
36
Ho Chi Minh
Hanoi
Cambodia, Vietnam
$4,889View Tour

The Heart of Cambodia & Vietnam (Southbound) 2020

18

Days

Globus

First Class

River Cruise
1 - Light

8+ years old
36
Siem Reap
Hanoi
Cambodia, Vietnam
$4,869View Tour

Fascinating Vietnam, Cambodia & the Mekong River with Hanoi, Ha Long Bay & Bangkok (Southbound) 2022

19

Days

Globus

First Class

River Cruise
2 - Classic

8+ years old
36
Hanoi
Bangkok
Cambodia, Thailand, Vietnam
$5,789View Tour

Fascinating Vietnam, Cambodia & the Mekong River with Hanoi, Ha Long Bay & Bangkok (Northbound) 2022

19

Days

Globus

First Class

River Cruise
2 - Classic

8+ years old
36
Hanoi
Bangkok
Cambodia, Thailand, Vietnam
$5,759View Tour

16 reviews

Fascinating Vietnam, Cambodia & the Mekong River with Hanoi, Ha Long Bay & Bangkok (Southbound) 2021

19

Days

Globus

First Class

River Cruise
1 - Light

8+ years old
36
Hanoi
Bangkok
Cambodia, Thailand, Vietnam
$4,959View Tour

16 reviews

Fascinating Vietnam, Cambodia & the Mekong River with Hanoi, Ha Long Bay & Bangkok (Northbound) 2021

19

Days

Globus

First Class

River Cruise
1 - Light

8+ years old
36
Hanoi
Bangkok
Cambodia, Thailand, Vietnam
$4,939View Tour

16 reviews

Fascinating Vietnam, Cambodia & The Mekong River With Hanoi, Ha Long Bay & Bangkok - Northbound 2020

19

Days

Globus

First Class

River Cruise
1 - Light

8+ years old
36
Hanoi
Bangkok
Cambodia, Thailand, Vietnam
$4,779View Tour

16 reviews

Fascinating Vietnam, Cambodia & The Mekong River With Hanoi, Ha Long Bay & Bangkok - Southbound 2020

19

Days

Globus

First Class

River Cruise
1 - Light

8+ years old
36
Hanoi
Bangkok
Cambodia, Thailand, Vietnam
$4,759View Tour

The Heart Of Cambodia & Vietnam With Luang Prabang - Northbound 2020

20

Days

Globus

First Class

River Cruise
1 - Light

8+ years old
36
Ho Chi Minh
Luang Prabang
Cambodia, Laos, Vietnam
$5,259View Tour

The Heart Of Cambodia & Vietnam With Luang Prabang - Southbound 2020

20

Days

Globus

First Class

River Cruise
1 - Light

8+ years old
36
Siem Reap
Luang Prabang
Cambodia, Laos, Vietnam
$5,239View Tour

Colorful India & the Ganges River with Southern India, Varanasi & Kathmandu 2020

21

Days

Globus

First Class

River Cruise
1 - Light

8+ years old
56
Cochin
Kathmandu
India, Nepal
$7,439View Tour

The Heart of Cambodia & Vietnam with Bangkok (Northbound) 2021

21

Days

Globus

First Class

River Cruise
1 - Light

8+ years old
36
Bangkok
Hanoi
Cambodia, Thailand, Vietnam
$6,569View Tour

The Heart of Cambodia & Vietnam with Bangkok (Southbound) 2021

21

Days

Globus

First Class

River Cruise
1 - Light

8+ years old
36
Bangkok
Hanoi
Cambodia, Thailand, Vietnam
$6,559View Tour

The Heart of Cambodia & Vietnam with Bangkok (Northbound) 2020

21

Days

Globus

First Class

River Cruise
1 - Light

8+ years old
36
Bangkok
Hanoi
Cambodia, Thailand, Vietnam
$5,529View Tour

The Heart of Cambodia & Vietnam with Bangkok (Southbound) 2020

21

Days

Globus

First Class

River Cruise
1 - Light

8+ years old
36
Bangkok
Hanoi
Cambodia, Thailand, Vietnam
$5,509View Tour

The Heart Of Cambodia & Vietnam With Hue & Danang - Northbound 2020

22

Days

Globus

First Class

River Cruise
1 - Light

8+ years old
36
Ho Chi Minh
Da Nang
Cambodia, Vietnam
$5,889View Tour

The Heart Of Cambodia & Vietnam With Hue & Danang - Southbound 2020

22

Days

Globus

First Class

River Cruise
1 - Light

8+ years old
36
Siem Reap
Da Nang
Cambodia, Vietnam
$5,869View Tour

The Heart of Cambodia & Vietnam with Bangkok & Luang Prabang (Northbound) 2020

23

Days

Globus

First Class

River Cruise
1 - Light

8+ years old
36
Bangkok
Luang Prabang
Cambodia, Laos, Thailand, Vietnam
$5,859View Tour

The Heart of Cambodia & Vietnam with Bangkok & Luang Prabang (Southbound) 2020

23

Days

Globus

First Class

River Cruise
1 - Light

8+ years old
36
Bangkok
Luang Prabang
Cambodia, Laos, Thailand, Vietnam
$5,839View Tour

The Heart of Cambodia & Vietnam with Bangkok, Hue & Danang (Northbound) 2020

25

Days

Globus

First Class

River Cruise
1 - Light

8+ years old
36
Bangkok
Da Nang
Cambodia, Thailand, Vietnam
$6,529View Tour

The Heart of Cambodia & Vietnam with Bangkok, Hue & Danang (Southbound) 2020

25

Days

Globus

First Class

River Cruise
1 - Light

8+ years old
36
Bangkok
Da Nang
Cambodia, Thailand, Vietnam
$6,509View Tour