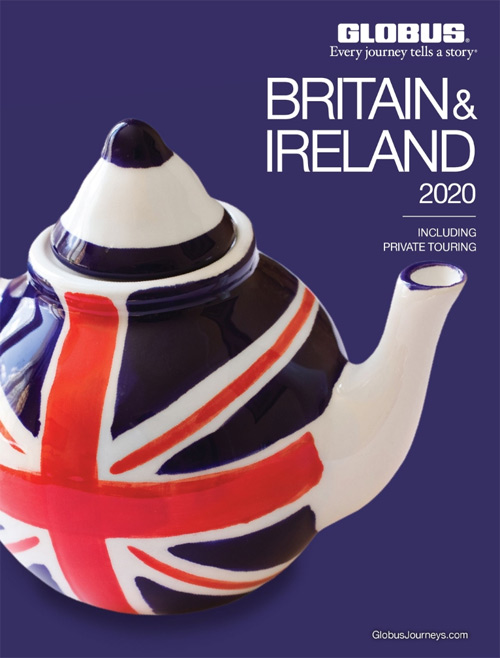 Guaranteed Low Prices on Globus Vacations - Britain and Ireland
NEW! 2020 Now Open for Sale! You have arrived. You're free to indulge your curiosities and explore Britain and Ireland. Get out there and encounter new cultures. Learn new things for the simple joy of learning. Revive your sences as you savor local flavors.
Escorted Tour
Escorted Tours are our most popular product. Escorted tours are normally conducted by a tour director who takes care of all services from beginning to end of the tour. Escorted tours normally include flights, hotels, transportation, transfers to the airport/hotel, most meals and sightseeing. Escorted Tours are conducted by motor-coach and usually no more than 2 nights are spent in each location visited. Escorted Tours are usually fast-paced and prices include much of the sightseeing.
Tour Itinerary
Days
Operator
Quality
Style
Starts
Ends
Price

Irish Manors and Castles 2020

08

Days

Globus

First Class

Escorted
1 - Light

8+ years old
44
Shannon
Dublin
Ireland, North Ireland
$1,804View Tour

12 reviews

From Ireland's Ancient East to the Wild Atlantic Way 2020

09

Days

Globus

First Class

Escorted
1 - Light

8+ years old
44
Dublin
Limerick
Ireland
$1,994View Tour

Scottish Highland Fling 2020

10

Days

Globus

First Class

Escorted
1 - Light

8+ years old
44
Edinburgh
Glasgow
Scotland
$2,564View Tour

94 reviews

Bonnie Scotland with London 2020

10

Days

Globus

First Class

Escorted
1 - Light

8+ years old
44
Glasgow
London
England, Scotland
$2,388View Tour

300 reviews

Essential Britain & Ireland 2020

10

Days

Globus

First Class

Escorted
3 - Explorer

8+ years old
44
London
London
England, Ireland, North Ireland, Scotland, Wales
$2,374View Tour

108 reviews

Emerald Isle 2020

10

Days

Globus

First Class

Escorted
1 - Light

8+ years old
44
Dublin
Dublin
Ireland
$2,279View Tour

280 reviews

Introduction to Ireland with London 2020

10

Days

Globus

First Class

Escorted
1 - Light

8+ years old
44
Dublin
London
England, Ireland
$2,193View Tour

314 reviews

Britain Sampler with Paris 2020

12

Days

Globus

First Class

Escorted
2 - Classic

8+ years old
44
London
Paris
England, France, Scotland, Wales
$3,101View Tour

89 reviews

Essential Britain 2020

12

Days

Globus

First Class

Escorted
2 - Classic

8+ years old
44
London
London
England, Scotland, Wales
$2,469View Tour

300 reviews

Essential Britain & Ireland with Paris 2020

13

Days

Globus

First Class

Escorted
3 - Explorer

8+ years old
44
London
Paris
England, France, Ireland, North Ireland, Scotland, Wales
$3,398View Tour

108 reviews

Emerald Isle with Belfast 2020

13

Days

Globus

First Class

Escorted
1 - Light

8+ years old
44
Dublin
Belfast
Ireland, North Ireland
$3,153View Tour

27 reviews

From the Shannon to the Thames 2020

13

Days

Globus

First Class

Escorted
3 - Explorer

8+ years old
44
Limerick
London
England, Ireland, North Ireland, Scotland
$3,020View Tour

82 reviews

Highlights of Britain & Ireland 2020

15

Days

Globus

First Class

Escorted
2 - Classic

8+ years old
44
London
London
England, Ireland, North Ireland, Scotland, Wales
$3,390View Tour