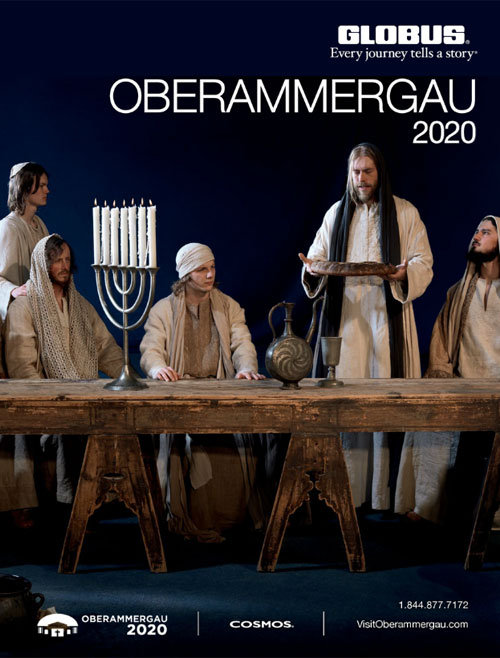 Guaranteed Low Prices on Globus Vacations - Oberammergau 2020
NEW! Now Open for Sale! Ranging from faith-based to fun-based, the Globus family of brands offers a variety of travel styles and vacations to visit charming Oberammergau. On these special vacations, guests enjoy first-class seating at the Passion Play, accommodations in the heart of Oberammergau, and a dedicated onsite office to help guests make the most of their stay in this charming city.
Escorted Tour
Escorted Tours are our most popular product. Escorted tours are normally conducted by a tour director who takes care of all services from beginning to end of the tour. Escorted tours normally include flights, hotels, transportation, transfers to the airport/hotel, most meals and sightseeing. Escorted Tours are conducted by motor-coach and usually no more than 2 nights are spent in each location visited. Escorted Tours are usually fast-paced and prices include much of the sightseeing.
Tour Itinerary
Days
Operator
Quality
Style
Starts
Ends
Price

20 reviews

German Vista with Oberammergau 2020

08

Days

Globus

First Class

Escorted
1 - Light

8+ years old
44
Berlin
Munich
Germany
$2,709View Tour

9 reviews

Top of Switzerland with Oberammergau 2020

09

Days

Globus

First Class

Escorted
1 - Light

8+ years old
44
Zurich
Munich
Austria, Germany, Switzerland
$4,399View Tour

14 reviews

Bavarian Highlights with Oberammergau 2020

09

Days

Globus

First Class

Escorted
1 - Light

8+ years old
44
Munich
Munich
Germany
$3,249View Tour

Catholic Central Europe with Oberammergau–Faith–Based Travel 2020

09

Days

Globus

First Class

Escorted
2 - Classic

8+ years old
44
Munich
Frankfurt
Austria, Germany, Switzerland
$3,159View Tour

The European Reformation with Oberammergau–Faith–Based Travel 2020

11

Days

Globus

First Class

Escorted
1 - Light

8+ years old
44
Berlin
Munich
Germany
$3,919View Tour

69 reviews

Spectacular Switzerland with Oberammergau 2020

12

Days

Globus

First Class

Escorted
1 - Light

8+ years old
44
Zurich
Munich
Austria, Germany, Switzerland
$5,109View Tour

252 reviews

The Best Of Switzerland With Oberammergau 2020

12

Days

Globus

First Class

Escorted
1 - Light

8+ years old
44
Zurich
Munich
Austria, Germany, Italy, Liechtenstein, Switzerland
$4,939View Tour

248 reviews

German Highlights With Oberammergau 2020

12

Days

Globus

First Class

Escorted
1 - Light

8+ years old
44
Frankfurt
Frankfurt
Germany
$4,329View Tour

224 reviews

Imperial Splendors With Oberammergau 2020

12

Days

Globus

First Class

Escorted
3 - Explorer

8+ years old
44
Munich
Munich
Austria, Czech Republic, Germany, Hungary, Slovakia
$4,039View Tour

4 reviews

Grand Catholic Italy With Oberammergau 2020

13

Days

Globus

First Class

Escorted
1 - Light

8+ years old
44
Rome
Munich
Austria, Germany, Italy
$3,989View Tour

249 reviews

The Best of Austria & Switzerland with Oberammergau 2020

14

Days

Globus

First Class

Escorted
2 - Classic

8+ years old
44
Vienna
Munich
Austria, Germany, Switzerland
$5,279View Tour