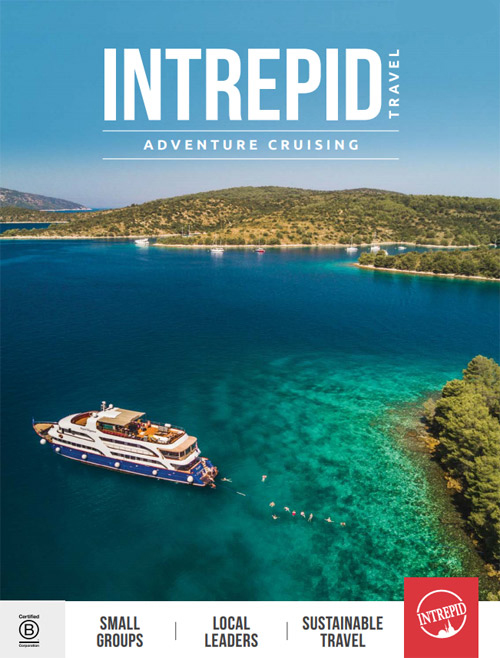 Call Us For Award-winning Value and Service on Intrepid Vacations - Adventure Cruising
NEW! 2023 Now Open for Sale! Adventure Cruising is about exploring remote islands in the Andaman sea and taking in Montenegro's surprising fjordic landscape. It's about discovering hidden jungle waterfalls and wandering through little Croatian laneways with your leader. It's about traveling with a small group, so when we pull into port or drop anchor at the islands, you'll get to know the locals, rather than outnumber them.
Small Ship Cruising
Small ship cruises take travelers to destinations that big ships cannot visit due to size restrictions, such as to the exotic Galapagos Islands, small ports along the Mediterranean and Adriatic and island hopping in Greece to name a few. Small ships are able to maneuver in small coves and channels, and can dock at more intimate ports, making for a fascinating travel experience. Small ship cruising is also perfect for travelers who want to visit bigger destinations, but want more personalized, one on one service onboard. While small ships might not feature the same activities on board, they do offer a relaxed and intimate experience for cruisers.
Tour Itinerary
Days
Operator
Quality
Style
Starts
Ends
Price



Cruising the Islands of Greece and Turkey

08

Days

Intrepid

Budget

Small Ship Cruising
1 - Light

15+ years old
48
Athens
Athens
Greece, Turkey
$3,064View Tour

Book With Flexibility

Cruising in the Seychelles (Garden of Eden)

08

Days

Intrepid

First Class

Small Ship Cruising
1 - Light

7+ years old
44
Mahe
Mahe
Seychelles
$3,120View Tour

Book With Flexibility




Cruising Costa Rica and Panama - Panama to Costa Rica

08

Days

Intrepid

Budget

Small Ship Cruising
2 - Classic

7+ years old
50
Panama City
Puntarenas
Panama
$3,430View Tour

Book With Flexibility




Cruising Costa Rica & Panama: Costa Rica to Panama

08

Days

Intrepid

Budget

Small Ship Cruising
2 - Classic

7+ years old
50
Puntarenas
Panama City
Panama
$3,430View Tour

Book With Flexibility




Classic Galapagos - Southern Islands (Queen Beatriz)

10

Days

Intrepid

Budget

Small Ship Cruising
3 - Explorer

15+ years old
16
Quito
Quito
Ecuador, Galapagos
$5,864View Tour

Book With Flexibility




Classic Galapagos - South Eastern Islands (Queen Beatriz)

10

Days

Intrepid

Budget

Small Ship Cruising
3 - Explorer

15+ years old
16
Quito
Quito
Ecuador, Galapagos
$5,744View Tour

Book With Flexibility




Classic Galapagos - Central Southern Islands (Queen Beatriz)

10

Days

Intrepid

Budget

Small Ship Cruising
3 - Explorer

15+ years old
16
Quito
Quito
Ecuador, Galapagos
$5,981View Tour

Book With Flexibility




Classic Galapagos - Central Eastern Islands (Queen Beatriz)

10

Days

Intrepid

Budget

Small Ship Cruising
3 - Explorer

15+ years old
16
Quito
Quito
Ecuador, Galapagos
$5,981View Tour

Book With Flexibility




Treasures of Galapagos - Western & Central Islands (Grand Queen Beatriz)

13

Days

Intrepid

Budget

Small Ship Cruising
3 - Explorer

15+ years old
16
Quito
Quito
Ecuador, Galapagos
$7,708View Tour

Book With Flexibility




Grand Galapagos - (Queen Beatriz)

17

Days

Intrepid

Budget

Small Ship Cruising
3 - Explorer

15+ years old
16
Quito
Quito
Ecuador, Galapagos
$10,838View Tour

Book With Flexibility