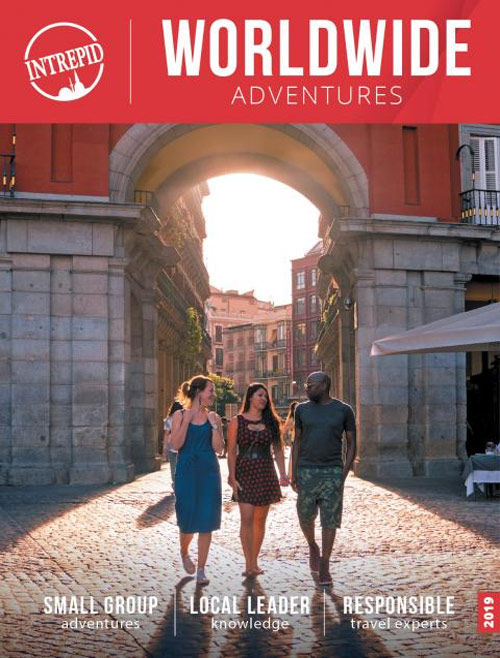 Call Us For Award-winning Value and Service on Intrepid Vacations - Worldwide Adventures
NEW! Now Open for Sale! Intrepid now covering more of the globe than ever before - north to south, east to west. Mountains to the lowlands, cities to the seas. So whether it's the Arctic's apex or Antarctica's underside, Africa's wilds or Europe's elegance you seek - Intrepid's there. There to get you off the beaten track, behind the scenes and really in the thick of the destination that's calling you.
Escorted Tour
AffordableTours.com offers escorted tours to all of your favorite countries around the world. Escorted tours normally include hotel stays, transportation, most meals, sightseeing and cultural activities. They are led by a tour director who will be with your group from the beginning to end of the tour and they handle all of the logistics, check ins, attraction tickets and local guides that are included on your trip. People that enjoy escorted tours are travelers who don't have time or the knowhow to plan an all-encompassing, multiday overseas trip, people who travel in luxury or like to save money, and people who like to see the must-see sites while also experiencing the local culture. Escorted tours range in group size, pace, and age, so there is an escorted tour for every type of traveler. From solo travelers to groups of friends, to multi-generational families and adventure seekers, we have the escorted tour for you!
Guided/Hosted Tour
Guided tours are similar to escorted tours but travelers are led by a local representative at each destination, rather than a Tour Director conducting the entire trip. Travelers may not be escorted to all activities and functions and will have a lot more freedom during the day. Just like escorted tours, some meals and sightseeing plus all of your accommodations and transportations will be included on your tour. Guided tours are perfect for travelers who want some freedom, but still prefer the comfort of having a guide with you part of them time.
Independent Vacation
An independent vacation combines the best parts of escorted and guided tours, with the freedom and flexibility of solo traveling. On an independent vacation, you will not be part of a group, which gives you the ability to spend your days exactly how you like. A "local host" or "local guide" in each of the cities you visit is available to answer any questions and to give plenty of guidance along the way. Depending on the tour operator and your destination, your local host may visit your hotel, meet you at the airport or be available by phone. He or she can make sightseeing, shopping and dining suggestions as well as give you the "inside scoop" on all of the most important things to see and do while you're in a foreign city.
Small Ship Cruising
Small ship cruises take travelers to destinations that big ships cannot visit due to size restrictions, such as to the exotic Galapagos Islands, small ports along the Mediterranean and Adriatic and island hopping in Greece to name a few. Small ships are able to maneuver in small coves and channels, and can dock at more intimate ports, making for a fascinating travel experience. Small ship cruising is also perfect for travelers who want to visit bigger destinations, but want more personalized, one on one service onboard. While small ships might not feature the same activities on board, they do offer a relaxed and intimate experience for cruisers.
Tour Itinerary
Days
Operator
Quality
Style
Starts
Ends
Price



Spitsbergen Highlights (Ocean Adventurer)

07

Days

Intrepid

Budget

Small Ship Cruising
1 - Light

8+ years old
132
Oslo
Oslo
Norway
$6,596View Tour



Spitsbergen in Depth

14

Days

Intrepid

Budget

Small Ship Cruising
1 - Light

8+ years old
132
Oslo
Oslo
Norway
$12,910View Tour



Exploring Spitsbergen via the Faroes and Jan Mayen

14

Days

Intrepid

Budget

Small Ship Cruising
1 - Light

8+ years old
132
Aberdeen
Longyearbyen
Norway, Scotland
$8,510View Tour



Spitsbergen, East Greenland and Iceland - Northbound

15

Days

Intrepid

Budget

Small Ship Cruising
1 - Light

8+ years old
176
Reykjavik
Oslo
Greenland, Iceland, Norway
$13,235View Tour



Spitsbergen, Jan Mayen, Greenland and Iceland

18

Days

Intrepid

Budget

Small Ship Cruising
1 - Light

8+ years old
132
Oslo
Reykjavik
Greenland, Iceland, Norway
$16,165View Tour
Tour and Cruise
Some destinations need to be experienced on land and by cruise. Tour and cruise vacations let you combine the best of both worlds. During the land portion of your trip, take in the local culture and explore the sites, while staying overnight in a hotels. During the cruise portion of your trip, experience the beautiful coastline, port cities and views of the water in the comfort of your ship. Popular tour and cruise destinations are Greece, Alaska, Croatia and Egypt.