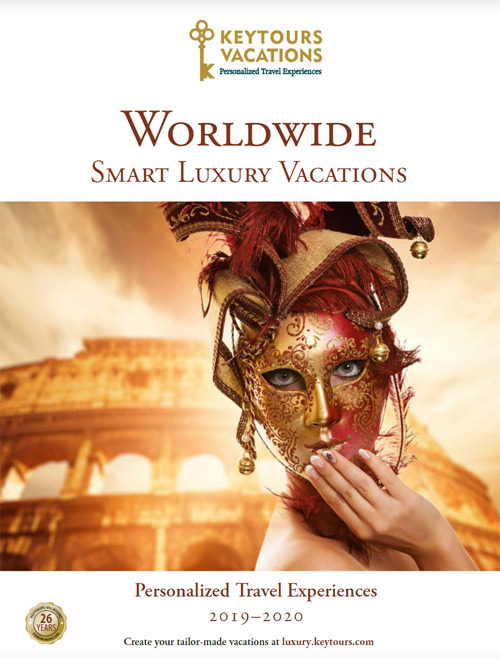 Guaranteed Low Prices on Key Vacations - Smart Luxury Vacations
NEW! Now Open for Sale! With the help of Keytours Vacations' expertise, luxury travel now exists as a state-of-mind. Seek the authentic experience, nurture your individuality and find satisfaction in transformative travel that will offer once-in-a-lifetime experiences through tailor-made itineraries not available to the masses.
Escorted Tour
AffordableTours.com offers escorted tours to all of your favorite countries around the world. Escorted tours normally include hotel stays, transportation, most meals, sightseeing and cultural activities. They are led by a tour director who will be with your group from the beginning to end of the tour and they handle all of the logistics, check ins, attraction tickets and local guides that are included on your trip. People that enjoy escorted tours are travelers who don't have time or the knowhow to plan an all-encompassing, multiday overseas trip, people who travel in luxury or like to save money, and people who like to see the must-see sites while also experiencing the local culture. Escorted tours range in group size, pace, and age, so there is an escorted tour for every type of traveler. From solo travelers to groups of friends, to multi-generational families and adventure seekers, we have the escorted tour for you!
Guided/Hosted Tour
Guided tours are similar to escorted tours but travelers are led by a local representative at each destination, rather than a Tour Director conducting the entire trip. Travelers may not be escorted to all activities and functions and will have a lot more freedom during the day. Just like escorted tours, some meals and sightseeing plus all of your accommodations and transportations will be included on your tour. Guided tours are perfect for travelers who want some freedom, but still prefer the comfort of having a guide with you part of them time.
Tour Itinerary
Days
Operator
Quality
Style
Starts
Ends
Price

Cusco Escapade

04

Days

Key

Deluxe

Guided/Hosted
1 - Light

5+ years old
Cusco
Cusco
Peru
$4,168View Tour

Best Price Guaranteed

Nazca Lines Escapade

04

Days

Key

Deluxe

Guided/Hosted
1 - Light

5+ years old
Lima
Lima
Peru
$3,839View Tour

Best Price Guaranteed

Arequipa and Colca Escapade

04

Days

Key

Deluxe

Guided/Hosted
1 - Light

5+ years old
Arequipa
Arequipa
Peru
$1,639View Tour

Best Price Guaranteed

Oslo Escapade

04

Days

Key

Deluxe

Guided/Hosted
1 - Light

5+ years old
Oslo
Oslo
Norway
$1,559View Tour

Best Price Guaranteed

Luxury Okavango Delta Safari

05

Days

Key

First Class

Guided/Hosted
1 - Light

Maun
Maun
Botswana
$4,889View Tour

Best Price Guaranteed

London and Paris Escapade by Rail Multi City Vacation-London - Paris - superior program

06

Days

Key

First Class

Guided/Hosted
2 - Classic

5+ years old
45
London
Paris
England, France
$2,619View Tour

Best Price Guaranteed

London and Paris Escapade by Rail Multi City Vacation-London - Paris - standard program

06

Days

Key

Budget

Guided/Hosted
2 - Classic

5+ years old
45
London
Paris
England, France
$1,769View Tour

Best Price Guaranteed

Luxury Cape Town and Winelands

07

Days

Key

Deluxe

Guided/Hosted
1 - Light

Cape Town
Cape Town
South Africa
$3,099View Tour

Best Price Guaranteed

Finland A la Carte Private Vacation

08

Days

Key

Deluxe

Guided/Hosted
1 - Light

Lapland
Rovaniemi
Finland
$12,349View Tour

Best Price Guaranteed

Tanzania A la Carte and Zanzibar

08

Days

Key

Deluxe

Guided/Hosted
1 - Light

5+ years old
Arusha
Zanzibar
Tanzania
$7,309View Tour

Best Price Guaranteed

Peru A la Carte

08

Days

Key

Deluxe

Guided/Hosted
1 - Light

5+ years old
Lima
Lima
Peru
$5,879View Tour

Best Price Guaranteed

South Africa A la Carte

08

Days

Key

Deluxe

Guided/Hosted
1 - Light

5+ years old
Johannesburg
Cape Town
South Africa
$5,879View Tour

Best Price Guaranteed

Costa Rica A la Carte-Superior First Class

09

Days

Key

Deluxe

Guided/Hosted
1 - Light

5+ years old
45
San Jose
San Jose
Costa Rica
$4,719View Tour

Best Price Guaranteed