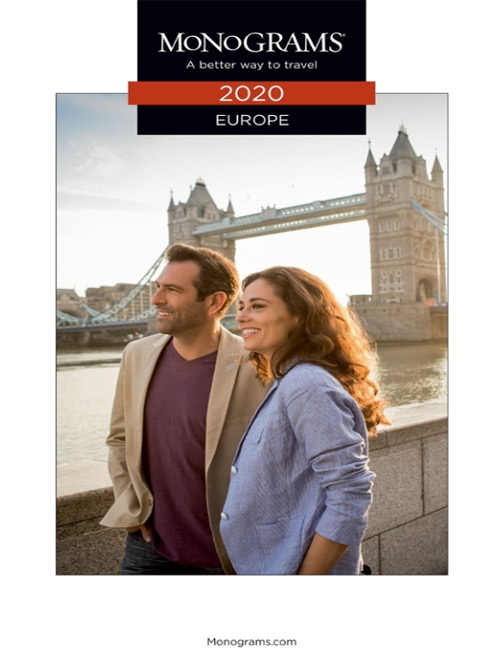 Guaranteed Low Prices on Monograms Vacations - Europe
NEW! Now Open for Sale! Monograms, a division of Globus Family of Brands, handles all the details to personalize your vacation so you can savor a pint in a real Irish pub or enjoy a cafe au lait in the shadow of the Eiffel Tower or sing O Sole Mio as your gondola floats down a Venetian canal. In Europe visit one city, several cities or even multiple countries, with Monograms Independent vacations the choice is yours.
Independent Vacation
An independent vacation combines the best parts of escorted and guided tours, with the freedom and flexibility of solo traveling. On an independent vacation, you will not be part of a group, which gives you the ability to spend your days exactly how you like. A "local host" or "local guide" in each of the cities you visit is available to answer any questions and to give plenty of guidance along the way. Depending on the tour operator and your destination, your local host may visit your hotel, meet you at the airport or be available by phone. He or she can make sightseeing, shopping and dining suggestions as well as give you the "inside scoop" on all of the most important things to see and do while you're in a foreign city.
Tour Itinerary
Days
Operator
Quality
Style
Starts
Ends
Price



Grand Tour Of South America 2022

01

Days

Monograms (Globus)

First Class

Independent
Rio de Janeiro
Lima
Argentina, Brazil, Peru
$2,949View Tour

Best Price Guaranteed

Book With Flexibility




Venice Getaway 3 Nights 2023

4 reviews
04

Days

Monograms (Globus)

First Class

Independent
Venice
Venice
Italy
$913View Tour

Best Price Guaranteed

Book With Flexibility




Venice Getaway 3 Nights 2022

4 reviews
04

Days

Monograms (Globus)

First Class

Independent
Venice
Venice
Italy
$913View Tour

Best Price Guaranteed

Book With Flexibility




Rome Getaway 3 Nights 2023

8 reviews
04

Days

Monograms (Globus)

First Class

Independent
Rome
Rome
Italy
$773View Tour

Best Price Guaranteed

Book With Flexibility




Rome Getaway 3 Nights 2022

8 reviews
04

Days

Monograms (Globus)

First Class

Independent
Rome
Rome
Italy
$773View Tour

Best Price Guaranteed

Book With Flexibility




Paris Getaway 3 Nights 2023

30 reviews
04

Days

Monograms (Globus)

First Class

Independent
Paris
Paris
France
$788View Tour

Best Price Guaranteed

Book With Flexibility




Paris Getaway 3 Nights 2022

30 reviews
04

Days

Monograms (Globus)

First Class

Independent
Paris
Paris
France
$788View Tour

Best Price Guaranteed

Book With Flexibility




London Getaway 3 Nights 2023

36 reviews
04

Days

Monograms (Globus)

First Class

Independent
London
London
England
$653View Tour

Best Price Guaranteed

Book With Flexibility




London Getaway 3 Nights 2022

36 reviews
04

Days

Monograms (Globus)

First Class

Independent
London
London
England
$653View Tour

Best Price Guaranteed

Book With Flexibility




Florence Getaway 3 Nights 2023

04

Days

Monograms (Globus)

First Class

Independent
Florence
Florence
Italy
$853View Tour

Best Price Guaranteed

Book With Flexibility




Florence Getaway 3 Nights 2022

04

Days

Monograms (Globus)

First Class

Independent
Florence
Florence
Italy
$853View Tour

Best Price Guaranteed

Book With Flexibility




Venice Getaway 4 Nights 2023

4 reviews
05

Days

Monograms (Globus)

First Class

Independent
Venice
Venice
Italy
$1,044View Tour

Best Price Guaranteed

Book With Flexibility




Venice Getaway 4 Nights 2022

4 reviews
05

Days

Monograms (Globus)

First Class

Independent
Venice
Venice
Italy
$1,044View Tour

Best Price Guaranteed

Book With Flexibility




Rome Getaway 4 Nights 2023

8 reviews
05

Days

Monograms (Globus)

First Class

Independent
Rome
Rome
Italy
$884View Tour

Best Price Guaranteed

Book With Flexibility




Rome Getaway 4 Nights 2022

8 reviews
05

Days

Monograms (Globus)

First Class

Independent
Rome
Rome
Italy
$884View Tour

Best Price Guaranteed

Book With Flexibility




Paris Getaway 4 Nights 2023

30 reviews
05

Days

Monograms (Globus)

First Class

Independent
Paris
Paris
France
$917View Tour

Best Price Guaranteed

Book With Flexibility




Paris Getaway 4 Nights 2022

30 reviews
05

Days

Monograms (Globus)

First Class

Independent
Paris
Paris
France
$917View Tour

Best Price Guaranteed

Book With Flexibility




London Getaway 4 Nights 2023

36 reviews
05

Days

Monograms (Globus)

First Class

Independent
London
London
England
$767View Tour

Best Price Guaranteed

Book With Flexibility




London Getaway 4 Nights 2022

36 reviews
05

Days

Monograms (Globus)

First Class

Independent
London
London
England
$767View Tour

Best Price Guaranteed

Book With Flexibility




Florence Getaway 4 Nights 2023

05

Days

Monograms (Globus)

First Class

Independent
Florence
Florence
Italy
$987View Tour

Best Price Guaranteed

Book With Flexibility




Florence Getaway 4 Nights 2022

05

Days

Monograms (Globus)

First Class

Independent
Florence
Florence
Italy
$987View Tour

Best Price Guaranteed

Book With Flexibility




2 Nights Venice & 2 Nights Rome 2023

05

Days

Monograms (Globus)

First Class

Independent
Venice
Rome
Italy
$1,215View Tour

Best Price Guaranteed

Book With Flexibility




2 Nights Venice & 2 Nights Rome 2022

05

Days

Monograms (Globus)

First Class

Independent
Venice
Rome
Italy
$1,215View Tour

Best Price Guaranteed

Book With Flexibility




2 Nights Rome & 2 Nights Venice 2023

18 reviews
05

Days

Monograms (Globus)

First Class

Independent
Rome
Venice
Italy
$1,215View Tour

Best Price Guaranteed

Book With Flexibility




2 Nights Rome & 2 Nights Venice 2022

18 reviews
05

Days

Monograms (Globus)

First Class

Independent
Rome
Venice
Italy
$1,215View Tour

Best Price Guaranteed

Book With Flexibility




2 Nights Rome & 2 Nights Paris 2023

18 reviews
05

Days

Monograms (Globus)

First Class

Independent
1 - Light

2+ years old
Rome
Paris
France, Italy
$1,012View Tour

Best Price Guaranteed

Book With Flexibility




2 Nights Rome & 2 Nights Paris 2022

18 reviews
05

Days

Monograms (Globus)

First Class

Independent
1 - Light

2+ years old
Rome
Paris
France, Italy
$1,012View Tour

Best Price Guaranteed

Book With Flexibility




2 Nights Rome & 2 Nights Florence 2023

18 reviews
05

Days

Monograms (Globus)

First Class

Independent
Rome
Florence
Italy
$1,091View Tour

Best Price Guaranteed

Book With Flexibility




2 Nights Rome & 2 Nights Florence 2022

18 reviews
05

Days

Monograms (Globus)

First Class

Independent
Rome
Florence
Italy
$1,091View Tour

Best Price Guaranteed

Book With Flexibility




2 Nights Paris & 2 Nights Rome 2023

05

Days

Monograms (Globus)

First Class

Independent
1 - Light

2+ years old
Paris
Rome
France, Italy
$1,021View Tour

Best Price Guaranteed

Book With Flexibility




2 Nights Paris & 2 Nights Rome 2022

05

Days

Monograms (Globus)

First Class

Independent
1 - Light

2+ years old
Paris
Rome
France, Italy
$1,021View Tour

Best Price Guaranteed

Book With Flexibility




2 Nights Paris & 2 Nights London 2023

05

Days

Monograms (Globus)

First Class

Independent
Paris
London
England, France
$967View Tour

Best Price Guaranteed

Book With Flexibility




2 Nights Paris & 2 Nights London 2022

05

Days

Monograms (Globus)

First Class

Independent
Paris
London
England, France
$967View Tour

Best Price Guaranteed

Book With Flexibility




2 Nights London & 2 Nights Paris 2023

126 reviews
05

Days

Monograms (Globus)

First Class

Independent
London
Paris
England, France
$967View Tour

Best Price Guaranteed

Book With Flexibility




2 Nights London & 2 Nights Paris 2022

126 reviews
05

Days

Monograms (Globus)

First Class

Independent
London
Paris
England, France
$967View Tour

Best Price Guaranteed

Book With Flexibility




2 Nights Florence & 2 Nights Rome 2023

05

Days

Monograms (Globus)

First Class

Independent
Florence
Rome
Italy
$1,091View Tour

Best Price Guaranteed

Book With Flexibility




2 Nights Florence & 2 Nights Rome 2022

05

Days

Monograms (Globus)

First Class

Independent
Florence
Rome
Italy
$1,091View Tour

Best Price Guaranteed

Book With Flexibility




Paris Getaway 5 Nights 2023

30 reviews
06

Days

Monograms (Globus)

First Class

Independent
Paris
Paris
France
$1,044View Tour

Best Price Guaranteed

Book With Flexibility




Paris Getaway 5 Nights 2022

30 reviews
06

Days

Monograms (Globus)

First Class

Independent
Paris
Paris
France
$1,044View Tour

Best Price Guaranteed

Book With Flexibility




London Getaway 5 Nights 2023

36 reviews
06

Days

Monograms (Globus)

First Class

Independent
London
London
England
$880View Tour

Best Price Guaranteed

Book With Flexibility




London Getaway 5 Nights 2022

36 reviews
06

Days

Monograms (Globus)

First Class

Independent
London
London
England
$880View Tour

Best Price Guaranteed

Book With Flexibility




3 Nights Venice & 2 Nights Rome 2023

06

Days

Monograms (Globus)

First Class

Independent
Venice
Rome
Italy
$1,367View Tour

Best Price Guaranteed

Book With Flexibility




3 Nights Venice & 2 Nights Rome 2022

06

Days

Monograms (Globus)

First Class

Independent
Venice
Rome
Italy
$1,367View Tour

Best Price Guaranteed

Book With Flexibility




3 Nights Rome & 2 Nights Venice 2023

18 reviews
06

Days

Monograms (Globus)

First Class

Independent
Rome
Venice
Italy
$1,347View Tour

Best Price Guaranteed

Book With Flexibility




3 Nights Rome & 2 Nights Venice 2022

18 reviews
06

Days

Monograms (Globus)

First Class

Independent
Rome
Venice
Italy
$1,347View Tour

Best Price Guaranteed

Book With Flexibility




3 Nights Rome & 2 Nights Paris 2023

18 reviews
06

Days

Monograms (Globus)

First Class

Independent
1 - Light

2+ years old
Rome
Paris
France, Italy
$1,144View Tour

Best Price Guaranteed

Book With Flexibility




3 Nights Rome & 2 Nights Paris 2022

18 reviews
06

Days

Monograms (Globus)

First Class

Independent
1 - Light

2+ years old
Rome
Paris
France, Italy
$1,144View Tour

Best Price Guaranteed

Book With Flexibility




3 Nights Rome & 2 Nights Florence 2023

18 reviews
06

Days

Monograms (Globus)

First Class

Independent
Rome
Florence
Italy
$1,336View Tour

Best Price Guaranteed

Book With Flexibility




3 Nights Rome & 2 Nights Florence 2022

18 reviews
06

Days

Monograms (Globus)

First Class

Independent
Rome
Florence
Italy
$1,336View Tour

Best Price Guaranteed

Book With Flexibility




3 Nights Paris & 2 Nights Rome 2023

06

Days

Monograms (Globus)

First Class

Independent
1 - Light

2+ years old
Paris
Rome
France, Italy
$1,171View Tour

Best Price Guaranteed

Book With Flexibility




3 Nights Paris & 2 Nights Rome 2022

06

Days

Monograms (Globus)

First Class

Independent
1 - Light

2+ years old
Paris
Rome
France, Italy
$1,171View Tour

Best Price Guaranteed

Book With Flexibility




3 Nights Paris & 2 Nights London 2023

06

Days

Monograms (Globus)

First Class

Independent
Paris
London
England, France
$1,115View Tour

Best Price Guaranteed

Book With Flexibility




3 Nights Paris & 2 Nights London 2022

06

Days

Monograms (Globus)

First Class

Independent
Paris
London
England, France
$1,115View Tour

Best Price Guaranteed

Book With Flexibility




3 Nights London & 2 Nights Paris 2023

126 reviews
06

Days

Monograms (Globus)

First Class

Independent
London
Paris
England, France
$1,100View Tour

Best Price Guaranteed

Book With Flexibility




3 Nights London & 2 Nights Paris 2022

126 reviews
06

Days

Monograms (Globus)

First Class

Independent
London
Paris
England, France
$1,100View Tour

Best Price Guaranteed

Book With Flexibility




3 Nights Florence & 2 Nights Rome 2023

06

Days

Monograms (Globus)

First Class

Independent
Florence
Rome
Italy
$1,245View Tour

Best Price Guaranteed

Book With Flexibility




3 Nights Florence & 2 Nights Rome 2022

06

Days

Monograms (Globus)

First Class

Independent
Florence
Rome
Italy
$1,245View Tour

Best Price Guaranteed

Book With Flexibility




2 Nights Venice & 3 Nights Rome 2023

06

Days

Monograms (Globus)

First Class

Independent
Venice
Rome
Italy
$1,347View Tour

Best Price Guaranteed

Book With Flexibility




2 Nights Venice & 3 Nights Rome 2022

06

Days

Monograms (Globus)

First Class

Independent
Venice
Rome
Italy
$1,347View Tour

Best Price Guaranteed

Book With Flexibility




2 Nights Rome & 3 Nights Venice 2023

18 reviews
06

Days

Monograms (Globus)

First Class

Independent
Rome
Venice
Italy
$1,367View Tour

Best Price Guaranteed

Book With Flexibility




2 Nights Rome & 3 Nights Venice 2022

18 reviews
06

Days

Monograms (Globus)

First Class

Independent
Rome
Venice
Italy
$1,367View Tour

Best Price Guaranteed

Book With Flexibility




2 Nights Rome & 3 Nights Paris 2023

18 reviews
06

Days

Monograms (Globus)

First Class

Independent
1 - Light

2+ years old
Rome
Paris
France, Italy
$1,161View Tour

Best Price Guaranteed

Book With Flexibility




2 Nights Rome & 3 Nights Paris 2022

18 reviews
06

Days

Monograms (Globus)

First Class

Independent
1 - Light

2+ years old
Rome
Paris
France, Italy
$1,161View Tour

Best Price Guaranteed

Book With Flexibility




2 Nights Rome & 3 Nights Florence 2023

18 reviews
06

Days

Monograms (Globus)

First Class

Independent
Rome
Florence
Italy
$1,245View Tour

Best Price Guaranteed

Book With Flexibility




2 Nights Rome & 3 Nights Florence 2022

18 reviews
06

Days

Monograms (Globus)

First Class

Independent
Rome
Florence
Italy
$1,245View Tour

Best Price Guaranteed

Book With Flexibility




2 Nights Paris & 3 Nights Rome 2023

06

Days

Monograms (Globus)

First Class

Independent
1 - Light

2+ years old
Paris
Rome
France, Italy
$1,153View Tour

Best Price Guaranteed

Book With Flexibility




2 Nights Paris & 3 Nights Rome 2022

06

Days

Monograms (Globus)

First Class

Independent
1 - Light

2+ years old
Paris
Rome
France, Italy
$1,153View Tour

Best Price Guaranteed

Book With Flexibility




2 Nights Paris & 3 Nights London 2023

06

Days

Monograms (Globus)

First Class

Independent
Paris
London
England, France
$1,100View Tour

Best Price Guaranteed

Book With Flexibility




2 Nights Paris & 3 Nights London 2022

06

Days

Monograms (Globus)

First Class

Independent
Paris
London
England, France
$1,100View Tour

Best Price Guaranteed

Book With Flexibility




2 Nights London & 3 Nights Paris 2023

126 reviews
06

Days

Monograms (Globus)

First Class

Independent
London
Paris
England, France
$1,115View Tour

Best Price Guaranteed

Book With Flexibility




2 Nights London & 3 Nights Paris 2022

126 reviews
06

Days

Monograms (Globus)

First Class

Independent
London
Paris
England, France
$1,115View Tour

Best Price Guaranteed

Book With Flexibility




2 Nights Florence & 3 Nights Rome 2023

06

Days

Monograms (Globus)

First Class

Independent
Florence
Rome
Italy
$1,221View Tour

Best Price Guaranteed

Book With Flexibility




2 Nights Florence & 3 Nights Rome 2022

06

Days

Monograms (Globus)

First Class

Independent
Florence
Rome
Italy
$1,221View Tour

Best Price Guaranteed

Book With Flexibility




A Week In Paris 6 Nights 2023

4 reviews
07

Days

Monograms (Globus)

First Class

Independent
Paris
Paris
France
$1,314View Tour

Best Price Guaranteed

Book With Flexibility




A Week In Paris 6 Nights 2022

4 reviews
07

Days

Monograms (Globus)

First Class

Independent
Paris
Paris
France
$1,314View Tour

Best Price Guaranteed

Book With Flexibility




A Week In London 6 Nights 2023

12 reviews
07

Days

Monograms (Globus)

First Class

Independent
London
London
England
$1,176View Tour

Best Price Guaranteed

Book With Flexibility




A Week In London 6 Nights 2022

12 reviews
07

Days

Monograms (Globus)

First Class

Independent
London
London
England
$1,176View Tour

Best Price Guaranteed

Book With Flexibility




4 Nights Venice & 2 Nights Rome 2023

07

Days

Monograms (Globus)

First Class

Independent
Venice
Rome
Italy
$1,518View Tour

Best Price Guaranteed

Book With Flexibility




4 Nights Venice & 2 Nights Rome 2022

07

Days

Monograms (Globus)

First Class

Independent
Venice
Rome
Italy
$1,518View Tour

Best Price Guaranteed

Book With Flexibility




4 Nights Rome & 2 Nights Venice 2023

18 reviews
07

Days

Monograms (Globus)

First Class

Independent
Rome
Venice
Italy
$1,477View Tour

Best Price Guaranteed

Book With Flexibility




4 Nights Rome & 2 Nights Venice 2022

18 reviews
07

Days

Monograms (Globus)

First Class

Independent
Rome
Venice
Italy
$1,477View Tour

Best Price Guaranteed

Book With Flexibility




4 Nights Rome & 2 Nights Paris 2023

18 reviews
07

Days

Monograms (Globus)

First Class

Independent
1 - Light

2+ years old
Rome
Paris
France, Italy
$1,275View Tour

Best Price Guaranteed

Book With Flexibility




4 Nights Rome & 2 Nights Paris 2022

18 reviews
07

Days

Monograms (Globus)

First Class

Independent
1 - Light

2+ years old
Rome
Paris
France, Italy
$1,275View Tour

Best Price Guaranteed

Book With Flexibility




4 Nights Rome & 2 Nights Florence 2023

18 reviews
07

Days

Monograms (Globus)

First Class

Independent
Rome
Florence
Italy
$1,353View Tour

Best Price Guaranteed

Book With Flexibility




4 Nights Rome & 2 Nights Florence 2022

18 reviews
07

Days

Monograms (Globus)

First Class

Independent
Rome
Florence
Italy
$1,353View Tour

Best Price Guaranteed

Book With Flexibility




4 Nights Paris & 2 Nights Rome 2023

07

Days

Monograms (Globus)

First Class

Independent
1 - Light

2+ years old
Paris
Rome
France, Italy
$1,318View Tour

Best Price Guaranteed

Book With Flexibility




4 Nights Paris & 2 Nights Rome 2022

07

Days

Monograms (Globus)

First Class

Independent
1 - Light

2+ years old
Paris
Rome
France, Italy
$1,318View Tour

Best Price Guaranteed

Book With Flexibility




4 Nights Paris & 2 Nights London 2023

07

Days

Monograms (Globus)

First Class

Independent
Paris
London
England, France
$1,263View Tour

Best Price Guaranteed

Book With Flexibility




4 Nights Paris & 2 Nights London 2022

07

Days

Monograms (Globus)

First Class

Independent
Paris
London
England, France
$1,263View Tour

Best Price Guaranteed

Book With Flexibility




4 Nights London & 2 Nights Paris 2023

126 reviews
07

Days

Monograms (Globus)

First Class

Independent
London
Paris
England, France
$1,235View Tour

Best Price Guaranteed

Book With Flexibility




4 Nights London & 2 Nights Paris 2022

126 reviews
07

Days

Monograms (Globus)

First Class

Independent
London
Paris
England, France
$1,235View Tour

Best Price Guaranteed

Book With Flexibility




4 Nights Florence & 2 Nights Rome 2023

07

Days

Monograms (Globus)

First Class

Independent
Florence
Rome
Italy
$1,397View Tour

Best Price Guaranteed

Book With Flexibility




4 Nights Florence & 2 Nights Rome 2022

07

Days

Monograms (Globus)

First Class

Independent
Florence
Rome
Italy
$1,397View Tour

Best Price Guaranteed

Book With Flexibility




3 Nights Venice & 3 Nights Rome 2023

07

Days

Monograms (Globus)

First Class

Independent
Venice
Rome
Italy
$1,496View Tour

Best Price Guaranteed

Book With Flexibility




3 Nights Venice & 3 Nights Rome 2022

07

Days

Monograms (Globus)

First Class

Independent
Venice
Rome
Italy
$1,496View Tour

Best Price Guaranteed

Book With Flexibility




3 Nights Rome & 3 Nights Venice 2023

18 reviews
07

Days

Monograms (Globus)

First Class

Independent
Rome
Venice
Italy
$1,496View Tour

Best Price Guaranteed

Book With Flexibility




3 Nights Rome & 3 Nights Venice 2022

18 reviews
07

Days

Monograms (Globus)

First Class

Independent
Rome
Venice
Italy
$1,496View Tour

Best Price Guaranteed

Book With Flexibility




3 Nights Rome & 3 Nights Paris 2023

18 reviews
07

Days

Monograms (Globus)

First Class

Independent
Rome
Paris
France, Italy
$1,291View Tour

Best Price Guaranteed

Book With Flexibility




3 Nights Rome & 3 Nights Paris 2022

18 reviews
07

Days

Monograms (Globus)

First Class

Independent
Rome
Paris
France, Italy
$1,291View Tour

Best Price Guaranteed

Book With Flexibility




3 Nights Rome & 3 Nights Florence 2023

18 reviews
07

Days

Monograms (Globus)

First Class

Independent
Rome
Florence
Italy
$1,375View Tour

Best Price Guaranteed

Book With Flexibility




3 Nights Rome & 3 Nights Florence 2022

18 reviews
07

Days

Monograms (Globus)

First Class

Independent
Rome
Florence
Italy
$1,375View Tour

Best Price Guaranteed

Book With Flexibility




3 Nights Paris & 3 Nights Rome 2023

07

Days

Monograms (Globus)

First Class

Independent
1 - Light

2+ years old
Paris
Rome
France, Italy
$1,301View Tour

Best Price Guaranteed

Book With Flexibility




3 Nights Paris & 3 Nights Rome 2022

07

Days

Monograms (Globus)

First Class

Independent
1 - Light

2+ years old
Paris
Rome
France, Italy
$1,301View Tour

Best Price Guaranteed

Book With Flexibility




3 Nights Paris & 3 Nights London 2023

07

Days

Monograms (Globus)

First Class

Independent
Paris
London
England, France
$1,249View Tour

Best Price Guaranteed

Book With Flexibility




3 Nights Paris & 3 Nights London 2022

07

Days

Monograms (Globus)

First Class

Independent
Paris
London
England, France
$1,249View Tour

Best Price Guaranteed

Book With Flexibility




3 Nights London & 3 Nights Paris 2023

126 reviews
07

Days

Monograms (Globus)

First Class

Independent
London
Paris
England, France
$1,503View Tour

Best Price Guaranteed

Book With Flexibility




3 Nights London & 3 Nights Paris 2022

126 reviews
07

Days

Monograms (Globus)

First Class

Independent
London
Paris
England, France
$1,503View Tour

Best Price Guaranteed

Book With Flexibility




3 Nights Florence & 3 Nights Rome 2023

07

Days

Monograms (Globus)

First Class

Independent
Florence
Rome
Italy
$1,375View Tour

Best Price Guaranteed

Book With Flexibility




3 Nights Florence & 3 Nights Rome 2022

07

Days

Monograms (Globus)

First Class

Independent
Florence
Rome
Italy
$1,375View Tour

Best Price Guaranteed

Book With Flexibility




2 Nights Venice, 2 Nights Florence & 2 Nights Rome 2023

54 reviews
07

Days

Monograms (Globus)

First Class

Independent
Venice
Rome
Italy
$1,770View Tour

Best Price Guaranteed

Book With Flexibility




2 Nights Venice, 2 Nights Florence & 2 Nights Rome 2022

54 reviews
07

Days

Monograms (Globus)

First Class

Independent
Venice
Rome
Italy
$1,770View Tour

Best Price Guaranteed

Book With Flexibility




2 Nights Venice & 4 Nights Rome 2023

07

Days

Monograms (Globus)

First Class

Independent
Venice
Rome
Italy
$1,477View Tour

Best Price Guaranteed

Book With Flexibility




2 Nights Venice & 4 Nights Rome 2022

07

Days

Monograms (Globus)

First Class

Independent
Venice
Rome
Italy
$1,477View Tour

Best Price Guaranteed

Book With Flexibility




2 Nights Rome, 2 Nights Paris & 2 Nights London 2023

54 reviews
07

Days

Monograms (Globus)

First Class

Independent
Rome
London
England, France, Italy
$1,550View Tour

Best Price Guaranteed

Book With Flexibility




2 Nights Rome, 2 Nights Paris & 2 Nights London 2022

54 reviews
07

Days

Monograms (Globus)

First Class

Independent
Rome
London
England, France, Italy
$1,550View Tour

Best Price Guaranteed

Book With Flexibility




2 Nights Rome, 2 Nights Florence & 2 Nights Venice 2023

324 reviews
07

Days

Monograms (Globus)

First Class

Independent
Rome
Venice
Italy
$1,770View Tour

Best Price Guaranteed

Book With Flexibility




2 Nights Rome, 2 Nights Florence & 2 Nights Venice 2022

324 reviews
07

Days

Monograms (Globus)

First Class

Independent
Rome
Venice
Italy
$1,770View Tour

Best Price Guaranteed

Book With Flexibility




2 Nights Rome & 4 Nights Venice 2023

18 reviews
07

Days

Monograms (Globus)

First Class

Independent
Rome
Venice
Italy
$1,518View Tour

Best Price Guaranteed

Book With Flexibility




2 Nights Rome & 4 Nights Venice 2022

18 reviews
07

Days

Monograms (Globus)

First Class

Independent
Rome
Venice
Italy
$1,518View Tour

Best Price Guaranteed

Book With Flexibility




2 Nights Rome & 4 Nights Paris 2023

18 reviews
07

Days

Monograms (Globus)

First Class

Independent
1 - Light

2+ years old
Rome
Paris
France, Italy
$1,309View Tour

Best Price Guaranteed

Book With Flexibility




2 Nights Rome & 4 Nights Paris 2022

18 reviews
07

Days

Monograms (Globus)

First Class

Independent
1 - Light

2+ years old
Rome
Paris
France, Italy
$1,309View Tour

Best Price Guaranteed

Book With Flexibility




2 Nights Rome & 4 Nights Florence 2023

18 reviews
07

Days

Monograms (Globus)

First Class

Independent
Rome
Florence
Italy
$1,397View Tour

Best Price Guaranteed

Book With Flexibility




2 Nights Rome & 4 Nights Florence 2022

18 reviews
07

Days

Monograms (Globus)

First Class

Independent
Rome
Florence
Italy
$1,397View Tour

Best Price Guaranteed

Book With Flexibility




2 Nights Paris & 4 Nights Rome 2023

07

Days

Monograms (Globus)

First Class

Independent
1 - Light

2+ years old
Paris
Rome
France, Italy
$1,285View Tour

Best Price Guaranteed

Book With Flexibility




2 Nights Paris & 4 Nights Rome 2022

07

Days

Monograms (Globus)

First Class

Independent
1 - Light

2+ years old
Paris
Rome
France, Italy
$1,285View Tour

Best Price Guaranteed

Book With Flexibility




2 Nights Paris & 4 Nights London 2023

07

Days

Monograms (Globus)

First Class

Independent
Paris
London
England, France
$1,235View Tour

Best Price Guaranteed

Book With Flexibility




2 Nights Paris & 4 Nights London 2022

07

Days

Monograms (Globus)

First Class

Independent
Paris
London
England, France
$1,235View Tour

Best Price Guaranteed

Book With Flexibility




2 Nights London, 2 Nights Paris & 2 Nights Rome 2023

108 reviews
07

Days

Monograms (Globus)

First Class

Independent
London
Rome
England, France, Italy
$1,560View Tour

Best Price Guaranteed

Book With Flexibility




2 Nights London, 2 Nights Paris & 2 Nights Rome 2022

108 reviews
07

Days

Monograms (Globus)

First Class

Independent
London
Rome
England, France, Italy
$1,560View Tour

Best Price Guaranteed

Book With Flexibility




2 Nights London & 4 Nights Paris 2023

126 reviews
07

Days

Monograms (Globus)

First Class

Independent
London
Paris
England, France
$1,263View Tour

Best Price Guaranteed

Book With Flexibility




2 Nights London & 4 Nights Paris 2022

126 reviews
07

Days

Monograms (Globus)

First Class

Independent
London
Paris
England, France
$1,263View Tour

Best Price Guaranteed

Book With Flexibility




2 Nights Florence & 4 Nights Rome 2023

07

Days

Monograms (Globus)

First Class

Independent
Florence
Rome
Italy
$1,353View Tour

Best Price Guaranteed

Book With Flexibility




2 Nights Florence & 4 Nights Rome 2022

07

Days

Monograms (Globus)

First Class

Independent
Florence
Rome
Italy
$1,353View Tour

Best Price Guaranteed

Book With Flexibility




4 Nights Venice & 3 Nights Rome 2023

08

Days

Monograms (Globus)

First Class

Independent
Venice
Rome
Italy
$1,635View Tour

Best Price Guaranteed

Book With Flexibility




4 Nights Venice & 3 Nights Rome 2022

08

Days

Monograms (Globus)

First Class

Independent
Venice
Rome
Italy
$1,635View Tour

Best Price Guaranteed

Book With Flexibility




4 Nights Rome & 3 Nights Venice 2023

18 reviews
08

Days

Monograms (Globus)

First Class

Independent
Rome
Venice
Italy
$1,615View Tour

Best Price Guaranteed

Book With Flexibility




4 Nights Rome & 3 Nights Venice 2022

18 reviews
08

Days

Monograms (Globus)

First Class

Independent
Rome
Venice
Italy
$1,615View Tour

Best Price Guaranteed

Book With Flexibility




4 Nights Rome & 3 Nights Paris 2023

18 reviews
08

Days

Monograms (Globus)

First Class

Independent
1 - Light

2+ years old
Rome
Paris
France, Italy
$1,409View Tour

Best Price Guaranteed

Book With Flexibility




4 Nights Rome & 3 Nights Paris 2022

18 reviews
08

Days

Monograms (Globus)

First Class

Independent
1 - Light

2+ years old
Rome
Paris
France, Italy
$1,409View Tour

Best Price Guaranteed

Book With Flexibility




4 Nights Rome & 3 Nights Florence 2023

18 reviews
08

Days

Monograms (Globus)

First Class

Independent
Rome
Florence
Italy
$1,493View Tour

Best Price Guaranteed

Book With Flexibility




4 Nights Rome & 3 Nights Florence 2022

18 reviews
08

Days

Monograms (Globus)

First Class

Independent
Rome
Florence
Italy
$1,493View Tour

Best Price Guaranteed

Book With Flexibility




4 Nights Paris & 3 Nights Rome 2023

08

Days

Monograms (Globus)

First Class

Independent
1 - Light

2+ years old
Paris
Rome
France, Italy
$1,436View Tour

Best Price Guaranteed

Book With Flexibility




4 Nights Paris & 3 Nights Rome 2022

08

Days

Monograms (Globus)

First Class

Independent
1 - Light

2+ years old
Paris
Rome
France, Italy
$1,436View Tour

Best Price Guaranteed

Book With Flexibility




4 Nights Paris & 3 Nights London 2023

08

Days

Monograms (Globus)

First Class

Independent
Paris
London
England, France
$1,384View Tour

Best Price Guaranteed

Book With Flexibility




4 Nights Paris & 3 Nights London 2022

08

Days

Monograms (Globus)

First Class

Independent
Paris
London
England, France
$1,384View Tour

Best Price Guaranteed

Book With Flexibility




4 Nights London & 3 Nights Paris 2023

126 reviews
08

Days

Monograms (Globus)

First Class

Independent
London
Paris
England, France
$1,369View Tour

Best Price Guaranteed

Book With Flexibility




4 Nights London & 3 Nights Paris 2022

126 reviews
08

Days

Monograms (Globus)

First Class

Independent
London
Paris
England, France
$1,369View Tour

Best Price Guaranteed

Book With Flexibility




4 Nights Florence & 3 Nights Rome 2023

08

Days

Monograms (Globus)

First Class

Independent
Florence
Rome
Italy
$1,515View Tour

Best Price Guaranteed

Book With Flexibility




4 Nights Florence & 3 Nights Rome 2022

08

Days

Monograms (Globus)

First Class

Independent
Florence
Rome
Italy
$1,515View Tour

Best Price Guaranteed

Book With Flexibility




3 Nights Venice, 2 Nights Florence & 2 Nights Rome 2023

54 reviews
08

Days

Monograms (Globus)

First Class

Independent
Venice
Rome
Italy
$1,909View Tour

Best Price Guaranteed

Book With Flexibility




3 Nights Venice, 2 Nights Florence & 2 Nights Rome 2022

54 reviews
08

Days

Monograms (Globus)

First Class

Independent
Venice
Rome
Italy
$1,909View Tour

Best Price Guaranteed

Book With Flexibility




3 Nights Venice & 4 Nights Rome 2023

08

Days

Monograms (Globus)

First Class

Independent
Venice
Rome
Italy
$1,615View Tour

Best Price Guaranteed

Book With Flexibility




3 Nights Venice & 4 Nights Rome 2022

08

Days

Monograms (Globus)

First Class

Independent
Venice
Rome
Italy
$1,615View Tour

Best Price Guaranteed

Book With Flexibility




3 Nights Rome, 2 Nights Paris & 2 Nights London 2023

54 reviews
08

Days

Monograms (Globus)

First Class

Independent
Rome
London
England, France, Italy
$1,668View Tour

Best Price Guaranteed

Book With Flexibility




3 Nights Rome, 2 Nights Paris & 2 Nights London 2022

54 reviews
08

Days

Monograms (Globus)

First Class

Independent
Rome
London
England, France, Italy
$1,668View Tour

Best Price Guaranteed

Book With Flexibility




3 Nights Rome, 2 Nights Florence & 2 Nights Venice 2023

324 reviews
08

Days

Monograms (Globus)

First Class

Independent
Rome
Venice
Italy
$2,076View Tour

Best Price Guaranteed

Book With Flexibility




3 Nights Rome, 2 Nights Florence & 2 Nights Venice 2022

324 reviews
08

Days

Monograms (Globus)

First Class

Independent
Rome
Venice
Italy
$2,076View Tour

Best Price Guaranteed

Book With Flexibility




3 Nights Rome & 4 Nights Venice 2023

18 reviews
08

Days

Monograms (Globus)

First Class

Independent
Rome
Venice
Italy
$1,635View Tour

Best Price Guaranteed

Book With Flexibility




3 Nights Rome & 4 Nights Venice 2022

18 reviews
08

Days

Monograms (Globus)

First Class

Independent
Rome
Venice
Italy
$1,635View Tour

Best Price Guaranteed

Book With Flexibility




3 Nights Rome & 4 Nights Paris 2023

18 reviews
08

Days

Monograms (Globus)

First Class

Independent
1 - Light

2+ years old
Rome
Paris
France, Italy
$1,427View Tour

Best Price Guaranteed

Book With Flexibility




3 Nights Rome & 4 Nights Paris 2022

18 reviews
08

Days

Monograms (Globus)

First Class

Independent
1 - Light

2+ years old
Rome
Paris
France, Italy
$1,427View Tour

Best Price Guaranteed

Book With Flexibility




3 Nights Rome & 4 Nights Florence 2023

18 reviews
08

Days

Monograms (Globus)

First Class

Independent
Rome
Florence
Italy
$1,515View Tour

Best Price Guaranteed

Book With Flexibility




3 Nights Rome & 4 Nights Florence 2022

18 reviews
08

Days

Monograms (Globus)

First Class

Independent
Rome
Florence
Italy
$1,515View Tour

Best Price Guaranteed

Book With Flexibility




3 Nights Paris & 4 Nights Rome 2023

08

Days

Monograms (Globus)

First Class

Independent
1 - Light

2+ years old
Paris
Rome
France, Italy
$1,419View Tour

Best Price Guaranteed

Book With Flexibility




3 Nights Paris & 4 Nights Rome 2022

08

Days

Monograms (Globus)

First Class

Independent
1 - Light

2+ years old
Paris
Rome
France, Italy
$1,419View Tour

Best Price Guaranteed

Book With Flexibility




3 Nights Paris & 4 Nights London 2023

08

Days

Monograms (Globus)

First Class

Independent
Paris
London
England, France
$1,369View Tour

Best Price Guaranteed

Book With Flexibility




3 Nights Paris & 4 Nights London 2022

08

Days

Monograms (Globus)

First Class

Independent
Paris
London
England, France
$1,369View Tour

Best Price Guaranteed

Book With Flexibility




3 Nights London, 2 Nights Paris & 2 Nights Rome 2023

108 reviews
08

Days

Monograms (Globus)

First Class

Independent
London
Rome
England, France, Italy
$1,680View Tour

Best Price Guaranteed

Book With Flexibility




3 Nights London, 2 Nights Paris & 2 Nights Rome 2022

108 reviews
08

Days

Monograms (Globus)

First Class

Independent
London
Rome
England, France, Italy
$1,680View Tour

Best Price Guaranteed

Book With Flexibility




3 Nights London & 4 Nights Paris 2023

126 reviews
08

Days

Monograms (Globus)

First Class

Independent
London
Paris
England, France
$1,384View Tour

Best Price Guaranteed

Book With Flexibility




3 Nights London & 4 Nights Paris 2022

126 reviews
08

Days

Monograms (Globus)

First Class

Independent
London
Paris
England, France
$1,384View Tour

Best Price Guaranteed

Book With Flexibility




3 Nights Florence & 4 Nights Rome 2023

08

Days

Monograms (Globus)

First Class

Independent
Florence
Rome
Italy
$1,493View Tour

Best Price Guaranteed

Book With Flexibility




3 Nights Florence & 4 Nights Rome 2022

08

Days

Monograms (Globus)

First Class

Independent
Florence
Rome
Italy
$1,493View Tour

Best Price Guaranteed

Book With Flexibility




2 Nights Venice, 3 Nights Florence & 2 Nights Rome 2023

54 reviews
08

Days

Monograms (Globus)

First Class

Independent
Venice
Rome
Italy
$1,911View Tour

Best Price Guaranteed

Book With Flexibility




2 Nights Venice, 3 Nights Florence & 2 Nights Rome 2022

54 reviews
08

Days

Monograms (Globus)

First Class

Independent
Venice
Rome
Italy
$1,911View Tour

Best Price Guaranteed

Book With Flexibility




2 Nights Venice, 2 Nights Florence & 3 Nights Rome 2023

54 reviews
08

Days

Monograms (Globus)

First Class

Independent
Venice
Rome
Italy
$1,888View Tour

Best Price Guaranteed

Book With Flexibility




2 Nights Venice, 2 Nights Florence & 3 Nights Rome 2022

54 reviews
08

Days

Monograms (Globus)

First Class

Independent
Venice
Rome
Italy
$1,888View Tour

Best Price Guaranteed

Book With Flexibility




2 Nights Rome, 3 Nights Paris & 2 Nights London 2023

54 reviews
08

Days

Monograms (Globus)

First Class

Independent
Rome
London
England, France, Italy
$1,685View Tour

Best Price Guaranteed

Book With Flexibility




2 Nights Rome, 3 Nights Paris & 2 Nights London 2022

54 reviews
08

Days

Monograms (Globus)

First Class

Independent
Rome
London
England, France, Italy
$1,685View Tour

Best Price Guaranteed

Book With Flexibility




2 Nights Rome, 3 Nights Florence & 2 Nights Venice 2023

324 reviews
08

Days

Monograms (Globus)

First Class

Independent
Rome
Venice
Italy
$1,911View Tour

Best Price Guaranteed

Book With Flexibility




2 Nights Rome, 3 Nights Florence & 2 Nights Venice 2022

324 reviews
08

Days

Monograms (Globus)

First Class

Independent
Rome
Venice
Italy
$1,911View Tour

Best Price Guaranteed

Book With Flexibility




2 Nights Rome, 2 Nights Paris & 3 Nights London 2023

54 reviews
08

Days

Monograms (Globus)

First Class

Independent
Rome
London
England, France, Italy
$1,671View Tour

Best Price Guaranteed

Book With Flexibility




2 Nights Rome, 2 Nights Paris & 3 Nights London 2022

54 reviews
08

Days

Monograms (Globus)

First Class

Independent
Rome
London
England, France, Italy
$1,671View Tour

Best Price Guaranteed

Book With Flexibility




2 Nights Rome, 2 Nights Florence & 3 Nights Venice 2023

324 reviews
08

Days

Monograms (Globus)

First Class

Independent
Rome
Venice
Italy
$1,909View Tour

Best Price Guaranteed

Book With Flexibility




2 Nights Rome, 2 Nights Florence & 3 Nights Venice 2022

324 reviews
08

Days

Monograms (Globus)

First Class

Independent
Rome
Venice
Italy
$1,909View Tour

Best Price Guaranteed

Book With Flexibility




2 Nights London, 3 Nights Paris & 2 Nights Rome 2023

108 reviews
08

Days

Monograms (Globus)

First Class

Independent
London
Rome
England, France, Italy
$1,696View Tour

Best Price Guaranteed

Book With Flexibility




2 Nights London, 3 Nights Paris & 2 Nights Rome 2022

108 reviews
08

Days

Monograms (Globus)

First Class

Independent
London
Rome
England, France, Italy
$1,696View Tour

Best Price Guaranteed

Book With Flexibility




2 Nights London, 2 Nights Paris & 3 Nights Rome 2023

108 reviews
08

Days

Monograms (Globus)

First Class

Independent
London
Rome
England, France, Italy
$1,678View Tour

Best Price Guaranteed

Book With Flexibility




2 Nights London, 2 Nights Paris & 3 Nights Rome 2022

108 reviews
08

Days

Monograms (Globus)

First Class

Independent
London
Rome
England, France, Italy
$1,678View Tour

Best Price Guaranteed

Book With Flexibility




4 Nights Venice, 2 Nights Florence & 2 Nights Rome 2023

54 reviews
09

Days

Monograms (Globus)

First Class

Independent
Venice
Rome
Italy
$2,087View Tour

Best Price Guaranteed

Book With Flexibility




4 Nights Venice, 2 Nights Florence & 2 Nights Rome 2022

54 reviews
09

Days

Monograms (Globus)

First Class

Independent
Venice
Rome
Italy
$2,087View Tour

Best Price Guaranteed

Book With Flexibility




4 Nights Venice & 4 Nights Rome 2023

09

Days

Monograms (Globus)

First Class

Independent
Venice
Rome
Italy
$1,793View Tour

Best Price Guaranteed

Book With Flexibility




4 Nights Venice & 4 Nights Rome 2022

09

Days

Monograms (Globus)

First Class

Independent
Venice
Rome
Italy
$1,793View Tour

Best Price Guaranteed

Book With Flexibility




4 Nights Rome, 2 Nights Paris & 2 Nights London 2023

54 reviews
09

Days

Monograms (Globus)

First Class

Independent
Rome
London
England, France, Italy
$1,826View Tour

Best Price Guaranteed

Book With Flexibility




4 Nights Rome, 2 Nights Paris & 2 Nights London 2022

54 reviews
09

Days

Monograms (Globus)

First Class

Independent
Rome
London
England, France, Italy
$1,826View Tour

Best Price Guaranteed

Book With Flexibility




4 Nights Rome, 2 Nights Florence & 2 Nights Venice 2023

324 reviews
09

Days

Monograms (Globus)

First Class

Independent
Rome
Venice
Italy
$2,046View Tour

Best Price Guaranteed

Book With Flexibility




4 Nights Rome, 2 Nights Florence & 2 Nights Venice 2022

324 reviews
09

Days

Monograms (Globus)

First Class

Independent
Rome
Venice
Italy
$2,046View Tour

Best Price Guaranteed

Book With Flexibility




4 Nights Rome & 4 Nights Venice 2023

18 reviews
09

Days

Monograms (Globus)

First Class

Independent
Rome
Venice
Italy
$1,793View Tour

Best Price Guaranteed

Book With Flexibility




4 Nights Rome & 4 Nights Venice 2022

18 reviews
09

Days

Monograms (Globus)

First Class

Independent
Rome
Venice
Italy
$1,793View Tour

Best Price Guaranteed

Book With Flexibility




4 Nights Rome & 4 Nights Paris 2023

18 reviews
09

Days

Monograms (Globus)

First Class

Independent
1 - Light

2+ years old
Rome
Paris
France, Italy
$1,585View Tour

Best Price Guaranteed

Book With Flexibility




4 Nights Rome & 4 Nights Paris 2022

18 reviews
09

Days

Monograms (Globus)

First Class

Independent
1 - Light

2+ years old
Rome
Paris
France, Italy
$1,585View Tour

Best Price Guaranteed

Book With Flexibility




4 Nights Rome & 4 Nights Florence 2023

18 reviews
09

Days

Monograms (Globus)

First Class

Independent
Rome
Florence
Italy
$1,674View Tour

Best Price Guaranteed

Book With Flexibility




4 Nights Rome & 4 Nights Florence 2022

18 reviews
09

Days

Monograms (Globus)

First Class

Independent
Rome
Florence
Italy
$1,674View Tour

Best Price Guaranteed

Book With Flexibility




4 Nights Paris & 4 Nights Rome 2023

09

Days

Monograms (Globus)

First Class

Independent
1 - Light

2+ years old
Paris
Rome
France, Italy
$1,595View Tour

Best Price Guaranteed

Book With Flexibility




4 Nights Paris & 4 Nights Rome 2022

09

Days

Monograms (Globus)

First Class

Independent
1 - Light

2+ years old
Paris
Rome
France, Italy
$1,595View Tour

Best Price Guaranteed

Book With Flexibility




4 Nights Paris & 4 Nights London 2023

09

Days

Monograms (Globus)

First Class

Independent
Paris
London
England, France
$1,545View Tour

Best Price Guaranteed

Book With Flexibility




4 Nights Paris & 4 Nights London 2022

09

Days

Monograms (Globus)

First Class

Independent
Paris
London
England, France
$1,545View Tour

Best Price Guaranteed

Book With Flexibility




4 Nights London, 2 Nights Paris & 2 Nights Rome 2023

108 reviews
09

Days

Monograms (Globus)

First Class

Independent
London
Rome
England, France, Italy
$1,842View Tour

Best Price Guaranteed

Book With Flexibility




4 Nights London, 2 Nights Paris & 2 Nights Rome 2022

108 reviews
09

Days

Monograms (Globus)

First Class

Independent
London
Rome
England, France, Italy
$1,842View Tour

Best Price Guaranteed

Book With Flexibility




4 Nights London & 4 Nights Paris 2023

126 reviews
09

Days

Monograms (Globus)

First Class

Independent
London
Paris
England, France
$1,545View Tour

Best Price Guaranteed

Book With Flexibility




4 Nights London & 4 Nights Paris 2022

126 reviews
09

Days

Monograms (Globus)

First Class

Independent
London
Paris
England, France
$1,545View Tour

Best Price Guaranteed

Book With Flexibility




4 Nights Florence & 4 Nights Rome 2023

09

Days

Monograms (Globus)

First Class

Independent
Florence
Rome
Italy
$1,674View Tour

Best Price Guaranteed

Book With Flexibility




4 Nights Florence & 4 Nights Rome 2022

09

Days

Monograms (Globus)

First Class

Independent
Florence
Rome
Italy
$1,674View Tour

Best Price Guaranteed

Book With Flexibility




3 Nights Venice, 3 Nights Florence & 2 Nights Rome 2023

54 reviews
09

Days

Monograms (Globus)

First Class

Independent
Venice
Rome
Italy
$2,088View Tour

Best Price Guaranteed

Book With Flexibility




3 Nights Venice, 3 Nights Florence & 2 Nights Rome 2022

54 reviews
09

Days

Monograms (Globus)

First Class

Independent
Venice
Rome
Italy
$2,088View Tour

Best Price Guaranteed

Book With Flexibility




3 Nights Venice, 2 Nights Florence & 3 Nights Rome 2023

54 reviews
09

Days

Monograms (Globus)

First Class

Independent
Venice
Rome
Italy
$2,067View Tour

Best Price Guaranteed

Book With Flexibility




3 Nights Venice, 2 Nights Florence & 3 Nights Rome 2022

54 reviews
09

Days

Monograms (Globus)

First Class

Independent
Venice
Rome
Italy
$2,067View Tour

Best Price Guaranteed

Book With Flexibility




3 Nights Rome, 3 Nights Paris & 2 Nights London 2023

54 reviews
09

Days

Monograms (Globus)

First Class

Independent
Rome
London
England, France, Italy
$1,843View Tour

Best Price Guaranteed

Book With Flexibility




3 Nights Rome, 3 Nights Paris & 2 Nights London 2022

54 reviews
09

Days

Monograms (Globus)

First Class

Independent
Rome
London
England, France, Italy
$1,843View Tour

Best Price Guaranteed

Book With Flexibility




3 Nights Rome, 3 Nights Florence & 2 Nights Venice 2023

324 reviews
09

Days

Monograms (Globus)

First Class

Independent
Rome
Venice
Italy
$2,068View Tour

Best Price Guaranteed

Book With Flexibility




3 Nights Rome, 3 Nights Florence & 2 Nights Venice 2022

324 reviews
09

Days

Monograms (Globus)

First Class

Independent
Rome
Venice
Italy
$2,068View Tour

Best Price Guaranteed

Book With Flexibility




3 Nights Rome, 2 Nights Paris & 3 Nights London 2023

54 reviews
09

Days

Monograms (Globus)

First Class

Independent
Rome
London
England, France, Italy
$1,829View Tour

Best Price Guaranteed

Book With Flexibility




3 Nights Rome, 2 Nights Paris & 3 Nights London 2022

54 reviews
09

Days

Monograms (Globus)

First Class

Independent
Rome
London
England, France, Italy
$1,829View Tour

Best Price Guaranteed

Book With Flexibility




3 Nights Rome, 2 Nights Florence & 3 Nights Venice 2023

324 reviews
09

Days

Monograms (Globus)

First Class

Independent
Rome
Venice
Italy
$2,067View Tour

Best Price Guaranteed

Book With Flexibility




3 Nights Rome, 2 Nights Florence & 3 Nights Venice 2022

324 reviews
09

Days

Monograms (Globus)

First Class

Independent
Rome
Venice
Italy
$2,067View Tour

Best Price Guaranteed

Book With Flexibility




3 Nights London, 3 Nights Paris & 2 Nights Rome 2023

108 reviews
09

Days

Monograms (Globus)

First Class

Independent
London
Rome
England, France, Italy
$1,856View Tour

Best Price Guaranteed

Book With Flexibility




3 Nights London, 3 Nights Paris & 2 Nights Rome 2022

108 reviews
09

Days

Monograms (Globus)

First Class

Independent
London
Rome
England, France, Italy
$1,856View Tour

Best Price Guaranteed

Book With Flexibility




3 Nights London, 2 Nights Paris & 3 Nights Rome 2023

108 reviews
09

Days

Monograms (Globus)

First Class

Independent
London
Rome
England, France, Italy
$1,839View Tour

Best Price Guaranteed

Book With Flexibility




3 Nights London, 2 Nights Paris & 3 Nights Rome 2022

108 reviews
09

Days

Monograms (Globus)

First Class

Independent
London
Rome
England, France, Italy
$1,839View Tour

Best Price Guaranteed

Book With Flexibility




2 Nights Venice, 4 Nights Florence & 2 Nights Rome 2023

54 reviews
09

Days

Monograms (Globus)

First Class

Independent
Venice
Rome
Italy
$2,090View Tour

Best Price Guaranteed

Book With Flexibility




2 Nights Venice, 4 Nights Florence & 2 Nights Rome 2022

54 reviews
09

Days

Monograms (Globus)

First Class

Independent
Venice
Rome
Italy
$2,090View Tour

Best Price Guaranteed

Book With Flexibility




2 Nights Venice, 3 Nights Florence & 3 Nights Rome 2023

54 reviews
09

Days

Monograms (Globus)

First Class

Independent
Venice
Rome
Italy
$2,068View Tour

Best Price Guaranteed

Book With Flexibility




2 Nights Venice, 3 Nights Florence & 3 Nights Rome 2022

54 reviews
09

Days

Monograms (Globus)

First Class

Independent
Venice
Rome
Italy
$2,068View Tour

Best Price Guaranteed

Book With Flexibility




2 Nights Venice, 2 Nights Florence & 4 Nights Rome 2023

54 reviews
09

Days

Monograms (Globus)

First Class

Independent
Venice
Rome
Italy
$2,046View Tour

Best Price Guaranteed

Book With Flexibility




2 Nights Venice, 2 Nights Florence & 4 Nights Rome 2022

54 reviews
09

Days

Monograms (Globus)

First Class

Independent
Venice
Rome
Italy
$2,046View Tour

Best Price Guaranteed

Book With Flexibility




2 Nights Rome, 4 Nights Paris & 2 Nights London 2023

54 reviews
09

Days

Monograms (Globus)

First Class

Independent
Rome
London
England, France, Italy
$1,860View Tour

Best Price Guaranteed

Book With Flexibility




2 Nights Rome, 4 Nights Paris & 2 Nights London 2022

54 reviews
09

Days

Monograms (Globus)

First Class

Independent
Rome
London
England, France, Italy
$1,860View Tour

Best Price Guaranteed

Book With Flexibility




2 Nights Rome, 4 Nights Florence & 2 Nights Venice 2023

324 reviews
09

Days

Monograms (Globus)

First Class

Independent
Rome
Venice
Italy
$2,090View Tour

Best Price Guaranteed

Book With Flexibility




2 Nights Rome, 4 Nights Florence & 2 Nights Venice 2022

324 reviews
09

Days

Monograms (Globus)

First Class

Independent
Rome
Venice
Italy
$2,090View Tour

Best Price Guaranteed

Book With Flexibility




2 Nights Rome, 3 Nights Paris & 3 Nights London 2023

54 reviews
09

Days

Monograms (Globus)

First Class

Independent
Rome
London
England, France, Italy
$1,847View Tour

Best Price Guaranteed

Book With Flexibility




2 Nights Rome, 3 Nights Paris & 3 Nights London 2022

54 reviews
09

Days

Monograms (Globus)

First Class

Independent
Rome
London
England, France, Italy
$1,847View Tour

Best Price Guaranteed

Book With Flexibility




2 Nights Rome, 3 Nights Florence & 3 Nights Venice 2023

324 reviews
09

Days

Monograms (Globus)

First Class

Independent
Rome
Venice
Italy
$2,088View Tour

Best Price Guaranteed

Book With Flexibility




2 Nights Rome, 3 Nights Florence & 3 Nights Venice 2022

324 reviews
09

Days

Monograms (Globus)

First Class

Independent
Rome
Venice
Italy
$2,088View Tour

Best Price Guaranteed

Book With Flexibility




2 Nights Rome, 2 Nights Paris & 4 Nights London 2023

54 reviews
09

Days

Monograms (Globus)

First Class

Independent
Rome
London
England, France, Italy
$1,832View Tour

Best Price Guaranteed

Book With Flexibility




2 Nights Rome, 2 Nights Paris & 4 Nights London 2022

54 reviews
09

Days

Monograms (Globus)

First Class

Independent
Rome
London
England, France, Italy
$1,832View Tour

Best Price Guaranteed

Book With Flexibility




2 Nights Rome, 2 Nights Florence & 4 Nights Venice 2023

324 reviews
09

Days

Monograms (Globus)

First Class

Independent
Rome
Venice
Italy
$2,087View Tour

Best Price Guaranteed

Book With Flexibility




2 Nights Rome, 2 Nights Florence & 4 Nights Venice 2022

324 reviews
09

Days

Monograms (Globus)

First Class

Independent
Rome
Venice
Italy
$2,087View Tour

Best Price Guaranteed

Book With Flexibility




2 Nights London, 4 Nights Paris & 2 Nights Rome 2023

108 reviews
09

Days

Monograms (Globus)

First Class

Independent
London
Rome
England, France, Italy
$1,870View Tour

Best Price Guaranteed

Book With Flexibility




2 Nights London, 4 Nights Paris & 2 Nights Rome 2022

108 reviews
09

Days

Monograms (Globus)

First Class

Independent
London
Rome
England, France, Italy
$1,870View Tour

Best Price Guaranteed

Book With Flexibility




2 Nights London, 3 Nights Paris & 3 Nights Rome 2023

108 reviews
09

Days

Monograms (Globus)

First Class

Independent
London
Rome
England, France, Italy
$1,852View Tour

Best Price Guaranteed

Book With Flexibility




2 Nights London, 3 Nights Paris & 3 Nights Rome 2022

108 reviews
09

Days

Monograms (Globus)

First Class

Independent
London
Rome
England, France, Italy
$1,852View Tour

Best Price Guaranteed

Book With Flexibility




2 Nights London, 2 Nights Paris & 4 Nights Rome 2023

108 reviews
09

Days

Monograms (Globus)

First Class

Independent
London
Rome
England, France, Italy
$1,837View Tour

Best Price Guaranteed

Book With Flexibility




2 Nights London, 2 Nights Paris & 4 Nights Rome 2022

108 reviews
09

Days

Monograms (Globus)

First Class

Independent
London
Rome
England, France, Italy
$1,837View Tour

Best Price Guaranteed

Book With Flexibility




4 Nights Venice, 3 Nights Florence & 2 Nights Rome 2023

54 reviews
10

Days

Monograms (Globus)

First Class

Independent
Venice
Rome
Italy
$2,266View Tour

Best Price Guaranteed

Book With Flexibility




4 Nights Venice, 3 Nights Florence & 2 Nights Rome 2022

54 reviews
10

Days

Monograms (Globus)

First Class

Independent
Venice
Rome
Italy
$2,266View Tour

Best Price Guaranteed

Book With Flexibility




4 Nights Venice, 2 Nights Florence & 3 Nights Rome 2023

54 reviews
10

Days

Monograms (Globus)

First Class

Independent
Venice
Rome
Italy
$2,246View Tour

Best Price Guaranteed

Book With Flexibility




4 Nights Venice, 2 Nights Florence & 3 Nights Rome 2022

54 reviews
10

Days

Monograms (Globus)

First Class

Independent
Venice
Rome
Italy
$2,246View Tour

Best Price Guaranteed

Book With Flexibility




4 Nights Rome, 4 Nights Paris & 2 Nights London 2023

54 reviews
10

Days

Monograms (Globus)

First Class

Independent
Rome
London
England, France, Italy
$2,089View Tour

Best Price Guaranteed

Book With Flexibility




4 Nights Rome, 3 Nights Paris & 2 Nights London 2023

54 reviews
10

Days

Monograms (Globus)

First Class

Independent
Rome
London
England, France, Italy
$2,001View Tour

Best Price Guaranteed

Book With Flexibility




4 Nights Rome, 3 Nights Paris & 2 Nights London 2022

54 reviews
10

Days

Monograms (Globus)

First Class

Independent
Rome
London
England, France, Italy
$2,001View Tour

Best Price Guaranteed

Book With Flexibility




4 Nights Rome, 3 Nights Florence & 2 Nights Venice 2023

324 reviews
10

Days

Monograms (Globus)

First Class

Independent
Rome
Venice
Italy
$2,227View Tour

Best Price Guaranteed

Book With Flexibility




4 Nights Rome, 3 Nights Florence & 2 Nights Venice 2022

324 reviews
10

Days

Monograms (Globus)

First Class

Independent
Rome
Venice
Italy
$2,227View Tour

Best Price Guaranteed

Book With Flexibility




4 Nights Rome, 2 Nights Paris & 3 Nights London 2023

54 reviews
10

Days

Monograms (Globus)

First Class

Independent
Rome
London
England, France, Italy
$1,988View Tour

Best Price Guaranteed

Book With Flexibility




4 Nights Rome, 2 Nights Paris & 3 Nights London 2022

54 reviews
10