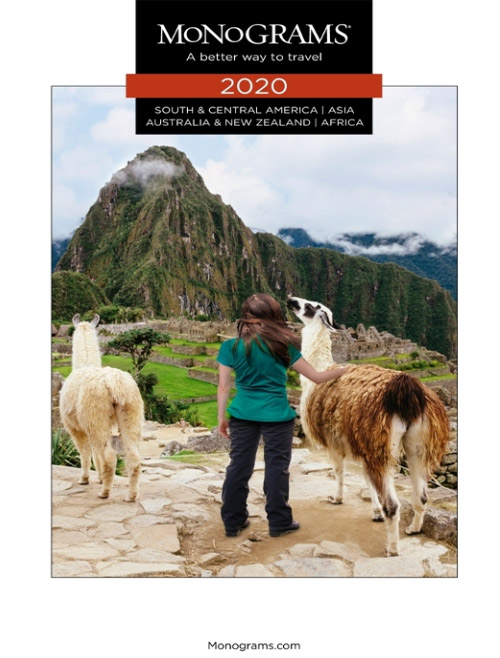 Guaranteed Low Prices on Monograms Vacations - Exotic
NEW! 2020 Now Open for Sale! On a Monograms exotic independent vacation journey to South and Central America, Asia, Australia and New Zealand or Africa to discover new cultures, ancient civilizations and breathtaking natural wonders. While on your journey enjoy the best of both worlds - independent exploring with assistance when you need it.
Independent Vacation
An independent vacation combines the best parts of escorted and guided tours, with the freedom and flexibility of solo traveling. On an independent vacation, you will not be part of a group, which gives you the ability to spend your days exactly how you like. A "local host" or "local guide" in each of the cities you visit is available to answer any questions and to give plenty of guidance along the way. Depending on the tour operator and your destination, your local host may visit your hotel, meet you at the airport or be available by phone. He or she can make sightseeing, shopping and dining suggestions as well as give you the "inside scoop" on all of the most important things to see and do while you're in a foreign city.
Tour Itinerary
Days
Operator
Quality
Style
Starts
Ends
Price



Tanzania Private Safari With Serengeti Stay 2022

00

Days

Monograms (Globus)

First Class

Independent
1 - Light

10+ years old
Kilimanjaro
Kilimanjaro
Tanzania
$5,219View Tour

Best Price Guaranteed

Book With Flexibility




Tanzania Private Safari 2022

00

Days

Monograms (Globus)

First Class

Independent
Kilimanjaro
Kilimanjaro
Tanzania
$4,229View Tour

Best Price Guaranteed

Book With Flexibility




South American Selection With Brazil's Amazon 2022

00

Days

Monograms (Globus)

First Class

Independent
Manaus
Buenos Aires
Argentina, Brazil
$2,389View Tour

Best Price Guaranteed

Book With Flexibility




South African Sojourn With Victoria Falls 2022

00

Days

Monograms (Globus)

First Class

Independent
Cape Town
Johannesburg
South Africa
$2,949View Tour

Best Price Guaranteed

Book With Flexibility




South African Sojourn With Victoria Falls & Chobe Area 2022

00

Days

Monograms (Globus)

First Class

Independent
Cape Town
Johannesburg
Botswana, South Africa, Zimbabwe
$3,929View Tour

Best Price Guaranteed

Book With Flexibility




South African Sojourn With Victoria Falls & Botswana 2022

00

Days

Monograms (Globus)

First Class

Independent
Cape Town
Johannesburg
Botswana, South Africa, Zimbabwe
$5,189View Tour

Best Price Guaranteed

Book With Flexibility




South African Sojourn 2022

00

Days

Monograms (Globus)

First Class

Independent
Cape Town
Johannesburg
South Africa
$2,329View Tour

Best Price Guaranteed

Book With Flexibility




Santiago Getaway With Easter Island 2022

00

Days

Monograms (Globus)

First Class

Independent
Santiago
Santiago
Chile
$1,949View Tour

Best Price Guaranteed

Book With Flexibility




Peru's Amazon & The Arequipa & Coca Canyon 2022

00

Days

Monograms (Globus)

First Class

Independent
1 - Light

2+ years old
Lima
Lima
Bolivia, Peru
$3,569View Tour

Best Price Guaranteed

Book With Flexibility




Peru's Amazon & The Andes Nazca Lines, Arequipa & Colca Canyon 2022

00

Days

Monograms (Globus)

First Class

Independent
1 - Light

2+ years old
Lima
Lima
Peru
$4,409View Tour

Best Price Guaranteed

Book With Flexibility




Peru Highlights With Peru's Amazon 2022

00

Days

Monograms (Globus)

First Class

Independent
Lima
Lima
Peru
$2,329View Tour

Best Price Guaranteed

Book With Flexibility




Peru Highlights With Nazca Lines, Arequipa & Colca Canyon 2022

00

Days

Monograms (Globus)

First Class

Independent
Lima
Lima
Peru
$3,199View Tour

Best Price Guaranteed

Book With Flexibility




Peru Highlights With Nazca Lines 2022

00

Days

Monograms (Globus)

First Class

Independent
Lima
Lima
Peru
$2,569View Tour

Best Price Guaranteed

Book With Flexibility




Peru Highlights With Nazca Lines & Peru's Amazon 2022

00

Days

Monograms (Globus)

First Class

Independent
Lima
Lima
Peru
$3,169View Tour

Best Price Guaranteed

Book With Flexibility




Peru Highlights With Nazca Lines & Lake Titicaca 2022

00

Days

Monograms (Globus)

First Class

Independent
Lima
Lima
Peru
$2,949View Tour

Best Price Guaranteed

Book With Flexibility




Peru Highlights With Lake Titicaca 2022

00

Days

Monograms (Globus)

First Class

Independent
Lima
Lima
Peru
$2,109View Tour

Best Price Guaranteed

Book With Flexibility




Peru Highlights With Arequipa & Colca Canyon 2022

00

Days

Monograms (Globus)

First Class

Independent
Lima
Lima
Peru
$2,359View Tour

Best Price Guaranteed

Book With Flexibility




Peru Highlights 2022

00

Days

Monograms (Globus)

First Class

Independent
Lima
Lima
Peru
$1,729View Tour

Best Price Guaranteed

Book With Flexibility




Magical Colombia With Medellin 2022

00

Days

Monograms (Globus)

First Class

Independent
Bogota
Medellín
Colombia
$2,079View Tour

Best Price Guaranteed

Book With Flexibility




Magical Colombia 2022

00

Days

Monograms (Globus)

First Class

Independent
Bogota
Cartagena
Argentina, Brazil
$1,649View Tour

Best Price Guaranteed

Book With Flexibility




Machu Picchu Getaway With Pre-stay In Lima 2022

00

Days

Monograms (Globus)

First Class

Independent
Lima
Lima
Peru
$1,349View Tour

Best Price Guaranteed

Book With Flexibility




Machu Picchu Getaway With Pre-stay In Cusco 2022

00

Days

Monograms (Globus)

First Class

Independent
Quito
Lima
Peru
$1,249View Tour

Best Price Guaranteed

Book With Flexibility




Machu Picchu Getaway With Pre-stay In Cusco & Post-stay In Lima 2022

00

Days

Monograms (Globus)

First Class

Independent
Quito
Lima
Peru
$1,419View Tour

Best Price Guaranteed

Book With Flexibility




Machu Picchu Getaway With Pre & Post-stays In Lima 2022

00

Days

Monograms (Globus)

First Class

Independent
Lima
Lima
Peru
$1,519View Tour

Best Price Guaranteed

Book With Flexibility




Machu Picchu Getaway With Post-stay In Lima 2022

00

Days

Monograms (Globus)

First Class

Independent
Quito
Lima
Peru
$1,329View Tour

Best Price Guaranteed

Book With Flexibility




Machu Picchu Getaway 2022

00

Days

Monograms (Globus)

First Class

Independent
Quito
Lima
Peru
$1,159View Tour

Best Price Guaranteed

Book With Flexibility




Kenya Private Safari With With Amboseli National Park Area 2022

00

Days

Monograms (Globus)

First Class

Independent
Nairobi
Nairobi
Kenya
$4,269View Tour

Best Price Guaranteed

Book With Flexibility




Kenya Private Safari With Nairobi & Amboseli National Park Area 2022

00

Days

Monograms (Globus)

First Class

Independent
Nairobi
Nairobi
Kenya
$4,639View Tour

Best Price Guaranteed

Book With Flexibility




Grand Tour Of South America With Brazil's Amazon 2022

00

Days

Monograms (Globus)

First Class

Independent
Manaus
Lima
Argentina, Brazil, Peru
$3,959View Tour

Best Price Guaranteed

Book With Flexibility




Galápagos Highlights With Ecuador's Amazon 2022

00

Days

Monograms (Globus)

First Class

Independent
Quito
Guayaquil
Ecuador
$6,599View Tour

Best Price Guaranteed

Book With Flexibility




Galápagos Highlights 2022

00

Days

Monograms (Globus)

First Class

Independent
Quito
Guayaquil
Ecuador
$4,459View Tour

Best Price Guaranteed

Book With Flexibility




Galápagos Highlights & Peru With Ecuador's Amazon 2022

00

Days

Monograms (Globus)

First Class

Independent
Quito
Lima
Ecuador, Peru
$8,019View Tour

Best Price Guaranteed

Book With Flexibility




Galápagos Highlights & Peru 2022

00

Days

Monograms (Globus)

First Class

Independent
Quito
Lima
Ecuador, Peru
$5,879View Tour

Best Price Guaranteed

Book With Flexibility




Cruising The Galápagos On Board The Santa Cruz Ii With Peru 2022

00

Days

Monograms (Globus)

First Class

Independent
Quito
Lima
Ecuador, Peru
$7,069View Tour

Best Price Guaranteed

Book With Flexibility




Cruising The Galápagos On Board The Santa Cruz Ii With Peru & Ecuador's Amazon 2022

00

Days

Monograms (Globus)

First Class

Independent
Quito
Lima
Ecuador, Peru
$9,209View Tour

Best Price Guaranteed

Book With Flexibility




Cruising The Galápagos On Board The Santa Cruz Ii 2022

00

Days

Monograms (Globus)

First Class

Independent
Quito
Guayaquil
Ecuador
$5,609View Tour

Best Price Guaranteed

Book With Flexibility




Cruising The Galápagos On Board The Coral - 7 Night Cruise With Ecuador's Amazon & Peru 2022

00

Days

Monograms (Globus)

First Class

Independent
Quito
Lima
Ecuador, Peru
$9,609View Tour

Best Price Guaranteed

Book With Flexibility




Brazil, Argentina & Chile With Peru & Machu Picchu 2022

00

Days

Monograms (Globus)

First Class

Independent
Rio de Janeiro
Lima
Argentina, Brazil, Chile, Peru
$3,499View Tour

Best Price Guaranteed

Book With Flexibility




Brazil, Argentina & Chile With Easter Island 2022

00

Days

Monograms (Globus)

First Class

Independent
Rio de Janeiro
Santiago
Argentina, Brazil, Chile
$3,179View Tour

Best Price Guaranteed

Book With Flexibility




Brazil, Argentina & Chile With Brazil's Amazon, Peru & Machu Picchu 2022

00

Days

Monograms (Globus)

First Class

Independent
Manaus
Lima
Argentina, Brazil, Chile, Peru
$4,509View Tour

Best Price Guaranteed

Book With Flexibility




Brazil, Argentina & Chile With Brazil's Amazon 2022

00

Days

Monograms (Globus)

First Class

Independent
Manaus
Santiago
Argentina, Brazil, Chile
$2,929View Tour

Best Price Guaranteed

Book With Flexibility




Brazil, Argentina & Chile With Brazil's Amazon & Easter Island 2022

00

Days

Monograms (Globus)

First Class

Independent
Manaus
Santiago
Argentina, Brazil, Chile
$4,189View Tour

Best Price Guaranteed

Book With Flexibility




Brazil, Argentina & Chile 2022

00

Days

Monograms (Globus)

First Class

Independent
Rio de Janeiro
Santiago
Argentina, Brazil, Chile
$1,919View Tour

Best Price Guaranteed

Book With Flexibility




Brazil Highlights With Brazil's Amazon 2022

00

Days

Monograms (Globus)

First Class

Independent
Manaus
Iguassu Falls
Argentina, Brazil
$1,999View Tour

Best Price Guaranteed

Book With Flexibility




Brazil Highlights 2022

00

Days

Monograms (Globus)

First Class

Independent
Rio de Janeiro
Iguassu Falls
Argentina, Brazil
$989View Tour

Best Price Guaranteed

Book With Flexibility




Best Of Panama With Boquete 2022

00

Days

Monograms (Globus)

First Class

Independent
Panama City
Panama City
Panama
$2,359View Tour

Best Price Guaranteed

Book With Flexibility




Best Of Panama With Boquete & San Blas Islands 2022

00

Days

Monograms (Globus)

First Class

Independent
Panama City
Panama City
Panama
$2,659View Tour

Best Price Guaranteed

Book With Flexibility




Best Of Panama With Boquete & Pacific Coast 2022

00

Days

Monograms (Globus)

First Class

Independent
Panama City
Panama City
Panama
$3,059View Tour

Best Price Guaranteed

Book With Flexibility




Best Of Panama With Boquete & Bocas Del Toro 2022

00

Days

Monograms (Globus)

First Class

Independent
Panama City
Panama City
Panama
$3,269View Tour

Best Price Guaranteed

Book With Flexibility




Best Of Panama With Bocas Del Toro 2022

00

Days

Monograms (Globus)

First Class

Independent
Panama City
Panama City
Panama
$2,099View Tour

Best Price Guaranteed

Book With Flexibility




Tokyo 2023

04

Days

Monograms (Globus)

First Class

Independent
1 - Light

2+ years old
Tokyo
Tokyo
Japan
$1,199View Tour

Best Price Guaranteed

Book With Flexibility




Tokyo 2022

04

Days

Monograms (Globus)

First Class

Independent
Tokyo
Tokyo
Japan
$1,119View Tour

Best Price Guaranteed

Book With Flexibility




Tokyo 2021

04

Days

Monograms (Globus)

First Class

Independent
1 - Light

2+ years old
Tokyo
Tokyo
Japan
$1,119View Tour

Best Price Guaranteed

Book With Flexibility




Sydney City Getaway 2023

04

Days

Monograms (Globus)

First Class

Independent
Sydney
Sydney
Australia
$749View Tour

Best Price Guaranteed

Book With Flexibility




Sydney City Getaway 2022

04

Days

Monograms (Globus)

First Class

Independent
Sydney
Sydney
Australia
$699View Tour

Best Price Guaranteed

Book With Flexibility




Sydney City Getaway 2021

04

Days

Monograms (Globus)

First Class

Independent
1 - Light

2+ years old
Sydney
Sydney
Australia
$699View Tour

Best Price Guaranteed

Book With Flexibility




Singapore 2023

04

Days

Monograms (Globus)

First Class

Independent
1 - Light

2+ years old
Singapore
Singapore
Singapore
$829View Tour

Best Price Guaranteed

Book With Flexibility




Singapore 2022

04

Days

Monograms (Globus)

First Class

Independent
Singapore
Singapore
Singapore
$779View Tour

Best Price Guaranteed

Book With Flexibility




Singapore 2021

04

Days

Monograms (Globus)

First Class

Independent
1 - Light

2+ years old
Singapore
Singapore
Singapore
$759View Tour

Best Price Guaranteed

Book With Flexibility




Santiago Getaway 2023

04

Days

Monograms (Globus)

First Class

Independent
1 - Light

Santiago
Santiago
Chile
$729View Tour

Best Price Guaranteed

Book With Flexibility




Santiago Getaway 2022

04

Days

Monograms (Globus)

First Class

Independent
1 - Light

Santiago
Santiago
Chile
$689View Tour

Best Price Guaranteed

Book With Flexibility




Santiago Getaway 2021

04

Days

Monograms (Globus)

First Class

Independent
Santiago
Santiago
Chile
$659View Tour

Best Price Guaranteed

Book With Flexibility




Rio De Janeiro Getaway 2023

04

Days

Monograms (Globus)

First Class

Independent
1 - Light

Rio de Janeiro
Rio de Janeiro
Brazil
$669View Tour

Best Price Guaranteed

Book With Flexibility




Rio De Janeiro Getaway 2022

04

Days

Monograms (Globus)

First Class

Independent
1 - Light

Rio de Janeiro
Rio de Janeiro
Brazil
$629View Tour

Best Price Guaranteed

Book With Flexibility




Rio De Janeiro Getaway 2021

04

Days

Monograms (Globus)

First Class

Independent
Rio de Janeiro
Rio de Janeiro
Brazil
$699View Tour

Best Price Guaranteed

Book With Flexibility




Machu Picchu Getaway 2023

04

Days

Monograms (Globus)

First Class

Independent
1 - Light

Cusco
Cusco
Peru
$1,239View Tour

Best Price Guaranteed

Book With Flexibility




Machu Picchu Getaway 2021

04

Days

Monograms (Globus)

First Class

Independent
Quito
Lima
Peru
$1,139View Tour

Best Price Guaranteed

Book With Flexibility




Dubai 2023

04

Days

Monograms (Globus)

First Class

Independent
1 - Light

Dubai
Dubai
United Arab Emirates
$579View Tour

Best Price Guaranteed

Book With Flexibility




Dubai 2022

04

Days

Monograms (Globus)

First Class

Independent
Dubai
Dubai
United Arab Emirates
$499View Tour

Best Price Guaranteed

Book With Flexibility




Dubai 2021

04

Days

Monograms (Globus)

First Class

Independent
1 - Light

2+ years old
Dubai
Dubai
United Arab Emirates
$629View Tour

Best Price Guaranteed

Book With Flexibility




Buenos Aires Getaway 2023

04

Days

Monograms (Globus)

First Class

Independent
1 - Light

Buenos Aires
Buenos Aires
Argentina
$559View Tour

Best Price Guaranteed

Book With Flexibility




Buenos Aires Getaway 2022

04

Days

Monograms (Globus)

First Class

Independent
1 - Light

Buenos Aires
Buenos Aires
Argentina
$529View Tour

Best Price Guaranteed

Book With Flexibility




Buenos Aires Getaway 2021

04

Days

Monograms (Globus)

First Class

Independent
Buenos Aires
Buenos Aires
Argentina
$529View Tour

Best Price Guaranteed

Book With Flexibility




Bangkok 2023

04

Days

Monograms (Globus)

First Class

Independent
1 - Light

2+ years old
Bangkok
Bangkok
Thailand
$509View Tour

Best Price Guaranteed

Book With Flexibility




Bangkok 2022

04

Days

Monograms (Globus)

First Class

Independent
Bangkok
Bangkok
Thailand
$479View Tour

Best Price Guaranteed

Book With Flexibility




Bangkok 2021

04

Days

Monograms (Globus)

First Class

Independent
1 - Light

2+ years old
Bangkok
Bangkok
Thailand
$499View Tour

Best Price Guaranteed

Book With Flexibility




Machu Picchu Getaway With Pre-stay In Lima 2023

05

Days

Monograms (Globus)

First Class

Independent
1 - Light

Lima
Lima
Peru
$1,439View Tour

Best Price Guaranteed

Book With Flexibility




Machu Picchu Getaway With Pre-stay In Lima 2021

05

Days

Monograms (Globus)

First Class

Independent
Lima
Lima
Peru
$1,329View Tour

Best Price Guaranteed

Book With Flexibility




Machu Picchu Getaway With Pre-stay In Cusco 2023

05

Days

Monograms (Globus)

First Class

Independent
1 - Light

Cusco
Cusco
Peru
$1,339View Tour

Best Price Guaranteed

Book With Flexibility




Machu Picchu Getaway With Pre-stay In Cusco 2021

05

Days

Monograms (Globus)

First Class

Independent
Quito
Lima
Peru
$1,229View Tour

Best Price Guaranteed

Book With Flexibility




Machu Picchu Getaway With Post-stay In Lima 2023

05

Days

Monograms (Globus)

First Class

Independent
1 - Light

Cusco
Lima
Peru
$1,419View Tour

Best Price Guaranteed

Book With Flexibility




Machu Picchu Getaway With Post-stay In Lima 2021

05

Days

Monograms (Globus)

First Class

Independent
Quito
Lima
Peru
$1,309View Tour

Best Price Guaranteed

Book With Flexibility




Machu Picchu Getaway With Pre-stay In Cusco & Post-stay In Lima 2023

06

Days

Monograms (Globus)

First Class

Independent
1 - Light

Cusco
Lima
Peru
$1,519View Tour

Best Price Guaranteed

Book With Flexibility




Machu Picchu Getaway With Pre-stay In Cusco & Post-stay In Lima 2021

06

Days

Monograms (Globus)

First Class

Independent
Quito
Lima
Peru
$1,399View Tour

Best Price Guaranteed

Book With Flexibility




Machu Picchu Getaway With Pre & Post-stays In Lima 2023

06

Days

Monograms (Globus)

First Class

Independent
1 - Light

Lima
Lima
Peru
$1,619View Tour

Best Price Guaranteed

Book With Flexibility




Machu Picchu Getaway With Pre & Post-stays In Lima 2021

06

Days

Monograms (Globus)

First Class

Independent
Lima
Lima
Peru
$1,499View Tour

Best Price Guaranteed

Book With Flexibility




Buenos Aires Getaway With Iguassu Falls 2023

06

Days

Monograms (Globus)

First Class

Independent
1 - Light

2+ years old
Buenos Aires
Iguassu Falls
Argentina, Brazil
$1,029View Tour

Best Price Guaranteed

Book With Flexibility




Buenos Aires Getaway With Iguassu Falls 2022

06

Days

Monograms (Globus)

First Class

Independent
1 - Light

2+ years old
Buenos Aires
Iguassu Falls
Argentina, Brazil
$969View Tour

Best Price Guaranteed

Book With Flexibility




Buenos Aires Getaway With Iguassu Falls 2021

06

Days

Monograms (Globus)

First Class

Independent
1 - Light

2+ years old
Buenos Aires
Iguassu Falls
Argentina, Brazil
$979View Tour

Best Price Guaranteed

Book With Flexibility




Brazil Highlights 2023

06

Days

Monograms (Globus)

First Class

Independent
1 - Light

Rio de Janeiro
Iguassu Falls
Argentina, Brazil
$1,059View Tour

Best Price Guaranteed

Book With Flexibility




Brazil Highlights 2021

06

Days

Monograms (Globus)

First Class

Independent
Rio de Janeiro
Iguassu Falls
Argentina, Brazil
$1,139View Tour

Best Price Guaranteed

Book With Flexibility




Best Of Panama 2023

9 reviews
06

Days

Monograms (Globus)

First Class

Independent
1 - Light

Panama City
Panama City
Panama
$1,339View Tour

Best Price Guaranteed

Book With Flexibility




Best Of Panama 2022

9 reviews
06

Days

Monograms (Globus)

First Class

Independent
1 - Light

Panama City
Panama City
Panama
$1,189View Tour

Best Price Guaranteed

Book With Flexibility




Best Of Panama 2021

9 reviews
06

Days

Monograms (Globus)

First Class

Independent
Panama City
Panama City
Panama
$1,169View Tour

Best Price Guaranteed

Book With Flexibility




Sydney City Getaway With The Outback 2023

07

Days

Monograms (Globus)

First Class

Independent
Sydney
Ayers Rock
Australia
$1,809View Tour

Best Price Guaranteed

Book With Flexibility




Sydney City Getaway With The Outback 2022

07

Days

Monograms (Globus)

First Class

Independent
Sydney
Ayers Rock
Australia
$1,709View Tour

Best Price Guaranteed

Book With Flexibility




Singapore & Bangkok 2023

07

Days

Monograms (Globus)

First Class

Independent
1 - Light

2+ years old
Singapore
Bangkok
Singapore, Thailand
$1,389View Tour

Best Price Guaranteed

Book With Flexibility




Singapore & Bangkok 2022

07

Days

Monograms (Globus)

First Class

Independent
Singapore
Bangkok
Singapore, Thailand
$1,299View Tour

Best Price Guaranteed

Book With Flexibility




Singapore & Bangkok 2021

07

Days

Monograms (Globus)

First Class

Independent
2 - Classic

2+ years old
Singapore
Bangkok
Singapore, Thailand
$1,299View Tour

Best Price Guaranteed

Book With Flexibility




Santiago Getaway With Mendoza 2023

07

Days

Monograms (Globus)

First Class

Independent
1 - Light

2+ years old
Santiago
Mendoza
Argentina, Chile
$1,039View Tour

Best Price Guaranteed

Book With Flexibility




Santiago Getaway With Mendoza 2022

07

Days

Monograms (Globus)

First Class

Independent
1 - Light

Santiago
Mendoza
Argentina, Chile
$969View Tour

Best Price Guaranteed

Book With Flexibility




Santiago Getaway With Mendoza 2021

07

Days

Monograms (Globus)

First Class

Independent
2+ years old
Santiago
Mendoza
Chile
$969View Tour

Best Price Guaranteed

Book With Flexibility




Rio De Janeiro Getaway With Buenos Aires 2023

07

Days

Monograms (Globus)

First Class

Independent
1 - Light

2+ years old
Rio de Janeiro
Buenos Aires
Argentina, Brazil
$1,078View Tour

Best Price Guaranteed

Book With Flexibility




Rio De Janeiro Getaway With Buenos Aires 2022

07

Days

Monograms (Globus)

First Class

Independent
1 - Light

Rio de Janeiro
Buenos Aires
Argentina, Brazil
$1,008View Tour

Best Price Guaranteed

Book With Flexibility




Rio De Janeiro Getaway With Buenos Aires 2021

07

Days

Monograms (Globus)

First Class

Independent
2+ years old
Rio de Janeiro
Buenos Aires
Argentina, Brazil
$1,168View Tour

Best Price Guaranteed

Book With Flexibility




Rio De Janeiro Getaway With Brazil's Amazon 2023

07

Days

Monograms (Globus)

First Class

Independent
1 - Light

2+ years old
Manaus
Rio de Janeiro
Brazil
$1,759View Tour

Best Price Guaranteed

Book With Flexibility




Rio De Janeiro Getaway With Brazil's Amazon 2022

07

Days

Monograms (Globus)

First Class

Independent
1 - Light

2+ years old
Manaus
Rio de Janeiro
Brazil
$1,639View Tour

Best Price Guaranteed

Book With Flexibility




Rio De Janeiro Getaway With Brazil's Amazon 2021

07

Days

Monograms (Globus)

First Class

Independent
1 - Light

2+ years old
Manaus
Rio de Janeiro
Brazil
$1,639View Tour

Best Price Guaranteed

Book With Flexibility




Costa Rica Wonders 2023

16 reviews
07

Days

Monograms (Globus)

First Class

Independent
1 - Light

San Jose
San Jose
Costa Rica
$1,159View Tour

Best Price Guaranteed

Book With Flexibility




Costa Rica Wonders 2022

16 reviews
07

Days

Monograms (Globus)

First Class

Independent
1 - Light

San Jose
San Jose
Costa Rica
$1,069View Tour

Best Price Guaranteed

Book With Flexibility




Costa Rica Wonders 2021

16 reviews
07

Days

Monograms (Globus)

First Class

Independent
San Jose
San Jose
Costa Rica
$1,049View Tour

Best Price Guaranteed

Book With Flexibility




Buenos Aires Getaway With Rio De Janeiro 2023

07

Days

Monograms (Globus)

First Class

Independent
1 - Light

2+ years old
Buenos Aires
Rio de Janeiro
Argentina, Brazil
$1,078View Tour

Best Price Guaranteed

Book With Flexibility




Buenos Aires Getaway With Rio De Janeiro 2022

07

Days

Monograms (Globus)

First Class

Independent
1 - Light

Buenos Aires
Rio de Janeiro
Argentina, Brazil
$1,008View Tour

Best Price Guaranteed

Book With Flexibility




Buenos Aires Getaway With Rio De Janeiro 2021

07

Days

Monograms (Globus)

First Class

Independent
2+ years old
Buenos Aires
Rio de Janeiro
Argentina, Brazil
$1,008View Tour

Best Price Guaranteed

Book With Flexibility




Buenos Aires Getaway With Mendoza 2023

07

Days

Monograms (Globus)

First Class

Independent
1 - Light

2+ years old
Buenos Aires
Mendoza
Argentina
$869View Tour

Best Price Guaranteed

Book With Flexibility




Buenos Aires Getaway With Mendoza 2022

07

Days

Monograms (Globus)

First Class

Independent
1 - Light

Buenos Aires
Mendoza
Argentina
$809View Tour

Best Price Guaranteed

Book With Flexibility




Buenos Aires Getaway With Mendoza 2021

07

Days

Monograms (Globus)

First Class

Independent
2+ years old
Buenos Aires
Mendoza
Argentina
$809View Tour

Best Price Guaranteed

Book With Flexibility




Best Of Panama With San Blas Islands 2023

07

Days

Monograms (Globus)

First Class

Independent
1 - Light

Panama City
Panama City
Panama
$1,669View Tour

Best Price Guaranteed

Book With Flexibility




Best Of Panama With San Blas Islands 2022

07

Days

Monograms (Globus)

First Class

Independent
1 - Light

Panama City
Panama City
Panama
$1,489View Tour

Best Price Guaranteed

Book With Flexibility




Best Of Panama With San Blas Islands 2021

07

Days

Monograms (Globus)

First Class

Independent
Panama City
Panama City
Panama
$1,469View Tour

Best Price Guaranteed

Book With Flexibility




Best Of Japan 2023

24 reviews
07

Days

Monograms (Globus)

First Class

Independent
1 - Light

2+ years old
Tokyo
Kyoto
Japan
$2,599View Tour

Best Price Guaranteed

Book With Flexibility




Best Of Japan 2022

24 reviews
07

Days

Monograms (Globus)

First Class

Independent
Tokyo
Osaka
Japan
$2,409View Tour

Best Price Guaranteed

Book With Flexibility




Best Of Japan 2021

24 reviews
07

Days

Monograms (Globus)

First Class

Independent
1 - Light

2+ years old
Tokyo
Kyoto
Japan
$2,439View Tour

Best Price Guaranteed

Book With Flexibility




Bangkok & Phuket 2023

07

Days

Monograms (Globus)

First Class

Independent
1 - Light

2+ years old
Bangkok
Phuket
Thailand
$919View Tour

Best Price Guaranteed

Book With Flexibility




Bangkok & Phuket 2022

07

Days

Monograms (Globus)

First Class

Independent
Bangkok
Phuket
Thailand
$759View Tour

Best Price Guaranteed

Book With Flexibility




Bangkok & Phuket 2021

07

Days

Monograms (Globus)

First Class

Independent
1 - Light

2+ years old
Bangkok
Phuket
Thailand
$719View Tour

Best Price Guaranteed

Book With Flexibility




Bangkok & Chiang Mai 2023

07

Days

Monograms (Globus)

First Class

Independent
1 - Light

2+ years old
Bangkok
Chiang Mai
Thailand
$989View Tour

Best Price Guaranteed

Book With Flexibility




Bangkok & Chiang Mai 2022

07

Days

Monograms (Globus)

First Class

Independent
Bangkok
Chiang Mai
Thailand
$909View Tour

Best Price Guaranteed

Book With Flexibility




Bangkok & Chiang Mai 2021

07

Days

Monograms (Globus)

First Class

Independent
1 - Light

2+ years old
Bangkok
Chiang Mai
Thailand
$959View Tour

Best Price Guaranteed

Book With Flexibility




Tropical Fiji 2023

08

Days

Monograms (Globus)

First Class

Independent
1 - Light

2+ years old
Nadi
Nadi
Fiji
$2,489View Tour

Best Price Guaranteed

Book With Flexibility




Tropical Fiji 2022

08

Days

Monograms (Globus)

First Class

Independent
1 - Light

2+ years old
Nadi
Nadi
Fiji
$2,389View Tour

Best Price Guaranteed

Book With Flexibility




Tropical Fiji 2021

08

Days

Monograms (Globus)

First Class

Independent
1 - Light

2+ years old
Nadi
Nadi
Fiji
$2,389View Tour

Best Price Guaranteed

Book With Flexibility




Sydney City Getaway With The Ningaloo Reef 2023

08

Days

Monograms (Globus)

First Class

Independent
Sydney
Perth
Australia
$2,369View Tour

Best Price Guaranteed

Book With Flexibility




Sydney City Getaway With The Ningaloo Reef 2022

08

Days

Monograms (Globus)

First Class

Independent
Sydney
Perth
Australia
$2,139View Tour

Best Price Guaranteed

Book With Flexibility




Santiago Getaway With Easter Island 2023

08

Days

Monograms (Globus)

First Class

Independent
1 - Light

Santiago
Santiago
Chile
$2,089View Tour

Best Price Guaranteed

Book With Flexibility




Santiago Getaway With Easter Island 2021

08

Days

Monograms (Globus)

First Class

Independent
Santiago
Santiago
Chile
$1,909View Tour

Best Price Guaranteed

Book With Flexibility




Peru Highlights 2023

12 reviews
08

Days

Monograms (Globus)

First Class

Independent
1 - Light

Lima
Lima
Peru
$1,859View Tour

Best Price Guaranteed

Book With Flexibility




Peru Highlights 2021

12 reviews
08

Days

Monograms (Globus)

First Class

Independent
Lima
Lima
Peru
$1,689View Tour

Best Price Guaranteed

Book With Flexibility




Magical Colombia 2023

4 reviews
08

Days

Monograms (Globus)

First Class

Independent
1 - Light

Bogota
Cartagena
Colombia
$1,769View Tour

Best Price Guaranteed

Book With Flexibility




Magical Colombia 2021

4 reviews
08

Days

Monograms (Globus)

First Class

Independent
Bogota
Cartagena
Colombia
$1,619View Tour

Best Price Guaranteed

Book With Flexibility




India's Golden Triangle 2023

18 reviews
08

Days

Monograms (Globus)

First Class

Independent
1 - Light

New Delhi
New Delhi
India
$1,339View Tour

Best Price Guaranteed

Book With Flexibility




India's Golden Triangle 2022

18 reviews
08

Days

Monograms (Globus)

First Class

Independent
New Delhi
New Delhi
India
$1,189View Tour

Best Price Guaranteed

Book With Flexibility




India's Golden Triangle 2021

18 reviews
08

Days

Monograms (Globus)

First Class

Independent
1 - Light

2+ years old
New Delhi
New Delhi
India
$1,309View Tour

Best Price Guaranteed

Book With Flexibility




Galápagos Highlights 2023

4 reviews
08

Days

Monograms (Globus)

First Class

Independent
1 - Light

Quito
Guayaquil
Ecuador, Galapagos
$4,749View Tour

Best Price Guaranteed

Book With Flexibility




Galápagos Highlights 2021

4 reviews
08

Days

Monograms (Globus)

First Class

Independent
Quito
Guayaquil
Ecuador
$4,319View Tour

Best Price Guaranteed

Book With Flexibility




Cruising The Galápagos On Board The Santa Cruz Ii 2021

08

Days

Monograms (Globus)

First Class

Independent
Quito
Guayaquil
Ecuador
$5,449View Tour

Best Price Guaranteed

Book With Flexibility




Buenos Aires Getaway With Bariloche 2023

08

Days

Monograms (Globus)

First Class

Independent
1 - Light

2+ years old
Buenos Aires
Buenos Aires
Argentina
$1,149View Tour

Best Price Guaranteed

Book With Flexibility




Buenos Aires Getaway With Bariloche 2022

08

Days

Monograms (Globus)

First Class

Independent
1 - Light

2+ years old
Buenos Aires
Buenos Aires
Argentina
$1,079View Tour

Best Price Guaranteed

Book With Flexibility




Buenos Aires Getaway With Bariloche 2021

08

Days

Monograms (Globus)

First Class

Independent
1 - Light

2+ years old
Buenos Aires
Buenos Aires
Argentina
$1,079View Tour

Best Price Guaranteed

Book With Flexibility




Tanzania Private Safari 2023

6 reviews
09

Days

Monograms (Globus)

First Class

Independent
2 - Classic

Arusha
Arusha
Tanzania
$4,549View Tour

Best Price Guaranteed

Book With Flexibility




Tanzania Private Safari 2021

6 reviews
09

Days

Monograms (Globus)

First Class

Independent
Kilimanjaro
Kilimanjaro
Tanzania
$4,399View Tour

Best Price Guaranteed

Book With Flexibility




South American Selection 2023

2 reviews
09

Days

Monograms (Globus)

First Class

Independent
Rio de Janeiro
Buenos Aires
Argentina, Brazil
$1,469View Tour

Best Price Guaranteed

Book With Flexibility




South American Selection 2022

09

Days

Monograms (Globus)

First Class

Independent
Rio de Janeiro
Buenos Aires
Argentina, Brazil
$1,379View Tour

Best Price Guaranteed

Book With Flexibility




South American Selection 2021

2 reviews
09

Days

Monograms (Globus)

First Class

Independent
Rio de Janeiro
Buenos Aires
Argentina, Brazil
$1,609View Tour

Best Price Guaranteed

Book With Flexibility




South African Sojourn 2023

09

Days

Monograms (Globus)

First Class

Independent
2 - Classic

Cape Town
Johannesburg
South Africa
$2,619View Tour

Best Price Guaranteed

Book With Flexibility




South African Sojourn 2021

09

Days

Monograms (Globus)

First Class

Independent
Cape Town
Johannesburg
South Africa
$2,259View Tour

Best Price Guaranteed

Book With Flexibility




Kenya Private Safari 2023

6 reviews
09

Days

Monograms (Globus)

First Class

Independent
1 - Light

Nairobi
Nairobi
Kenya
$3,859View Tour

Best Price Guaranteed

Book With Flexibility




Kenya Private Safari 2022

6 reviews
09

Days

Monograms (Globus)

First Class

Independent
1 - Light

Nairobi
Nairobi
Kenya
$3,589View Tour

Best Price Guaranteed

Book With Flexibility




Kenya Private Safari 2021

6 reviews
09

Days

Monograms (Globus)

First Class

Independent
Nairobi
Nairobi
Kenya
$3,719View Tour

Best Price Guaranteed

Book With Flexibility




Journey Down Under 2023

6 reviews
09

Days

Monograms (Globus)

First Class

Independent
Cairns
Sydney
Australia
$2,229View Tour

Best Price Guaranteed

Book With Flexibility




Journey Down Under 2022

6 reviews
09

Days

Monograms (Globus)

First Class

Independent
Cairns
Sydney
Australia
$2,089View Tour

Best Price Guaranteed

Book With Flexibility




Great Barrier Reef & Sydney 2023

6 reviews
09

Days

Monograms (Globus)

First Class

Independent
Cairns
Sydney
Australia
$1,859View Tour

Best Price Guaranteed

Book With Flexibility




Great Barrier Reef & Sydney 2022

6 reviews
09

Days

Monograms (Globus)

First Class

Independent
Cairns
Sydney
Australia
$1,729View Tour

Best Price Guaranteed

Book With Flexibility




Great Barrier Reef & Sydney 2021

6 reviews
09

Days

Monograms (Globus)

First Class

Independent
1 - Light

2+ years old
Cairns
Sydney
Australia
$1,799View Tour

Best Price Guaranteed

Book With Flexibility




Costa Rica Wonders With Tortuguero 2023

16 reviews
09

Days

Monograms (Globus)

First Class

Independent
1 - Light

San Jose
San Jose
Costa Rica
$1,739View Tour

Best Price Guaranteed

Book With Flexibility




Costa Rica Wonders With Tortuguero 2022

2 reviews
09

Days

Monograms (Globus)

First Class

Independent
1 - Light

San Jose
San Jose
Costa Rica
$1,609View Tour

Best Price Guaranteed

Book With Flexibility




Costa Rica Wonders With Tortuguero 2021

2 reviews
09

Days

Monograms (Globus)

First Class

Independent
San Jose
San Jose
Costa Rica
$1,569View Tour

Best Price Guaranteed

Book With Flexibility




Costa Rica Wonders With Guanacaste 2023

16 reviews
09

Days

Monograms (Globus)

First Class

Independent
1 - Light

San Jose
Liberia
Costa Rica
$1,599View Tour

Best Price Guaranteed

Book With Flexibility




Costa Rica Wonders With Guanacaste 2022

4 reviews
09

Days

Monograms (Globus)

First Class

Independent
1 - Light

San Jose
Guanacaste
Costa Rica
$1,349View Tour

Best Price Guaranteed

Book With Flexibility




Costa Rica Wonders With Guanacaste 2021

4 reviews
09

Days

Monograms (Globus)

First Class

Independent
San Jose
Liberia
Costa Rica
$1,359View Tour

Best Price Guaranteed

Book With Flexibility




Buenos Aires Getaway With Iguassu Falls And Rio De Janeiro 2021

09

Days

Monograms (Globus)

First Class

Independent
2 - Classic

2+ years old
Buenos Aires
Rio de Janeiro
Argentina, Brazil
$1,419View Tour

Best Price Guaranteed

Book With Flexibility




Buenos Aires Getaway With Iguassu Falls & Rio De Janeiro 2023

09

Days

Monograms (Globus)

First Class

Independent
2 - Classic

2+ years old
Buenos Aires
Rio de Janeiro
Argentina, Brazil
$1,499View Tour

Best Price Guaranteed

Book With Flexibility




Buenos Aires Getaway With Iguassu Falls & Rio De Janeiro 2022

09

Days

Monograms (Globus)

First Class

Independent
1 - Light

2+ years old
Buenos Aires
Rio de Janeiro
Argentina, Brazil
$1,399View Tour

Best Price Guaranteed

Book With Flexibility




Brazil Highlights With Brazil's Amazon 2023

09

Days

Monograms (Globus)

First Class

Independent
1 - Light

Manaus
Iguassu Falls
Argentina, Brazil
$2,149View Tour

Best Price Guaranteed

Book With Flexibility




Brazil Highlights With Brazil's Amazon 2021

09

Days

Monograms (Globus)

First Class

Independent
Manaus
Iguassu Falls
Argentina, Brazil
$2,009View Tour

Best Price Guaranteed

Book With Flexibility




Best Of Panama With Pacific Coast 2023

9 reviews
09

Days

Monograms (Globus)

First Class

Independent
1 - Light

Panama City
Panama City
Panama
$2,129View Tour

Best Price Guaranteed

Book With Flexibility




Best Of Panama With Pacific Coast 2022

9 reviews
09

Days

Monograms (Globus)

First Class

Independent
1 - Light

Panama City
Panama City
Panama
$1,889View Tour

Best Price Guaranteed

Book With Flexibility




Best Of Panama With Pacific Coast 2021

9 reviews
09

Days

Monograms (Globus)

First Class

Independent
Panama City
Panama City
Panama
$1,859View Tour

Best Price Guaranteed

Book With Flexibility




Best Of Japan With Osaka 2022

2 reviews
09

Days

Monograms (Globus)

First Class

Independent
Tokyo
Osaka
Japan
$3,399View Tour

Best Price Guaranteed

Book With Flexibility




Best Of Japan With Hiroshima 2023

24 reviews
09

Days

Monograms (Globus)

First Class

Independent
1 - Light

2+ years old
Tokyo
Hiroshima
Japan
$3,849View Tour

Best Price Guaranteed

Book With Flexibility




Best Of Japan With Hiroshima 2022

4 reviews
09

Days

Monograms (Globus)

First Class

Independent
Tokyo
Hiroshima
Japan
$3,559View Tour

Best Price Guaranteed

Book With Flexibility




Best Of Japan With Hiroshima 2021

4 reviews
09

Days

Monograms (Globus)

First Class

Independent
1 - Light

2+ years old
Tokyo
Hiroshima
Japan
$3,569View Tour

Best Price Guaranteed

Book With Flexibility




Taste Of Vietnam & Cambodia 2023

10

Days

Monograms (Globus)

First Class

Independent
2 - Classic

2+ years old
Hanoi
Siem Reap
Cambodia, Vietnam
$1,599View Tour

Best Price Guaranteed

Book With Flexibility




Taste Of Vietnam & Cambodia 2022

10

Days

Monograms (Globus)

First Class

Independent
Hanoi
Siem Reap
Cambodia, Vietnam
$1,459View Tour

Best Price Guaranteed

Book With Flexibility




Taste Of Vietnam & Cambodia 2021

10

Days

Monograms (Globus)

First Class

Independent
Hanoi
Siem Reap
Cambodia, Vietnam
$1,559View Tour

Best Price Guaranteed

Book With Flexibility




Singapore, Bangkok & Siem Reap 2023

10

Days

Monograms (Globus)

First Class

Independent
1 - Light

2+ years old
Singapore
Siem Reap
Cambodia, Singapore, Thailand
$1,889View Tour

Best Price Guaranteed

Book With Flexibility




Singapore, Bangkok & Siem Reap 2022

10

Days

Monograms (Globus)

First Class

Independent
Singapore
Siem Reap
Cambodia, Singapore, Thailand
$1,739View Tour

Best Price Guaranteed

Book With Flexibility




Singapore, Bangkok & Siem Reap 2021

10

Days

Monograms (Globus)

First Class

Independent
1 - Light

2+ years old
Singapore
Siem Reap
Cambodia, Singapore, Thailand
$1,769View Tour

Best Price Guaranteed

Book With Flexibility




Rio De Janeiro Getaway With Brazil's Amazon & Buenos Aires 2023

10

Days

Monograms (Globus)

First Class

Independent
1 - Light

2+ years old
Manaus
Buenos Aires
Argentina, Brazil
$2,168View Tour

Best Price Guaranteed

Book With Flexibility




Rio De Janeiro Getaway With Brazil's Amazon & Buenos Aires 2022

10

Days

Monograms (Globus)

First Class

Independent
1 - Light

Manaus
Buenos Aires
Argentina, Brazil
$2,018View Tour

Best Price Guaranteed

Book With Flexibility




Rio De Janeiro Getaway With Brazil's Amazon & Buenos Aires 2021

10

Days

Monograms (Globus)

First Class

Independent
2+ years old
Manaus
Buenos Aires
Argentina, Brazil
$2,018View Tour

Best Price Guaranteed

Book With Flexibility




Peru Highlights With Nazca Lines 2023

2 reviews
10

Days

Monograms (Globus)

First Class

Independent
1 - Light

Lima
Lima
Peru
$2,769View Tour

Best Price Guaranteed

Book With Flexibility




Peru Highlights With Nazca Lines 2021

2 reviews
10

Days

Monograms (Globus)

First Class

Independent
Lima
Lima
Peru
$2,509View Tour

Best Price Guaranteed

Book With Flexibility




Peru Highlights With Lake Titicaca 2023

10 reviews
10

Days

Monograms (Globus)

First Class

Independent
1 - Light

Lima
Lima
Peru
$2,269View Tour

Best Price Guaranteed

Book With Flexibility




Peru Highlights With Lake Titicaca 2021

10 reviews
10

Days

Monograms (Globus)

First Class

Independent
Lima
Lima
Peru
$2,049View Tour

Best Price Guaranteed

Book With Flexibility




Magical Colombia With Medellin 2023

6 reviews
10

Days

Monograms (Globus)

First Class

Independent
1 - Light

Bogota
Medellín
Colombia
$2,239View Tour

Best Price Guaranteed

Book With Flexibility




Magical Colombia With Medellin 2021

6 reviews
10

Days

Monograms (Globus)

First Class

Independent
Bogota
Medellín
Colombia
$2,049View Tour

Best Price Guaranteed

Book With Flexibility




Kenya Private Safari With Nairobi 2023

6 reviews
10

Days

Monograms (Globus)

First Class

Independent
1 - Light

Nairobi
Nairobi
Kenya
$4,259View Tour

Best Price Guaranteed

Book With Flexibility




Kenya Private Safari With Nairobi 2022

10

Days

Monograms (Globus)

First Class

Independent
1 - Light

Nairobi
Nairobi
Kenya
$3,959View Tour

Best Price Guaranteed

Book With Flexibility




Kenya Private Safari With Nairobi 2021

10

Days

Monograms (Globus)

First Class

Independent
Nairobi
Nairobi
Kenya
$4,129View Tour

Best Price Guaranteed

Book With Flexibility




Costa Rica Wonders With Manuel Antonio 2023

16 reviews
10

Days

Monograms (Globus)

First Class

Independent
1 - Light

San Jose
San Jose
Costa Rica
$1,689View Tour

Best Price Guaranteed

Book With Flexibility




Costa Rica Wonders With Manuel Antonio 2022

2 reviews
10

Days

Monograms (Globus)

First Class

Independent
1 - Light

San Jose
San Jose
Costa Rica
$1,559View Tour

Best Price Guaranteed

Book With Flexibility




Costa Rica Wonders With Manuel Antonio 2021

2 reviews
10

Days

Monograms (Globus)

First Class

Independent
San Jose
San Jose
Costa Rica
$1,519View Tour

Best Price Guaranteed

Book With Flexibility




Buenos Aires Getaway With Mendoza & Santiago 2023

10

Days

Monograms (Globus)

First Class

Independent
1 - Light

2+ years old
Buenos Aires
Santiago
Argentina, Chile
$1,448View Tour

Best Price Guaranteed

Book With Flexibility




Buenos Aires Getaway With Mendoza & Santiago 2022

10

Days

Monograms (Globus)

First Class

Independent
1 - Light

Buenos Aires
Santiago
Argentina, Chile
$1,348View Tour

Best Price Guaranteed

Book With Flexibility




Buenos Aires Getaway With Mendoza & Santiago 2021

10

Days

Monograms (Globus)

First Class

Independent
2+ years old
Buenos Aires
Santiago
Argentina, Chile
$1,348View Tour

Best Price Guaranteed

Book With Flexibility




Best Of Panama With Boquete 2023

10

Days

Monograms (Globus)

First Class

Independent
1 - Light

Panama City
Panama City
Panama
$2,679View Tour

Best Price Guaranteed

Book With Flexibility




Best Of Panama With Boquete 2021

10

Days

Monograms (Globus)

First Class

Independent
Panama City
Panama City
Panama
$2,409View Tour

Best Price Guaranteed

Book With Flexibility




Best Of Panama With Bocas Del Toro 2023

4 reviews
10

Days

Monograms (Globus)

First Class

Independent
1 - Light

Panama City
Panama City
Panama
$2,319View Tour

Best Price Guaranteed

Book With Flexibility




Best Of Panama With Bocas Del Toro 2021

4 reviews
10

Days

Monograms (Globus)

First Class

Independent
Panama City
Panama City
Panama
$2,079View Tour

Best Price Guaranteed

Book With Flexibility




Bangkok, Chiang Mai & Phuket 2023

6 reviews
10

Days

Monograms (Globus)

First Class

Independent
2 - Classic

2+ years old
Bangkok
Phuket
Thailand
$1,379View Tour

Best Price Guaranteed

Book With Flexibility




Bangkok, Chiang Mai & Phuket 2022

6 reviews
10

Days

Monograms (Globus)

First Class

Independent
Bangkok
Phuket
Thailand
$1,179View Tour

Best Price Guaranteed

Book With Flexibility




Bangkok, Chiang Mai & Phuket 2021

6 reviews
10

Days

Monograms (Globus)

First Class

Independent
1 - Light

2+ years old
Bangkok
Phuket
Thailand
$1,209View Tour

Best Price Guaranteed

Book With Flexibility




Australian Explorer 2023

6 reviews
10

Days

Monograms (Globus)

First Class

Independent
Sydney
Melbourne
Australia
$2,149View Tour

Best Price Guaranteed

Book With Flexibility




Australian Explorer 2022

6 reviews
10

Days

Monograms (Globus)

First Class

Independent
Sydney
Melbourne
Australia
$1,999View Tour

Best Price Guaranteed

Book With Flexibility




Australian Explorer 2021

6 reviews
10

Days

Monograms (Globus)

First Class

Independent
1 - Light

2+ years old
Sydney
Melbourne
Australia
$2,049View Tour

Best Price Guaranteed

Book With Flexibility




Amazonia Voyage With Rio & Iguassu 2022

10

Days

Monograms (Globus)

First Class

Independent
1 - Light

Rio de Janeiro
Manaus
Argentina, Brazil
$3,089View Tour

Best Price Guaranteed

Book With Flexibility




Amazonia Voyage With Rio & Iguassu 2021

10

Days

Monograms (Globus)

First Class

Independent
Rio de Janeiro
Manaus
Argentina, Brazil
$3,059View Tour

Best Price Guaranteed

Book With Flexibility




Tropical Fiji With Sydney 2023

11

Days

Monograms (Globus)

First Class

Independent
1 - Light

2+ years old
Nadi
Sydney
Australia, Fiji
$3,169View Tour

Best Price Guaranteed

Book With Flexibility




Tropical Fiji With Sydney 2022

11

Days

Monograms (Globus)

First Class

Independent
1 - Light

2+ years old
Nadi
Sydney
Australia, Fiji
$3,019View Tour

Best Price Guaranteed

Book With Flexibility




Tropical Fiji With Sydney 2021

11

Days

Monograms (Globus)

First Class

Independent
2 - Classic

2+ years old
Nadi
Sydney
Australia, Fiji
$3,019View Tour

Best Price Guaranteed

Book With Flexibility




Tropical Fiji With Auckland 2023

11

Days

Monograms (Globus)

First Class

Independent
1 - Light

2+ years old
Nadi
Auckland
Fiji, New Zealand
$3,209View Tour

Best Price Guaranteed

Book With Flexibility




Tropical Fiji With Auckland 2022

11

Days

Monograms (Globus)

First Class

Independent
1 - Light

2+ years old
Nadi
Auckland
Fiji, New Zealand
$3,059View Tour

Best Price Guaranteed

Book With Flexibility




Tropical Fiji With Auckland 2021

11

Days

Monograms (Globus)

First Class

Independent
2 - Classic

2+ years old
Nadi
Auckland
Fiji, New Zealand
$3,169View Tour

Best Price Guaranteed

Book With Flexibility




Tanzania Private Safari With Serengeti Stay 2023

6 reviews
11

Days

Monograms (Globus)

First Class

Independent
2 - Classic

Arusha
Arusha
Tanzania
$5,619View Tour

Best Price Guaranteed

Book With Flexibility




Tanzania Private Safari With Serengeti Stay 2021

11

Days

Monograms (Globus)

First Class

Independent
1 - Light

10+ years old
Kilimanjaro
Kilimanjaro
Tanzania
$5,549View Tour

Best Price Guaranteed

Book With Flexibility




South African Sojourn With Victoria Falls 2023

11

Days

Monograms (Globus)

First Class

Independent
2 - Classic

Cape Town
Johannesburg
South Africa, Zimbabwe
$3,289View Tour

Best Price Guaranteed

Book With Flexibility




South African Sojourn With Victoria Falls 2021

1 reviews
11

Days

Monograms (Globus)

First Class

Independent
Cape Town
Johannesburg
South Africa
$2,969View Tour

Best Price Guaranteed

Book With Flexibility




Peru Highlights With Peru's Amazon 2023

2 reviews
11

Days

Monograms (Globus)

First Class

Independent
1 - Light

Lima
Lima
Peru
$2,509View Tour

Best Price Guaranteed

Book With Flexibility




Peru Highlights With Peru's Amazon 2021

2 reviews
11

Days

Monograms (Globus)

First Class

Independent
Lima
Lima
Peru
$2,289View Tour

Best Price Guaranteed

Book With Flexibility




Kenya Private Safari With With Amboseli National Park Area 2023

6 reviews
11

Days

Monograms (Globus)

First Class

Independent
2 - Classic

Nairobi
Nairobi
Kenya
$4,599View Tour

Best Price Guaranteed

Book With Flexibility




Kenya Private Safari With Amboseli National Park Area 2021

11

Days

Monograms (Globus)

First Class

Independent
Nairobi
Nairobi
Kenya
$4,609View Tour

Best Price Guaranteed

Book With Flexibility




Jewels Of Africa 2023

12 reviews
11

Days

Monograms (Globus)

First Class

Independent
2 - Classic

Nairobi
Cape Town
Kenya, South Africa, Zimbabwe
$3,759View Tour

Best Price Guaranteed

Book With Flexibility




Jewels Of Africa 2022

12 reviews
11

Days

Monograms (Globus)

First Class

Independent
1 - Light

Nairobi
Cape Town
Kenya, South Africa, Zimbabwe
$3,409View Tour

Best Price Guaranteed

Book With Flexibility




Jewels Of Africa 2021

12 reviews
11

Days

Monograms (Globus)

First Class

Independent
Nairobi
Cape Town
Kenya, South Africa, Zimbabwe
$3,599View Tour

Best Price Guaranteed

Book With Flexibility




India's Golden Triangle With Kathmandu 2023

18 reviews
11

Days

Monograms (Globus)

First Class

Independent
2 - Classic

New Delhi
Kathmandu
India, Nepal
$1,799View Tour

Best Price Guaranteed

Book With Flexibility




India's Golden Triangle With Kathmandu 2022

11

Days

Monograms (Globus)

First Class

Independent
New Delhi
Kathmandu
India, Nepal
$1,619View Tour

Best Price Guaranteed

Book With Flexibility




India's Golden Triangle With Kathmandu 2021

11

Days

Monograms (Globus)

First Class

Independent
1 - Light

2+ years old
New Delhi
Kathmandu
India, Nepal
$1,739View Tour

Best Price Guaranteed

Book With Flexibility




India's Golden Triangle With Dubai 2023

18 reviews
11

Days

Monograms (Globus)

First Class

Independent
2 - Classic

Dubai
New Delhi
India, United Arab Emirates
$1,809View Tour

Best Price Guaranteed

Book With Flexibility




India's Golden Triangle With Dubai 2022

11

Days

Monograms (Globus)

First Class

Independent
Dubai
New Delhi
India, United Arab Emirates
$1,639View Tour

Best Price Guaranteed

Book With Flexibility




India's Golden Triangle With Dubai 2021

11

Days

Monograms (Globus)

First Class

Independent
2 - Classic

2+ years old
Dubai
New Delhi
India, United Arab Emirates
$1,919View Tour

Best Price Guaranteed

Book With Flexibility




East Africa Private Safari 2023

11

Days

Monograms (Globus)

First Class

Independent
2 - Classic

Nairobi
Arusha
Kenya, Tanzania
$5,719View Tour

Best Price Guaranteed

Book With Flexibility




East Africa Private Safari 2022

11

Days

Monograms (Globus)

First Class

Independent
2 - Classic

Nairobi
Arusha
Kenya, Tanzania
$5,309View Tour

Best Price Guaranteed

Book With Flexibility




East Africa Private Safari 2021

11

Days

Monograms (Globus)

First Class

Independent
Nairobi
Kilimanjaro
Kenya, Tanzania
$5,439View Tour

Best Price Guaranteed

Book With Flexibility




Costa Rica Wonders With Tortuguero & Guanacaste 2023

16 reviews
11

Days

Monograms (Globus)

First Class

Independent
1 - Light

San Jose
Liberia
Costa Rica
$2,179View Tour

Best Price Guaranteed

Book With Flexibility




Costa Rica Wonders With Tortuguero & Guanacaste 2022

11

Days

Monograms (Globus)

First Class

Independent
1 - Light

San Jose
Arenal
Costa Rica
$1,889View Tour

Best Price Guaranteed

Book With Flexibility




Costa Rica Wonders With Tortuguero & Guanacaste 2021

1 reviews
11

Days

Monograms (Globus)

First Class

Independent
San Jose
Liberia
Costa Rica
$1,879View Tour

Best Price Guaranteed

Book With Flexibility




Best Of Panama With Boquete & San Blas Islands 2023

2 reviews
11

Days

Monograms (Globus)

First Class

Independent
1 - Light

Panama City
Panama City
Panama
$3,009View Tour

Best Price Guaranteed

Book With Flexibility




Best Of Panama With Boquete & San Blas Islands 2021

2 reviews
11

Days

Monograms (Globus)

First Class

Independent
Panama City
Panama City
Panama
$2,709View Tour

Best Price Guaranteed

Book With Flexibility




Best Of Japan With Osaka & Hiroshima 2022

4 reviews
11

Days

Monograms (Globus)

First Class

Independent
Tokyo
Hiroshima
Japan
$4,599View Tour

Best Price Guaranteed

Book With Flexibility




Best Of Japan With Osaka & Hiroshima 2021

4 reviews
11

Days

Monograms (Globus)

First Class

Independent
1 - Light

2+ years old
Tokyo
Hiroshima
Japan
$4,619View Tour

Best Price Guaranteed

Book With Flexibility




Andean Journey 2023

11

Days

Monograms (Globus)

First Class

Independent
1 - Light

Lima
Lima
Peru
$2,559View Tour

Best Price Guaranteed

Book With Flexibility




Andean Journey 2022

11

Days

Monograms (Globus)

First Class

Independent
1 - Light

Lima
Lima
Bolivia, Peru
$2,389View Tour

Best Price Guaranteed

Book With Flexibility




South American Selection With Brazil's Amazon 2023

2 reviews
12

Days

Monograms (Globus)

First Class

Independent
Manaus
Buenos Aires
Argentina, Brazil
$2,559View Tour

Best Price Guaranteed

Book With Flexibility




South American Selection With Brazil's Amazon 2021

2 reviews
12

Days

Monograms (Globus)

First Class

Independent
Manaus
Buenos Aires
Argentina, Brazil
$2,399View Tour

Best Price Guaranteed

Book With Flexibility




Peru Highlights With Nazca Lines & Lake Titicaca 2023

2 reviews
12

Days

Monograms (Globus)

First Class

Independent
1 - Light

Lima
Lima
Peru
$3,179View Tour

Best Price Guaranteed

Book With Flexibility




Peru Highlights With Nazca Lines & Lake Titicaca 2021

2 reviews
12

Days

Monograms (Globus)

First Class

Independent
Lima
Lima
Peru
$2,869View Tour

Best Price Guaranteed

Book With Flexibility




Peru Highlights With Arequipa & Colca Canyon 2023

12

Days

Monograms (Globus)

First Class

Independent
1 - Light

Lima
Lima
Peru
$2,539View Tour

Best Price Guaranteed

Book With Flexibility




Peru Highlights With Arequipa & Colca Canyon 2021

12

Days

Monograms (Globus)

First Class

Independent
Lima
Lima
Peru
$2,359View Tour

Best Price Guaranteed

Book With Flexibility




Kenya Private Safari With Nairobi & Amboseli National Park Area 2023

6 reviews
12

Days

Monograms (Globus)

First Class

Independent
2 - Classic

Nairobi
Nairobi
Kenya
$4,999View Tour

Best Price Guaranteed

Book With Flexibility




Kenya Private Safari With Nairobi & Amboseli National Park Area 2021

12

Days

Monograms (Globus)

First Class

Independent
Nairobi
Nairobi
Kenya
$4,979View Tour

Best Price Guaranteed

Book With Flexibility




Journey Down Under With Queenstown 2023

12

Days

Monograms (Globus)

First Class

Independent
Cairns
Queenstown
Australia, New Zealand
$3,259View Tour

Best Price Guaranteed

Book With Flexibility




Journey Down Under With Queenstown 2022

12

Days

Monograms (Globus)

First Class

Independent
Cairns
Queenstown
Australia, New Zealand
$2,839View Tour

Best Price Guaranteed

Book With Flexibility




Journey Down Under With Fiji 2023

12

Days

Monograms (Globus)

First Class

Independent
Cairns
Nadi
Australia, Fiji
$3,149View Tour

Best Price Guaranteed

Book With Flexibility




Journey Down Under With Fiji 2022

12

Days

Monograms (Globus)

First Class

Independent
Cairns
Nadi
Australia, Fiji
$2,939View Tour

Best Price Guaranteed

Book With Flexibility




Great Barrier Reef & Sydney With The Outback 2023

12

Days

Monograms (Globus)

First Class

Independent
1 - Light

2+ years old
Cairns
Ayers Rock
Australia
$2,919View Tour

Best Price Guaranteed

Book With Flexibility




Great Barrier Reef & Sydney With The Outback 2022

12

Days

Monograms (Globus)

First Class

Independent
1 - Light

2+ years old
Cairns
Ayers Rock
Australia
$2,749View Tour

Best Price Guaranteed

Book With Flexibility




Great Barrier Reef & Sydney With Queenstown 2023

12

Days

Monograms (Globus)

First Class

Independent
Cairns
Queenstown
Australia, New Zealand
$2,889View Tour

Best Price Guaranteed

Book With Flexibility




Great Barrier Reef & Sydney With Queenstown 2022

12

Days

Monograms (Globus)

First Class

Independent
Cairns
Queenstown
Australia, New Zealand
$2,489View Tour

Best Price Guaranteed

Book With Flexibility




Great Barrier Reef & Sydney With Queenstown 2021

12

Days

Monograms (Globus)

First Class

Independent
1 - Light

2+ years old
Port Douglas
Queenstown
Australia, New Zealand
$2,749View Tour

Best Price Guaranteed

Book With Flexibility




Great Barrier Reef & Sydney With Melbourne 2023

12

Days

Monograms (Globus)

First Class

Independent
Cairns
Melbourne
Australia
$2,499View Tour

Best Price Guaranteed

Book With Flexibility




Great Barrier Reef & Sydney With Melbourne 2022

12

Days

Monograms (Globus)

First Class

Independent
Cairns
Melbourne
Australia
$2,319View Tour

Best Price Guaranteed

Book With Flexibility




Great Barrier Reef & Sydney With Melbourne 2021

12

Days

Monograms (Globus)

First Class

Independent
1 - Light

2+ years old
Port Douglas
Melbourne
Australia
$2,389View Tour

Best Price Guaranteed

Book With Flexibility