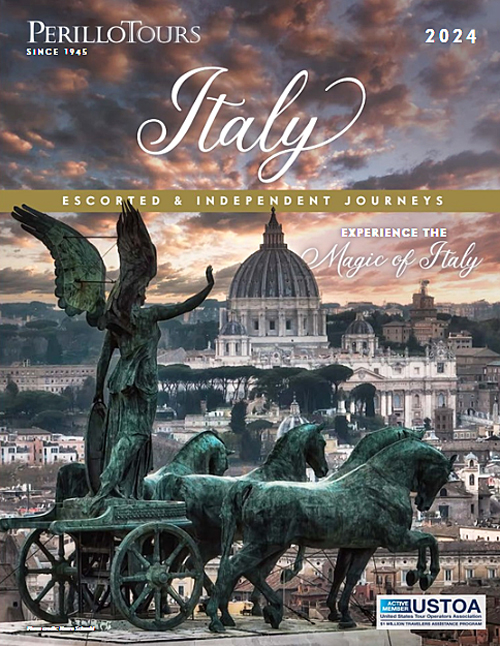 Guaranteed Low Prices on Perillo Vacations - Italy
NEW! 2023 Now Open for Sale! Perillo's Italy tours have been honed and crafted with the ideal balance of sightseeing, free time and optional activities. The beauty of the landscape is just the beginning of what Italy has to offer and Perillo will take you through it all, from the elegant piazzas, the scenic alps to the unrivaled architecture.
Escorted Tour
AffordableTours.com offers escorted tours to all of your favorite countries around the world. Escorted tours normally include hotel stays, transportation, most meals, sightseeing and cultural activities. They are led by a tour director who will be with your group from the beginning to end of the tour and they handle all of the logistics, check ins, attraction tickets and local guides that are included on your trip. People that enjoy escorted tours are travelers who don't have time or the knowhow to plan an all-encompassing, multiday overseas trip, people who travel in luxury or like to save money, and people who like to see the must-see sites while also experiencing the local culture. Escorted tours range in group size, pace, and age, so there is an escorted tour for every type of traveler. From solo travelers to groups of friends, to multi-generational families and adventure seekers, we have the escorted tour for you!
Tour Itinerary
Days
Operator
Quality
Style
Starts
Ends
Price

Rome Amalfi Coast Experience 2024 II

09

Days

Perillo

First Class

Escorted
Rome
Naples
Italy
$4,095View Tour

Best Price Guaranteed

Rome Amalfi Coast Experience 2024

09

Days

Perillo

First Class

Escorted
Rome
Naples
Italy
$3,295View Tour

Best Price Guaranteed

Renaissance Tour 2024

09

Days

Perillo

First Class

Escorted
Rome
Florence
Italy
$4,225View Tour

Best Price Guaranteed

Vesuvius Tour 2024

6 reviews
10

Days

Perillo

First Class

Escorted
1 - Light

8+ years old
40
Rome
Florence
Italy
$3,295View Tour

Best Price Guaranteed

Marco Polo Tour 2024

2 reviews
10

Days

Perillo

First Class

Escorted
Venice
Florence
Italy
$3,995View Tour

Best Price Guaranteed

Green Heart of Italy Tour 2024

11

Days

Perillo

First Class

Escorted
Rome
Florence
Italy
$3,795View Tour

Best Price Guaranteed

Deluxe Greece 2024

7 reviews
11

Days

Perillo

First Class

Escorted
Athens
Athens
Greece
$4,450View Tour

Best Price Guaranteed

Classical Greece with Cruise to Turkey the Greek Isles 2024

11

Days

Perillo

First Class

Escorted
Athens
Athens
Greece, Turkey
$3,995View Tour

Best Price Guaranteed

Wonders of Northern Italy 2024

6 reviews
12

Days

Perillo

First Class

Escorted
1 - Light

8+ years old
40
Rome
Milan
Italy
$3,995View Tour

Best Price Guaranteed

South and Sicily Tour 2024

1 reviews
12

Days

Perillo

First Class

Escorted
Rome
Palermo
Italy
$3,695View Tour

Best Price Guaranteed

North Continental 2024

2 reviews
12

Days

Perillo

First Class

Escorted
1 - Light

8+ years old
40
Venice
Rome
Italy
$3,395View Tour

Best Price Guaranteed

Best of Southern Italy 2024

12

Days

Perillo

First Class

Escorted
Rome
Brindisi
Italy
$3,795View Tour

Best Price Guaranteed

Italy North Classic Sunday Departure 2024

15

Days

Perillo

First Class

Escorted
Rome
Milan
Italy
$4,850View Tour

Best Price Guaranteed

Italy North Classic Friday Departure 2024

15

Days

Perillo

First Class

Escorted
Rome
Milan
Italy
$4,695View Tour

Best Price Guaranteed