Explore Eastern Europe River Cruises 2024/2025
While most people flock to explore Western Europe, Eastern Europe is filled with underrated countries home to unique architecture, breathtaking natural views, and historic castles that are begging to be explored. On an Eastern Europe tour, you'll have the chance to have the experience of a lifetime while you country hop and see all that the area has to offer. With tour operator volume buys plus our low everyday prices you can save up to 40% versus assembling the same itinerary on your own! Book your Eastern Europe tour today with AffordableTours.com, your discounted tour headquarters. View Eastern Europe Tour Deals and Discounts
Eastern Europe Travel Guide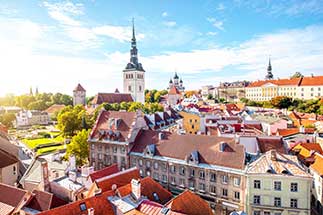 Showing 1 - 20 Tours
Tour Itinerary
Days
Operator
Quality
Style
Starts
Ends
Price

A Taste of the Danube with 2 Nights in Budapest & 2 Nights in Vienna (Westbound) 2024

08

Days

Globus

First Class

River Cruise
1 - Light

8+ years old
166
Budapest
Vienna
Austria, Hungary, Slovakia
$2,267View Tour

Best Price Guaranteed

Book With Flexibility

Balkan Discovery with 2 Nights in Transylvania 2024

11

Days

Globus

First Class

River Cruise
Budapest
Bucharest
Bulgaria, Croatia, Hungary, Romania, Serbia
$4,198View Tour

Best Price Guaranteed

Book With Flexibility

Danube Dreams with 2 Nights in Prague (Eastbound) 2024

10

Days

Globus

First Class

River Cruise
1 - Light

8+ years old
166
Prague
Budapest
Austria, Czech Republic, Germany, Hungary, Slovakia
$3,388View Tour

Best Price Guaranteed

Book With Flexibility

The Legendary Danube with 2 Nights in Prague 2024

10

Days

Globus

First Class

River Cruise
1 - Light

8+ years old
166
Prague
Budapest
Austria, Czech Republic, Germany, Hungary
$3,538View Tour

Best Price Guaranteed

Book With Flexibility

Balkan Discovery with 1 Night in Budapest & 2 Nights in Transylvania 2024

2 reviews
12

Days

Globus

First Class

River Cruise
1 - Light

8+ years old
166
Budapest
Bucharest
Bulgaria, Croatia, Hungary, Romania, Serbia
$4,477View Tour

Best Price Guaranteed

Book With Flexibility

Magnificent Europe 2024

30 reviews
15

Days

Globus

First Class

River Cruise
Amsterdam
Budapest
Austria, Germany, Hungary, Netherlands
$5,999View Tour

Best Price Guaranteed

Book With Flexibility




11 Day Eastern Danube River Cruise with Budapest Budapest to Giurgiu, Monarch Baroness

11

Days

Gate1

First Class

River Cruise
Budapest
Budapest
Bulgaria, Croatia, Hungary, Romania, Serbia
$3,099View Tour

Best Price Guaranteed

Book With Flexibility




16 Day Danube River Cruise with Poland & Prague Monarch Queen

16

Days

Gate1

First Class

River Cruise
Warsaw
Prague
Austria, Czech Republic, Germany, Hungary, Poland
$3,649View Tour

Best Price Guaranteed

Book With Flexibility

A Taste of the Danube with 2 Nights in Vienna (Eastbound) 2024

06

Days

Globus

First Class

River Cruise
1 - Light

8+ years old
166
Vienna
Budapest
Austria, Hungary, Slovakia
$1,768View Tour

Best Price Guaranteed

Book With Flexibility

Danube Symphony with 1 Night in Budapest & 2 Nights in Munich (Westbound) 2024

09

Days

Globus

First Class

River Cruise
1 - Light

8+ years old
Budapest
Munich
Austria, Germany, Hungary, Slovakia
$2,977View Tour

Best Price Guaranteed

Book With Flexibility

The Best of Austria & Switzerland with Romantic Rhine 2024

18

Days

Globus

First Class

River Cruise
Vienna
Amsterdam
Austria, France, Germany, Netherlands, Switzerland
$7,498View Tour

Best Price Guaranteed

Book With Flexibility




Christmastime on the Danube (Westbound) 2023

4 reviews
07

Days

Globus

First Class

River Cruise
1 - Light

Vienna
Nuremberg
Austria, Germany
$2,471View Tour

Best Price Guaranteed

Book With Flexibility

Festive Season in the Heart of Germany with 2 Nights in Prague 2023

08

Days

Globus

First Class

River Cruise
1 - Light

8+ years old
166
Frankfurt
Prague
Czech Republic, Germany
$2,531View Tour

Best Price Guaranteed

Book With Flexibility

From the Black Sea to the North Sea with 2 Nights in Transylvania 2024

28

Days

Globus

First Class

River Cruise
1 - Light

8+ years old
166
Bucharest
Amsterdam
Austria, Bulgaria, Croatia, Germany, Hungary, Netherlands, Romania, Serbia
$12,197View Tour

Best Price Guaranteed

Book With Flexibility

Danube Dreams (Westbound) 2024

2 reviews
08

Days

Globus

First Class

River Cruise
Budapest
Deggendorf
Austria, Germany, Hungary, Slovakia
$2,799View Tour

Best Price Guaranteed

Book With Flexibility

Christmastime on the Danube with 2 Nights in Prague (Eastbound) 2024

09

Days

Globus

First Class

River Cruise
1 - Light

8+ years old
166
Prague
Vienna
Austria, Czech Republic, Germany
$3,288View Tour

Best Price Guaranteed

Book With Flexibility

Christmastime on the Danube (Eastbound) 2025

07

Days

Globus

First Class

River Cruise
Nuremberg
Vienna
Austria, Germany
$2,699View Tour

Best Price Guaranteed

Book With Flexibility

The Danube from Germany to the Black Sea with 2 Nights in Prague 2024

18

Days

Globus

First Class

River Cruise
8+ years old
Prague
Bucharest
Austria, Bulgaria, Croatia, Czech Republic, Germany, Hungary, Romania, Serbia, Slovakia
$6,586View Tour

Best Price Guaranteed

Book With Flexibility

The Best of Austria & Switzerland with Romantic Rhine 2025

18

Days

Globus

First Class

River Cruise
Vienna
Amsterdam
Austria, France, Germany, Netherlands, Switzerland
$6,918View Tour

Best Price Guaranteed

Book With Flexibility

The Best of Austria & Switzerland with Romantic Rhine 2025 - Small Group

18

Days

Globus

First Class

River Cruise
Vienna
Amsterdam
Austria, France, Germany, Netherlands, Switzerland
$7,478View Tour

Best Price Guaranteed

Book With Flexibility
Eastern Europe Travel Guide
Eastern Europe Tours Highlights
Walk across the historic Charles Bridge in Prague, Czech Republic.
Explore the 14th-century Bran Castle in Romania.
Experience the beautiful Plitvice Lakes National Park in Croatia.
Go inside the gorgeous Alexander Nevsky Cathedral in Estonia.
Climb to the very top of St. Stephen's Cathedral in Vienna, Austria.
Walkthrough the gorgeous city of Plovdiv in Bulgaria.
Check out the Hungarian art in Buda Castle.
Visit Slavakia's Bratislava Castle.
Explore the Rundale Palace Museum in Latvia.
Visit the breathtaking Lake Bled in Slovenia.
Take a stroll through the city of Krakow in Poland.
Visit the beautiful Blue Eye spring book in Albania.
Eastern Europe Tours Travel Tips
Take the time to learn some basic phrases in the local languages when visiting countries here. It will go a long way with the locals if you know words like hello, goodbye, and thank you.
Keep in mind that often, Eastern European beverages have higher alcohol content. It's not a whole lot more than you're most likely used to, but just be careful if you order a drink!
Make sure you travel with the local currency in Eastern Europe. While most places will take cards, there are lots of places that won't. It's best always to be prepared when traveling and in instances where you might want to purchase local craft fairs or street food stalls.
Research each country in depth before you take a chance and drink the tap water. You'll want to make sure that it's safe to drink before you just start drinking it. To be extra safe, consider purchasing water bottles at the local convenience store.
Wear proper walking shoes. A lot of Eastern Europe is best explored by foot, and you'll want to make sure that you're feet don't get sore during your explorations!
Eastern Europe Tours Things To Do
Stroll through Krakow

Krakow is a fantastic city that you'll genuinely want to visit, located in southern Poland. It's right on the border of the Czech Republic. Krakow is home to beautiful must-visit neighborhoods, including the Jewish Quarter and Old Town. The best way to experience Krakow is on foot, so get your sturdy walking shoes ready! Some of the best spots to explore in Krakow are the Wieliczka Salt Mine, Wawel Royal Castle, and the Wawel Cathedral. A lot of the best places to explore in Krakow are also free to visit.

You Should Know

Make sure you take the time to research the places you want to visit here to see if you need to make reservations in advance.

Walk across the Charles Bridge

Charles Bridge is one of the most iconic historic bridges in Eastern Europe. It's located right in Prague, Czech Republic. It's most famous for being the very bridge that connects Prague's Old Town to Prague Castle. The bridge was built in the 14th century when King Charles IV was ruling. If you stand right on the bridge and look back at the city, you'll get one of the best views of the skyline. Consider visiting early in the morning or late at night for an unforgettable sight.

Best Time To Visit

If you want to avoid the crowds and get a photo on the bridge without other people in it, then visit early in the morning!

Experience Plitvice Lakes National Park

Located in Croatia, the Plitvice Lakes National Park is one of the most gorgeous places you can visit in Eastern Europe. It's been named a UNESCO World Heritage Site and is filled with some of the world's most beautiful waterfalls. The park is aptly named because it's filled with 16 different terraced lakes, as well as beautiful limestone canyons and waterfalls throughout. There are many other hiking and walking trails throughout the park that make the park even more beautiful!

Best Time To Visit

This park is one of the most popular spots to visit in Croatia, so you'll want to plan accordingly. Make sure to visit earlier in the morning or risk going swimming with lots of other tourists.

Visit Bratislava Castle

Bratislava Castle is located in Slovakia. It dates back to the 19th century and was recently restored, and parts of it were rebuilt in the late 20th century. It's located right near the Danube River in Bratislava. The only way to go inside Bratislava Castle is to go on a tour. The tours are relatively short and only last one hour. If you want to save money, consider purchasing a Bratislava CARD for your trip to this part of Slovakia, which will grant you discounts and access to other top spots in the city.

You Should Know

You can view the grounds of the castle for free if you're interested in outdoor adventures.

Walk through Plovdiv

Plovdiv is one of the biggest cities in Bulgaria. It dates back to ancient times and is also surrounded by seven different hills. It's located in the southern part of the country and is most well-known for its important archaeological sites. The most popular spot to explore in Plovdiv is the Ancient Theatre of Philippopolis, a great spot to see opera performances and even conferences. Be sure also to visit the Regional Ethnographic Museum, Alyosha, and the Nebet Tepe.

You Should Know

Plovdiv is one of the oldest cities in all of Europe, so it's incredibly historic!

Go inside the Alexander Nevsky Cathedral

The Alexander Nevsky Cathedral is located right inside Tallinn, Estonia. It's built in the Russian Revival style of architecture and was built in the late 19th century. The cathedral was built during the Russian Empire period in Estonia, which can be seen in its architecture style. The cathedral is gorgeous from both the outside and inside. Take that time to explore the castle and see all that it has to offer because it's an architectural marvel located right in the center of Tallinn.

You Should Know

Be sure to explore the rest of Tallinn's Old Town once you're done seeing inside the cathedral.

Visit Lake Bled

Lake Bled is one of the most peaceful places to visit in Eastern Europe, located right in Slovenia. The best way to explore the area is by walking along the beautiful walking trail that goes all around the lake. If you're feeling up to it, there's also a boat that will bring you right to Bled Island in the middle of the lake. There's a quaint cafe restaurant right on the island as well as a church that is worth exploring.

Best Time To Visit

Lake Bled is beautiful during the summertime and the cold winter when it's covered in snow. You're in luck no matter what time you visit!

Climb to the top of St. Stephen's Cathedral

St. Stephen's Cathedral in Vienna is a beautiful church located right in the Innere Stadt neighborhood. The church's top is covered in fantastic mosaic designs, which are best seen by climbing the church tower. Visitors can either take an elevator or climb to the top, but the climb is a lot more rewarding. There's a gift shop at the top and tons of windows that provide the best views out to Vienna, Austria, which you honestly won't want to miss. Don't forget to bring your camera!

You Should Know

If you're not a fan of tight spaces, opt to take the elevator to the top instead. The stairwell to the top of the tower is very tiny, and you will be passing by others who are on their way down.

Explore Bran Castle

Bran Castle is a gorgeous castle in Transylvania, Romania. It's only a short way away from Brasov and one of the most famous landmark fortresses in the country. Today, it's known as a renowned museum. Historically, Bran Castle served as Bram Stoker's inspiration for Dracula, one of the most popular horror novels of the 19th century. Many locals even refer to it directly as Dracula's Castle instead of Bran Castle!

You Should Know

The castle is still inhabited by an older man named Dominic Habsburg, who wishes that it wasn't well-known for Dracula!
Eastern Europe Tour Packages
Because Eastern Europe isn't as popular to visit as Western Europe, there is truly no wrong time to visit. Of course, there are still times of the year to visit if you want to avoid the crowds that warmer seasons might bring. Because Eastern Europe isn't as popular to visit as Western Europe, there is truly no wrong time to visit. Of course, there are still times of the year to visit if you want to avoid the crowds that warmer seasons might bring.
The most popular time to visit Eastern Europe is summertime.
The least popular time to visit is winter.
Shoulder seasons in Eastern Europe include the fall and spring.
Spring and Fall - September to November and March to May - Shoulder Season

The spring season and fall season are considered Eastern Europe's shoulder season. This means that the weather is still pretty nice, but it won't be as busy as the summer. The average high in the spring is around 64°F, while the fall months see highs of closer to 68°F. Keep in mind that northeastern Europe might be a bit cooler than southeastern Europe.

Summer - June to August - High Season

The summer is the most popular time to visit because of the weather! This means that prices will most likely be the highest during this time of the year for accommodation. The summer high temperature is generally around 77°F.

Winter - December to February - Low Season

Since the winter is the low season and is, therefore, the least popular time to visit, you can generally find accommodations for low prices. During this time, the average high temperature can be around 39°F in the northeastern part of Eastern Europe, so plan your trip wisely if you visit in the winter!
Eastern Europe Tours Frequently Asked Questions
What are Eastern Europe Tours?

Are you a type of traveler that dislikes trying to plan out every detail of the itinerary, like where to stay, eat, and how to get from point A to point B? Then Eastern Europe tours are perfect for you. On this tour, your whole itinerary will be planned out, and you'll be with a bunch of other adventurers experiencing this part of the continent for the first time as well.

What's included on an Eastern Europe Tour?

You'll find that most Eastern European tours will include transportation, most meals, and most accommodations. You'll also have access to a tour director who will be with you throughout your entire tour and who will help you stick to the itinerary with the rest of your tour group. The tour guide might ask for help from other local tour guides along your adventure so that you can immerse yourself more in the local culture! This is only to enhance your experience. During the morning, you'll typically have a planned excursion or experience with your tour group, and then in the afternoon, you'll be set free to explore on your own.

What's the best Eastern Europe Tour?

Each Eastern Europe tour is so different, so there isn't one that's better than another. You'll have to take the time to research and find whichever one is best for your needs and interests. Be sure to think about your budget, your vacation length, and your desired stops. For instance, if you know that you want to visit Vienna, look through different tour itineraries to see which one stops there!

How much do Eastern Europe Tours cost?

All the Eastern European tours have very different prices, so there isn't a set price. Some of them cost as little as $80 a day, while others might cost closer to $180 a day. It truly depends on the tour operator, the stops on tour, and what's included. Luckily, by booking your Eastern European tour through Affordable Tours, you'll be able to save up to 40% off your tour than if you were to purchase it through another tour platform.
Departure
Lengths
Styles
Specialities
Price
How It Works
Vacationing has never been easier or cheaper with the help of a dedicated travel consultant from AffordableTours.com
1. Free Quote
Find your perfect trip on our website and simply request a free quote. Need to speak to a live person? Call us 7 days a week at 1-800-935-2620. No robots here!
2. Dedicated Travel Consultant
Your personal travel consultant will reach out and be your point of contact for your entire travel experience from start to finish. Did we mention you'll be working with an award winning team? Sweet!
3. Lowest Price Guaranteed
Because we're one of the largest sellers of travel, we're able to give you a discount on your vacation package. No one beats our prices!
4. Stress Free Travel
Knowing you got the best deal, all that's left is for you to pack your bags and enjoy your vacation!