Century Glory Cruise
Century Glory, the newly constructed luxury cruise ship is the new shining star of Century Cruises. Making its first voyage in September, 2019, it is the most luxurious cruise ship sailing on the Yangtze. Century Glory can house up to 650 guests including 8 kinds of large cabins/suites and many public entertainment spaces.
Maiden Voyage: 2019
Length: 414
Passenger Capacity: 650
Normal Crew Size: 180
Staterooms: 260
Suites: 28
Dining
As specified in each itinerary. Meals are based on the hotel's or restaurant's buffet or set menu. In general, beverages are not included, unless specifically stated. Although Gate 1 cannot make guarantees, every effort will be made to honor special dietary requests submitted in writing at least 72 hours prior to departure.
Age Restrictions
All children under 18 must be accompanied by an adult. Minimum age for children on escorted tours is 8. Minimum age on Discovery Tours is 12. Minimum age for European River Cruise programs is 16. Minimum age for game drives in Kruger National Park (South Africa) is 12. Minimum age for Uganda programs is 15. Minimum age for Norwegian Cruise Line® is 6 months old and to sail unaccompanied by an adult is 21 years of age. There is no minimum age on independent packages except for the Beijing & Shanghai special programs which have a minimum age of 5. Discounts for children sharing a room as third may apply to children under 12. Most hotels do not permit children under 18 to occupy a room without an adult. Accompanying adults are responsible for the safety of their children including to provide any necessary safety equipment (such as infant/child seats) where appropriate. Please note that many countries have adopted practices to prevent international abductions of children. If a person under the age of 18 years will be travelling with an adult other than his/her parents, or with only one parent, a notarized letter written by the parents, or non-travelling parent, granting authorization to travel, including the dates of travel should be carried.
Tipping
Complete tipping guidelines are provided with final travel documents and on each program's website presentation, Trip Preparation/At Your Destination section.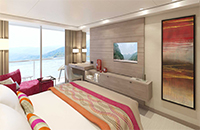 Square Footage: 278
Category Cabin C
Deluxe cabin with balcony on the Upper Deck. Cabins include television, safe, individual climate control and hair dryer.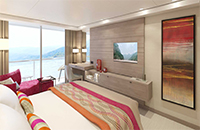 Square Footage: 278
Category Cabin B
Deluxe cabin with balcony on the Promenade Deck. Cabins include television, safe, individual climate control and hair dryer.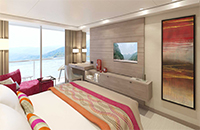 Square Footage: 278
Category Cabin A
Deluxe cabin with balcony on the Bridge Deck. Cabins include television, safe, individual climate control and hair dryer.

Globe Restaurant
Century Glory has changed the traditional round table dining mode of the Yangtze River and created a comfortable and casual dining environment. Take in delicious mouth-watering meals at the unique double-deck Globe Restaurant.

Panorama Cafe
Located on the bow of the Promenade Deck is the Panorama Cafe where you can enjoy a quick bite to eat and some of the best scenic views on the Yangtze.

Cheers Bar & Lounge
Sit back, relax, enjoy a drink and entertainment in the Cheers Bar & Lounge. Located on the Observation Deck.

Fitness Center
Just because you are on vacation does not mean you have to give up your fitness routine. The Fitness Center is located on the Main Deck.
Hygiene and Safety Protocols
At Gate 1 we take your safety and security very seriously. We have a strong network of tour managers, local offices, ground operators and colleagues which help us stay informed in all the destinations that we operate. We closely monitor local situations which enable us to make the operational decisions necessary to keep our tours running safely. Millions of people travel the world each year and experience enjoyable and safe trips but crimes against people and property are sadly a fact of life. It is very important to be aware of your surroundings and avoid drawing attention to yourself. Please remember that you have the same responsibility for your personal safety and possessions as you do at home. It is essential to prepare for a safe and healthy travel abroad. Therefore before you travel, we strongly recommend that you visit the website of the US Department of State at https://travel.state.gov/content/travel.html for up-to-date travel advice on the countries that you are visiting. The website provides useful information on subjects such as safety and security information, health precautions and medications, health insurance and additional tips for traveling abroad. If you do not reside in the United States, we recommend you check your government's travel advisory website for any country you will be visiting. We recommend that you review the safety guidance that may be provided by us, our agents or suppliers, either before you go or when you arrive in your destination. You can also find helpful tips on our website in the "Trip Preparation" tab of each of our tour packages. We do know that in-spite of careful planning, things can sometimes still go wrong, so rest assured, we will be there to help and support you.