Kandinsky Prestige
MS Kandinsky Prestige has a vividly modern interior - the designers used bright rainbow colors for decorations generously but incredibly smartly. Ship's indoors really keep the mood up! She's fresh and thoroughly renovated inside: the vessel has three bars, a small souvenir boutique, music salon, dance hall, reading lounge, beauty salon. Outside promenade walkways, spacious outer decks with cozy sitting areas - all these together with conveniently arranged internal premises make her really a great choice for Russian river cruising.
Maiden Voyage: 1991
Refurbished Year: Jan 1, 1970
Length: 423
Passenger Capacity: 200
Normal Crew Size: 90
Staterooms: 108
Suites: 36
Dining
MEALS: Most of the passengers find the size and quality of the meals hearty and fulfilling. All meals are preset for all passengers (depending on the season, passengers may be allowed to choose between 2 main courses). Breakfast consists of a variety of eggs, sausage, porridge, cold cuts and similar. A three or four-course meal is served at both lunch and dinner, usually consisting of soup/salad or appetizer, main course (meat, fish, chicken with vegetables) and dessert (cake/ fruit). Coffee or tea is provided free of charge with the meals. Other drinks and bottled water can be purchased at nominal prices. 

SEATING ASSIGNMENTS: At your first onboard dinner, all passengers are assigned a restaurant and a table for the duration of the cruise. If traveling with friends, we recommend you advise the Maitr'D during the first meal that you wish to sit together. The restaurant staff will make every effort to accommodate all requests but please note that they do reserve the right to assign restaurants and tables based on client profiles, group seating requests, special meal requirements and other technical reasons. 

SPECIAL DIETS: Due to an economy still in transition, food variety and provisioning may not be as varied as accustomed to in the West. Vegetarian diets are limited to the vegetables at hand, sometimes a repetitive quantity of cabbage, tomatoes, cucumber and pickled salads. Salt-free, sugar-free or fat-free meals are a novelty. Jenny Craig or similar are not available. Although the restaurant staff will make every effort to arrange for special meals, if you have strict dietary needs, you may want to bring some non perishable snacks, crackers, chips, dried fruits, dietary sweeteners, and any other items that will compliment the limited variety of special meals that can be provided. Please advise if there are any food allergies at the time of booking.
Age Restrictions
Cannot accommodate women past their six months of pregnancy. It is not recommended that the tours and cruise programs for children under the age of 12.
Tipping
TIPPING SUGGESTIONS: Tips should be divided in 2 separate segments: 1) Individual tips: To staff/personnel on land portions who have earned your gratitude (Cruise & Tour Directors, Local Guides leading local tours, drivers of busses, specific waiters at hotels or other ground personnel). These should be given directly to each individual service provider. (See below) 2) Pooled tips: For a group of individuals working as a team to service you on a specific portion of a trip (such as crews on ships).

INDIVIDUAL TIPPING: While you are in cities or on shore excursions, local guides and drivers will escort the local tours. The so-called standard tip should be $3 per person for the local guide and $2 for the driver. Porters will also appreciate a $1 tip. A $1 per person/per day should be left at hotels for your maids. For taxicabs or at restaurants add 10% to %15 to your final bill amount. 

CRUISE HOSTS/TOUR DIRECTORS: They are the Travel Experts employed to pick you up and stay with you from the moment you arrive to the moment you depart. They will be your guiding angels throughout the trip. They will lead you, educate you, entertain you and if need be, scold you - But it is certain you will find their assistance indispensable in providing you with the utmost travel experience possible! Since they sail with you and are essentially at your disposal 24 hours a day, it is recommended $5 per person/per day - or about $55 per person for a 11-day cruise. 

POOLED TIPPING (CREWS ON SHIPS): For ship crews it is implemented a Pool System whereby all the crew members, from the Captain to the "lowly" deck hand share in the gratuities collected from all passengers. The reason for doing this is that during the course of your cruise, you will actually see and meet only about 1/3 of the crew - mainly the entertainers, the restaurant and bar staff and maybe your cabin maid. However, there are many more crew members you will not see whose good work is equally important to the smooth operation of the cruise - from the engine crew who sweat in the "bowels" of the ship and who keep us afloat, to the many staff and crew members who arrange for our busses & excursions, to the catering people who travel to the ports in advance of the ship in order to obtain and provide the best available food and beverage supplies.

POOLED TIPS: Therefore, to ensure equality for all, it is asked that one day before your Captain's Farewell Dinner, you place your total gratuities for the cruise portion in an envelope and drop it in our "Gratuities" box or give it to the Head Purser/Cruise Director. All the gratuities will be delivered, on behalf of all passengers, to the Captain during the Farewell Dinner Suggested amount: $10 per person/per day x 11 = $110 per person for the cruise duration (Total amounts collected are divided amongst 110 crew members) 

IMPORTANT FINAL NOTE ON TIPS: The above suggestions are given as guidelines ONLY! You may leave as little or as much as you feel comfortable with. If you endear yourself to any particular crew member and wish to award them directly - please feel free to do so! Summary on Tipping: If all of this is confusing, in simple terms, it is recommended that each person sets aside $200 ($35 local guides + $55 Cruise Directors + $110 crew) to cover all your tipping needs for the total duration of the program.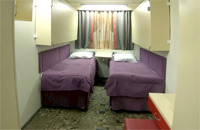 Square Footage: 194
Category Twin Porthole Lower Deck
Located on the Lower Deck.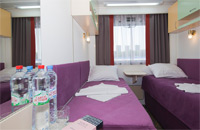 Square Footage: 97
Category Twin Standard Main Deck
Located on the Main Deck.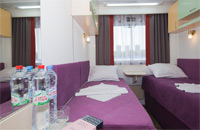 Square Footage: 97
Category Twin Standard Upper Deck
Located on the Upper Deck.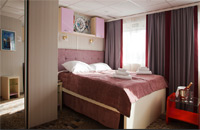 Square Footage: 194
Category Junior Suite Upper Deck
Located on the Upper Deck.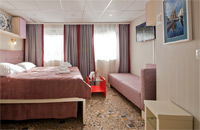 Square Footage: 194
Category Junior Suite Boat Deck
Located on the Boat Deck.

Restaurant
Located on the Upper and Boat Deck.

Bar
Located on the Upper, Sun and Boat Deck.
Dance Hall
Located on the Upper Deck.

Gift Shop
Located on the Upper Deck.

Reading Lounge
Located on the Main Deck.