Dates & Prices
Start Date
End Date
Offers
Brochure
Land Price
Our Price
Quote
May 16, 2021
Jun 05, 2021
Call Us

$7,265

Get Our Price
Get Quote
May 23, 2021
Jun 12, 2021
Call Us

$7,265

Get Our Price
Get Quote
Jun 03, 2021
Jun 23, 2021
Call Us

$7,265

Get Our Price
Get Quote
Jun 13, 2021
Jul 03, 2021
Call Us

$7,265

Get Our Price
Get Quote
Jun 20, 2021
Jul 10, 2021
Call Us

$7,265

Get Our Price
Get Quote
Jun 27, 2021
Jul 17, 2021
Call Us

$7,265

Get Our Price
Get Quote
Jul 04, 2021
Jul 24, 2021
Call Us

$7,265

Get Our Price
Get Quote
Jul 11, 2021
Jul 31, 2021
Call Us

$7,265

Get Our Price
Get Quote
Jul 18, 2021
Aug 07, 2021
Call Us

$7,265

Get Our Price
Get Quote
Jul 25, 2021
Aug 14, 2021
Call Us

$7,265

Get Our Price
Get Quote
Aug 01, 2021
Aug 21, 2021
Call Us

$7,265

Get Our Price
Get Quote
Aug 08, 2021
Aug 28, 2021
Call Us

$7,265

Get Our Price
Get Quote
May 15, 2022
Jun 04, 2022
Call Us

$6,775

Get Our Price
Get Quote
May 22, 2022
Jun 11, 2022
Call Us

$6,775

Get Our Price
Get Quote
Jun 02, 2022
Jun 22, 2022
Call Us

$6,775

Get Our Price
Get Quote
Jun 12, 2022
Jul 02, 2022
Call Us

$6,775

Get Our Price
Get Quote
Jun 19, 2022
Jul 09, 2022
Call Us

$6,775

Get Our Price
Get Quote
Jun 26, 2022
Jul 16, 2022
Call Us

$6,775

Get Our Price
Get Quote
Jul 03, 2022
Jul 23, 2022
Call Us

$6,775

Get Our Price
Get Quote
Jul 10, 2022
Jul 30, 2022
Call Us

$6,775

Get Our Price
Get Quote
Jul 17, 2022
Aug 06, 2022
Call Us

$6,775

Get Our Price
Get Quote
Jul 24, 2022
Aug 13, 2022
Call Us

$6,775

Get Our Price
Get Quote
Jul 31, 2022
Aug 20, 2022
Call Us

$6,775

Get Our Price
Get Quote
Aug 07, 2022
Aug 27, 2022
Call Us

$6,775

Get Our Price
Get Quote
Call or submit a quote for award-winning value and service!
Tour Itinerary
It's fair to say, Scandinavia is having a moment. Perhaps several moments. With cutting edge minimalist design, five-star fusion cuisine, long life expectancy and a social system that runs like Danish clockwork, it seems every cafe, furniture store and political system on the planet can learn a thing or two from Europe's latest hotspot. This is your chance to see it up close. From the inky Fjordlands of Norway's coastline to the fish markets of Copenhagen, along with a few obscure gems like Bergen, Lillehammer and the Swedish Lakes District. And like any well-plotted Danish drama, there'll be a few surprises along the way.
Day 1: Copenhagen
Welcome to Copenhagen. If you arrive early, which is highly recommended, why not visit the pastel-coloured waterfront houses in the Nyhavn area. Drop in at an industrial-chic bar for a drink or stroll around the famous Tivoli Gardens, home to the world's oldest rollercoaster. Another area worth checking out is Norrebro, a residential area known for its wide range of restaurants. Meet your group at 6 pm then head out for an optional group dinner if it takes your fancy.
Day 2: Copenhagen
When in Copenhagen, do as the locals do and explore the city by bike, undoubtedly the best way to explore the city's many hidden corners. The bike-friendly streets mean cycling to the city's major sites are a breeze. Venture into the Freetown of Christiania with a local guide, a self-proclaimed autonomous neighbourhood south-east of the city centre. It is regulated by a special law, the Christiania Law of 1989, and has been a source of controversy since 1971 when squatters took over a former military area. The afternoon is free for you to further explore this Scandinavian city. Stroll along the harbour or head out to the classicist palaces of 18th century Amalienborg, to this day the main residence of the Danish Royal family. Perhaps pay a visit to Frederik's Church, also known as Marble Church, the Court House on Nytorv Square or check out the facade of the red brick town hall. Alternatively, the National Museum is not to be missed, nor is the Christiansborg Palace in the very centre of Copenhagen.
Day 3: Malmo / Gothenburg
A morning train ride will get us to Malmo in Sweden, via the famous Oresund Bridge that spans the strait separating Denmark and the Scandinavian Peninsula (approx. 1 hour). Malmo has gone through somewhat of a transformation, or should we say revival, over the past twenty years thanks to the construction of the Oresund Bridge and the opening of Malmo University. Now, a city once reliant mainly on shipbuilding is growing steadily with architecture firms, IT companies, students and start-ups. Just under half of Malmo's population is under the age of 35, so it really now is a progressive city that knows how to have fun. Spend some time checking out the Old Town, the castle and the harbour, then continue on to Gothenburg (approximately 3 hours), where you'll spend the night.
Day 4: Gothenburg
Today is a free day for you to enjoy all that Gothenburg has to offer. Perhaps embark on a cruise this morning through Gothenburg's many waterways, passing the opera house, the famous fish market Feskekörka (literally Fish Church), and the old docks. Or visit the Göteborg City Museum, housed in the former East India Company House and built during the time when Gothenburg's role was that of a major maritime trading centre. Take in the architectural ensemble on Gustav Adolfs Torg, go shopping along the main boulevard Avenyn, check out the iconic Skansen Kronan, stroll along bohemian Långgatan street or sip a coffee in the charming Haga quarter, known for its picturesque wooden houses, 19th century atmosphere and the so-called hagabulle, a cinnamon pastry similar to kanelbulle.
Day 5: Vrango Island / Gothenburg
Catch an early-ish ferry from Gothenburg to Vrango Island, approximately one hour and 20 minutes away. Vrango is the most southerly island of the Gothenburg Archipelago, with a permanent population in the low hundreds and a strong fishing industry. The island is known for its stunning beaches and protected nature reserves and you'll explore the coastline in an included kayaking activity (summer only). In the afternoon, enjoy some free time strolling around the town or maybe try an optional floating sauna, before returning to Gothenburg for a free evening. Sweden's second city is known as the world's mot sustainable destination and is exemplary of what a responsible tourism destination should look like.
Day 6: Oslo
Catch a morning bus across the border to Norway's capital Oslo (approx 4 hours). Your leader will take you on an initial orientation walk so you get a first taste of this quirky, colourful city. It's definitely worthwhile to spend the day perusing delicacies at Maschmanns Food Market, admiring the handiwork of glass blowers at the Hadeland Glassverk, or simply strolling along Karl Johans Gate, the main shopping strip of the city, or head to the National Gallery of Art to glimpse Edvard Munch's famous 19th century painting, The Scream. In the evening say 'skal' ('cheers') to the group over dinner. Why not seek out some traditional Norwegian fare based around cod and mackerel dishes.
Day 7: Oslo
Today is a free day for you to enjoy all this city has to offer. Perhaps use your free time for island hopping on Oslofjord, putting the hammer down at the Viking Museum, tasting local flavours at the Mathallen food hall, exploring the immense Akershus Castle & Fortress, or checking out the cool shops in the Grunerløkka district. There's so much to get stuck in to.
Day 8: Oslo
Today is a free day to explore Oslo. Perhaps travel to the nearby area of Holmenkollen for a visit to the Ski Museum, housed inside the famous monumental Holmenkollbakken (ski jump), which looks more like a work of art than a sports venue. Highlights in the museum include the history of skiing over the past 4,000 years, of Norwegian polar expeditions, and lesser known glimpses from the Winter Olympics at Oslo and Lillehammer. At the top of the jump tower there are 360 degree views of the city, its fjords and forests. Alternatively embark on some island hopping on Oslofjord, put the hammer down at the Viking Museum, browse the harbour-front Astrup Fearnley Museum of Modern Art, taste local flavours at the food hall Vulkan, explore the immense Akershus Castle & Fortress, or check out the cool shops in the Grunerløkka district. There's so much to get stuck into.
Day 9: Bergen
Today you'll leave Oslo behind and take the train across the stunning countryside of the Fjell region to Bergen, which will take around seven hours. No other train ride between two cities in Europe is at a higher altitude than this one, and few can match the views passing by your window. Linking Norway's two main cities, this line takes in some spectacular scenery of lush valleys, idyllic villages, dramatic mountains and picturesque lakes as it crosses the Hardangervidda Plateau. As the trip is long and you'll arrive quite late into quirky city of Bergen, there won't be too much time to explore today, but you will have all day tomorrow. There are some great sea food restaurants in town, so possibly venture out with the group for a bite to eat.
Day 10: Bergen
After breakfast this morning, head out for a guided walk around the Bryggen area of the city. This is a World Heritage listed area of one of the world's greatest harbour cities, and is where the settlement of Bergen grew from. Wander through the reconstructed medieval homes and warehouses, visit the beautifully preserved wooden Hanseatic Museum (a former trade building), and explore the old Hanseatic port area – the Hanseatic merchant confederation dominated Baltic maritime trade for 400 years from the 15th century. Then you'll have free time in the afternoon to do as you wish. Perhaps visit the 13th century Bergenhus Fortress, one of the oldest and best preserved castles in Norway. Also, make sure you journey on the Floy Mountain Funicular, taking you 1,050 feet abve the city in just seven minutes, and offering amazing views of the deep blues of the sea and the pastel coloured houses from the top of Floyen mountain. It you'd like to get active while you're up there, the summit has a multitude of hiking paths catering to all abilities.
Day 11: Norwegian Fjords
Leave Bergen after breakfast and travel by bus to the fjord region, which should take around 3-4 hours. The journey will take you through epic landscapes and remote regions, so have your camera at the ready. The typical Norwegian huts that you'll stay in tonight are located in a beautiful setting, surrounded by steep cliff walls with a perfect view of the spectacular crystal clear Kjelsfossen waterfall falling from the top of the fjords. It's humbling to look up and consider these giant and ancient geological formations. Your accommodation is located near the village of Gudvangen.
Day 12: Norwegian Fjords
Today take a boat trip and be captivated by the sight of crisp mountain peaks reflected in the glassy waters of Naeroyfjord, a World Heritage site. The name Naeroyfjord takes its origins from the Norse god of seafarers and the sea, Njord. The fjord itself, formed by glacial erosion of the surrounding bedrock, is 18 kilometres long, only 250 metres wide at its narrowest point, but its depth reaches up to 500 metres. Surrounding mountain peaks rise up to 1400 metres and waterfalls crash down sheer cliff faces – awe-inspiring melancholic beauty and dramatic vistas. The afternoon is free for you to enjoy the scenery of the surrounding area. Perhaps hire bikes and cycle along the shore of the fjord, take to the waters in a kayak or take a bus to the nearby ittle fishing village of Flam in order to ride the famous railway up to Myrdal. This is one of the most picturesque (and steepest) railway journeys in the country. Alternatively explore on foot and discover nearby waterfalls and ancient moraines. Fishing enthusiasts will love the opportunity to throw a line in the crystal waters, sit back and soak up the serenity (a fishing licence is required and costs around NOK 150).
Day 13: Lillehammer
There will be another long bus journey of around six hours after breakfast today, as you journey to the town Alpine playground of Lillehammer. Cross vast high plains, remote valleys, and drive through the Lærdal Tunnel, the world's longest road tunnel at 24.5 km. The tunnel is divided into four sections, broken up by 'mountain caves'. These caves are 6 kilometres apart and equipped with special lighting to help drivers concentrate by giving off the illusion of driving into daylight. Lillehammer, which held the Winter Olympics in 1994, is picturesquely situated on Lake Mjøsa. Upon arrival head out for a brief orientation walk to find your bearings in the laid-back 19th century town centre, along the main pedestrian street of storgata (Big Street), lined with wooden houses, boutiques and restaurants.
Day 14: Lillehammer
Join an orientation walk this morning and get to know Lillehammer. Your leader will take you on an included visit to the Maihaugen Open Air Museum, home of the Garmo Stave Church, which tells the story of people in the Gudbrandsdalen Valley over the last 300 years. This brilliant museum includes timber-built farms, a town and a big residential area that gives you an insight into various eras of Norway's history. Afterwards head to the Olympic Ski Jump Arena where in summer a special surface is laid out that allows professional ski jumpers to practice even though there is no snow. Head to the top of the ski jump via chairlift (or tackle the 954 steps) and enjoy excellent views across Lillehammer and Lake Mjøsa. The afternoon is free for you to further explore. Perhaps conquer misty mountains on a hike. As a town famous for hosting the 1994 Winter Olympics, Lillehammer has a great Olympic Museum where you can hear tales of heroic feats, and is also an ideal spot for outdoor activities such as wheeled bobsleigh.
Day 15: Swedish Lakes
Travel for around five hours by private bus today and cross the border into Sweden. Head to the lakeside village Mora, a laidback town that encapsulates the most Swedish of Swedish landscapes, and which sits right in the middle of the Swedish lakes. Settled between the northern shore of Lake Siljan and the southern shore of Lake Orsasjon, Mora is a location steeped in history and culture that's ready to be discovered. Dalarna county is in the heart of the Sweden and is famous for the national symbol of the wooden Dala horse and Mora knives. Check in to the hotel on arrival and relax for the evening, before your day of exploration tomorrow.
Day 16: Swedish Lakes
Be charmed by tiny countryside villages with deep-red log cottages, towering pine forests and rolling meadows on an included bike ride this morning, a great way of getting to know the area and the beautiful Swedish country side. The rest of the day is free to explore the area of Mora and its lakes. Perhaps take a leisurely boat trip across the lake, sink a line to partake in a little fishing or hike around the gentle rolling surrounds. Admire the work of a meteorite that crashed into the Earth millions of years ago, forming what is today Lake Siljan. Mora is also the home of the world's biggest cross-country ski race, the 90 kilometre Vasaloppet, and one of Sweden's most famous artists, Anders Zorn. Here you can visit his former home and a museum gallery of his art.
Day 17: Stockholm
Leaving the Swedish lakes behind, head to the country's cultural, political and economic capital of Stockholm by train (approximately 4 hours). Often referred to as the 'Venice of the North' and arguably Scandinavia 's most beautiful city, Stockholm is packed full of amazing architecture, pristine parks and clear waters. After an introductory orientation walk, use the rest of your day to settle into your accommodation and explore the area around you. You can perhaps head underground for the world's longest art exhibition. Connecting the fourteen islands of the city and blasted through hard rocky ground, the subway (Tunnelbana) system's 100 stations are like the longest modern art exhibition in the world, featuring artwork from over 140 different artists. The bedrock of the cavernous stations on the Blue Line for example has been left exposed and artists given free reign to express themselves on the walls. Enjoy the narrow cobble stone streets and the colourful merchant houses. Why not soak up the culture and try a cinnamon roll in Stockholm's oldest café Sundbergs Konditori located on Jarntorget square, and dating from 1785.
Day 18: Stockholm
In your free time why not leave the city behind for a few hours and see the waterways of Stockholm on a cruise past tiny islets and along narrow waterways. Consider taking a self-guided Millennium Walking Tour of Stockholm or visit the Abba Museum. Alternatively you can take a trip to Drottningholm Palace, the residence of the Swedish royal family. There's plenty of sights and attractions to keep you busy here in this great Scandinavian city, so plan your activities wisely. Tonight perhaps head to Stockholm's Sodermalm district, the inner-city island with the best nightlife, full of hip shops, bars and cafes. Or maybe sit down at one of the city's top-notch restaurants, such as the latest venues opened on the cobblestoned islet of Gamla Stan, or in the cool fusion restaurants of Kungsholmen.
Day 19: Stockholm / Overnight Ferry
After breakfast, go on an included visit to the Vasa Museum on the inner-city island of Djurgarden. The 17th-century warship, Vasa, sank in 1628 on her maiden voyage in the harbour of Stockholm and was salvaged only in 1961. As one of the most visited sights in Sweden, the Vasa Museum collection consists of the Vasa itself and all of the objects that were found within the ship. In the evening, you'll be boarding an overnight ferry for Helsinki, Finland.
Day 20: Helsinki
After your morning arrival into Helsinki's port you will transfer to your hotel. Discover a wealth of historical sights and gastronomic wonders in Helsinki. Apart from a short orientation walk, today is completely free and you'll be able to explore Helsinki in your own time. A few options to consider during your time here are a visit to the city's cathedral or the interesting Design Museum. Don't miss the harbour-side market and market hall from 1889 for local oddities, and make sure you take a short ferry ride to the magnificent Suomenlinna Sea Fortress, sometimes referred to as the Gibraltar of the North, a World Heritage-listed site that was once an important point of defence for the city. Surrounded by the sea, Helsinki is a modern European city that offers an endless array of options. Throughout its 450-year history, the city has often been the buffer between the east and west. This is shown in their cuisine, with a mix of root vegetables, berries and fresh fish. Perhaps head out in the evening to sample some traditional dishes at dinner with your group.
Day 21: Helsinki
Your adventure comes to an end after breakfast today. There are no more activities planned and you're able to depart the accommodation at any time. If you would like to extend you stay in Helsinki we are happy to book additional accommodation for you, subject to availability. Please speak to your travel consultant at the time of booking.
Copenhagen - Visit to Freetown Christiania with Local Guide
Copenhagen - Bike Tour
Vrango Island - Day Trip
Vrango Island - Island Tour with Local Guide (Oct to Apr)
Vrango Island - Sea Kayaking (May to Sep)
Bergen - Bergen Museum and Bryggen Guided Walk
Gudvangen - Naeroyfjord Boat Cruise
Lillehammer - Olympic Ski Jumping Tower & Chairlift
Lillehammer - Maihaugen Open Air Museum
Mora - Swedish Lakes Bicycle Tour
Stockholm - Vasa Museum
Meals
17 Breakfast(s) Included

Style: Original

Hotel (14 nights), Cabin (2 nights), Pension (3 night), Overnight ferry (1 night)
Question: How many suitcases can I take with me on my trip?
Each person is allowed one "check-in," and one "carry-on." Remember to take all valuables with you as "carry-on", because electronic equipment, cameras, laptops, jewelry, business documents and money are not covered by the airlines' liability, so always carry them aboard with you.
Question: Is Airfare Included in the Price?
Airfare from your point of origin to and from the trip is not included in the land price.
Similar Tours Other Travelers Liked
The trip was both both educational and exciting. I very much enjoyed the sights and culture.
The itinerary was just as I expected! The guide was very good as were the accomodations
Intrepid did such a great job. I never had to worry about where I was supposed to be and it felt so good not to worry about a thing but just to enjoy myself. Our guide was extremely knowledgeable about culture and history.
Taiwan people very friendly. Accommodation were centrally located and easily accessible. Did extra activities then in brochure which was greatly.
Larus our tour guide did an excellent job and was very attentive to our needs. He is very knowledgeable and has a great sense of humor.
Our guide Tarang chandola was exceptional. Courteous, knowledgeable, organized, polite, professional and went above and beyond taking care of our needs and requests offen anticipating what that might be. He made sure we all had the best possible time and offered suggestions to meet the needs of everyone on the tour. This made the trip even more enjoyable.
AffordableTours.com® does not itself offer, service or administer the Travel Packages, and the ultimate terms and conditions of any Travel Package made available via the Site Offerings (including the prices quoted in connection with same) will be determined by the applicable Third-Party Travel Service Provider. AffordableTours.com® does not represent or warrant that the Price Quotes are accurate, up-to-date or free of error, or that same will be honored by the applicable Third-Party Travel Service Providers. All Price Quotes, Travel Package availability, Travel Package details/itinerary and other Content are subject to change without notice. All travel details published by and through the Site Offerings should be confirmed directly with the applicable Third-Party Travel Service Provider prior to making any travel plans. Reliance on any information made available to you by and through the Site Offerings is solely at your own risk.
How It Works
Vacationing has never been easier or cheaper with the help of a dedicated travel consultant from AffordableTours.com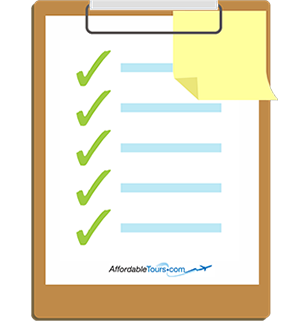 Find your perfect trip on our website and simply request a free quote. Need to speak to a live person? Call us 7 days a week at 1-800-935-2620. No robots here!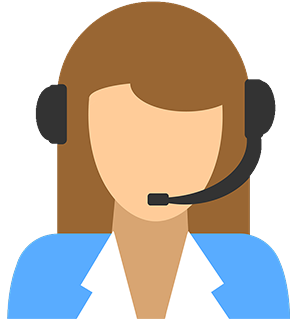 Your personal travel consultant will reach out and be your point of contact for your entire travel experience from start to finish. Did we mention you'll be working with an award winning team? Sweet!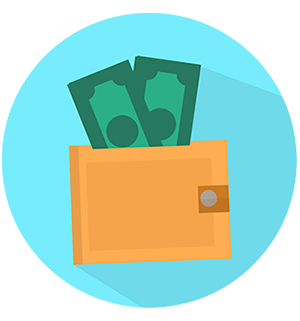 Because we're one of the largest sellers of travel, we're able to give you a discount on your vacation package. No one beats our prices!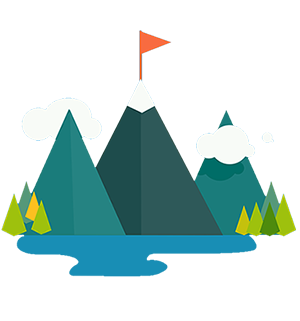 Knowing you got the best deal, all that's left is for you to pack your bags and enjoy your vacation!