Dates & Prices
Start Date
End Date
Offers
Brochure
Land Price
Our Price
Quote
Dec 23, 2020
Dec 31, 2020
Call Us

$1,450

Get Our Price
Get Quote
Dec 26, 2020
Jan 03, 2021
Call Us

$1,450

Get Our Price
Get Quote
Jan 02, 2021
Jan 10, 2021
Call Us

$1,335

Get Our Price
Get Quote
Mar 13, 2021
Mar 21, 2021
Call Us

$1,370

Get Our Price
Get Quote
Mar 20, 2021
Mar 28, 2021
Call Us

$1,425

Get Our Price
Get Quote
Mar 27, 2021
Apr 04, 2021
Call Us

$1,425

Get Our Price
Get Quote
Apr 07, 2021
Apr 15, 2021
Call Us

$1,425

Get Our Price
Get Quote
Apr 10, 2021
Apr 18, 2021
Call Us

$1,425

Get Our Price
Get Quote
Apr 17, 2021
Apr 25, 2021
Call Us

$1,425

Get Our Price
Get Quote
May 08, 2021
May 16, 2021
Call Us

$1,425

Get Our Price
Get Quote
May 15, 2021
May 23, 2021
Call Us

$1,425

Get Our Price
Get Quote
May 22, 2021
May 30, 2021
Call Us

$1,425

Get Our Price
Get Quote
May 29, 2021
Jun 06, 2021
Call Us

$1,370

Get Our Price
Get Quote
Jun 05, 2021
Jun 13, 2021
Call Us

$1,370

Get Our Price
Get Quote
Jun 12, 2021
Jun 20, 2021
Call Us

$1,370

Get Our Price
Get Quote
Jun 19, 2021
Jun 27, 2021
Call Us

$1,370

Get Our Price
Get Quote
Jul 03, 2021
Jul 11, 2021
Call Us

$1,320

Get Our Price
Get Quote
Jul 10, 2021
Jul 18, 2021
Call Us

$1,320

Get Our Price
Get Quote
Jul 17, 2021
Jul 25, 2021
Call Us

$1,320

Get Our Price
Get Quote
Jul 24, 2021
Aug 01, 2021
Call Us

$1,320

Get Our Price
Get Quote
Jul 31, 2021
Aug 08, 2021
Call Us

$1,320

Get Our Price
Get Quote
Aug 07, 2021
Aug 15, 2021
Call Us

$1,320

Get Our Price
Get Quote
Aug 14, 2021
Aug 22, 2021
Call Us

$1,320

Get Our Price
Get Quote
Aug 21, 2021
Aug 29, 2021
Call Us

$1,320

Get Our Price
Get Quote
Aug 28, 2021
Sep 05, 2021
Call Us

$1,320

Get Our Price
Get Quote
Sep 04, 2021
Sep 12, 2021
Call Us

$1,370

Get Our Price
Get Quote
Sep 08, 2021
Sep 16, 2021
Call Us

$1,370

Get Our Price
Get Quote
Sep 11, 2021
Sep 19, 2021
Call Us

$1,425

Get Our Price
Get Quote
Sep 15, 2021
Sep 23, 2021
Call Us

$1,425

Get Our Price
Get Quote
Sep 18, 2021
Sep 26, 2021
Call Us

$1,425

Get Our Price
Get Quote
Oct 09, 2021
Oct 17, 2021
Call Us

$1,425

Get Our Price
Get Quote
Oct 13, 2021
Oct 21, 2021
Call Us

$1,370

Get Our Price
Get Quote
Oct 16, 2021
Oct 24, 2021
Call Us

$1,370

Get Our Price
Get Quote
Oct 20, 2021
Oct 28, 2021
Call Us

$1,370

Get Our Price
Get Quote
Oct 23, 2021
Oct 31, 2021
Call Us

$1,370

Get Our Price
Get Quote
Oct 30, 2021
Nov 07, 2021
Call Us

$1,320

Get Our Price
Get Quote
Dec 25, 2021
Jan 02, 2022
Call Us

$1,320

Get Our Price
Get Quote
Jan 01, 2022
Jan 09, 2022
Call Us

$1,320

Get Our Price
Get Quote
Feb 19, 2022
Feb 27, 2022
Call Us

$1,320

Get Our Price
Get Quote
Mar 12, 2022
Mar 20, 2022
Call Us

$1,320

Get Our Price
Get Quote
Mar 19, 2022
Mar 27, 2022
Call Us

$1,320

Get Our Price
Get Quote
Mar 26, 2022
Apr 03, 2022
Call Us

$1,320

Get Our Price
Get Quote
Apr 06, 2022
Apr 14, 2022
Call Us

$1,320

Get Our Price
Get Quote
Apr 09, 2022
Apr 17, 2022
Call Us

$1,320

Get Our Price
Get Quote
Apr 16, 2022
Apr 24, 2022
Call Us

$1,320

Get Our Price
Get Quote
May 05, 2022
May 13, 2022
Call Us

$1,320

Get Our Price
Get Quote
May 14, 2022
May 22, 2022
Call Us

$1,320

Get Our Price
Get Quote
May 21, 2022
May 29, 2022
Call Us

$1,320

Get Our Price
Get Quote
May 28, 2022
Jun 05, 2022
Call Us

$1,320

Get Our Price
Get Quote
Jun 11, 2022
Jun 19, 2022
Call Us

$1,320

Get Our Price
Get Quote
Jun 18, 2022
Jun 26, 2022
Call Us

$1,320

Get Our Price
Get Quote
Jun 25, 2022
Jul 03, 2022
Call Us

$1,320

Get Our Price
Get Quote
Jul 02, 2022
Jul 10, 2022
Call Us

$1,320

Get Our Price
Get Quote
Jul 09, 2022
Jul 17, 2022
Call Us

$1,320

Get Our Price
Get Quote
Jul 16, 2022
Jul 24, 2022
Call Us

$1,320

Get Our Price
Get Quote
Jul 23, 2022
Jul 31, 2022
Call Us

$1,320

Get Our Price
Get Quote
Jul 30, 2022
Aug 07, 2022
Call Us

$1,320

Get Our Price
Get Quote
Aug 06, 2022
Aug 14, 2022
Call Us

$1,320

Get Our Price
Get Quote
Aug 13, 2022
Aug 21, 2022
Call Us

$1,320

Get Our Price
Get Quote
Aug 20, 2022
Aug 28, 2022
Call Us

$1,320

Get Our Price
Get Quote
Aug 27, 2022
Sep 04, 2022
Call Us

$1,320

Get Our Price
Get Quote
Sep 01, 2022
Sep 09, 2022
Call Us

$1,320

Get Our Price
Get Quote
Sep 11, 2022
Sep 19, 2022
Call Us

$1,320

Get Our Price
Get Quote
Sep 14, 2022
Sep 22, 2022
Call Us

$1,320

Get Our Price
Get Quote
Sep 17, 2022
Sep 25, 2022
Call Us

$1,320

Get Our Price
Get Quote
Sep 21, 2022
Sep 29, 2022
Call Us

$1,320

Get Our Price
Get Quote
Oct 08, 2022
Oct 16, 2022
Call Us

$1,320

Get Our Price
Get Quote
Oct 12, 2022
Oct 20, 2022
Call Us

$1,320

Get Our Price
Get Quote
Oct 15, 2022
Oct 23, 2022
Call Us

$1,320

Get Our Price
Get Quote
Oct 19, 2022
Oct 27, 2022
Call Us

$1,320

Get Our Price
Get Quote
Oct 22, 2022
Oct 30, 2022
Call Us

$1,320

Get Our Price
Get Quote
Oct 29, 2022
Nov 06, 2022
Call Us

$1,320

Get Our Price
Get Quote
Dec 24, 2022
Jan 01, 2023
Call Us

$1,320

Get Our Price
Get Quote
Call or submit a quote for award-winning value and service!
Tour Itinerary
Get a taste of historical China on this culture-stuffed adventure. Travel from Shanghai to Beijing, taking in iconic attractions such as the Great Wall and Terracotta Warriors along the way. In between the well-known sights, you'll delve beneath the surface, making dumplings with a family who lives near the Great Wall and exploring the quiet canals in the ancient water town of Xitang.
Day 1

Shanghai

Ni Hao! Welcome to China. Blending 21st-century architecture with old-world character, Shanghai pulses with the beat of new China. Your adventure begins with a meeting at 6 pm this evening. Please look for a note in the hotel lobby or ask reception where it will take place. Settle into your hotel then get a feel for this vibrant city and its bright lights, fevered trade and frenetic pace. The evening is free for your first exploration of the city – perhaps get a taste of Shanghai's eclectic food scene, which draws influence from far beyond China's walls.

Day 2

Shanghai - Xitang

Join your leader today for a walking tour that'll take you back in time. At the Bund you can get a taste of 1920s Shanghai; its spectacular array of Art Deco buildings line what was once the most important financial street in Asia. Wander the narrow winding lanes (longtangs) of Old Shanghai, where you can get a real glimpse into the locals' daily life. Explore the European-influenced French Concession and the tree-lined avenues and Tudor mansions of Luwan's Huaihai Road. In the afternoon, leave Shanghai in the rearview mirror and make the two-hour journey to Xitang, a nearby water town. Once a hub for 19th-century trade, Xitang turns on the charm in the evening when all the day trippers go home. Take a stroll along lantern-lit canals and ask your leader for advice on which hole-in-the-wall eatery to pick from, enjoying some classic Chinese cuisine while watching the lights reflected on the waters' surface.   

Day 3

Xitang - Overnight train

Rise and shine to explore the streets of Xitang. Wander across charming bridges and relax by the canals, sip steaming cups of tea, learn about local history at one of the many museums or simply get lost among the maze of peaceful cobblestone streets – a welcome break from the bustle of modern Shanghai. Return to Shanghai and board an overnight hard sleeper train bound for Xi'an. The journey will take around 15 hours in total, though you'll hopefully be sleeping for most of it. Train travel in China may not be entirely luxurious but it's certainly one of the best ways to come face to face with realities of traversing the country, as it's the main form of transport for local people.

Day 4

Xi'an

Arrive in Xi'an, the capital of Shaanxi Province and the largest city in northwest China. Once the imperial centre of China for 2000 years, Xi'an is now a vibrant, modern city dotted with many interesting historical sites and is a great place to explore. Today you'll join your leader on a short walking tour to uncover what was once the start of the ancient Silk Road. Perhaps visit the Bell & Drum Towers, the former built (according to legend) to restrain the dragons that were causing earthquakes, the latter is (unsurprisingly) full of drums, once used to mark time and warn of emergencies. The city also has a wonderful Muslim Quarter, and you'll wander past quaint shops, lively markets, groups of white-bearded men in skull caps sipping tea in cafes and the Great Mosque, one of the most important in China. See the City Walls and Gates, running over 13 kilometres around the city, then check out your eclectic food options ranging from delicious Muslim fare to great Chinese dumplings. Perhaps visit the night markets and try some of the tantalising local specialties such as pao mo (lamb broth with flat bread), hand-pulled noodles and meat skewers.

Day 5

Xi'an

Today you'll journey outside of Xi'an (approximately 2 hours) and visit what is undoubtedly one of the man-made wonders of the world – the Terracotta Warriors. Learn all about this incredible archaeological find, which was discovered after being buried for 2000 years. These clay statues depicting soldiers, horses and chariots were commissioned by the emperor Qin Shi Huangdi as part of his mausoleum after he ascended to the throne in 264 BC. See over 1000 warriors, each individually sculpted from clay and with a different costume, height and facial expression. Afterwards you'll enjoy lunch with a local family nearby.
Meals: Dinner

Day 6

Great Wall

Today is a big day of travelling so grab some snacks for the journey. Transfer to the railway station then board the high-speed train to Beijing (approx. six hours). Watch the landscape change from farmland and villages to industrialised cities and urban sprawl. On arrival in Beijing, board a private vehicle and make the three-hour drive into the countryside, where you'll spend the night in a family-run guesthouse. This evening your host will show you how to make dumplings for dinner.
Meals: Dinner

Day 7

Great Wall - Beijing

This morning you'll visit a section of the Great Wall and spend some time exploring, taking photos and learning the history of this mighty site (and sight). An incredible piece of engineering, the wall stretches 6000 kilometres west from Beijing. It was originally constructed to protect Chinese empires from invaders from the north and even though it failed in this purpose, it's still one of the country's most remarkable achievements and an iconic destination. Stroll along the top of the wall, which snakes through the hills almost endlessly into the distance, and you may feel like you have it all to yourself. You'll then journey back to Beijing (approx. 3 hours) – your last stop on your tour. The capital of the most populous country on earth, Beijing is frenetic city with ancient pockets. There are plenty of places that will give you a great insight into the nation's ancient past as well as China's contemporary culture.
Meals: Breakfast

Day 8

Beijing

Make your way to the centre of the city. Tiananmen Square – supposedly the largest downtown square in the world – is the symbolic centre of Chinese power. Framed by the Gate of Heavenly Peace, Mao's Mausoleum and the Great Hall of the People, it's a place of pilgrimage for the Chinese tourists who consider it to be the heart of their nation. It's from here that you'll enter the enormous Forbidden City, which was built more than 500 yeras ago and has been off limits to commoners for almost all that time. Despite the transformation of the city around it, the Forbidden City looks much like it always has. Explore the halls and courtyards and you'll appreciate the might and grandeur of the Imperial Chinese court during the Ming and Qing dynasties. In the afternoon, enjoy some free time to explore on your own. Maybe check out the Temple of Heaven before getting together with your fellow travellers for a farewell dinner. There's no better way to celebrate the end of your journey than with a meal of Beijing duck and other northern dishes that your leader can recommend.

Day 9

Beijing

There are no activities planned for the final day and you are able to depart the accommodation at any time after check out. There's so much to see and do in Beijing so we highly recommend staying an extra few days. Perhaps take a trip to the 798 Art District, cycle round the city with Beijing Urban Adventures or explore the beautiful, Tibetan-style monastery of Yonghegong (the Lama Temple).
Countries Visited
Cities Visited
Shanghai - Leader-led walking tour
Xitang - Leader-led walking tour
Xi'an - Leader-led Muslim Quarter walking tour
Xi'an - Terracotta Warriors Tour (entrace fee, transport, local guide included)
Xi'an - Home-cooked lunch
Great Wall - Dumpling making demonstration
Great Wall - Jinshanling section
Beijing - Forbidden City (entrance fee included)
Beijing - Tiananmen Square
Meals
1 Breakfast(s) Included
1 Lunch(es) Included
1 Dinner(s) Included

Style: Original

Hotel (6 nights), Overnight Sleeper Train (1 night), Guesthouse (1 night)
Question: How many suitcases can I take with me on my trip?
Each person is allowed one "check-in," and one "carry-on." Remember to take all valuables with you as "carry-on", because electronic equipment, cameras, laptops, jewelry, business documents and money are not covered by the airlines' liability, so always carry them aboard with you.
Question: Is Airfare Included in the Price?
Airfare from your point of origin to and from the trip is not included in the land price.
Similar Tours Other Travelers Liked
The trip was both both educational and exciting. I very much enjoyed the sights and culture.
The itinerary was just as I expected! The guide was very good as were the accomodations
Intrepid did such a great job. I never had to worry about where I was supposed to be and it felt so good not to worry about a thing but just to enjoy myself. Our guide was extremely knowledgeable about culture and history.
Taiwan people very friendly. Accommodation were centrally located and easily accessible. Did extra activities then in brochure which was greatly.
Larus our tour guide did an excellent job and was very attentive to our needs. He is very knowledgeable and has a great sense of humor.
Our guide Tarang chandola was exceptional. Courteous, knowledgeable, organized, polite, professional and went above and beyond taking care of our needs and requests offen anticipating what that might be. He made sure we all had the best possible time and offered suggestions to meet the needs of everyone on the tour. This made the trip even more enjoyable.
AffordableTours.com® does not itself offer, service or administer the Travel Packages, and the ultimate terms and conditions of any Travel Package made available via the Site Offerings (including the prices quoted in connection with same) will be determined by the applicable Third-Party Travel Service Provider. AffordableTours.com® does not represent or warrant that the Price Quotes are accurate, up-to-date or free of error, or that same will be honored by the applicable Third-Party Travel Service Providers. All Price Quotes, Travel Package availability, Travel Package details/itinerary and other Content are subject to change without notice. All travel details published by and through the Site Offerings should be confirmed directly with the applicable Third-Party Travel Service Provider prior to making any travel plans. Reliance on any information made available to you by and through the Site Offerings is solely at your own risk.
How It Works
Vacationing has never been easier or cheaper with the help of a dedicated travel consultant from AffordableTours.com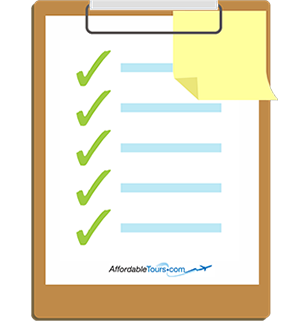 Find your perfect trip on our website and simply request a free quote. Need to speak to a live person? Call us 7 days a week at 1-800-935-2620. No robots here!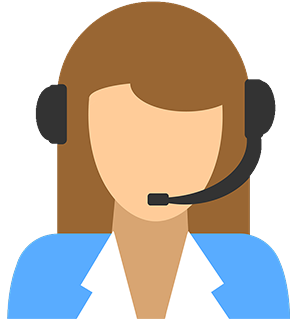 Your personal travel consultant will reach out and be your point of contact for your entire travel experience from start to finish. Did we mention you'll be working with an award winning team? Sweet!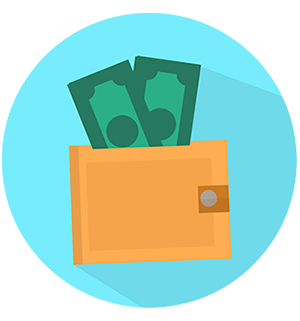 Because we're one of the largest sellers of travel, we're able to give you a discount on your vacation package. No one beats our prices!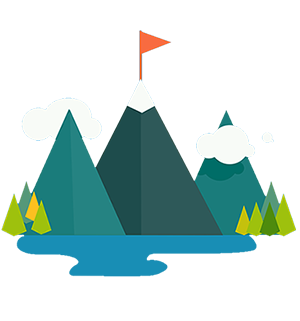 Knowing you got the best deal, all that's left is for you to pack your bags and enjoy your vacation!