Dates & Prices
Start Date
End Date
Offers
Brochure
Land Price
Our Price
Quote
Dec 18, 2020
Dec 26, 2020
Call Us

$2,275

Get Our Price
Get Quote
Jan 15, 2021
Jan 23, 2021
Call Us

$2,315

Get Our Price
Get Quote
Feb 26, 2021
Mar 06, 2021
Call Us

$2,315

Get Our Price
Get Quote
Mar 19, 2021
Mar 27, 2021
Call Us

$2,315

Get Our Price
Get Quote
Apr 02, 2021
Apr 10, 2021
Call Us

$2,385

Get Our Price
Get Quote
Apr 16, 2021
Apr 24, 2021
Call Us

$2,315

Get Our Price
Get Quote
Apr 30, 2021
May 08, 2021
Call Us

$2,315

Get Our Price
Get Quote
May 14, 2021
May 22, 2021
Call Us

$2,500

Get Our Price
Get Quote
May 21, 2021
May 29, 2021
Call Us

$2,500

Get Our Price
Get Quote
Jun 04, 2021
Jun 12, 2021
Call Us

$2,500

Get Our Price
Get Quote
Jun 25, 2021
Jul 03, 2021
Call Us

$2,500

Get Our Price
Get Quote
Jul 09, 2021
Jul 17, 2021
Call Us

$2,500

Get Our Price
Get Quote
Jul 16, 2021
Jul 24, 2021
Call Us

$2,500

Get Our Price
Get Quote
Jul 30, 2021
Aug 07, 2021
Call Us

$2,500

Get Our Price
Get Quote
Aug 13, 2021
Aug 21, 2021
Call Us

$2,500

Get Our Price
Get Quote
Aug 20, 2021
Aug 28, 2021
Call Us

$2,500

Get Our Price
Get Quote
Sep 03, 2021
Sep 11, 2021
Call Us

$2,405

Get Our Price
Get Quote
Sep 11, 2021
Sep 19, 2021
Call Us

$2,405

Get Our Price
Get Quote
Sep 17, 2021
Sep 25, 2021
Call Us

$2,405

Get Our Price
Get Quote
Sep 24, 2021
Oct 02, 2021
Call Us

$2,405

Get Our Price
Get Quote
Oct 01, 2021
Oct 09, 2021
Call Us

$2,405

Get Our Price
Get Quote
Oct 15, 2021
Oct 23, 2021
Call Us

$2,405

Get Our Price
Get Quote
Oct 29, 2021
Nov 06, 2021
Call Us

$2,405

Get Our Price
Get Quote
Nov 12, 2021
Nov 20, 2021
Call Us

$2,405

Get Our Price
Get Quote
Nov 26, 2021
Dec 04, 2021
Call Us

$2,405

Get Our Price
Get Quote
Dec 10, 2021
Dec 18, 2021
Call Us

$2,315

Get Our Price
Get Quote
Dec 17, 2021
Dec 25, 2021
Call Us

$2,315

Get Our Price
Get Quote
Dec 24, 2021
Jan 01, 2022
Call Us

$2,315

Get Our Price
Get Quote
Dec 31, 2021
Jan 08, 2022
Call Us

$2,315

Get Our Price
Get Quote
Jan 14, 2022
Jan 22, 2022
Call Us

$2,315

Get Our Price
Get Quote
Jan 28, 2022
Feb 05, 2022
Call Us

$2,315

Get Our Price
Get Quote
Feb 11, 2022
Feb 19, 2022
Call Us

$2,315

Get Our Price
Get Quote
Feb 25, 2022
Mar 05, 2022
Call Us

$2,315

Get Our Price
Get Quote
Mar 11, 2022
Mar 19, 2022
Call Us

$2,315

Get Our Price
Get Quote
Mar 18, 2022
Mar 26, 2022
Call Us

$2,315

Get Our Price
Get Quote
Apr 01, 2022
Apr 09, 2022
Call Us

$2,315

Get Our Price
Get Quote
Apr 15, 2022
Apr 23, 2022
Call Us

$2,315

Get Our Price
Get Quote
Apr 29, 2022
May 07, 2022
Call Us

$2,315

Get Our Price
Get Quote
May 13, 2022
May 21, 2022
Call Us

$2,315

Get Our Price
Get Quote
May 20, 2022
May 28, 2022
Call Us

$2,315

Get Our Price
Get Quote
Jun 03, 2022
Jun 11, 2022
Call Us

$2,315

Get Our Price
Get Quote
Jun 24, 2022
Jul 02, 2022
Call Us

$2,315

Get Our Price
Get Quote
Jul 08, 2022
Jul 16, 2022
Call Us

$2,315

Get Our Price
Get Quote
Jul 15, 2022
Jul 23, 2022
Call Us

$2,315

Get Our Price
Get Quote
Jul 29, 2022
Aug 06, 2022
Call Us

$2,315

Get Our Price
Get Quote
Aug 12, 2022
Aug 20, 2022
Call Us

$2,315

Get Our Price
Get Quote
Aug 19, 2022
Aug 27, 2022
Call Us

$2,315

Get Our Price
Get Quote
Sep 02, 2022
Sep 10, 2022
Call Us

$2,315

Get Our Price
Get Quote
Sep 10, 2022
Sep 18, 2022
Call Us

$2,315

Get Our Price
Get Quote
Sep 16, 2022
Sep 24, 2022
Call Us

$2,315

Get Our Price
Get Quote
Sep 23, 2022
Oct 01, 2022
Call Us

$2,315

Get Our Price
Get Quote
Sep 30, 2022
Oct 08, 2022
Call Us

$2,315

Get Our Price
Get Quote
Oct 14, 2022
Oct 22, 2022
Call Us

$2,315

Get Our Price
Get Quote
Oct 28, 2022
Nov 05, 2022
Call Us

$2,315

Get Our Price
Get Quote
Nov 11, 2022
Nov 19, 2022
Call Us

$2,315

Get Our Price
Get Quote
Nov 25, 2022
Dec 03, 2022
Call Us

$2,315

Get Our Price
Get Quote
Dec 09, 2022
Dec 17, 2022
Call Us

$2,315

Get Our Price
Get Quote
Dec 16, 2022
Dec 24, 2022
Call Us

$2,315

Get Our Price
Get Quote
Dec 23, 2022
Dec 31, 2022
Call Us

$2,315

Get Our Price
Get Quote
Call or submit a quote for award-winning value and service!
Tour Itinerary
Visit South America and travel to Peru on an adventure from mountains to jungle, and seasides to great plains. Visit Peru's incredible natural and historical highlights on this awesome adventure. Retrace the steps of the Incas to Machu Picchu, admire colonial cities, explore vibrant markets, and meet the locals in this South American country with a difference. Return home with incredible memories of the panoramas and people of Peru.
Day 1

Lima

Bienvenidos! Welcome to Lima, Peru's capital, and one of South America's most beautiful cities. Your adventure begins with a welcome meeting at 2 pm, where you'll meet your fellow travellers and tour leader. Please look for a note in the hotel lobby or ask reception where it will take place. After the meeting, stroll the streets of downtown Lima and check out some of its main attractions on a leader-led walking tour. Enjoy free time before an optional group dinner this evening. The unofficial food capital of South America, there's no better place to sample Peru's national dish, ceviche, than at one of Lima's excellent restaurants. As there's little time spent in Lima, you may like to arrive a few days early to see the sights, including the chic suburb of Miraflores, Central Park, Lovers' Park, and the National Museum.

Day 2

Cusco

Catch an early flight to Cusco. Spend a little time acclimatising to the high altitude (3450 metres/11,320 feet) and then get acquainted with this charming town on a walking tour with your leader. Check out Cusco's vibrant main square (Plaza de Armas). Witness the flurry of activity that characterises the San Pedro market. Stroll past the slew of quaint restaurants and artisans found in San Blas Square. See Qoricancha (an Inca Sun Temple) and the famous 12 Angle Stone, then end your tour at the chocolate museum, where you'll get a chance to sample hot chocolate made from local cacao beans. This might be a good opportunity to purchase some gifts or souvenirs. There's a small store where you'll find various handicrafts and a variety of artisanal chocolate products.
Meals: Breakfast

Day 3

Aguas Calientes

Travel by private bus through the Sacred Valley (approximately 2 hours) on the outskirts of Cusco. This lush valley was known as Wilcamayo to the Incas and has long been the main source of food for the high Andes. Maize crops can be seen surrounding the river and covering the terraces carved high into the valley walls. You will visit a community in the valley to learn about local lifestyle and activities. If your visit coincides with market day you can browse the stalls in search of hand-painted beads or warm ponchos, and perhaps practice your newfound language, Quechua. Later in the afternoon, board a train from Ollantaytambo to Aguas Calientes, which is nestled in the cloud forest at the foot of Machu Picchu. This extra journey ensures that we can travel to Machu Picchu as early as possible tomorrow morning.
Meals: Breakfast, Dinner

Day 4

Machu Picchu / Cusco

Take a bus up the winding road to Machu Picchu (approximately 30 minutes). This is your chance to decide for yourself whether Machu Picchu was built around 1440 as a country retreat for Incan nobility or is an ancient astronomical observatory. Enjoy a guided visit of the incredible site (1.5–2 hours) taking in the many temples, palaces and living quarters. After taking advantage of the seemingly endless photo opportunities, return to Cusco. Note: Due to Intrepid's internal safety policy, our leaders are specifically prohibited from recommending or assisting with booking climbs of Wayna Picchu.Visiting Machu Picchu:According to Machu Picchu visiting regulations, all visitors must follow a pre-determined route within the site. This route must be followed in one direction only and once the guided visit commences exiting and re-entering the site is not permitted. Once the guided visit concludes, visitors must exit the site and personal exploration of Machu Picchu is not permitted.
Meals: Breakfast

Day 5

Cusco

Enjoy free time to relax, shop and explore more of Cusco's sights, or simply rest your legs at a cafe on Plaza de Armas. For those who can't get enough active adventure, a mountain bike adventure into the surrounding hills is recommended.
Meals: Breakfast

Day 6

Puno

Travel by local bus across the spectacular Altiplano to Puno, located on the shores of Lake Titicaca (approximately 7 hours). Mingle with the locals in this melting pot of Aymara and Quechuan cultures and see how traditional Andean customs are still strongly represented here. If you're lucky your visit might coincide with one of the colourful evening parades, which see the streets fill with costumed dancers and musicians.
Meals: Breakfast

Day 7

Lake Titicaca (Homestay)

Take a tour of the lake by slow motorboat, stopping off to visit the Uros floating islands. Using the versatile totora reeds found in the shallows of the lake, the Uros originally built their islands to isolate themselves from rival tribes. To get a closer look at daily life in the Lake Titicaca region, you'll be welcomed into the home of a local community and stay the night. Make the most of your visit by helping your host family with their daily activities, communicating with them in Quechua, or perhaps trying your luck with them at soccer.
Meals: Breakfast, Dinner

Day 8

Lima

Depart your homestay this morning and take a bus to Juliaca airport (approximately 2 hours). In the afternoon take an included flight back to Lima (approximately 1 hour and 40 minutes). Enjoy a last night out with your fellow travellers in Lima.
Meals: Breakfast

Day 9

Lima

Your trip comes to an end after breakfast this morning. Departure flights can be booked for any time as there are no activities planned for today.
Meals: Breakfast
Lima - Leader-led walking tour
Cusco - Leader-led orientation walk
Cusco - Chocolate Museum Visit & Hot Chocolate
Sacred Valley - Community visit & lunch
Machu Picchu - Entrance and guided tour
Lake Titicaca - Boat tour & Homestay
Meals
8 Breakfast(s) Included
1 Lunch(es) Included
1 Dinner(s) Included

Style: Original

Homestay (1 night), Hotel (7 nights)
Question: How many suitcases can I take with me on my trip?
Each person is allowed one "check-in," and one "carry-on." Remember to take all valuables with you as "carry-on", because electronic equipment, cameras, laptops, jewelry, business documents and money are not covered by the airlines' liability, so always carry them aboard with you.
Question: Is Airfare Included in the Price?
Airfare from your point of origin to and from the trip is not included in the land price.
Similar Tours Other Travelers Liked
The trip was both both educational and exciting. I very much enjoyed the sights and culture.
The itinerary was just as I expected! The guide was very good as were the accomodations
Intrepid did such a great job. I never had to worry about where I was supposed to be and it felt so good not to worry about a thing but just to enjoy myself. Our guide was extremely knowledgeable about culture and history.
Taiwan people very friendly. Accommodation were centrally located and easily accessible. Did extra activities then in brochure which was greatly.
Larus our tour guide did an excellent job and was very attentive to our needs. He is very knowledgeable and has a great sense of humor.
Our guide Tarang chandola was exceptional. Courteous, knowledgeable, organized, polite, professional and went above and beyond taking care of our needs and requests offen anticipating what that might be. He made sure we all had the best possible time and offered suggestions to meet the needs of everyone on the tour. This made the trip even more enjoyable.
AffordableTours.com® does not itself offer, service or administer the Travel Packages, and the ultimate terms and conditions of any Travel Package made available via the Site Offerings (including the prices quoted in connection with same) will be determined by the applicable Third-Party Travel Service Provider. AffordableTours.com® does not represent or warrant that the Price Quotes are accurate, up-to-date or free of error, or that same will be honored by the applicable Third-Party Travel Service Providers. All Price Quotes, Travel Package availability, Travel Package details/itinerary and other Content are subject to change without notice. All travel details published by and through the Site Offerings should be confirmed directly with the applicable Third-Party Travel Service Provider prior to making any travel plans. Reliance on any information made available to you by and through the Site Offerings is solely at your own risk.
How It Works
Vacationing has never been easier or cheaper with the help of a dedicated travel consultant from AffordableTours.com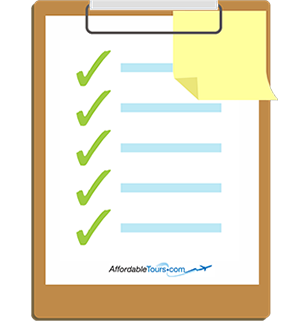 Find your perfect trip on our website and simply request a free quote. Need to speak to a live person? Call us 7 days a week at 1-800-935-2620. No robots here!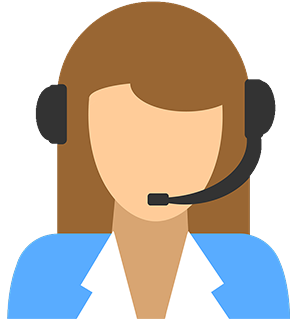 Your personal travel consultant will reach out and be your point of contact for your entire travel experience from start to finish. Did we mention you'll be working with an award winning team? Sweet!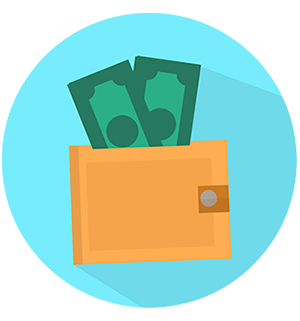 Because we're one of the largest sellers of travel, we're able to give you a discount on your vacation package. No one beats our prices!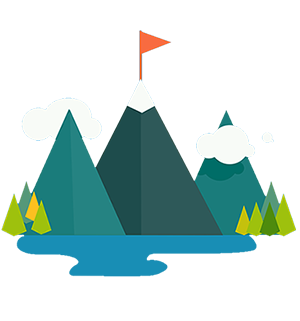 Knowing you got the best deal, all that's left is for you to pack your bags and enjoy your vacation!