Dates & Prices
Start Date
End Date
Offers
Brochure
Land Price
Our Price
Quote
Oct 05, 2020
Oct 17, 2020
Call Us

$3,105

Get Our Price
Get Quote
Oct 12, 2020
Oct 24, 2020
Call Us

$3,105

Get Our Price
Get Quote
Oct 26, 2020
Nov 07, 2020
Call Us

$3,105

Get Our Price
Get Quote
Nov 02, 2020
Nov 14, 2020
Call Us

$3,290

Get Our Price
Get Quote
Nov 06, 2020
Nov 18, 2020
Call Us

$3,105

Get Our Price
Get Quote
Nov 09, 2020
Nov 21, 2020
Call Us

$3,165

Get Our Price
Get Quote
Dec 21, 2020
Jan 02, 2021
Call Us

$3,225

Get Our Price
Get Quote
Jan 04, 2021
Jan 16, 2021
Call Us

$3,190

Get Our Price
Get Quote
Jan 11, 2021
Jan 23, 2021
Call Us

$3,130

Get Our Price
Get Quote
Jan 25, 2021
Feb 06, 2021
Call Us

$3,130

Get Our Price
Get Quote
Feb 08, 2021
Feb 20, 2021
Call Us

$3,130

Get Our Price
Get Quote
Feb 22, 2021
Mar 06, 2021
Call Us

$3,130

Get Our Price
Get Quote
Mar 15, 2021
Mar 27, 2021
Call Us

$3,015

Get Our Price
Get Quote
Apr 03, 2021
Apr 15, 2021
Call Us

$3,015

Get Our Price
Get Quote
Jun 07, 2021
Jun 19, 2021
Call Us

$2,900

Get Our Price
Get Quote
Jun 21, 2021
Jul 03, 2021
Call Us

$2,900

Get Our Price
Get Quote
Jul 05, 2021
Jul 17, 2021
Call Us

$2,900

Get Our Price
Get Quote
Jul 19, 2021
Jul 31, 2021
Call Us

$2,900

Get Our Price
Get Quote
Aug 02, 2021
Aug 14, 2021
Call Us

$2,900

Get Our Price
Get Quote
Aug 16, 2021
Aug 28, 2021
Call Us

$2,900

Get Our Price
Get Quote
Sep 27, 2021
Oct 09, 2021
Call Us

$2,900

Get Our Price
Get Quote
Oct 11, 2021
Oct 23, 2021
Call Us

$2,900

Get Our Price
Get Quote
Oct 16, 2021
Oct 28, 2021
Call Us

$2,900

Get Our Price
Get Quote
Oct 25, 2021
Nov 06, 2021
Call Us

$2,900

Get Our Price
Get Quote
Nov 01, 2021
Nov 13, 2021
Call Us

$2,900

Get Our Price
Get Quote
Nov 08, 2021
Nov 20, 2021
Call Us

$2,900

Get Our Price
Get Quote
Nov 15, 2021
Nov 27, 2021
Call Us

$3,015

Get Our Price
Get Quote
Nov 20, 2021
Dec 02, 2021
Call Us

$3,015

Get Our Price
Get Quote
Nov 22, 2021
Dec 04, 2021
Call Us

$3,015

Get Our Price
Get Quote
Nov 29, 2021
Dec 11, 2021
Call Us

$3,015

Get Our Price
Get Quote
Dec 04, 2021
Dec 16, 2021
Call Us

$3,015

Get Our Price
Get Quote
Dec 06, 2021
Dec 18, 2021
Call Us

$3,015

Get Our Price
Get Quote
Dec 11, 2021
Dec 23, 2021
Call Us

$3,130

Get Our Price
Get Quote
Dec 13, 2021
Dec 25, 2021
Call Us

$3,130

Get Our Price
Get Quote
Dec 18, 2021
Dec 30, 2021
Call Us

$3,130

Get Our Price
Get Quote
Dec 20, 2021
Jan 01, 2022
Call Us

$3,130

Get Our Price
Get Quote
Dec 25, 2021
Jan 06, 2022
Call Us

$3,130

Get Our Price
Get Quote
Call or submit a quote for award-winning value and service!
Tour Itinerary
The best of Cambodia and Vietnam is unveiled on this journey from Phnom Penh to Hanoi. Discover the region's culture and beauty as we visit the stunning ancient temples of Angkor, and be immersed in Vietnam's markets and vibrant streets. Add to the adventure an overnight boat stay on Halong Bay, friendly locals and lots of scrumptious food - the only thing left to do is choose when to go.
Day 1: Phnom Penh
Sua s'dei! Welcome to Phnom Penh, Cambodia. Your adventure begins with a welcome meeting at 6pm tonight. If you arrive early, perhaps stroll the streets of Phnom Penh, taking in the interesting French colonial architecture. The National Museum, with its collection of classic Khmer craftsmanship, is well worth a visit. Dinner tonight will be at the Friends International restaurant, an organisation that provides training and employment in the hospitality industry to disadvantaged youth. It's a great restaurant to support and the food is delicious – the Western and Asian fusion tapas dishes have put this restaurant on the must visit list.
Day 2: Phnom Penh
Today a full city tour introduces you to the sights of Phnom Penh, a city that lies near the confluence of the Mekong and Tonle Sap rivers. The private quarters of the Royal Palace are home to King Sihamoni and are closed to the public. You will, however, be able to visit the Silver Pagoda that lies in the palace complex, which is the most sacred temple in the country. Phnom Penh remains a living relic of the country's past struggles and successes. Your included visits to the Tuol Sleng Genocide Museum (S21) and the Killing Fields of Choeung Ek tell the story of the tragic legacy of the Khmer Rouge. Tuol Sleng is a former school that served as a Khmer Rouge torture centre, and it's estimated that more than 20,000 people were held and tortured here. The Killing Fields of Choeung Ek are home to a stupa made up of some 8,000 human skulls, marking the site of the infamous location. This was the execution ground for the torture victims of Tuol Sleng, and standing in this peaceful setting, it's almost unthinkable to imagine that to date nearly 9000 corpses have been exhumed from the area. The visits are major parts of the experience here, but if you don't wish to visit them, please let your leader know. There is an optional visit to Wat Phnom, the temple that gave rise to the foundation of the city in the 15th century. After today's activities, you may wish to spend this evening relaxing in a cafe by the riverfront.
Day 3: Siem Reap
Take a short flight to Siem Reap (approximately 1 hour). The small but expanding town of Siem Reap is the gateway to Angkor and is the most popular destination for travellers in all of Cambodia, perhaps even in South East Asia. You'll probably notice a change of pace here, so take a walk and enjoy the atmosphere. A visit to the old market is a must, even if you're not looking for souvenirs, wandering through the stalls and surrounding shops the silks, cottons, sarongs, silver and statues are a riot of colour and a feast for the eyes – and there will be one for your stomach too if you try some of the cheap, delicious street food! There's also a long tradition of shadow puppetry in the region, and if you're lucky you might catch a show at one of the local restaurants in the evening, perhaps while you're eating the specialty cuisine of Cambodia – amok, the name given to curry steam-cooked in banana leaves.
Day 4: Siem Reap / Angkor Wat
Spend a full day visiting the amazing temples of Angkor on a guided exploration. Angkor Wat is the largest and most complete structure, and the only one of Angkor's temples that has its entrance facing west – the others face east. Of all the temples visited today, Bayon is the centrepiece, with over 200 smiling carved faces and more than 50 gothic towers. For lunch you'll visit the Sala Bai Hotel School where disadvantaged local youth learn skills that enable them to find gainful employment in the hospitality industry. Afterward, you will head to Ta Prohm, a temple where nature has taken over, as large trees have become embedded in the stone foundations of the structure. End the day with a sunset view of the temples – an extraordinary way to see the sun go down.
Day 5: Siem Reap / Angkor Wat
Embrace a very early start today if you wish to experience a sunrise visit to the Angkor complex (this is optional). Today you'll visit the temple of Banteay Srei – you'll see it's not a huge temple, but thanks to its intricate stone carvings it is sometimes referred to as 'the jewel in the crown of Angkorian art'. Later this afternoon, get an insight into the daily life of Cambodians on a village tour. See the rice fields and family allotment that surround the traditional stilt houses. Be welcomed into a local home as you join together for sunset drinks. This evening, enjoy a final farewell dinner with your fellow travellers and one last night of delicious Cambodian cuisine at a specially chosen restaurant.
Day 6: Ho Chi Minh City
You will be transferred back to the airport, where you will say goodbye to Cambodia and fly to Ho Chi Minh City, Vietnam.Please note that you will be unescorted on this flight. Upon arrival you will be picked up from the airport and transferred to your hotel in Ho Chi Minh City.As this is a combination trip, your group leader and the composition of your group may change at this location. There will be a group meeting to discuss the next stage of your itinerary and you're welcome to attend, as this is a great chance to meet your new fellow travellers and your Vietnamese tour leader. This meeting is generally followed by an optional group meal out at one of Ho Chi Minh City's many fantastic eating spots.
Day 7: Ho Chi Minh City
Start your tour of Ho Chi Minh City with a visit to the Reunification Palace. Formerly known as the Presidential Palace, it was the site of South Vietnam's surrender at the end of the war. Next, head over to the War Remnants Museum where you'll see old military equipment including an F5A fighter and a UH1-Huey helicopter. Finally, you'll tour the famous Cu Chi Tunnels. This former Viet Cong stronghold provides an insight into the resourcefulness and tenacity of the Vietnamese people, as well as underground life during the Vietnam War.
Day 8: Hoi An
Say goodbye to Ho Chi Minh City and fly to Danang (1 hour 30 minutes). From here you'll make your way to My Khe Beach, a beautiful spot which lies against a backdrop of the Marble Mountains. This location was significant for both the Americans and the Vietnamese during the war. Enjoy a visit to the Marble Mountains to explore its caves and pagodas. Access is via rock hewn staircases or for a fee of VND40,000 you can use the elevator. After your visit continue to Hoi An where you'll stay for the night (approximately 30 minutes by private minibus).
Day 9: Hoi An
Your leader will take you on a walk around Hoi An's Old Town today. The city was a major trading port from the 17th century onwards, and has various architectural influences from Europe, China and Vietnam. Today the city is being restored and looks exactly like it did over a century ago. The tour will take you to a historic house, the Japanese Covered Bridge, a Chinese assembly hall and a museum. The rest of the day is free for you to do some optional activities or soak up the ambience of the place. You may like to wander the street stalls selling paintings, woodwork, ceramics, lanterns and much more. Hoi An is also famous for its talented tailors who can make beautiful items to order within a few hours.
Day 10: Hanoi
This morning, transfer to the airport and fly to Vietnam's charming capital of Hanoi (1 hour 30 minutes). You'll be taken on a guided half-day tour of Hanoi, visiting major sites such as the Temple of Literature, One Pillar Pagoda and the former residence of Vietnam's most famous revolutionary, Ho Chi Minh. The tour will also include lunch at the KOTO cafe, an amazing project which provides vocational training for disadvantaged young people. You'll have some free time this afternoon. Hanoi is a strangely quiet city compared to its southern counterpart. Escape from the noise by visiting the various parks and lakes, or hire a bike and cycle around town for the best view of the city.
Day 11: Halong Bay
Travel by private minibus to the famous Halong Bay (approximately 4 hours), one of Vietnam's most spectacular natural wonders. Once you arrive at the bay, you'll take a long, slow cruise through the area, exploring the beautiful green waters and amazing Surprise Cave. Access to Surprise Cave is via staircases. Once inside the cave the pathways are a little uneven and slippery. You may also have the opportunity to go swimming from Ti Top Island beach. You'll spend the night on the boat. The traditional junk-style boat has twin-share cabins with air-conditioning and private facilities. There's also a dining room and bar where you'll enjoy all of your meals, including fresh seafood for lunch and dinner.
Day 12: Hanoi
Head back to Hanoi by private minibus (approximately 4 hours). This afternoon take in a unique water puppet performance. This evening is free for you to explore this delightful city. Why not relax at a cafe or stop for a bia hoi (freshly brewed draught beer) at one of the microbars in the Old Quarter?
Day 13: Hanoi
After breakfast, you are free to leave at any time, as there are no activities planned today. If you would like to spend some more time in Hanoi, we'll be happy to organise some additional accommodation for you (subject to availability).
Complimentary Airport Arrival Transfer
Phnom Penh - Tuol Sleng Genocide Museum (S21)
Phnom Penh - The Killing Fields of Choeung Ek
Phnom Penh - Royal Palace & Silver Pagoda
Siem Reap - Lunch at Sala Bai
Siem Reap - Three day Angkor Pass
Siem Reap - Angkor Temples Guided Tour
Siem Reap - Banteay Srei Temple visit
Siem Reap - Angkor Temples Guided Tour
Ho Chi Minh City - Cu Chi Tunnels
Ho Chi Minh City - Reunification Palace
Ho Chi Minh City - War Remnants Museum
Ho Chi Minh City - City tour
Danang - Marble Mountain
Danang - My Khe Beach
Hoi An - Old Town walking tour
Hanoi - Koto Restaurant lunch
Hanoi - Temple of Literature
Hanoi - Ho Chi Minh's stilt house
Hanoi - Old Quarter Walking Tour
Hanoi - One Pillar Pagoda
Halong Bay - Overnight boat cruise with seafood lunch and dinner
Hanoi - Local water puppet performance
Meals
12 Breakfast(s) Included
3 Lunch(es) Included
3 Dinner(s) Included

Style: Comfort

Hotel (11 nights), Overnight boat (1 night)
Question: How many suitcases can I take with me on my trip?
Each person is allowed one "check-in," and one "carry-on." Remember to take all valuables with you as "carry-on", because electronic equipment, cameras, laptops, jewelry, business documents and money are not covered by the airlines' liability, so always carry them aboard with you.
Question: Is Airfare Included in the Price?
Airfare from your point of origin to and from the trip is not included in the land price.
Similar Tours Other Travelers Liked
The trip was both both educational and exciting. I very much enjoyed the sights and culture.
The itinerary was just as I expected! The guide was very good as were the accomodations
Intrepid did such a great job. I never had to worry about where I was supposed to be and it felt so good not to worry about a thing but just to enjoy myself. Our guide was extremely knowledgeable about culture and history.
Taiwan people very friendly. Accommodation were centrally located and easily accessible. Did extra activities then in brochure which was greatly.
Larus our tour guide did an excellent job and was very attentive to our needs. He is very knowledgeable and has a great sense of humor.
Our guide Tarang chandola was exceptional. Courteous, knowledgeable, organized, polite, professional and went above and beyond taking care of our needs and requests offen anticipating what that might be. He made sure we all had the best possible time and offered suggestions to meet the needs of everyone on the tour. This made the trip even more enjoyable.
AffordableTours.com® does not itself offer, service or administer the Travel Packages, and the ultimate terms and conditions of any Travel Package made available via the Site Offerings (including the prices quoted in connection with same) will be determined by the applicable Third-Party Travel Service Provider. AffordableTours.com® does not represent or warrant that the Price Quotes are accurate, up-to-date or free of error, or that same will be honored by the applicable Third-Party Travel Service Providers. All Price Quotes, Travel Package availability, Travel Package details/itinerary and other Content are subject to change without notice. All travel details published by and through the Site Offerings should be confirmed directly with the applicable Third-Party Travel Service Provider prior to making any travel plans. Reliance on any information made available to you by and through the Site Offerings is solely at your own risk.
How It Works
Vacationing has never been easier or cheaper with the help of a dedicated travel consultant from AffordableTours.com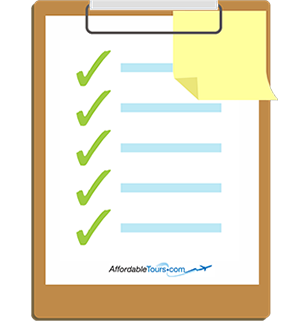 Find your perfect trip on our website and simply request a free quote. Need to speak to a live person? Call us 7 days a week at 1-800-935-2620. No robots here!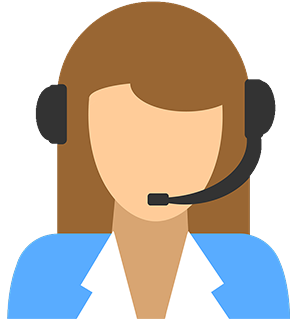 Your personal travel consultant will reach out and be your point of contact for your entire travel experience from start to finish. Did we mention you'll be working with an award winning team? Sweet!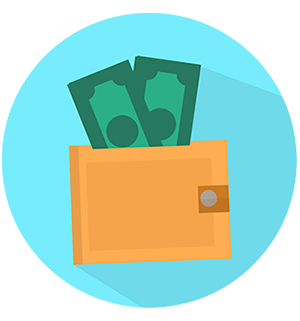 Because we're one of the largest sellers of travel, we're able to give you a discount on your vacation package. No one beats our prices!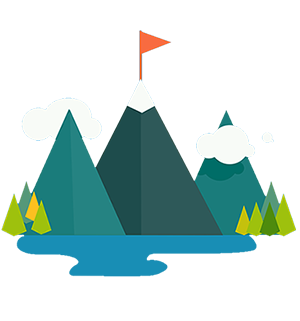 Knowing you got the best deal, all that's left is for you to pack your bags and enjoy your vacation!