Dates & Prices
Start Date
End Date
Offers
Brochure
Land Price
Our Price
Quote
Nov 01, 2020
Nov 10, 2020
Call Us

$930

Get Our Price
Get Quote
Nov 14, 2020
Nov 23, 2020
Call Us

$895

Get Our Price
Get Quote
Nov 24, 2020
Dec 03, 2020
Call Us

$895

Get Our Price
Get Quote
Dec 05, 2020
Dec 14, 2020
Call Us

$895

Get Our Price
Get Quote
Dec 19, 2020
Dec 28, 2020
Call Us

$930

Get Our Price
Get Quote
Dec 26, 2020
Jan 04, 2021
Call Us

$930

Get Our Price
Get Quote
Dec 28, 2020
Jan 06, 2021
Call Us

$1,005

Get Our Price
Get Quote
Jan 09, 2021
Jan 18, 2021
Call Us

$870

Get Our Price
Get Quote
Jan 23, 2021
Feb 01, 2021
Call Us

$845

Get Our Price
Get Quote
Feb 06, 2021
Feb 15, 2021
Call Us

$845

Get Our Price
Get Quote
Feb 20, 2021
Mar 01, 2021
Call Us

$845

Get Our Price
Get Quote
Mar 06, 2021
Mar 15, 2021
Call Us

$845

Get Our Price
Get Quote
Mar 11, 2021
Mar 20, 2021
Call Us

$845

Get Our Price
Get Quote
Mar 18, 2021
Mar 27, 2021
Call Us

$845

Get Our Price
Get Quote
Mar 20, 2021
Mar 29, 2021
Call Us

$880

Get Our Price
Get Quote
Mar 21, 2021
Mar 30, 2021
Call Us

$880

Get Our Price
Get Quote
Mar 27, 2021
Apr 05, 2021
Call Us

$880

Get Our Price
Get Quote
Mar 30, 2021
Apr 08, 2021
Call Us

$880

Get Our Price
Get Quote
Apr 01, 2021
Apr 10, 2021
Call Us

$880

Get Our Price
Get Quote
Apr 06, 2021
Apr 15, 2021
Call Us

$880

Get Our Price
Get Quote
Apr 10, 2021
Apr 19, 2021
Call Us

$910

Get Our Price
Get Quote
Apr 13, 2021
Apr 22, 2021
Call Us

$910

Get Our Price
Get Quote
Apr 16, 2021
Apr 25, 2021
Call Us

$910

Get Our Price
Get Quote
Apr 17, 2021
Apr 26, 2021
Call Us

$910

Get Our Price
Get Quote
Apr 20, 2021
Apr 29, 2021
Call Us

$910

Get Our Price
Get Quote
Apr 22, 2021
May 01, 2021
Call Us

$910

Get Our Price
Get Quote
Apr 25, 2021
May 04, 2021
Call Us

$910

Get Our Price
Get Quote
Apr 27, 2021
May 06, 2021
Call Us

$910

Get Our Price
Get Quote
Apr 29, 2021
May 08, 2021
Call Us

$910

Get Our Price
Get Quote
May 01, 2021
May 10, 2021
Call Us

$910

Get Our Price
Get Quote
May 08, 2021
May 17, 2021
Call Us

$910

Get Our Price
Get Quote
May 11, 2021
May 20, 2021
Call Us

$910

Get Our Price
Get Quote
May 15, 2021
May 24, 2021
Call Us

$910

Get Our Price
Get Quote
May 22, 2021
May 31, 2021
Call Us

$910

Get Our Price
Get Quote
May 25, 2021
Jun 03, 2021
Call Us

$880

Get Our Price
Get Quote
May 29, 2021
Jun 07, 2021
Call Us

$880

Get Our Price
Get Quote
Jun 03, 2021
Jun 12, 2021
Call Us

$880

Get Our Price
Get Quote
Jun 08, 2021
Jun 17, 2021
Call Us

$880

Get Our Price
Get Quote
Jun 12, 2021
Jun 21, 2021
Call Us

$880

Get Our Price
Get Quote
Jun 15, 2021
Jun 24, 2021
Call Us

$845

Get Our Price
Get Quote
Jun 19, 2021
Jun 28, 2021
Call Us

$845

Get Our Price
Get Quote
Jun 24, 2021
Jul 03, 2021
Call Us

$845

Get Our Price
Get Quote
Jun 29, 2021
Jul 08, 2021
Call Us

$845

Get Our Price
Get Quote
Jul 03, 2021
Jul 12, 2021
Call Us

$845

Get Our Price
Get Quote
Jul 08, 2021
Jul 17, 2021
Call Us

$845

Get Our Price
Get Quote
Jul 10, 2021
Jul 19, 2021
Call Us

$845

Get Our Price
Get Quote
Jul 13, 2021
Jul 22, 2021
Call Us

$845

Get Our Price
Get Quote
Jul 17, 2021
Jul 26, 2021
Call Us

$845

Get Our Price
Get Quote
Jul 22, 2021
Jul 31, 2021
Call Us

$845

Get Our Price
Get Quote
Jul 29, 2021
Aug 07, 2021
Call Us

$845

Get Our Price
Get Quote
Aug 05, 2021
Aug 14, 2021
Call Us

$845

Get Our Price
Get Quote
Aug 07, 2021
Aug 16, 2021
Call Us

$845

Get Our Price
Get Quote
Aug 14, 2021
Aug 23, 2021
Call Us

$845

Get Our Price
Get Quote
Aug 21, 2021
Aug 30, 2021
Call Us

$845

Get Our Price
Get Quote
Aug 26, 2021
Sep 04, 2021
Call Us

$845

Get Our Price
Get Quote
Aug 31, 2021
Sep 09, 2021
Call Us

$880

Get Our Price
Get Quote
Sep 04, 2021
Sep 13, 2021
Call Us

$880

Get Our Price
Get Quote
Sep 07, 2021
Sep 16, 2021
Call Us

$880

Get Our Price
Get Quote
Sep 09, 2021
Sep 18, 2021
Call Us

$880

Get Our Price
Get Quote
Sep 11, 2021
Sep 20, 2021
Call Us

$880

Get Our Price
Get Quote
Sep 13, 2021
Sep 22, 2021
Call Us

$910

Get Our Price
Get Quote
Sep 18, 2021
Sep 27, 2021
Call Us

$910

Get Our Price
Get Quote
Sep 20, 2021
Sep 29, 2021
Call Us

$910

Get Our Price
Get Quote
Sep 23, 2021
Oct 02, 2021
Call Us

$910

Get Our Price
Get Quote
Sep 25, 2021
Oct 04, 2021
Call Us

$910

Get Our Price
Get Quote
Sep 27, 2021
Oct 06, 2021
Call Us

$910

Get Our Price
Get Quote
Sep 28, 2021
Oct 07, 2021
Call Us

$910

Get Our Price
Get Quote
Sep 30, 2021
Oct 09, 2021
Call Us

$910

Get Our Price
Get Quote
Oct 02, 2021
Oct 11, 2021
Call Us

$910

Get Our Price
Get Quote
Oct 04, 2021
Oct 13, 2021
Call Us

$910

Get Our Price
Get Quote
Oct 05, 2021
Oct 14, 2021
Call Us

$910

Get Our Price
Get Quote
Oct 07, 2021
Oct 16, 2021
Call Us

$910

Get Our Price
Get Quote
Oct 09, 2021
Oct 18, 2021
Call Us

$910

Get Our Price
Get Quote
Oct 11, 2021
Oct 20, 2021
Call Us

$910

Get Our Price
Get Quote
Oct 14, 2021
Oct 23, 2021
Call Us

$910

Get Our Price
Get Quote
Oct 16, 2021
Oct 25, 2021
Call Us

$910

Get Our Price
Get Quote
Oct 18, 2021
Oct 27, 2021
Call Us

$880

Get Our Price
Get Quote
Oct 19, 2021
Oct 28, 2021
Call Us

$880

Get Our Price
Get Quote
Oct 21, 2021
Oct 30, 2021
Call Us

$880

Get Our Price
Get Quote
Oct 23, 2021
Nov 01, 2021
Call Us

$880

Get Our Price
Get Quote
Oct 25, 2021
Nov 03, 2021
Call Us

$880

Get Our Price
Get Quote
Oct 26, 2021
Nov 04, 2021
Call Us

$880

Get Our Price
Get Quote
Oct 28, 2021
Nov 06, 2021
Call Us

$880

Get Our Price
Get Quote
Oct 30, 2021
Nov 08, 2021
Call Us

$880

Get Our Price
Get Quote
Nov 02, 2021
Nov 11, 2021
Call Us

$845

Get Our Price
Get Quote
Nov 04, 2021
Nov 13, 2021
Call Us

$845

Get Our Price
Get Quote
Nov 06, 2021
Nov 15, 2021
Call Us

$845

Get Our Price
Get Quote
Nov 09, 2021
Nov 18, 2021
Call Us

$845

Get Our Price
Get Quote
Nov 13, 2021
Nov 22, 2021
Call Us

$845

Get Our Price
Get Quote
Nov 16, 2021
Nov 25, 2021
Call Us

$845

Get Our Price
Get Quote
Nov 20, 2021
Nov 29, 2021
Call Us

$845

Get Our Price
Get Quote
Nov 25, 2021
Dec 04, 2021
Call Us

$845

Get Our Price
Get Quote
Nov 27, 2021
Dec 06, 2021
Call Us

$845

Get Our Price
Get Quote
Nov 30, 2021
Dec 09, 2021
Call Us

$845

Get Our Price
Get Quote
Dec 02, 2021
Dec 11, 2021
Call Us

$845

Get Our Price
Get Quote
Dec 07, 2021
Dec 16, 2021
Call Us

$845

Get Our Price
Get Quote
Dec 11, 2021
Dec 20, 2021
Call Us

$845

Get Our Price
Get Quote
Dec 16, 2021
Dec 25, 2021
Call Us

$845

Get Our Price
Get Quote
Dec 19, 2021
Dec 28, 2021
Call Us

$880

Get Our Price
Get Quote
Dec 21, 2021
Dec 30, 2021
Call Us

$880

Get Our Price
Get Quote
Dec 25, 2021
Jan 03, 2022
Call Us

$880

Get Our Price
Get Quote
Dec 27, 2021
Jan 05, 2022
Call Us

$880

Get Our Price
Get Quote
Dec 29, 2021
Jan 07, 2022
Call Us

$880

Get Our Price
Get Quote
Dec 30, 2021
Jan 08, 2022
Call Us

$880

Get Our Price
Get Quote
Jan 01, 2022
Jan 10, 2022
Call Us

$845

Get Our Price
Get Quote
Jan 06, 2022
Jan 15, 2022
Call Us

$845

Get Our Price
Get Quote
Jan 08, 2022
Jan 17, 2022
Call Us

$845

Get Our Price
Get Quote
Jan 13, 2022
Jan 22, 2022
Call Us

$845

Get Our Price
Get Quote
Jan 15, 2022
Jan 24, 2022
Call Us

$845

Get Our Price
Get Quote
Jan 22, 2022
Jan 31, 2022
Call Us

$845

Get Our Price
Get Quote
Jan 29, 2022
Feb 07, 2022
Call Us

$845

Get Our Price
Get Quote
Feb 05, 2022
Feb 14, 2022
Call Us

$845

Get Our Price
Get Quote
Feb 10, 2022
Feb 19, 2022
Call Us

$845

Get Our Price
Get Quote
Feb 12, 2022
Feb 21, 2022
Call Us

$845

Get Our Price
Get Quote
Feb 17, 2022
Feb 26, 2022
Call Us

$845

Get Our Price
Get Quote
Feb 19, 2022
Feb 28, 2022
Call Us

$845

Get Our Price
Get Quote
Feb 24, 2022
Mar 05, 2022
Call Us

$845

Get Our Price
Get Quote
Feb 26, 2022
Mar 07, 2022
Call Us

$845

Get Our Price
Get Quote
Mar 05, 2022
Mar 14, 2022
Call Us

$845

Get Our Price
Get Quote
Mar 10, 2022
Mar 19, 2022
Call Us

$845

Get Our Price
Get Quote
Mar 12, 2022
Mar 21, 2022
Call Us

$845

Get Our Price
Get Quote
Mar 15, 2022
Mar 24, 2022
Call Us

$845

Get Our Price
Get Quote
Mar 17, 2022
Mar 26, 2022
Call Us

$845

Get Our Price
Get Quote
Mar 19, 2022
Mar 28, 2022
Call Us

$845

Get Our Price
Get Quote
Mar 22, 2022
Mar 31, 2022
Call Us

$845

Get Our Price
Get Quote
Mar 24, 2022
Apr 02, 2022
Call Us

$845

Get Our Price
Get Quote
Mar 26, 2022
Apr 04, 2022
Call Us

$845

Get Our Price
Get Quote
Mar 31, 2022
Apr 09, 2022
Call Us

$845

Get Our Price
Get Quote
Apr 05, 2022
Apr 14, 2022
Call Us

$845

Get Our Price
Get Quote
Apr 09, 2022
Apr 18, 2022
Call Us

$845

Get Our Price
Get Quote
Apr 12, 2022
Apr 21, 2022
Call Us

$845

Get Our Price
Get Quote
Apr 15, 2022
Apr 24, 2022
Call Us

$845

Get Our Price
Get Quote
Apr 16, 2022
Apr 25, 2022
Call Us

$845

Get Our Price
Get Quote
Apr 19, 2022
Apr 28, 2022
Call Us

$845

Get Our Price
Get Quote
Apr 21, 2022
Apr 30, 2022
Call Us

$845

Get Our Price
Get Quote
Apr 24, 2022
May 03, 2022
Call Us

$845

Get Our Price
Get Quote
Apr 26, 2022
May 05, 2022
Call Us

$845

Get Our Price
Get Quote
Apr 28, 2022
May 07, 2022
Call Us

$845

Get Our Price
Get Quote
Apr 30, 2022
May 09, 2022
Call Us

$845

Get Our Price
Get Quote
May 07, 2022
May 16, 2022
Call Us

$845

Get Our Price
Get Quote
May 10, 2022
May 19, 2022
Call Us

$845

Get Our Price
Get Quote
May 14, 2022
May 23, 2022
Call Us

$845

Get Our Price
Get Quote
May 21, 2022
May 30, 2022
Call Us

$845

Get Our Price
Get Quote
May 24, 2022
Jun 02, 2022
Call Us

$845

Get Our Price
Get Quote
May 28, 2022
Jun 06, 2022
Call Us

$845

Get Our Price
Get Quote
Jun 02, 2022
Jun 11, 2022
Call Us

$845

Get Our Price
Get Quote
Jun 07, 2022
Jun 16, 2022
Call Us

$845

Get Our Price
Get Quote
Jun 11, 2022
Jun 20, 2022
Call Us

$845

Get Our Price
Get Quote
Jun 14, 2022
Jun 23, 2022
Call Us

$845

Get Our Price
Get Quote
Jun 18, 2022
Jun 27, 2022
Call Us

$845

Get Our Price
Get Quote
Jun 23, 2022
Jul 02, 2022
Call Us

$845

Get Our Price
Get Quote
Jun 28, 2022
Jul 07, 2022
Call Us

$845

Get Our Price
Get Quote
Jul 02, 2022
Jul 11, 2022
Call Us

$845

Get Our Price
Get Quote
Jul 07, 2022
Jul 16, 2022
Call Us

$845

Get Our Price
Get Quote
Jul 09, 2022
Jul 18, 2022
Call Us

$845

Get Our Price
Get Quote
Jul 12, 2022
Jul 21, 2022
Call Us

$845

Get Our Price
Get Quote
Jul 16, 2022
Jul 25, 2022
Call Us

$845

Get Our Price
Get Quote
Jul 21, 2022
Jul 30, 2022
Call Us

$845

Get Our Price
Get Quote
Jul 28, 2022
Aug 06, 2022
Call Us

$845

Get Our Price
Get Quote
Aug 04, 2022
Aug 13, 2022
Call Us

$845

Get Our Price
Get Quote
Aug 06, 2022
Aug 15, 2022
Call Us

$845

Get Our Price
Get Quote
Aug 13, 2022
Aug 22, 2022
Call Us

$845

Get Our Price
Get Quote
Aug 20, 2022
Aug 29, 2022
Call Us

$845

Get Our Price
Get Quote
Aug 25, 2022
Sep 03, 2022
Call Us

$845

Get Our Price
Get Quote
Aug 30, 2022
Sep 08, 2022
Call Us

$845

Get Our Price
Get Quote
Sep 03, 2022
Sep 12, 2022
Call Us

$845

Get Our Price
Get Quote
Sep 06, 2022
Sep 15, 2022
Call Us

$845

Get Our Price
Get Quote
Sep 08, 2022
Sep 17, 2022
Call Us

$845

Get Our Price
Get Quote
Sep 10, 2022
Sep 19, 2022
Call Us

$845

Get Our Price
Get Quote
Sep 12, 2022
Sep 21, 2022
Call Us

$845

Get Our Price
Get Quote
Sep 17, 2022
Sep 26, 2022
Call Us

$845

Get Our Price
Get Quote
Sep 19, 2022
Sep 28, 2022
Call Us

$845

Get Our Price
Get Quote
Sep 22, 2022
Oct 01, 2022
Call Us

$845

Get Our Price
Get Quote
Sep 24, 2022
Oct 03, 2022
Call Us

$845

Get Our Price
Get Quote
Sep 26, 2022
Oct 05, 2022
Call Us

$845

Get Our Price
Get Quote
Sep 27, 2022
Oct 06, 2022
Call Us

$845

Get Our Price
Get Quote
Sep 29, 2022
Oct 08, 2022
Call Us

$845

Get Our Price
Get Quote
Oct 01, 2022
Oct 10, 2022
Call Us

$845

Get Our Price
Get Quote
Oct 03, 2022
Oct 12, 2022
Call Us

$845

Get Our Price
Get Quote
Oct 04, 2022
Oct 13, 2022
Call Us

$845

Get Our Price
Get Quote
Oct 06, 2022
Oct 15, 2022
Call Us

$845

Get Our Price
Get Quote
Oct 08, 2022
Oct 17, 2022
Call Us

$845

Get Our Price
Get Quote
Oct 10, 2022
Oct 19, 2022
Call Us

$845

Get Our Price
Get Quote
Oct 13, 2022
Oct 22, 2022
Call Us

$845

Get Our Price
Get Quote
Oct 15, 2022
Oct 24, 2022
Call Us

$845

Get Our Price
Get Quote
Oct 17, 2022
Oct 26, 2022
Call Us

$845

Get Our Price
Get Quote
Oct 18, 2022
Oct 27, 2022
Call Us

$845

Get Our Price
Get Quote
Oct 20, 2022
Oct 29, 2022
Call Us

$845

Get Our Price
Get Quote
Oct 22, 2022
Oct 31, 2022
Call Us

$845

Get Our Price
Get Quote
Oct 24, 2022
Nov 02, 2022
Call Us

$845

Get Our Price
Get Quote
Oct 25, 2022
Nov 03, 2022
Call Us

$845

Get Our Price
Get Quote
Oct 27, 2022
Nov 05, 2022
Call Us

$845

Get Our Price
Get Quote
Oct 29, 2022
Nov 07, 2022
Call Us

$845

Get Our Price
Get Quote
Nov 01, 2022
Nov 10, 2022
Call Us

$845

Get Our Price
Get Quote
Nov 03, 2022
Nov 12, 2022
Call Us

$845

Get Our Price
Get Quote
Nov 05, 2022
Nov 14, 2022
Call Us

$845

Get Our Price
Get Quote
Nov 08, 2022
Nov 17, 2022
Call Us

$845

Get Our Price
Get Quote
Nov 12, 2022
Nov 21, 2022
Call Us

$845

Get Our Price
Get Quote
Nov 15, 2022
Nov 24, 2022
Call Us

$845

Get Our Price
Get Quote
Nov 19, 2022
Nov 28, 2022
Call Us

$845

Get Our Price
Get Quote
Nov 24, 2022
Dec 03, 2022
Call Us

$845

Get Our Price
Get Quote
Nov 26, 2022
Dec 05, 2022
Call Us

$845

Get Our Price
Get Quote
Nov 29, 2022
Dec 08, 2022
Call Us

$845

Get Our Price
Get Quote
Dec 01, 2022
Dec 10, 2022
Call Us

$845

Get Our Price
Get Quote
Dec 06, 2022
Dec 15, 2022
Call Us

$845

Get Our Price
Get Quote
Dec 10, 2022
Dec 19, 2022
Call Us

$845

Get Our Price
Get Quote
Dec 15, 2022
Dec 24, 2022
Call Us

$845

Get Our Price
Get Quote
Dec 18, 2022
Dec 27, 2022
Call Us

$845

Get Our Price
Get Quote
Dec 20, 2022
Dec 29, 2022
Call Us

$845

Get Our Price
Get Quote
Dec 24, 2022
Jan 02, 2023
Call Us

$845

Get Our Price
Get Quote
Dec 26, 2022
Jan 04, 2023
Call Us

$845

Get Our Price
Get Quote
Dec 28, 2022
Jan 06, 2023
Call Us

$845

Get Our Price
Get Quote
Dec 29, 2022
Jan 07, 2023
Call Us

$845

Get Our Price
Get Quote
Call or submit a quote for award-winning value and service!
Tour Itinerary
From the colourful, chaotic Marrakech medinas to the vast, serene Sahara desert, this tour immerses you in the rich cultures and landscapes of South Morocco. Stay in traditional accommodation and explore villages off the beaten track. Feast on tagine, visit the grand Ait Benhaddou kasbah, travel through the Sahara on a camel and relax in seaside Essaouira. This ten-day tour is perfect for travellers looking to discover the diversity of Morocco's south in a short amount of time.
Day 1: Marrakech
Welcome to Marrakech! Your adventure begins with a welcome meeting at 6 pm – check at reception for information on where this will take place. There's not much time to explore Marrakech after the meeting, but if you arrive early there's plenty to see and do. We've compiled a list below of suggested activities for those who arrive early.
Day 2: Aroumd
Take a short drive into the High Atlas Mountains to the village of Imlil (approximately 2 hours). On arrival, store your main luggage and load your overnight bags onto pack mules. Make the 1-hour trek to the peaceful village of Aroumd. Perched on a rocky outcrop, the remote village of Aroumd offers stunning views across the High Atlas Mountains and a unique opportunity to experience traditional Berber (Amazigh) culture. Spend the night in a family-run mountain gite where, surrounded by the smell of woodstoves and bread, you will enjoy traditional hospitality and food. Use the rest of the day to explore the village and the surrounding farmlands. If the group is up for it and weather permits, there will be a chance to hike around eight kilometres to the pilgrimage shrine of Sidi Chamharouch (approximately 4 hours return). Regardless of your fitness levels, the gentle pace of Aroumd makes it a special place to explore beyond the reach of the modern world.
Day 3: Ait Benhaddou
This morning, journey along mountain roads and over Morocco's highest pass, Tizi n'Tichka (2260 metres), to Ait Benhaddou on the edges of the Sahara (approximately 6 hours). Perched on a hilltop and almost unchanged since the 11th century, Ait Benhaddou is one of Morocco's most iconic sites. It was once an important stop for caravans passing through as they carried salt across the Sahara, returning with gold, ivory, and slaves. The town has a long list of film and TV credits, including Lawrence of Arabia, Game of Thrones, and Gladiator. Enjoy a leader-led walk through the winding streets of the Old Town, making your way to the top of the hill, from where you can enjoy the views across the surrounding plains. Your evening is free, with the option of partaking in a local cooking demonstration and meal of Morocco's most famous dishes: couscous and tagine. 
Day 4: Ouarzazate - Zagora
This morning you'll journey south towards the Sahara, stopping in the regularly used film location of Ouarzazate along the way (approximately 5 hours in total). Continue to travel through the lush Draa Valley to Zagora, a small oasis town on the Sahara fringe that is perfect for an overnight stop. On arrival, take a stroll through the palm groves, explore the ksars and wander around the surrounding countryside.
Day 5: Tamegroute - Erg Chigaga
Drive along the rugged and desolate Jbel Tadrart ranges and through seas of sand and past the occasional desert oasis of date palms to the township of Tamegroute. On arrival, visit an intriguing library filled with ancient scripts of science, literature, the Koran, and stories of the prophet Mohammed (subject to unregulated opening times). Afterward, join a local guide to uncover the underground Kasbah. Then carry on driving to the frontier town of M'Hamid (approximately 1 hour). From here, take a short camel ride through the dunes, then jump into 4WD vehicles and drive to the massive Erg Chigaga dunes. Arrive in the late afternoon. Enjoy a night under the stars at your desert camp.
Day 6: Oulad Berhil
Travel to the market town of Oulad Berhil by minivan. The journey should take around 8 hours in total, including several stops. This drive goes through desert scenery and along a route that's a reserve for the indigenous argan trees. If you're lucky, the group might come across the famous image of goats climbing these trees in search of nuts. Arrive at your accommodation by the early evening and relax after a long day of travel.
Day 7: Taroudant - Essaouira
In the morning, take to the souqs of Taroudant and haggle with local traders for silver jewellery or colourful Moroccan ceramics and mosaics. Afterwards, head west to the coastal town of Essaouira (approximately 5 hours). The name Essaouira means image, which is appropriate since it's such a picturesque town. Its charm is undeniable; within the stone ramparts, you'll find whitewashed houses with bright blue shutters, art galleries and wood workshops. You'll arrive in the early evening, so there won't be much time to look around today. 
Day 8: Essaouira
Today, join a local guide for a walking tour through the old medina, Jewish mellah, port, and skala (sea wall). Afterward, enjoy free time for the rest of the day. Maybe grab a freshly-cooked plate of the day's catch at the port, or browse the plentiful shops and intriguing art galleries. If you'd prefer to relax, don't miss the opportunity to indulge in a hammam or local-style bath.
Day 9: Marrakech
Enjoy a free morning Essaouira, then catch a bus back to Marrakech in the afternoon (approximately 3 hours). Enjoy free time on arrival to explore or partake in optional activities. Maybe check out the Palais Bahia, a superb example of Muslim architecture, or the ruins of the Palais Badi.
Day 10: Marrakech
Your adventure ends after breakfast. Additional accommodation can be pre-booked if you wish to spend more time exploring Marrakech (subject to availability).
Aroumd - High Atlas Mountains guided hike
Ait Benhaddou - Leader-led walk
Tamegroute - Ancient Library
Sahara Desert - Camel Ride
Sahara Desert - 4WD to Erg Chigaga dunes
Tamegroute - Underground kasbah guided tour
Essaouira - Guided walking tour
Meals
9 Breakfast(s) Included
1 Lunch(es) Included
2 Dinner(s) Included

Style: Original

Camp site (1 night), Gite (1 night), Hotel (4 nights), Riad (3 nights)
Question: How many suitcases can I take with me on my trip?
Each person is allowed one "check-in," and one "carry-on." Remember to take all valuables with you as "carry-on", because electronic equipment, cameras, laptops, jewelry, business documents and money are not covered by the airlines' liability, so always carry them aboard with you.
Question: Is Airfare Included in the Price?
Airfare from your point of origin to and from the trip is not included in the land price.
Similar Tours Other Travelers Liked
The trip was both both educational and exciting. I very much enjoyed the sights and culture.
The itinerary was just as I expected! The guide was very good as were the accomodations
Intrepid did such a great job. I never had to worry about where I was supposed to be and it felt so good not to worry about a thing but just to enjoy myself. Our guide was extremely knowledgeable about culture and history.
Taiwan people very friendly. Accommodation were centrally located and easily accessible. Did extra activities then in brochure which was greatly.
Larus our tour guide did an excellent job and was very attentive to our needs. He is very knowledgeable and has a great sense of humor.
Our guide Tarang chandola was exceptional. Courteous, knowledgeable, organized, polite, professional and went above and beyond taking care of our needs and requests offen anticipating what that might be. He made sure we all had the best possible time and offered suggestions to meet the needs of everyone on the tour. This made the trip even more enjoyable.
AffordableTours.com® does not itself offer, service or administer the Travel Packages, and the ultimate terms and conditions of any Travel Package made available via the Site Offerings (including the prices quoted in connection with same) will be determined by the applicable Third-Party Travel Service Provider. AffordableTours.com® does not represent or warrant that the Price Quotes are accurate, up-to-date or free of error, or that same will be honored by the applicable Third-Party Travel Service Providers. All Price Quotes, Travel Package availability, Travel Package details/itinerary and other Content are subject to change without notice. All travel details published by and through the Site Offerings should be confirmed directly with the applicable Third-Party Travel Service Provider prior to making any travel plans. Reliance on any information made available to you by and through the Site Offerings is solely at your own risk.
How It Works
Vacationing has never been easier or cheaper with the help of a dedicated travel consultant from AffordableTours.com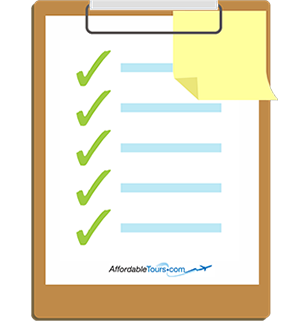 Find your perfect trip on our website and simply request a free quote. Need to speak to a live person? Call us 7 days a week at 1-800-935-2620. No robots here!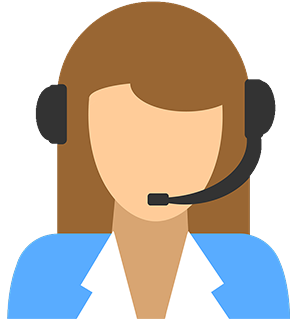 Your personal travel consultant will reach out and be your point of contact for your entire travel experience from start to finish. Did we mention you'll be working with an award winning team? Sweet!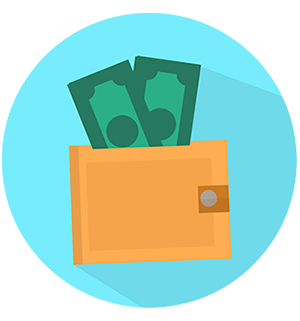 Because we're one of the largest sellers of travel, we're able to give you a discount on your vacation package. No one beats our prices!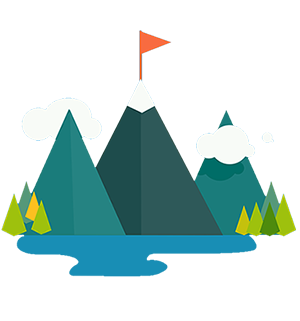 Knowing you got the best deal, all that's left is for you to pack your bags and enjoy your vacation!