Dates & Prices
Start Date
End Date
Offers
Brochure
Land Price
Our Price
Quote
Nov 27, 2020
Dec 18, 2020
Call Us

$2,595

Get Our Price
Get Quote
Dec 18, 2020
Jan 08, 2021
Call Us

$2,595

Get Our Price
Get Quote
Dec 25, 2020
Jan 15, 2021
Call Us

$2,595

Get Our Price
Get Quote
Jan 29, 2021
Feb 19, 2021
Call Us

$2,700

Get Our Price
Get Quote
Feb 26, 2021
Mar 19, 2021
Call Us

$2,700

Get Our Price
Get Quote
Apr 09, 2021
Apr 30, 2021
Call Us

$2,700

Get Our Price
Get Quote
Jun 04, 2021
Jun 25, 2021
Call Us

$2,700

Get Our Price
Get Quote
Jun 18, 2021
Jul 09, 2021
Call Us

$2,700

Get Our Price
Get Quote
Jul 16, 2021
Aug 06, 2021
Call Us

$2,700

Get Our Price
Get Quote
Jul 30, 2021
Aug 20, 2021
Call Us

$2,700

Get Our Price
Get Quote
Aug 20, 2021
Sep 10, 2021
Call Us

$2,700

Get Our Price
Get Quote
Sep 03, 2021
Sep 24, 2021
Call Us

$2,700

Get Our Price
Get Quote
Sep 24, 2021
Oct 15, 2021
Call Us

$2,700

Get Our Price
Get Quote
Oct 22, 2021
Nov 12, 2021
Call Us

$2,700

Get Our Price
Get Quote
Nov 26, 2021
Dec 17, 2021
Call Us

$2,700

Get Our Price
Get Quote
Dec 17, 2021
Jan 07, 2022
Call Us

$2,700

Get Our Price
Get Quote
Jan 28, 2022
Feb 18, 2022
Call Us

$2,620

Get Our Price
Get Quote
Feb 25, 2022
Mar 18, 2022
Call Us

$2,620

Get Our Price
Get Quote
Apr 15, 2022
May 06, 2022
Call Us

$2,620

Get Our Price
Get Quote
Jun 03, 2022
Jun 24, 2022
Call Us

$2,620

Get Our Price
Get Quote
Jun 17, 2022
Jul 08, 2022
Call Us

$2,620

Get Our Price
Get Quote
Jul 15, 2022
Aug 05, 2022
Call Us

$2,620

Get Our Price
Get Quote
Jul 29, 2022
Aug 19, 2022
Call Us

$2,620

Get Our Price
Get Quote
Aug 19, 2022
Sep 09, 2022
Call Us

$2,620

Get Our Price
Get Quote
Sep 02, 2022
Sep 23, 2022
Call Us

$2,620

Get Our Price
Get Quote
Sep 23, 2022
Oct 14, 2022
Call Us

$2,620

Get Our Price
Get Quote
Oct 21, 2022
Nov 11, 2022
Call Us

$2,620

Get Our Price
Get Quote
Nov 25, 2022
Dec 16, 2022
Call Us

$2,620

Get Our Price
Get Quote
Dec 16, 2022
Jan 06, 2023
Call Us

$2,620

Get Our Price
Get Quote
Dec 30, 2022
Jan 20, 2023
Call Us

$2,620

Get Our Price
Get Quote
Call or submit a quote for award-winning value and service!
Tour Itinerary
Experience the extremes of southern Africa's landscapes on this Lonely Planet Experience powered by Intrepid. From the thunderous Victoria Falls to cosmopolitan Cape Town, travel down lush waterways in the enigmatic Okavango Delta, cruise past elephants and birds on the Chobe River, climb giant sand dunes in Namibia, camp to the sounds of Africa's wildlife and spot big cats, rhinos, zebras and antelopes on Etosha National Park's arid plains. Visit the people who make their homes here, from mokoro polers on the delta to the San people of Namibia. Get ready for this unforgettable tour through a land of contrasts.
Day 1: Victoria Falls
Mhoro! Welcome to Zimbabwe. Your Lonely Planet Experience powered by Intrepid begins with a welcome meeting at 4 pm where you'll meet your tour leader and fellow travellers. You can arrive at any time as there are no activities planned until this important meeting. Those who arrive early can choose from many optional activities and sights to see around Victoria Falls. Please note only activities listed in the Special Information section of Day 2 on the itinerary are recommended. It is against company policy for leaders to facilitate the booking of any activities that have not been risk assessed or do not adhere to our company's Responsible Travel policy and ethos. This includes organising transport to and from these activities in our vehicles.
Day 2: Victoria Falls
Today you have the option of visiting the magnificent Victoria Falls. Spanning about a mile wide across and falling 108 metres into a narrow gorge below, the spray from the falls can sometimes be seen from kilometres away. In the dry season, the view of the falls is unobstructed by spray and it's possible to see little islets in the river below. To fully understand the sheer force of this staggering curtain of water, it needs to be experienced in person. It's no wonder that the local name Mosi oa Tunya means the 'smoke that thunders'. Alternatively, your leader will be able to recommend a range of other activities that are available.
Day 3: Chobe National Park
This morning is free for you to continue enjoying all that Victoria Falls has to offer. Afterwards, travel to Chobe National Park in Botswana (approximately 2–3 hours) via the Victoria Falls Wildlife Trust, one of The Intrepid Foundation's projects. Here you can learn about the rescue and rehabilitation of wildlife, human-wildlife conflict and the Trust's role in anti-poaching. There may also be a chance to meet any rescued or orphaned wildlife currently in their care. Continue your journey to Botswana's first national park, which is famous for its high concentration of elephants, so keep an eye out! They can often be seen swimming in the Chobe River.
Day 4: Chobe National Park
Rise and shine for an early-morning game drive. Adventuring through the park, you will get the opportunity to get up close to the wildlife – with luck you will spot a variety of animals and any number of exotic birds. As well as the Chobe icon, the elephant, the river also attracts hippos and crocodiles – the latter like to sun themselves by the water's edge. Cheetahs also come down for a drink. The birdwatching is excellent here too – look out for eagles, kingfishers and marabou storks, among hundreds of other species. In the afternoon perhaps take an optional cruise down the Chobe River – one of the best ways to enjoy the park's animals.
Day 5: Bagani
Today you will enter Namibia, driving from Kasane to Ngoma Bridge, and on to your camp at Bagani (approximately 7 hours). Bagani is a small, friendly town with some good hiking trails along the river. There are also plenty of nice spots in which you can simply relax and soak up the ambience. This area is the homestead of the local Mbukushu kings. You will have the opportunity to stop at an ATM and a market or shop today. Your camp has flush toilets, showers and Wi-Fi. Upgrades are also available (subject to availability).
Day 6: Okavango Delta
Drive across the border into Botswana and head south along the Okavango Panhandle (the narrowest part of the delta) to Seronga. Here you'll leave your vehicle and join your transport for the journey into the delta (approximately 4 hours). Take a boat across the swamps to Gao Island to meet your mokoro team and start exploring the Okavango Delta with them. Each mokoro (small dugout canoe) takes two people and is poled along through the waterways by a local tribesman. Reeds and lily pads line the streams, and birds startled by the mokoros rise out of the long grasses. Punting along, you'll hear hippos occasionally piercing the peaceful atmosphere with their grunts. On the first night here, you'll camp on an island well away from civilisation.
Day 7: Okavango Delta
Continue your trip around the delta and then return to Gao Island before heading to the relative civilisation of Umvuvu Camp. This camp usually has hot showers, and there's a small bar at which you can relax and perhaps enjoy a refreshing sundowner. Today there is an option to take a nature walk with your guide. This is a great chance to discover the beautiful natural surrounds, gain some insight into the history of the local area and look out for animals such as giraffe, zebra and elephants.
Day 8: Bagani
Cross the border back into Namibia and return to Bagani to camp for the night. Various boat trips, fishing trips and guided hikes are possible from Bagani, so if you're feeling active, get out and make the most of it. Those who are feeling bold might even be able to challenge the local kids to a soccer match – don't expect to win though! Retire to your camp in the evening and enjoy this welcome break from the road.
Day 9: Grootfontein
Drive to your camp situated 50 kilometres outside of Grootfontein (approximately 7 hours). The town of Grootfontein, part of the Otavi Triangle, tends to get very green in the warmer months but dries out markedly in the winter. If it's springtime, you'll likely see jacarandas in bloom.
Day 10: Grootfontein/San people
Embark on a 180-kilometre (112-mile) round-trip to visit the San people. The oldest inhabitants of southern Africa, the San, have lived in this region for at least 20,000 years. Listen to their stories and songs and learn how those who still adhere to a traditional way of life emphasise the importance of living in harmony with the environment.
Day 11: Etosha National Park
Travel about 6 hours to Etosha National Park, making a short detour to stop by Hoba Meteorite, the biggest meteor that has been found on earth. While Etosha National Park is home to a wide range of southern Africa's wildlife, including the big carnivores and five rare or endangered species: black rhino, Hartmann's mountain zebra, black-faced impala, roan antelope and the tiny Damara dik-dik. Game viewing in Etosha is relatively easy due to the man-made waterholes and the large, sparsely vegetated pans. The bushland surrounding the pans is difficult to see through, but there are enough clearings, pans and waterholes to usually allow for some sightings. Embark on an optional evening game drive here in the evening, then spend the night at Namutoni. Accommodation upgrades are on offer here.
Day 12: Etosha National Park
Enjoy a full-day game drive in Etosha National Park. Namibia has protected its game reserves against poaching, which means significant numbers of elephants, antelope and other herbivores reside here. The park is also home to some 340 species of birds – keep an eye to the sky where you might spot a soaring eagle. Tonight, you will stay at the particularly spectacular Okaukuejo Camp. The camp overlooks a floodlit waterhole visited by many different species throughout the day and night. Upgrades are not available at this location tonight.
Day 13: Spitzkoppe
Travel to the mountain of Spitzkoppe, the 'Matterhorn of Namibia' (approximately 9 hours). The wild lands around this superb granite peak are some of Namibia's most stunning. The mountain itself is 700 million years old and 1987 metres (6519 feet) high. Although you shouldn't try to climb to the top, there are some excellent hikes to do in the area, rich in plant life and with some bush paintings to be found. The Spitzkoppe is known for its stunning beauty and the thousands of ancient Bushmen rock art paintings that are still viewable. Be sure to look out for the sunset from your bush camp this evening – the landscape is known to take on dazzling hues of orange and red.
Day 14: Swakopmund
Continue to the town of Swakopmund (approximately 5–6 hours). Be dazzled by the sight, sound and smell of thousands of olive-coloured seals on the shores of Cape Cross while you're travelling up the eerie Atlantic Coast. You'll be able to stop along the way to access an ATM and market if you need some supplies.
Day 15: Swakopmund
Surrounded by the massive dune fields of the Namib Desert on three sides, and the Atlantic Ocean on the other, Swakopmund is an example of the extraordinary German culture that's found in all major settlements in Namibia. It's worth wandering around town to admire the beauty of the Germanic architecture and take advantage of some excellent souvenir shopping.
Day 16: Swakopmund
Today is another free day to enjoy this fun beachside town. If you're after a dose of history and culture, you can stop in at the lighthouse and visit the Swakopmund Museum. Active types and thrillseekers might like to take advantage of the many outdoor activities on offer – this town is the adventure sports mecca of Namibia.
Day 17: Sesriem
Drive to Sesriem, your base for exploring the incredible Namib Desert region (approximately 6–7 hours). The most famous part of the Namib Desert is its vast dune fields, the most spectacular of which are found near the Sesriem Canyon. This canyon was formed when the Tsauchab River carved a gorge 30 metres into the gravel deposits about 15 million years ago. Now, the river flows out to the dune fields that stretch for hundreds of miles up the coast and dries up in a clay pan at Sossusvlei. The dunes – the highest in the world – are stunning, with magnificent flaming tones created by the brightly coloured sands.
Day 18: Sossusvlei/Konkiep River
Wake up before dawn and scramble to the top of the dunes for a dramatic sunrise view across a vast sea of sand. The colour changes are simply incredible and provide a spectacular setting for your brunch. Afterwards you will jump in the back of a pickup truck for a trip to Sossusvlei, the incredible salt and clay pan just nearby (approximately 30 minutes each way). Enjoy some time to explore this incredible and mysterious desert oddity. Later, continue to your camp past the small town of Bethanie (approximately 6 hours). Your camp has basic facilities, with showers, flush toilets, Wi-Fi and optional upgrades.
Day 19: Fish River Canyon
Check out the town of Bethanie before heading further south into the vast desert lands of Namibia towards Fish River Canyon (approximately 3–4 hours). At 500 metres deep and over 160 kilometres long, Fish River Canyon is one of the very largest canyons in the world. During the dry season, the riverbed tends to dry out completely, leaving only a few puddles. In the wet season, after the summer rains, the river can turn into a spectacular raging torrent. At any time of year there are remarkable photographic opportunities here as you watch the colour of the granite rocks change as the sun goes down.
Day 20: Orange River
Departing Fish River Canyon, travel to Noordoewer in southern Namibia (approximately 5 hours). Pitch your tent on the scenic banks of the Gariep (Orange) River, which stretches 2200 kilometres (1367 miles) – the longest river in Lesotho. The river's source is high up in the Drakensberg mountain range, and it flows into the Atlantic Ocean at Alexander Bay in South Africa. The Orange River is responsible for transporting diamonds and creating the deposits that can be found along the Namibian coast.
Day 21: Western Cape
Depart your camp first thing in the morning and head to Klawer, a town named after the Afrikaans word for a wild clover blooming after rainfall. The surrounding countryside is beautiful, and if there's time, you'll have the opportunity to explore some of it. Perhaps take a delightful walk around the nearby mountains and farms before settling in for a relaxing evening.
Day 22: Cape Town
Head to Cape Town (approximately 5 hours), where your trip ends upon arrival. With its stunning coastline, modern cityscape, nearby mountains and a plethora of vineyards within reach, this is one of Africa's most exciting cities. There's no accommodation provided for tonight, but this can be arranged – please enquire at the time of booking this trip.
Victoria Falls - Victoria Falls Wildlife Trust Visit
Chobe National Park - Dawn Open Safari Vehicle Game Drive
Okavango Delta - Mokoro safari
Okavango Delta - Nature Walk
Grootfontein - San Bushman cultural experience
Etosha National Park - Overland Vehicle Game Drive
Cape Cross Nature Reserve - Cape Cross seal colony
Sossusvlei - 4x4 Tour
Sesriem - Sand dunes visit
Fish River Canyon - Canyon entrance
Meals
19 Breakfast(s) Included
13 Lunch(es) Included
16 Dinner(s) Included

Style: Basix

Camping (with facilities) (17 nights), Camping (without facilities) (1 night), Cabin (3 nights)
Question: How many suitcases can I take with me on my trip?
Each person is allowed one "check-in," and one "carry-on." Remember to take all valuables with you as "carry-on", because electronic equipment, cameras, laptops, jewelry, business documents and money are not covered by the airlines' liability, so always carry them aboard with you.
Question: Is Airfare Included in the Price?
Airfare from your point of origin to and from the trip is not included in the land price.
Similar Tours Other Travelers Liked
The trip was both both educational and exciting. I very much enjoyed the sights and culture.
The itinerary was just as I expected! The guide was very good as were the accomodations
Intrepid did such a great job. I never had to worry about where I was supposed to be and it felt so good not to worry about a thing but just to enjoy myself. Our guide was extremely knowledgeable about culture and history.
Taiwan people very friendly. Accommodation were centrally located and easily accessible. Did extra activities then in brochure which was greatly.
Larus our tour guide did an excellent job and was very attentive to our needs. He is very knowledgeable and has a great sense of humor.
Our guide Tarang chandola was exceptional. Courteous, knowledgeable, organized, polite, professional and went above and beyond taking care of our needs and requests offen anticipating what that might be. He made sure we all had the best possible time and offered suggestions to meet the needs of everyone on the tour. This made the trip even more enjoyable.
AffordableTours.com® does not itself offer, service or administer the Travel Packages, and the ultimate terms and conditions of any Travel Package made available via the Site Offerings (including the prices quoted in connection with same) will be determined by the applicable Third-Party Travel Service Provider. AffordableTours.com® does not represent or warrant that the Price Quotes are accurate, up-to-date or free of error, or that same will be honored by the applicable Third-Party Travel Service Providers. All Price Quotes, Travel Package availability, Travel Package details/itinerary and other Content are subject to change without notice. All travel details published by and through the Site Offerings should be confirmed directly with the applicable Third-Party Travel Service Provider prior to making any travel plans. Reliance on any information made available to you by and through the Site Offerings is solely at your own risk.
How It Works
Vacationing has never been easier or cheaper with the help of a dedicated travel consultant from AffordableTours.com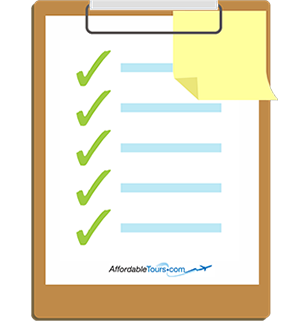 Find your perfect trip on our website and simply request a free quote. Need to speak to a live person? Call us 7 days a week at 1-800-935-2620. No robots here!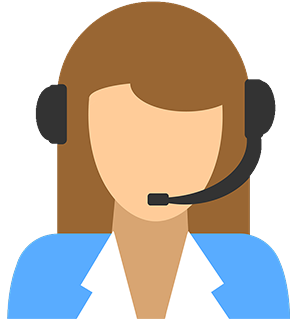 Your personal travel consultant will reach out and be your point of contact for your entire travel experience from start to finish. Did we mention you'll be working with an award winning team? Sweet!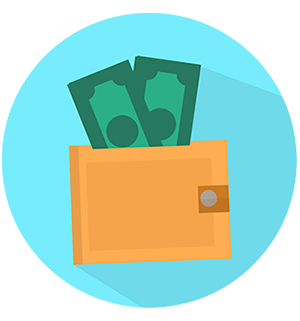 Because we're one of the largest sellers of travel, we're able to give you a discount on your vacation package. No one beats our prices!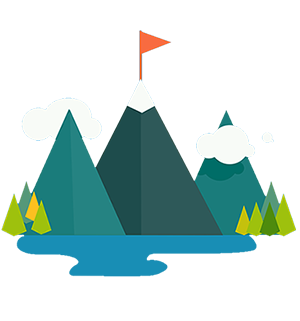 Knowing you got the best deal, all that's left is for you to pack your bags and enjoy your vacation!