Call or submit a quote for award-winning value and service!
Tour Itinerary
From the romance of Venice to the laidback charm of the Amalfi Coast, take time to experience the true delights of Italy. Travel through the rolling hills of Umbria, visit medieval towns, soak up culture on a trip to Rome, explore the ruins of Pompeii and fall in love with the beauty of Sorrento. La bella Italia is diverse and fascinating - experience seaside scenery, rustic city streets and delectable cuisine, all infused with that passionate Italian spirit.
Day 1: Venice
Welcome to Venice. This watery wonderland of bridges, towers, piazzas, canals, churches and gondolas – practically unchanged for 600 years – is literally sinking under the weight of its iconic sights. There are no activities planned before tonight's group meeting, so if you arrive early there are plenty of things to keep you busy. Take a walk around the maze of streets behind San Marco Square and begin to understand the complex canal system of Venice. The Grand Canal is a great place to start, as you can stroll over the Rialto Bridge and browse the endless amounts of boutique shops that sell Venetian masks and handmade Murano glassware. After the meeting, why not enjoy dinner with your fellow travel companions at a local restaurant.
Day 2: Venice
After an orientation walk to familiarise you with the city, you are free to venture out and explore Venice. There are only two ways to get around this city – on foot or by boat. Some of the more popular sights include Doge's Palace, the Piazza and Basilica di San Marco, and the Bridge of Sighs. Take the vaporetto (water bus) over to the island of San Giorgio to climb the bell tower for the best view of Venice. No trip here would be complete without a journey down the Grand Canal in a Venetian gondola. It's a common way for visitors to see the major canal routes from an immersive perspective. While away your day in the busy San Marco square and be sure to try the local tiramisu and Italian coffee that's on offer. There's creativity everywhere, overflowing into the canals; see it in the venetian glass in Dorsoduro or down the streets spreading out from Campo Santo Stefano, lined with unique galleries and small boutiques. Visit the Palazzo Ducale, overflowing with paintings by Italian masters, and contrast it with the modern Guggenheim. Simply enjoy getting lost crossing the hundreds of bridges and uncovering your own slice of Venice. In the evening, perhaps join your fellow travellers for a group dinner at a local restaurant. Venice is famous for its specialities of fresh lobster and squid ink spaghetti dishes, so make sure you give one a try.
Day 3: Assisi
Take a train and bus combination south to Assisi, Italy's second-holiest city (approximately 5 hours). Assisi was the home of one of the world's most famous saints and the founder of the Franciscan order – St Francis. Whatever your feelings about religion, it's a place which inspires reverence. Join your group leader on an orientation walk to uncover a plethora of impressive monuments in Assisi, including Piazza Matteotti, the Basilica of St Clare and the Roman temple remains. Take a short guided tour of the magnificent Basilica di San Francesco (St Francis Cathedral). You'll be led by a member of the Franciscan community, who will explain the life and times of St Francis and the beautiful art inside the church. Construction of the basilica started the day after St Francis's canonisation in 1228, and this imposing building houses the bones of St Francis and four of his followers. In your free time, you could walk four kilometres up a small trail to the top of Monte Subasio, home to the Eremodelle Carceri, a hermitage where Francis came to pray. That activity will work up an appetite for all the pasta you can eat tonight.
Day 4: Spello / Assisi
Today you'll take the train to the charming nearby medieval town of Spello (approximately 20 minutes), a Roman town that straddles a thin ridge at the base of Mount Subasio – the mountain where St Francis was said to have talked to the animals. It's a place scattered with weathered Roman monuments and known for its wine and rural charm. Two of the local churches feature frescoes by famed Renaissance painter Pinturicchio, who later lent his hand to works in the Vatican and Siena's cathedral. Sample exclusive local wine and regional food specialties here when you lunch at a local enoteca. Mushrooms like tartufo and porcini make up the base of many pasta and risotto dishes, while whole stuffed pig with rosemary is a signature dish of the region. Return to Assisi in the late afternoon with some free time to further explore this unique town. Walk the via Guila that circles town, and stop by Piazza Santa Chiara – which has a stunning panorama of the Umbrian countryside – and Piazza del Comune, which gives an insight into life here in Roman times. It'll be very hard not to spend the whole evening simply continuing the day's foodie theme and indulge on the region's fabulous food.
Day 5: Gubbio
Take a bus to the medieval hill-top town of Gubbio (approximately 2,5 hours). The streets of Gubbio, the province's oldest town, are filled with stone houses and orange-tiled roofs, set against a mountain backdrop. This is a perfect medieval town, where there are centuries of history around every corner and the right amount of requisite cobblestone streets, gothic palaces and churches. The surrounding countryside is also lush and cool, the reason why many Italians retreat here in the summer months. When you arrive, a good way to get to know the town is to simply wander the 14th and 15th century streets. A trip to Gubbio wouldn't be complete without a lengthy lunch or dinner along one of its narrow streets, so grab an outdoor table at a taverna for truffle-infused dishes.
Day 6: Gubbio
This morning take a ride with Gubbio's unique cable car – a 15 minute and 1,000 metre high ride to the Basilica of Sant'Ubaldo, which contains the mummified body of the town's patron saint. From up here you can marvel at the amazing vistas of the Umbrian valleys and mountains, plus get a great rooftop view of the town itself. The alternative is a 30-40 minute walk uphill on a gravel road to reach the basilica. Then take a peaceful countryside hike from the top of Mt Ingino to admire the Umbrian landscape and stunning view down to Gubbio (approximately 2-3 hours). You'll then have some free time to explore the delights of Gubbio as you wish. You can take in the Civic Museum (home to 3rd-5th century BC bronze Eugubine Tablets), the Duomo, or the Palazzo Ducale, whose original wooden study was deemed so exceptional it was shipped off to New York's Metropolitan Museum of Art. Explore the many churches around town, including one on the spot where legend has it that St Francis tamed a wolf that was terrorising the town. Otherwise, simply just relax into the Umbrian pace of life. Enjoy a variety of local cuisine and try one of the dishes that Umbria is famous for – pecorino cheese, game meat and mushrooms all feature on restaurant menus.
Day 7: Rome
Travel by train to Rome (approximately 4 hours), and remember that while here, the best attitude is 'when in Rome'! Join your leader on an orientation walk around the city, where you see some of the iconic sights such as the Colosseum and Arch of Constantine, the Forum (centre of ancient Rome), the Victor Emmanuel Monument, the Pantheon, Spanish Steps, Via Dei Condotti and Piazza Venezia. Recharge with a slice of pizza and a strong espresso at the Piazza Navona or throw a coin into the Trevi Fountain and make a wish to return to the 'Eternal City'. No visit would be complete without a trip to Vatican City and St Peter's Basilica. Entry to the Basilica is free and there's a small charge to climb the dome for a panorama over the city. Art-lovers should visit the Sistine Chapel to admire the timeless work of Michelangelo, while history buffs will enjoy a jaunt through the ancient halls of the Pantheon. Rome is packed full of restaurants and trattorias that cater to every taste and budget. Local specialities tend to be quite heavy, and include pastas such as carbonara (egg, cheese and bacon) and amatriciana (tomato, bacon and chilli). Eating in trattorias will give you a chance to sample some Italian wines, with house choices usually very good and affordable. Head out in the evening with the group for another gastronomic fling.
Day 8: Rome
Today is a free day to further explore this amazing city. Don't forget to do as the Romans do and sip an espresso at one of the tiny streetside cafes and sample the many flavours of gelato that colour the city. Make sure you are back at the hotel before 6pm so you can attend tonight's group meeting for the second part of your trip.
Day 9: Naples / Pompeii
Travel by train to Naples (approximately 3 hours), a raucous city that overflows with passion, tradition and gastronomy. Naples was carved out by many empires of the past and by merchants and pirates from across the world: Romans, Phoenicians, Carthaginians, Venetians, Spaniards, Normans and Africans. Its evocative, historical old centre is a World Heritage-listed area and the famous Spanish Quarter is still one of the most densely populated residential areas in Europe. Naples is the birthplace of the pizza, so why not head to one of the many pizzerias and taste what's truly some of the best that Italy has to offer. Head underground to see ancient Napoli Sotterranea, the famous underground city. Later in the afternoon, board a train to the time capsule of Pompeii, in the shadow of Mt Vesuvius (approximately 1 hour). Your accommodation is perfectly located right near the entrance to the archaeological excavation site.
Day 10: Pompeii
The small picturesque town of 'modern' Pompeii has a wonderful old town square – the perfect place to while away some time with the locals, drinking true Italian coffee and watching the world go by. Most of today though will be spent exploring the ruins of ancient Pompeii on a guided tour. Until 26 August, 79 AD, Pompeii was a thriving Roman trading centre, where ordinary people went about their everyday business, but it was frozen in time when Mount Vesuvius erupted, killing 2,000 people and their homes under a layer of ash. The city was never rebuilt and largely disappeared from people's minds until the 18th century, when the ruins were re-discovered. Now you can take an unparalleled look back into the lives of ancient Romans and discover how they lived, worked and interacted 2,000 years ago. The finely preserved ruins include villas, temples, theatres and bustling markets. Walk along the chariot-marked streets, visit the magnificent amphitheatre and the 'Villa of Mysteries'. You can also visit the Roman Forum and basilica, temples, public baths, and the tiny Odeon created for music recitals. The rest of the day is free, but if the ruins piqued your interest, head to nearby Herculaneum, which also holds a wealth of fossilised archaeological finds.
Day 11: Mt Vesuvius / Sorrento
This morning take a bus up the mighty Mt Vesuvius, where you'll meet a local volcanology guide. Ascend to the summit of Mt Vesuvius for staggering 360 degree views over the Bay of Naples and into the steaming crater. Although Mt Vesuvius is still considered to be an active volcano, the last eruption was in 1944 and there's no sign of lava. See first-hand the awesome power of the volcano that engulfed the cities of Pompeii and Herculaneum in 79AD. In the afternoon, travel by private vehicle to the picturesque resort town of Sorrento (approximately 1 hour). People have been coming to the peninsula and islands of the Sorrento region for at least 2,000 years, and set invitingly atop dramatic cliffs over sparkling, blue waters, it's easy to see why. There are many options in this small seaside town with its fine piazzas, maze of old streets, sidewalk cafes and glamorous shops. The area is also famous for its lemon groves, producing the famous limoncello liqueur. In the evening head out to try some of the best limoncello on offer in Sorrento.
Day 12: Sorrento
You have a free day to explore this delightful area and the museums, galleries and piazzas of Sorrento. Perhaps stroll along the marina or cool off in the waters of the local small beaches. They're not big on sandy beaches here, so swimming Sorrento-style is via wooden or stone bathing platforms beneath the cliffs. Taking a trip to Capri is also a great option, with a hydrofoil taking you across to the island that was once home to the magnificent holiday palaces of the Roman emperors. Capri's dramatic rocky coastline is pierced by natural grottoes, while in the interior, narrow roads wind through fragrant citrus groves, past villages of flat-roofed white cubist-looking houses with flower-filled gardens, and manicured towns which offer swanky hotels and chic cafes. Here you can take a boat trip to the fairy-tale Blue Grotto (La Grotta Azzurra), where the water shines with an extraordinary blue translucence, a result of refraction of the sunlight outside. Your leader will be of assistance and will have plenty of suggestions of what to do and see today. End the day a very Italian way with a demonstration of Gelato making.
Day 13: Amalfi
Arrive on the Amalfi Coast after a short journey by private vehicle (approximately 2 hours). The Amalfi peninsula is a land of rocky coasts, cliff-top vistas, azure seas, tiered lemon groves, whitewashed villages clinging to steep cliffs, and bright blue skies. If you're after a relaxing walk with a few cultural highlights, stroll from one side of Amalfi town to the other and pay a visit to the Cattedrale di Sant'Andrea and the Chiostro del Paradiso. If you're after something more active, perhaps embark on a walk through the Valley of Mills where for centuries paper mills were in operation. Alternatively catch a bus up the Valley of Dragons to reach pretty Ravello. The French novelist André Gide once described this town as being 'closer to the sky than the seashore'. For centuries, its lofty position and sunny, dry climate has made it an appealing place for writers, artists, musicians and travellers. Ravello also boasts two magnificent villas – the superb 11th Century Villa Rufolo which was once the home of Wagner, and Villa Cimbrone, a sumptuous 19th Century mansion with fabulous gardens and unequalled views over the Gulf of Salerno. Otherwise just laze around on the beaches and in the piazza, gazing back up at the amazingly picturesque part of the world.
Day 14: Positano / Amalfi
Your leader will take you for a half-day hike along the narrow trail of the famous Sentiero Degli Dei (the Walk of the Gods) which, until quite recently, was followed by mules and donkeys as they traversed the dramatic landscape. This path winds its way through unique scenery and boasts unrivalled views along the coast. Walk through forests and fields of wildflowers, olive groves and vineyards, past ancient stone huts and beside sheer walls of granite. Glimpse local farmers tending their crops by hoe and elbow grease, herds of goats feeding beside the trail beside their shepherds, and teams of workmen commuting by mule. The trail ends in picturesque Positano where there will be ample time to explore and maybe take a dip in the sea. Return to Amalfi by ferry which is the perfect way to see the coast from a different perspective. With tonight your last night as a group, it's a good idea to gather your fellow travellers together and head out for a feast to celebrate the end of this Italian adventure.
Day 15: Amalfi
There are no activities planned for the final day and you are able to depart the accommodation at any time. As there is so much to do along the Amalfi Coast you may want to consider to extend your stay here. We are happy to book additional accommodation for you, subject to availability. Please enquire at the time of booking.
Venice - Traghetto Boat Ride
Assisi - Basilica di San Francesco
Assisi - Basilica Guided Tour with Local Monk
Spello - Enoteca Wine Tasting & Lunch
Spello - Half Day Trip
Gubbio - Cable Car & Hike on Monte Ingino
Naples - Napoli Sotterranea Underground City
Pompeii - Archaeological Site
Pompeii - Walking Tour with Local Guide
Mt Vesuvius - Crater Rim Walk & Summit Climb
Sorrento - Limoncello Tasting
Sorrento - Gelato Making Demonstration
Amalfi - Walk of the Gods Hike (Sentiero degli Dei)
Amalfi - Coastal Ferry Cruise Positano to Amalfi
Meals
8 Breakfast(s) Included
1 Lunch(es) Included

Style: Original

Question: How many suitcases can I take with me on my trip?
Each person is allowed one "check-in," and one "carry-on." Remember to take all valuables with you as "carry-on", because electronic equipment, cameras, laptops, jewelry, business documents and money are not covered by the airlines' liability, so always carry them aboard with you.
Question: Is Airfare Included in the Price?
Airfare from your point of origin to and from the trip is not included in the land price.
Similar Tours Other Travelers Liked
The trip was both both educational and exciting. I very much enjoyed the sights and culture.
The itinerary was just as I expected! The guide was very good as were the accomodations
Intrepid did such a great job. I never had to worry about where I was supposed to be and it felt so good not to worry about a thing but just to enjoy myself. Our guide was extremely knowledgeable about culture and history.
Taiwan people very friendly. Accommodation were centrally located and easily accessible. Did extra activities then in brochure which was greatly.
Larus our tour guide did an excellent job and was very attentive to our needs. He is very knowledgeable and has a great sense of humor.
Our guide Tarang chandola was exceptional. Courteous, knowledgeable, organized, polite, professional and went above and beyond taking care of our needs and requests offen anticipating what that might be. He made sure we all had the best possible time and offered suggestions to meet the needs of everyone on the tour. This made the trip even more enjoyable.
AffordableTours.com® does not itself offer, service or administer the Travel Packages, and the ultimate terms and conditions of any Travel Package made available via the Site Offerings (including the prices quoted in connection with same) will be determined by the applicable Third-Party Travel Service Provider. AffordableTours.com® does not represent or warrant that the Price Quotes are accurate, up-to-date or free of error, or that same will be honored by the applicable Third-Party Travel Service Providers. All Price Quotes, Travel Package availability, Travel Package details/itinerary and other Content are subject to change without notice. All travel details published by and through the Site Offerings should be confirmed directly with the applicable Third-Party Travel Service Provider prior to making any travel plans. Reliance on any information made available to you by and through the Site Offerings is solely at your own risk.
How It Works
Vacationing has never been easier or cheaper with the help of a dedicated travel consultant from AffordableTours.com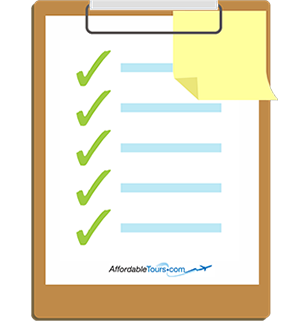 Find your perfect trip on our website and simply request a free quote. Need to speak to a live person? Call us 7 days a week at 1-800-935-2620. No robots here!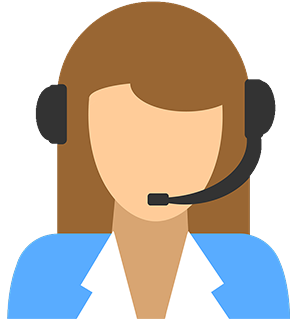 Your personal travel consultant will reach out and be your point of contact for your entire travel experience from start to finish. Did we mention you'll be working with an award winning team? Sweet!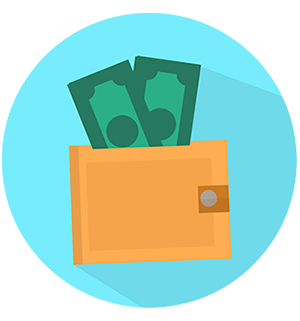 Because we're one of the largest sellers of travel, we're able to give you a discount on your vacation package. No one beats our prices!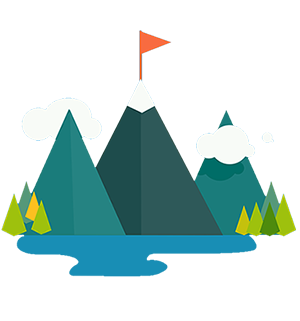 Knowing you got the best deal, all that's left is for you to pack your bags and enjoy your vacation!