Dates & Prices
Start Date
End Date
Offers
Brochure
Land Price
Our Price
Quote
Oct 08, 2020
Oct 18, 2020
Call Us

$2,365

Get Our Price
Get Quote
Oct 18, 2020
Oct 28, 2020
Call Us

$2,365

Get Our Price
Get Quote
Nov 01, 2020
Nov 11, 2020
Call Us

$2,275

Get Our Price
Get Quote
Nov 05, 2020
Nov 15, 2020
Call Us

$2,145

Get Our Price
Get Quote
Nov 19, 2020
Nov 29, 2020
Call Us

$2,210

Get Our Price
Get Quote
Dec 10, 2020
Dec 20, 2020
Call Us

$2,210

Get Our Price
Get Quote
Mar 11, 2021
Mar 21, 2021
Call Us

$2,225

Get Our Price
Get Quote
Apr 15, 2021
Apr 25, 2021
Call Us

$2,305

Get Our Price
Get Quote
May 20, 2021
May 30, 2021
Call Us

$2,225

Get Our Price
Get Quote
Jun 24, 2021
Jul 04, 2021
Call Us

$2,135

Get Our Price
Get Quote
Aug 05, 2021
Aug 15, 2021
Call Us

$1,922

Get Our Price
Get Quote
Sep 09, 2021
Sep 19, 2021
Call Us

$2,002

Get Our Price
Get Quote
Sep 23, 2021
Oct 03, 2021
Call Us

$2,074

Get Our Price
Get Quote
Oct 14, 2021
Oct 24, 2021
Call Us

$2,074

Get Our Price
Get Quote
Oct 28, 2021
Nov 07, 2021
Call Us

$2,074

Get Our Price
Get Quote
Nov 11, 2021
Nov 21, 2021
Call Us

$2,002

Get Our Price
Get Quote
Nov 25, 2021
Dec 05, 2021
Call Us

$1,922

Get Our Price
Get Quote
Feb 24, 2022
Mar 06, 2022
Call Us

$2,075

Get Our Price
Get Quote
Apr 14, 2022
Apr 24, 2022
Call Us

$2,075

Get Our Price
Get Quote
May 19, 2022
May 29, 2022
Call Us

$2,075

Get Our Price
Get Quote
Jun 23, 2022
Jul 03, 2022
Call Us

$2,075

Get Our Price
Get Quote
Aug 04, 2022
Aug 14, 2022
Call Us

$2,075

Get Our Price
Get Quote
Sep 08, 2022
Sep 18, 2022
Call Us

$2,075

Get Our Price
Get Quote
Sep 22, 2022
Oct 02, 2022
Call Us

$2,075

Get Our Price
Get Quote
Oct 13, 2022
Oct 23, 2022
Call Us

$2,075

Get Our Price
Get Quote
Oct 27, 2022
Nov 06, 2022
Call Us

$2,075

Get Our Price
Get Quote
Nov 10, 2022
Nov 20, 2022
Call Us

$2,075

Get Our Price
Get Quote
Nov 24, 2022
Dec 04, 2022
Call Us

$2,075

Get Our Price
Get Quote
Call or submit a quote for award-winning value and service!
Tour Itinerary
If you're looking for travel that will really surprise and inspire you, look no further than Jordan, Israel and the Palestinian Territories. Get amongst the cafe culture in Amman, set up camp under the stars in the Wadi Rum desert, and get blown away by ancient buildings carved into the pink mountains of Petra. Along the way you'll have a leader showing you the ropes and helping you navigate manners and etiquette. For example: in a traditional Bedouin coffee ceremony you'll actually drink three cups of coffee: one for the soul, one for the sword and one because you're a guest. Don't ask for a fourth - it's greedy and you might wet your pants on the bus.
Day 1: Amman
Welcome to the Middle East! Touch down in Jordan's main city: Amman. Meet up with your leader and crew at an important welcome meeting at 6 pm tonight, but until then, you're free to hit the streets. Why not a beeline for Rainbow Street for a falafel and a sheesha – it's what the locals do. Something more substantial? Maybe head to the Old Town's Roman Amphitheatre, have a cultured afternoon at the Jordan National Gallery of Fine Arts, snap some pics of the city from the hilltop Temple of Hercules, or sweat it out in a Turkish bath house. After your welcome meeting, you should get a group together and head out for the night – your leader will know of some spots to go.
Day 2: Wadi Rum
This morning, take a tour with your leader around Amman – best to begin at the hilltop Citadel, then follow the edge of the walls down into town past the Roman Theatre, the Nymphaeum ruins and the Al Husseiny Mosque. Be sure to stop in at some nut shops or a souq for some snacks along the way. After lunch, drive 4 hours to Wadi Rum. Once arrived, you'll meet your Bedouin hosts, who'll show you around camp and offer you many rounds of 'Bedouin whisky' (mint tea), so settle in for a night of traditional hospitality. This evening you'll be dining on traditional Bedouin cuisine, sleeping in Bedouin-style tents and gazing up at some traditional Bedouin skies. Did we mention Bedouin?
Day 3: Wadi Rum
You won't want to miss this: Wadi Rum rarely looks as fine as she does early morning. Wake up early to take in a magical sunrise, and once you're breakfast-ed, it's time to head on safari. Jump in one of the jeeps and begin driving around the curious landscapes around, passing by Lawrence Spring – a rocky landscape contrasted by a freshwater spring, with panoramic views over the valley. You'll also stop at Lawrence House, supposedly the house where Lawrence of Arabia lived and stored his equipment. Continue on to one of the largest sand dunes in Wadi Rum and check out some of the famous rock bridges. The deserts around Wadi Rum have got a real otherworldly feel to them, and so you wouldn't be surprised that many Hollywood blockbusters have been shot in and around where you'll tour today. Later in the afternoon, return to your camp and enjoy a second night of Bedouin hospitality.
Day 4: Petra
Today, farewell your Bedouin mates and journey on to Petra (about a 2-hour drive). You'll have two full days exploring Petra and its surrounds, so be sure to take your time in seeing the spectacular archaeological site. Once you've arrived, take a guided tour of the site, where you'll learn about its thousands of years of history, and the many films that have used this as a backdrop – Indiana Jones, anyone? You'll get to follow in Indiana Jones's footsteps on a guided tour that'll take you through the site's narrow siq (a narrow crack in the mountain) to Petra's tombs, temples and rock-hewn amphitheatre. For those wanting to admire the 'rose-red city' from a different angle, there's also the option of continuing up a cliff-top path past the Monastery for elevated views over the site. After a long day of exploration, you'll probably be feeling quite weary, so the cave bar is good place to relieve your parched throat and put your feet up for while.
Day 5: Petra
You've got another day to explore the majestic Petra, and the best thing is you're free to do as you please. Perhaps walk the road to Al Khanzneh (The Treasury) – one of the most stunning temples of the whole site. Or, if you didn't make it yesterday, head up the stairs to El Dier (the Monastery). Other great options today are to hike to the royal tombs or visit the incredible Byzantine mosaics. Your leader will know all the good things to do, so ask them for help with arranging these.
Day 6: Madaba
This morning after breakfast, head away from Petra and drive down the King's Highway towards Madaba. You'll stop to check out the renowned Dead Sea and have a swim in these salty waters. If you're feeling a bit sore and weary after your Petra expedition, do not fear, as the Dead Sea's mud has known healing properties and will be sure to bring back your youthful good looks. Afterwards, swing past Mt Nebo and view the Promised Land, just like Moses did. Arrive in Madaba – the city of mosaics – and take a leader-led walking tour to get your bearings of the city. Included this afternoon is a visit to St Georges Church where you'll see the intricate mosaic map, containing the oldest surviving cartographic depiction of the Holy Land and Jerusalem. Later on, perhaps head out tonight with the gang for dinner – there are some awesome places to eat in this city; your leader knows where to go.
Day 7: Jerusalem
This morning your private transfer will collect you for the 1.5 hour journey to the Allenby Bridge Border Crossing. Here you will make the crossing into Israel. Please be aware that you will cross the border unaccompanied. There will be a transfer driver waiting to collect you for the 1 hour journey to Jerusalem. Shalom! Welcome to Jerusalem, Israel. On arrival to your hostel there will be a welcome note waiting for you. Meet your leader at the hostel at 4.30 pm .After your meeting finishes head out on an orientation walk up to the very cool Machane Yehuda Market. Here you can sample tasty local eats using your bite card at any of the vendors. Your leader will leave you here so you can kick-on after dark. We recommend grabbing a beer in one of the many laneway bars and watch the market come to life in the evening, bar hop, or go for a wander to check out the amazing graffiti popping up on shop shutters.
Day 8: Jerusalem
This morning drive to Jaffa Gate where you will start a walking tour of the Old City from above and below! Start with the Ramparts Walk from Jaffa Gate all the way to Herod's Gate. This will take about 45 minutes. Go down at Herod's Gate and walk along the Via Dolorosa (Stations of the Cross), stopping at the Austrian Hospice for a short break and go up to the rooftop for a view of the Old City, before continuing to the Church of the Holy Sepulchre. Walk to the Wailing (Western) Wall stopping at the 'Cardo' in the recently restored Jewish Quarter. The rest of the afternoon is free for you to do as you please.
Day 9: Jerusalem
Rise and shine nice and early (approximately 5 am) to drive out to the spectacular cliff-top fortress of Masada, near the Dead Sea. Kick off the day with an early morning hike up the Masada Snake Path which winds its way up approximately 400 meters from the lowest point on earth (The Dead Sea) to the Peak. This UNESCO site is super important to the Jewish people, a symbol of their exile from the Holy Land and of bravery and self-sacrifice. The story goes that here a Jewish sect called the zealots held out against the Roman army in AD66. Rather than surrender, they either fought to the death or committed suicide, every last man, woman and child. Catch the Cable Car back down then drive to the Dead Sea for a float in the salty waters. Apparently, Cleopatra used products from the area as part of her beauty regime, which also allegedly included animal milk and almond extract! After soaking in the salty waters, transfer back to your hostel in Jerusalem for a free evening.
Day 10: Tel Aviv
This morning, check out of your hostel and head to the Mount of Olives for a panoramic view of the Old City. From there, drive to Bethlehem – no doubt you're familiar with it from all the Christmas carols and nativity plays. Drop by the Church of the Nativity, built on where it is said Jesus was born, and also head to the Shepherd's Fields, where the angels appeared to bring the good news. You'll also have time to explore the graffiti walls that have been added across the years, including by Banksy. Learn the personal stories behind some of the more prominent pieces. Afterwards, continue on to Tel Aviv via the ancient port city of Jaffa, the basis of modern Tel Aviv. Once checked-in to your hostel, join a sunset bike ride (approximately 2 hours) to get acquainted with this vibrant seaside city. Tonight, why not get the gang together and hit the town this evening – Tel Aviv is known for its happening nightlife scene.
Day 11: Tel Aviv
There aren't any activities planned for today, so you're free to leave the hostel at any time. That doesn't mean your Middle Eastern adventure has to come to an end! If you're looking at spending more time in Tel Aviv, we don't blame you. We'll be happy to organise additional accommodation (subject to availability).
Amman -Guided Walking Tour
Wadi Rum - 4WD jeep safari and desert camp
Wadi Rum - Guided trek
Petra - Guided tour of Petra
Madaba - St Georges Church
Jerusalem - Machane Yehuda Market & Bite Card
Jerusalem - Walk on the Ramparts of the Old City
Jerusalem - Western Wall (Wailing Wall)
Jerusalem - Church of the Holy Sepulchre
Dead Sea visit
Masada - Entrance & Cable Car one-way
Masada - Snake Path Hike
Jaffa - Town Visit
Jerusalem - Mount of Olives
Bethlehem - Grafitti Walking Tour
Bethlehem - Church of the Nativity & Shepherds' Field
Meals
10 Breakfast(s) Included
1 Lunch(es) Included
3 Dinner(s) Included

Style: Basix

Hotel (5 nights), Hostel (4 nights), Desert Camp (1 night)
Question: How many suitcases can I take with me on my trip?
Each person is allowed one "check-in," and one "carry-on." Remember to take all valuables with you as "carry-on", because electronic equipment, cameras, laptops, jewelry, business documents and money are not covered by the airlines' liability, so always carry them aboard with you.
Question: Is Airfare Included in the Price?
Airfare from your point of origin to and from the trip is not included in the land price.
Similar Tours Other Travelers Liked
The trip was both both educational and exciting. I very much enjoyed the sights and culture.
The itinerary was just as I expected! The guide was very good as were the accomodations
Intrepid did such a great job. I never had to worry about where I was supposed to be and it felt so good not to worry about a thing but just to enjoy myself. Our guide was extremely knowledgeable about culture and history.
Taiwan people very friendly. Accommodation were centrally located and easily accessible. Did extra activities then in brochure which was greatly.
Larus our tour guide did an excellent job and was very attentive to our needs. He is very knowledgeable and has a great sense of humor.
Our guide Tarang chandola was exceptional. Courteous, knowledgeable, organized, polite, professional and went above and beyond taking care of our needs and requests offen anticipating what that might be. He made sure we all had the best possible time and offered suggestions to meet the needs of everyone on the tour. This made the trip even more enjoyable.
AffordableTours.com® does not itself offer, service or administer the Travel Packages, and the ultimate terms and conditions of any Travel Package made available via the Site Offerings (including the prices quoted in connection with same) will be determined by the applicable Third-Party Travel Service Provider. AffordableTours.com® does not represent or warrant that the Price Quotes are accurate, up-to-date or free of error, or that same will be honored by the applicable Third-Party Travel Service Providers. All Price Quotes, Travel Package availability, Travel Package details/itinerary and other Content are subject to change without notice. All travel details published by and through the Site Offerings should be confirmed directly with the applicable Third-Party Travel Service Provider prior to making any travel plans. Reliance on any information made available to you by and through the Site Offerings is solely at your own risk.
How It Works
Vacationing has never been easier or cheaper with the help of a dedicated travel consultant from AffordableTours.com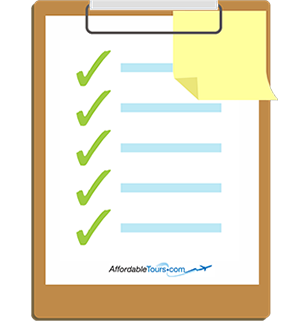 Find your perfect trip on our website and simply request a free quote. Need to speak to a live person? Call us 7 days a week at 1-800-935-2620. No robots here!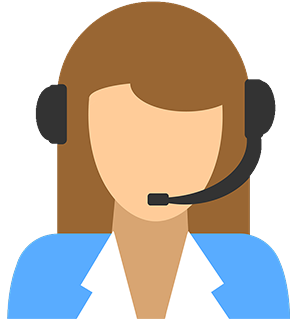 Your personal travel consultant will reach out and be your point of contact for your entire travel experience from start to finish. Did we mention you'll be working with an award winning team? Sweet!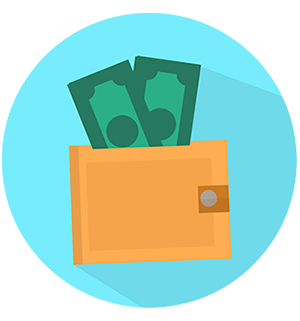 Because we're one of the largest sellers of travel, we're able to give you a discount on your vacation package. No one beats our prices!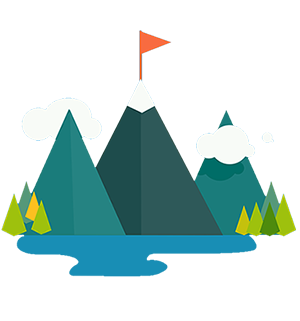 Knowing you got the best deal, all that's left is for you to pack your bags and enjoy your vacation!