Dates & Prices
Start Date
End Date
Offers
Brochure
Land Price
Our Price
Quote
Feb 25, 2021
Mar 07, 2021
Call Us

$2,786

Get Our Price
Get Quote
Mar 04, 2021
Mar 14, 2021
Call Us

$2,714

Get Our Price
Get Quote
Apr 29, 2021
May 09, 2021
Call Us

$2,714

Get Our Price
Get Quote
Jun 03, 2021
Jun 13, 2021
Call Us

$2,930

Get Our Price
Get Quote
Jun 10, 2021
Jun 20, 2021
Call Us

$2,930

Get Our Price
Get Quote
Jul 01, 2021
Jul 11, 2021
Call Us

$2,794

Get Our Price
Get Quote
Jul 08, 2021
Jul 18, 2021
Call Us

$2,930

Get Our Price
Get Quote
Jul 29, 2021
Aug 08, 2021
Call Us

$2,930

Get Our Price
Get Quote
Aug 12, 2021
Aug 22, 2021
Call Us

$2,930

Get Our Price
Get Quote
Sep 02, 2021
Sep 12, 2021
Call Us

$2,930

Get Our Price
Get Quote
Sep 09, 2021
Sep 19, 2021
Call Us

$2,817

Get Our Price
Get Quote
Sep 16, 2021
Sep 26, 2021
Call Us

$2,817

Get Our Price
Get Quote
Sep 30, 2021
Oct 10, 2021
Call Us

$2,817

Get Our Price
Get Quote
Oct 07, 2021
Oct 17, 2021
Call Us

$2,817

Get Our Price
Get Quote
Nov 04, 2021
Nov 14, 2021
Call Us

$2,817

Get Our Price
Get Quote
Nov 11, 2021
Nov 21, 2021
Call Us

$2,714

Get Our Price
Get Quote
Nov 18, 2021
Nov 28, 2021
Call Us

$2,714

Get Our Price
Get Quote
Dec 02, 2021
Dec 12, 2021
Call Us

$2,714

Get Our Price
Get Quote
Dec 09, 2021
Dec 19, 2021
Call Us

$2,714

Get Our Price
Get Quote
Dec 16, 2021
Dec 26, 2021
Call Us

$2,714

Get Our Price
Get Quote
Call or submit a quote for award-winning value and service!
Countries Visited
Cities Visited
Tour Itinerary
If you've only got time for the Inca Trail, or if Machu Picchu is on your bucket list, then this is your trip. With a local tour guide and enough porters to poke a (walking) stick at, you'll love every minute of it. Well, almost.
Day 1: Lima
Welcome to Lima, Peru. Your adventure begins with a group meeting this afternoon at around 2 pm. Please look for a note in the hotel lobby or ask reception where it will take place. We'll be collecting insurance details and next of kin information at this meeting, so ensure you bring these details to provide to your leader. If you're going to be late, please inform hotel reception. If you can't arrange a flight that will arrive in time for the meeting, you may wish to arrive a day early so you're able to attend. We'll be happy to book additional accommodation for you (subject to availability). After the meeting your Lima tour leader will take you on an orientation tour of the city. Once you've seen enough of the sights, stop by one of the bars in the Barranco Quarter and bust a traditional Afro-Peruvian move or two.
Day 2: Cusco
You'll say goodbye to the Lima Leader today. Take an included fight to Cusco. This flight will be unescorted, however you will be met at Cusco airport by your local leader. This city is at a very high altitude (3,400 m ) so you may like to take a little time to acclimatise, whether that be stepping out to see the town or chilling over a bite of some street food. Your leader will take the group on an orientation walk to see the colonial marvels and indigenous foundations of this fascinating city. It's the oldest continuously inhabited city in South America, so there's plenty to do and to see. Fun Cusco fact #487: the last surviving Inca was called Tupac. Depending on your Google skills he was either beheaded by Spanish conquistadors or went on to become one of the highest-selling rappers of all time.
Day 3: Cusco
Welcome to Cusco, Peru! Your adventure starts at 2 pm with a welcome meeting at your hotel. After the meeting your tour leader will take you on a walk around downtown Cusco. You'll visit the facade of Qoricancha temple, the local San Pedro market, the main square, past the 12 Angled Stone, Regocijo Square and San Blas Square. This evening why not head out and have some dinner with your trekking buddies!
Day 4: Inca Trail, Quarry Trail or Train option
Depending on your pre-arranged travel arrangements, during the next four days you may: hike the Classic Inca Trail, hike the Inca Quarry Trail or stay in Cusco for another two days before taking the train to Aguas Calientes. While away from Cusco, the bulk of your luggage will be stored at your hotel. If you're hiking the Inca Trail or the Inca Quarry Trail, the evening before you leave Cusco you'll receive a small duffle bag to carry your clothes in for the next four days (5 kg maximum).Your team of porters will carry these bags for you, together with the food and equipment for the trail. Please note that you won't have access to these items until the end of each day, as the porters will always be ahead of the group. If you're travelling to Aguas Calientes by train, you'll be able to leave most of your luggage at the hotel in Cusco and only travel with the necessary items for the next few days. Route 1 Classic Inca Trail: Today travel by minivan to the 82 km marker and meet your crew of local porters, cook and guide. The first day includes uphill trekking to the campsite, which is at 3,100 metres above sea level. On the way you'll see the ruins of Llactapata, which was burnt to the ground by the last Inca emperor to discourage Spanish pursuit down the trail. In the evening, set up camp while the cook makes dinner.Notes: The Inca Trail is within the abilities of most reasonably fit people, but please come prepared, as the trail is 45 km long and often steep. Each day's journey generally consists of seven hours of walking (uphill and downhill), with stops for snacks and lunch. Trekking usually begins at 7 am (except on the fourth morning) and you reach the campsite around 5 pm. Accommodation on the trek is camping (three nights). Double tents (twin-share) and foam camping mats will be provided. The porters will set up the tents while the cook prepares meals.Route 2 Quarry Trail: Make an early start today and drive to Choquequilla, a small ceremonial place where Incas worshipped the moon. Drive to the starting point of the trek, Rafq'a, and meet the horsemen who join us on the hike. After an hour's walk, reach the small community of Socma. Carry on to the Perolniyoc cascade lookout, an opportunity to stop for photos and a food break. Continue to the campsite, which is 3,700 meters above sea level. You should reach the campsite around lunchtime. After lunch, set off to explore the Q'orimarca archaeological site, which once served as a checkpoint to the Incas.Notes: The Quarry Trail is within the abilities of most reasonably fit people. The hike is 26 km long in total and its highest pass is at 4,450 meters above sea level. Throughout the trek, horses will carry your gear and camping equipment. The first two nights are spent camping and the third night you will stay at a simple hotel. Double tents (twin-share) and foam camping mats will be provided. The porters will set up the tents while the cook prepares meals. Route 3 Train:For those travellers disinterested in hiking the trail or who are unable to, spend two extra nights in Cusco before travelling by bus to Ollantaytambo. From here take a train through the winding Urubamba Valley to the town of Aguas Calientes where you'll spend a third night.Notes: Included lunch and dinner on this day is for people trekking the Inca or Quarry Trail only.
Day 5: Inca Trail, Quarry Trail or Train option
Route 1 Classic Inca Trail:This is the most challenging day of the trek, as we ascend a long steep path (approximately five hours) to reach the highest point of the trail. Colloquially known as 'Dead Woman's Pass', Warmiwanusca sits at a height of 4,200 meters above sea level, providing amazing views of the valley below. The group will then descend to the campsite in the Pacaymayo Valley at 3,650 metres. Route 2 Quarry Trail: This is the most challenging and rewarding day of the hike. A three-hour walk takes us to the top of the first pass of Puccaqasa (approximately 4,370 meters high). After enjoying picturesque views of the valley, it's a short walk before stopping for lunch. Afterwards, make the two-hour hike to Kuychicassa, the highest pass of the trek at 4,450 meters. From here, descend to the sacred site the Incas called Intipunku (Sun Gate), with views of the Nevado Veronica mountain. Head to the campsite, only a stone's throw away at Choquetacarpo. Route 3 Train:Today, perhaps your free day indulging your inner foodie in the eateries of Cusco. Head to lunch at the arty Fallen Angel restaurant, and if you still have room for dessert, the ChocoMuseo offers tastings and chocolate-marking workshops. All optional activities are at your own cost. \Notes: Included lunch and dinner on this day is for people trekking the Inca or Quarry Trail only.
Day 6: Inca Trail, Quarry Trail or Train option
Route 1 Classic Inca Trail: Start the day with a climb through the Pacaymayo Valley to Runkuracay pass (3,980 metres). Enjoy views of the snow-capped mountain of Cordillera Vilcabamba before descending for around two to three hours to the ruins of Sayacmarca. Continue over the trail's third pass to the ruins of Phuyupatamarca (3,850 metres), also known as 'Town Above the Clouds'. Start the two-hour descent down the Inca steps to the final night's campsite by the Winay Wayna archaeological site. Route 2 Quarry Trail: Today's hike will all be downhill. The first stop is the incomplete Kachiqata quarry, where the Incas were intercepted by the Spanish. Around midday, come to the end of the trek. Explore the cobbled streets of Ollantaytambo before taking the short train journey to Aguas Calientes. This is where you'll meet up with the travellers in your group who didn't hike. Visiting the natural hot springs in town is a soothing way to spend the late afternoon. Spend the night in a comfortable hotel before tomorrow's visit to Machu Picchu. Route 3 Train:In the morning take a bus and train which is nestled in the hills at the foot of Machu Picchu. For those who want to, there's time to visit Machu Picchu independently before the guided tour the next day. If you'd like to do this, please advise your group leader at the welcome meeting at the beginning of the trip. Otherwise, you might like to while away the afternoon in the natural hot springs of Aguas Calientes.Notes: Included lunch and dinner on this day is for people trekking the Inca or Quarry Trail only.
Day 7: Inca Trail, Quarry Trail or Train option / Machu Picchu
Route 1 Classic Inca Trail: The day starts before dawn with breakfast at 4.30 am. Say farewell to the porters as they descend to the train station and begin hiking by 5.30 am. The walk to Intipunku (the Sun Gate) takes around two-and-a-half hours. Weather permitting, enjoy unforgettable views over the 'Lost City of the Incas' Route 2 Quarry Trail: Depending on weather conditions, take a bus at 5:30 am this morning along the winding road to Machu Picchu. The journey takes around 30 minutes. At Machu Picchu, join up with the travellers in your group who hiked the Classic Inca Trail. If skies are clear, enjoy spectacular views over the ancient city from the Sun Gate, before going on a guided walk around the ruins.Route 3 Train:In the morning at 5.30 am, take a bus up to Machu Picchu. The city was built around 1440 AD as a country retreat for Incan nobility, but there's evidence that the land had been a sacred Incan site for much longer. Take a guided tour around the ruins of temples, palaces and living quarters, and enjoy free time afterwards to wander around on your own before the group returns to Cusco.Visiting Machu Picchu:According to Machu Picchu visiting regulations, all visitors must follow a pre-determined route within the site. This route must be followed in one direction only and once the guided visit commences exiting and re-entering the site is not permitted. Once the guided visit concludes, visitors must exit the site and personal exploration of Machu Picchu is not permitted.For all trails - after taking advantage of the seemingly endless photo opportunities, it's time to return to Cusco for a well deserved shower and a pisco sour. Your evening is then free for the last night of your adventure.Notes: Due to Intrepid's internal safety policy, our leaders are specifically prohibited from recommending or assisting with booking trips to the mountaintop ruins of Wayna Picchu.
Day 8: Cusco
You'll have another free day in Cusco. Go shopping, recover or sprawl dramatically on the ground groaning in pain - do whatever you want because the day is yours. If you've got any energy left, you might like to visit Cusco's many markets, museums, eateries and local sights.
Day 9-10: Puerto Maldonado (Amazon Jungle)
Say goodbye to your Cusco leader. This morning you will take an unescorted flight to Puerto Maldonado in the Amazon Jungle, where you'll be staying for two nights. Upon your arrival, the lodge staff will take you to their office in town. Here you can leave most of your luggage in safe storage and continue travelling with a small pack with just the necessary items for your next two nights in the jungle. You'll then take a motorised canoe upriver to your jungle lodge in the Madre de Dios area. There will be time to unpack and unwind once you get there. The next two days are packed with activities. Your full day in the jungle includes a trek which lasts approximately half a day. At times the paths can get quite muddy and some people can find the trek a little exhausting. Along the way there will be regular stops, and you'll encounter magnificent fauna and flora in their natural habitat. You might spot everything from macaws and monkeys to peccaries, jabirus, otters and thousands of butterflies. The guides can also teach you about the medicinal properties and practical uses of the plants. For lunch you will return to the lodge.For your night-time excursion, you will venture out in the dark in search of caimans on the Tambopata River. The naturalist guide will use a spotlight in order to locate them on the banks of the river, so you can observe them from a respectable distance. Notes: We stay at two different lodges in the same area. The activities may vary slightly according to which lodge you are at. Depending on which lodge you are staying at, the included night excursion may be on the night of Day 1 or Day 2. As both of our lodges are in the same area of the jungle, you will see the same wildlife and your overall jungle experience will be the same in either lodge.
Day 11: Lima
Take a final boat trip today back to Puerto Maldonado to pick up your luggage. Fly over the Andes back to Lima, enjoying some spectacular views of the region. Your tour ends on arrival at Lima Airport and you may leave at any time.Notes: Please ensure departure flights out of Lima are not booked prior to 9 pm as there's a chance we won't be back to Lima in time.
Cusco - Orientation Walk
3 Night / 4 Day Inca Trail (or 2 Night / 3 Day Quarry Trail)
Machu Picchu - Guided tour
Amazon Jungle - Amazon jungle lodge stay
Meals
9 Breakfast(s) Included
5 Lunch(es) Included
5 Dinner(s) Included

Style: Basix

Camping (with basic facilities) (3 nights), Hotel (5 nights)
Question: How many suitcases can I take with me on my trip?
Each person is allowed one "check-in," and one "carry-on." Remember to take all valuables with you as "carry-on", because electronic equipment, cameras, laptops, jewelry, business documents and money are not covered by the airlines' liability, so always carry them aboard with you.
Question: Is Airfare Included in the Price?
Airfare from your point of origin to and from the trip is not included in the land price.
Similar Tours Other Travelers Liked
The trip was both both educational and exciting. I very much enjoyed the sights and culture.
The itinerary was just as I expected! The guide was very good as were the accomodations
Intrepid did such a great job. I never had to worry about where I was supposed to be and it felt so good not to worry about a thing but just to enjoy myself. Our guide was extremely knowledgeable about culture and history.
Taiwan people very friendly. Accommodation were centrally located and easily accessible. Did extra activities then in brochure which was greatly.
Larus our tour guide did an excellent job and was very attentive to our needs. He is very knowledgeable and has a great sense of humor.
Our guide Tarang chandola was exceptional. Courteous, knowledgeable, organized, polite, professional and went above and beyond taking care of our needs and requests offen anticipating what that might be. He made sure we all had the best possible time and offered suggestions to meet the needs of everyone on the tour. This made the trip even more enjoyable.
AffordableTours.com® does not itself offer, service or administer the Travel Packages, and the ultimate terms and conditions of any Travel Package made available via the Site Offerings (including the prices quoted in connection with same) will be determined by the applicable Third-Party Travel Service Provider. AffordableTours.com® does not represent or warrant that the Price Quotes are accurate, up-to-date or free of error, or that same will be honored by the applicable Third-Party Travel Service Providers. All Price Quotes, Travel Package availability, Travel Package details/itinerary and other Content are subject to change without notice. All travel details published by and through the Site Offerings should be confirmed directly with the applicable Third-Party Travel Service Provider prior to making any travel plans. Reliance on any information made available to you by and through the Site Offerings is solely at your own risk.
How It Works
Vacationing has never been easier or cheaper with the help of a dedicated travel consultant from AffordableTours.com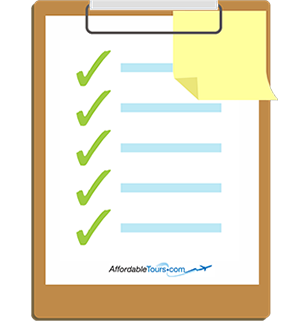 Find your perfect trip on our website and simply request a free quote. Need to speak to a live person? Call us 7 days a week at 1-800-935-2620. No robots here!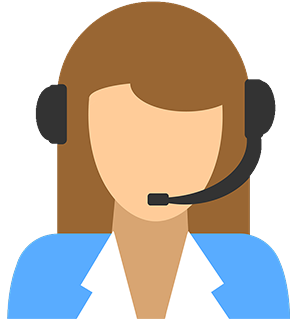 Your personal travel consultant will reach out and be your point of contact for your entire travel experience from start to finish. Did we mention you'll be working with an award winning team? Sweet!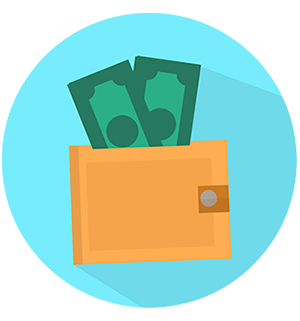 Because we're one of the largest sellers of travel, we're able to give you a discount on your vacation package. No one beats our prices!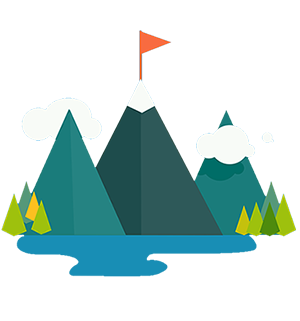 Knowing you got the best deal, all that's left is for you to pack your bags and enjoy your vacation!