Dates & Prices
Start Date
End Date
Offers
Brochure
Land Price
Our Price
Quote
Nov 13, 2020
Dec 02, 2020
Call Us

$1,895

Get Our Price
Get Quote
Nov 27, 2020
Dec 16, 2020
Call Us

$1,895

Get Our Price
Get Quote
Feb 05, 2021
Feb 24, 2021
Call Us

$1,795

Get Our Price
Get Quote
Apr 02, 2021
Apr 21, 2021
Call Us

$1,795

Get Our Price
Get Quote
May 07, 2021
May 26, 2021
Call Us

$1,795

Get Our Price
Get Quote
Sep 03, 2021
Sep 22, 2021
Call Us

$1,616

Get Our Price
Get Quote
Sep 17, 2021
Oct 06, 2021
Call Us

$1,616

Get Our Price
Get Quote
Oct 01, 2021
Oct 20, 2021
Call Us

$1,616

Get Our Price
Get Quote
Oct 15, 2021
Nov 03, 2021
Call Us

$1,616

Get Our Price
Get Quote
Oct 22, 2021
Nov 10, 2021
Call Us

$1,616

Get Our Price
Get Quote
Nov 05, 2021
Nov 24, 2021
Call Us

$1,616

Get Our Price
Get Quote
Dec 24, 2021
Jan 12, 2022
Call Us

$1,616

Get Our Price
Get Quote
Jan 07, 2022
Jan 28, 2022
Call Us

$1,570

Get Our Price
Get Quote
Mar 11, 2022
Apr 01, 2022
Call Us

$1,570

Get Our Price
Get Quote
Apr 01, 2022
Apr 20, 2022
Call Us

$1,570

Get Our Price
Get Quote
May 06, 2022
May 25, 2022
Call Us

$1,570

Get Our Price
Get Quote
Sep 02, 2022
Sep 21, 2022
Call Us

$1,570

Get Our Price
Get Quote
Sep 16, 2022
Oct 05, 2022
Call Us

$1,570

Get Our Price
Get Quote
Sep 30, 2022
Oct 19, 2022
Call Us

$1,570

Get Our Price
Get Quote
Oct 14, 2022
Nov 02, 2022
Call Us

$1,570

Get Our Price
Get Quote
Oct 21, 2022
Nov 09, 2022
Call Us

$1,570

Get Our Price
Get Quote
Nov 04, 2022
Nov 23, 2022
Call Us

$1,570

Get Our Price
Get Quote
Dec 23, 2022
Jan 11, 2023
Call Us

$1,570

Get Our Price
Get Quote
Call or submit a quote for award-winning value and service!
Tour Itinerary
Fill up on momos (steamed dumplings) in Kathmandu and get ready for a huge trip. We're talking rafting adventures and beach camps. Hit the Annapurna circuit for a glimpse of the mighty Himalayas. Come face-to-face with rhinos and a host of other exotic wildlife in Chitwan National Park. Get spiritual in Varanasi, see pink in Jaipur and take the ultimate selfie in from of the Taj Mahal. This jam-packed trip covers a bit of everything. We love it, and we think you will to.
Day 1

Kathmandu

Oh hello Kathmandu. The adventure kicks off with a welcome meeting at 6 pm where you'll meet your tour guide and new travel pals. Look for a note in the hotel lobby or ask the hotel reception where it will take place.If you arrive early, there's plenty to do in this vibrant city. Kathmandu's most important Buddhist shrine, Swayambhunath Stupa and the nearby 'City of Devotees' Bhaktapur are well worth a visit. For some more structure, there are a number of Urban Adventures day tours that can help you delve deeper into Kathmandu's ancient architecture and rich cultural heritage. After the important meeting, why not have an optional dinner together. It's hard to go wrong with a nourishing bowl of dal bhat (thick lentil or bean soup).

Day 2

Trisuli River

Enjoy a morning drive over the rim of the Kathmandu Valley and soak up the views of the Ganesh and Lantang ranges. Arrive in either Baireni or Galaudi, for some rafting on the Trisuli River. Hit the water and enjoy the thrill of the rapids aptly named Ladies Delight, Rock Garden and Snell's Nose. Camp on the beach and enjoy dinner under the stars.
Meals: Breakfast, Dinner

Day 3

Trisuli River - Pokhara

Have more fun on the river including negotiating the Monsoon and Upset. Late morning we end rafting at Kurintar and enjoy a light lunch and drive to Pokhara (4 hours). Arrive Pokhara in the afternoon. Chill out at the lakeside cafes.

Day 4

Ghandruk (1950m / 6397ft)

Hope you broke in your boots before the trip, cos this is where the trekking bit starts. There's a dirt track leading to Birethanti and Shyauli villages. There's a stone staircase up to Kimche, where you'll stop for lunch. Then a bunch of stone flags lead you through fields of wheat to Ghandruk. That's some diverse terrain right there. Stay in your first Nepalese teahouse tonight.

Day 5

Tolkha (1700m / 5577ft)

Look east. That's Landruk, the next village on the route.  Look down. That's the Modi Kola River 600 metres below. Look around the corner. That's Tolkha, your base for the night. What, you can't look around corners? Ok, you'll just have to trek there instead.

Day 6

Hyenjakot

Rhododendron is a tricky word to spell, but super pretty to look at. You'll see a bunch of these bright pink and purple plants today. Do you know what you won't see much of? Other people. We've picked a pretty remote trail from Dhampus to Hyenjakot, and tonight you get to stay with a local family. Pack your best smile and get an even bigger one in return.

Day 7

Pokhara

It's a short descent to Phedi before catching the public bus to Pokhara in time for lunch. Enjoy free time in the afternoon then meet your new leader and group for the rest of the journey to Delhi at 6 pm tonight.

Day 8

Pokhara

Wake up among the spectacular scenery of Pokhara and enjoy a boat ride across the lake (Phewa Tal), which is the second largest in Nepal. The rest of the day is yours to explore at your own pace, with plenty of optional activities to choose from, you can spend your time however you please! Why not start with a visit the International Mountain Museum to learn some amazing tales of past climbing expeditions. You might like to take a break by the water's edge and indulge in the ultimate Nepalese dish for lunch – dal bhat – a hearty vegetarian meal consisting of rice and lentils. Pokhara has an interesting old area well worth exploring, as well as an elaborate Hindu temple and a Buddhist monastery. As the day closes, perhaps visit the Peace Pagoda – with spectacular views of the Annapurna mountains – and watch the sunset over the famous fishtail peak – Machhapuchhare.

Day 9

Chitwan National Park

Pop on your safari hat as you drive to Chitwan National Park by private vehicle (approximately 5 hours). UNESCO (who know at thing or two about this kind of stuff) declared it a World Heritage site in 1984, and it offers some of the best wildlife viewing in Asia. Think the Jungle Book come to life with rhinos, deer, monkeys and a wide array of birds, including Nepalese wild chickens, all found here.

Day 10

Chitwan National Park - Madi Valley

This morning you'll hop aboard a jeep, meet your local guide and take a safari drive through Chitwan National Park. Chances are high you'll see a great one-horned rhinoceros and you might even catch a glimpse of one of the 100-or-so Bengal Tigers that call the park home. This evening, we will be staying overnight at the Intrepid Foundation's project, the Madi Valley Homestay. This project provides sustainable incomes and encourages the communities living on the fringes of Chitwan National Park to conserve the wilderness and wildlife around them. On our arrival, the local men and women, dressed proudly in their traditional Magar attire, will be there to greet you and welcome you into their homes. In the evening enjoy a cultural performance by the locals where they demonstrate one of the oldest ethnic dance forms of the Magar community; the Maruni Naach.
Meals: Dinner

Day 11

Lumbini

This morning we travel by private vehicle to the Nepalese border town of Lumbini (about 5 hours). No ordinary border town, Lumbini is the birthplace of Gautama Buddha, the founder of Buddhism, and one of his four holy places of pilgrimage. Check out the beautiful Ashoka Pillars and hop on cycle rickshaws to the Maya Devi Temple, the actual site where Lord Buddha is thought to have been born.
Meals: Breakfast

Day 12

Nepal/India border crossing - Varanasi

This is a long travelling day as we make our way into India, crossing the border at Sunauli and continuing on to Varanasi (about 8-10 hours including stops). One of holiest cities around, Varanasi is the ultimate destination for Hindu pilgrims who travel from far and wide to experience this spiritual city. Overflowing with temples, shrines and devotees, it might not be one of the world's cleanest cities but there's no doubt it's one of the most amazing.

Day 13

Varanasi

Today's an early start, but it's completely worth it - a sunrise boat ride along the sacred Ganges is a revelation. Even if you're not the spiritual sort, you can't help but get goosebumps. Pass the many ghats (stairs leading to the water) and temples along the river, and watch thousands of Hindu pilgrims cleanse their sins in the holy water as the sun bathes the surrounds in glorious shades of amber and orange. Afterwards, set off by auto rickshaw to the oldest part of the city, to explore its maze of narrow alleyways packed full of small shops, stalls and lumbering cows. See pilgrims performing rituals  unchanged for hundreds of years and pass chiming temples as wafts of incense fill the air.

Day 14

Varanasi - Overnight train

Today there's lots of free time to explore more of Varanasi before you get a unique slice of Indian life aboard an overnight sleeper train bound for Agra (approximately 10 hours). You could take a trip to nearby Sarnath, one of the four main Buddhist pilgrimage destinations. The site is where Buddha preached his message of the path to enlightenment and features a number of stupas and museums to explore. There's also the crumbling 17th-century fort and palace on the eastern bank of the Ganges, Ram Nagar Fort. Otherwise, take the chance to perfect your yoga in the ultimate chakra-balancing place.

Day 15

Agra

Agra might not be the prettiest city in the world, but the minute you check out its top-notch site that won't matter one bit (of course, we're talking about the glorious Taj Mahal). We arrive on a Friday so the Taj is closed to visitors, but there are outstanding views from almost every hotel rooftop in the area. Enjoy a free day to explore Agra's alternative highlights. An optional trip on a motorised rickshaw takes you to some of the city's best monuments. If you've got the energy, head out to Agra Fort and stroll the palatial gardens of this red sandstone stronghold (with cheeky monkeys in tow) or check out Akbar's Mausoleum, a beautiful sandstone and marble tomb built for the greatest of the Mughal emperors.
Meals: Dinner

Day 16

Agra - Tordi

It doesn't matter who you are, the Taj Mahal will explode all your expectations with the morning light shimmering off its white marble surface. After our visit, jump into private transport and head off to the village of Tordi. This remote and rarely visited village offers a fantastic glimpse of the real Rajasthan. We stumbled across it years ago, and everyone loved it so much we put it on the itinerary. The locals will feed you and you'll sleep in a 16th-century palace with its owner as your host. And there's a ruined temple and fortress nearby. Settle in, then savour delicious local flavours at an included dinner of tonight

Day 17

Jaipur

Kick on in a private vehicle to Jaipur (about 3 hours), India's oh-so-pretty 'Pink City'. You'll have plenty of free time here to haggle to your heart's content at the bazaars and backstreets where vendors sell a variety of textiles, precious and semi-precious gems and stunning blue pottery. Drop by one of India's finest palaces, the Royal City Palace, where the guards' moustaches are almost as impressive as the building itself. Foodies will want to hit the streets for raj kachori chaat, a big fluffy chaat served with chutney, yoghurt, chilli and potato. Then cool off with a lassi from Lassiwala on MI road, Jaipur's oldest and most famous lassi shop. Cinema buffs won't want to miss the chance to take in a Bollywood blockbuster at the spectacular Raj Mandir Cinema.

Day 18

Jaipur

If you're keen for a different view of the Pink City, an optional early morning hot air balloon ride is a trip highlight for many visitors. For more information please see the 'Important notes' section of the Essential Trip Information. Later in the morning, you'll drop by Hawa Mahal (Palace of the Winds), the impressive five-storey facade with pink and honeycombed windows is it the most photographed building in the country after Taj Mahal. Then it's out to the old capital of Amber and an exploration of the hilltop fort complex known as the Amber Fort. The rest of the day is free for you to use as you like.

Day 19

Delhi

Take a five-hour train ride to India's capital. This exciting city is overflowing with incredible historic sites, museums and galleries, shops and endless bazaars. Watch one of the world's greatest shows unfold as people, cars, rickshaws and cows all work together in a kind of organised chaos. Sit back with a chai and let it all soak in. Later on, take the modern metro to to Old Delhi and visit the old city's market area by foot, exploring Chandni Chowk and Connaught Place. Enjoy an optional dinner tonight with your group to say goodbye to this fine country.

Day 20

Delhi

Your adventure comes to an end today. There are no planned activities for the day.
Trisuli River - Rafting
Trisuli River - Rafting
Pokhara - Orientation Walk
Pokhara - Phewa Tal Lake boat trip
Chitwan NP - Park entry
Lumbini - Heritage Park
Varanasi - Sunrise Ganges boat trip
Varanasi - Leader-led Old City walking tour
Agra - Taj Mahal
Jaipur - Leader-led walking & market tour
Jaipur - Amber Fort
Jaipur - Hawa Mahal (Palace of the Wind) entry
Delhi - Leader-led Old Delhi walking & rickshaw tour
Delhi - Sheeshganj Gurudwara (Sikh Temple)
Delhi - Jama Masjid
Meals
2 Breakfast(s) Included
1 Lunch(es) Included
3 Dinner(s) Included

Style: Basix

Hotel (11 nights), Lodge (2 nights), Heritage Property (1 night), Homestay (1 night), Camping (with basic facilities) (1 night), Tea House (2 nights), Sleeper Train (1 night)
Question: How many suitcases can I take with me on my trip?
Each person is allowed one "check-in," and one "carry-on." Remember to take all valuables with you as "carry-on", because electronic equipment, cameras, laptops, jewelry, business documents and money are not covered by the airlines' liability, so always carry them aboard with you.
Question: Is Airfare Included in the Price?
Airfare from your point of origin to and from the trip is not included in the land price.
Similar Tours Other Travelers Liked
The trip was both both educational and exciting. I very much enjoyed the sights and culture.
The itinerary was just as I expected! The guide was very good as were the accomodations
Intrepid did such a great job. I never had to worry about where I was supposed to be and it felt so good not to worry about a thing but just to enjoy myself. Our guide was extremely knowledgeable about culture and history.
Taiwan people very friendly. Accommodation were centrally located and easily accessible. Did extra activities then in brochure which was greatly.
Larus our tour guide did an excellent job and was very attentive to our needs. He is very knowledgeable and has a great sense of humor.
Our guide Tarang chandola was exceptional. Courteous, knowledgeable, organized, polite, professional and went above and beyond taking care of our needs and requests offen anticipating what that might be. He made sure we all had the best possible time and offered suggestions to meet the needs of everyone on the tour. This made the trip even more enjoyable.
AffordableTours.com® does not itself offer, service or administer the Travel Packages, and the ultimate terms and conditions of any Travel Package made available via the Site Offerings (including the prices quoted in connection with same) will be determined by the applicable Third-Party Travel Service Provider. AffordableTours.com® does not represent or warrant that the Price Quotes are accurate, up-to-date or free of error, or that same will be honored by the applicable Third-Party Travel Service Providers. All Price Quotes, Travel Package availability, Travel Package details/itinerary and other Content are subject to change without notice. All travel details published by and through the Site Offerings should be confirmed directly with the applicable Third-Party Travel Service Provider prior to making any travel plans. Reliance on any information made available to you by and through the Site Offerings is solely at your own risk.
How It Works
Vacationing has never been easier or cheaper with the help of a dedicated travel consultant from AffordableTours.com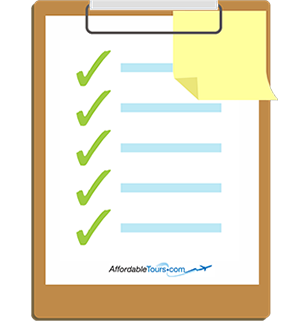 Find your perfect trip on our website and simply request a free quote. Need to speak to a live person? Call us 7 days a week at 1-800-935-2620. No robots here!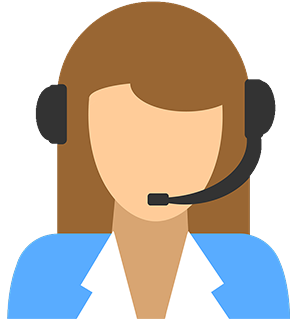 Your personal travel consultant will reach out and be your point of contact for your entire travel experience from start to finish. Did we mention you'll be working with an award winning team? Sweet!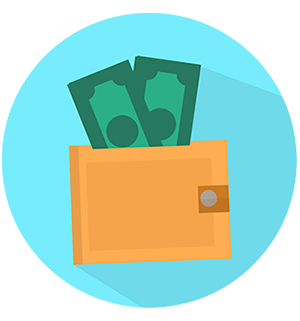 Because we're one of the largest sellers of travel, we're able to give you a discount on your vacation package. No one beats our prices!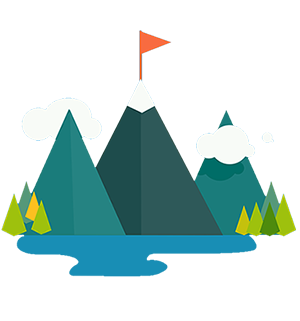 Knowing you got the best deal, all that's left is for you to pack your bags and enjoy your vacation!