Dates & Prices
Start Date
End Date
Offers
Brochure
Land Price
Our Price
Quote
Nov 05, 2020
Nov 19, 2020
Call Us

$1,205

Get Our Price
Get Quote
Dec 03, 2020
Dec 17, 2020
Call Us

$1,180

Get Our Price
Get Quote
Dec 24, 2020
Jan 07, 2021
Call Us

$1,250

Get Our Price
Get Quote
Dec 28, 2020
Jan 11, 2021
Call Us

$1,285

Get Our Price
Get Quote
Jan 07, 2021
Jan 21, 2021
Call Us

$1,270

Get Our Price
Get Quote
Feb 04, 2021
Feb 18, 2021
Call Us

$1,270

Get Our Price
Get Quote
Mar 04, 2021
Mar 18, 2021
Call Us

$1,270

Get Our Price
Get Quote
Apr 08, 2021
Apr 22, 2021
Call Us

$1,270

Get Our Price
Get Quote
May 13, 2021
May 27, 2021
Call Us

$1,225

Get Our Price
Get Quote
May 27, 2021
Jun 10, 2021
Call Us

$1,225

Get Our Price
Get Quote
Jun 10, 2021
Jun 24, 2021
Call Us

$1,180

Get Our Price
Get Quote
Jun 24, 2021
Jul 08, 2021
Call Us

$1,180

Get Our Price
Get Quote
Jul 15, 2021
Jul 29, 2021
Call Us

$1,062

Get Our Price
Get Quote
Jul 29, 2021
Aug 12, 2021
Call Us

$1,062

Get Our Price
Get Quote
Aug 12, 2021
Aug 26, 2021
Call Us

$1,062

Get Our Price
Get Quote
Sep 09, 2021
Sep 23, 2021
Call Us

$1,062

Get Our Price
Get Quote
Sep 23, 2021
Oct 07, 2021
Call Us

$1,062

Get Our Price
Get Quote
Oct 14, 2021
Oct 28, 2021
Call Us

$1,102

Get Our Price
Get Quote
Oct 28, 2021
Nov 11, 2021
Call Us

$1,102

Get Our Price
Get Quote
Nov 11, 2021
Nov 25, 2021
Call Us

$1,102

Get Our Price
Get Quote
Nov 25, 2021
Dec 09, 2021
Call Us

$1,102

Get Our Price
Get Quote
Dec 16, 2021
Dec 30, 2021
Call Us

$1,143

Get Our Price
Get Quote
Dec 18, 2021
Jan 01, 2022
Call Us

$1,143

Get Our Price
Get Quote
Dec 23, 2021
Jan 06, 2022
Call Us

$1,143

Get Our Price
Get Quote
Dec 30, 2021
Jan 13, 2022
Call Us

$1,143

Get Our Price
Get Quote
Jan 03, 2022
Jan 17, 2022
Call Us

$1,145

Get Our Price
Get Quote
Jan 06, 2022
Jan 20, 2022
Call Us

$1,145

Get Our Price
Get Quote
Jan 17, 2022
Jan 31, 2022
Call Us

$1,145

Get Our Price
Get Quote
Feb 10, 2022
Feb 24, 2022
Call Us

$1,145

Get Our Price
Get Quote
Feb 14, 2022
Feb 28, 2022
Call Us

$1,145

Get Our Price
Get Quote
Feb 24, 2022
Mar 10, 2022
Call Us

$1,145

Get Our Price
Get Quote
Mar 10, 2022
Mar 24, 2022
Call Us

$1,145

Get Our Price
Get Quote
Mar 24, 2022
Apr 07, 2022
Call Us

$1,145

Get Our Price
Get Quote
Apr 07, 2022
Apr 21, 2022
Call Us

$1,145

Get Our Price
Get Quote
May 12, 2022
May 26, 2022
Call Us

$1,145

Get Our Price
Get Quote
May 26, 2022
Jun 09, 2022
Call Us

$1,145

Get Our Price
Get Quote
Jun 09, 2022
Jun 23, 2022
Call Us

$1,145

Get Our Price
Get Quote
Jun 23, 2022
Jul 07, 2022
Call Us

$1,145

Get Our Price
Get Quote
Jul 14, 2022
Jul 28, 2022
Call Us

$1,145

Get Our Price
Get Quote
Jul 28, 2022
Aug 11, 2022
Call Us

$1,145

Get Our Price
Get Quote
Aug 11, 2022
Aug 25, 2022
Call Us

$1,145

Get Our Price
Get Quote
Sep 08, 2022
Sep 22, 2022
Call Us

$1,145

Get Our Price
Get Quote
Sep 22, 2022
Oct 06, 2022
Call Us

$1,145

Get Our Price
Get Quote
Oct 13, 2022
Oct 27, 2022
Call Us

$1,145

Get Our Price
Get Quote
Oct 27, 2022
Nov 10, 2022
Call Us

$1,145

Get Our Price
Get Quote
Nov 10, 2022
Nov 24, 2022
Call Us

$1,145

Get Our Price
Get Quote
Nov 24, 2022
Dec 08, 2022
Call Us

$1,145

Get Our Price
Get Quote
Dec 15, 2022
Dec 29, 2022
Call Us

$1,145

Get Our Price
Get Quote
Dec 17, 2022
Dec 31, 2022
Call Us

$1,145

Get Our Price
Get Quote
Dec 22, 2022
Jan 05, 2023
Call Us

$1,145

Get Our Price
Get Quote
Dec 29, 2022
Jan 12, 2023
Call Us

$1,145

Get Our Price
Get Quote
Call or submit a quote for award-winning value and service!
Countries Visited
Cities Visited
Tour Itinerary
From Ho Chi Minh City to Hanoi, experience authentic Vietnam on this epic 15-day adventure from south to north. See how the locals live on the Mekong Delta, discover rich history in Hoi An and taste some awesome food in Hue. Drift on the emerald waters around Cat Ba Island by boat and go for a snoop through some of Hanoi's many markets. This is the make-em-jealous, full-on, once-in-a-lifetime trip up the coast of Vietnam you've been waiting for.
Day 1: Ho Chi Minh City
Xin chao! Welcome to Vietnam. Your adventure begins with a welcome meeting at 6 pm. Formerly known as Saigon, Ho Chi Minh City is characterised by a vast array of sights and sounds, and is a fascinating blend of old and new, East and West. The huge number of people rushing about their daily lives in Vietnam's largest city gives it a dynamic atmosphere and the French influence is evident in the excellent baguettes and coffee on offer. Much of city life takes place on the busy streets lined with shops, stalls and vendors, who have their wares spread out on the footpath and sell everything from soup to sophisticated electronics. After your welcome meeting, why not head into the Ben Thanh night market for a serving of pho or bun with your fellow travellers? It'd be crazy not to.
Day 2: Mekong Delta
Today, head down to the Mekong Delta and visit Ben Tre, where the humble coconut is everything and anything. The fertile delta is famous for its abundant harvests of tropical fruits and flowers as well as boating along the canals. On arrival, board a private boat and cruise along the maze of waterways to visit some cottage industries, where you'll have the chance to interact with locals of the area. In the evening, head to a guesthouse along the water and enjoy some time to relax.
Day 3: Mekong Delta - Overnight Train
Rising early to the sounds of the delta coming alive, enjoy a simple breakfast before boarding a boat and catching a bus back to Ho Chi Minh City. Enjoy some free time in Ho Chi Minh City to go check out a few more sites or some tasty street food snacks. Included for today is a local experience with uni students called Ca Phe Bet, which literally translates to 'coffee on the flat ground'. Enjoy this city ritual of coffee and a snack in one of the many parks. Late this evening, board an overnight train bound for Hoi An – a historical town on the central coast. Although conditions are basic, overnight trains are all part of the experience and the best way to travel long distances with the locals.
Day 4: Hoi An
Arrive in Danang in the early afternoon and travel by minibus to Hoi An (approximately 1 hour). Recently declared a World Heritage-listed site, Hoi An is being beautifully restored and preserved. Known as Faifo to early western traders, it was one of South East Asia's major international ports during the 17th, 18th and 19th centuries. Today, parts of Hoi An look exactly as they did more than a century ago and it retains the feel of centuries past. It's also a shopping mecca, with much to browse and buy. Choose from original paintings, hand-crafted woodwork, ceramics, embroidery, lanterns and more. Hoi An has also become famous for its tailoring, with a great variety of tailors and fabrics to choose from. Bring your favourite piece of clothing or even just a picture, and you'll be able to have it copied. Included today is a walking tour of the Old Town, which finishes with a delicious banh mi for lunch. Afterwards, you're free to explore Hoi An at your own pace.
Day 5: Hoi An
There's no better way to explore the peaceful countryside of Hoi An than by bike. For a true insight into country living in Vietnam, join your leader in cycling past green rice paddies, over small creeks and through rural villages. Later in the day, you may like to cycle or catch a local bus to Cua Dai Beach near Hoi An centre for an afternoon on the stunning South China Sea. If you would like to see more of the Vietnamese countryside and visit some temples, you could book yourself into a My Son Cham day trip. The best thing is, the afternoon is yours to do as you please.
Day 6: Hue
Departing Hoi An, cross the dramatic Hai Van Pass with a quick stop and photo opportunity before continuing on to Hue (approximately 5 hours including stops). As the former imperial capital of Vietnam, Hue holds the treasures of Vietnam's royal past and is a curious mix of bustling streets and tranquil settings. Your afternoon is free to go exploring. The Dong Ba market, which sells everything imaginable, is a great place to spend some time. See the Imperial Citadel, including a visit to the Forbidden Purple City, which was almost totally destroyed during the Vietnam War's Tet Offensive. In the evening, sit back, relax and enjoy a traditional dinner in a local home. These experiences off the beaten track are the ones you'll remember.
Day 7: Hue
You've got the whole day to explore stunning Hue. Head with your group on a street food experience in the morning to pick up a market breakfast and pass by all the local traders. Later on, you may like to take a dragon boat cruise on the Perfume River, and a visit to Thien Mu Pagoda, considered by many to be the unofficial symbol of Hue. It's an active Buddhist monastery with its origins dating back to 1601. One of the most poignant displays is a car belonging to a former monk who, in 1963, drove to Saigon and set himself alight to protest against the treatment of Buddhists by the South Vietnamese regime. Otherwise, you'll have the opportunity to embark on an optional motorbike tour, riding with a local guide around the sights.
Day 8: Phong Nha
Jump on the bus and make your way to Quang Tri. If you're keen, it's just a small fee to visit the Hien Luong Bridge and Vinh Moc tunnels. Hien Luong Bridge separated the North from the South during the war. The tunnels at Vinh Moc are an expansive network of limestone tunnels that locals used as shelters from the bombing. Travel onwards to Phong Nha and spend the afternoon exploring your surroundings. You'll stay just outside Phong Nha Town, which is near Phong Nha-Ke Bang National Park: an amazing landscape full of caves and underground rivers.
Day 9: Phong Nha – Overnight Train
Enjoy a free day to explore Phong Nha-Ke Bang National Park. At 400 million years old, this World Heritage site is the oldest karst mountain range in Asia. You might like to take a boat through Phong Nha Cave or check out the spectacular Paradise Cave. If caves aren't your thing, chat with your leader about a kayaking adventure in Suoi Mooc. Otherwise, chill out with a coffee and soak in the river views. Later today you'll head back to Dong Hoi and hop back on a sleeper train (approximately 8 pm to 6 am) – you'll be a pro at this by now.
Day 10: Hanoi
Arrive in Hanoi very early (approximately 5.30 am) and transfer to your hotel. Then leave your gear in a day room at the hotel. The capital of Vietnam is a charming city with over six million people. Hanoi is known for its beautiful lakes, shaded boulevards, lush public parks and its thriving Old Quarter, which is an architectural museum piece with blocks of ochre buildings retaining the air of a 1930s provincial French town. As Vietnam develops to compete with other South East Asian countries, the beautiful Hoan Kiem Lake reflects the contrasts of modern office buildings, old Buddhist temples and the tangle of ancient streets in its still surface. Take a walking tour of the Old Quarter with uni students accompanying the group. You'll visit the Dong Xuan market, the biggest wholesale market in northern Vietnam, stroll through the ancient '36 streets' where you can discover an amazing selection of shops selling everything from souvenirs to exquisite silk clothing and beautifully embroidered tablecloths. Your leader will point out some of the unique architecture around Hoan Kiem Lake and the myths and legends of the lake, and you'll have the chance to get a sweet Vietnamese coffee along the way.
Day 11: Da Bac
Leave Hanoi after breakfast around 8 am and make the drive to Sung village (approximately 4 hours). There are around 70 families living at Sung Village and the majority are Dzao 'Tien' people. Farming and forest plantation are their main source of income. Enjoy lunch at your homestay then take an introductory walk around the village. After getting to know the village better, take a short trek (2 kilometres) to the alluring Sung Cave and visit a 100-year-old tea plantation. The trek has some steep and slippery sections so please ensure you have suitable footwear for this activity. After a handicraft workshop, return to your homestay accommodation for a hot shower and dinner.
Day 12: Hanoi
This morning, have an opportunity to take in more of the Vietnamese highlands on a 10 kilometre (6.2 mi) trek from Sung Village to Da Bia. The first 8 km of the trek is mostly flat ground along well-worn buffalo tracks. The final 2 km gradually inclines and for a period of approximately 300 m there are some steps to climb, however the walk will be a steady relaxed pace. Keep an eye peeled for the monumental stone at the peak of Da Bia Mountain during the hike that takes us through the local villages, meeting people from the ethnic Muong tribe along the way. Stop for lunch at Da Bia before enjoying a scenic 1.5-hour boat cruise on Hoa Binh hydropower reservoir. Arrive at Thung Nai then board a bus transfer to Hanoi (approximately 2 hours). Arrive in Hanoi at around 6 pm. This evening is free for you to explore this delightful city. Why not relax with a bia hoi (freshly brewed draught beer) at one of the microbars in the Old Quarter?
Day 13: Cat Ba Island
Travel by bus and ferry (approximately 3.5 hours) to Cat Ba Island, the largest island in the World Heritage-listed Halong Bay area. With thousands of limestone islands and formations scattered around, this is one of those quintessential Vietnamese scenes where bright green water is dotted with traditional junk boats. Take a boat around Lan Ha Bay with an included rice paper roll making class while you cruise, then get up close and personal with this other-worldly landscape by kayak. There's also the option to have a net on the side of your kayak and help the locals' clean-up efforts. This initiative hopes to eliminate the rising amounts of plastic waste in the bay – you'll make the locals' day! Stay overnight on Cat Ba Island and enjoy a dip at one of the beaches and a cold beer.
Day 14: Hanoi
Wake up in paradise, maybe starting your morning with a refreshing swim. Ensure you soak up as much sun and sand as possible, as it's back to Hanoi later in the afternoon via ferry and bus. Being such a large city, Hanoi has so much to explore. This afternoon, you could head to the French Quarter to see the European influences on parts of Hanoi's architecture, or otherwise, get your gang together and stake out a roadside stall for some chargrilled meats or pho cuon (rice noodle rolls).
Day 15: Hanoi
There are no activities planned for the final day and you are able to depart the accommodation at any time. With so much to see and do in Hanoi, why not book an Urban Adventure? Citadels, Karsts & Cycle is our pick – a tour where you'll cycle through Hanoi and take a sneaky rowboat through caves and past rice paddies. See urbanadventures.com/destination/hanoi-tours for more information. If you would like to spend some more time in Hanoi, we'll be happy to book some additional accommodation for you (subject to availability).
Mekong Delta - Boat cruise with visits to local producers
Mekong Delta - Homestay
Ho Chi Minh City - Ca Phe Bet with locals
Hoi An - Old Town walking tour
Hoi An - Banh mi lunch
Hoi An - Countryside bicycle tour
Hue - Home cooked dinner
Hue - Street food breakfast
Hanoi - Vietnamese coffee
Hanoi - Old Quarter walking tour with local student guides
Da Bac - Homestay and activities
Da Bac - Sung Cave hike
Da Bac - Sung village to Da Bia hike
Da Bac - Hoa Binh Reservoir cruise
Cat Ba Island - Kayaking
Cat Ba Island - Boat trip on Lan Ha Bay
Cat Ba Island - Rice paper roll class
Meals
3 Breakfast(s) Included
5 Lunch(es) Included
3 Dinner(s) Included

Style: Basix

Guesthouse (1 nights), Homestay (2 nights), Hotel (9 nights), Overnight sleeper train (2 nights)
Question: How many suitcases can I take with me on my trip?
Each person is allowed one "check-in," and one "carry-on." Remember to take all valuables with you as "carry-on", because electronic equipment, cameras, laptops, jewelry, business documents and money are not covered by the airlines' liability, so always carry them aboard with you.
Question: Is Airfare Included in the Price?
Airfare from your point of origin to and from the trip is not included in the land price.
Similar Tours Other Travelers Liked
The trip was both both educational and exciting. I very much enjoyed the sights and culture.
The itinerary was just as I expected! The guide was very good as were the accomodations
Intrepid did such a great job. I never had to worry about where I was supposed to be and it felt so good not to worry about a thing but just to enjoy myself. Our guide was extremely knowledgeable about culture and history.
Taiwan people very friendly. Accommodation were centrally located and easily accessible. Did extra activities then in brochure which was greatly.
Larus our tour guide did an excellent job and was very attentive to our needs. He is very knowledgeable and has a great sense of humor.
Our guide Tarang chandola was exceptional. Courteous, knowledgeable, organized, polite, professional and went above and beyond taking care of our needs and requests offen anticipating what that might be. He made sure we all had the best possible time and offered suggestions to meet the needs of everyone on the tour. This made the trip even more enjoyable.
AffordableTours.com® does not itself offer, service or administer the Travel Packages, and the ultimate terms and conditions of any Travel Package made available via the Site Offerings (including the prices quoted in connection with same) will be determined by the applicable Third-Party Travel Service Provider. AffordableTours.com® does not represent or warrant that the Price Quotes are accurate, up-to-date or free of error, or that same will be honored by the applicable Third-Party Travel Service Providers. All Price Quotes, Travel Package availability, Travel Package details/itinerary and other Content are subject to change without notice. All travel details published by and through the Site Offerings should be confirmed directly with the applicable Third-Party Travel Service Provider prior to making any travel plans. Reliance on any information made available to you by and through the Site Offerings is solely at your own risk.
How It Works
Vacationing has never been easier or cheaper with the help of a dedicated travel consultant from AffordableTours.com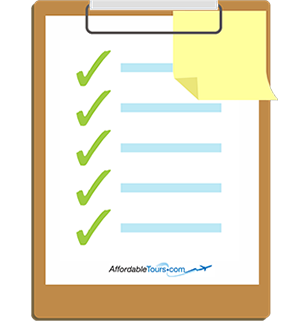 Find your perfect trip on our website and simply request a free quote. Need to speak to a live person? Call us 7 days a week at 1-800-935-2620. No robots here!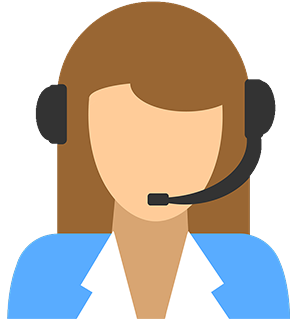 Your personal travel consultant will reach out and be your point of contact for your entire travel experience from start to finish. Did we mention you'll be working with an award winning team? Sweet!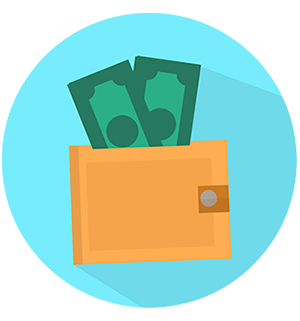 Because we're one of the largest sellers of travel, we're able to give you a discount on your vacation package. No one beats our prices!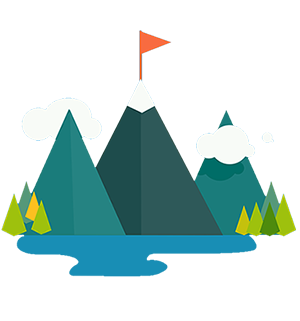 Knowing you got the best deal, all that's left is for you to pack your bags and enjoy your vacation!