Call or submit a quote for award-winning value and service!
Tour Itinerary
Hang in Casablanca before a homestay in Moulay Idriss, see lots of cool old stuff in Fes, head on to Midelt, Mergouza and Erg Chebbi for walking, ruins and a sunset camel ride. Ride on through the dunes to Todra Gorge, before visiting Dades Valley, Ait Benhaddou and sexy Marrakech, but don't get too caught up on the thought that Morocco is all about big markets and bigger deserts. The country's beaches are pretty excellent too. Taghazout is a magnet for Moroccan chillers thanks to some A-grade Atlantic surf and other seaside towns like Essaouria are made for kicking back and soaking up some cultural vibes. Country living out by the Atlas Mountains can't be beat either - the people are nice, the views are pretty and you ain't gonna find food this good in a restaurant. Take the time to check out some of Morocco's best secrets - from the mountains to the beaches.
Day 1: Casablanca
Salaam Alaikum! Welcome to Morocco. There are no planned activities until your important welcome meeting at 6 pm, if you have time, why not check out Casablanca, the largest city in Morocco. Modelled after Marseille in France, this bustling port city has an eclectic architectural style, a fusion of Art Deco French colonial buildings and Mauresque (Moorish) government institutions, all mixed in with an old medina and the city's modern-day landmark - the Hassan II Mosque. A great way to spend the day exploring Casablanca is to wander around the Old Medina and city walls, then jump in a taxi and visit the Quartier Habous – the new medina full of shaded squares, narrow streets and lined with arcades that lead from one souk to another. This is a great place to enjoy a Moroccan coffee and maybe start working on your bargaining skills. Finish the day with a walk along the Corniche and watch the locals enjoy games of football on the beach during sunset.
Day 2: Meknes - Moulay Idriss
After breakfast, opt to take a guided tour of the Hassan II Mosque (entrance fee payable locally), more than 6000 craftsmen joined forces to build this beauty in 1993 and it's one of the few mosques in Morocco that foreigners can enter. Later, head to the station and take a local train to Meknes (approximately 2.5 hours). Upon arrival, jump into a taxi and head to the whitewashed village of Moulay Idriss – one of Morocco's most important pilgrimage sites – then go for a stroll and indulge in a rather unusual lunch, a camel burger! However if you're a vegetarian, don't get the hump, there'll be an option for you too! You'll also witness a demonstration on the art of mint tea making, this sweet treat is a Moroccan speciality. Tonight, you'll get to hang out with a local family, an experience that's only been allowed for foreigners since 2005 – lucky you!
Day 3: Fes
Take a drive through the beautiful rolling hills to Volubilis and enjoy a guided tour of these epic Roman ruins, then head back to Meknes where you'll meet your local guide for a tour of the city. Continue your adventure on a 40-minute train ride to the spiritual and cultural heart of Morocco – Fes. Vibrant, noisy, fascinating and overwhelming, Fes is a visual and pungent feast for the senses, with a huge, well-preserved medieval old city that's the mother of all medinas. Later this afternoon, enjoy some free time and perhaps check out the exquisite carvings and magnificent tile work at the Medersa el Attarine, near the spice and perfume market. Alternatively, Fes is a shopping heaven for those who want to pick up a souvenir or two.
Day 4: Fes
Getting lost in Fes is half the fun, but you'll have an orientation walk this morning to help you get the lay of the land first. Join your leader on an orientation walk through this vibrant labyrinth of a city – alive with the many craftsmen, markets, ceramics and beautiful mosques – navigate the narrow alleyways and visit the famous tannery and stop for that iconic view, overlooking the dye pits. Look out for the Medersa Bou Inania, one of the city's coolest buildings, which has recently been restored and is now open to visitors. You'll also visit the famous tannery and its dye pits (which are also famously stinky, but well worth it), and a ceramic factory where you can see potters working in the traditional way. Today is going to be a big day so remember to keep hydrated and pack some snacks.
Day 5: Midelt
Travelling south across a bunch of different terrain, you will reach Ifrane, a mountain resort established by the French in 1929. After a short stop for coffee and an opportunity to stretch your legs, continue further south. Then, at Midelt, the landscape opens up, giving way to awesome views to the west. This smallish market town, surrounded by farmland and orchards, is a great spot to break up the journey to the Sahara and watch Berber people and nomadic shepherds tending to their flocks. You'll stay the night in Midelt, but first it's time for a nice walk (approximately 2 hours). The walk itself is easy, but the terrain is rocky in some places, so wear your best walking shoes. Bring your camera too, or your smartphone or whatever, because the scenes along the way might just make your Instagram account explode.
Day 6: Merzouga
On your way to the desert, stop at the spectacular narrow defile known as the Gorges du Ziz, then head to the large town of Errachidia. Pass the 500-year-old ruins of the Ksar of Meski then descend into the Ziz Valley, a particularly fertile region that produces figs, olives, dates and tamarisk – a fruit grown for its tannin and used in the curing of leather skins. Arrive in Merzouga, drop your main bags off at your overnight camp set next to a simple Auberge (that's French for 'inn'), and get ready for a once in a lifetime experience – a desert full of awesome. The mode of transport? Camel, of course! Brace yourself for one heck of a sunset, this ride takes about an hour, going through the vast expanse of sand, and loops back to your private camp for an overnight stay. In the camp, you'll have a thin mattress, blankets and sheets (and auberge not so far away, just in case). Make sure you bring a sleeping sheet if it's winter (you'd be surprised how cold it can get). Sleep under the stars and have a mind-blowing 'I am so far from home' kinda moment.
Day 7: Todra Gorge - Dades Valley
Hope you remembered to set your alarm this morning, because you'll be getting up well before the crack of dawn. Climb to a nearby sand dune to catch the sunrise and experience the amazing interplay of light as the Sahara slowly comes alive all around you. Head back for brekkie, collect the rest of your gear together and then travel west to Todra. Come across a bright tablecloth of green that might seem so out of place you'll think you are dreaming! This valley is pretty impressive, with all its palm trees and mud-brick villages. Arrive at your hotel at the top of the valley, then take a hike into the gorge where sheer cliffs rise more than 1000 feet above you.
Day 8: Ait Benhaddou
From Todra Gorge, travel along the 'Road of 1,000 Kasbahs' and enjoy views of the Dades Gorge. You'll also travel past the town of Skoura, home to the beautiful little houses rising like a mirage beyond a dry riverbed. Quench your thirst with a mouthful of mint tea (the best in the world!) at Tawesna teahouse, whose profits are devoted to the projects of the women association in the village. This experience is more than just a cuppa – it's about discovering a culture, sharing a true moment, contributing to women economic inclusion and sustainable tourism – be part of it! Continue to the medieval mud-brick town of Ait Benhaddou, which is at its best in the late afternoon sun. If you wonder why Ait Benhaddou looks familiar to you, it's probably because you've seen it before! Perhaps not live, but certainly on the silver screen, Gladiator, Game of Thrones and loads of other movies and shows were filmed in this kasbah. Explore the many old streets and climb up to the fortress for a superb view over the old town, you can also (for a small fee) enter one of the most interesting of the old houses and climb up to the turrets for a view over the river. You'll spend the night just outside the walls.
Day 9: High Atlas - Marrakech
Continue west, passing a few Berber villages before stopping for a delicious BBQ lunch in one of the many townships along the way – enjoy mouth-watering kefta (Moroccan minced meat) and veggies served with fresh bread, then perhaps wash it all down with a local drink. Continue to take in those epic views of the countryside as you wind your way up towards Tizi 'n Tichka. This is a whopping 2260 metres above sea level, the highest pass on the road to Marrakech and often gets covered with snow during the winter months. Leaving the Atlas behind, you'll descend into the plains that surround Marrakech and arrive late afternoon. With no planned activities after your arrival, this is a good chance to get lost in the fun of Jemaa el Fna, where there are so many fire eaters, fortune tellers, actors, musicians and hawkers vying for your attention.
Day 10: Marrakech
Marrakech is a feast for the senses, and this morning you'll get to venture out for some street food tasting in the maze of Marrakech streets with a local expert. Set off on a tour of the old medina, through the bustling souks that are the lifeblood flowing through the city and sample some sweet and savoury specialities. Explore tranquil courtyards filled with the scent of orange blossom, and the many salons and chambers that make up Bahia Palace. This splendid mansion was built in 1866 for a former slave who rose to power within thegovernment. The rest of a day is free so where to do you start? Why not head out on a cycling trip, go quad-biking or indulge in a Luxury Hammam and Spa, the options are endless. You might also like to visit Le Jardin Secret, a traditional medina garden revived for the 21st century. Once owned by a powerful local chief U-Bihi – who was poisoned by Mohammed IV – this historic riad has one of the most beautiful courtyards in Marrakech, combining exotic and traditional Islamic gardens that are fed by original khettara, an underground irrigation system. In the evening you will no doubt be drawn back to Jemaa el Fna for a final night out.
Day 11: Marrakech
Today is another free day in Marrakech. As this magical city has so much to offer, it would be impossible to get bored. Also, take a chance to meet new members of the group, who maybe joining for the coming part of the trip. There will be a welcome meeting at 6pm today, feel free to join, you'll surely learn what to expect in next few days.
Day 12: Aroumd
Wake up in the morning and catch a private bus towards Imlil, high in the Atlas Mountains. Calling dibs on a window seat would be a smart move – the 2-hour drive has got some great scenery to keep you occupied on the way. Arrive at Imlil, a little village that sits at the foot of North Africa's highest peak, and then lace-up for a scenic 1-hour trek to the mountain village of Aroumd. Tonight's stay is in a family-run gite (mountain home) in the village. The Berbers are famous for their hospitality, so make the most of this opportunity to sit down, break bread with the family and learn about their culture. Facilities at the homestay are shared (both the bathroom and sleeping arrangements) but they're cosy, comfortable and offer an experience that is so much more memorable than a hotel.
Day 13: Taghazout
Today you'll hit up some of Morocco's best swimming spots so make sure you have your swimsuit ready. First stop is the appropriately named Paradise Valley, full of gorgeous waterholes and canyons. You'll have time to explore the rocky landscapes dotted with palms, and take a dip in one of the pools cascading through the canyons and ridges. Afterwards, roll on to Taghazout. This scruffy little roadside village might not look like it at first, but it's quickly gained a solid reputation as an awesome surfing location. The waters stay warm all year round and the surf is top notch for both rookies and adept wave riders.
Day 14: Taghazout
Kick off your adventures in the sleepy town of Taghazout with an early morning yoga session, helping you relieve any tension before diving into the water later in the day. Oddly enough, the skills required for both surfing and yoga complement each other through the principles of concentration, flexibility and balance. Good news if you were planning on hitting the waves! Don't know how to ride a board? No stress. Today includes a half-day surfing course to teach you the basics, and if you already know the ropes, there's always time to refine your skills in unfamiliar territory.
Day 15: Essaouira
You've got a free morning in Taghazout, so why not get up early and watch the sunrise, then take an optional yoga class or rent out a surfboard and hit the waves? Later, travel to the old fishing town of Essaouira, a place where the medina brushes up against the Atlantic Ocean. Its name translates to 'little picture', and you'll be definitely taking many around the place. This artists' town has attracted visitors like Orson Welles and Jimi Hendrix who (according to local legend) spent a lot of time here in the 1960s. Join your local leader for a walking tour through the old medina, Jewish mellah, port and by the skala (sea wall). Spend the night in a restored riad: a traditional nobleman's house unique to Morocco. The riad is beautifully designed and decorated in traditional Moroccan style; cosy yet historical. It's definitely one of the more stylish stays of your Moroccan adventure.
Day 16: Essaouira
Yesterday's walking tour should have you well up to scratch with the ins and outs of Essaouira, so go crazy! Get exploring. Have a traditional Moroccan breakfast, and maybe wander to the harbour and its adjacent fish markets (you'll have to get up early if you want to see the daily catch being auctioned off). There's also an opportunity to head back to the markets for a fresh seafood lunch. You might like to check out the Sidi Mohammed Ben Abdallah Museum for a look at its collection of artefacts, woodwork, carpets and stringed instruments. If you feel like something more active, why not go on an optional horse ride along the sandy beaches of Atlantic Ocean?
Day 17: Marrakech
Chat with locals on a shared bus ride back to Marrakech (approximately 3 hours). Once the bus arrives back in the city, enjoy some time to explore, and later on, tuck in for an awesome included dinner experience at the famous Djemaa el-Fna. This square is known as one of the largest public spaces in the world – it's truly an unmissable part of the city. As soon as the sun sets, the square comes to life with henna-painters, performers and storytellers sharing the space with street food stands. The smells of the stalls will lure you in and the tastes will keep you coming back for more. There's all sorts of excellent pastries, fresh juices, teas and even bowls of snail soup to go round if you're feeling a little adventurous! As the evening closes in, enjoy the company of your new friends over some of these delicious snacks as you overlook the bustling hub.
Day 18: Marrakech
Your epic adventure comes to an end today. Check-out time is usually around midday and you are free to leave at any time. Additional accommodation can be pre-booked if you wish to spend more time exploring here. If you'd like to explore more of Marrakech, you can also join one of our in-depth Urban Adventure tours. Just visit www.urbanadventures.com.
Mint tea making demo
Camel burger lunch
Meknes - Guided Walking Tour
Volubilis - Guided tour
Fes - Medina Walking Tour with Local Guide
Fes - Medersa Attarine Visit
Berber village walk
Sahara Desert - Camel ride
Ait Benhaddou - Tea at Tawsna association
Marrakech - Guided Walking Tour
Street food tasting in Old Medina
Marrakech - Palais Bahia
Scenic walk to Imlil
Paradise Valley visit
Surfing class
1 hour yoga class
Essaouira - Walking Tour with Local Guide
Meals
17 Breakfast(s) Included
4 Lunch(es) Included
5 Dinner(s) Included

Style: Basix

Desert camp (1 night), Guesthouse (1 night), Budget Hotel (11 nights), mountain gite (1 night), surf camp (2 nights), homestay (1 night)
Question: How many suitcases can I take with me on my trip?
Each person is allowed one "check-in," and one "carry-on." Remember to take all valuables with you as "carry-on", because electronic equipment, cameras, laptops, jewelry, business documents and money are not covered by the airlines' liability, so always carry them aboard with you.
Question: Is Airfare Included in the Price?
Airfare from your point of origin to and from the trip is not included in the land price.
Similar Tours Other Travelers Liked
The trip was both both educational and exciting. I very much enjoyed the sights and culture.
The itinerary was just as I expected! The guide was very good as were the accomodations
Intrepid did such a great job. I never had to worry about where I was supposed to be and it felt so good not to worry about a thing but just to enjoy myself. Our guide was extremely knowledgeable about culture and history.
Taiwan people very friendly. Accommodation were centrally located and easily accessible. Did extra activities then in brochure which was greatly.
Larus our tour guide did an excellent job and was very attentive to our needs. He is very knowledgeable and has a great sense of humor.
Our guide Tarang chandola was exceptional. Courteous, knowledgeable, organized, polite, professional and went above and beyond taking care of our needs and requests offen anticipating what that might be. He made sure we all had the best possible time and offered suggestions to meet the needs of everyone on the tour. This made the trip even more enjoyable.
AffordableTours.com® does not itself offer, service or administer the Travel Packages, and the ultimate terms and conditions of any Travel Package made available via the Site Offerings (including the prices quoted in connection with same) will be determined by the applicable Third-Party Travel Service Provider. AffordableTours.com® does not represent or warrant that the Price Quotes are accurate, up-to-date or free of error, or that same will be honored by the applicable Third-Party Travel Service Providers. All Price Quotes, Travel Package availability, Travel Package details/itinerary and other Content are subject to change without notice. All travel details published by and through the Site Offerings should be confirmed directly with the applicable Third-Party Travel Service Provider prior to making any travel plans. Reliance on any information made available to you by and through the Site Offerings is solely at your own risk.
How It Works
Vacationing has never been easier or cheaper with the help of a dedicated travel consultant from AffordableTours.com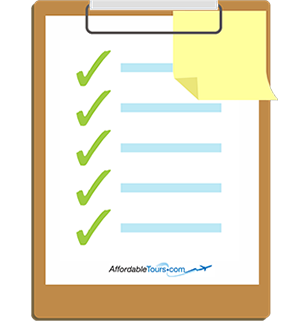 Find your perfect trip on our website and simply request a free quote. Need to speak to a live person? Call us 7 days a week at 1-800-935-2620. No robots here!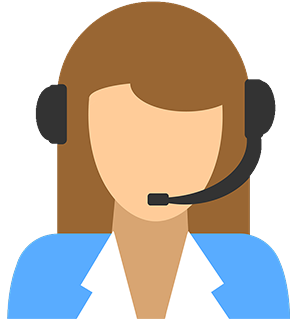 Your personal travel consultant will reach out and be your point of contact for your entire travel experience from start to finish. Did we mention you'll be working with an award winning team? Sweet!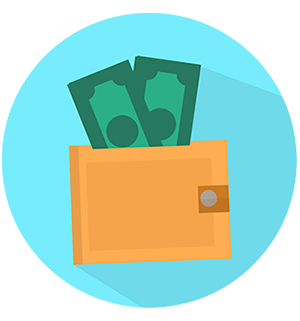 Because we're one of the largest sellers of travel, we're able to give you a discount on your vacation package. No one beats our prices!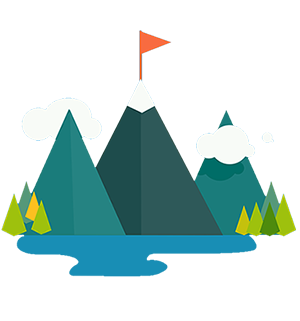 Knowing you got the best deal, all that's left is for you to pack your bags and enjoy your vacation!