Dates & Prices
Start Date
End Date
Offers
Brochure
Land Price
Our Price
Quote
Nov 04, 2020
Nov 18, 2020
Call Us

$3,085

Get Our Price
Get Quote
Nov 07, 2020
Nov 21, 2020
Call Us

$3,235

Get Our Price
Get Quote
Nov 14, 2020
Nov 28, 2020
Call Us

$3,085

Get Our Price
Get Quote
Nov 16, 2020
Nov 30, 2020
Call Us

$3,085

Get Our Price
Get Quote
Nov 25, 2020
Dec 09, 2020
Call Us

$2,965

Get Our Price
Get Quote
Nov 30, 2020
Dec 14, 2020
Call Us

$2,965

Get Our Price
Get Quote
Dec 14, 2020
Dec 28, 2020
Call Us

$2,965

Get Our Price
Get Quote
Dec 16, 2020
Dec 30, 2020
Call Us

$2,905

Get Our Price
Get Quote
Dec 19, 2020
Jan 02, 2021
Call Us

$2,965

Get Our Price
Get Quote
Dec 21, 2020
Jan 04, 2021
Call Us

$2,965

Get Our Price
Get Quote
Dec 26, 2020
Jan 09, 2021
Call Us

$3,085

Get Our Price
Get Quote
Dec 30, 2020
Jan 13, 2021
Call Us

$3,115

Get Our Price
Get Quote
Jan 02, 2021
Jan 16, 2021
Call Us

$2,835

Get Our Price
Get Quote
Jan 04, 2021
Jan 18, 2021
Call Us

$2,835

Get Our Price
Get Quote
Jan 18, 2021
Feb 01, 2021
Call Us

$2,805

Get Our Price
Get Quote
Jan 25, 2021
Feb 08, 2021
Call Us

$2,805

Get Our Price
Get Quote
Feb 01, 2021
Feb 15, 2021
Call Us

$2,805

Get Our Price
Get Quote
Feb 10, 2021
Feb 24, 2021
Call Us

$2,805

Get Our Price
Get Quote
Feb 13, 2021
Feb 27, 2021
Call Us

$2,805

Get Our Price
Get Quote
Feb 22, 2021
Mar 08, 2021
Call Us

$2,805

Get Our Price
Get Quote
Feb 27, 2021
Mar 13, 2021
Call Us

$2,805

Get Our Price
Get Quote
Mar 01, 2021
Mar 15, 2021
Call Us

$2,915

Get Our Price
Get Quote
Mar 03, 2021
Mar 17, 2021
Call Us

$2,915

Get Our Price
Get Quote
Mar 08, 2021
Mar 22, 2021
Call Us

$2,915

Get Our Price
Get Quote
Mar 10, 2021
Mar 24, 2021
Call Us

$2,915

Get Our Price
Get Quote
Mar 15, 2021
Mar 29, 2021
Call Us

$2,915

Get Our Price
Get Quote
Mar 20, 2021
Apr 03, 2021
Call Us

$3,030

Get Our Price
Get Quote
Mar 24, 2021
Apr 07, 2021
Call Us

$3,030

Get Our Price
Get Quote
Mar 27, 2021
Apr 10, 2021
Call Us

$3,030

Get Our Price
Get Quote
Mar 29, 2021
Apr 12, 2021
Call Us

$3,030

Get Our Price
Get Quote
Apr 03, 2021
Apr 17, 2021
Call Us

$3,030

Get Our Price
Get Quote
Apr 05, 2021
Apr 19, 2021
Call Us

$3,030

Get Our Price
Get Quote
Apr 10, 2021
Apr 24, 2021
Call Us

$3,030

Get Our Price
Get Quote
Apr 14, 2021
Apr 28, 2021
Call Us

$3,030

Get Our Price
Get Quote
Apr 17, 2021
May 01, 2021
Call Us

$3,030

Get Our Price
Get Quote
Apr 26, 2021
May 10, 2021
Call Us

$3,030

Get Our Price
Get Quote
Apr 28, 2021
May 12, 2021
Call Us

$3,030

Get Our Price
Get Quote
May 01, 2021
May 15, 2021
Call Us

$3,030

Get Our Price
Get Quote
May 05, 2021
May 19, 2021
Call Us

$3,030

Get Our Price
Get Quote
May 08, 2021
May 22, 2021
Call Us

$3,030

Get Our Price
Get Quote
May 15, 2021
May 29, 2021
Call Us

$3,030

Get Our Price
Get Quote
May 17, 2021
May 31, 2021
Call Us

$2,915

Get Our Price
Get Quote
May 19, 2021
Jun 02, 2021
Call Us

$2,915

Get Our Price
Get Quote
May 22, 2021
Jun 05, 2021
Call Us

$2,915

Get Our Price
Get Quote
May 31, 2021
Jun 14, 2021
Call Us

$2,915

Get Our Price
Get Quote
Jun 05, 2021
Jun 19, 2021
Call Us

$2,915

Get Our Price
Get Quote
Jun 09, 2021
Jun 23, 2021
Call Us

$2,915

Get Our Price
Get Quote
Jun 12, 2021
Jun 26, 2021
Call Us

$2,915

Get Our Price
Get Quote
Jun 14, 2021
Jun 28, 2021
Call Us

$2,915

Get Our Price
Get Quote
Jun 19, 2021
Jul 03, 2021
Call Us

$2,915

Get Our Price
Get Quote
Jun 21, 2021
Jul 05, 2021
Call Us

$2,915

Get Our Price
Get Quote
Jun 26, 2021
Jul 10, 2021
Call Us

$2,915

Get Our Price
Get Quote
Jun 28, 2021
Jul 12, 2021
Call Us

$2,805

Get Our Price
Get Quote
Jul 03, 2021
Jul 17, 2021
Call Us

$2,805

Get Our Price
Get Quote
Jul 10, 2021
Jul 24, 2021
Call Us

$2,805

Get Our Price
Get Quote
Jul 17, 2021
Jul 31, 2021
Call Us

$2,805

Get Our Price
Get Quote
Jul 24, 2021
Aug 07, 2021
Call Us

$2,805

Get Our Price
Get Quote
Jul 31, 2021
Aug 14, 2021
Call Us

$2,805

Get Our Price
Get Quote
Aug 07, 2021
Aug 21, 2021
Call Us

$2,805

Get Our Price
Get Quote
Aug 11, 2021
Aug 25, 2021
Call Us

$2,805

Get Our Price
Get Quote
Aug 14, 2021
Aug 28, 2021
Call Us

$2,805

Get Our Price
Get Quote
Aug 16, 2021
Aug 30, 2021
Call Us

$2,805

Get Our Price
Get Quote
Aug 21, 2021
Sep 04, 2021
Call Us

$2,915

Get Our Price
Get Quote
Aug 23, 2021
Sep 06, 2021
Call Us

$2,915

Get Our Price
Get Quote
Aug 25, 2021
Sep 08, 2021
Call Us

$2,915

Get Our Price
Get Quote
Aug 28, 2021
Sep 11, 2021
Call Us

$2,915

Get Our Price
Get Quote
Aug 30, 2021
Sep 13, 2021
Call Us

$2,915

Get Our Price
Get Quote
Sep 04, 2021
Sep 18, 2021
Call Us

$3,030

Get Our Price
Get Quote
Sep 06, 2021
Sep 20, 2021
Call Us

$3,030

Get Our Price
Get Quote
Sep 08, 2021
Sep 22, 2021
Call Us

$3,030

Get Our Price
Get Quote
Sep 11, 2021
Sep 25, 2021
Call Us

$3,030

Get Our Price
Get Quote
Sep 13, 2021
Sep 27, 2021
Call Us

$3,030

Get Our Price
Get Quote
Sep 15, 2021
Sep 29, 2021
Call Us

$3,030

Get Our Price
Get Quote
Sep 20, 2021
Oct 04, 2021
Call Us

$3,030

Get Our Price
Get Quote
Sep 22, 2021
Oct 06, 2021
Call Us

$3,030

Get Our Price
Get Quote
Sep 25, 2021
Oct 09, 2021
Call Us

$3,030

Get Our Price
Get Quote
Sep 27, 2021
Oct 11, 2021
Call Us

$3,030

Get Our Price
Get Quote
Sep 29, 2021
Oct 13, 2021
Call Us

$3,030

Get Our Price
Get Quote
Oct 02, 2021
Oct 16, 2021
Call Us

$3,030

Get Our Price
Get Quote
Oct 06, 2021
Oct 20, 2021
Call Us

$3,030

Get Our Price
Get Quote
Oct 09, 2021
Oct 23, 2021
Call Us

$3,030

Get Our Price
Get Quote
Oct 13, 2021
Oct 27, 2021
Call Us

$2,915

Get Our Price
Get Quote
Oct 16, 2021
Oct 30, 2021
Call Us

$2,915

Get Our Price
Get Quote
Oct 18, 2021
Nov 01, 2021
Call Us

$2,915

Get Our Price
Get Quote
Oct 23, 2021
Nov 06, 2021
Call Us

$2,915

Get Our Price
Get Quote
Oct 27, 2021
Nov 10, 2021
Call Us

$2,915

Get Our Price
Get Quote
Oct 30, 2021
Nov 13, 2021
Call Us

$2,915

Get Our Price
Get Quote
Nov 01, 2021
Nov 15, 2021
Call Us

$2,915

Get Our Price
Get Quote
Nov 03, 2021
Nov 17, 2021
Call Us

$2,915

Get Our Price
Get Quote
Nov 08, 2021
Nov 22, 2021
Call Us

$2,915

Get Our Price
Get Quote
Nov 10, 2021
Nov 24, 2021
Call Us

$2,805

Get Our Price
Get Quote
Nov 13, 2021
Nov 27, 2021
Call Us

$2,805

Get Our Price
Get Quote
Nov 15, 2021
Nov 29, 2021
Call Us

$2,805

Get Our Price
Get Quote
Nov 22, 2021
Dec 06, 2021
Call Us

$2,805

Get Our Price
Get Quote
Nov 24, 2021
Dec 08, 2021
Call Us

$2,805

Get Our Price
Get Quote
Nov 29, 2021
Dec 13, 2021
Call Us

$2,805

Get Our Price
Get Quote
Dec 04, 2021
Dec 18, 2021
Call Us

$2,805

Get Our Price
Get Quote
Dec 06, 2021
Dec 20, 2021
Call Us

$2,805

Get Our Price
Get Quote
Dec 11, 2021
Dec 25, 2021
Call Us

$2,805

Get Our Price
Get Quote
Dec 18, 2021
Jan 01, 2022
Call Us

$2,805

Get Our Price
Get Quote
Dec 20, 2021
Jan 03, 2022
Call Us

$2,805

Get Our Price
Get Quote
Dec 25, 2021
Jan 08, 2022
Call Us

$2,805

Get Our Price
Get Quote
Jan 01, 2022
Jan 15, 2022
Call Us

$2,805

Get Our Price
Get Quote
Jan 03, 2022
Jan 09, 2022
Call Us

$2,805

Get Our Price
Get Quote
Jan 08, 2022
Jan 22, 2022
Call Us

$2,805

Get Our Price
Get Quote
Jan 10, 2022
Jan 16, 2022
Call Us

$2,805

Get Our Price
Get Quote
Jan 15, 2022
Jan 29, 2022
Call Us

$2,805

Get Our Price
Get Quote
Jan 22, 2022
Feb 05, 2022
Call Us

$2,805

Get Our Price
Get Quote
Jan 29, 2022
Feb 12, 2022
Call Us

$2,805

Get Our Price
Get Quote
Feb 05, 2022
Feb 19, 2022
Call Us

$2,805

Get Our Price
Get Quote
Feb 12, 2022
Feb 26, 2022
Call Us

$2,805

Get Our Price
Get Quote
Feb 19, 2022
Mar 05, 2022
Call Us

$2,805

Get Our Price
Get Quote
Feb 21, 2022
Mar 07, 2022
Call Us

$2,805

Get Our Price
Get Quote
Feb 26, 2022
Mar 12, 2022
Call Us

$2,805

Get Our Price
Get Quote
Feb 28, 2022
Mar 06, 2022
Call Us

$2,805

Get Our Price
Get Quote
Mar 05, 2022
Mar 19, 2022
Call Us

$2,805

Get Our Price
Get Quote
Mar 07, 2022
Mar 21, 2022
Call Us

$2,805

Get Our Price
Get Quote
Mar 12, 2022
Mar 26, 2022
Call Us

$2,805

Get Our Price
Get Quote
Mar 14, 2022
Mar 20, 2022
Call Us

$2,805

Get Our Price
Get Quote
Mar 19, 2022
Apr 02, 2022
Call Us

$2,805

Get Our Price
Get Quote
Mar 21, 2022
Mar 27, 2022
Call Us

$2,805

Get Our Price
Get Quote
Mar 26, 2022
Apr 09, 2022
Call Us

$2,805

Get Our Price
Get Quote
Mar 28, 2022
Apr 03, 2022
Call Us

$2,805

Get Our Price
Get Quote
Apr 02, 2022
Apr 16, 2022
Call Us

$2,805

Get Our Price
Get Quote
Apr 04, 2022
Apr 10, 2022
Call Us

$2,805

Get Our Price
Get Quote
Apr 09, 2022
Apr 23, 2022
Call Us

$2,805

Get Our Price
Get Quote
Apr 11, 2022
Apr 17, 2022
Call Us

$2,805

Get Our Price
Get Quote
Apr 16, 2022
Apr 30, 2022
Call Us

$2,805

Get Our Price
Get Quote
Apr 18, 2022
Apr 24, 2022
Call Us

$2,805

Get Our Price
Get Quote
Apr 30, 2022
May 14, 2022
Call Us

$2,805

Get Our Price
Get Quote
May 02, 2022
May 08, 2022
Call Us

$2,805

Get Our Price
Get Quote
May 09, 2022
May 23, 2022
Call Us

$2,805

Get Our Price
Get Quote
May 14, 2022
May 28, 2022
Call Us

$2,805

Get Our Price
Get Quote
May 16, 2022
May 22, 2022
Call Us

$2,805

Get Our Price
Get Quote
May 21, 2022
Jun 04, 2022
Call Us

$2,805

Get Our Price
Get Quote
May 30, 2022
Jun 13, 2022
Call Us

$2,805

Get Our Price
Get Quote
Jun 04, 2022
Jun 18, 2022
Call Us

$2,805

Get Our Price
Get Quote
Jun 06, 2022
Jun 20, 2022
Call Us

$2,805

Get Our Price
Get Quote
Jun 11, 2022
Jun 25, 2022
Call Us

$2,805

Get Our Price
Get Quote
Jun 13, 2022
Jun 19, 2022
Call Us

$2,805

Get Our Price
Get Quote
Jun 18, 2022
Jul 02, 2022
Call Us

$2,805

Get Our Price
Get Quote
Jun 20, 2022
Jul 04, 2022
Call Us

$2,805

Get Our Price
Get Quote
Jun 25, 2022
Jul 09, 2022
Call Us

$2,805

Get Our Price
Get Quote
Jun 27, 2022
Jul 11, 2022
Call Us

$2,805

Get Our Price
Get Quote
Jul 04, 2022
Jul 10, 2022
Call Us

$2,805

Get Our Price
Get Quote
Jul 09, 2022
Jul 23, 2022
Call Us

$2,805

Get Our Price
Get Quote
Jul 11, 2022
Jul 25, 2022
Call Us

$2,805

Get Our Price
Get Quote
Jul 16, 2022
Jul 30, 2022
Call Us

$2,805

Get Our Price
Get Quote
Jul 18, 2022
Aug 01, 2022
Call Us

$2,805

Get Our Price
Get Quote
Jul 23, 2022
Aug 06, 2022
Call Us

$2,805

Get Our Price
Get Quote
Jul 25, 2022
Aug 08, 2022
Call Us

$2,805

Get Our Price
Get Quote
Jul 30, 2022
Aug 13, 2022
Call Us

$2,805

Get Our Price
Get Quote
Aug 01, 2022
Aug 15, 2022
Call Us

$2,805

Get Our Price
Get Quote
Aug 06, 2022
Aug 20, 2022
Call Us

$2,805

Get Our Price
Get Quote
Aug 08, 2022
Aug 22, 2022
Call Us

$2,805

Get Our Price
Get Quote
Aug 13, 2022
Aug 27, 2022
Call Us

$2,805

Get Our Price
Get Quote
Aug 15, 2022
Aug 29, 2022
Call Us

$2,805

Get Our Price
Get Quote
Aug 20, 2022
Sep 03, 2022
Call Us

$2,805

Get Our Price
Get Quote
Aug 22, 2022
Sep 05, 2022
Call Us

$2,805

Get Our Price
Get Quote
Aug 27, 2022
Sep 10, 2022
Call Us

$2,805

Get Our Price
Get Quote
Aug 29, 2022
Sep 04, 2022
Call Us

$2,805

Get Our Price
Get Quote
Sep 03, 2022
Sep 17, 2022
Call Us

$2,805

Get Our Price
Get Quote
Sep 05, 2022
Sep 19, 2022
Call Us

$2,805

Get Our Price
Get Quote
Sep 10, 2022
Sep 24, 2022
Call Us

$2,805

Get Our Price
Get Quote
Sep 12, 2022
Sep 18, 2022
Call Us

$2,805

Get Our Price
Get Quote
Sep 17, 2022
Oct 01, 2022
Call Us

$2,805

Get Our Price
Get Quote
Sep 24, 2022
Oct 08, 2022
Call Us

$2,805

Get Our Price
Get Quote
Sep 26, 2022
Oct 02, 2022
Call Us

$2,805

Get Our Price
Get Quote
Oct 01, 2022
Oct 15, 2022
Call Us

$2,805

Get Our Price
Get Quote
Oct 03, 2022
Oct 09, 2022
Call Us

$2,805

Get Our Price
Get Quote
Oct 08, 2022
Oct 22, 2022
Call Us

$2,805

Get Our Price
Get Quote
Oct 10, 2022
Oct 16, 2022
Call Us

$2,805

Get Our Price
Get Quote
Oct 15, 2022
Oct 29, 2022
Call Us

$2,805

Get Our Price
Get Quote
Oct 17, 2022
Oct 23, 2022
Call Us

$2,805

Get Our Price
Get Quote
Oct 22, 2022
Nov 05, 2022
Call Us

$2,805

Get Our Price
Get Quote
Oct 24, 2022
Oct 30, 2022
Call Us

$2,805

Get Our Price
Get Quote
Oct 29, 2022
Nov 12, 2022
Call Us

$2,805

Get Our Price
Get Quote
Oct 31, 2022
Nov 06, 2022
Call Us

$2,805

Get Our Price
Get Quote
Nov 05, 2022
Nov 19, 2022
Call Us

$2,805

Get Our Price
Get Quote
Nov 07, 2022
Nov 13, 2022
Call Us

$2,805

Get Our Price
Get Quote
Nov 12, 2022
Nov 26, 2022
Call Us

$2,805

Get Our Price
Get Quote
Nov 14, 2022
Nov 20, 2022
Call Us

$2,805

Get Our Price
Get Quote
Nov 19, 2022
Dec 03, 2022
Call Us

$2,805

Get Our Price
Get Quote
Nov 21, 2022
Nov 27, 2022
Call Us

$2,805

Get Our Price
Get Quote
Nov 26, 2022
Dec 10, 2022
Call Us

$2,805

Get Our Price
Get Quote
Nov 28, 2022
Dec 04, 2022
Call Us

$2,805

Get Our Price
Get Quote
Dec 03, 2022
Dec 17, 2022
Call Us

$2,805

Get Our Price
Get Quote
Dec 05, 2022
Dec 11, 2022
Call Us

$2,805

Get Our Price
Get Quote
Dec 10, 2022
Dec 24, 2022
Call Us

$2,805

Get Our Price
Get Quote
Dec 12, 2022
Dec 18, 2022
Call Us

$2,805

Get Our Price
Get Quote
Dec 17, 2022
Dec 31, 2022
Call Us

$2,805

Get Our Price
Get Quote
Dec 19, 2022
Dec 25, 2022
Call Us

$2,805

Get Our Price
Get Quote
Call or submit a quote for award-winning value and service!
Tour Itinerary
Myth, religion and wonder come together on this expedition across the timeless terrain of Egypt and Jordan. From the mysteries of the Sphinx to the sublime stone structures of Petra, discover ancient sites galore. Travel on a felucca down the mighty Nile, and spend a night with Bedouin locals amid the sand dunes of Wadi Rum - these are just some of the highlights that make this adventure across the sands of time truly memorable.
Day 1: Cairo
Welcome to Egypt! Your adventure begins with a welcome meeting at 4 pm this afternoon. For those arriving early, why not take a walk to get your bearings of the neighbourhood, or escape the hustle and bustle and explore the Christian Coptic sector. After your important meeting, head out with your new travel buddies and discover Khan al-Khalili Bazaar, located in Cairo's Islamic centre. This traditional souk is a labyrinth of narrow alleys lined with local merchants; a perfect place to get introduced to daily Egyptian life.
Day 2: Cairo
This morning, head to Giza –home to some of the world's most iconic sights. Approach the Pyramids of Giza and the Sphinx by camel, with panoramic views across the dunes. Explore these structures that have stood tall for 4500 years, and for an additional charge you may be able to go inside the Great Pyramid of Khufu, although occasionally it may be closed to visitors. Afterwards, make your way to the Egyptian Museum – home to one of the world's great collections of antiquities. Wander the treasure-filled halls of the museum, and make sure to check out the optional Mummies Hall for a close encounter with some of the country's most important queens and pharaohs. Later in the evening, meet your leader and travel to the nearby train station, where you will board an overnight sleeper train bound for Aswan (approximately 13 hours).
Day 3: Aswan
The Nile, Elephantine Island and white-sailed feluccas. Welcome to Aswan – Egypt's southernmost city. Its easy-going charm is due in no small part to its large Nubian population. Today is a free day so take the opportunity to see such Aswan sites as the unfinished obelisk or the High Dam. The Nubian Bazaar is a must, while the excellent Nubian Museum is top of many visitors' lists. Highly recommended is the beautiful Temple of Isis (the Goddess of health, marriage and wisdom) that was rescued from the rising waters of the Nile and relocated on Philae Island. The waterfront promenade, or Aswan's Corniche, runs alongside one of Nile's most appealing stretches and is the perfect place to stop for a mint tea. This evening you'll experience modern Nubian culture first-hand with a visit to a nearby village. You'll join a local Nubian family for a memorable dinner and get an unforgettable insight into the daily life of the local people.
Day 4: Aswan
Today perhaps head out of Aswan and book in to visit stunning Abu Simbel this morning. With the four gargantuan statues of Ramses guarding the Great Temple, carved directly out of the mountain on the west bank of the Nile, this is one of Egypt's most memorable sights. Please note this optional activity has a very early start (but it's totally worth it). There's two ways to get there – a 40-minute flight, or renting a minivan with your group and leaving very early. The journey by land is 3 -4 hours each way, with an early departure from Aswan at 4 am. Instead, you could take a sailboat ride around the islands in a traditional felucca, stopping off at the botanical gardens on Kitchener's Island. Or, take a camel ride to the Monastery of St Simeon, an abandoned seventh-century fortress monastery located in the desert on the Nile's west bank. Your tour leader will be on hand to help you arrange any excursions. Otherwise, simply relax and take in the beauty of the Nile or do some shopping in the local bazaar.
Day 5: Nile Felucca
With some free time this morning, perhaps head down and grab a motor boat out to the Tomb of the Nobles or stock up on snacks for your evening on the Nile. Board your included felucca journey just before lunch and spend the afternoon out on the river, watching Egyptian daily life play out on the banks, then spend a night under the stars. Your Nubian sailing crew provides all the meals which are hearty and delicious. Being a traditional wooden boat with broad canvas sails, your felucca offers some shade and protection from the elements. However, there is no cabin or enclosed section. Nonetheless, watching the sun setting across the Nile in the evening is a sight you won't forget. This is the absolute highlight of the trip for many, especially with some local Nubian entertainment from your crew.
Day 6: Luxor
This morning, say goodbye to your Nubian friends and take a private van to the 'open-air museum' of Luxor (approximately 3.5 hours travel time). From the spectacular temple complex of Karnak to the Valley of the Kings, Luxor is full of wonderfully preserved reminders of the Pharaohs. On the way, there's the option to visit either the unique mirror-image design of the Temple of Kom Ombo, or the beautifully preserved Temple of Edfu. This afternoon you will explore the magnificent Karnak Temple, which is perhaps the most impressive of all the ancient Pharaohs' monumental works. One of the world's most celebrated temple complexes, Karnak is a house of the gods built over a period of some 200 years. The rest of the day will be free to relax, shop in the bazaar, which is open until quite late, or perhaps experience the atmosphere of a local teahouse.
Day 7: Luxor
Today you'll hop in a private minivan and discover some of the wonder of ancient Thebes. Your first stop is the Colossi of Memnon – two 17-metre-high statues on Luxor's west bank. Carved from granite blocks, they represent the Pharaoh Amenhotep III and were once part of an impressive colonnade. Continue on to the spectacular royal burial site of the Valley of the Kings. Buried under the arid hills here are over 60 richly decorated tombs of pharaohs. With your leader, explore this sprawling and spectacular place, where the pharaohs of the New Kingdom (16th to 11th century BC) were secretly interred for all eternity, and where discoveries are still being made. Your group leader will explain the history and legends of these remarkable people, and the significance of the many paintings and hieroglyphics. Afterwards, join a local family for lunch to try some traditional home cooking. The rest of your afternoon is free to explore – with the Luxor Museum a great place to visit. Keep in mind that tonight you'll board an overnight sleeper train from Luxor back to Cairo (approximately 10 hours).
Day 8: Amman
Today you will farewell Egypt and take a short flight to Jordan. This flight is currently scheduled for the afternoon to allow for delays from the overnight train. On arrival you will be met and transferred to your Amman hotel, where your Jordanian Group Leader will be waiting for you. There may also be new group members joining the trip in Jordan.Welcome to Jordan, cosmopolitan and contemporary, yet steeped in biblical history. Tonight consider a visit to Rainbow Street where you will hear "Welcome to Jordan" from the locals, and maybe pick up a coffee from one of the cafés and partner it with an ara'yes, a toastie filled with spicy mincemeat.
Day 9: Wadi Rum
Follow in the footsteps of Lawrence of Arabia with a journey to Wadi Rum (approximately 5 hours). A half-day jeep safari will take you through some of the most striking desert scenery on the planet. Wadi Rum is full of weird and wonderful lunar-like rock formations, and traces of ancient civilisations can be seen in the many carved inscriptions found throughout the area – from pictographs to Thamudic, Nabataean and Arabic texts. The most enduring monuments in Wadi Rum are those carved by nature – the natural rock bridges, towering rose-coloured sand dunes and scattered rocky peaks. Tonight, sleep in a simple Bedouin desert camp, with the choice of sleeping under a camel hair tent or out under the stars. Enjoy dinner cooked in an earthen oven by your Bedouin hosts. Meaning 'desert dwellers' in Arabic, the Bedouins are a semi-nomadic people, and in Jordan up to 40 per cent of the general population is thought to have Bedouin ancestry. Conditions are basic at the desert camp, but the hospitality of your hosts as well as the chance to sleep beneath the twinkling desert night sky will sure make up for it.
Day 10: Wadi Rum
After waking up in the unique surrounds of the camp this morning, head out on a trek around the area (approximately 12 to 15 kilometres), with a stop for tea and a lunch break. You might scale one of the large sand dunes for sensational views of the valley – the perfect chance to snap some unbelievable pictures. Explore the distinctive rock formations and bask in its eerie silence. Wadi Rum is probably best known for its connection with the enigmatic British officer T E Lawrence, who was based here during the Great Arab Revolt of 1917–18. Tonight is again yours to enjoy the traditional Bedouin hospitality and the clear night skies of the desert.
Day 11: Petra
This morning you'll leave your desert camp, taking 4WDs to the main entrance, which is opposite the Seven Pillars of Wisdom – the mountain named after Lawrence of Arabia's book. The visitor's centre here is also a great spot to buy some jewellery and handicrafts, mostly made by a women's co-operative aimed at supporting local industries. Continue your journey to the fabled city of Petra by private vehicle (approximately 2 hours). The site remained unknown to the Western world until 1812, when it was discovered by Johann Ludwig Burckhardt – a Swiss explorer. In 1985, Petra was designated a World Heritage-listed site. Once arrived, spend the afternoon on a guided tour of Petra. Squeeze through a mile-long narrow path, known as the Siq, through huge towers of rock and get your first glimpse of the iconic Treasury complex. It's amazing to think that this enormous, intricate building entrance was hand carved out of the rock.
Day 12: Petra
Enjoy a free day of self-discovery as you explore Petra on your own. The site is surprisingly big, and so it is up to you to choose your own route around the complex. You could explore the old Roman road, other smaller temples and several old tombs, as well as the rock-hewn amphitheatre. For those who are feeling a bit more active, there's the challenging but highly rewarding 1-hour walk up the steps to the secluded yet stunning Monastery.
Day 13: Madaba
Traverse the King's Highway to the historic crusader castle of Kerak, which stands on a cliff commandingly overlooking Wadi Karak and the Dead Sea in the distance (approximately 2.5 hours). You'll have time to explore the ruins and discover the legends of centuries-old battles. Pack your swim gear as next you can wash off the dust in the Dead Sea – the lowest point on Earth (420 metres below sea level). This super-salty lake is a perfect place to spend some time relaxing and get some classic floating pictures. For those who are game, why not cover yourself from head to toe for a nutrient-rich natural mineral mud bath. Continue to Mt Nebo – the spot where the prophet Moses is said to have seen the 'promised land' and where he's supposedly buried. Explore this sanctuary and view the remarkable mosaics of the fourth-century church. Afterwards, continue to Madaba, famous for its Ottoman-style houses and beautiful Byzantine-era mosaics, including the acclaimed sixth-century mosaic map of Jerusalem and the Holy Land at St George's Church. Other mosaic masterpieces from the fifth to seventh centuries can be found throughout Madaba's churches, museums and homes.
Day 14: Madaba / Jerash
Today you will leave Madaba for a short drive to Jerash – once one of the grandest ancient Roman cities in the world (approximately 1.5 hours). These are some of the best-preserved Greco-Roman ruins around. The ancient walled town that survives today is a remarkable evocation of life 2000 years ago. It has a striking collection of archways and theatres, baths, public buildings and colonnaded streets, and is a beautiful place to spend a day exploring. Discover Hadrian's arch, the partially restored hippodrome, ornate public fountains, the south amphitheatre, and see the collection of daily artefacts uncovered during excavations. Grand columns encircle the city's centrepiece, the Oval Plaza. After a full day of exploring, maybe gather your travel buddies together and share a celebratory shisha as you reminisce on your memories of majestic Jordan.
Day 15: Madaba
With no activities planned for today, you are free to depart the accommodation at any time, provided you comply with your accommodation's internal check-out times.
Cairo - Khan al-Khalili bazaar visit
Cairo - Pyramids and Sphinx
Cairo - Camel ride at the Pyramids
Cairo - The Egyptian Museum Guided Visit
Cairo - The Egyptian Museum headset
Aswan - Nubian Village Visit and Dinner
Nile - Felucca overnight sailing trip
Luxor - Karnak Temple -Entry Fee
Luxor - Colossi of Memnon
Luxor - Valley of the Kings (3 tombs)
Wadi Rum - 4WD jeep safari and desert camp
Wadi Rum - Guided trek
Petra - Guided tour of Petra
Petra - Second day entrance (no guide)
Kerak - Kerak Castle
Mt Nebo - Mt Nebo visit
Dead Sea - Dead Sea visit
Jerash - Roman ruins
Madaba - St Georges Church
Meals
14 Breakfast(s) Included
3 Lunch(es) Included
6 Dinner(s) Included

Style: Original

Hotel (9 nights), Desert camp (2 nights), Felucca (1 night), Overnight sleeper train (2 nights)
Question: How many suitcases can I take with me on my trip?
Each person is allowed one "check-in," and one "carry-on." Remember to take all valuables with you as "carry-on", because electronic equipment, cameras, laptops, jewelry, business documents and money are not covered by the airlines' liability, so always carry them aboard with you.
Question: Is Airfare Included in the Price?
Airfare from your point of origin to and from the trip is not included in the land price.
Similar Tours Other Travelers Liked
The trip was both both educational and exciting. I very much enjoyed the sights and culture.
The itinerary was just as I expected! The guide was very good as were the accomodations
Intrepid did such a great job. I never had to worry about where I was supposed to be and it felt so good not to worry about a thing but just to enjoy myself. Our guide was extremely knowledgeable about culture and history.
Taiwan people very friendly. Accommodation were centrally located and easily accessible. Did extra activities then in brochure which was greatly.
Larus our tour guide did an excellent job and was very attentive to our needs. He is very knowledgeable and has a great sense of humor.
Our guide Tarang chandola was exceptional. Courteous, knowledgeable, organized, polite, professional and went above and beyond taking care of our needs and requests offen anticipating what that might be. He made sure we all had the best possible time and offered suggestions to meet the needs of everyone on the tour. This made the trip even more enjoyable.
AffordableTours.com® does not itself offer, service or administer the Travel Packages, and the ultimate terms and conditions of any Travel Package made available via the Site Offerings (including the prices quoted in connection with same) will be determined by the applicable Third-Party Travel Service Provider. AffordableTours.com® does not represent or warrant that the Price Quotes are accurate, up-to-date or free of error, or that same will be honored by the applicable Third-Party Travel Service Providers. All Price Quotes, Travel Package availability, Travel Package details/itinerary and other Content are subject to change without notice. All travel details published by and through the Site Offerings should be confirmed directly with the applicable Third-Party Travel Service Provider prior to making any travel plans. Reliance on any information made available to you by and through the Site Offerings is solely at your own risk.
How It Works
Vacationing has never been easier or cheaper with the help of a dedicated travel consultant from AffordableTours.com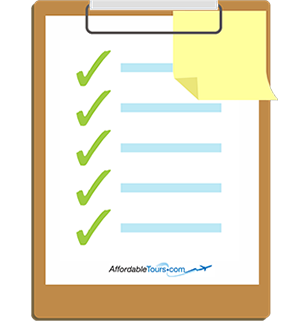 Find your perfect trip on our website and simply request a free quote. Need to speak to a live person? Call us 7 days a week at 1-800-935-2620. No robots here!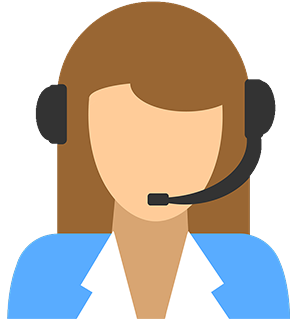 Your personal travel consultant will reach out and be your point of contact for your entire travel experience from start to finish. Did we mention you'll be working with an award winning team? Sweet!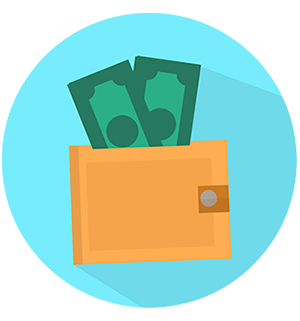 Because we're one of the largest sellers of travel, we're able to give you a discount on your vacation package. No one beats our prices!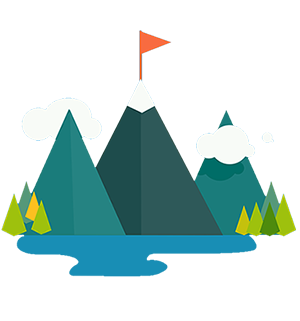 Knowing you got the best deal, all that's left is for you to pack your bags and enjoy your vacation!