Dates & Prices
Start Date
End Date
Offers
Brochure
Land Price
Our Price
Quote
Dec 01, 2020
Dec 06, 2020
Call Us

$1,037

Get Our Price
Get Quote
Dec 02, 2020
Dec 07, 2020
Call Us

$1,037

Get Our Price
Get Quote
Dec 03, 2020
Dec 08, 2020
Call Us

$1,037

Get Our Price
Get Quote
Dec 04, 2020
Dec 09, 2020
Call Us

$1,037

Get Our Price
Get Quote
Dec 06, 2020
Dec 11, 2020
Call Us

$1,037

Get Our Price
Get Quote
Dec 07, 2020
Dec 12, 2020
Call Us

$1,037

Get Our Price
Get Quote
Dec 08, 2020
Dec 13, 2020
Call Us

$1,037

Get Our Price
Get Quote
Dec 09, 2020
Dec 14, 2020
Call Us

$1,037

Get Our Price
Get Quote
Dec 10, 2020
Dec 15, 2020
Call Us

$1,037

Get Our Price
Get Quote
Dec 11, 2020
Dec 16, 2020
Call Us

$1,037

Get Our Price
Get Quote
Dec 13, 2020
Dec 18, 2020
Call Us

$1,037

Get Our Price
Get Quote
Dec 14, 2020
Dec 19, 2020
Call Us

$1,037

Get Our Price
Get Quote
Dec 15, 2020
Dec 20, 2020
Call Us

$1,037

Get Our Price
Get Quote
Dec 16, 2020
Dec 21, 2020
Call Us

$1,037

Get Our Price
Get Quote
Dec 17, 2020
Dec 22, 2020
Call Us

$1,037

Get Our Price
Get Quote
Dec 18, 2020
Dec 23, 2020
Call Us

$1,037

Get Our Price
Get Quote
Dec 20, 2020
Dec 25, 2020
Call Us

$1,037

Get Our Price
Get Quote
Dec 21, 2020
Dec 26, 2020
Call Us

$1,037

Get Our Price
Get Quote
Dec 22, 2020
Dec 27, 2020
Call Us

$1,037

Get Our Price
Get Quote
Dec 23, 2020
Dec 28, 2020
Call Us

$1,037

Get Our Price
Get Quote
Dec 24, 2020
Dec 29, 2020
Call Us

$1,037

Get Our Price
Get Quote
Dec 25, 2020
Dec 30, 2020
Call Us

$1,062

Get Our Price
Get Quote
Dec 27, 2020
Jan 01, 2021
Call Us

$1,062

Get Our Price
Get Quote
Dec 28, 2020
Jan 02, 2021
Call Us

$1,062

Get Our Price
Get Quote
Dec 29, 2020
Jan 03, 2021
Call Us

$1,062

Get Our Price
Get Quote
Dec 30, 2020
Jan 04, 2021
Call Us

$1,062

Get Our Price
Get Quote
Dec 31, 2020
Jan 05, 2021
Call Us

$1,062

Get Our Price
Get Quote
Jan 02, 2022
Jan 07, 2022
Call Us

$1,037

Get Our Price
Get Quote
Jan 03, 2022
Jan 08, 2022
Call Us

$1,037

Get Our Price
Get Quote
Jan 05, 2022
Jan 10, 2022
Call Us

$1,037

Get Our Price
Get Quote
Jan 07, 2022
Jan 12, 2022
Call Us

$1,037

Get Our Price
Get Quote
Jan 09, 2022
Jan 14, 2022
Call Us

$1,037

Get Our Price
Get Quote
Jan 10, 2022
Jan 15, 2022
Call Us

$1,037

Get Our Price
Get Quote
Jan 12, 2022
Jan 17, 2022
Call Us

$1,037

Get Our Price
Get Quote
Jan 13, 2022
Jan 18, 2022
Call Us

$1,037

Get Our Price
Get Quote
Jan 14, 2022
Jan 19, 2022
Call Us

$1,037

Get Our Price
Get Quote
Jan 16, 2022
Jan 21, 2022
Call Us

$1,037

Get Our Price
Get Quote
Jan 17, 2022
Jan 22, 2022
Call Us

$1,037

Get Our Price
Get Quote
Jan 19, 2022
Jan 24, 2022
Call Us

$1,037

Get Our Price
Get Quote
Jan 21, 2022
Jan 26, 2022
Call Us

$1,037

Get Our Price
Get Quote
Jan 23, 2022
Jan 28, 2022
Call Us

$1,037

Get Our Price
Get Quote
Jan 24, 2022
Jan 29, 2022
Call Us

$1,037

Get Our Price
Get Quote
Jan 27, 2022
Feb 01, 2022
Call Us

$1,037

Get Our Price
Get Quote
Jan 28, 2022
Feb 02, 2022
Call Us

$1,037

Get Our Price
Get Quote
Jan 30, 2022
Feb 04, 2022
Call Us

$1,037

Get Our Price
Get Quote
Feb 04, 2022
Feb 09, 2022
Call Us

$1,037

Get Our Price
Get Quote
Feb 07, 2022
Feb 12, 2022
Call Us

$1,037

Get Our Price
Get Quote
Feb 10, 2022
Feb 15, 2022
Call Us

$1,037

Get Our Price
Get Quote
Feb 11, 2022
Feb 16, 2022
Call Us

$1,037

Get Our Price
Get Quote
Feb 20, 2022
Feb 25, 2022
Call Us

$1,037

Get Our Price
Get Quote
Feb 21, 2022
Feb 26, 2022
Call Us

$1,037

Get Our Price
Get Quote
Feb 24, 2022
Mar 01, 2022
Call Us

$1,037

Get Our Price
Get Quote
Feb 25, 2022
Mar 02, 2022
Call Us

$1,037

Get Our Price
Get Quote
Feb 28, 2022
Mar 05, 2022
Call Us

$1,037

Get Our Price
Get Quote
Mar 02, 2022
Mar 07, 2022
Call Us

$1,037

Get Our Price
Get Quote
Mar 04, 2022
Mar 09, 2022
Call Us

$1,037

Get Our Price
Get Quote
Mar 06, 2022
Mar 11, 2022
Call Us

$1,037

Get Our Price
Get Quote
Mar 07, 2022
Mar 12, 2022
Call Us

$1,037

Get Our Price
Get Quote
Mar 09, 2022
Mar 14, 2022
Call Us

$1,037

Get Our Price
Get Quote
Mar 10, 2022
Mar 15, 2022
Call Us

$1,037

Get Our Price
Get Quote
Mar 11, 2022
Mar 16, 2022
Call Us

$1,037

Get Our Price
Get Quote
Mar 14, 2022
Mar 19, 2022
Call Us

$1,037

Get Our Price
Get Quote
Mar 16, 2022
Mar 21, 2022
Call Us

$1,037

Get Our Price
Get Quote
Mar 17, 2022
Mar 22, 2022
Call Us

$1,037

Get Our Price
Get Quote
Mar 18, 2022
Mar 23, 2022
Call Us

$1,037

Get Our Price
Get Quote
Mar 20, 2022
Mar 25, 2022
Call Us

$1,037

Get Our Price
Get Quote
Mar 21, 2022
Mar 26, 2022
Call Us

$1,037

Get Our Price
Get Quote
Mar 23, 2022
Mar 28, 2022
Call Us

$1,037

Get Our Price
Get Quote
Mar 25, 2022
Mar 30, 2022
Call Us

$1,037

Get Our Price
Get Quote
Mar 27, 2022
Apr 01, 2022
Call Us

$1,037

Get Our Price
Get Quote
Call or submit a quote for award-winning value and service!
Tour Itinerary
Retrace the steps of the ancient Inca civilisation on the Inca Quarry Trail hike. Explore Cusco's maze of ruins and cobblestone streets, and discover the fascinating colonial and Inca histories that have visually impacted this fascinating town. Rise early to join our expert local guides and porters for a challenging hike along the far-less-travelled Inca Quarry Trail. On the fourth day, transfer from Kachiqata to Aguas Calientes via train before traveling on to Machu Picchu. Watch the sun rise over the enigmatic ruins and get lost exploring these crumbling structures, an experience that is sure to take your breath away. This tour is a once-in-a-lifetime experience that will challenge and reward.
Day 1

Cusco

Bienvenidos! Welcome to Cusco, the heart and soul of Peru. Today is free for you to explore Cusco until 6 pm when you meet your Intrepid representative at the lobby of your hotel. As this tour is a Short Break Adventure, you are not accompanied by an Intrepid group leader but, our local representative will brief you during this meeting. On this trip you will join other Intrepid travellers who are hiking this trek as part of longer Intrepid Group trips and may have been travelling together for a few days before you meet them. If you have time, check out the beautiful cathedral or perhaps the nearby ruins of Saqsayhuaman, Qenqo or Tambomachay. A Boleto Turistico (tourist ticket) will grant you access into these sites. 

Day 2

Inca Quarry Trail

While you're away from Cusco, the bulk of your luggage will be stored at your hotel. The evening before you leave Cusco you'll receive a small duffle bag to carry your clothes in for the next four days (5 kg maximum). Your team of porters will carry these bags for you, together with the food and equipment for the trail. Keep in mind that you won't have access to these items until the end of each day, as the porters will always be ahead of the group.Make a very early start (5.30am) and drive to Choquequilla. As breakfast is not available at your hotel this early in the morning, you will be given a "box breakfast" later in the morning. This box breakfast will consist of cereal bars, seasonal fruit, boxed juice, chocolate bars and a ham and cheese sandwich. Once in Choquequilla, visit a small ceremonial place where Incas worshipped the moon. Drive to the starting point of the trek, Rafq'a, and meet the horsemen who join us on the hike. After an hour's walk, reach the small community of Socma. Carry on to the Perolniyoc cascade lookout, an opportunity to stop for photos and a food break. Continue to the campsite (3700 m above sea level). You should reach the campsite around lunchtime. After lunch, set off to explore the Q'orimarca archaeological site, which once served as a checkpoint to the Incas.Notes: The Inca Quarry Trail is within the abilities of most reasonably fit people. The hike is 26 km long in total and its highest pass is at 4450 m above sea level. Throughout the trek, horses will carry your gear and camping equipment. The first two nights are spent camping, and on the third night you'll stay at a simple hotel. Double tents (twin-share) and inflatable camping mats will be provided. The porters will set up the tents while the cook prepares meals.
Meals: Breakfast, Dinner

Day 3

Inca Quarry Trail

This is the most challenging and rewarding day of the hike. Your walk (approximately 3 hours) takes you to the top of the first pass of Puccaqasa (4370 m). After enjoying picturesque views of the valley, it's a short walk before stopping for lunch. Afterwards, hike to Kuychicassa (approximately 2 hours), the highest pass of the trek (4450 m). From here, descend to the sacred site the Incas called Intipunku (Sun Gate), with views of the Nevado Veronica mountain. Head to the campsite which is only a stone's throw away at Choquetacarpo.
Meals: Breakfast, Dinner

Day 4

Inca Quarry Trail

Today's hike is all downhill. The first stop is the incomplete Kachiqata quarry, where the Incas were intercepted by the Spanish. Around midday, your trek comes to an end. Explore the cobbled streets of Ollantaytambo before taking the short train journey to Aguas Calientes. Spend the night in a comfortable hotel before tomorrow's visit to Machu Picchu.
Meals: Breakfast, Dinner

Day 5

Inca Quarry Trail and Machu Picchu

Today you will explore the incredible Machu Picchu ruins with a local guide. Your tour lasts approximately two hours, and there will be plenty of free time afterwards to explore on your own. When it's all over, return to Cusco for a well-earned shower and perhaps a Pisco sour.Depending on weather conditions, take a bus at 5.30 am along the winding road to Machu Picchu (approximately 30 minutes). If the skies are clear, take in spectacular views over the ancient city from the Sun Gate, before going on a guided walk around the ruins.Notes: Due to Intrepid's internal safety policy, our leaders are prohibited from recommending or assisting with booking trips to the mountaintop ruins of Wayna Picchu.Visiting Machu Picchu:According to Machu Picchu visiting regulations, all visitors must follow a pre-determined route within the site. This route must be followed in one direction only and once the guided visit commences exiting and re-entering the site is not permitted. Once the guided visit concludes, visitors must exit the site and personal exploration of Machu Picchu is not permitted.
Meals: Breakfast

Day 6

Cusco

Farewell your new friends as your adventure comes to an end after breakfast this morning. Check-out time is 9 am. Luggage storage can be arranged at the hotel if you're departing later.
Meals: Breakfast
Countries Visited
Cities Visited
4 day guided hike with porters' support
Machu Picchu guided tour
Meals
5 Breakfast(s) Included
3 Lunch(es) Included
3 Dinner(s) Included

Style: Original

Camping (with basic facilities) (2 nights), Hotel (3 nights)
Question: How many suitcases can I take with me on my trip?
Each person is allowed one "check-in," and one "carry-on." Remember to take all valuables with you as "carry-on", because electronic equipment, cameras, laptops, jewelry, business documents and money are not covered by the airlines' liability, so always carry them aboard with you.
Question: Is Airfare Included in the Price?
Airfare from your point of origin to and from the trip is not included in the land price.
Similar Tours Other Travelers Liked
The trip was both both educational and exciting. I very much enjoyed the sights and culture.
The itinerary was just as I expected! The guide was very good as were the accomodations
Intrepid did such a great job. I never had to worry about where I was supposed to be and it felt so good not to worry about a thing but just to enjoy myself. Our guide was extremely knowledgeable about culture and history.
Taiwan people very friendly. Accommodation were centrally located and easily accessible. Did extra activities then in brochure which was greatly.
Larus our tour guide did an excellent job and was very attentive to our needs. He is very knowledgeable and has a great sense of humor.
Our guide Tarang chandola was exceptional. Courteous, knowledgeable, organized, polite, professional and went above and beyond taking care of our needs and requests offen anticipating what that might be. He made sure we all had the best possible time and offered suggestions to meet the needs of everyone on the tour. This made the trip even more enjoyable.
AffordableTours.com® does not itself offer, service or administer the Travel Packages, and the ultimate terms and conditions of any Travel Package made available via the Site Offerings (including the prices quoted in connection with same) will be determined by the applicable Third-Party Travel Service Provider. AffordableTours.com® does not represent or warrant that the Price Quotes are accurate, up-to-date or free of error, or that same will be honored by the applicable Third-Party Travel Service Providers. All Price Quotes, Travel Package availability, Travel Package details/itinerary and other Content are subject to change without notice. All travel details published by and through the Site Offerings should be confirmed directly with the applicable Third-Party Travel Service Provider prior to making any travel plans. Reliance on any information made available to you by and through the Site Offerings is solely at your own risk.
How It Works
Vacationing has never been easier or cheaper with the help of a dedicated travel consultant from AffordableTours.com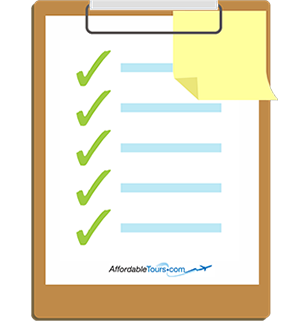 Find your perfect trip on our website and simply request a free quote. Need to speak to a live person? Call us 7 days a week at 1-800-935-2620. No robots here!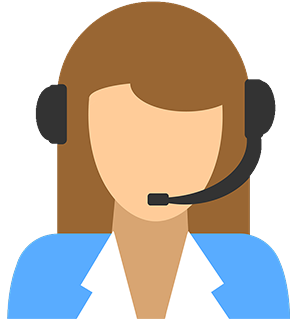 Your personal travel consultant will reach out and be your point of contact for your entire travel experience from start to finish. Did we mention you'll be working with an award winning team? Sweet!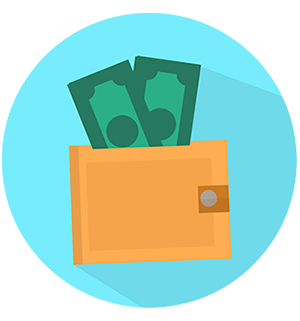 Because we're one of the largest sellers of travel, we're able to give you a discount on your vacation package. No one beats our prices!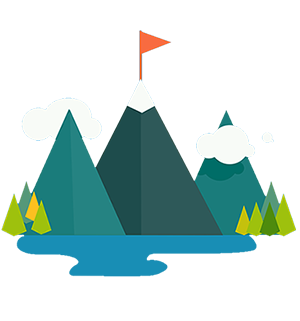 Knowing you got the best deal, all that's left is for you to pack your bags and enjoy your vacation!