Explore the Norwegian Fjords

Why Pay Retail?
Call us for a quick quote!
Call or submit a quote to get our Low Prices!
Book With Flexibility
Peace of Mind
Complimentary "Peace of Mind" Travel Plan. Change your travel plans until 30 days before your trip
Change Destination / Vacation
Change to a different destination or vacation.
Change Dates
Choose new departure dates if your plans change.
Great Service
Award-winning service, low prices, client satisfaction
Tour Itinerary
Explore the Standing Stones of Stenness, Enjoy a city tour of Bergen, Hop on the Flåm Railway to reach the scenic fjord of the Flåm district, Wander through fishing villages and appreciate the slow pace of life
Day 1

Edinburgh

The G Expedition departs in the late afternoon, sailing towards Kirkwall.
Activity: Begin your adventure today. There are no planned activities so feel free to explore or rest up for the excitement ahead.
Transport: Settle in and scan the scenery from the convenience of a private vehicle.
Transport: Not too big, not too little, our 134-passenger polar expedition ship is just right.

Meals: Dinner

Day 2

Kirkwall/Orkney

Visit historic and mystical sites by coach. Explore the Standing Stones of Stenness, the intriguing Ring of Brodgar, and the village of Skara Brae.
Activity: Take a guided coach tour of the many mystical historical sites on the island. Visit the UNESCO World Heritage site the Ring of Brodgar, the standing stones of Stennes, and the 4500 year old village of Skara Brae.
Transport: Not too big, not too little, our 134-passenger polar expedition ship is just right.

Meals: Breakfast, Lunch, Dinner

Day 3

Shetland Islands

Continue northwards to the remote Shetland Islands. Opt to visit Jarlshof or join the Puffin Bus to focus on puffins and seabird photography at Sumbrugh Head (weather dependent). Enjoy additional time to explore Lerwick.
Transport: Not too big, not too little, our 134-passenger polar expedition ship is just right.
Activity: Visit Lerwick on the Shetland Islands and discover the unique mix of Scotland Scandinavian culture in the area. Opt to visit Jarlshof, a remarkable archaeological site where Neoloithic houses and several Norse longhouses were discovered after a violent storm uncovered the settlement. Another option for your time here is to join the Puffin Bus to focus on puffin and seabird photography at Sumbrugh head. Each tour option will allow a few hours to explore Lerwick after. With your free time, opt to enjoy the Shetland Museum or take a walk through the village.
Free Time: Take some free time to explore.

Meals: Breakfast, Lunch, Dinner

Day 4

Bergen

Cross the famous North Sea to reach Norway. Opt for a historical walking tour of the city, or enjoy a funicular ride for amazing views of Bergen, then explore on your own for the afternoon.
Transport: Not too big, not too little, our 134-passenger polar expedition ship is just right.
Activity: Visit the famous city of Bergen, the gateway to Norway's fjords. Spend the afternoon exploring the UNESCO World Heritage Site of the historic seaport and fish market, all of which date back to the Hanseatic League.

Meals: Breakfast, Lunch, Dinner

Day 5

Flåm

Hop on the Flåm Railway, travelling through valleys and mountain passes to reach the scenic fjord of the Flåm district.
Activity: The Flåm Line is a 20km (12.4 mi) route between Myrdal and Flåm. The line is used most often as a tourist train as it passes through gorgeous landscapes. It also boasts an incredibly steep gradient, with an elevation different of 863m (2,831 ft).
Transport: Not too big, not too little, our 134-passenger polar expedition ship is just right.

Meals: Breakfast, Lunch, Dinner

Day 6

Olden (Fjord Cruise)

Cruise into the Olden Fjord before a short bus ride to the Birksdal area. Enjoy a moderate hike to Briksdalbreen glacier, or, for an easier option, take a trolley ride with a shorter walk to make it to the glacier lake.
Transport: Not too big, not too little, our 134-passenger polar expedition ship is just right.
Activity: Stretch out your legs on a hike from the Birksdal area to the nearby Briksdalbreen glacier in Jostedalsbreen National Park. For the first 20-30 mins the grade is uphill (moderate to strenuous), but the footing is easy. If you'd rather not make the trek, hop on the trolley to take you most of the way. As you approach, you'll need to walk the last quarter mile to reach the glacier lake. The views are worth the effort!

Meals: Breakfast, Lunch, Dinner

Day 7

Geirangerfjord

Sail deep into one of Norway's most beautiful, and most visited, fjords. Enjoy a coach tour to Dalsnibba, soaking in the views at this UNESCO World Heritage site. For the more adventurous, opt for a 10km mountain hike exploring the area and taking in amazing views of the fjord from above.
Transport: Not too big, not too little, our 134-passenger polar expedition ship is just right.
Activity: The fjord is one of Norway's most visited tourist sites and has been listed as a UNESCO World Heritage Site. The fjord is 15 km (9.3 mi) long, surrounded by spectacular mountains, lush green trees, waterfalls, and several farms. Have a camera ready for some spectacular photo opportunities.

Meals: Breakfast, Lunch, Dinner

Day 8

Trondheim

Continue on to Trondheim. Choose between hiking in Bymarka Nature Reserve before visiting the Sverresborg Folk Museum, or enjoying a city tour including the Folk Museum and the elaborate Nidaros Cathedral, built between 1070 and 1300. Enjoy a free afternoon to explore the area on your own.
Transport: Not too big, not too little, our 134-passenger polar expedition ship is just right.
Activity: Trondheim is a modern city surrounded by beautiful forests and mountains, and is home to the remarkable Nidaros Cathedral. Built over the burial site of Saint Olav, the king of Norway in the 11th century, Nidaos Cathedral is the traditional location for the consecration of the King of Norway.
Transport: Not too big, not too little, our 134-passenger polar expedition ship is just right.

Meals: Breakfast, Lunch, Dinner

Day 9

Torghatten/Vega

The rugged coastline of central Norway features some of the world's most beautiful scenery. Hike up to the famous hole in the mountain, with fantastic views of the region. Keep an eye out for Norway's mythical trolls. In the afternoon, head to the quaint and picturesque Vega Island, a UNESCO site. Wander the fishing villages, go on a guided nature hike, and appreciate the slow pace of life.
Activity: Enjoy a short, but scenic, coach ride into the Treana archipelago. Our goal is to visit Torghatten, one of the most bizarre rock formations in Norway and a significant local landmark. We will also try to move towards the Treana archipelago that is comprised of over 1000 islands. Expedition guides will provide information on the local areas, and the ship's photography expert will be on hand to offer advice on how to capture the perfect shot.
Transport: Not too big, not too little, our 134-passenger polar expedition ship is just right.
Activity: Access one of the small islands and picturesque fishing villages of Vega by Zodiac. Learn about life on the island from a local guide and hear how the unique farming techniques and elder down production gained the island UNESCO World Heritage site status.
Transport: Not too big, not too little, our 134-passenger polar expedition ship is just right.

Meals: Breakfast, Lunch, Dinner

Day 10

Svartisen/Vikingen/Lovund

Visit Svartisen, Lovund, and Vikingen, to see beautiful glaciers and a globe sculpture which marks Vikingen as a point directly on the Arctic Circle.
Activity: Visit Svartisen, Norway's second-largest glacier. Hike to one of the outlet glaciers of Svartisen, Engabreen, which ends at the lowest point of any glacier on the European mainland, at 90 meters above sea level (in 2018). The first 30 to 45 minutes of the hike are easy with no incline. The remaining hike is guided in small groups as it can be a challenging and complicated maze of rocky outcroppings leading to a close encounter with the ice. Everyone should reach a beautiful lookout over the lake. Opt to visit the café for waffles and coffee.
Activity: Visit Vikingen Island, a small island that sits directly on the Arctic Circle. There's a small statue of a globe on the island celebrating its position on one of the five major latitude circles.
Transport: Not too big, not too little, our 134-passenger polar expedition ship is just right.

Meals: Breakfast, Lunch, Dinner

Day 11

Lofoten

The Lofoten archipelago is an enchanting area of picturesque villages by the sea backed with jagged peaks. Go ashore by Zodiac for a day trip of the area. Start by visiting the Tørrfiskmuseum to learn about traditional work of the islands before visiting Nusfjord, one of Norway's oldest and best-preserved fishing villages for lunch at a local restaurant. After, stop in Henningsvær for time to see local art or explore the quaint fishing village. In the evening, stay on deck as you cruise into one of Norway's most famous fjords, the short yet dramatic Trollfjord. Search the cliffs on your continuing quest to spot trolls.
Activity: Enjoy a coach tour across the Lofoten Islands visiting the Tørrfiskmuseum (Stockfish Museum) and Svolvær. Stop for photos and other visits along the way including the Viking Museum at Bøstad.
Transport: Not too big, not too little, our 134-passenger polar expedition ship is just right.

Meals: Breakfast, Lunch, Dinner

Day 12

Tromsø

Tromsø, the capital of northern Norway, is known as the "Gateway to the Arctic" as it was the embarkation point for many Arctic expeditions. Learn about past Arctic expeditions and opt for some hiking or to explore the city on your own.
Transport: Not too big, not too little, our 134-passenger polar expedition ship is just right.
Activity: Spend the day exploring Norway's largest northern city. Choose between hiking on the mountain top overlooking Tromsø, or wandering the city's streets before taking a cable car to the mountain top. Enjoy a delicious lunch of traditional open faced sandwiches while gazing over the city. Everyone will have a chance to visit some of the major sites including the Polar and Tromsø Museums and (weather permitting) enjoy a stunning view from a cable car.

Meals: Breakfast, Lunch, Dinner

Day 13

Tromsø

Disembark the G Expedition in the morning.
Activity: Not ready to leave? Your CEO can help with travel arrangements to extend your adventure.

Meals: Breakfast
Meals:
12 breakfasts, 11 lunches, 12 dinners
Transportation:
G Expedition, Zodiac, local bus, coach, walking.
Inclusions
12 nts aboard the G Expedition. Meeting point to ship transfer. Zodiac and land excursions with our expert expedition team. Lectures and educational programs. Ancient ruins guided tour (Orkney Islands). Shetland Islands visit. Bergen city tour. Flåm Railway excursion. Olden visit. Geirangerfjord visit. Trondheim excursion. Vega Island visit. Local village visit (Lofoten Islands). Tromsø city tour. Insulated, waterproof boots supplied for USA sizes 4 - 16. Expedition parka.
Hygiene and Safety Protocols for G Adventures Tours
Travel with Confidence
Your safety, as well as the safety of employees and partners, has always been G Adventures top priority, which is why new physical distancing and cleaning measures have been put in place on all of the tours. New Travel with Confidence policy features new health and safety procedures from the moment you arrive to the moment you leave, without taking away from having the time of your life. The policy will evolve as time goes on and as G Adventures continues to monitor local public health recommendations, but what won't change is the commitment to keeping you safe as you explore big, beautiful world.
Before you join us
Global Connection Officers
GCOs (the people who answer when you call us) are available 24/7 to help with any questions you have prior to your trip, so you can feel confident and safe before leaving. No matter what time of day, they're there to respond to you — even at 3AM. They'll be up to date on local regulations and restrictions and can guide you through your travel process as smoothly as possible. And if you don't feel well before travelling, there's the Book with Confidence policy that helps you reschedule your trip for when you do, which they can help you with too (terms & conditions apply). If you book flights with us and there are any changes, rest assured that the team will support you by making new arrangements on your behalf.
Smaller groups
Groups have always been small. This offers security, access, camaraderie, and a connection with your destination you won't get by travelling on bus tours or on your own. The average group size is 12, ensuring travellers can engage with each other without being squeezed together like sardines — and that was before physical distancing became a reality. Plus, if you have 8 or more friends you'd like to adventure with, you can reserve the entire trip!
My own room
If you're joining one of the small group tours on your own, good on ya! If you are a solo traveller sharing a room with someone, G Adventures will do their best to ensure they will be your roommate for the entire journey to support distancing efforts. G Adventures has 'My Own Rooms' available as an extra option for tours (pending availability), and they'll be offering more of these at more affordable prices to make it even easier to have a bit more space.
When you arrive
Chief Experience Officers
CEOs are responsible for ensuring you have the time of your life while keeping you as safe as possible. Here's how they're ready to do that:
They're trained in First Aid, CPR, and other safety protocols
They're supported 24/7 by the field staff in offices around the world who are well-equipped to handle emergencies
They can help you find local clinics if you're feeling sick
They'll receive new training to ensure they are up to date on all health and safety policies during these evolving times
They have extensive local knowledge to proactively help you navigate wherever you're travelling
Their local knowledge allows for greater flexibility when it comes to knowing the best time to visit certain highlights to avoid crowds whenever possible and suggesting the restaurants with the strictest hygiene practices or those where you can reserve your own table or room in advance
They'll wear face masks when necessary based on local guidelines and recommendations
You & your fellow travellers
Travellers' safety and wellbeing is G Adventures biggest concern. If you're not feeling well before your departure, G Adventures has a Book with Confidence policy that provides you with flexibility and freedom to delay leaving until you're back to 100% healthy (terms & conditions apply). If you have a fever or any other symptoms on tour, you may be required to have a doctor clear you before rejoining us. All travellers are requested to bring face coverings, whether they're buffs, face masks or bandanas (extra style points encouraged). G Adventures makes every effort to have hand sanitizer available, but recommend bringing your own.
While on tour
Planes, trains, automobiles and more
Small private transport vehicles
Every surface in G Adventures well-kept fleet of private vehicles will get at least one daily deep cleaning
Each traveller will have a daily assigned seat
Hand-sanitizer will be required every time you board the vehicle
Facial coverings will be recommended while on-board
Boats
Every surface will get at least one daily deep cleaning
High-traffic areas will receive more frequent cleaning
Hand-sanitizer or hand washing will be required every time you board the boat, as well as before and after meals
To support physical distancing, meals may have assigned seating and there will be assigned slots for activities and rooming
Facial coverings will be recommended and welcomed on-board
Your crew is trained in health and safety measures (including food handling) and all cooking staff will follow up-to-date advice from health authorities
Local transportation
Use of local transportation will be limited wherever possible. Please reference the Trip Details for each individual tour for specifics
If local transportation is used, precautions will be followed in adherence to local health and safety regulations to keep travellers safe and sound.
Where you'll be staying safe
G Adventures has always carefully selected accommodation partners for high standards and local roots. Travelling in small groups means that the stay is in smaller hotels too, with fewer guests — which means less daily contact with others outside your group in public spaces. Now G Adventures is working with accommodation partners to optimize their health, safety and cleanliness procedures, as well as creating additional measures for physical distancing. Here are some of the things G Adventures is working on to help keep you safe:
Daily deep cleaning and disinfecting of all surface areas inside your room with extra cleaning on light switches, door handles, TV remotes, and thermostats
No hotel staff will enter your room after it has been cleaned
Increased frequency of cleaning and disinfecting of all public restrooms and all surfaces in public areas. This might include the closure of public spaces such as gyms, bars, restaurants, and meeting rooms for periods throughout the day
Wherever possible, groups will stay on the lower floors to limit elevator use
Hotels will implement social distancing protocols in line with local regulations
This is just the beginning of commitments to keeping you sleeping safe and sound. G Adventures will continue to evolve and roll-out these and additional policies as needed.
A good & safe place to eat
G Adventures has always carefully selected food service partners and worked closely with them to ensure they are meeting health, safety, and cleanliness standards with their facilities, staff training, and food preparation and delivery. Wherever possible, G Adventures will reserve separate tables or private rooms at the restaurants visited on the trip, opt for more "al fresco" opportunities when it is possible (gotta love that fresh air!), and ensure breakfasts can be "grab and go" boxes, while avoiding family style or self-serve buffets for meals. G Adventures wants you to feel comfortable and safe as you savour every last bite.
Activities
You've always had freedom and flexibility to do your own thing on tours with optional activities and experiences. Now, you'll still have those options with added measures to keep you healthy and safe. All equipment for activities on tour, including hiking poles, camping supplies, life jackets, snorkels, etc., will be cleaned thoroughly at least once a day and disinfected between use. When travellers are responsible for putting up their own tents on camping itineraries, you will be given the supplies required to disinfect your gear. G Adventures will also do their best to make activities and highlights stops happen during non-peak hours, so you can have fun and feel safe no matter what you're doing.
Before you leave
A healthy goodbye
If you're not feeling well at the end of your tour for any reason, let your CEO know and they can help get you access to medical care and support. Because we want you to head home after a life-changing experience feeling just as good (let's be honest, way better) than when you left.
Aboard the G Expedition in quad-, triple-, twin-share cabins, or suites (all with en suite bathrooms and porthole or window, 12 nts). Please note that all cabins consist of twin-size berths and are ocean-facing. Suites have one queen-size bed.
Question: How many suitcases can I take with me on my trip?
Each person is allowed one "check-in," and one "carry-on." Remember to take all valuables with you as "carry-on", because electronic equipment, cameras, laptops, jewelry, business documents and money are not covered by the airlines' liability, so always carry them aboard with you.
Question: Is Airfare Included in the Price?
Airfare from your point of origin to and from the trip is not included in the land price.
Similar Tours Other Travelers Liked
This was my 8th tour with this operator and I have a 9th scheduled. Obviously I am happy with this operator.
It was a great tour and are guides were very knowledgeable.
A Gadventures tour is a great affordable way to see the country and get the opportunity to meet and interact with the local people
It was a dream vacation.Thank you.
The G-Adventures travel guides were excellent
All 100% perfect, nothing to be done better
The G Adventures tour was fantastic.
Very satisfied with tour, enjoyed it very much.
I liked the variety of activities and the chance to opt out without undue pressure. I met some really fun people on this tour.
Everyone connected with the tour went above and beyond. The tour was more than I ever dreamt!
Our CEO Solofo for this trip is fantastic. He is patient and very nice. He went extra ways to help me and other members. I really enjoy this trip because of him! He is an excellent CEO. I definitely will recommend to other friends about him. Pls let him know that we really enjoy his introduction. He is also very informative and knowledgeable. In a word, he is excellent!
Great trip at a reasonable price.
Awesome trip in a great country. Our CEO was professional and fun!!!
G adventures offers hands down some of the best tour packages out there!
The Japan vacation was better than I expected!!!! It was an active "moving" trip, which I truly enjoyed. I've done "coach tours" where you sit on the bus and they take you -- this experience was "hands on" riding the buses, trains and running through the streets -- it was amazing !!!!! We got the full feel of Japan and the people. This trip is not for the weak or slow pace crowd - you drag your luggage through the streets, up and down stairs --- it was truly exciting and exhilarating. G adventures has a fan for life. The instructions and assistance was outstanding -- Great job - Steve (AffordableTours.com) was outstanding !
AffordableTours.com® does not itself offer, service or administer the Travel Packages, and the ultimate terms and conditions of any Travel Package made available via the Site Offerings (including the prices quoted in connection with same) will be determined by the applicable Third-Party Travel Service Provider. AffordableTours.com® does not represent or warrant that the Price Quotes are accurate, up-to-date or free of error, or that same will be honored by the applicable Third-Party Travel Service Providers. All Price Quotes, Travel Package availability, Travel Package details/itinerary and other Content are subject to change without notice. All travel details published by and through the Site Offerings should be confirmed directly with the applicable Third-Party Travel Service Provider prior to making any travel plans. Reliance on any information made available to you by and through the Site Offerings is solely at your own risk.
How It Works
Vacationing has never been easier or cheaper with the help of a dedicated travel consultant from AffordableTours.com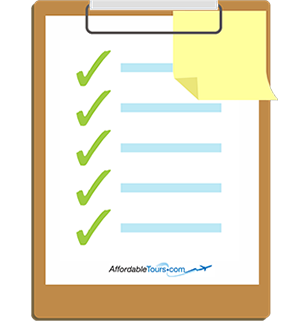 Find your perfect trip on our website and simply request a free quote. Need to speak to a live person? Call us 7 days a week at 1-800-935-2620. No robots here!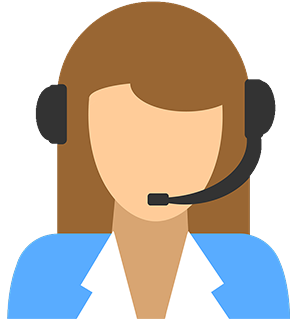 Your personal travel consultant will reach out and be your point of contact for your entire travel experience from start to finish. Did we mention you'll be working with an award winning team? Sweet!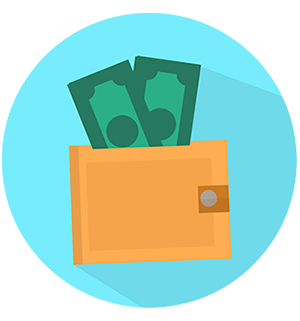 Because we're one of the largest sellers of travel, we're able to give you a discount on your vacation package. No one beats our prices!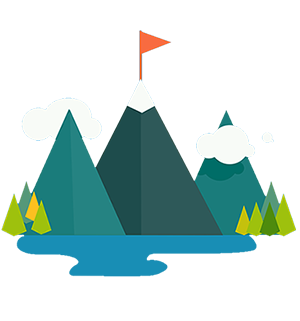 Knowing you got the best deal, all that's left is for you to pack your bags and enjoy your vacation!