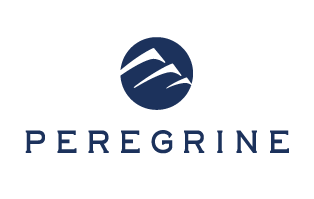 Why Pay Retail?
Call us for a quick quote!
Dates & Prices
Start Date
End Date
Offers
Brochure
Land Price
Our Price
Quote
May 13, 2021
May 23, 2021
Call Us

$2,270

Get Lower Price
Get Quote
May 20, 2021
May 30, 2021
Call Us

$2,270

Get Lower Price
Get Quote
Aug 12, 2021
Aug 22, 2021
Call Us

$2,270

Get Lower Price
Get Quote
Sep 09, 2021
Sep 19, 2021
Call Us

$2,270

Get Lower Price
Get Quote
Oct 07, 2021
Oct 17, 2021
Call Us

$2,270

Get Lower Price
Get Quote
May 12, 2022
May 22, 2022
Call Us

$2,270

Get Lower Price
Get Quote
May 19, 2022
May 29, 2022
Call Us

$2,270

Get Lower Price
Get Quote
Aug 11, 2022
Aug 21, 2022
Call Us

$2,270

Get Lower Price
Get Quote
Sep 08, 2022
Sep 18, 2022
Call Us

$2,270

Get Lower Price
Get Quote
Oct 06, 2022
Oct 16, 2022
Call Us

$2,270

Get Lower Price
Get Quote
Call or submit a quote to get our Low Prices!
Tour Itinerary
Journey back to the days of the Great Silk Road with the medieval cities, stunning architecture and turbulent history of Uzbekistan. Begin in modern, cosmopolitan Tashkent and voyage out into the deserts to uncover 2000-year-old fortress cities lost in the sands of time. Stand awestruck, as Genghis Khan once did, in front of Bukhara's Kalon Minaret, gaze upon Samarkand's mighty Registan Ensemble. Join a local family for dinner and learn a few things about making plov and raise a drink while you enjoy the colorful Khiva at sunset from a rooftop.
Day 1

Tashkent

Xush kelibsiz! Welcome to Uzbekistan. The largest city in Central Asia with a population of over 2 million, Tashkent is a mix of Russian and Uzbek style, an indication of the fact that for many years it was a key city of the USSR. Extravagant mosques, both ancient and new, sit alongside modern highways and Soviet monuments. On arrival at Tashkent Airport, meet your Peregrine representative and transfer to your hotel. Your adventure begins with an important welcome meeting at 6pm today. If you have time beforehand, take a walk to see some of the contemporary architecture that sets this city apart from many other Silk Road destinations.

Day 2

Tashkent

Spend a full day exploring Tashkent on a city tour. A highlight is the Chorsu Bazaar, one of the largest and oldest markets in Central Asia. Wandering through this giant marketplace is a fantastic way to see locals going about their daily lives. Uzbeks are some of the friendliest people in the world and you will find yourself chatting to many locals who are keen to get to know you. Be sure to try some of the fresh produce on offer. After wandering through the bazaar, explore some of the rich cultural history of Uzbekistan, including the 16th-century Kulkedash Medressa – an Islamic school that sits beside the 15th-century Juma (Friday) Mosque. The History Museum of the People of Uzbekistan provides an introduction to the country and the region in general, from the Silk Road era to Soviet times. A brief tour of Tashkent's metro system will reveal some beautiful stations (note that photography is not allowed in the subway). Also visited will be Amir Temur Square (the central park with the statue of Amir Temur on the horseback just outside the imposing Hotel Uzbekistan), the Khast Imom Complex including the Barak Khan Madrasa (a college for Islamic instruction), Kaffal Shashi mausoleum, Quran Library and Mosque, and the Roman Catholic Church of Tashkent. After a full day of sightseeing, perhaps go to the ballet or opera at the stunning National Theatre in the evening if there is a performance tonight. Your leader can assist you with what's on and buying tickets.
Meals: Breakfast

Day 3

Samarkand

Transfer to the station this morning and take the 8am high speed "Afrosiab" train to Samarkand (approximately 2 hours). This is a city that evokes the romance of the Silk Road perhaps more than any other. From its foundation in the 5th century BC, Samarkand has been a centre of artisans and traders as well as the prize for many a conquering army. From Alexander the Great who stormed its walls in 329 BC, to the Soviet occupiers who declared it the original capital of the Uzbek SSR in 1924, Samarkand's history is as rich as it is complex. Keep your camera at the ready, as this destination is a photographer's dream, with colourful domes and minarets gracing the skyline. Begin your tour of the city's sights on arrival. Make a visit to the Gur Amir Mausoleum – the final resting place of the mighty Timur and his sons and grandsons. The city flourished under his rule in the 14th century. For a man of his stature, it is quite a simple tomb. Continue to the Shah-i-Zinda complex, the so-called 'Town of the Dead' necropolis, with more than 20 beautifully decorated unique buildings. It's a holy site for local Muslims and is where the Prophet Mohammed's cousin is buried. Nearby is the Ulugbek Observatory, built in the 1420s by the Timurid astronomer of the same name. It is considered by scholars to have been one of the finest observatories in the Islamic world, and the largest in Central Asia, before it was destroyed in 1449. Finish the day's tour with a stop in the Afrosiab Museum, which houses a 7th century fresco of the Sogdian King Varkhouman.
Meals: Breakfast

Day 4

Samarkand

A highlight of this trip is standing on the iconic Registan Square with the three medressas (Ulugbek, Sher Dor and Tilla-Kari) towering over you. The Registan is probably the most recognisable of all Central Asia's monuments. The facades of the two medressas facing the central square are decorated in elaborate mosaic, tiles and intricate geometric brickwork, flanked by towering minarets and topped by azure-hued domes. The interiors of some of the buildings are just as impressive and there's so much to explore, including the many handicraft and souvenir stalls in the courtyards and rooms. While here you will visit the Bibi-Khanym Mosque, built by Timur. It is often compared to the Taj Mahal as it was built as a grand and timeless symbol of a man's love for his wife. This mosque overlooks the busy and colourful Siob Bazaar, where photographers will delight in taking photos of the many bustling stalls and the huge array of produce, as well as encountering friendly greetings from the local traders. Next up is a classic Uzbek experience – join a local family for a cooking class on the traditional meal known as plov. Uzbek men pride themselves on their ability to prepare the most unique and scrumptious plov. This dish is cooked over an open flame in a traditional cauldron and is made up of fried and boiled meat, onions, carrots, rice, raisins, berries and chickpeas. Enjoy what you have cooked for dinner together.
Meals: Breakfast, Dinner

Day 5

Gijduvan - Bukhara

Enjoy some free time this morning to relax or have a leisurely walk around and take in the skyline one last time. Then, in the afternoon, drive west to Bukhara (approximately 4 hours). En route you will stop in Gijduvan, which is famous for its ceramic pottery. There are potteries here that date back six generations. Here you will have the unique and memorable experience of visiting a ceramic pottery workshop. Witness the full pottery process from throwing to firing to decoration, and visit a small museum to find out some history of ceramics in this area. Continue to Bukhara, a favourite Silk Road city for many travellers. Trading domes near here still offer an intriguing and colourful array of goods including embroideries, jewellery, spices, handicrafts and all manner of Silk Road treasures. This is the place to test your haggling skills and share a joke or two with local craftsman and merchants.
Meals: Breakfast

Day 6

Bukhara

A UNESCO-listed site, Bukhara is widely regarded as Central Asia's holiest city. With more than 100 officially preserved monuments, there is a lot to see. Your extensive sightseeing program here is spread over two days to make the most of your time. With many monuments dating from the 8th to the 18th century AD, there is a vast span of history and architecture to discover. The meticulous restoration of many of the mosaic and majolica decorations give you a true sense of how these buildings looked in their original glory. Start by visiting the ruins of the 5th-century Ark Fortress. This is the ancient heart of the city and the scene of several gruesome events. You'll also see the Bolo-Khauz Mosque, the Ismail Samani Mausoleum, the Chashma Ayub Mausoleum, the imposing Poikalon complex (comprising the Kalon Minaret, Kalon Mosque and Mir-i-Arab Medressa), and Ulugbek and Abdul Aziz Khan Medressa. The twilight hours lend themselves to wandering around the central Lyabi-Hauz and its surrounding areas. Enjoy dinner with a folklore & music performance.
Meals: Breakfast, Dinner

Day 7

Bukhara

Start the second full day of sightseeing in Bukhara on a different note, visiting the city's trading domes. In the 16th century, under the Shaybanides dynasty, Bukhara was a major trade, craft, and administration centre on the Great Silk Road. The city was famous for its bazaars, places of trade, meeting and entertainment. The dynasty built great covered bazaars, or trading domes, on major thoroughfares – a great dome over the main crossroads and smaller domes over the side streets. At its peak as one of the richest cities along the route, there are estimate to have been 50 bazaars and 75 caravanserais. Now there are only three of these domes left, but they still buzz with activity and give a glimpse of how commerce influenced urban development at the time of the Silk Road. All manner of things can be found on sale, and you will wander through in search of bargains. Experience the spirit of trade that has driven this region since the halcyon days of the Silk Road era. In the midst of these bazaars is the Maghoki-Attar, reputed to be the oldest mosque in Central Asia. Stop by the Lyabi Hauz – a pool of water surrounded by ancient mulberry trees in the Old Town's centre – see the Nadir Devan-Begi, one of the city's oldest and most beautiful medieval madrasas, and visit the unusual four minareted Chor Minor. Lastly, visit the Sitorai Mohi Hosa ('Star and garnet garden), which was the summer palace of the last emir. Its opulence is also reflected in the combination of local and European influences in its designs and furnishings. The halls are richly decorated with carpets and paintings. This evening is again free to explore Bukhara by night.
Meals: Breakfast

Day 8

Khiva

Set off early today and drive 450 kilometres to Khiva (approximately 10 hours including photo stops and lunch). Along the way you'll travel through the Kyzyl-Kum (Red Sands Desert), the largest desert area in Central Asia. It's long been inhabited by various nomadic people and on the way you might pass cowboys on their camels. You will also encounter the Amu Darya River, which was once known as the Oxus. This river bubbles up far to the south-east in the Pamirs, then runs west through the area now bordering modern Afghanistan (once famous throughout the ancient world for its lapis-lazuli mines). With the impressive oasis of Khiva ahead of you, this long journey is an ideal opportunity to catch up on some reading, or simply sit back and imagine you are a trader – relieved to have made it safely through the desert! On the way, you will stop for lunch at a roadside cafe to break up the journey. Arrive in the fabled city of Khiva in the evening and check into the hotel. The town's colourful procession over the years (conquering khans, Silk Road traders, Great Game spies and Russian invaders) has long captured the imagination of writers and poets. Grab a drink, sit down and enjoy the colorful panoramic view of the city at sunset on the roof top of our hotel.
Meals: Breakfast, Dinner

Day 9

Khiva

Take a full day to explore the city. Khiva is enchanting at dawn, with its empty streets and the palpable weight of thousands of years of history. Perhaps get up early before the day's sightseeing begins, and enjoy the sunrise. Khiva is beautifully preserved and perfect for exploring on foot, with impressive walls that mark the boundaries of the old city. Upon entering its gates you will see towering minarets and numerous medressas. Your guide will take you through many of these monuments, including the turquiouse Kalta Minor Minaret, the Khan museum in the Mohammed Rakhim Khan Medressa, the 17th-century Juma Mosque, the Islom-Hoja Minaret and Medressa (built in 1908 and the highest structure in Khiva), and the Pahlavon Mahmud Mausoleum complex (the Persian-style resting place of Khiva's patron saint). Visit the Kuhna Ark, which was the main fortress, and look over the city from the hill of the Ak-Sheikh Baba observation platform, once used as a patrol tower of the citadel. Finish with the 19th century summer palace of Mohammed Rakhim Khan II, the Tosh-Hovli Palace, set in orchards and surrounded by walled gardens, fountains and aywans.
Meals: Breakfast

Day 10

Tashkent

Transfer to the airport in the morning for a flight to Tashkent, arriving in the Uzbekistan capital just after 11 am. Visit the Navoi Theatre, named for one of the nom de plume's of Ali-Shir Nava'I, a 16th century writer and mystic. The multi-arched façade was partially constructed by Japanese prisoners of war. Next, spend some time pondering the works within the modern Art Gallery of Uzbekistan. Tonight, join your fellow travellers for a final optional dinner and say farewell to this spectacular Silk Road country.
Meals: Breakfast

Day 11

Tashkent

Your trip comes to an end today in Tashkent.
Meals: Breakfast
Complimentary Airport Arrival Transfer
Tashkent - Kukeldash & Barak Khan Madressas
Tashkent - Chorsu Bazaar
Tashkent - Amir Timur Square
Tashkent - Roman Catholic Church
Tashkent - Khast Imom Complex & Moyie Mubarek Library Museum
Tashkent - History Museum of the People of Uzbekistan
Samarkand - Ulugbek's Observatory
Samarkand - Shakh-I-Zinda
Samarkand - Gur-e-Amir Mausoleum
Samarkand - Afrosiab Museum
Samarkand - Plov cooking demonstration & family visit
Samarkand - Registan
Samarkand - Bibi-Khanym Mosque
Samarkand - Siob Bazaar
Gijduvan - Ceramics workshop
Bukhara - Ismail Samani Mausoleum
Bukhara - Ark Fortress
Bukhara - Guided city tour
Bukhara - Bolo Hauz Mosque
Bukhara - Folklore & music performance
Bukhara - Walking tour
Bukhara - Kalon Minaret & Mosque
Bukhara - Chor Minor
Bukhara - Sitorai Mohi Hosa Palace
Khiva - Sunset drinks
Khiva - Pahlavon Mahmud Mausoleum
Khiva - Islom Hoja Minaret & Medressa
Khiva - Juma Mosque
Khiva - Tosh-Hovli Palace
Khiva - Kunya Ark
Khiva - Kuhna Ark
Khiva - Kalta Minor Minaret
Meals
10 Breakfast(s) Included
1 Lunch(es) Included
2 Dinner(s) Included

Style: Peregrine

Hotel (7 nights), Bukhara Boutique Hotel Feature Stay (3 nights)
Question: How many suitcases can I take with me on my trip?
Each person is allowed one "check-in," and one "carry-on." Remember to take all valuables with you as "carry-on", because electronic equipment, cameras, laptops, jewelry, business documents and money are not covered by the airlines' liability, so always carry them aboard with you.
Question: Is Airfare Included in the Price?
Airfare from your point of origin to and from the trip is not included in the land price.
Similar Tours Other Travelers Liked
AffordableTours.com® does not itself offer, service or administer the Travel Packages, and the ultimate terms and conditions of any Travel Package made available via the Site Offerings (including the prices quoted in connection with same) will be determined by the applicable Third-Party Travel Service Provider. AffordableTours.com® does not represent or warrant that the Price Quotes are accurate, up-to-date or free of error, or that same will be honored by the applicable Third-Party Travel Service Providers. All Price Quotes, Travel Package availability, Travel Package details/itinerary and other Content are subject to change without notice. All travel details published by and through the Site Offerings should be confirmed directly with the applicable Third-Party Travel Service Provider prior to making any travel plans. Reliance on any information made available to you by and through the Site Offerings is solely at your own risk.
How It Works
Vacationing has never been easier or cheaper with the help of a dedicated travel consultant from AffordableTours.com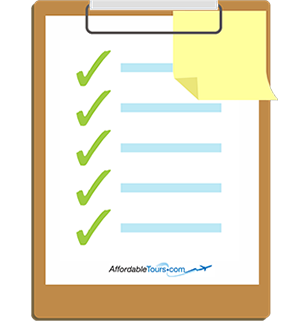 Find your perfect trip on our website and simply request a free quote. Need to speak to a live person? Call us 7 days a week at 1-800-935-2620. No robots here!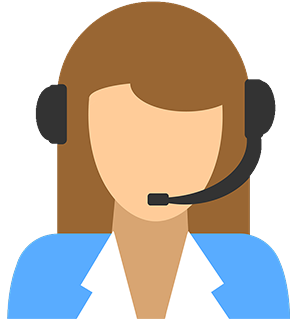 Your personal travel consultant will reach out and be your point of contact for your entire travel experience from start to finish. Did we mention you'll be working with an award winning team? Sweet!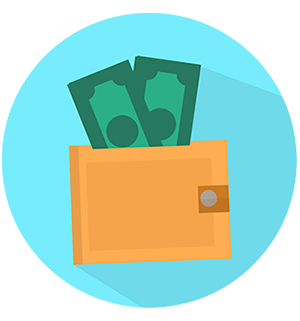 Because we're one of the largest sellers of travel, we're able to give you a discount on your vacation package. No one beats our prices!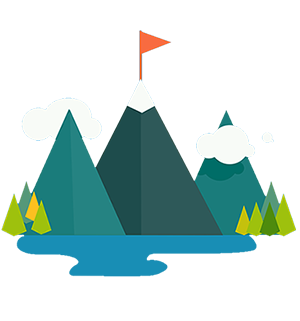 Knowing you got the best deal, all that's left is for you to pack your bags and enjoy your vacation!