Why Pay Retail? Call us or click for a quick quote and save money!
Overview
Call or submit a quote to get our Low Prices!
Tour Itinerary
Journey into a land rich in stunning natural scenery, diverse cultures, ancient history and jaw-dropping modern development. Start in Kunming and venture deep into Yunnan province, meet the local Bai and Tibetan peoples in the ancient towns of Dali and Shangrila, hike Tiger Leaping Gorge and join the pilgrims at Sumtseling Monastery. Head to Shanghai for a wander along the Bund and wonder at the amazing historical collections in Shanghai Museum. Learn about kung fu and Buddhism at Shaolin Temple and stand face-to-face with Terracotta Warriors. Spend a night in a courtyard house at the foot of the Great Wall and learn the intricate art of paper cutting.
Day 1: Kunming
Known as the 'City of Eternal Spring' for its year-round temperate climate, Kunming is an increasingly modern city, but it still holds pockets of old-world charm in a relaxed atmosphere. You'll need to attend a welcome meeting at 6 pm at the hotel. If you're going to be late, please inform the hotel reception. We'll be collecting your insurance details and next of kin information at this meeting, so please have these on hand. We'll be happy to book additional accommodation for you (subject to availability). If you do arrive early enough to explore, maybe delve into local culture at the ancient temples and intriguing museums dotted around the area – the Buddhist Yuantong Temple dates back 1,200 years and you will uniquely enter the complex from above and descend into the elegant garden and halls.
Day 2: Dali
Depart Kunming by private bus and prepare for the adventure ahead as you travel through the countryside to Dali. Kunming to Dali is 340 kilometres and the drive will take about 5 hours. You'll travel through the foothills of the Himalayas, driving through the mountains (some tunnels are kilometres long!) that it used to take weeks to pass. Stretch your legs on an orientation walk with your leader, then explore in the afternoon as you'd like. Dali is a favourite among travellers in China, a place where you can soak up the fresh mountain air and observe relics from the past. The town is overflowing with places to eat and drink, so you will not have trouble finding a good meal this evening. The Ancient Town, a beautifully preserved and rebuilt part of the city with lantern-lit cafes, cobblestone streets and ancient stone houses is a great place to start.
Day 3: Xizhou/Dali
Today you'll travel 1 hour to the nearby town of Xizhou, an authentic town of the Bai – a group renowned throughout the country for their craftsmanship. Be guided around this photogenic town filled with Bai architecture, characterised by ornate gateways with elegant detailing. The town was long ago a stop on the tea horse trail, home to wealthy merchants, officials and scholars, and during World War II, many of China's universities decamped to this remote part of Yunnan to continue their studies. Wander around this unique town and don't forget to try the local treat 'xi zhou ba ba' – a warm baked cake filled with savoury or sweet filling. For lunch you'll enjoy a unique experience when you visit a local family. You'll try cheese making with them and have a meal together. Return to Dali for the night.
Day 4: Shaxi
Travel to Shaxi from Dali today (approximately 4 hours). Unlike many other ancient towns in Yunnan, Shaxi has been restored rather than rebuilt, and decades of laying off the main highways mean it hasn't seen the rapid development places like Lijiang and Dali have. Here you can still find the Yi and Bai ethnic minorities living traditional lives in farmhouses lining the country roads. You'll see cobblestone streets, original walled town gates and a market square that prove that Shaxi was once an important stop on the old Tea Horse Trail. After you've settled in, take a leisurely walk around the town.
Day 5: Shaxi
Today you'll join a local guide to visit Shibaoshan and Shizong Temple, perhaps taking a picnic lunch with you to make the most of the beautiful danxia landscape along the way. The beautiful multi-coloured rocks are formed by millions of years of sandstone and mineral deposits, creating a rainbow effect that must be seen to be believed. The hike takes around 1.5 hours, reaches around 2,400 metres above sea level and is accessible to all travellers with a reasonable level of fitness. For those travellers who wish to sit out this activity there is the option to stay in Shaxi for the day instead. In the evening, take the opportunity to mix with the locals on the town square, where it's not rare to see impromptu dancing, singing and games happen (feel free to join in or just observe).
Day 6: Tiger Leaping Gorge
Travel to Tiger Leaping Gorge by private bus (approx. 2 hrs). Part of the Yangzi River (known here as the Jinsha River) thunders through Tiger Leaping Gorge, which is in turn framed by 5,000-metre-high mountains. A memorable walk in the gorge is a wonderful way to take in its awesome beauty and today you'll do just that. It's a predominantly downhill five-kilometre hike that takes around 3 to 4 hours to complete at a relaxed pace, giving you ample time to soak up the sights of one of Asia's most dramatic and photogenic hiking trails. About 15 kilometres in length, the gorge is named after a legendary tiger that leapt across the gorge to escape the clutches of a hunter. No mean feat considering the canyon's narrowest point is still a staggering 25 metres wide!
Day 7: Shangrila
Today you'll travel to a place so beautiful it was officially renamed Shangrila, a reference to the mythic utopia from James Hilton's novel Lost Horizon. Before you set off, visit the legendary "stepping stone" the tiger used to escape across the Jinsha river, located at the narrowest point of the gorge. Make the 3-hour drive to Shangrila and feel the modern world fade away as you head higher into the mountains. This charming Tibetan town lies on an altitude around 3,200 metres, so take it easy upon arrival and give yourself some time to acclimatise. Later take a stroll on winding streets past prayer halls and pagodas in Dukezong Ancient Town. A fire tore through the area in 2014, destroying most of the town, but painstaking restoration work continues and the town remains charming. It's also home to a towering, gilded prayer wheel – the largest in the world.
Day 8: Shangrila
Learn more about Tibetan Buddhism with a visit the Sumtseling Monastery. Located just outside the city and modelled after the Potala Palace, Sumtseling is the predominant monastery in the region and a popular destination for pilgrims. Constructed in 1681 and subsequently destroyed during the Cultural Revolution in the 1960s, the complex was rebuilt in 1981 and the red and gold buildings now house hundreds of monks. Later travel south to Xiao Zhongdian, a village-dotted plain split by a flowing river. Here you will be invited into the home of a local Tibetan to see how they live and have a chat over a cup of yak butter tea. If time permits (and you have the energy), you may be able to visit idyllic Potatso National Park in the afternoon. If the altitude is taking its toll, why not spend the evening relaxing in Shangri-la.
Day 9: Kunming
Return to Kunming on a roughly 80-minute flight and transfer to your hotel. If you have enough time, Green Lake Park is a lovely place to while away an hour or two. In the evening, perhaps join your group for a final dinner and toast to new friends and ancient sights.
Day 10: Shanghai
Board flight from Kunming to Shanghai and get transferred to your hotel in Shanghai. There will be a group meeting at 6 pm. Please note that you will be unaccompanied on this flight and your tour leader and group composition may change too.
Day 11: Shanghai
Shanghai by morning is bustling with street vendors and workers making their morning commute, and today you'll weave among them in an early walking tour of the city. Begin with the pride of Shanghai – the Bund. On one side of this waterfront strip you'll see gothic, baroque and neoclassical architecture dating as far back as 1897. These historic buildings sit in wonderful contrast to the uber modern high rises and sleek office buildings that lie across the water. Then, zig zag through the back lanes off of East Nanjing Road, the oldest (and busiest!) shopping street in Shanghai. Then continue to the famous French Concession where the French settled in Shanghai in mid 19th century, now a hip area in Shanghai full of trendy cafes and bars, so it's a great area to wander, explore or rest. The afternoon and evening are free for you to do as you please. Those feeling a little overwhelmed by the chaos may wish to visit the classical garden of Yuyuan - on of the must-see sights of Shanghai.
Day 12: Shanghai – Luoyang
A traditional Shanghai breakfast is salty, savoury and rich. As you have a free morning in in the city, why not ask your leader for the best place to get a bowl of congee (savoury rice porridge) or jian bing (egg crepe)? At midday, board a high-speed train bound for Luoyang. Once the capital of Imperial China, Luoyang boasts plenty of historic sights. It's also the gateway to Shaolin Monastery. The journey will take about 6 hours, so it's a good idea to have a book or podcast on hand to keep you occupied as the scenery rushes past you outside the window.
Day 13: Luoyang
Today, visit the legendary birthplace of kung fu - the Shaolin Monastery. A private bus journey of around 3 hours will take you to the monastery, which remains the primary source of Shaolin Buddhist training and learning to this day. Learn about the warrior monks of Shaolin and how the martial art has changed over centuries. Watch an athletic kung fu performance and then wander through the Pagoda Forest, where respected monks have been laid to rest in towering tombs since AD791. For lunch enjoy a vegetarian feast at nearby Yongtai Temple where you will sample innovative Buddhist cuisine. Enjoy a free afternoon and evening in Luoyang. As night falls, you'll see thousands of colourful lamps light the streets and squares across the city, creating a lovely ambiance.
Day 14: Longmen – Xi'an
Embrace an early start to visit the nearby honeycomb caves and stone-carved Buddha statues of the Longmen Grottoes. This UNESCO World Heritage site features more than 100,000 statues and carvings of the Buddha that date back to the 4th century. You'll explore them with a local guide. Return to Luoyang and board a bullet train bound for Xi'an. The 2-hour journey will deliver you to the city widely regarded as the birthplace of Chinese civilisation, and you'll dive in with a late afternoon walking tour of the historic Muslim Quarter. This buzzing commercial quarter is the best place to sample some unique regional halal dishes. One local favourite is yang rou pao mo, a clear broth soup filled with tender mutton and crumbed flatbread.
Day 15: Xi'an
The most famous archaeological site in Xi'an, if not all of China, awaits today. The Terracotta Army was hidden for thousands of years until farmers accidentally uncovered the archaeological wonder in 1976. This immense clay militia – including soldiers, horses and chariots – was commissioned by First Emperor Qin as part of his mausoleum, designed both to protect him in the afterlife and commemorate his victory over the Warring States during his reign. Explore the pits that are on display to the public and marvel at this impressive display of ancient power. Sit down for a local lunch and then return to Xi'an for the evening. If you have the energy to venture out, the South Square is lit beautifully in the evening and is home to ancient Big Goose Pagoda and numerous contemporary sculptures.
Day 16: Beijing
Travel to Beijing this morning by bullet train (approximately 5.5 hours). Arrive in the afternoon and follow your leader on an orientation walk to familiarize with the neighborhood. The evening is yours with plenty options from watching a Kungfu show to exploring the hutong areas in the old Beijing.
Day 17: Beijing – Great Wall
Check out in the morning and visit Tiananmen Square in the centre of the city. Framed by many imposing and iconic buildings such as the Gate of Heavenly Peace with its Mao portrait, Mao's Mausoleum, the Great Hall of the People and the National Museum, it's a place of pilgrimage for many Chinese tourists who consider it the heart of their nation. From here you will enter the enormous scarlet walls of the Forbidden City. Built more than 500 years ago and until recently off limits to commoners, explore the great halls and courtyards of this palace complex. In the afternoon, make your way to the lovely courtyard guesthouse tonight by private transfer (about 3 hours), located in the countryside near the Wall. Enjoy a barbecue dinner and relax in preparation for a full day of sightseeing tomorrow.
Day 18: Beijing
An early start is necessary today to get the most out of the spectacular Great Wall. A feat of engineering that began construction around 2700 years ago, the section of the Wall most are familiar with stretches 6000 kilometres west from the mountain ridges north of Beijing. Although unsuccessful in protecting the Chinese empires from ancient enemies, it's without a doubt one of the country's most remarkable achievements and an iconic destination. Follow the serpentine fortifications through green mountains in a cable car, then spend a few hours exploring a section of the wall that is further from the city (and therefore less crowded). Later, return to the guesthouse and learn the fine art of paper cutting from a master of the tradition. Finally, make the 3-hour journey back to Beijing and spend the evening relaxing in the capital. Maybe choose to have an optional farewell dinner with your leader and fellow travellers and don't miss out on the delicious Peking Duck!
Day 19: Beijing
The tour will come to an end today after breakfast. There's still lots to see and do in Beijing, so perhaps consider staying a few days longer. If you would like to spend more time here, we'll be happy to organise additional accommodation (subject to availability).
Dali - Ancient Town walking tour
Xizhou - Cheese making
Xizhou - Home-cooked Bai lunch
Shibaoshan - Hike to Shizong Temple
Tiger Leaping Gorge - Guided trek
Shangrila - Sumtseling Monastery
Xiao Zhongdian - Tibetan family visit
Shanghai - Walking tour
Shanghai - French Concession
Shaolin - Temple, Pagoda Forest & Kung Fu show
Shaolin - Buddhist vegetarian lunch
Xi'an - Muslim Quarter walking tour
Longmen - Longmen Grottos
Xi'an - Terracotta Warriors
Xi'an - Home-cooked lunch
Great Wall - BBQ dinner
Great Wall - Traditional paper cutting class
Great Wall - Cable car
Great Wall - Jinshanling section
Beijing - Tiananmen Square
Beijing - Forbidden City
Meals
17 Breakfast(s) Included
4 Lunch(es) Included
2 Dinner(s) Included

Style: Peregrine

Hotel (14 nights), Guesthouse (1 night), Feature Stay Dali (2 night), Great Wall Guesthouse Feature Stay (1 night)
Question: How many suitcases can I take with me on my trip?
Each person is allowed one "check-in," and one "carry-on." Remember to take all valuables with you as "carry-on", because electronic equipment, cameras, laptops, jewelry, business documents and money are not covered by the airlines' liability, so always carry them aboard with you.
Question: Is Airfare Included in the Price?
Airfare from your point of origin to and from the trip is not included in the land price.
Similar Tours Other Travelers Liked
AffordableTours.com® does not itself offer, service or administer the Travel Packages, and the ultimate terms and conditions of any Travel Package made available via the Site Offerings (including the prices quoted in connection with same) will be determined by the applicable Third-Party Travel Service Provider. AffordableTours.com® does not represent or warrant that the Price Quotes are accurate, up-to-date or free of error, or that same will be honored by the applicable Third-Party Travel Service Providers. All Price Quotes, Travel Package availability, Travel Package details/itinerary and other Content are subject to change without notice. All travel details published by and through the Site Offerings should be confirmed directly with the applicable Third-Party Travel Service Provider prior to making any travel plans. Reliance on any information made available to you by and through the Site Offerings is solely at your own risk.
How It Works
Vacationing has never been easier or cheaper with the help of a dedicated travel consultant from AffordableTours.com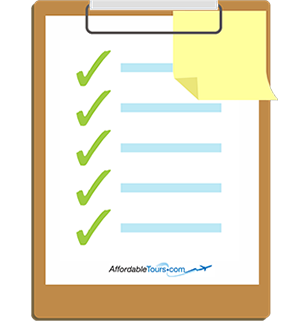 Find your perfect trip on our website and simply request a free quote. Need to speak to a live person? Call us 7 days a week at 1-800-935-2620. No robots here!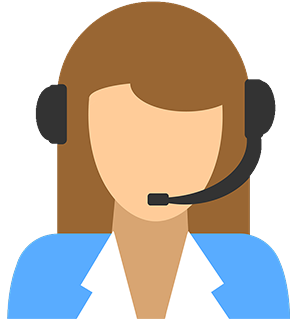 Your personal travel consultant will reach out and be your point of contact for your entire travel experience from start to finish. Did we mention you'll be working with an award winning team? Sweet!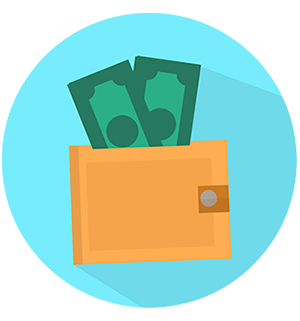 Because we're one of the largest sellers of travel, we're able to give you a discount on your vacation package. No one beats our prices!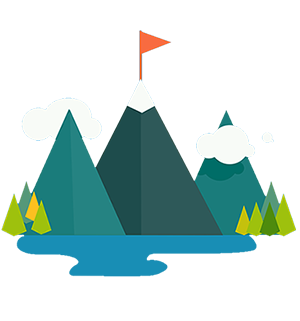 Knowing you got the best deal, all that's left is for you to pack your bags and enjoy your vacation!