Why Pay Retail? Call us or click for a quick quote and save money!
Overview
Dates & Prices
Start Date
End Date
Offers
Brochure
Land Price
Our Price
Quote
Apr 28, 2021
May 13, 2021
Call Us

$12,495

Get Lower Price
Get Quote
Jun 09, 2021
Jun 24, 2021
Call Us

$12,495

Get Lower Price
Get Quote
Jun 23, 2021
Jul 08, 2021
Call Us

$12,495

Get Lower Price
Get Quote
Jul 07, 2021
Jul 22, 2021
Call Us

$13,170

Get Lower Price
Get Quote
Jul 28, 2021
Aug 12, 2021
Call Us

$13,170

Get Lower Price
Get Quote
Aug 11, 2021
Aug 26, 2021
Call Us

$13,170

Get Lower Price
Get Quote
Aug 18, 2021
Sep 02, 2021
Call Us

$13,170

Get Lower Price
Get Quote
Sep 01, 2021
Sep 16, 2021
Call Us

$13,170

Get Lower Price
Get Quote
Sep 08, 2021
Sep 23, 2021
Call Us

$13,170

Get Lower Price
Get Quote
Call or submit a quote to get our Low Prices!
Tour Itinerary
The feeling of laying eyes on a family of rare mountain gorillas in the wild is a hard one to describe. Crouching in primeval forest as a mother plays with her babies close by is an experience few humans ever get to have, and for good reason. There are only about 700 mountain gorillas left in the world, and half of them can be found in Uganda's Bwindi Impenetrable Forest. Led by a local driver/guide, join a small group of eight travellers on this special expedition into the untouched Ugandan wilderness. Following that, travel to the vast grasslands of East Africa - a place that supports the largest concentration of wildlife in the world. You'll get among the massive herds and their predators in 4WD safari vehicles with our expert local leaders at the helm. Experience the wilds of Africa on this expedition like no other on a breathtaking journey through Uganda, Kenya and Tanzania.
Day 1: Entebbe - Lake Mburo
Welcome to Uganda. Upon arrival at Entebbe Airport, you'll be met by our local representative at 11am and transferred to Lake Mburo National Park. Drive approximately 5 hours to the park, stopping on the way to stand in both the northern and southern hemispheres at the equator line. After entering the park, you'll enjoy a game drive on the way to camp, arriving in the early afternoon. Extensive acacia woodland and five lakes make up Lake Mburo National Park, an area that is home to a stunning array of wildlife. It's the best place in the country to see eland (the largest species of antelope), as well as zebra, topi, impala and several types of birds that gather around acacia trees. This afternoon you'll take a boat ride on Lake Mburo. The lakes provide a home for hippos, crocodiles and a variety of waterbirds – the swampy fringe region provides a hideaway for secretive species such as sitatunga and red, black and yellow papyrus gonalek. Tonight's simple but comfortable tented camp is located in the centre of the park. Placed in varied settings, some rooms are situated in a forest, some with a lake view, and some on rocky outcrops. Animals gathering in the valley will give you fantastic game viewing opportunities, and you can relax and watch wildlife at a waterhole below the pool.
Day 2: Bwindi Impenetrable Forest
This morning you'll enjoy an early breakfast, leave the national park and continue on to Bwindi Impenetrable Forest (approximately 6 hours), your base for the next two nights. Your lodge here combines excellent local hospitality with seclusion in this enchanting wilderness area. The forest's moniker is very apt – this is extremely rugged and dense woodland which dates back over 25,000 years and is one of the most biologically diverse rainforests in the world. If time allows, in the afternoon you'll take a walk to a beautiful waterfall within the Bwindi Impenetrable Forest. Look out for the wildlife that will surround you – numerous birds, butterflies, and maybe monkeys. Then return to camp to enjoy a sumptuous dinner this evening.
Day 3: Bwindi Impenetrable Forest - Gorilla Trek
A short morning drive takes you to the park headquarters, where you'll be briefed on the gorilla trek by the Uganda Wildlife Authorities. The 330 square kilometre Bwindi Impenetrable Forest was declared a World Heritage site in 1994 because of its incredible biodiversity. This small pocket of primeval forest in the Virunga Mountains protects about half of the world's remaining 700 mountain gorillas, as well as providing a home for chimpanzees and several species of monkeys. Gorilla trekking is highly controlled with only 24 gorilla trekking permits available each day. Once a trekking group encounters one of the gorilla families, only one hour is granted in the presence of the great apes before trekkers must leave, however reluctantly. Be aware that the trek can be strenuous and may reach altitudes of almost 2,000 metres above sea level. Depending on weather conditions, some of the paths can be slippery and these paths themselves can change depending on the location of the gorillas. Therefore it is very hard to predict how long you will need to walk for, but a very good level of fitness is recommended for this trek. You can usually get very close to the mountain gorillas, and watching their movements is like seeing a mirror image of yourself. Be mesmerised and feel the emotions as you watch them eat, sleep, groom and play – the giant silverback surveying the scene as the smaller ones laze in the trees or play like children. You'll enjoy a picnic lunch on the trek. At the end of the day the comforts of the hotel beckon, along with a chance to reflect on a truly memorable experience.
Day 4: Entebbe
Depart from the great forest on what is set to be a substantially long drive to Entebbe, spanning at around 550kms (approx. 8 hours). The trip will be broken up along the way by a picnic lunch. Once you arrive, spend the night at the hotel in preparation for your adventures to Nairobi tomorrow.
Day 5: Nairobi
This morning you will be transferred to Entebbe International Airport for your included flight to Nairobi. On arrival in Nairobi, you'll have a day free to do as you please. Maybe visit the Karen Blixen Museum, the Langata Giraffe Centre, or have a meal at the famous Carnivore Restaurant, where meat lovers can taste a variety of barbecued meat. Meet your new leader and group today at a welcome meeting at 6pm.
Day 6: Lake Naivasha / Lake Nakuru
Depart Nairobi for Elsamere after breakfast and head north, driving along the escarpment of the Great Rift Valley (approximately 4 hours of driving in total). Elsamere is the former home of the writer Joy Adamson, whose 1960 book 'Born Free' helped bring wildlife conservation into the mainstream. The house is a veritable museum that dedicated to the works of Joy and George Adamson, with many photos of Elsa, the lioness that started it all. You'll then embark on a boat trip on Lake Naivasha, the highest of all lakes in the Great Rift Valley and home to many a hippopotamus. Later, enjoy lunch with the lake as a serene backdrop. After lunch, continue to your Lake Nakuru lodge, arriving in the early evening.
Day 7: Lake Nakuru National Park
This morning you will visit Lake Nakuru National Park by 4WD. Mornings can be cold so it's important to bring warm clothes. You might see why this great soda lake has been described as the world's greatest ornithological spectacle; it amazingly turns into a sea of pink on occasion. Flooding in recent years has unfortunately caused a decline in birdlife. The park boasts substantial numbers of other species, including waterbuck, reedbuck and gazelle. Leopards are also to be found here, and the chances of sighting one is significant. Keep your eyes peeled too, for one of Africa's most endangered creatures, the elusive black rhinoceros (white rhinos are much easier to spot).
Day 8: Masai Mara National Reserve
Today you will head southwest to the Masai Mara (approximately 6–7 hours), arguably one of the finest game reserves in Africa. Before you arrive, you'll first cross the Great Rift Valley, Africa's immense and spectacular great divide. Pass by the remote region of Loita Hills, home of the traditional Maasai people known for their vibrant red dress and elaborate jewellery. This is one of the key places where the Maasai people still practice their traditional way of life, with little influence from the western world. Make a stop at Tepesua Village, which is known for championing Maasai women's health and education. You'll be welcomed by Maasai Warriors by way of traditional song and dance. Meet your Maasai hosts and enjoy a fascinating talk, full of insights into this remarkable and ancient culture. Take a walk to the community village which was founded for widows who had lost their cows due to drought, and can never remarry. The village offers support, safety and economic growth through the 'Tepesua Widows Income Project'. Here the women are engaged in making handicrafts and sewing eco-friendly handbags, washable sanitary pads, and backpacks to sell to visiting travellers and locals. Learn about village life and be shown around a traditional Maasai home, and their cattle enclosures. We then continue on your journey to 'The Mara'. After checking into the park, take a short game drive on the way to camp. Set in what is considered Kenya's prime wildlife area, Mara Leisure Camp is located along the Talek River, on the northern boundary of the Masai Mara Game Reserve. Facilities at the camp include a swimming pool, gift shop, bar and restaurant.
Day 9: Masai Mara National Reserve
Explore more of the park by 4WD today with further game drives in the morning and afternoon. Witness the wonderful procession of wildlife that inhabits the area. Wildebeest, zebra and gazelle are plentiful, and you might even spot predators keeping a casual eye on their movements. Elephants, giraffes and elands are also commonly sighted, along with plenty of bird life. The area is known for its rolling green plains and riverine woodlands, and amongst the many species of game, a black-maned lion, leopard or cheetah might appear, with some luck. As dusk falls, a variety of animals might be visible in the vicinity of your camp also.
Day 10: Masai Mara National Reserve
Today is a free day. If you wish to continue your exploration of arguably one of the finest game reserves on the continent there are a number of optional activities that you can choose from including half-day or full-day game drives or walking safaris. A morning game drive involves waking at dawn for a light breakfast followed by an early morning game drive, setting off at sunrise and returning to the camp three to four hours later. An afternoon game drive departs around 4 pm and returns after sunset. On returning to the camp, freshen up before joining other guests around the campfire for a pre-dinner drink. An optional balloon ride over the Masai Mara at sunrise is an unforgettable experience. If you have pre-booked this activity you will be picked up from camp before dawn and driven to the launch site for a safety briefing with your pilot. You then glide through the dawn, sometimes at tree height, making the most of the amazing photo opportunities. Sometimes you'll ascend to get an overview of the enormity of the Masai Mara plains and the early-morning movements of the teeming herds. Upon landing you'll be treated to a bush breakfast before re-joining your group.
Day 11: Kisii
Say goodbye to the Mara and head to Kisii (approximately 5 hours). Once arrived stop for lunch (at your own expense) and visit a local soapstone factory in Kisii. This town is home to the best soapstone carvers on the continent. Their products are quite popular around the world. It's a favourite stopover for travellers seeking a taste of the exquisite Kisii carvings.
Day 12: Serengeti National Park
Cross into Tanzania before heading to the Serengeti National Park (approximately 8 hours, not including time spent at the border). These 'Endless Plains' span some 14,700 square kilometres, but their main claim to fame is 3 million or so animals. The game most likely to be seen in the Serengeti are the wildebeest, zebra, gazelle, lion, cheetah, warthog, hyena, hippo and ostrich. You'll take a game drive en route to your camp and watch the landscape change within the park from the vast treeless central plains to thick scrub and forest in the north. Linking these areas is the savannah, dotted with acacia trees and magnificent rock outcrops. Pull up in the park and enjoy a refreshing sundowner and some nibbles before carrying on to you camp. The next two nights are spent at a mobile tented camp, our feature stay on this trip. Meru-style tents are a great place to relax at the end of the day and have large beds, table, clothes rack, sink, 'bucket' showers and a toilet. The eco-friendly camp has a comfortable lounge area, and a cosy mess tent located in the centre of the camp where meals are served. The campfire is ready every evening for appetizers before dinner. This is a unique opportunity to enjoy a real safari camp experience with modern comforts.
Day 13: Serengeti National Park
Enjoy a full day of game drives in the truck in the magnificent Serengeti. Pull up in the park and enjoy a refreshing sundowner and some nibbles before returning to camp. Perhaps the ultimate way to go game viewing is on a hot air balloon safari over the great plains of the Serengeti National Park. Hot-air ballooning in East Africa can be an unforgettable experience, an exceptional way to see this part of the world. We strongly recommend booking this extra activity prior to departure if you're interested. Tonight we have a private dinner under the stars within our permanent tented camp while listening to the sounds of the Serengeti.
Day 14: Ngorongoro Highlands
After an early morning game drive, it's time to leave the park and travel through the Ngorongoro Crater Conservation Area to Karatu (approximately 5 hours). It's one of Africa's most beautiful nature reserves and the world's largest intact caldera. Upon arrival you will check into your accommodation, which is located on the lower slopes outside of the crater. This small and exclusive lodge faces the Oldeani Volcano and is located approximately 15 kilometres from the Ngorongoro Lolduare gate.
Day 15: Ngorongoro Highlands
In the morning, climb aboard the 4WD for your descent to the crater floor. Hopefully you'll see some, or all, of the 'big five' creatures that rule here. Animals within the Ngorongoro Crater are less shy of people and safari vehicles, so it's easier to see them up close. Views from the rim of the crater are sensational. On the crater floor, grassland blends into swamps, lakes, rivers, woodlands and hills. The Masai are permitted to water their cattle at the permanent lake and can be seen leading their animals in and out of the crater. The most commonly seen animals are the lion, wildebeest, zebra, eland, bushbuck, cheetah, jackal, buffalo, Grant's gazelle, Thompson's gazelle and black rhinoceros. The afternoon is yours to spend as you please, perhaps with optional walking activities or a coffee tour.
Day 16: Arusha / Nairobi
Drive to Arusha (approximately 3 hours) where your East African adventure comes to an end at the finishing point hotel. Alternatively, you can continue on to finish in Nairobi (approximately another 6 hours). Please review the 'Special Information' below before booking any flights.
Lake Mburo National Park - Game Drive
Bwindi National Park - Mountain Gorilla Permit & Trek
Lake Naivasha - Boat trip
Lake Naivasha - Elsamere Conservation Centre
Lake Nakuru - Afternoon Game Drive (4x4)
Lake Nakuru - Morning 4x4 Game Drive
Loita Hills - Cultural talk and village visit
Masai Mara - 4x4 Game Drive
Kisii - Soapstone factory visit and demonstration
Serengeti - Game Drive (Overland Vehicle)
Serengeti - Sundowner in the Park
Serengeti - Game Drive (Overland Vehicle)
Serengeti - Private Dinner
Serengeti - Game Drive (Overland Vehicle)
Ngorongoro Crater - 4x4 Game Drive
Meals
14 Breakfast(s) Included
12 Lunch(es) Included
13 Dinner(s) Included

Style: Peregrine

Hotel (3 nights), Lodge (4 nights), Feature Stay lodge (2 nights), Permanent tented camp (3 nights), Feature Stay camp (3 nights)
Question: How many suitcases can I take with me on my trip?
Each person is allowed one "check-in," and one "carry-on." Remember to take all valuables with you as "carry-on", because electronic equipment, cameras, laptops, jewelry, business documents and money are not covered by the airlines' liability, so always carry them aboard with you.
Question: Is Airfare Included in the Price?
Airfare from your point of origin to and from the trip is not included in the land price.
Similar Tours Other Travelers Liked
AffordableTours.com® does not itself offer, service or administer the Travel Packages, and the ultimate terms and conditions of any Travel Package made available via the Site Offerings (including the prices quoted in connection with same) will be determined by the applicable Third-Party Travel Service Provider. AffordableTours.com® does not represent or warrant that the Price Quotes are accurate, up-to-date or free of error, or that same will be honored by the applicable Third-Party Travel Service Providers. All Price Quotes, Travel Package availability, Travel Package details/itinerary and other Content are subject to change without notice. All travel details published by and through the Site Offerings should be confirmed directly with the applicable Third-Party Travel Service Provider prior to making any travel plans. Reliance on any information made available to you by and through the Site Offerings is solely at your own risk.
How It Works
Vacationing has never been easier or cheaper with the help of a dedicated travel consultant from AffordableTours.com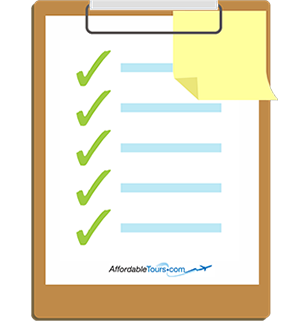 Find your perfect trip on our website and simply request a free quote. Need to speak to a live person? Call us 7 days a week at 1-800-935-2620. No robots here!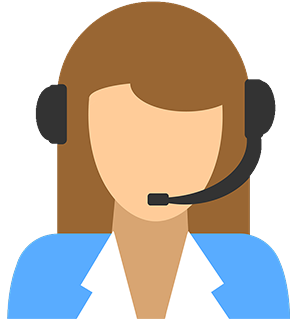 Your personal travel consultant will reach out and be your point of contact for your entire travel experience from start to finish. Did we mention you'll be working with an award winning team? Sweet!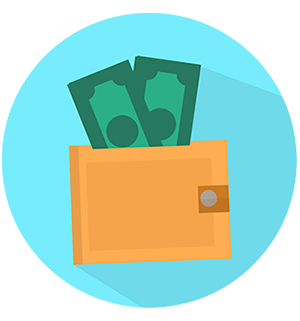 Because we're one of the largest sellers of travel, we're able to give you a discount on your vacation package. No one beats our prices!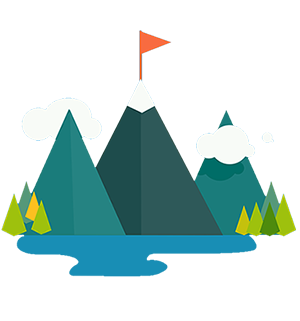 Knowing you got the best deal, all that's left is for you to pack your bags and enjoy your vacation!