Dates & Prices
Start Date
End Date
Offers
Brochure
Land Price
Our Price
Quote
Dec 06, 2020
Dec 15, 2020
Call Us

$2,435

Get Our Price
Get Quote
Dec 13, 2020
Dec 22, 2020
Call Us

$2,435

Get Our Price
Get Quote
Dec 20, 2020
Dec 29, 2020
Call Us

$2,435

Get Our Price
Get Quote
Mar 07, 2021
Mar 16, 2021
Call Us

$2,580

Get Our Price
Get Quote
Mar 14, 2021
Mar 23, 2021
Call Us

$2,710

Get Our Price
Get Quote
Mar 21, 2021
Mar 30, 2021
Call Us

$2,710

Get Our Price
Get Quote
Apr 04, 2021
Apr 13, 2021
Call Us

$2,760

Get Our Price
Get Quote
Apr 11, 2021
Apr 20, 2021
Call Us

$2,710

Get Our Price
Get Quote
Apr 18, 2021
Apr 27, 2021
Call Us

$2,710

Get Our Price
Get Quote
May 23, 2021
Jun 01, 2021
Call Us

$2,580

Get Our Price
Get Quote
Jun 06, 2021
Jun 15, 2021
Call Us

$2,322

Get Our Price
Get Quote
Jun 27, 2021
Jul 06, 2021
Call Us

$2,322

Get Our Price
Get Quote
Sep 26, 2021
Oct 05, 2021
Call Us

$2,322

Get Our Price
Get Quote
Oct 03, 2021
Oct 12, 2021
Call Us

$2,322

Get Our Price
Get Quote
Oct 17, 2021
Oct 26, 2021
Call Us

$2,322

Get Our Price
Get Quote
Oct 24, 2021
Nov 02, 2021
Call Us

$2,322

Get Our Price
Get Quote
Nov 07, 2021
Nov 16, 2021
Call Us

$2,322

Get Our Price
Get Quote
Nov 14, 2021
Nov 23, 2021
Call Us

$2,322

Get Our Price
Get Quote
Dec 05, 2021
Dec 14, 2021
Call Us

$2,322

Get Our Price
Get Quote
Dec 19, 2021
Dec 28, 2021
Call Us

$2,322

Get Our Price
Get Quote
Feb 27, 2022
Mar 08, 2022
Call Us

$2,254

Get Our Price
Get Quote
Mar 13, 2022
Mar 22, 2022
Call Us

$2,254

Get Our Price
Get Quote
Mar 20, 2022
Mar 29, 2022
Call Us

$2,254

Get Our Price
Get Quote
Apr 03, 2022
Apr 12, 2022
Call Us

$2,254

Get Our Price
Get Quote
Apr 10, 2022
Apr 19, 2022
Call Us

$2,254

Get Our Price
Get Quote
Apr 17, 2022
Apr 26, 2022
Call Us

$2,254

Get Our Price
Get Quote
May 22, 2022
May 31, 2022
Call Us

$2,254

Get Our Price
Get Quote
Jun 05, 2022
Jun 14, 2022
Call Us

$2,254

Get Our Price
Get Quote
Jun 26, 2022
Jul 05, 2022
Call Us

$2,254

Get Our Price
Get Quote
Sep 25, 2022
Oct 04, 2022
Call Us

$2,254

Get Our Price
Get Quote
Oct 02, 2022
Oct 11, 2022
Call Us

$2,254

Get Our Price
Get Quote
Oct 16, 2022
Oct 25, 2022
Call Us

$2,254

Get Our Price
Get Quote
Oct 23, 2022
Nov 01, 2022
Call Us

$2,254

Get Our Price
Get Quote
Nov 06, 2022
Nov 15, 2022
Call Us

$2,254

Get Our Price
Get Quote
Nov 13, 2022
Nov 22, 2022
Call Us

$2,254

Get Our Price
Get Quote
Dec 04, 2022
Dec 13, 2022
Call Us

$2,254

Get Our Price
Get Quote
Dec 18, 2022
Dec 27, 2022
Call Us

$2,254

Get Our Price
Get Quote
Call or submit a quote for award-winning value and service!
Tour Itinerary
Helloooo Japan. Get your fix of Japanese culture with temples, sushi and shopping in Tokyo before soaking up Kanazawa's crazy samurai culture. Get down with your world history at Hiroshima, spy geishas in Kyoto's Gion district and get your Tina Turner on at an Osaka karaoke bar. Whatever happens, you'll be sipping sake like a pro by the end of this trip.
Day 1

Tokyo

Konnichiwa! Welcome to Japan.As travellers are arriving from all over the world, there are no activities planned for day 1. The group meeting will take place at 6pm this evening.To introduce you to Tokyo at night your leader will take you for walk around one of Tokyo's most popular hubs. Join your leader and new travel buddies for an optional first dinner together! Tokyo is a dynamic, modern hub, the thriving capital of an ancient land. Contradictions are everywhere, as hi-tech gadgetry and neon lights play an integral part in the lives of a population steeped in tradition. Please remember that there are many options for travellers to choose from on this tour to make the most of all your free time. While we have quoted the approximate cost of some of the most popular activities throughout, these do not include costs of getting to or from sights. Public transport in Japan is economical, efficient and not only a great way to get around, it's the best way to go local!This itinerary is far from a hand-holding, all inclusive trip, so enjoy the freedom and indulge in some raw fish!

Day 2

Tokyo

In the morning, head out exploring with your group leader in the Shibuya area.Look down on one of the busiest intersections in the world at Shibuya station and visit the statue of Hachikō the famous loyal dog. Next we indulge our eyes if not our bellies visiting a depachika food hall where vendors sell everything from bento boxes for lunch to formal gifts and everyday groceries. Grab a picnic lunch (optional) as we are heading to Yoyogi Park, home to many events from the first Japan Olympics. Afterwards we visit Meiji Jingu Shrine. Enter via a massive Torii (gate) and the sights and sounds of the busy city are replaced by a tranquil forest. We continue our journey with a visit to Harajuku, the home of quirky youth pop culture. .The rest of the day is free for you to explore.If you are a lover of cats visit the Gotokuji Cat Temple!  Maneki Neko (the beckoning cat) are known for good luck and prosperity not only in Japan but all across Asia.  Perhaps re-visit your childhood with a magical day spent at Tokyo Disney or Disney Sea theme parks (tickets can be bought at JR ticket counters, convenience stores, online).  Or perhaps get the group together for the final night in Tokyo and experience the Robot Cafe in Shinjuku!  You can catch a 3 hour show full of neon lights, lasers, robotics, video screens and dancers.

Day 3

Kanazawa

This morning we speed through central Japan on a bullet train bound for Kanazawa. This city is best known for Kenroku-en, a 17th-century gardens. Kanazawa is also known for being the home of samurai - it boasts beautifully preserved samurai and geisha districts, historic temples and awesome markets you can shop and eat your way around.  After checking into our hotel perhaps go and explore Kenroku-en Garden and Kanazawa Castle Park. The castle is free to enter however the gardens have an entry fee of 310JPY. A bus pass for the day in Kanazawa will cost you approximately 500JPY. Tonight is a free evening for you to explore the streets and indulge in Kanazawa's izakaya and famous seafood.

Day 4

Kanazawa

Explore Kanazawa by foot on a walking tour of the Higashi Chaya district. Get lost among the Geisha in the alleyways and admire the traditional Chaya houses, known locally as places of tradition, feasts and entertainment. Enjoy a traditional tea ceremony at one of the local tea houses, if tea's your thing, and then the afternoon is free for you to explore on your own. Everything is super accessible in Japan so you'll do a fair bit of walking, so be sure to pack a comfy pair of shoes to get around in.

Day 5

Kyoto

Today catch a train through the Japan alps to Kyoto - once the imperial capital of Japan and one of the most beautiful cities in the country. With over 2000 temples, shrines and gardens, Kyoto is a great place to get lost in - so get out, walk the streets and soak up the wonderful atmosphere in your free time. Kyoto has a great bus network linking all its key sites, so hop on the bus to also get around. Perhaps visit the magnificent, gold-plated Kinkaku-ji Temple with its expansive grounds in Kyoto's northwest, or maybe Nijo Castle, the feudal-era castle famous for its squeaking 'nightingale floors' designed to alert inhabitants to approaching ninja. In the early evening, hook up with your leader for a walk through Kyoto's famous Gion district, the heart of the city's geisha culture. This is where Kyoto's immaculately made-up geiko (the Kyoto name for geisha) perform and entertain private clients in small teahouses tucked away down tiny back streets.

Day 6

Kyoto

Join your leader this morning for a walk in the wooded hills of Inari Mountain, famous for its Shinto 'fox temple' and atmospheric red torii gates, a quintessential Japan sight and must-see for keen photographers. The afternoon is free for you to explore and your leader can give you recommendations on what to see and how to get there. It's your last night in Kyoto, so make sure you try some of Kyoto's famed Kyo-ryori ('Kyoto cuisine'), or wander the food market of Nishiki in the city's heart to see the ingredients that make up Kyo-ryori or, in true Japanese tradition, hit the karaoke bar and show off your impressive pipes.Cycling is another great way to explore Kyoto. You can hire bikes and helmets from one of the many bike shops in town with cost usually from 1000JPY/day up.

Day 7

Hiroshima

Hiroshima is a bustling metropolis with a tragic history, approximately two hours on the bullet train from Kyoto. Once here, your leader will take you to visit Peace Park and the ruins of the A-Bomb Dome building, one of 11 structures left partially standing as a reminder of the destruction of nuclear war following the nuclear bomb blast on 6 August 1945. The Peace Park contains monuments and a sobering and very informative museum dedicated to Hiroshima and international peace. In the evening, try its most famous dish – okonomiyaki (savoury pancake of cabbage, meat or seafood) – grilled in front of you on a sizzling hotplate.
Meals: Dinner

Day 8

Hiroshima

Today jump on a local train and ferry to spend the day at the nearby island of Miyajima with its famous 'floating' Torii Gate and the grand Itsukushima-jinja Shrine. Hike through the woods to the peak of Mt Misen for some stunning views of the Inland Sea stretching far out below you. Be sure to watch out for inquisitive and eternally hungry deer that roam the island. Back in Hiroshima and enjoy a free evening tonight.

Day 9

Osaka

Travel by bullet train to Osaka, and what better way to finish our trip than in a city with the motto 'kuidaore' (translation: 'eat until you drop'!).  We recommend you try Osaka's takoyaki (a delicious grilled octopus dish) which Osaka is renowned for!Osaka is Japan's unofficial culinary capital, with sprawling shopping hubs and tiny backstreets overflowing with restaurants and bars serving up local delicacies as well as Japan's answer to fast food. Notably, Osaka is credited with the first kaiten-zushi (conveyor belt sushi) restaurants, after its inventor - the owner of a sushi restaurant with staffing issues - watched beer bottles on a conveyor belt at the nearby Asahi brewery and thought it might be a good way to solve this problem!With your leader enjoy a walking tour around the popular Dotombori district which is the city's most famous shopping, food and entertainment district. At night it is lit by hundreds of neon lights and mechanical signs, including the famous Glico Running Man sign and Kani Doraku crab sign.Thrill seekers are sure to find adventure at Universal Studios theme park and for those of you wanting to try your hand at a local skill, try a taiko drum lesson or, if you're feeling like a little relaxation, indulge yourself at Spa World, and try a traditional Japanese Onsen. Embrace the nakedness.If shopping is your cup of tea, take in some of the city's landmarks, including the wonderful Kuromon covered market and pick up some final kitchen gadgets (or plastic food!) at the quirky Dogusuji Arcade.

Day 10

Osaka

There are no activities planned for Day 10 and you are able to depart the hotel at any time. Check out time is 10 am and if you are departing later, you can arrange luggage storage at the hotel.
Tokyo - Meiji-jingū Shrine
Tokyo - Shibuya walking tour
Tokyo - Yoyogi-kōen
Tokyo - Harajuku street
Kanazawa - Higashi Chaya District walking tour
Kyoto - Gion District walk
Kyoto - Fushimi Inari-Taisha
Hiroshima - Peace Park & A - Bomb Dome
Hiroshima - Peace Museum
Hiroshima - Miyajima Island
Osaka - Dotombori District walking tour
Meals
1 Dinner(s) Included

Style: Basix

Multishare Hostel (5 nights), Twinshare Hotel/Ryokan (4 nights)
Question: How many suitcases can I take with me on my trip?
Each person is allowed one "check-in," and one "carry-on." Remember to take all valuables with you as "carry-on", because electronic equipment, cameras, laptops, jewelry, business documents and money are not covered by the airlines' liability, so always carry them aboard with you.
Question: Is Airfare Included in the Price?
Airfare from your point of origin to and from the trip is not included in the land price.
Similar Tours Other Travelers Liked
The trip was both both educational and exciting. I very much enjoyed the sights and culture.
The itinerary was just as I expected! The guide was very good as were the accomodations
Intrepid did such a great job. I never had to worry about where I was supposed to be and it felt so good not to worry about a thing but just to enjoy myself. Our guide was extremely knowledgeable about culture and history.
Taiwan people very friendly. Accommodation were centrally located and easily accessible. Did extra activities then in brochure which was greatly.
Larus our tour guide did an excellent job and was very attentive to our needs. He is very knowledgeable and has a great sense of humor.
Our guide Tarang chandola was exceptional. Courteous, knowledgeable, organized, polite, professional and went above and beyond taking care of our needs and requests offen anticipating what that might be. He made sure we all had the best possible time and offered suggestions to meet the needs of everyone on the tour. This made the trip even more enjoyable.
AffordableTours.com® does not itself offer, service or administer the Travel Packages, and the ultimate terms and conditions of any Travel Package made available via the Site Offerings (including the prices quoted in connection with same) will be determined by the applicable Third-Party Travel Service Provider. AffordableTours.com® does not represent or warrant that the Price Quotes are accurate, up-to-date or free of error, or that same will be honored by the applicable Third-Party Travel Service Providers. All Price Quotes, Travel Package availability, Travel Package details/itinerary and other Content are subject to change without notice. All travel details published by and through the Site Offerings should be confirmed directly with the applicable Third-Party Travel Service Provider prior to making any travel plans. Reliance on any information made available to you by and through the Site Offerings is solely at your own risk.
How It Works
Vacationing has never been easier or cheaper with the help of a dedicated travel consultant from AffordableTours.com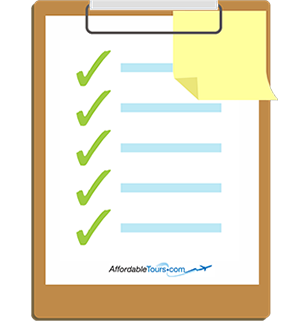 Find your perfect trip on our website and simply request a free quote. Need to speak to a live person? Call us 7 days a week at 1-800-935-2620. No robots here!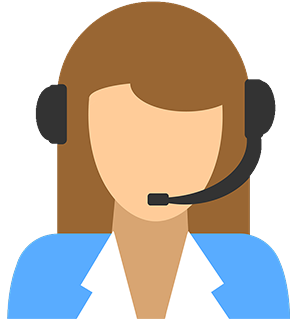 Your personal travel consultant will reach out and be your point of contact for your entire travel experience from start to finish. Did we mention you'll be working with an award winning team? Sweet!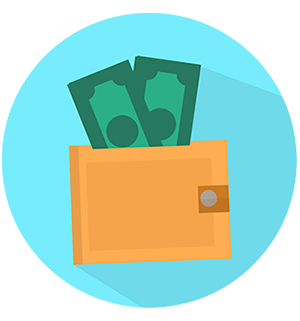 Because we're one of the largest sellers of travel, we're able to give you a discount on your vacation package. No one beats our prices!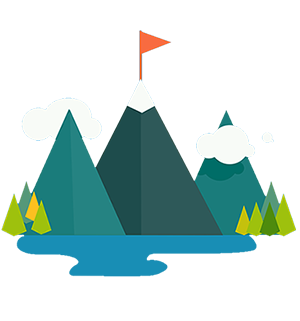 Knowing you got the best deal, all that's left is for you to pack your bags and enjoy your vacation!