Why Pay Retail?
Call us for a quick quote!
Dates & Prices
Start Date
End Date
Offers
Brochure
Land Price
Our Price
Quote
Jan 19, 2021
Jan 28, 2021
Deals

$15,499

Get Lower Price
Get Quote
Feb 23, 2021
Mar 04, 2021
Deals

$14,699

Get Lower Price
Get Quote
Jun 22, 2021
Jul 01, 2021
Deals

$14,699

Get Lower Price
Get Quote
Jul 13, 2021
Jul 22, 2021
Deals

$15,499

Get Lower Price
Get Quote
Aug 10, 2021
Aug 19, 2021
Deals

$15,499

Get Lower Price
Get Quote
Sep 14, 2021
Sep 23, 2021
Deals

$15,499

Get Lower Price
Get Quote
Save 7% Off this Tour - Guaranteed!

Family & Friends Discount: Save up to $200 per person
Family & Friends Discount: Save up to $200 per person
Promotion Details
Save up to $200 per person off the listed price when you book a group of at least 3 or more guests. Save $50 per person when 3 guests travel together, save $100 per person when 4 guests travel together, save $150 per person when 5 guests travel together, save $200 per person when you have 6 or more guests traveling together. Plus as always, receive our AffordableTours.com 7% extra everyday savings.
Combinable with pay-in-full discount.
Must Book By Thu, Dec 31, 2020
World Traveler Club Members
World Traveler Club Members
Promotion Details
As a World Traveler Club Member, you'll receive extra benefits that save you money and make your travel planning experience faster and easier.
Must Book By Thu, Dec 31, 2020
Tour Itinerary
Day 1

Day 1 - Welcome to Arusha, Tanzania

On arrival at Kilimanjaro International Airport, you'll be warmly greeted and assisted through all immigration and customs formalities. Then meet your driver and continue to the Arusha Coffee Lodge; set on one of Tanzania's largest coffee plantations, you'll find spacious guestrooms with beamed ceilings, wide-plank floors and canopied 4-poster beds that evoke the heritage of this delightful property. This evening is yours to dine and relax as you wish.

Day 2

Day 2 - Onward to Ngorongoro

After breakfast, a scenic overland journey takes you westward into the Ngorongoro Conservation Area where you'll arrive in time for lunch at the Neptune Ngorongoro Luxury Lodge. Set on 50 pristine acres of landscaped grounds and wild Tanzanian bush, you'll find just 20 private cottages, all with open fireplaces in the bedroom and living room, spacious baths, and expansive terraces overlooking the Ngorongoro landscape.

After lunch, the afternoon is yours to relax and enjoy the breathtaking wilderness setting of General Tours luxury lodge. This evening's dinner features fine Mediterranean-inspired cuisine prepared with farm-fresh produce from General Tours Lodge's own garden – and accompanied by complimentary house wines, cocktails and beverages. Meals B+L+D

Day 3

Day 3 - Down to the Crater Floor

There is no place anywhere on the planet that is quite like Ngorongoro Crater , and it offers an absolutely unique environment for wildlife viewing. First, you will rarely see any giraffe or impala inside the crater; though they would love to graze the abundant vegetation, these delicate-legged animals find it nearly impossible to navigate their way down the steep cliffs. But because it is so enclosed and the crater floor is mainly open grassland, this conservation area is easy for game officials to patrol, and the result is a healthy population of endangered species including Black Rhino and Cheetah. Indeed, it's like a giant fishbowl, and this morning's game drive across the crater floor will be amazing! In addition to plenty of Big Game, Ngorongoro is a birdwatcher's paradise, with more than 500 species recorded in the Crater grasslands and highland forests. Back at General Tours luxury Lodge, you'll enjoy lunch and a leisurely afternoon. Meals B+L+D

Day 4

Day 4 - Into the Serengeti

This morning after breakfast, we'll take you to the airstrip for an exciting safari transfer into the Serengeti . Thrill to cinematic aerial views over the African landscapes and a chance to see vast herds roaming the plains below. After touching down at Serengeti National Park, you'll be met and escorted to one of General Tours luxury safari camps. With remote settings in the Southern, Central and Northern Serengeti, they're handpicked to keep you closer to the wildlife – whenever you travel. You'll arrive in time for lunch and your first afternoon game drive in the Serengeti! This evening, gather with your fellow guests for a congenial dinner accompanied by complimentary house wines, spirits, beer and a variety of non-alcoholic beverages. Meals B+L+D

We Adjust General Tours Itinerary Seasonally to keep you closer to the Great Migration - whenever you go:

From January through March, when the Great Migration reaches the remote southern Serengeti for the calving season, you'll spend 3 nights at Sanctuary Kusini - perfectly situated here for the unfolding drama. With only 12 under-canvas suites, General Tours luxury camp overlooks predator-populated plains so you'll have front-row seats when the Wildebeest Migration passes through at full throttle.

From April through June and November to December, you'll stay at Lemala Nanyukie where 15 luxury tents feature canvas walls, cathedral-like tented ceilings, sunken outdoor lounges and private plunge pools. This sector of the Central Serengeti is crossed by the vast herds of the Great Migration in their inexorable quest for water and food. And throughout the year, the sweeping grasslands are home to a large concentration of predator cats, promising thrilling wildlife spectacles.

From July through October, when the Great Migration moves into the Northern Serengeti to ford the Mara River, you'll be close by at Lemala Kuria Hills. This luxury lodge features 15 glass-fronted suites with private plunge pools and sweeping views of the sloping grasslands, open woodland and tree-lined watercourses that distinguish this remote sector of the Northern Serengeti. Close to the Mara River within the main corridor of the annual Wildebeest Migration, it's perfectly situated for unforgettable, uncrowded viewing of the Great Migration River crossings.

Day 5

Day 5 - Morning + Afternoon Game Drives

The Maasai call it Siringitu - "the place where the land moves on forever." Indeed, these wide open expanses are awe-inspiring in their natural beauty. But the Serengeti is also renowned for its extraordinary concentration of plains game - including of course the Big Five - so today's safari drives are sure to be heart-pounding and inspiring. And in the company of General Tours engaging, impassioned and knowledgeable safari guides, these activities will also deepen your understanding and appreciation for Africa's abundant natural wealth. Cap off your afternoon game drive with Sundowner cocktails surrounded by the wild beauty of the Serengeti, and then return to your luxury lodge for another congenial dinner. Meals B+L+D

Day 6

Day 6 -Ballooning + Game Drives in the Serengeti

Animals, too, have their regular routines and this morning's hot air balloon safari in the sharp clear light of dawn is an amazing time to gaze down as the wildlife of the Serengeti greets another day. Touch back down for a champagne breakfast and a morning game drive. Back at camp, you'll have time to relax and to share your impressions of Africa with your fellow adventurers over lunch.

Featured in numerous nature documentaries, Serengeti National Park is certainly the best-known wildlife sanctuary in the world. Established in 1952, the Park covers 5,700 square miles - larger than the state of Connecticut. Its ecosystem is one of the oldest on Earth. Indeed the essential features of climate, vegetation and wildlife that you see today have changed little over the past million years! Unequaled in its abundant natural beauty and high-density of wildlife, this afternoon's safari drive promises more encounters with the wide variety of primates, birds, horned bovines, wild dogs, ungulates and big cats that roam the Serengeti. Meals B+L+D

Day 7

Day 7 - Fly to Kigali, Rwanda

Embark on a final morning game drive and return to the Lodge for an early lunch. Then we'll take you to the airstrip for another exciting safari transfer flight to Mwanza, situated on the southern shores of Lake Victoria. Your connecting international flight to Rwanda is also included. Upon arrival in Kigali, you'll be warmly greeted and escorted to the deluxe Kigali Serena Hotel where the evening is free to dine and relax as you wish. Meals B+L

Day 8

Day 8 - Discover Kigali + Travel to the Virunga Mountains

After breakfast, General Tours guide will be waiting to introduce you to the capital city. At the Kigali Genocide Memorial, you'll learn about the country's turbulent history and the tragic events of 1994. Then experience firsthand the resilience of the Rwandan people as you explore the downtown district; Kigali was founded more than 100 years ago as a German settlement and is now known for its progressive entrepreneurs, vibrant arts scene, and great dining.

After lunch on your own, you'll depart Kigali and travel northwest through the beautiful terraced hills that characterize much of Rwanda's landscape. As General Tours climb gradually toward the mighty Virunga Range, you'll have breathtaking views of the volcano peaks rising high above the verdant countryside. Arriving in Ruhengeri, you'll check in to the Sabyinyo Silverback Lodge. Comprised of private cottages and suites, each with a fireplace and sheltered verandah, General Tours luxury lodge enjoys a privileged location in the foothills of the Virungas close to the headquarters of Volcanoes National Park. You'll have time to refresh before dinner. The evening is yours to enjoy the ambience and setting of your lodge. Meals B+D

Day 9

Day 9 - Gorillas in the Wild

After an early breakfast, we'll take you to National Park Headquarters where you'll register for today's Gorilla Trek. An informative briefing with Park staff follows, during which you'll learn the important Dos and Don'ts while in the presence of the Gorillas. Today there are about 10 Gorilla families that are habituated to human contact, and their movements along the forested mountain slopes will determine the duration of your trek.

Setting out in a small group of no more than 8 visitors, you'll trek with your guide to catch-up with your designated Gorilla family. A+R guests will also have the additional services of an attentive and experienced porter to carry their daypack and water bottle. After locating your assigned group, you'll have one amazing hour to watch quietly as these magnificent primates go about their daily routine (Park regulations limit Gorilla / Human contact to 60 minutes each day). Then retracing your steps down the volcano, we'll take you back to the Sabyinyo Silverback Lodge. An informal Mountain Gorilla Talk with General Tours guide will enrich your understanding and appreciation for these extraordinary primates.

Depending upon the duration of this morning's Gorilla Trek, you might join a guided afternoon excursion to experience the traditions and daily life of Iby'Iwacu village. Or you could explore the twin lakes of Burera and Ruhondo - where the scenic forested shores provide prime habitat for a rich variety of birds. Meals B+L+D

Day 10

Day 10 - Back to Kigali

After breakfast, we'll take you back to Kigali for your onward flight. Meals B

If you want to finish your adventures on the exotic Spice Isle of Zanzibar, we'll include your morning flight to Zanzibar City via Dar es Salaam and 3 nights at your choice of luxury beachfront resort. You could also add a second fully-guided Gorilla Trek with all fees and Trekking Permit included.
Hygiene and Safety Protocols for Alexander Roberts Tours
Committed to Your Well Being While You're With Alexander Roberts
All Alexander Roberts' staff will maintain appropriate physical distancing at all times, so expect a warm and genuine greeting but not a handshake or a hug!
All high-touch surfaces in coaches and private cars – like door handles, railings, arm rests, and window controls – will be sanitized each morning and regularly throughout the day.
Alexander Roberts' expert guides and drivers will don face masks whenever in proximity to guests.
Alexander Roberts staff have been trained on Extra Care procedures – and how to respond to issues that may arise as you travel.
Complimentary face masks and hand sanitizer will be available in all vehicles while touring.
More Space + Extra Care While Touring
Larger luxury motorcoaches so each traveler will have two seats to themselves while touring.
Private airport transfers with a spacious luxury vehicle when you come and go for every tour
Regular and frequent sanitizing of all high-touch vehicle surfaces.
Prearranged entry for all sightseeing minimizes standing in line with other travelers.
Whisper Headsets for groups of 5 or more allow for proper physical distancing while sightseeing, except for certain nature activities in remote areas like the Amazon.
More Space + Extra Care While Dining
Alexander Roberts carefully selects restaurants to avoid crowded high-capacity venues; Alexander Roberts emphasizes fine farm-to-table dining with attentive and efficient service – and the choice to dine al fresco whenever available.
No large-group dining; enjoy more spacious dining settings and smaller, well-spaced tables for included meals.
Restaurant staff will follow the guidance of local health authorities and WHO protocols which may include facial coverings.
Extra Care at Luxury Hotels
Alexander Roberts' hotels are always selected for their outstanding locations, evocative ambiance, impeccable service – and cleanliness.
OAlexander Roberts' partners include the most respected luxury brands – like Belmond, Four Seasons, Park Hyatt, Kempinski and JW Marriott; they are now leading the industry with their sophisticated hygiene standards and protocols to ensure the well being of all their guests.
Hotels will be continuously and rigorously vetted to ensure that they are following established WHO guidelines including social distancing and sanitizing procedures of guestrooms and public spaces.
Hotel breakfasts will usually feature à la carte service and group seating will be replaced by smaller, appropriately distanced tables.
And Always... Alexander Roberts' Distinctive Style
In a Small Group of Never More than 16 Guests or on a Privately Guided Tour for just your traveling party, their experienced guides have the flexibility to adjust your sightseeing based upon local conditions – to avoid times of heaviest traffic and crowding, for example. Alexander Roberts can dine in smaller authentic restaurants, minimize the time waiting in lines, and leave a lighter footprint. You'll learn the history and stories behind the world's most iconic landmarks, immerse more deeply in the wonders of the natural world, and delight in genuine cultural engagement not possible in a larger group. It's travel without a crowd.
Question: How many suitcases can I take with me on my trip?
Each person is allowed one "check-in," and one "carry-on." Remember to take all valuables with you as "carry-on", because electronic equipment, cameras, laptops, jewelry, business documents and money are not covered by the airlines' liability, so always carry them aboard with you.
Question: Is Airfare Included in the Price?
Airfare from your point of origin to and from the trip is not included in the land price.
Similar Tours Other Travelers Liked
Our tour guide was the best! He was knowledgeable about the country, always early, courteous and made us feel welcome in his country. Our tour had a side trip that was incredible due to our guide's particular experiences, The pick of our guide for our trip was absolutely perfect. Thank you for making our trip so wonderful.
AffordableTours.com® does not itself offer, service or administer the Travel Packages, and the ultimate terms and conditions of any Travel Package made available via the Site Offerings (including the prices quoted in connection with same) will be determined by the applicable Third-Party Travel Service Provider. AffordableTours.com® does not represent or warrant that the Price Quotes are accurate, up-to-date or free of error, or that same will be honored by the applicable Third-Party Travel Service Providers. All Price Quotes, Travel Package availability, Travel Package details/itinerary and other Content are subject to change without notice. All travel details published by and through the Site Offerings should be confirmed directly with the applicable Third-Party Travel Service Provider prior to making any travel plans. Reliance on any information made available to you by and through the Site Offerings is solely at your own risk.
How It Works
Vacationing has never been easier or cheaper with the help of a dedicated travel consultant from AffordableTours.com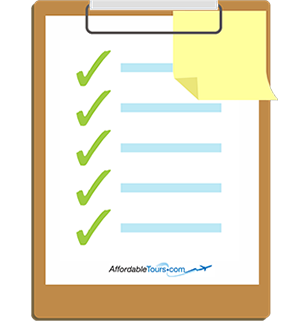 Find your perfect trip on our website and simply request a free quote. Need to speak to a live person? Call us 7 days a week at 1-800-935-2620. No robots here!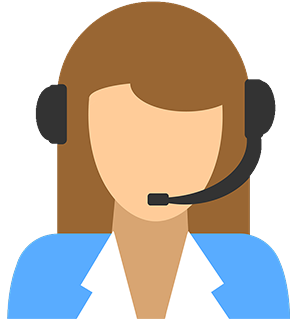 Your personal travel consultant will reach out and be your point of contact for your entire travel experience from start to finish. Did we mention you'll be working with an award winning team? Sweet!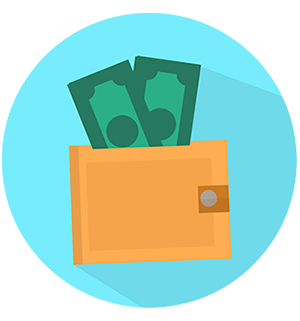 Because we're one of the largest sellers of travel, we're able to give you a discount on your vacation package. No one beats our prices!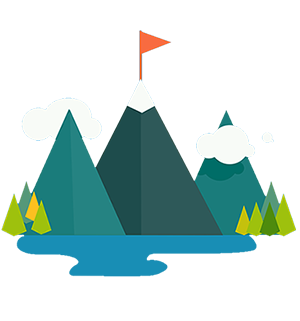 Knowing you got the best deal, all that's left is for you to pack your bags and enjoy your vacation!