Highlights of Sicily & Southern Italy 2020

Why Pay Retail?
Call us for a quick quote!
LOW UNPUBLISHED PRICES ON GLOBUS TOURS
Why pay full price? Call us or click above for a quick quote and save money on Globus Tours.
Discount for Young Travelers!
Discount for Young Travelers!
Promotion Details
Young travelers ages 8-17 receive a 10% discount on the land only portion of their vacation, plus as always receive our AffordableTours.com extra savings. Child discount does not apply to all vacations, please contact your Travel Consultant for applicable tours.
Must Book By Thu, Dec 31, 2020
View Promotion Terms & Conditions ›
10% off Young Traveler discount based on the full land-only cost of the tour. Only applies to Globus and Cosmos; does not apply to Avalon Waterways, vacations including Oberammergau or Escapes Vacations by Globus. To receive the Young Traveler discount, the age of the traveler must qualify at start date of the vacation. Does not apply to custom groups. Discount is applicable to any accommodation. Additional restrictions may apply.
Big Savings For Small Groups
Big Savings For Small Groups
Promotion Details
Traveling with family and friends has always been rewarding, and now the rewards can really pile up. Small groups of 5, 6, or 7 can save 5% per person off the land-only portion of the vacation. And don't forget: in groups of 8 to 15, one person travels at half price; in a group of 16+, one person travels free. You'll also receive our additional AffordableTours.com everyday savings.
Must Book By Thu, Dec 31, 2020
View Promotion Terms & Conditions ›
Traveling party of 5, 6, or 7 must travel from same origination point and must be advised at the time of booking. Discount on the land-only portion of core tour, not including extra night accommodations, extensions, taxes/fees, tips, and supplements. Does not apply to Globus Escapes, Cosmos, Monograms, vacations including Oberammergau or Avalon Waterways. Not combinable with other group allowances. Travelers already traveling at a discount, such as children, do not count toward the party total. Offer reliant on space availability, and applies to new bookings only. Full cancellation penalties will apply. Does not apply to custom groups or Escapes by Globus. Additional restrictions may apply.
Save $2500 per couple on select 2021 Europe river cruises
Save $2500 per couple on select 2021 Europe river cruises
Promotion Details
Book a select 2021 Europe river cruise to receive $2500 off per couple ($1250 off per person) on the cruise/land or cruise only price. Plus receive our AffordableTours.com everyday savings.
Must Book By Mon, Nov 09, 2020
View Promotion Terms & Conditions ›
*Book a select 2021 Avalon Waterways Europe river cruise to receive $1250 off per person on the cruise/land or cruise only price. Booking must be made, under deposit and discount applied between November 19, 2019 and November 9, 2020 for travel at select times in 2021. Not applicable to custom tours. Discount will apply to individual members of groups adding a name and non-refundable per person deposit within the promo window. Not applicable on TBA space. Offer reliant on space availability at time of booking and may be withdrawn at any time. Offer combinable only with Welcome Back Credit. Applies to new 2021 bookings only and offer will not be applied to pre-existing bookings. Full cancellation penalties will apply. Additional restrictions may apply; see Travel Terms & Conditions for details. May be withdrawn at any time. Offer applies to participating GFOB offices only. PRMW0782
Triple Room Reduction
Triple Room Reduction
Promotion Details
Save when three people travel together and share accommodations, plus you'll also get our additional AffordableTours.com everyday savings.
Must Book By Thu, Dec 31, 2020
View Promotion Terms & Conditions ›
Reduction varies by vacation and may not available on all packages. Does not apply to custom groups or Escapes by Globus. Additional restrictions may apply.
Up to $500 Welcome Back Credit for Repeat Travelers
Up to $500 Welcome Back Credit for Repeat Travelers
Promotion Details
Each time you travel on a Globus family of brands vacation (Cosmos, Globus, Avalon or Monograms) from 2019 onward you can earn up to $250 per person ($500 per couple) Welcome Back Credit to use towards your next vacation, plus as always our AffordableTours.com additional savings. There will be some select exceptions to the credit, including Escapes by Globus, Oberammergau, Monograms City Get-a-ways, Private Touring and any heavily discounted programs like Avalon Suite Rewards. Please see the list below for your potential credit amount listed per person.
Spend $2499 or less and receive $100 credit
Spend $2500 - $3499 and receive $150 credit
Spend $3500 - $4499 and receive $200 credit
Spend $4500 & Over and receive $250 credit
Combinable with all applicable consumer promotions except those with any Globus family of brands special discount programs of the vacation price.
Must Book By Thu, Dec 31, 2020
View Promotion Terms & Conditions ›
The Welcome Back Credit will be awarded upon completion of Globus family of brands vacations from 2019 onward. Credit amount can only be applied to the land/cruise or cruise only portion of a new Globus family of brands vacation (excluding Escapes by Globus, 2020 Oberammergau, select Cosmos tours, Monograms City Getaways, and Custom/Charter vacations). Credit amount is per person and must be redeemed for a future vacation with a deposit within 2 years from date of credit issue. Bookings can be made by contacting your preferred travel agent. Passenger name or past invoice number is required to redeem the credit. Combinable with all applicable consumer promotions except those with any Globus family of brands special discount programs of the vacation price. Credit is not redeemable for cash, non-refundable deposit, airfare, transfers, travel insurance, prepaid gratuities, pre/post nights, or optional excursions and is non-transferrable. All federal, state and local laws and regulations apply. Valid for all participating Globus family of brands offices. Additional restrictions may apply.
Book With Flexibility
Peace of Mind
Complimentary "Peace of Mind" Travel Plan for 2021 trips
Change Destination / Vacation
Change to a different destination or vacation with the Globus Family of Brands.
Change Dates
Choose new departure dates if your plans change.
Great Service
Award-winning service, low prices, client satisfaction
Tour Itinerary
Spectacular scenery combined with fascinating architectural remains and archaeological sites—all of this awaits you on this fabulous "off the beaten path" vacation through Southern Italy and Sicily. If you're interested in ancient history, this tour is certainly for you. Stop in Matera, to enjoy a panoramic view of the sassi houses—prehistoric cave dwellings built into the rock—thought to be some of the first human settlements in Italy. A guided visit of Reggio Calabria's Bronzi di Riace museum to see the world-famous bronze warrior sculptures will leave a lasting impression. Once in Sicily, the largest island in the Mediterranean, known for its blue skies and rich heritage, visit the Greek Theater at Taormina, built in the 3rd century BC. Also, visit the amazing Greek structures that have survived for 2,400 years in Agrigento's Valley of Temples; and the 12th-century Norman cathedral in Monreale, famous for its 50,000 square feet of precious byzantine mosaics. Photos and words cannot adequately capture these sights. History buffs will also enjoy Pompeii, which was completely buried during the eruption of Mount Vesuvius in 79 AD. Imagine what life was like some 2,000 years ago! This preserved town gives you an amazingly detailed look into life at the peak of the Roman Empire. A unique highlight is the guided visit to the Papal Palace and Barberini Gardens in Castel Gandolfo where lunch has been arranged for you. In Naples, enjoy a guided tour and savor a slice of Neapolitan pizza. Other special treats include a taste of the traditional tartufo desert in Pizzo Calabro, and local pastries (pasticciotto) with almond iced coffee in Lecce. For those desiring amazing scenery, this Italy tour is sure to delight. Visit the Sorrento coast and Capri—both offering breathtaking views of the crystal-clear, blue sea. Spend time gazing at the mesmerizing water, shop at the boutiques, and dine at the fabulous restaurants visited by celebrities. History, amazing scenery, tasty cuisine, and so much more is waiting for you on this Italy tour. So pack your bag and get ready for the trip of a lifetime!
Day 1

ARRIVE IN ROME, ITALY.

Welcome to Rome! At 5 pm, meet your Tour Director and traveling companions, and enjoy a welcome dinner at one of Rome's lively restaurants. (D)
Meals: Dinner

Day 2

ROME–CASTEL GANDOLFO–SORRENTO COAST.

Look forward to a unique experience: [LF] enjoy a guided visit of the impressive PAPAL PALACE in Castel Gandolfo, former summer residence of the popes and, since 2016, a museum that is open to the public. Also visit the magnificent BARBERINI GARDENS, where ruins of the residence of Roman Emperor Domitian are still visible, followed by lunch at Villa Barberini. Then, continue south on the Highway of the Sun to the Sorrento Coast.Today's Distance: 193 mi / 310 km (B,L)
Meals: Breakfast, Lunch

Day 3

SORRENTO COAST. EXCURSION TO CAPRI.

Speed across the bay by JETFOIL to the Isle of Capri and ride the FUNICULAR to Capri village for a guided visit. Walk through the splendid AUGUSTUS GARDENS, terraces overlooking the sea, offering a spectacular panoramic view. Time to explore the little shops on the piazzetta before returning to your hotel. (B)
Meals: Breakfast

Day 4

SORRENTO COAST. EXCURSION TO POMPEII AND NAPLES.

Explore fascinating POMPEII, the Roman city both destroyed and preserved by an eruption of Mount Vesuvius in 79 AD. Follow your Local Guide for a walk past patrician homes, public baths, and commercial districts strikingly recalling day-to-day life when Rome was at the apex of her power. Next is Naples, a city steeped in volcanic history, rich archaeological treasures, and castles and churches to rival Rome! A Local Guide will show you the many sights during your city tour. Stop in the famous PIAZZA PLEBISCITO and [LF] savor a slice of Neapolitan pizza.Today's Distance: 68 mi / 110 km (B,D)
Meals: Breakfast, Dinner

Day 5

SORRENTO COAST–BARI.

A morning at leisure allows you to join an optional excursion to the Amalfi coast and Positano. Later, drive to Bari, capital of Apulia, the heel of Italy's "boot," for your overnight stay.Today's Distance: 186 mi / 300 km (B)
Meals: Breakfast

Day 6

BARI–LECCE–ALBEROBELLO AREA.

Discover BARI VECCHIA, the city's oldest district, during a pleasant stroll with a Local Guide and visit stunning SAN NICOLA'S CHURCH. In Lecce, your guided walking tour reveals why Lecce is called the "Florence of the South." Visit the DUOMO, a masterpiece of baroque art, SANTA CROCE BASILICA, and [LF] taste the local pasticciotto with almond-flavored iced coffee.Today's Distance: 186 mi / 300 km (B,D)
Meals: Breakfast, Dinner

Day 7

ALBEROBELLO AREA.

Enjoy a guided walking tour of Alberobello and visit one of its unique trulli—whitewashed, stone, circular houses with pinnacled, conical roofs. The balance of the day is at leisure. You may wish to join an optional dinner at a traditional Apulian masseria. (B)
Meals: Breakfast

Day 8

ALBEROBELLO AREA–MATERA–PIZZO CALABRO–REGGIO CALABRIA.

In Matera, enjoy a panoramic view of the picturesque sassi houses, followed by a spectacular drive south along the Gulf of Taranto to Pizzo Calabro, where you can taste [LF] the traditional tartufo ice cream. Arrive in Reggio Calabria for a guided visit of the MUSEUM that houses the world-famous bronze warrior sculptures, Bronzi di Riace.Today's Distance: 280 mi / 450 km (B,D)
Meals: Breakfast, Dinner

Day 9

REGGIO CALABRIA–TAORMINA RIVIERA.

Cross the Strait of Messina by FERRY and start your discovery of the beautiful island of Sicily, the great melting pot of the Mediterranean world. Phoenicians, Greeks, Romans, Saracens, Normans, French, and Spanish have left their marks and contributed to its rich heritage. Arrive in Taormina, a charming hilltop town overlooking the Ionian Sea, and visit the ancient GREEK THEATER dating back to the 3rd century BC. Time to stroll and shop along Corso Umberto I at your own pace. Don't miss the opportunity to taste local specialties, like the Sicilian granita (a treat similar to sorbet).Today's Distance: 81 mi / 130 km (B)
Meals: Breakfast

Day 10

AT LEISURE IN TAORMINA RIVIERA.

Enjoy two days to just relax in this beautiful resort or choose from our optional excursions to Mount Etna, the largest active volcano in Europe; or to the fascinating archaeological site of Syracuse, birthplace of the mathematician Archimedes and once a powerful Greek port with a fleet feared throughout the Mediterranean. On day 10, dinner has been prepared at a local restaurant with breathtaking sea views. On Day 11, enjoy dinner at your hotel. (B,D daily)

Day 11

AT LEISURE IN TAORMINA RIVIERA.

Enjoy two days to just relax in this beautiful resort or choose from our optional excursions to Mount Etna, the largest active volcano in Europe; or to the fascinating archaeological site of Syracuse, birthplace of the mathematician Archimedes and once a powerful Greek port with a fleet feared throughout the Mediterranean. On day 10, dinner has been prepared at a local restaurant with breathtaking sea views. On Day 11, enjoy dinner at your hotel. (B,D daily)

Day 12

TAORMINA RIVIERA–AGRIGENTO–PALERMO.

Head south to Agrigento and enjoy a walk with your Local Guide through the breathtaking VALLEY OF TEMPLES. Even travelers who have visited Athens and Delphi are awed by the gigantic yet graceful Greek structures that miraculously survived 24 centuries of tormented history. Arrive at your hotel in Palermo.Today's Distance: 280 mi / 450 km (B)
Meals: Breakfast

Day 13

PALERMO.

Guided sightseeing features the ornate Piazza Bellini, Capo Market, the baroque Church of Immacolata, and a visit to the magnificent CATHEDRAL. Drive up to Monreale for a panoramic view of the Conca d'Oro and a visit to the 12th-century NORMAN CATHEDRAL, famous for its 50,000 square feet of precious Byzantine mosaics. Later, a farewell dinner at a local restaurant is the perfect way to celebrate your Italian journey. (B,D)
Meals: Breakfast, Dinner

Day 14

PALERMO

. Your vacation ends with breakfast this morning. (B)
Meals: Breakfast
Sightseeing & Activities:
Motorcoach; jetfoil; funicular ride in Capri; ferry crossing.
Meals:
Full buffet breakfast daily; 1 lunch in Villa Barberini; 7 three-course dinners, including dinners at a local restaurant in Rome, Taormina and Palermo

Hygiene and Safety Protocols for Globus Tours
Today's world has changed, but what remains certain is Globus' commitment to guest safety, comfort and peace-of-mind while traveling with us. To that end, Globus has established a worldwide Assurance program, with enhanced on-trip protocols and procedures, to ensure the health – and happiness – of guests throughout their travels with us.
It all starts with Globus' Global Health & Safety Team, dedicated to ensuring that cleanliness of all operations exceeds today's travel standards—from start to finish. The following areas address Globus' commitment to providing a safe and clean environment for guests.
A SAFE & WARM WELCOME
Globus will enact new tour check-in procedures and pre-trip health screenings to offer guests a safe start to their journey, including adherence to social distancing requirements.
BLENDING CULTURAL PROXIMITY WITH SOCIAL DISTANCE
Globus will ensure safe distances for guests throughout the journey, on coach and during excursions. This includes providing masks for guests use at any time where social proximity could be an issue as well as the possibility of reducing group sizes, if required. And wireless listening technology – including Globus' Go Beyond Devices in Europe – enables safe distances between guests and other travelers on excursions.
FOCUS ON GUEST AND TEAM MEMBER HEALTH
To ensure a healthy environment for team and guests, Globus will conduct regular temperature checks for both guests and team, and when necessary, masks will be worn by Globus' team members when with guests.
TOUCHING HEARTS, NOT HANDS
Traveling with Globus removes many of the "touch points" of travel, including luggage handling, check in/out, expedited entry into attractions and more. Globus are further reducing risk with hands-free service, meaning all self-services replaced by staff, including buffet meals replaced with table service. Globus will also ensure hand sanitizing is available throughout each trip, on coach and in hotels.
COMMITMENT TO CLEAN
As a part of Globus' commitment to clean, Globus is requiring enhanced cleaning procedures with hotel partners, on motorcoaches, vehicles and throughout every trip, including additional daily disinfecting procedures that go above-and-beyond already strict health and safety procedures.
PARTNERS IN DISCOVERY AND IN HEALTH
Globus has strict health and safety protocols, which have been in place for years, focused on ensuring all aspects of operation- from vehicles and equipment used on trip to excursions and hotel procedures. This process will continue with new, elevated health and safety checks, to maintain their promise that each touch-point on tours and cruises are considered in their commitment to guest and team member well-being.
Prices are per person, based on double room occupancy.

Single room supplement:
$690

Triple room reduction per person:
$100

Additional accommodations before or after your tour may be available.

Rome: Ludovisi Palace
Located in the heart of Rome in the fashionable Via Veneto district, this elegant 57-room hotel is set in an historical building dating back to the early 1900's offering a slice of Old World Italian glamour in a warm atmosphere. Drinks & delicious appetizers are served in the lounge bar and Free Wi-Fi access is available throughout.
Address:
Via Ludovisi 43
Roma , Italy
Rome: Mediterraneo
Classic Italian Art Deco hotel located downtown with soundproofed rooms. Modern amenities blend with original period furnishings and character.
Address:
Via Cavour 15
Rome , Italy
Rome: Romanico Palace
Set in a 19th-century building with a lavish baroque designed interior, this luxurious 121-room hotel boasts a roof top restaurant and terrace offering grand views of Rome's skyline. There is an American-style bar in the extravagantly decorated lobby and a Roman inspired wellness area and gym. Free WIFI internet access is available in all guestrooms and public areas.
Address:
Via Boncompagni 37
Roma , Italy
Sorrento Coast: Towers Hotel Stabiae Sorrento Coast
Built on the grounds of a former cement factory which takes its name from the two replica factory towers, this upscale 150-room hotel is located in a tranquil spot on the beautiful Sorrento peninsula with views of Mt. Vesuvius, a gleaming private stretch of beach and a sparkling (seasonal) outdoor swimming pool. Mediterranean cuisine is served in the restaurant overlooking the Bay of Naples and drinks can be enjoyed at the terrace bar. A large spa area includes a sauna, Turkish bath and Jacuzzi and Free Wi-Fi access is available throughout the property.
Address:
S.S.145 Sorrentina Km.11
Castellammare di Stabia , Italy
Bari: Grande Albergo Delle Nazioni
Located in one of the most elegant areas of Bari seafront, the Grande Albergo Delle Nazioni blends tradition and modernity. This stylish resort is an established luxury landmark in the Levantine city and combines history and spirituality building a bridge between East and West. It offers a spectacular rooftop swimming pool with hydro-massage tub and a panoramic view over the sea, and two restaurants which stand out for their refined cuisine that combines the traditional Mediterranean diet with the most innovative trends of contemporary international cuisine. Overlooking the Adriatic sea, this property has its own access to a private beach and it is the ideal place to enjoy an unforgettable stay in Bari.
Address:
Lungomare Nazario Sauro, 7/9
Bari , Italy
Alberobello Area: Victor Country
Set within a beautifully converted 16th century farmhouse, this small country 38 room hotel is immersed in over 42-hectares of natural countryside surrounded by unspoilt scenery, ranging from oak and olive groves to verdant grasslands. Free Wi-Fi access is available in the lobby and the hotel has a restaurant, bar and seasonal outdoor swimming pool and sun terrace.
Address:
C.Da Albero Della Croce S.P. 78 Alberobello-Mottola Km.2,7
Alberobello , Italy
Alberobello Area: Grand Hotel D'Aragona
Located in a very peaceful position close to some of Apulia's most important attractions like Alberobello, Polignano a Mare and Ostuni, this hotel is a great choice for those who want to explore the region. All its air-conditioned rooms have flat-screen/satellite TV and minibar. Most of the rooms also have balconies. Other amenities include an elegant restaurant serving local dishes and two swimming pools. Free Wi-Fi access is available in public areas.
Address:
Via San Donato, 5
Conversano , Italy
Reggio Calabria: Grand Hotel Excelsior
Refined and elegant, equipped with a large Convention Centre and a rooftop garden that hosts the exclusive restaurant Gala, the Grand Hotel Excelsior is the ideal solution both for a business trip or a romantic weekend in the beautiful city of Calabria.
Address:
Via Vittorio Veneto 66
Reggio Calabria , Italy
Taormina Riviera: RG Naxos Hotel
This luxurious 296 room hotel is set in a fantastic location with superb facilities. Free Wi-Fi access is available in the lobby and access in the guestrooms is subject to a fee (payable locally). The hotel has two beautiful private sandy beaches with a seasonal beach bar, an inviting seafront outdoor pool as well as a spa, wellness and 24 hour fitness center. Homemade Sicilian pastries and evening cocktails can be enjoyed in the lobby bar, dinner in the hotel's elegant speciality restaurant and classic Mediterranean style lunch in the main restasurant with outdoor terrace dining options at both venues.
Address:
Via Jannuzzo 47
Taormina Riviera , Italy
Palermo: Grand Hotel Piazza Borsa
Set in 3 historical buildings, including a beautiful 16th-century cloister, this upscale hotel has retained many original architectural details. There is a restaurant with a seasonal outdoor terrace, two bars and a fitness room, Free WiFi internet access is available in the lobby and Free wired internet access is available in the guestrooms.
Address:
Via Dei Cartari 18
Palermo , Italy
Palermo: Central Palace Hotel Federico II
A fusion of classic and innovative design, Hotel Federico II is a family- run 65 room establishment located near the city's most important streets of culture, tourism and shopping, halfway between the Teatro Massimo and the Teatro Politeama. Breakfast is served with a rich buffet while the in-house restaurant offers traditional Mediterranean dishes revisited along with a great wine selection. Free WiFi access is available throughout the property.
Address:
Via Principe Granatelli, 60
Palermo , Italy
Question: What is the best time of year to go to Sicily?
When to Go in Sicily: April to early June and late September to October are the best times to visit, as the temperatures are not as sweltering as they are in the summer. However, April to June are the months when school buses packed with children visit the most important sites. Easter is considered high season.
Question: How many suitcases can I take with me on my trip?
Each person is allowed one "check-in," and one "carry-on." Remember to take all valuables with you as "carry-on", because electronic equipment, cameras, laptops, jewelry, business documents and money are not covered by the airlines' liability, so always carry them aboard with you.
Question: Is Airfare Included in the Price?
Airfare from your point of origin to and from the trip is not included in the land price.
Similar Tours Other Travelers Liked
Wonderful tour, totally organized. Some days a bit too much time on the road/bus & some hotels too isolated. Didn't like Naples but loved all other stops on itinerary. Tour needs to make more time in Positano- that was a disappointment. Overall would definitely recommend this tour.
Great customer service given by Trena. The price compared with the Globus price was a money saver for us. We will book with Affordable Tours again.
Our tour director, Daniela, was awesome. She was very organized and made our road trip smooth and enjoyable. She was very knowledgeable of the places we visited. The pace and number of days we stayed in certain cities were just right. It gave us time to enjoy the place and to explore on pur own. The schedule was not tight.
The wine, coffee, and breakfasts provided were well below our expectations. The optional dinner food was excellent. Day one hotel room was awful. The rest of the hotels were nice.
Globus did not allow enough time for our flight from Palermo to Frankfurt. We barely made the connection on time and another Globus group doing the same tour missed their flight out of Frankfurt altogether. Globus needs to pay more attention to their scheduling, especially out of Fankfurt, Amsterdam and Rome. Our Tour Director, Nicholas was fabulous and we met him on our first trip to Italy in 2012. He's the best Tour Guide we have ever had.
The trip was wonderful, loved the entire trip itinerary.
We had a great time. Made new friends and really enjoy the trip. Capri and Sicily are beautiful!!
I paid extra fees for single occupancy of a room, I supposed to have same room as couples or at least is not stuffed me into tiny rooms or rooms without proper accessories that is for several trips.
Loved the entire tour itinerary and accommodations! Superb hotels and locations chosen by Globus. Very affable tour director and driver. Luca was the best, added humor along with vital information to keep the tour on schedule. Fun farm dinners, the food portion of the trip was a highlight. Nice location in Rome, within close walking distance to Vatican City, Castel St Angelo, the Pantheon and other historic and important sites. The Hard Rock Cafe store was also on the chart to go visit. Great food and coffee and gelato in Roma. Were there in 1985 and it has only improved. Loved The Towers Hotel on the Sorrento Coast, modern and fun, great scenic location across the Bay of Naples and Mount Vesuvius. Trip to Bari but only one night in the beautiful and artistic Grand Hotel delle Nozioi in Bari. 1960s minimalist revival done in superb taste as the Italians do with a sweeping view of the harbor and Adriatic coast and town from the roof dining room. Visiting Alberobello with Truli houses and other chosen stops were refreshing and fun. Only one night in Reggio, Calabria, but directly across the street from the Archeology Museum and a fun tour of the fabulous Greek Warrior Statues found on the sea floor off of Reggio. Loved the Magna Grecia part of the tour which we chose because of this! Beautiful stay at the Hilton Giardini Naxos and nice choice at the Grand Hotel Piazza Borsa in Palermo, lovely historic repurposed bank building with Lots of Space and accommodating staff. Great food and drink throughout the tour; wonderful sites that one MUST see on tour of southern Italy and Roma! Kudos to the whole Globus Team! Would liked to have time to see Archeology Museum in Naples for objects removed from digs at Pompeii but understand the difficulty there. Naples is much cleaner and safer than when I was there in the 1980s. Loved the clean and fun city of Bari and Hotel delle Nozioni. Would like to spend some time there in the future. Thanks to the Globus Team an to our fun and experienced travel group also. Thanks Lucca and Salvatore!!!! We always felt in good hands with our safe and efficient driver and tour guide.
Very disappointed in Globus Southern Italy and Sicily tour.
My chief complaints: 1. Two of the hotels were distant from local restaurants and shopping, thus requiring participants to book optional dinners or eat at the hotel. 2. Our return flights were changed without notification, thus excluding us from making adjustments without penalty. The one hour twenty minute layover in Chicago did not provide enough time to clear customs and make our way to the (missed) connection. Globus representatives assured us we would be met at the gate in order to catch the next plane. No one was present to "meet and assist" us. 3. Our tour director was efficient and competent but did not interact on a personal level with members of this very large (41) group. I felt like another head to be counted.
My trip to southern Italy was much more then I expected. I meet fabulous people and our tour guide Leno and driver Salvador where professional and so much fun to be with. They made us feel special and provided great information about all of our travels. Never thought I would like a your but can't wait till the next time!
It seems as though Globus is cutting back. The hotels were not up to our expectations. The two Hiltons were good but some of the others were way under what we expected. Our flight coming home was awful. Who books these? If Globus, they need to revise their methods. If Affordbale Tours does it, they need to talk with their clients about connections, etc. We spent over 18 hours in transit coming back. People on the west coast got back hours before us.
We had such an incredible guide -- passionate and knowledgeable about the area -- and southern Italy and Sicily are spectacular places to visit. We came away feeling that we had a true appreciation and understanding of the area, its people and history.
Have been on multiple Globus tours. This was one of the best. Fabulous hotels and meals. Only issue there was considerably more difficulty walking than I was expecting but we managed.
The G7 Conference prevented us from going into Taromina, Scicily. We were informed that this was going to happen about three days before our departure date. We feel like Globus should have known that this could happen and should have given us the opportunity to reschedule the departure date of our trip. There were two parties of ten and eight people in each party that were traveling together. Our dining experiences were scheduled so that these parties could sit together, which gave them priority seating in almost all of the situations. This left the other available seating arrangements for the rest of us. I do not think that Globus should schedule more than one party wanting to travel and sit together on a trip. We have traveled with Affordable Tours and Globus to Europe on six trips and this is the first time that this has happened to us.
This was our 3rd tour with Globus. Their staff is thorough and courteous. Hotels, in general, were good. We would use Globus again. There was an issue with the hotel in Alberobello, Italy because the hotel advised our tour guide of a problem with the water; it was not to be consummed. However, neither the hotel nor Globus provided bottled drinking water to the tour group. Since many of us on the tour needed to take medication, this situation was unacceptable.
The room in Alberobello at the Hotel Astoria was a real "dump" and the staff was not friendly at all. After we were there and had checked in and finished dinner, which was at least 4 or more hours, they told us that we could NOT DRINK THE WATER. This was too late as some people on the tour had already drank the water. Then Globus provided bottled water, and NOT the Hotel. Also, the farewell dinner was a 1 hour drive each way and made it way too late returning to the hotel in Palermo for early morning departures.
Since I travel as a single I pay the single supplement. Most of the single rooms are very uncomfortable. When I travel a single room costs substantially less than a double room. So here I pay more for a single room and get very much less. After several tours this continues to be an issue and this will probably be my last tour because of this. .
Great trip. Good guide and driver. Local tour guides were also good.
I do wish to express my disappointment with Globus. I have traveled with Globus before but I found the choice of all the hotels (except 1) inferior. Although I do realize that European hotels are not to be compared with our hotels I do know that the hotels we were put in were definitely not what I would classify as 4 - 5 star. There were not located centrally, some were actually dirty with mold in the bathrooms. Clearly unacceptable. I would definitely have to consider another Escorted Tour company before I considered booking with Globus again. Also, letting you know that most of the travelers on our tour felt the same way. Globus may have cut costs for themselves but they have probably lost some clients. My husband and I love to travel and we expect to pay for what we want and get what we pay for.
The tour guide/director was excellent....and made the trip most enjoyable and memorable
Everything about my trip went beyond my expectations.
One of the best trips we have ever taken.
Globus was a disappointment.
Four years ago we took a Globus tour of northern Italy, and had a wonderful time. That is why we decided to take the Globus tour of Southern Italy and Sicily this year.

Four days before the trip we were told that the two night stay in Sorrento was changed to single nights in Sorrento and Capri. We are not in the best of health, and would never have signed up for a trip involving three one night stays. To make matters worse, we were required to bring an additional carry on suitcase everywhere we traveled, and Globus made it clear that they would not help in any way with the carry on luggage. They changed the itinerary again upon our arrival in Rome, telling us that we would overnight in Capri on Sept..18th rather than on the 19th as stated in the e-mail. We had to depart Rome on day 3 at 0730 and after a long day of touring, we had to carry our bags for several blocks through the port of Naples and on to the ferry. We arrived at the port of Capri at 5:30pm, and had to carry our bags to the funicular and through the streets of Capri to our hotel. Other tour companies had porters taking luggage to hotels, but not Globus. By the time we arrived at our hotel we were too tired to enjoy being on the island. The next day we had to carry our bags through the town, down the funicular, and onto the ferry to Sorrento. This change in itinerary turned the trip into a nightmare. We do not feel that we got the trip that we paid for. The hotel in Matera was substandard with an indifferent staff and awful food. The hotel in Reggio was okay, but the dinner at the hotel was terrible. On a positive note, the hotel and meals in Taurmina were excellent. The optional dinner in Sorrento(Flavors of Sorrento) was a rip off. For $48 per person we expected a better main course than pizza. Everyone we spoke with on the tour agreed that Globus has really gone downhill in its customer service. We scheduled a noon departure from Palermo so that we could sleep in and have a relaxing breakfast. Instead Globus made us depart the hotel at 0800. They refused to arrange a later departure for the two couples with noon flights. As a result we had to begin a long journey home with a 3.5 hour wait at the Palermo airport. We are still planning a river cruise within the next 18 months, but it will not be with Globus or any of its affiliates.
The hotel Cicerone in Rome was a disappointment.We were very hopeful that would be the worst of the hotels and it did prove to be. Other than that, all accomadations were fine.
We had a wonderful time - great guides, wonderful accomodations ( except for our stay in Palermo - the NH Jolly simply didn't live up to your high standards) and great food! We were kept very busy each day. The only suggestion I would make is alllowing for a bit more free time. Also, the dinner on the final evening should have been included in the tour rather than offered as an option.
the Highlights of Southern Italy tour was fantastic, wonderful and adventurous. We love the various cities and the excursions and the great varieties of foods. The tour guide was friendly, cheerful, helpful, concerned, knowledgeable and very professtional -
AffordableTours.com® does not itself offer, service or administer the Travel Packages, and the ultimate terms and conditions of any Travel Package made available via the Site Offerings (including the prices quoted in connection with same) will be determined by the applicable Third-Party Travel Service Provider. AffordableTours.com® does not represent or warrant that the Price Quotes are accurate, up-to-date or free of error, or that same will be honored by the applicable Third-Party Travel Service Providers. All Price Quotes, Travel Package availability, Travel Package details/itinerary and other Content are subject to change without notice. All travel details published by and through the Site Offerings should be confirmed directly with the applicable Third-Party Travel Service Provider prior to making any travel plans. Reliance on any information made available to you by and through the Site Offerings is solely at your own risk.
How It Works
Vacationing has never been easier or cheaper with the help of a dedicated travel consultant from AffordableTours.com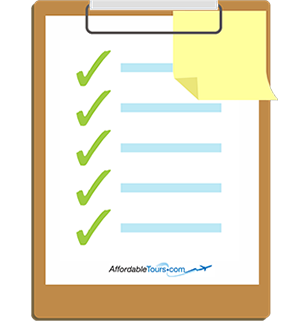 Find your perfect trip on our website and simply request a free quote. Need to speak to a live person? Call us 7 days a week at 1-800-935-2620. No robots here!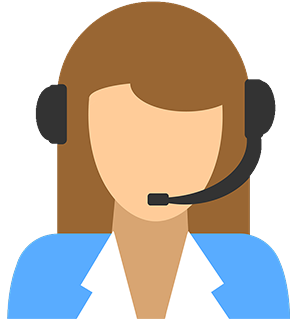 Your personal travel consultant will reach out and be your point of contact for your entire travel experience from start to finish. Did we mention you'll be working with an award winning team? Sweet!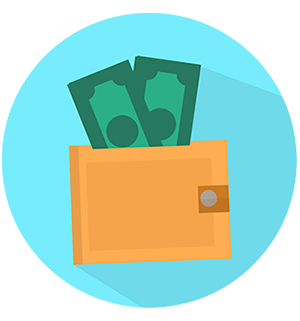 Because we're one of the largest sellers of travel, we're able to give you a discount on your vacation package. No one beats our prices!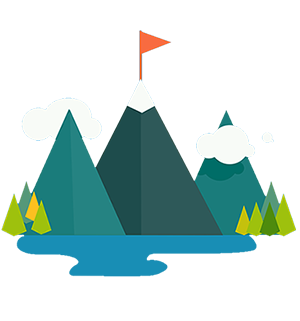 Knowing you got the best deal, all that's left is for you to pack your bags and enjoy your vacation!