Call or submit a quote for award-winning value and service!
Tour Itinerary
Discover Turkey in all its ancient glory during this eight-day journey beginning in Istanbul. Travel to the Aegean resort town of Kusadasi before exploring the fairy chimneys of Cappadocia, then hop over to northern Cyprus where time stands still. Tread the paths of history, soak up some incredible landscapes and immerse yourself in this cultural melting pot.
Day 1: Istanbul
Welcome to Turkey. Meet your group at 1 pm at the hotel in Istanbul, the continent-straddling metropolis that the Greeks, Romans, Byzantines and Ottomans have all called home. Your group will head out with your leader to explore the Old City of Instanbul after the meeting. Visit the scene of many a chariot race in the ancient hippodrome, check out the Blue Mosque, take a walk past the wares of the Grand Bazaar and marvel at the jewel in Sinan the Great Ottoman Architect's crown, Suleymaniye Cami. If you're not too exhausted after all that, join your new friends for dinner and bask in the beauty of a real Turkish kebab, not the regrettable 2 am kind.
Day 2: Kusadasi
How blue is the Aegean? Find out for yourself as you jump on a local train after breakfast and head to the airport. A one-hour flight takes you to Izmir, Turkey's third-largest city, and from there you'll transfer 1.5 hours to Kusadasi. This resort town lies on Turkey's western Aegean coast and is the perfect jump-off point for visiting the classical ruins at Ephesus. It's also a great spot to soak up the vibes along the seafront promenade, check out the local beaches or have a bit of a fun with the nightlife. Despite being a resort town, Kusadasi isn't all new hotels and marinas. It has a long history and some phenomenal traditional Aegean cuisine featuring fresh seafood and local olive oil.
Day 3: Kusadasi - Ephesus
Lace up your sensible shoes and charge your camera. Today starts with a visit to Ephesus, one of the best-preserved classical cities in the Eastern Mediterranean and arguably the greatest Greco-Roman site in the world. Once the capital city of Roman Asia Minor, the city has a fascinating history that really comes alive with a local guide to enhance the experience. The ruins are in incredible shape, considering their age, and it's not difficult to image them in their full glory 2000 years ago. This ancient city was extremely sophisticated with running water, public toilets, a renowned medical institute, a brothel and Roman baths. The theatre is well preserved and regularly hosts concerts, but it's the magnificent library that takes most people's breath away. From Ephesus, drive to Selcuk to feast on the popular gozleme (Turkish pancake) as it's made in front of you, then visit the Isa Bey Mosque, the Artemis Temple and the small village of Sirince to taste the local fruit wine.
Day 4: Kusadasi
It's all about you today. Whatever you want to do, do it. Within reason, y'know? Take a day tour to the famous Pamukkale World Heritage Site, Turkey's 'Cotton Castle' thermal pools that have  been used as a spa since the 2nd century BC. Though you won't be able to bathe in these pools, you can take a walk through them, visit the nearby ancient city of Hierapolis and take a dip in what used to be Celopatras's old pool. Alternatively, you could take to the Aegean and explore the coastline on a gulet, a traditional wooden Turkish vessel. Swim in the crystal-clear waters of Soguksu Bay, Claros Island and Baradan Beach and enjoy lunch on deck. If you'd rather have a low-key day, there are plenty of beaches in town that have sunbeds, umbreallas and your name on it. Whatever you do, make sure you're ready to head back to Izmir by 6 pm as the Mavi Konya, an overnight train, will be waiting to transport your group through the night to the central Anatolian city of Konya.
Day 5: Konya / Cappadocia
Wake up in Konya, a traditional Turkish city that's closely linked with the whirling dervish sect of Islam developed in the 13th century by Celaleddin Rumi, considered one of Islam's greatest Sufi mystics. Take an opportunity to visit the Mevlana Museum and stretch your legs in town before hitting the road for a three-hour journey to Cappadocia. Keep an eye out for the fairy chimneys, the hallmarks of Cappadocia's otherworldly landscape, as you drive across the Anatolian plains and stop en route at one of the underground cities that once provided a safe haven in times of war or persecution. Arrive in Goreme in the late afternoon and take a sunset valley walk before settling in for the evening. 
Day 6: Cappadocia
This morning you have the option to take a hot air balloon flight, a once-in-a-lifetime experience during which the sun illuminates a skyline dotted with balloons. Even if you'd prefer not to take a flight, it's still worth waking up for this truly incredible sight. Your leader will take you for a walk through one of the nearby valleys, possibly the Valley of Love, which features fairy chimneys, deserted rock-cut homes and churches. Your leader will know a number of fantastic scenic routes and a good walk is by far the best way to experience this unique environment. In your free time today, maybe visit the UNESCO-listed Goreme Open Air Museum, a monastic complex composed of churches, rectories and dwellings cut into the soft cliff face. You could also hire a bicycle and ride to Avanos to check out the Red River, or relax in a Turkish bath. This evening, your leader will give you the option of sharing a meal with a local family in their own home, or alternatively you could grab a local testi kebab, an evening hookah in one of the cafes or a glass of the local wine while overlooking the valley. A perfect last night in Cappadocia, whatever you choose.
Day 7: Cappadocia to Istanbul
Wave goodbye to Cappadocia and transfer to the airport for a flight back to Istanbul. Expect to arrive between 1 and 4 pm, then grab your bags and jump on the metro as the group heads to the Sultanahmet District for the final evening of hte trip. Meet up with your travel buds in the evening and take a stroll across the Galata Bridge to one of the city's hippest neighbourhoods, a place of contradictions where tool-selling tradesman share space with chic cafes and galleries. This is the place to be seen. Try a local favourite, Balik Ekmek (fish sandwich), for dinner, then cleanse the palate with a baklava. Maybe check out a few of the bars, or simply enjoy a farewell cay (Turkish tea) overlooking the Bosphorous. 
Day 8: Kyrenia
Welcome to Kyrenia, also known as Girne in Turkish – a beautiful town that boasts an average of 320 sunny days per year. Come 6 pm, begin your travels with a welcome meeting at your hotel to meet your group leader and fellow travellers. In ages past, Kyrenia's horseshoe harbour played home to carob warehouses, one of the region's former major exports. These days, it's lined with lively bars and shops underneath the nearby Venetian Castle that creates an interesting contrast between old and new. Considered to be the cultural and economic centre of Northern Cyprus, there's no better place to begin your adventures through the island. After your important meeting, why not get a group of you together to explore the harbour, and to find a place for dinner.
Day 9: Kyrenia
Embark on a walking tour of Kyrenia's Old Town in the morning. The winding alleyways reveal a quaint mix of old stone buildings with colourfully restored architecture, along with the spectacular remains of the abandoned 16th-century Chrysopolitissa Church. Take a visit to the Venetian Castle that guards the city, taking in the magnificent sea vistas from the top of the fortifications. In the afternoon, travel the picturesque St Hilarion Castle. With walls and towers that sprout out of the rocks almost randomly, it's rumoured that Walt Disney used the castle as inspiration for The Queen's Castle in Snow White and the Seven Dwarfs. The highest point stands at a towering 730 metres (2395 feet) above sea level, offering a marvellous view of the land below. From this point on, continue to Bellapais to explore its monastery, one of the few and fantastic Gothic architectural masterpieces of Cyprus. This evening, bask in a spectacular sunset on board a traditional gulet (sailing vessel) over the Mediterranean. You'll be able to enjoy the coastal views all the while with a drink in hand, and cool off with a sunset swim.
Day 10: Kyrenia
The beautiful untouched beauty of the west of Northern Cyprus is your background today for an overland journey through its history. From Kyrenia, explore Kormakitis, Morphou and Lefke, discovering Roman mosaics in Christian Basilicas, Gothic architecture in Orthodox churches and fine examples for Armenian and Christian traditional homes with ornate balconies. You'll make a visit the last inhabited village of Maronites – a catholic community originating from Lebanon which settled in Cyprus with the Crusaders. Visit the 14th century old St George Chapel and the 19th century St George Cathedral as well as the ethnographic museum in Kormakitis. After the cultural visit, be treated to a traditional dinner, tasting Maronite specialities. Your travel time today is around 3.5 hours, not including stops. Return to Kyrenia for the night.
Day 11: Nicosia / Komi Kebir
Known as Lefkosa to the Turks and Nicosia to the Greeks, the city is full of surprises thanks to a mix of cultures and architecture. You'll visit the capital today, and discover the city coexisting in a country divide. The Selimiye Mosque is one of the Turkish side's highlights, previously known as the Cathedral of Saint Sophia before the Ottomans added minarets in 1571. Marvel upon the interior's whitewashed walls and examine traces of Gothic architecture lying in the architecture despite the Islamic refurbishment of the building. Afterwards, take a walking tour passing through both sides of the country's green line. Your passport will be required for the checkpoints at the border and the intriguing contrasts between the divided city will become apparent as you enter the Greek side of the island. Later in the afternoon, loop back into the Turkish side with a trip to the Rizokarpaso (the Karpass Peninsula) before spending the evening at a log cabin in the national forests near Komi Kebir, or Byukkonuk.
Day 12: Komi Kebir
Komi Kebir (Buyukkonuk) is a traditional Cyprus village where residents have been working together to preserve local culture and heritage. This morning be introduced to your hosts, Lois and Ismail, as you join in some traditional bread and cheese making. Afterwards, take a wander through local fields to the remains of the Auxendios church. The Karpass Peninsula is literally covered with abandoned churches, many have been left for years and have since been repurposed as shelters for farm animals or simply left to fall in favour for new mosques. Enjoy a traditional village vegetarian meal for lunch, using local produce such as carob pekmez and zivania – a local firewater made from grape skins.
Day 13: Famagusta
Today, journey further along the Karpass to explore some of the remote beaches and villages, keeping a look out for the Donkeys on our journey today. Emanating a certain rustic charm, this piece of paradise on the remote Mediterranean coast is yours to explore today. Take a drive to the tip of the peninsula and visit the Apostolos Andreas Monastery. It's thought that the monastery has stood here since Byzantine times, founded here during a journey to the Holy Land by Saint Andrew. In modern times, the monastery has been under an extensive restoration program which leaves much of the location inaccessible to the public – however the church is still open for entry and the views from this location are stunning. This afternoon, enjoy an opportunity to swim or to take an optional 2.5-hour hike. Look out for local donkeys along the way – they are quite common in this area. Continue to the east coast city of Famagusta for the evening.
Day 14: Famagusta
This morning after breakfast, first visit the ancient city of Salamis – once a thriving port city serving many dominant groups over the course of its history, including Assyrians, Egyptians, Persians, and Romans. Continue to the Church of Apostolos dedicated to St Paul's friend Varnavas (Barnabas), who was born in Cyprus and carried out his missionary work here. Head back to Famagusta (Gazimagusa) in the early afternoon, which is one of the finest examples of medieval architecture in the eastern Mediterranean – a walk around its walls and old city feels just like an open-air museum! Spend the afternoon on a walking tour, starting at the centre point of the city, the beautiful Cathedral of St Nicholas, now converted to the Lala Mustafa Pasa Mosque. Learn also of the modern history of the city following Cyprus's 1974 coup. In the evening, be sure to get together with your group for dinner to share your Northern Cyprus stories.
Day 15: Famagusta
As there are no activities planned for today, you are free to leave the accommodation at any time.
Istanbul - Old City Walking Tour (Half Day)
Ephesus - archaeological site
Selcuk - Gozleme making demonstration and lunch
Selcuk - Isa Bey Camii
Selcuk - Artemis Temple Visit
Sirince - Wine Tasting
Cappadocia - Kaymakli Underground City
Cappadocia - Valley Walk
Kyrenia - Venetian Castle
Kyrenia- St. Hilarion Castle
Kyrenia - Bellapais Monastery
Kyrenia - Sunset Boat Cruise
Kormakitis - Old and New St Georges Churches
Morphou/Guzelyurt - St Mamas Monastery
Lefka - Soli Basilica and Theater
Kormakitis - Traditional Maronite Dinner
Lefkosa - Nicosia Walking Tour
Buyukkonuk - Bread & Cheese making
Karpas - Apostolos Andreas Monastery
Famagusta - Church of Apostolos Barnabas
Famagusta- Salamis Ancient Site
Famagusta - Walking Tour
Meals
13 Breakfast(s) Included
2 Lunch(es) Included
2 Dinner(s) Included

Style: Original

Hotel (13 nights), Overnight Train (1 night)
Question: How many suitcases can I take with me on my trip?
Each person is allowed one "check-in," and one "carry-on." Remember to take all valuables with you as "carry-on", because electronic equipment, cameras, laptops, jewelry, business documents and money are not covered by the airlines' liability, so always carry them aboard with you.
Question: Is Airfare Included in the Price?
Airfare from your point of origin to and from the trip is not included in the land price.
Similar Tours Other Travelers Liked
The trip was both both educational and exciting. I very much enjoyed the sights and culture.
The itinerary was just as I expected! The guide was very good as were the accomodations
Intrepid did such a great job. I never had to worry about where I was supposed to be and it felt so good not to worry about a thing but just to enjoy myself. Our guide was extremely knowledgeable about culture and history.
Taiwan people very friendly. Accommodation were centrally located and easily accessible. Did extra activities then in brochure which was greatly.
Larus our tour guide did an excellent job and was very attentive to our needs. He is very knowledgeable and has a great sense of humor.
Our guide Tarang chandola was exceptional. Courteous, knowledgeable, organized, polite, professional and went above and beyond taking care of our needs and requests offen anticipating what that might be. He made sure we all had the best possible time and offered suggestions to meet the needs of everyone on the tour. This made the trip even more enjoyable.
AffordableTours.com® does not itself offer, service or administer the Travel Packages, and the ultimate terms and conditions of any Travel Package made available via the Site Offerings (including the prices quoted in connection with same) will be determined by the applicable Third-Party Travel Service Provider. AffordableTours.com® does not represent or warrant that the Price Quotes are accurate, up-to-date or free of error, or that same will be honored by the applicable Third-Party Travel Service Providers. All Price Quotes, Travel Package availability, Travel Package details/itinerary and other Content are subject to change without notice. All travel details published by and through the Site Offerings should be confirmed directly with the applicable Third-Party Travel Service Provider prior to making any travel plans. Reliance on any information made available to you by and through the Site Offerings is solely at your own risk.
How It Works
Vacationing has never been easier or cheaper with the help of a dedicated travel consultant from AffordableTours.com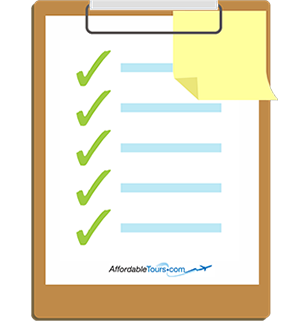 Find your perfect trip on our website and simply request a free quote. Need to speak to a live person? Call us 7 days a week at 1-800-935-2620. No robots here!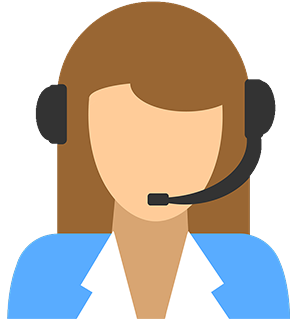 Your personal travel consultant will reach out and be your point of contact for your entire travel experience from start to finish. Did we mention you'll be working with an award winning team? Sweet!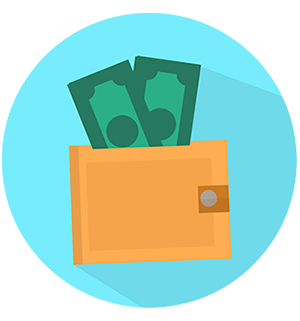 Because we're one of the largest sellers of travel, we're able to give you a discount on your vacation package. No one beats our prices!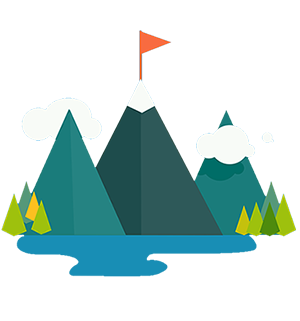 Knowing you got the best deal, all that's left is for you to pack your bags and enjoy your vacation!