Why Pay Retail? Call us or click for a quick quote and save money!
Overview
Dates & Prices
Start Date
End Date
Offers
Brochure
Land Price
Our Price
Quote
Sep 17, 2020
Oct 03, 2020
Deals

$4,399

Get Lower Price
Get Quote
Oct 15, 2020
Oct 31, 2020
Deals

$4,399

Get Lower Price
Get Quote
Oct 29, 2020
Nov 14, 2020
Deals

$4,399

Get Lower Price
Get Quote
Nov 12, 2020
Nov 28, 2020
Deals

$4,399

Get Lower Price
Get Quote
Dec 10, 2020
Dec 26, 2020
Deals

$4,399

Get Lower Price
Get Quote
LOW UNPUBLISHED PRICES ON COSMOS TOURS
Why pay full price? Call us or click above for a quick quote and save money on Cosmos Tours.

Young Travelers Save 10%
Young Travelers Save 10%
Promotion Details
Young travelers ages 8-17 receive a 10% discount on the land only portion of their vacation, plus as always receive our AffordableTours.com extra savings.
Must Book By Thu, Dec 31, 2020
View Promotion Terms & Conditions ›
To receive the Young Traveler discount, the age of the traveler must qualify at start date of the vacation. Does not apply to custom groups. Discount is applicable to any accommodation. Additional restrictions may apply.

Up to $500 Welcome Back Credit for Repeat Travelers
Up to $500 Welcome Back Credit for Repeat Travelers
Promotion Details
Each time you travel on a Globus family of brands vacation (Cosmos, Globus, Avalon or Monograms) from 2019 onward you can earn up to $250 per person ($500 per couple) Welcome Back Credit to use towards your next vacation, plus as always our AffordableTours.com additional savings. There will be some select exceptions to the credit, including Escapes by Globus, Oberammergau, Monograms City Get-a-ways, Private Touring and any heavily discounted programs like Avalon Suite Rewards. Please see the list below for your potential credit amount listed per person.
Spend $2499 or less and receive $100 credit
Spend $2500 - $3499 and receive $150 credit
Spend $3500 - $4499 and receive $200 credit
Spend $4500 & Over and receive $250 credit
Combinable with all applicable consumer promotions except those with any Globus family of brands special discount programs of the vacation price.
Must Book By Thu, Dec 31, 2020
View Promotion Terms & Conditions ›
The Welcome Back Credit will be awarded upon completion in 2019 onward of Globus family of brands vacations. Credit amount can only be applied to the land/cruise or cruise only portion of a new Globus family of brands vacation (excluding Escapes by Globus, 2020 Oberammergau, select Cosmos tours, Monograms City Getaways, and Custom/Charter vacations). Credit amount is per person and must be redeemed for a future vacation with a deposit within 2 years from date of credit issue. Bookings can be made by contacting your preferred travel agent. Passenger name or past invoice number is required to redeem the credit. Combinable with all applicable consumer promotions except those with any Globus family of brands special discount programs of the vacation price. Credit is not redeemable for cash, non-refundable deposit, airfare, transfers, travel insurance, prepaid gratuities, pre/post nights, or optional excursions and is non-transferrable. All federal, state and local laws and regulations apply. Valid for all participating Globus family of brands offices. Additional restrictions may apply.
Cities Visited
Baltra Island, Cusco, Genovesa Island, Juliaca, Lake Titicaca, Lima, Machu Picchu, Puno, Quito, Sacred Valley, Santa Cruz Island, Santa Fe Island
Tour Itinerary
On this Peru tour—with a Galápagos Islands cruise—delve into the past, learn about the local culture, and experience beautiful scenery as you overnight in Lima, the Sacred Valley, Machu Picchu, Cusco, Lake Titicaca, and Quito, along with three nights aboard the Galápagos Legend. You'll visit ancient ruins, enjoy guided sightseeing, and marvel at the flora and fauna found in the Galápagos Islands. History comes alive on this tour through Peru. Imagine what life was like in the 15th century as you tour the ancient ruins of Machu Picchu, where you'll see this famous Inca complex set in a majestic setting. More history awaits at Ollantaytambo, the archaeological site of the Incas' resistance during the Spanish conquest, and the Temple of Sacsayhuaman, a fortress with some of the best examples of Inca masonry. Guided sightseeing in Cusco features the Santo Domingo Monastery and the Cathedral, housing a magnificent collection of artwork.On this Peru tour, you'll also learn about the local culture. On your motorboat tour of Lake Titicaca, you'll visit Taquile Island, where you'll see how the local people integrate their Inca and Spanish past, and the Uros Floating Islands, where you'll learn how the Uros Indians construct their islands from totora reed. In the Incan town of Ollantaytambo and in Sillustani, visits with locals in their homes give you insight into their way of life. Spend time at the Indian market in Pisac and in Awanakancha, learn about the importance of camelids (llama, vicuña, alpaca, and guanaco) to Inca culture.You'll also spend six nights in Ecuador, including three nights in Quito and three nights cruising the Galápagos Islands. Swim and snorkel in search of sea life, explore the islands, marvel at the many bird species, and enjoy seeing giant tortoises, sea lions, land iguanas, blue and red-footed boobies, and much more. These are just some of the many highlights of this Peru tour and Galápagos Islands cruise. Designed for savvy, value-minded travelers, it's a dream vacation!
Day 1: LIMA, PERU.
Welcome to Lima, Peru. Heralded as the "City of Kings" by Spanish conquistadors, Lima retains vestiges of its opulent past with its colonial buildings and world-class museums.
Day 2: LIMA.
Sightseeing today focuses on Lima's colonial heritage. Founded in 1535, Lima was once capital of Spain's South American Empire. Visit the baroque 11th-century SAN FRANCISCO MONASTERY, with Spanish and Moorish architecture throughout. Continue to Plaza Mayor, where you will see the Government Palace that houses the presidential palace and was once the home of Francisco Pizarro, founder of Lima and conqueror of Peru. Nearby, see the cathedral where Pizarro's remains are buried. The remainder of your day is free to explore. Enjoy dinner at a local restaurant this evening. (B,D)
Day 3: LIMA–CUSCO–SACRED VALLEY.
Fly to Cusco high in the Andes and upon arrival, descend into the Sacred Valley of the Incas. Stop at AWANAKANCHA and learn about the importance of camelids (llama, vicuña, alpaca, and guanaco) for Inca cultures. See them up close and learn how their coats are transformed into precious fibers for ancient weaving techniques still in use today. Continue to PISAC, a charming village with a famous INDIAN MARKET, where you have plenty of time to browse the many colorful stalls selling handicrafts ranging from alpaca sweaters and blankets to painted vases and sterling silver. Later, arrive at your hotel in the peaceful Sacred Valley. (B,D)
Day 4: SACRED VALLEY.
Start the day with a visit to the village of OLLANTAYTAMBO and the Inca ruins of the same name. Explore the archaeological site that was the scene of the Inca resistance during the Spanish conquest—the only place ever to resist Spanish attacks. See how the temple area at the top of the terraces was the perfect defensive stronghold, then visit a LOCAL HOME in this Incan town to experience life in a traditional village, which has been remarkably well preserved. Next, visit the SEMINARIO CERAMICS WORKSHOP to learn about Peruvian ancient and modern art. End your day at a local chicheria for a taste of a chicha, a typical Inca drink in Peru. (B)
Day 5: SACRED VALLEY–MACHU PICCHU.
Board the VISTADOME TRAIN that cuts a path through the picturesque Urubamba Valley bound for Aguas Calientes, the quaint town closest to the "Lost City of the Incas." Ascend the mountainside through tropical forest to the sacred refuge of MACHU PICCHU. Listen as your guide recounts the many accomplishments of the Incas as you tour the terraced ruins dating back to the 15th century. Abandonded when the Inca Empire fell to the Spanish, these remarkable ruins remained undiscovered for nearly 400 years. Many mysteries surrounding Machu Picchu remain to this day. (B,D)
Day 6: MACHU PICCHU–CUSCO.
Enjoy some free time this morning to explore the mountain town of Aguas Calientes; perhaps visit the local market, quaint boutiques, or take a walk along nearby trails. Later this afternoon, return to Cusco, former capital of the Inca Empire. (B)
Day 7: CUSCO.
Embark on a guided sightseeing tour of Cusco that focuses on the city that was once the political, military, and cultural epicenter of the Incas until the Spanish toppled it. In fact, Inca foundations can still be found in Cusco, with the Spanish baroque structures built on top. Visit the SANTO DOMINGO MONASTERY, where these two forms of architecture are melded together with the temple of both cultures atop one another. Also, see the CATHEDRAL in the Plaza de Armas, housing a magnificent collection of artwork, including a depiction of The Last Supper that portrays the apostles dining on cuy (guinea pig). Continue to the hillside overlooking Cusco for a visit to the TEMPLE OF SACSAYHUAMAN. Some of the best examples of Inca masonry can be found at this fortress, where stones weighing up to 350 tons are pieced together to form a complex that could house up to 10,000 men. Learn about the ceremonies and battles that took place here, then see the ruins of Kenko and Puca Pucara before returning to Cusco. (B,D)
Day 8: CUSCO–JULIACA–PUNO.
Fly to Juliaca, then transfer to Puno on the shores of Lake Titicaca. Legend says the first Inca, Manco Capac, arose from the waters of the lake by the power of the sun god to found the Inca Empire. (B)
Day 9: PUNO. EXCURSION TO LAKE TITICACA.
Experience fascinating LAKE TITICACA today as you embark on a motorboat tour of the highest navigable lake in the world and its manmade islands. On TAQUILE ISLAND, see how the local people integrate their Inca and Spanish past. This is evident by the Spanish peasant dresses made of Andean textiles—the islanders make some of the finest in all of Peru. Continue to the UROS FLOATING ISLANDS, a group of approximately 40 artificially made islands. Learn how the Uros Indians construct their islands, homes, boats, and many other resources completely of tortora reed, a centuries-old practice. Enjoy a farewell dinner hosted by your Tour Director this evening. (B,L,D)
Day 10: PUNO–JULIACA–LIMA.
Return to Juliaca, stopping at the pre-Incan burial grounds of SILLUSTANI en route. See the above-ground tombs, chullpas, in which the Aymara Indians buried their high priests. You will be welcomed into a LOCAL HOME for an inside look at life here. Later, a short flight returns you to Lima, where you will transfer to your hotel. (B)
Day 11: LIMA–QUITO, ECUADOR.
Board a flight for Quito. (B)
Day 12: QUITO–BALTRA (EMBARKATION)–GALÁPAGOS CRUISING.
Fly to Baltra and visit the highlands of SANTA CRUZ, marked by extinct volcanoes, lava tubes, and astonishing plantlife. Here, witness giant tortoises in a natural reserve and learn about efforts to conserve these ancient creatures. Continue to the port where you will board the Galápagos Legend. (B,L,D)
Day 13: GALÁPAGOS CRUISING: GENOVESA ISLAND.
Wake up at GENOVESA ISLAND and encounter a small fur seal grotto before taking a walk up Prince Philip's Steps to see large nesting colonies of Nazca and red-footed boobies. Wedge-rumped Storm Petrels can be observed flying in all directions and, if you are lucky, you may catch a glimpse of a short-eared Owl. After lunch on board, visit DARWIN BAY to observe frigate birds, red-footed boobies, herons, lava gulls, and many other bird species. (B,L,D)
Day 14: GALÁPAGOS CRUISING: SANTA CRUZ & SANTA FÉ ISLANDS.
Back on SANTA CRUZ, walk by a brackish lagoon where feeding flamingos are often found. Climb DRAGON HILL, an important nesting ground for endemic land iguanas. On SANTA FÉ, a large sea lion colony greets you on its white-sand beach. Walk through a cactus forest in search of the endemic Santa Fe land iguana, the largest in the islands and distinctively paler than its counterparts. This island is home to a number of endemic species, including the Galápagos hawk, Galápagos snake, a variety of finches, and one of the four species of Galápagos mockingbirds. (B,L,D)
Day 15: GALÁPAGOS CRUISING: MOSQUERA ISLET–BALTRA (DISEMBARKATION)–QUITO.
Your final visit takes you to MOSQUERA ISLET. This flat, sandy island has a large colony of sea lions and is an excellent site for observing shorebirds such as herons and Lava Gulls. Take a dip in the waters and snorkel to see the abundant sea life. Later, disembark and fly to Quito. (B)
Day 16: QUITO.
Included sightseeing showcases Quito's treasures: Independence Plaza, the 16th-century SAN FRANCISCO MONASTERY, and the Jesuit's LA COMPANIA CHURCH with its stunning golden altars. (B)
Day 17: QUITO.
Your vacation ends after breakfast this morning. (B)
Sightseeing & Activities:

LIMA
Guided sightseeing, visit San Francisco Monastery

SACRED VALLEY
Guided sightseeing of Awanakancha and Pisac Indian Market; Visit Ollantaytambo, a local home, Seminario Ceramics Workshop, and a chicheria

MACHU PICCHU
Vistadome train to Machu Picchu; Guided sightseeing of the Machu Picchu ruins; stay overnight in Machu Picchu region

CUSCO
Guided sightseeing, visit Santo Domingo Monastery, the Cathedral, and Sacsayhuaman, see Kenko and Puca Pucara

LAKE TITICACA
Guided sightseeing of Taquile Island and the Uros Floating Islands; farewell dinner

SILLUSTANI
Guided sightseeing, visit a local home

GALÁPAGOS ISLANDS
3-night Galápagos Islands cruise; Quito sightseeingPrivate, deluxe air-conditioned motorcoach while touring

Meals:
16 breakfasts, 4 lunch, 8 dinners



Dates & Prices do not include air travel.
Participation in this vacation requires purchase of the following flights from Cosmos, not included in pricing: (1) roundtrip air from your U.S. gateway and intra-vacation air segments, starting at $1,986 (based on Miami, departure in January 2020; or (2) intra-vacation air segments only. Required intra-vacation air segments: Lima/Cusco; Cusco/Juliaca; Juliaca/Lima; Lima/Quito; Quito/Galápagos; Galápagos/ Quito. Air prices were effective on July 10, 2019 and their availability is limited. At the time you purchase your tour, air prices may be higher.

Gratuities for Tour Director, driver, and Local guides are available for pre-purchase on the base vacation. For vacations that include an extension to the base, pre-paid gratuities only include the base portion. Any additional gratuities would need to be paid on trip.

Prices based on double room occupancy.

Single Room Supplement:
$1,655 to $1,745

Triple Rooms are not available.

Extra nights per person in Lima:
in single room $113; in twin room $62; in triple room $57

Extra nights per person in Quito:
in single room $150; in twin room $83

2021 prices and itineraries are subject to change. Details will be available in July 2020.
Lima: Jose Antonio Lima Hotel
Sacred Valley: La Casona Yucay
Machu Picchu: El Mapi by Inkaterra
Cusco: Jose Antonio Cusco
Quito: Grand Mercure Alameda (SAT)
Question: How many suitcases can I take with me on my trip?
Each person is allowed one "check-in," and one "carry-on." Remember to take all valuables with you as "carry-on", because electronic equipment, cameras, laptops, jewelry, business documents and money are not covered by the airlines' liability, so always carry them aboard with you.
Question: Is Airfare Included in the Price?
Airfare from your point of origin to and from the trip is not included in the land price.
Similar Tours Other Travelers Liked
Wonderful trip to Lima, Puno, Juliaca, Cuzco, Machu Picchu!!!!! And more. Pace was good! My friends did not acclimate well at all to the altitude, but I had no problem.
it was like two tours. The primary tour guide was very, very professional. She attended to everything, including taking a person who fell and injured her knee to a clinic, later the hospital, and following up with her. The second primary guide was just the opposite. She left us before we got fully checked in. Our rooms were not as described. Our bags where left in the lobby. When we arrived at the airport she did not have the boarding passes and luggage tags, and required help in obtain them. The first part of the trip the driver was sick with the flu and was not replaced. Locked up on a small van I was lucky enough to catch his cold. Unprofessional by the driver and guide. There was no heat it one of my hotel room. Not much in the restaurant or lobby, The staff were dressed in ski clothes in the restaurant. We only had half a day of guided tours, ending at lunch time. I felt like I had not received my moneys worth.
Our tour guide, Maritza, was very good. She was well organized and managed problems with professionalism. I would recommend this trip with this tour guide.
Excellent trip and local tour guides were excellent!!!!!!
I was not met at the Lima airport by arrival. I waited for 40 min, called to the hotel they connected me to the Cosmos rep who said that I am not on the list and recommended to take a taxi and submit receipt for reimbursement to the tour director. But I was not reimbursed... By the way the arrival instructions in the Cosmos booklet is outdated.
We had a remarkable experience on this Peruvian tour. The pace was comfortable, hotels and transportation facilities excelkent and the tour guide Aly went way beyond his duties to enrich our experience. I must congratulate Cosnos for making availabke a guide with such extensivr knowkedge of history and hetitage, efficient and caring attention to travelkers, and a super sense of humour.
AffordableTours.com® does not itself offer, service or administer the Travel Packages, and the ultimate terms and conditions of any Travel Package made available via the Site Offerings (including the prices quoted in connection with same) will be determined by the applicable Third-Party Travel Service Provider. AffordableTours.com® does not represent or warrant that the Price Quotes are accurate, up-to-date or free of error, or that same will be honored by the applicable Third-Party Travel Service Providers. All Price Quotes, Travel Package availability, Travel Package details/itinerary and other Content are subject to change without notice. All travel details published by and through the Site Offerings should be confirmed directly with the applicable Third-Party Travel Service Provider prior to making any travel plans. Reliance on any information made available to you by and through the Site Offerings is solely at your own risk.
How It Works
Vacationing has never been easier or cheaper with the help of a dedicated travel consultant from AffordableTours.com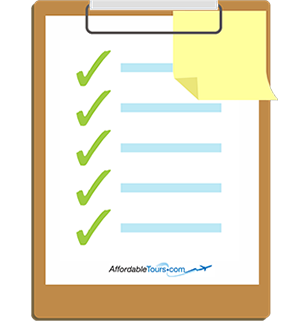 Find your perfect trip on our website and simply request a free quote. Need to speak to a live person? Call us 7 days a week at 1-800-935-2620. No robots here!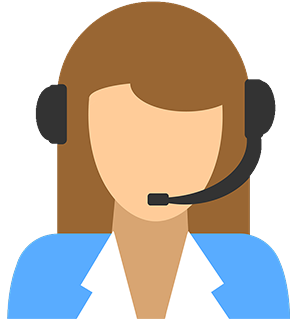 Your personal travel consultant will reach out and be your point of contact for your entire travel experience from start to finish. Did we mention you'll be working with an award winning team? Sweet!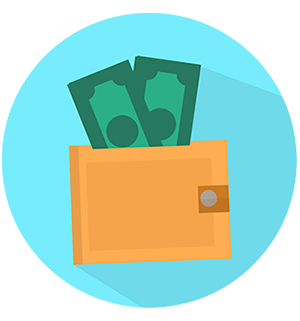 Because we're one of the largest sellers of travel, we're able to give you a discount on your vacation package. No one beats our prices!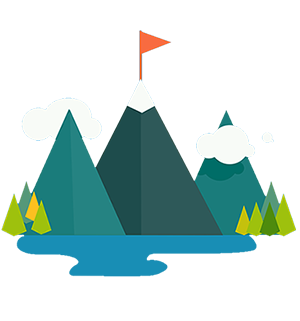 Knowing you got the best deal, all that's left is for you to pack your bags and enjoy your vacation!