Why Pay Retail?
Call us for a quick quote!
LOW UNPUBLISHED PRICES ON TRAFALGAR TOURS
Why pay full price? Call us or click above for a quick quote and save money on Trafalgar Tours.
$99 Deposit Special
$99 Deposit Special
Promotion Details
Book your vacation now with our limited-time, risk-free $99 deposit. For added peace of mind, if you need to cancel your booking within 30 days of deposit, you'll receive a full refund. Combine this with savings of up to 10% on select trips, plus no change fees up until 30 days before departure for maximum flexibility and the highest confidence booking your trip for travel this year or next. Plus as always receive our AffordableTours.com 10% extra savings!
$99 Deposit is combinable with Early Payment Discount, Early Booking Discount, Last Minute Deals, year-round savings and exclusive partner offers. Offer is not applicable to group deposit but can be applied for travelers booking within the group block.
Must Book By Thu, Dec 17, 2020
View Promotion Terms & Conditions ›
$99 per person deposit valid for new bookings only made between June 15, 2020 – December 17, 2020. Deposit due at time of booking. Applicable for travel September 1, 2020 – October 31, 2021. $99 Deposit is combinable with Early Payment Discount, Early Booking Discount, Last Minute Deals, year-round savings and exclusive partner offers. Offer is not applicable to group deposit but can be applied for travelers booking within the group block. $99 per person deposit qualifies for 30-day refund guarantee – cancel for any reason within 30 days of deposit and receive a full refund. Offers: based on availability, do not apply to all trips/departures, and may be withdrawn at any time and without notice.
10% Off for Young Travelers
10% Off for Young Travelers
Promotion Details
If you're travelling with a child between the age of five and 17, we'll give you a discount of up to 10% on the land-only portion of their vacation. Plus always receive our AffordableTours.com 10% extra savings.
Must Book By Fri, Dec 31, 2021
View Promotion Terms & Conditions ›
Young travelers must be under the age of 18 years on the date of departure, and must be accompanied by an adult (limit of one Young Traveler Discount per room). Please see below for a detailed breakdown of age groups for individual brochures. Asia 5 - 11, At Leisure 5 - 18 (5 -15 for Australia and New Zealand), Australia and New Zealand 5 - 15, CostSaver 5 - 17, Europe and Britain 5 -17, Family Experiences 5 - 17, Hidden Journeys 5 - 18 (5 - 11 for Asia), South America 5 - 17, trips to Costa Rica and Panama 5 - 12, trips to Mexico 5 - 12, USA and Canada 5 - 17.
Triple Room Share Reduction
Triple Room Share Reduction
Promotion Details
Travel with three people sharing one room and each of you will receive a reduction on the land-only portion of your trip's price. As always receive our AffordableTours.com 10% extra savings
Must Book By Fri, Dec 31, 2021
View Promotion Terms & Conditions ›
Triple room reductions are based on sharing a twin or a double bedroom with an extra bed, which may be a roll-away. Discount may not apply to all itineraries, countries, regions or travel types, ask your travel consultant for full details. Additional restrictions may apply.

Room Match Solo Traveler Savings
Room Match Solo Traveler Savings
Promotion Details
Are you travelling alone but don't want to pay a supplement? On many trips, you'll have the option to room share with another same-gender solo traveler, on a twin-bed basis. Plus receive our AffordableTours.com 10% extra savings.
Combine with past guest savings.
Must Book By Fri, Dec 31, 2021
View Promotion Terms & Conditions ›
Please note that there is no guarantee roommates will be of a similar age group. If you are unable to be matched, you will be provided a single room at no extra cost. This service does not apply to City Breaks, extra nights' accommodation and all Eastern Mediterranean vacations - with the exception of Highlights of Turkey (without cruise) and the Best of Turkey. Room match may not be available on all dates and/or vacations, ask your travel consultant for applicable itineraries. Additional restrictions may apply.

5% Savings on Group Vacations
5% Savings on Group Vacations
Promotion Details
Travel together and save money. Family, friends, club members or colleagues, gather 9 to 15 people and earn a 5% discount. Plus as always receive our AffordableTours.com 10% extra savings!
This discount is combinable with many of Trafalgar's other great savings! (Restrictions may apply)
Must Book By Fri, Dec 31, 2021
View Promotion Terms & Conditions ›
Not applicable to Hidden Journeys, Israel, vacations with trains, Greek Island Hopper, Solo Traveler Discount and extra nights' accommodations. Discount is combinable with Triple room and Young Traveler discounts. Discount limited to one group per coach.
VIT (Very Important Traveler) Savings
VIT (Very Important Traveler) Savings
Promotion Details
Are you a VIT (Very Important Traveler)? If you have traveled with Trafalgar, Cost Saver, Insight, African Travel, Contiki or Uniworld you are a VIT and will receive an additional 5% savings on select itineraries and/or departures as well as priority access on newly released vacations, exclusive launch offers and access to secret sales! Plus, receive our 10% AffordableTours.com additional everyday savings. Contact your Travel Consultant for applicable vacations.
Must Book By Thu, Dec 31, 2020
View Promotion Terms & Conditions ›
VIT (Very Important Traveler) program is valid to past TTC guests only. 5% savings is not valid on all itineraries and/or departure dates. Savings may be withdrawn at any time without notice. Offer is capacity controlled and applies to new bookings only. Additional restrictions may apply.
Book With Flexibility
Peace of Mind
Complimentary "Peace of Mind" Travel Plan. Change your travel plans until 30 days before your trip
Change Destination / Vacation
Change to a different destination or vacation with the Travcorp Family of Brands.
Change Dates
Choose new departure dates if your plans change.
Great Service
Award-winning service, low prices, client satisfaction
Tour Itinerary
A tale of three iconic cities and three former capitals - your epic journey through Japan blends old and new, with soul-stirring visits to ancient centres and modern cities.
Day 1

ARRIVE TOKYO (4 NIGHTS)

Tokyo's futuristic cityscape launches your journey through Japan's modern centres and ancient capitals. On arrival at Tokyo Narita or Haneda Airport, you'll be transferred by airport shuttle to your hotel. This evening, meet your Travel Director and fellow travellers for a Welcome Reception drink with appetisers.Accommodation: Keio Plaza

Day 2

TOKYO SIGHTSEEING

Rub shoulders with the locals this morning as you 'Dive Into Culture' and wander through Ameyoko Street Market, once a black market selling American goods after World War II. Continue to the old-time entertainment centre of Asakusa to visit the Sensoji Buddhist Temple, which has been rebuilt countless times since its founding in 628, making it Tokyo's oldest temple site. Take a stroll down Nakamise shopping street with some free time for lunch, then join a 'Local Specialist' and learn the mesmerising rhythmic art of Taiko drumming, one of Japan's most popular cultural icons. Board a cruise along the Sumida River to admire Tokyo's modern skyline, the traditional neighbourhoods of old Edo and beautiful Hamarikyu Garden. Later, return to your hotel for time at leisure and dinner at a Sumo-themed izakaya restaurant.
Meals: Breakfast, Dinner

Day 3

KAMAKURA SIGHTSEEING

We journey to Kamakura today. A former political capital, its glory days under the Kamakura shogunate spanned from the 12th to 14th centuries, coinciding with the spread of Buddhism in Japan which is reflected in the city's numerous temples. The most important of these is the Tsurugaoka Hachimangu shrine, which we'll have an opportunity to visit this morning, passing multiple torii gates that line the wide approach from Kamakura's waterfront. We head to Komachi-dori street for some free time to admire the old western-style houses lining narrow alleys that branch off this popular market street. Later, we'll travel to Kotokuin Temple to see its Great Buddha which weighs 121 tons. Returning to Tokyo, enjoy an evening at leisure or an opportunity to join one of Trafalgar's Optional Experiences.
Meals: Breakfast

Day 4

MT. FUJI AND OWAKUDANI

The towering slopes of snow-capped Mt. Fuji loom in the distance as we journey from Tokyo to this celebrated UNESCO-listed site. Admire spectacular views of the surrounding countryside from its 5th station, a magnificent vantage point at 2,300 metres (weather permitting). After lunch at a local restaurant, we'll continue to Owakudani to see the volcanic activity. Consider sampling the local black eggs boiled in geysers, then head back to the hotel for an evening at leisure.
Meals: Breakfast, Lunch

Day 5

TOKYO - KYOTO (3 NIGHTS)

We leave Tokyo, travelling by high-speed bullet train to Kyoto, another former capital of Japan and the centre of Japanese culture for centuries. On arrival, we'll embark on a walking tour of the Gion District, embracing the energy of Kawaramachi street. Enjoy some free time before we head to the UNESCO-listed Kinkakuji Temple, whose glittering golden pavilion is widely regarded as the symbol of Kyoto.Accommodation: Nikko Princess
Meals: Breakfast

Day 6

KYOTO SIGHTSEEING

After a late start this morning, we'll visit one of Kyoto's highlights - the historic and scenic district of Arashiyama, renowned for its cherry blossom trees which bloom in the springtime and its beautiful landscapes that change dramatically from season to season. Enjoy a leisurely walk through the towering Bamboo groves and see its iconic Togetsukyo Bridge. Connect with nature in the Zen gardens of Tenryuji Temple, then return to Kyoto for some free time at Nishiki market, a traditional food market known by locals as "Kyoto's Pantry". Return to your hotel or consider joining an optional Japanese tea ceremony experience.
Meals: Breakfast

Day 7

NARA SIGHTSEEING

Start the day off with a visit to Sumiyama Village and discover the stunning Kiyomizu Pottery which originated about 500 years ago in central Kyoto. Learn about the work of the craftsmen and about how they had to move out of the city and into a more rural area due to concerns from the local citizens about air pollution. Next 'Connect With Locals' over a 'Be My Guest' lunch with a local farmer at his home. Gain insights into the life of his family while sampling fresh tea and indulging in a delicious home-made meal, then visit his tea plantation. This afternoon delve into the ancient history of Nara, the first permanent capital city of Japan. Here you'll visit the landmark Todaiji Temple, one of the powerful Seven Great Temples and home to one of Japan's largest bronze statues of Buddha. Take a stroll around Nara Park, home to hundreds of freely roaming tame deer before returning to Kyoto for an evening at leisure.
Meals: Breakfast

Day 8

KYOTO - HIROSHIMA (2 NIGHTS)

This morning, we board a high-speed bullet train to Hiroshima, a lively city that celebrates peace in the shadow of the previous century's devastation. Our first stop is to a local restaurant where we'll join our 'Local Specialist' for an Okonomiyaki Making experience. Mix your ingredients to make your own savoury pancake and cook it on a hot plate before enjoying your creation for lunch. This afternoon, we head to the Peace Memorial Park and Museum and see the UNESCO-listed Peace Memorial, the only structure left standing when the first atomic bomb exploded in 1945. Take a moment to contemplate its symbolic expression of hope for world peace, then spend the rest of the evening at leisure.Accommodation: Rihga Royal
Meals: Breakfast, Lunch

Day 9

HIROSHIMA SIGHTSEEING

Take the ferry to Miyajima Island to visit the famous UNESCO-listed Itsukushima Shrine and elaborate torii gate rising majestically out of the sea. Learn how to make Momiji Manjyu, one of the local specialities, shaping your steamed bun in the shape of a maple leaf and filling it with sweet red bean paste. You'll have an opportunity to sample your work before some free time for lunch. Spend the rest of the afternoon at leisure or consider joining an Optional Experience. Later, join your fellow guests and Travel Director for a Farewell Dinner in a local restaurant.
Meals: Breakfast, Dinner

Day 10

DEPART HIROSHIMA

Your journey revealing Japan's ancient past and modern cityscape is at its end, take a transfer by airport shuttle to Hiroshima Airport for your onward flight.
Meals: Breakfast
Sightseeing Highlights

CITY TOUR of Tokyo, Kamakura, Kyoto, Hiroshima
VISIT Sensoji Temple in Tokyo, Tsurugaoka Hachimangu Shrine and Kotokuin Temple in Kamakura, Mt. Fuji 5th Station, Gion District and Kinkakuji Temple in Kyoto, the bamboo groves in Arashiyama, Nara Park and Todaiji Temple in Nara, Peace Memorial Park and Museum in Hiroshima, Itsukushima Shrine on Miyajima Island
SEE the multiple orange coloured torii gates in Kamakura, the Togetsukyo Bridge in Arashiyama
CRUISE along the Sumida River in Tokyo
Dining Highlights

9 breakfasts
3 lunches (Including Be My Guest)
3 dinners
First class travel Highlights

Audio Headsets for flexible sightseeing
Daily breakfast and an average of 50% of evening meals
Luxury air-conditioned coach or alternative transportation (such as rail journeys)
Cherry-picked hotels, all tried and trusted
Optional Experiences and free time
All porterage and restaurant gratuities
Must-see sightseeing and surprise extras
An expert Travel Director and separate Driver
All hotel tips, charges and local taxes
Airport transfers on the first and last day of your guided holiday
Handcrafted Highlights
Hygiene and Safety Protocols for Trafalgar Tours
Trafalgar has introduced these enhanced hygiene protocols – for you and team members.
You can travel with Trafalgar and be assured that their team has put numerous new measures in place to elevate their hygiene standards and protocols. The well-being of guests and team has always been, and always will be, their primary concern.
In this new, fast changing Covid-19 era, Trafalgar is doing all they can to adapt to new requirements and expectations. Here are some important new steps and procedures that they have implemented to enhance hygiene protocols, to comply with physical distancing requirements by relevant government authorities and to give you the peace of mind when you are traveling during these new times.
Expertly Trained Travel Directors
Travel Director training equips them with enhanced hygiene and physical distancing procedures. During your trip, they will operate with a duty of care and monitor the hygiene etiquette of the guests, reacting and advising as needed, to ensure high standards are maintained. Before you travel, Trafalgar will also keep you well informed about new protocols required in these areas, and ask that you cooperate with and heed the advice and direction of Travel Directors while on your trip. The Travel Directors have preventative measures in place to try and ensure your well-being and in the event that any unexpected issues arise on trip, they will activate additional protocols.
Stringent On-the-Road Protocols
The customized luxury coaches are sanitised before the start of your trip and have always been kept to very high standards. Following the outbreak of COVID-19, Trafalgar have taken additional measures to elevate hygiene and sanitary practices in accordance with guidance from the World Health Organisation (WHO) and as required, applicable government regulations. The Driver training provides them with the latest hygiene protocols. They will clean and disinfect all surfaces including handrails, door handles, tables, seats, air-conditioning filters and overhead lockers on a daily basis. All the guests are asked to follow hygiene practices recommended by the World Health Organisation including the thorough and regular washing of hands and sanitising when required. Hand sanitiser is freely available on board for your use throughout the day. Please bring your own washable face mask and gloves with you, and additional hand sanitiser to make you feel comfortable, as these will be required to be worn in public in some countries. Should an unexpected situation arise, additional face masks, rubber gloves, antiviral sprays and wipes will be available for guest distribution on all trips.
A Full Team of Support 24/7
It's not just your Travel Director and Driver who will be taking care of you. Behind the scenes, the operations and guest support teams are in contact with them and on call 24/7, so you can rest assured that you're in good hands.
Physical Distancing
Adapting to the right size groups, based on government distancing requirements, you can rest assured that you will travel with the comfort of your own personal space. Have peace of mind that all of the experiences, hotels and restaurants you'll enjoy on your trip have been vetted to ensure they adhere to physical distancing and hygiene guidelines.
Trusted Partners, Exceptional Standards
Trafalgar is very selective in who they work with and choose to only use hotels, restaurants, ground handlers and venues that take the well-being of the guests as seriously as Trafalgar does and agrees to meet expected guidelines and specifications. Trafalgar only works with establishments that they are confident will consistently adhere to their high standards.
Always in the Know
As part of The Travel Corporation (TTC) , Trafalgar is kept up to date with all government advisories and travel alerts on a daily basis and is continually in touch with all of the partners on the ground in each destination. Also, rest assured that during your trip, the teams work to ensure the supplier partners (hotels, restaurants, museums and other venues) are also applying the same standard to these new hygiene and distancing protocols, to the extent possible.
Question: How many suitcases can I take with me on my trip?
Each person is allowed one "check-in," and one "carry-on." Remember to take all valuables with you as "carry-on", because electronic equipment, cameras, laptops, jewelry, business documents and money are not covered by the airlines' liability, so always carry them aboard with you.
Question: Is Airfare Included in the Price?
Airfare from your point of origin to and from the trip is not included in the land price.
Similar Tours Other Travelers Liked
Trafalgar is just the most wonderful travel operator - they staff are so kind and generous with their time, they truly make very effort to make you feel as if you are the most important person and your good time is their primary objective - they surprise you throughout the trip with little unexpected treats and stay always close on hand to monitor activities to make sure everyone is smiling and happy - I would not travel with any other service
The value derived from the trip far outweighs the price paid. The hotel accommodations, the food, the optional experience, the hidden gem, the transportation were more than satisfactory. The operator is professional, friendly, safety conscious and enthusiastic.
Trafalgar tours is an excellent company. The tours and people are great and they handle everything. You can never see so much or learn so much on your own.
The trip was much more than we expected! It was very well organized, travel director Brendon was very good, knowledgeable, helpful and everything was explained in detailed to us in every step of all the places we're going! He's awesome as well as our driver Tyson who took care of us iin all our needs! There are no dull moments in the motor coach, we had so much fun!!! Definitely will come back and will recommend Trafalgar! Thanks
This trip was phenomenal and I would definitely recommend it. Trafalgar did an excellent job from start to finish. Tyson, our travel guide, was wonderful. He went above and beyond to make sure our trip was very memorable. The accommodations were very nice, the extra meals were excellent and the itinerary was perfect. We saw some beautiful places. Do not hesitate to take this trip. You will not regret it. We will definitely be booking trips with Trafalgar in the future.
Trafalgar did an excellent job on this tour with a very organized and personable tour director.
This was my second trip with Trafalgar and it was just as amazing as the first. The tour director, Stephen, did a fantastic job of creating an atmosphere of comradarie and fun.
Trip was more strenuous than we had expected. Our tour director, Lutezia was outstanding. She went above and beyond to insure that everyone had a memorable experience,
Booking with affordable tours was as simple and easy as it gets. I was able to get all of my questions answered promptly and got all correct information about our vacation before travel.
This is our second trip with Trafalgar and we are indeed pleased with the wonderful and memorable experiences they have given us . They do plan their itinerary in a very thoughtful and comprehensive way so as to offer the travelers a meaningful and unique experience which they may not be able to do on their own.
Very satisfied with Trafalgar tours and their tour director and bus driver!
Everything went so smoothly & went above our expectations! All of the services booked through affordable tours were on time & professional! Trafalgar planned every detail & their excursions were well worth every penny! We're definitely interested in traveling with Trafgar again!
We had a wonderful tour. Saw a lot, learned a lot, Met a lot of nice people and had a great Tour Director and driver.
It was a great trip carried out by Trafalgar and planned and managed by our two Affordable Tours agents. We'll be happy to you contact Affordable Tours for our next trip in 2020 or 2021.
Trafalgar was great. So many details were taken care of so that I didn't have to think about them. Our tour guide was great and the entire experience was great I would definitely consider another Trafalgar tour.
AffordableTours.com® does not itself offer, service or administer the Travel Packages, and the ultimate terms and conditions of any Travel Package made available via the Site Offerings (including the prices quoted in connection with same) will be determined by the applicable Third-Party Travel Service Provider. AffordableTours.com® does not represent or warrant that the Price Quotes are accurate, up-to-date or free of error, or that same will be honored by the applicable Third-Party Travel Service Providers. All Price Quotes, Travel Package availability, Travel Package details/itinerary and other Content are subject to change without notice. All travel details published by and through the Site Offerings should be confirmed directly with the applicable Third-Party Travel Service Provider prior to making any travel plans. Reliance on any information made available to you by and through the Site Offerings is solely at your own risk.
How It Works
Vacationing has never been easier or cheaper with the help of a dedicated travel consultant from AffordableTours.com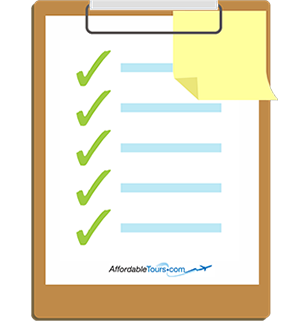 Find your perfect trip on our website and simply request a free quote. Need to speak to a live person? Call us 7 days a week at 1-800-935-2620. No robots here!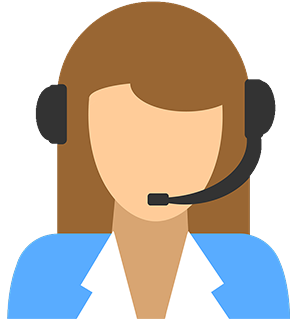 Your personal travel consultant will reach out and be your point of contact for your entire travel experience from start to finish. Did we mention you'll be working with an award winning team? Sweet!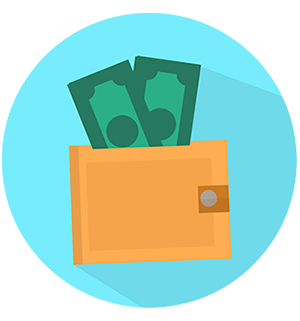 Because we're one of the largest sellers of travel, we're able to give you a discount on your vacation package. No one beats our prices!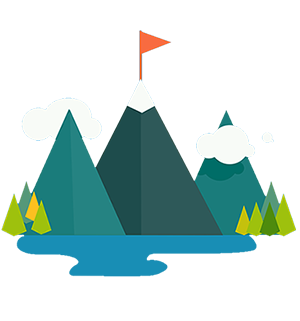 Knowing you got the best deal, all that's left is for you to pack your bags and enjoy your vacation!