Essence of South East Asia 2020

Why Pay Retail?
Call us for a quick quote!
LOW UNPUBLISHED PRICES ON COSTSAVER TOURS
Why pay full price? Call us or click above for a quick quote and save money on Costsaver Tours.
5% Savings on Group Vacations!
5% Savings on Group Vacations!
Promotion Details
Travel together and save money. Family, friends, club members or colleagues, gather 9 to 15 people and earn a 5% discount. Plus as always receive our AffordableTours.com 10% extra savings!
Discount is combinable with Triple room and Young Traveler discounts.
Must Book By Tue, Dec 15, 2020
View Promotion Terms & Conditions ›
Not applicable to Hidden Journeys, Israel, vacations with trains, Greek Island Hopper, Solo Traveler Discount and extra nights' accommodations. Discount limited to one group per coach.
Second Trip Discount - Save up to 2.5% When You Book Two Trips
Second Trip Discount - Save up to 2.5% When You Book Two Trips
Promotion Details
Book two trips - both seven days or longer - and save up to 2.5% on the land-only portion of your shortest vacation, plus receive our AffordableTours.com 10% extra savings!
Must Book By Wed, Jan 15, 2020
View Promotion Terms & Conditions ›
Please note that vacations must be booked at the same time. The discount is per person only and does not apply to City Breaks, extra nights' accommodation, extensions and airfares, taxes and fees, and airport transfers. Europe – excludes all Eastern Mediterranean vacations except the Greek Island Hopper. Additional restrictions may apply.
Up to 10% Off for Young Travelers
Up to 10% Off for Young Travelers
Promotion Details
If you're travelling with a child between the age of five and 17, we'll give you a discount of up to 10% on the land-only portion of their vacation. Plus always receive our AffordableTours.com 10% extra savings.
Must Book By Thu, Dec 31, 2020
View Promotion Terms & Conditions ›
Young travelers must be under the age of 18 years on the date of departure, and must be accompanied by an adult (limit of one Young Traveler Discount per room). Discounts may vary and may not be available on all vacations. Additional restrictions may apply.
Book With Flexibility
Peace of Mind
Complimentary "Peace of Mind" Travel Plan. Change your travel plans until 30 days before your trip
Change Destination / Vacation
Change to a different destination or vacation with the Travcorp Family of Brands.
Change Dates
Choose new departure dates if your plans change.
Great Service
Award-winning service, low prices, client satisfaction
Tour Itinerary
The ultimate multi country encounter with South East Asia. Take in the finest natural wonders, pretty towns, bustling cities and ancient temples the region has to offer.
Day 1

Arrive Hanoi (2 Nights)

Lively, welcoming and fun, you'll know you've arrived in Hanoi as soon as you see your first scooter carrying an entire family whizz by. This is a city that's constantly on the move, heartily embracing its new era of liberation and speeding towards the future with gusto. Yet whilst the modern world has very much arrived in Hanoi, the past is never far from sight. Glimpses of unique architecture give a nod to periods of French and Chinese occupation, whilst the streets of the Old Quarter are still reminiscent of Hanoi of old. On every street corner you're tempted by steaming bowls of pho or fragrant summer rolls, whilst the opportunity to re-caffeinate is never far away; coffee is a big deal in Hanoi, as it is in all of Vietnam. Arriving today you'll transfer to your hotel and this evening meet up with your Travel Director to learn the lay of the land and sample your first taste of Vietnam's cuisine at a Welcome Dinner where you'll spend the evening getting to know your fellow travellers.Accommodation: Silk Path
Meals: Dinner

Day 2

Hanoi Sightseeing

Dive into Hanoi's complex history this morning on a sightseeing tour of the city's headliners. Starting off at Ho Chi Minh's Mausoleum, learn about the legendary 'Uncle Ho', Vietnam's revolutionary former leader who is embalmed and forever remembered here, then head on to visit his humble and traditional stilt house where he lived periodically from 1958 to 1969. Next up will be the beautiful One Pillar Pagoda, a stunning symbol of purity that has been masterfully designed to resemble a lotus blossom and is believed to hold magical healing powers. From here, you'll then head on to Hoa Lo Prison. Once nicknamed 'Hanoi Hilton' by US prisoners of war, the museum paints a vivid picture of how the French built prison was used up until the mid-1950's. Likely in need of an iced coffee after a busy morning, this afternoon will then be free to explore your way. Foodies, why not opt to join our walking tour of Hanoi's best bites. Led by a Local Specialist, you'll sample delights such as Pho Ga and Banh Duc whilst exploring the sights, smells and flavours of the Old Town.
Meals: Breakfast

Day 3

Hanoi - Halong Bay (1 Night)

Swapping concrete jungles for shimmering seas, today you'll travel to the UNESCO World Heritage site of Halong Bay. A true vision of beauty, the soaring limestone pillars, countless tiny inlets and dazzling emerald waters are arguably the biggest crowd pleasers in all of Vietnam, and for good reason. Boarding your traditional junk boat you'll set sail for Bai Tu Long Bay, the laid back neighbour of Halong Bay that is every inch as beautiful. Dropping anchor at Thien Canh Son Cave, just one of about 59 discovered caves in the region, you'll have time to admire the incredible stalactites that hang from the cave ceiling, then it will be back to the boat for an on-board cooking demonstration by the chef. School up on traditional Vietnamese cooking methods, then as your reward tuck into a fragrant dinner feast that will taste all the better given the back drop of the bay twinkling under the night sky.Accommodation: Huong Hai Sealife Cruise
Meals: Breakfast, Lunch, Dinner

Day 4

Halong Bay - Hanoi - Danang - Hoi An (2 Nights)

Waking up to the sound of gently lapping waves, you'll start off today with a rejuvenating on deck Tai-Chi session. Feeling entirely refreshed and after a tasty breakfast you'll then visit the floating fishing village of Vung Vieng, one of four floating villages that lie in Halong Bay. Utterly charming, take in the beauty of the boats, the smiles of the fishermen and the quiet culture of the community who live and work on the water. From here you'll journey back to Halong Bay and say a somewhat sad goodbye to your little junk boat home and friendly crew, before heading back to Hanoi to catch your flight to Danang. Landing here, you'll then transfer on to your home for the next 2 nights, the very peaceful, historic and beautiful Hoi An.Accommodation: Hoi An Historic
Meals: Breakfast, Dinner

Day 5

Hoi An Sightseeing

A far cry from the hustle and bustle of Hanoi, Hoi An has a laid back, easy going vibe that's made all the better by its prime riverside setting. In the Old Town, Japanese merchant houses, Chinese temples and tea warehouses all add to the allure, whilst the lush countryside is within easy reach. You'll start off today with a sightseeing tour that will visit the pretty 400-year-old Japanese Covered Bridge, the Assembly Hall of the Chaozhou Chinese Congregation, and the colourful market. Here, you'll find all manner of fragrant herbs and spices, exotic fruits, bright silks and local products tempting you to buy! With an afternoon for you to explore your way, perhaps get on two wheels and join our optional cycling tour to experience Hoi An's delightful countryside. Travelling along inland trails, you'll pass by quiet country villages, discover how local wooden boats are made and learn the art of weaving the traditional 'Hoi An' sleeping mats. Alternatively if you are keen to further perfect your Vietnamese cookery skills, you could join our optional cooking class led by a local chef, where you'll shop for ingredients in the lively market then cook up a storm back at the school before sitting down to taste the fruits of your labour.
Meals: Breakfast

Day 6

Hoi An - Danang - Nha Trang (2 Nights)

From one idyllic setting to the next, this morning you'll be jetting off to the golden sands, tropical islands and turquoise waters of Nha Trang. Surrounded by hills that frame the six kilometre arc of sweeping beach, this much-loved beach resort is busy enough to be constantly entertained, and big enough to find your own little patch of secluded sand. After settling in to your hotel the rest of your day will be entirely free to relax on the beach with book and towel in hand or take a stroll along the promenade. This evening, tuck into dinner at a local restaurant whilst feeling unashamedly smug at your paradisiacal beachfront location.Accommodation: Novotel Nha Trang
Meals: Breakfast, Dinner

Day 7

Nha Trang Sightseeing

Pack your suncream and your sense of adventure this morning as you'll be heading out on a cruise to Mun Island, otherwise known as Ebony Island. This stunning island boasts a series of looming black rock formations that contrast perfectly against the turquoise ocean. But it's not just the rocks you're here to see; underneath the water's surface lives Vietnam's first Marine Protected Area where up to 1500 species of fish, sea turtles and other rare marine life can all be found. Grab a mask and snorkel from the boat crew and dive in to explore this beautiful underwater world, then cruise to a nearby island to enjoy a leisurely lunch at a local restaurant. Once back at Nha Trang, the rest of the afternoon is all yours to enjoy as you please, likely claiming a little patch of golden sand for an afternoon snooze.
Meals: Breakfast, Lunch

Day 8

Nha Trang - Ho Chi Minh City (3 Nights)

Maybe sneak in a final early morning dip this morning before catching your flight to the bright lights and big city antics of Ho Chi Minh City. Formerly Saigon, Ho Chi Minh is a place that throbs with life and gives you little option but to come along for the ride. In just one generation the city has purposefully moved on from its war torn past, emerging as a commercial capital that enthralls and delights visitors in equal measure. But as modern as Hoi Chi Minh is, you don't have to look far for glimpses of the past. Beautiful traditional pagodas and incense infused temples pepper the city, whilst museums paint a vivid picture of past troubles. Upon arrival you'll settle into your hotel, then this evening head out with your fellow travellers for a tasty local dinner in a traditional local restaurant.Accommodation: Saigon Prince
Meals: Breakfast, Dinner

Day 9

Ho Chi Minh City Sightseeing

Driving to the Cu Chi Tunnels this morning, you'll be given a real-life history lesson that moves the soul as you visit just a small portion of the 250km network of underground tunnels that were built by Vietnamese fighters in 1948. Incredibly the tunnels you'll see have been widened from their original state, a fact that will become even more remarkable as you learn about the history of Cu Chi. Heading back to the city, your sightseeing tour will then tick off some of the best loved sights including the Neo-Romanesque Notre Dame Cathedral, the striking Central Post Office built in the French style complete with gorgeous tiled interiors, and the former Presidential Palace, a feat of classic 1960's architecture. Finishing up with a hit of caffeine and a quick language lesson to cover the basics, you'll head back to your hotel to enjoy a free evening.
Meals: Breakfast

Day 10

Ho Chi Minh City Free Day

Today's your last day in Vietnam, so be sure to stock pile spring rolls and drink iced coffee whilst making the most of an entirely free day. History fans will find a visit to the War Remnants Museum utterly fascinating, where the atrocities of war and the long-lasting effects are told through stories, photos and exhibits. You could also pay a visit to the Jade Emperor Pagoda, one of the most atmospheric and beautiful temples in the city, whilst those looking to swap city scenes for lush rice paddies and sedate local life could choose to join our optional trip to the Mekong Delta. Pass by stilt houses and fish farms and taste locally made coconut candy, then hop on board a rowing sampan to slowly weave through the network of small canals. Lunch is also be included; a real feast of local specialties.
Meals: Breakfast

Day 11

Ho Chi Minh City - Siem Reap (3 Nights)

Waving goodbye to Vietnam and hello to Cambodia, this morning you'll catch a flight to Siem Reap, the famous gateway town to the ancient city of Angkor Wat. Many people arrive here imagining Angkor Wat will be the main attraction, and whilst that is true Siem Reap also caters to foodies, adventurers and art lovers in abundance, boasting a wealth of tasty restaurants and a lively cultural scene that will keep you entertained well after dark. After checking in to your hotel, head out to explore the lively market scene, we'll be making a bee line for the historic Old Market. Located in the Phsar Chas that dates back to the 1920's, browse the stalls selling textiles, paintings, carvings and sculptures, then head on over to the Made in Cambodia Market, where local artisans sell their own wares and will happily chat about their production process. This evening, enjoy your first taste of Cambodian cuisine as we tuck in to dinner at a local restaurant.Accommodation: Somadevi Angkor Resort & Spa
Meals: Breakfast, Dinner

Day 12

Siem Reap Sightseeing

Today's the day! Few travel experiences on earth can match the first time you lay eyes on the UNESCO World Heritage listed Angkor Wat. A true expression of Khmer mastery, this inspired creation represents the very heart and soul of Cambodia and is one of the most important religious monuments in the world. Built in the first half of the 12th Century by King Suryavarman II using techniques that will have you scratching your head in amazement, you'll learn about the great Khmer Empire as you explore the intricately carved hallways and admire the impeccably preserved carvings, then head on to the walled city of Angkor Thom to explore the Bayon Temple, the Terrace of the Elephants and the Terrace of the Leper King. This afternoon movie fans will then be in for a treat as you have the chance to join our optional visit to Ta Prohm Temple, the UNESCO listed site that is perhaps best known as the filming location of Angelina Jolie's 'Tomb Raider'. Very much emulating the feeling of a lost city, many of the temples here are literally being swallowed by the surrounding jungle and are a real sight to see. Alternatively, with the afternoon all yours, a relaxing afternoon by the hotel pool could be on the cards after a truly memorable morning.
Meals: Breakfast

Day 13

Siem Reap Free Day

With the day yours to explore your way stretching ahead of you and your last in Cambodia, be sure to make the most of it! Perhaps head back to the markets for some last-minute gift shopping, sample the delicious street food offerings on pretty much every corner, or get to know Siem Reap's artistic side on an optional tour of the town's best workshops and galleries including a visit to Artisans d'Angkor, where training and job opportunities are offered to disadvantaged young people who specialise in preserving traditional Khmer skills including silk making, wood carving and painting. Those looking to explore beyond Siem Reap could join our trip to Tonle Sap Lake, where you'll board a traditional wooden boat and cruise past floating villages, keeping an eye out for wildlife along the way. However you choose to explore today, tonight celebrate your final night with our optional dinner and Apsara dance show. Enjoy a tasty dinner whilst watching this beautiful 7th Century dance bring to life the ancient Khmer culture before your eyes.
Meals: Breakfast

Day 14

Siem Reap - Bangkok (3 Nights)

Another day and another new country! Transfer to Siem Reap International Airport this morning and say 'Sawadee ka' to Thailand as you land in buzzy Bangkok, a cosmopolitan delight boasting glistening malls and soaring skyscrapers, albeit with a distinctly exotic Thai flourish. Here in this 24-hour city, golden temples and neon clad nightclubs co-exist peacefully side by side, whilst monks stroll the streets with smart phones in hand. After transferring to your hotel you'll later meet up with your Thai Travel Director for dinner and your first chance to sample some of Thailand's amazing cuisineAccommodation: Rembrandt Bangkok
Meals: Breakfast, Dinner

Day 15

Bangkok Sightseeing

Today's sightseeing tour will reveal Bangkok's finest cultural and spiritual delights. Starting off at Bangkok's most ancient temple, Wat Pho, you'll visit the hugely impressive Reclining Buddha, the largest in Thailand, before continuing on to the Grand Palace. A former royal residence, the dazzling, vibrant and intricate architecture of this sprawling complex never ceases to amaze, the centre piece of which is the Temple of the Emerald Buddha. Stopping for lunch at a local restaurant to re-fuel, this afternoon you'll then take to the maze of canals (klongs) that zig zag across the city on a private boat, enjoying the ride as you pass by traditional family homes on stilts and take in the simple river lifestyle of those who work and live on the water. Later today, you'll also have the chance to join our visit to Jim Thompson's House, which houses an astounding collection of Southeast Asian art and is also an exquisite example of traditional Thai residential architecture.
Meals: Breakfast, Lunch

Day 16

Bangkok Free Day

Bangkok, your exploring options today are enticingly limitless and the day is yours to tailor your way. If its markets you're seeking, the exotic and colourful Pak Kong Talad (Bangkok flower market) will offer up flower species of every shape, colour and origin, whilst the tiny lanes of Chinatown are the perfect place to get purposefully lost as you nibble street food and shop for jade in Bangkok's busiest neighbourhood. Architecture aficionados will perhaps choose to join our optional trip to the ancient city of Ayutthaya, Thailand's former capital city. Stopping on the way at the gorgeous Bang Pa Summer Palace, Ayutthaya is an archeological hotbed of temples, monasteries and statues that offer a glimpse into the former glory of this ancient land. Heading back to Bangkok on a cruise, enjoy a buffet lunch as you take in local life along the banks of the Chao Phraya River.
Meals: Breakfast

Day 17

Bangkok - Chiang Rai (2 Nights)

Enjoy a late start this morning before you head to Bangkok Airport to catch a flight bound for the diverse, delightful city of Chiang Rai. Despite its small size Chiang Rai is rich in historical and spiritual offerings, whilst its relaxed atmosphere and eclectic foodie scene both ensure this little city is a big crowd pleaser. Your city tour later today will tick off the headliners including Wat Phra Kaew temple, the original home of the famous Emerald Buddha now residing in Bangkok's Royal Palace, plus the golden and glistening clock tower, an icon of Chiang Rai that was designed by a local Thai artist and unveiled in 2008 to honour his Majesty the King. Dinner tonight will offer a chance to sample Chiang Rai's culinary delights at a local restaurant.Accommodation: Laluna Resort
Meals: Breakfast, Dinner

Day 18

Golden Triangle Sightseeing

Venturing into the heart of the Golden Triangle this morning, your first stop will be the fascinating and self-proclaimed 'edutainment' Hall of Opium. Spanning an astounding 5000 years of history, the museum boasts state of the art exhibitions, harrowing stories and even a tiny opium plantation that paint a vivid picture of the conflicts, rituals and abuse that have all stemmed from opium, a trade that has been prevalent in the Golden Triangle for the past century. Stopping for lunch at a local restaurant, you'll then hop on board a boat that will take you down the mighty Mekong River to the exact spot where the borders of Thailand, Burma and Laos collide. Stepping onto dry land in Laos you'll have time to peruse the handicrafts on offer at the Don Sao Island Markets, the only part of Laos that can be visited without a visa, before heading back to your hotel in Chiang Rai.
Meals: Breakfast, Lunch

Day 19

Chiang Rai - Chiang Mai (3 Nights)

Heading out of Chiang Mai this morning, your first stop for the day will be Wat Kong Khun, or the 'White Temple'. Instantly recognisable, you might be surprised that unlike many of Thailand's other temples that date back centuries, Wat Kong Khun is just over 20 years old, constructed by a notable Thai painter turned architect in 1997. Take your time exploring here before heading on for a quick refresher at the Mae Kajaen Hot Springs, dipping your toes in the warm mineral waters as is local tradition. Lunch will be another local affair at a nearby restaurant, then this afternoon you'll put your bartering skills to the test with a visit to San Kamphaeng Road. Shop for traditional local handicrafts before making the short drive to laid back, low key Chiang Mai. This evening, head out with the rest of your group to explore the legendary Chiang Mai Night Market. A regular crowd pleaser for visitors and locals alike, here you can pick up souvenirs and local knick knacks, dine on delicious street food and soak up the energy of this lively city coming to life by night.Accommodation: Holiday Inn Chiang Mai
Meals: Breakfast, Lunch

Day 20

Chiang Mai Sightseeing

Enjoy a later start this morning, then hop on board a samlor (rickshaw) to explore the bustling centre of Chiang Mai. Stopping by the city's most revered temple, Wat Phra Singh, take in the lavish buildings and immaculate grounds before heading to the main attraction here, the famous Buddha known as Phra Singh. Housed in the ornate Gilded Assembly Hall, the building itself is remarkable as a shining example of Northern Thai architecture that boasts restored murals depicted local Lanna life throughout the 19th Century. Lunch today will be a local treat of Chiang Mai khao soi, a delicious, fragrant and spicy rice noodle soup. This afternoon enjoy some down time before heading to Wat Doi Suthep, which is tucked away in the mountains. Dating back to 1383, it's here that legend states a piece of bone from the shoulder of Lord Buddha is enshrined. Staying until sunset to watch as the monks chant and offers prayers, you'll then head back to your hotel after another no doubt magical day.
Meals: Breakfast, Lunch

Day 21

Chiang Mai Free Day

Your day your way is what today is all about, and with today being your last day, be sure to make the most of it. For those looking to get out of the city and into the tropical lush greenery that surrounds Chiang Mai on all sides, opt to join our visit to Baan Tong Luang Village, located north of the city in a beautiful valley. This ecological Paguang village is home to the Long Neck Karen hill tribe of Myanmar, so you'll have the chance to learn about the costumes, traditions and rituals of this ancient community. Foodies, we've got a real treat for you in the form of a Thai cooking class. Set within a beautiful garden on an organic farm, you'll learn from the masters the secrets to perfecting Thai cookery by preparing your very own feast using fresh, local ingredients, which you'll shop for yourself accompanied by your instructor at a local market.
Meals: Breakfast

Day 22

Depart Chiang Mai

And just like that, your Vietnam, Cambodia and Thailand journey will come to an end. You've explored countless temples, experienced the thrill of some of South East Asia's most exhilarating cities and eaten an abundance of delicious cuisine and we are sure that you'll be leaving with lots of happy memories. Transferring to Chiang Mai International Airport, you'll catch your onward flight to your next destination.
Meals: Breakfast
Sightseeing Highlights

Bangkok Visit Wat Pho and the Grand Palace, observe local life along the canals during a khlong tour
Chiang Mai Visit the handicraft area of Sankamphaeng, the Night Market and the temples of Wat Phra Singh and Wat Doi Suthep
Chiang Rai Visit Wat Phra Kaew and see the city's iconic clock tower
Golden Triangle Visit the Hall of Opium, take a boat trip along the Mekong River, visit a local market in Laos
Halong Sightseeing cruise in Halong Bay including a cooking demonstration on board, a visit to Vung Vieng fishing village and a T'ai-chi session
Hanoi Visit Ho Chi Minh Mausoleum, One Pillar Pagoda and Ho Chi Minh's house
Ho Chi Minh City Visit Cu Chi Tunnels and enjoy a free day exploring the city
Hoi An Spend the day exploring this ancient town
Nha Trang Cruise to Mun island, enjoy snorkeling in crystal clear water
Siem Reap Visit Angkor Wat, Angkor Thom and the markets in the Old Town
Dining Highlights

21 Breakfasts
6 Lunches
8 Dinners
First class travel Highlights

Audio Headsets Provided throughout your holiday to enhance your included sightseeing experiences
Luxury air-conditioned coach
Cherry-picked hotels, all tried and trusted
Variety of Optional Experiences
City orientation tours
An expert Travel Director and separate driver
All hotel service charges and tips, baggage handling fees and local taxes
Hygiene and Safety Protocols for Costsaver Tours
Costsaver has introduced these enhanced hygiene protocols – for you and team members.
Costsaver asks that you please take personal responsibility for your wellbeing. This begins with packing any personal protective equipment and sanitizers you require. Please adopt physical distancing and hygiene practises throughout your pre-trip travel arrangements and follow all health instruction whether physical signage, or requests from the professional staff once you are vacationing.
Expertly Trained Travel Directors
Travel Director training equips them with enhanced hygiene and physical distancing procedures. During your trip, they will operate with a duty of care and monitor the hygiene etiquette of the guests, reacting and advising as needed, to ensure high standards are maintained. Before you travel, Costsaver will also keep you well informed about new protocols required in these areas, and ask that you cooperate with and heed the advice and direction of Travel Directors while on your trip. The Travel Directors have preventative measures in place to try and ensure your well-being and in the event that any unexpected issues arise on trip, they will activate additional protocols.
Stringent On-the-Road Protocols
The customized luxury coaches are sanitised before the start of your trip and have always been kept to very high standards. Following the outbreak of COVID-19, Costsaver have taken additional measures to elevate hygiene and sanitary practices in accordance with guidance from the World Health Organisation (WHO) and as required, applicable government regulations. The Driver training provides them with the latest hygiene protocols. They will clean and disinfect all surfaces including handrails, door handles, tables, seats, air-conditioning filters and overhead lockers on a daily basis. All the guests are asked to follow hygiene practices recommended by the World Health Organisation including the thorough and regular washing of hands and sanitising when required. Hand sanitiser is freely available on board for your use throughout the day. Please bring your own washable face mask and gloves with you, and additional hand sanitiser to make you feel comfortable, as these will be required to be worn in public in some countries. Should an unexpected situation arise, additional face masks, rubber gloves, antiviral sprays and wipes will be available for guest distribution on all trips.
A Full Team of Support 24/7
It's not just your Travel Director and Driver who will be taking care of you. Behind the scenes, the operations and guest support teams are in contact with them and on call 24/7, so you can rest assured that you're in good hands.
Physical Distancing
Adapting to the right size groups, based on government distancing requirements, you can rest assured that you will travel with the comfort of your own personal space. Have peace of mind that all of the experiences, hotels and restaurants you'll enjoy on your trip have been vetted to ensure they adhere to physical distancing and hygiene guidelines.
Trusted Partners, Exceptional Standards
Costsaver is very selective in who they work with and choose to only use hotels, restaurants, ground handlers and venues that take the well-being of the guests as seriously as Costsaver does and agrees to meet expected guidelines and specifications. Costsaver only works with establishments that they are confident will consistently adhere to their high standards.
Always in the Know
As part of The Travel Corporation (TTC) , Costsaver is kept up to date with all government advisories and travel alerts on a daily basis and is continually in touch with all of the partners on the ground in each destination. Also, rest assured that during your trip, the teams work to ensure the supplier partners (hotels, restaurants, museums and other venues) are also applying the same standard to these new hygiene and distancing protocols, to the extent possible.
Question: How many suitcases can I take with me on my trip?
Each person is allowed one "check-in," and one "carry-on." Remember to take all valuables with you as "carry-on", because electronic equipment, cameras, laptops, jewelry, business documents and money are not covered by the airlines' liability, so always carry them aboard with you.
Question: Is Airfare Included in the Price?
Airfare from your point of origin to and from the trip is not included in the land price.
Similar Tours Other Travelers Liked
This was a great trip. It included things that I never would have chosen on my own that I really enjoyed. The tour director was great. I would use CostSaver again. Great value.
I will strongly refer your company to my friends and relatives
Steve our travel director is excellent! He went above & beyond to give us a trip of a Lifetime. Very well organized and had some fun activities while on the road to make our ride time less boring. Very professional and courteous but treat everyone like Family. Very knowledgeable about geography & history of the places we were visiting. Our driver Giuseppe has a top knotch driving skills and very professional and courteous. Keeping us all safe on the road as well as helping everybody while getting off the bus. And looking out for our luggage's safety. I would definitely recommend to my friends & Family and I will book a trip with Costsaver again.
Hotels were even better than expectrd. We saw do many and wonderful attractions.
The trip itinerary was very detailed. From the booking to the end of my trip I was totally satisfied. It was my second trip, but I think I will book my future trips again. The trip director and all local guides were very knowledgeable and had great sense of humor, never boring. The optional excursions were excellent.
If people would ask me if I got my money's worth, I would reply that I got much much more than my money's worth. My trip was beyond wonderful, beyond amazing, beyond breathtaking.... Trent Plaine gave great background history of every country we visited; he took us to places morning noon and night... if there were places on the way out of a country he'd have us visit them and stop for great views. He was knowledgeable on flavors, food... the road trip was fantabulous!
The trip was well organized,the director Annarika is excellent in all aspects .our driver Marco is excellent too.They are both highly recommended in the fields they chose.In my next travel I wish I will be with them again.
Another excellent trip from start to finish. I am looking forward to my next trip already!!
We had a great experience with this company on this tour and would recommend this trip to anyone.
This was my first Costsaver tour and it was amazing. Our consultant, Maureen and tour guide Rose were top notch, extremely knowledgeable, and true professionals. I will definitely use Costsaver again!
Novotel Hotel was disappointing.
The trip to Italy was beyond my expectations! Our tour guide Amedeus was knowledgeable, kind, intuitive and made sure each one of us felt like royalty!
Our tour director Gianmarco was enthusiastic, informative and engaging. If I could pick him as my personal tour director to with me as I travel the world I would. The locations and sites were awe inspiring, but Gianmarco made this a very memorable experience. One I will cherish for a long time.
This was my 6th trip with Costsaver/Trafalgar, and I look forward to my next.
AffordableTours.com® does not itself offer, service or administer the Travel Packages, and the ultimate terms and conditions of any Travel Package made available via the Site Offerings (including the prices quoted in connection with same) will be determined by the applicable Third-Party Travel Service Provider. AffordableTours.com® does not represent or warrant that the Price Quotes are accurate, up-to-date or free of error, or that same will be honored by the applicable Third-Party Travel Service Providers. All Price Quotes, Travel Package availability, Travel Package details/itinerary and other Content are subject to change without notice. All travel details published by and through the Site Offerings should be confirmed directly with the applicable Third-Party Travel Service Provider prior to making any travel plans. Reliance on any information made available to you by and through the Site Offerings is solely at your own risk.
How It Works
Vacationing has never been easier or cheaper with the help of a dedicated travel consultant from AffordableTours.com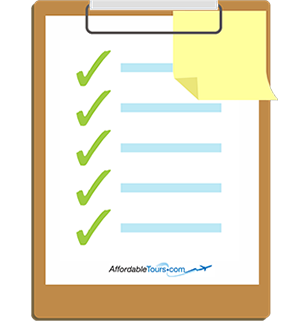 Find your perfect trip on our website and simply request a free quote. Need to speak to a live person? Call us 7 days a week at 1-800-935-2620. No robots here!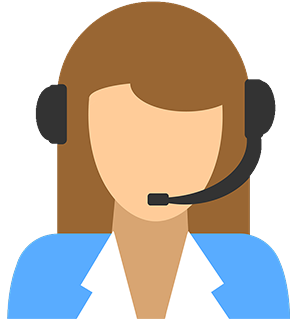 Your personal travel consultant will reach out and be your point of contact for your entire travel experience from start to finish. Did we mention you'll be working with an award winning team? Sweet!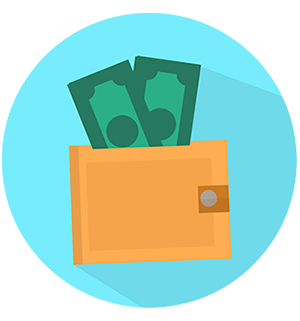 Because we're one of the largest sellers of travel, we're able to give you a discount on your vacation package. No one beats our prices!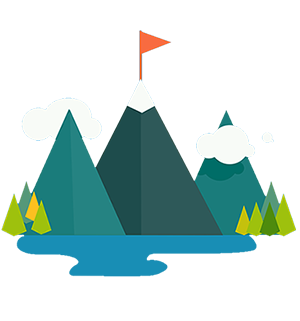 Knowing you got the best deal, all that's left is for you to pack your bags and enjoy your vacation!