Dates & Prices
Start Date
End Date
Offers
Brochure
Land Price
Our Price
Quote
May 18, 2021
Jun 01, 2021
Call Us

$3,155

Get Our Price
Get Quote
Jun 08, 2021
Jun 22, 2021
Call Us

$2,840

Get Our Price
Get Quote
Jul 06, 2021
Jul 20, 2021
Call Us

$2,840

Get Our Price
Get Quote
Aug 05, 2021
Aug 19, 2021
Call Us

$2,840

Get Our Price
Get Quote
Aug 11, 2021
Aug 25, 2021
Call Us

$2,840

Get Our Price
Get Quote
Aug 13, 2021
Aug 27, 2021
Call Us

$2,840

Get Our Price
Get Quote
Aug 18, 2021
Sep 01, 2021
Call Us

$2,840

Get Our Price
Get Quote
Aug 20, 2021
Sep 03, 2021
Call Us

$2,840

Get Our Price
Get Quote
Aug 22, 2021
Sep 05, 2021
Call Us

$2,840

Get Our Price
Get Quote
Aug 27, 2021
Sep 10, 2021
Call Us

$2,840

Get Our Price
Get Quote
May 17, 2022
May 31, 2022
Call Us

$2,758

Get Our Price
Get Quote
Jun 07, 2022
Jun 21, 2022
Call Us

$2,758

Get Our Price
Get Quote
Jul 05, 2022
Jul 19, 2022
Call Us

$2,758

Get Our Price
Get Quote
Aug 04, 2022
Aug 18, 2022
Call Us

$2,758

Get Our Price
Get Quote
Aug 05, 2022
Aug 18, 2022
Call Us

$2,758

Get Our Price
Get Quote
Aug 10, 2022
Aug 24, 2022
Call Us

$2,758

Get Our Price
Get Quote
Aug 11, 2022
Aug 24, 2022
Call Us

$2,758

Get Our Price
Get Quote
Aug 12, 2022
Aug 26, 2022
Call Us

$2,758

Get Our Price
Get Quote
Aug 17, 2022
Aug 31, 2022
Call Us

$2,758

Get Our Price
Get Quote
Aug 18, 2022
Aug 31, 2022
Call Us

$2,758

Get Our Price
Get Quote
Aug 19, 2022
Sep 02, 2022
Call Us

$2,758

Get Our Price
Get Quote
Aug 21, 2022
Sep 04, 2022
Call Us

$2,758

Get Our Price
Get Quote
Aug 22, 2022
Sep 04, 2022
Call Us

$2,758

Get Our Price
Get Quote
Aug 26, 2022
Sep 09, 2022
Call Us

$2,758

Get Our Price
Get Quote
Call or submit a quote for award-winning value and service!
Tour Itinerary
Take a bite out of the Big Apple, swing through to the Big Easy and wind up at the Big Peach. This is one juicy adventure full of theme-park thrills, beach-side vibes, old-school jazz and a huge slice of southern hospitality. Share stories around the campfire in the shadows of the Appalachian Mountains, indulge in Creole cuisine and round-the-clock nightlife on buzzing Bourbon Street, discover the museums and memorials along the American History trail and re-enact your favourite Forrest Gump moment in Savannah's Chippewa Square - life may be like a box of chocolates, but we've made sure you know exactly what you're going to get on this tour - and we've selected all the best flavours.
Day 1: New York (Newark)
Welcome to New York AKA the Big Apple! There are no activities planned today until your welcome meeting in the hotel lobby at 6 pm, so if you arrive early perhaps check out Central Park and the Empire State Building or take a walk around Times Square – in fact we recommend arriving a couple of days earlier to make the most of what this incredible city has to offer. For the inside scoop on all the famous landmarks and local eateries, consider doing the half-day Midtown Sights & Bites Food Tour with Urban Adventures (for more info visit urbanadventures.com). After your welcome meeting, why not join your new friends for dinner and grab yourself a slice of pizza, New York style.
Day 2: Washington DC
This morning, kickstart your journey along North America's history trail and drive south towards the nation's capital, stopping at Philadelphia on the way for a quick look at some of the highlights of the Old City, including the Liberty Bell, Independence Hall, and the 'Rocky' steps. After touring around Philly, continue on to DC where your leader will point you in the direction of all the major sights on an orientation tour of the city. The total driving time from New York to Washington DC will take about 4 hours, so in the evening why not stretch out your legs on H Street – an artsy and energetic two-and-a-half kilometre (one-and-a-half mile) corridor in Northeast DC, renowned for its communal atmosphere and buzzing nightlife!
Day 3: Washington DC
Today is free to explore Washington DC, a city easily discovered on foot – we suggest grabbing a map and planning your day to ensure that you maximise your time in this iconic city. Choose from any of DC's almost 100 world-class museums – the National Air and Space Museum, the U.S. Holocaust Memorial Museum, the National Museum of Natural History and the Newseum are just a few. There are also many other small fascinating museums hidden around the city. The city is overflowing with famous monuments and buildings, so don't miss the White House, Capitol Building, Washington Monument, Lincoln Memorial, MLK Monument, FDR and Jefferson Memorials (some places charge an entrance fee, so make sure you bring some spare cash along). You'll most likely do a lot of walking today, so maybe reward yourself with a relaxing evening.
Day 4: Appalachian Mountains
Escape the city grind and venture into the breathtaking scenery of the Blue Ridge Mountains, part of the Appalachian Mountains. Stop by Shenandoah National Park, one of the highest and most scenic portions of the Appalachians. Continue your journey along Skyline Drive – a famed mountain highway which winds through deep woods and past spectacular vistas. Stop to stretch your legs under the impressive oak trees and admire the gorgeous views. Later in the afternoon, drive to your campsite and pitch your tent in the heart of the great outdoors, share stories with your fellow travellers around the campfire and make s'mores (a traditional night time campfire treat in North America) – you may even learn some new skills! Total drive time today will be around 5 hours.
Day 5: Nashville
Head south this morning on a 4-hour drive to the USA's Country Music Capital - Nashville, Tennessee. Once settled into the campground, join your leader on a short orientation tour of Nashville's Downtown area – focusing on the bustling entertainment hub of Broadway – a famed strip renowned for the honky tonk bars which offer live music every day of the week. The rest of the day is at your leisure, so perhaps visit the Country Music Hall of Fame, which contains the golden Cadillac that once belonged to Elvis or check out some iconic music venues like Grand Ole Opry House and the Ryman Auditorium. The Wildhorse Saloon is a great spot in the evening to experience authentic southern food and live music.
Day 6: Memphis
Say goodbye to the glitz and glamour of 'Nashvegas' this morning as you continue your musical pilgrimage to the birthplace of rock and roll: Memphis, Tennessee (approximately 3.5 hours driving time). Join your leader on a short walking tour to familiarise yourself with the city. You'll head down bustling Beale Street, where traditional blues clubs and ritzier tourist traps rub shoulders – but don't worry, your leader will give you the lowdown on which bars are worth a look. After an included world-famous fried chicken lunch, the rest of the day is free to explore. If you have time, a must-see in Memphis is Sun Studio, the 'Birthplace of Rock', which boasts the first recordings of legendary performers like Elvis, Johnny Cash and Jerry Lee Lewis. For those with an interest in history, there's the National Civil Rights Museum (at the former Lorraine Motel) where Martin Luther King Jr was assassinated. This evening, why not head out for a famous Memphis-style barbecue.
Day 7: Memphis
With no activities planned today, consider heading out of the city to visit Graceland, Elvis Presley's former home and the site of his tomb. Exploding with kitschy glamour and over-the-top Southern charm, here you can see the famous jungle room, as well as Elvis's cars, private planes and much more. For an unusual and local experience, check out the popular Duck Parade at the famous Peabody Hotel – where ducks that live in the hotel perform waddle from their rooftop palace to splash in the lobby fountain (and then back again) at 11 am and 5 pm daily. In the evening, get into the groove of Memphis and consider heading back down to Beale Street's traditional blues clubs, made famous by legends such as WC Handy, Howlin' Wolf and BB King.
Day 8: New Orleans
It's a long drive today as you head across the state of Mississippi and prepare to get down in New Orleans AKA the 'Big Easy' (approximately 8 hours). Get back to nature with a stop at Honey Island and perhaps opt for a tour down one of the least-altered river swamps in the country. It's pretty much in its original condition, almost a pristine wilderness and home to a variety of critters. Residents include nutrias (river rats), snakes and wild boars – spot alligators sunbathing on the banks and absorb the incredible scenery as you cruise through the eerie marshland. Continue your drive into New Orleans – with a mix of Creole, Cajun and European culture reflected in the city's architecture, cuisine and music there's plenty to explore and do. On arrival, your leader will point you in the direction of all the major attractions on a short walk of the eclectic French Quarter, the historic heart of the city, famous for its cast-iron balconies and vivacious nightlife. The rest of the time is yours! Perhaps take a walk down rowdy Bourbon Street or through the former plantation area of the Garden District, or head out for a typical Cajun-style dinner and toast to your adventure.
Day 9: New Orleans
Enjoy a free day to fit in as much of New Orleans as you can! Perhaps cruise the Mississippi on a riverboat or visit the fascinating little Voodoo Museum. This evening, gather together for another meeting at 6 pm where you'll meet your new group leader and welcome some new travellers on the next stage of your adventure. After the meeting, why not get to know your new travel buddies by checking out a jazz show and dancing the night away in the bars along Frenchman Street.
Day 10: Panama City Beach
It's quite a long drive today from New Orleans to Panama City Beach (around 6 hours), but once there, the best way to recover is to relax on some of the 14 kilometres (9 miles) of pristine white sand beach, and take a swim in the turquoise waters of the Gulf of Mexico. Panama City Beach is also renowned for its night clubs and parties and is a popular spring break destination, so if you have enough energy left at the end of the day, definitely hit the town and live a carefree life like you're back at school.
Day 11: Orlando
Head from Panama City Beach to the heart of Florida. The third largest city in Florida, Orlando has a lot going on, including a heap of shops and outlet malls to check out and an exciting and varied nightlife. If there's time on arrival, you may like to go out and explore International Drive, have a walk around Lake Eola, or spend some time working out what theme park to hit up tomorrow.
Day 12: Orlando
Today is a free day to explore Orlando's famous amusement parks and attractions. Most people opt for Walt Disney World Resort or Universal Orlando Resort as they are the two of the most well known and both feature multiple theme parks, but there are over a dozen other parks that might take your fancy. If you're graced with nice weather, Orlando has some water parks such as Disney's Typhoon Lagoon and Blizzard Beach, for those who love to get soaked. Each park is a full day's worth of action, so choose wisely. If theme parks aren't your thing, do not fear! Your group leader can suggest other, less thrill-seeking activities to fill your day.
Day 13: Savannah
Head away from theme park mania and into the historic Georgian town of Savannah. Antebellum mansions, towering oak trees and colonial buildings coexist with dive bars, mingling university students and delicious down-home cooking. Enjoy some southern food on arrival with an included lunch, then head to legendary local ice creamery Leopold's for a scoop of dessert. Enjoy free time for the rest of the afternoon. Maybe explore the historic district of town, take a seat with a box of chocolates in Chippewa Square and recreate the famous Forrest Gump scene, or learn more about southern plantations at the Wormsloe Historic Site.
Day 14: Savannah
With the flexibility to explore Savannah at your own pace, allow yourself time to wander the streets of the oldest city in Georgia. Later be treated to a slice of traditional peach cobbler - a classic Southern dessert!  A popular optional activity in Savannah is a ghost tour, which will be sure to prickle the skin and spook even the most courageous at heart.
Day 15: Atlanta
On your way to Georgia's capital, Atlanta, stop by the Lane Southern Orchards: a peach and pecan plantation where you can check out the farm, take a free tour (season depending) and indulge in the homegrown produce. Upon arriving in Atlanta, say farewell to your group leader. There is no accommodation provided for tonight, however there is so much to do and explore in happening Atlanta if you have the time. Learn more about North American history at the National Center for Civil and Human Rights, visit the CNN Center, sample more than 100 different beverages at the World of Coca-Cola, or find out everything you ever wanted to know about the life of Martin Luther King Jr.
Countries Visited
Cities Visited
Atlanta, GA, Memphis, TN, Nashville, TN, New Orleans, LA, New York, NY, Newark, NJ, Orlando, FL, Panama City, FL, Savannah, GA, Washington DC
Philadelphia - City highlights stop
Shenandoah National Park
Memphis - World Famous Fried Chicken Lunch
Savannah - Southern Style Lunch
Savannah - Leopold's Icecream
Savannah - Peach Cobbler tasting
Meals
2 Breakfast(s) Included
2 Lunch(es) Included

Style: Basix

Camping (with facilities) (11 nights), Hotel (3 nights)
Question: How many suitcases can I take with me on my trip?
Each person is allowed one "check-in," and one "carry-on." Remember to take all valuables with you as "carry-on", because electronic equipment, cameras, laptops, jewelry, business documents and money are not covered by the airlines' liability, so always carry them aboard with you.
Question: Is Airfare Included in the Price?
Airfare from your point of origin to and from the trip is not included in the land price.
Similar Tours Other Travelers Liked
The trip was both both educational and exciting. I very much enjoyed the sights and culture.
The itinerary was just as I expected! The guide was very good as were the accomodations
Intrepid did such a great job. I never had to worry about where I was supposed to be and it felt so good not to worry about a thing but just to enjoy myself. Our guide was extremely knowledgeable about culture and history.
Taiwan people very friendly. Accommodation were centrally located and easily accessible. Did extra activities then in brochure which was greatly.
Larus our tour guide did an excellent job and was very attentive to our needs. He is very knowledgeable and has a great sense of humor.
Our guide Tarang chandola was exceptional. Courteous, knowledgeable, organized, polite, professional and went above and beyond taking care of our needs and requests offen anticipating what that might be. He made sure we all had the best possible time and offered suggestions to meet the needs of everyone on the tour. This made the trip even more enjoyable.
AffordableTours.com® does not itself offer, service or administer the Travel Packages, and the ultimate terms and conditions of any Travel Package made available via the Site Offerings (including the prices quoted in connection with same) will be determined by the applicable Third-Party Travel Service Provider. AffordableTours.com® does not represent or warrant that the Price Quotes are accurate, up-to-date or free of error, or that same will be honored by the applicable Third-Party Travel Service Providers. All Price Quotes, Travel Package availability, Travel Package details/itinerary and other Content are subject to change without notice. All travel details published by and through the Site Offerings should be confirmed directly with the applicable Third-Party Travel Service Provider prior to making any travel plans. Reliance on any information made available to you by and through the Site Offerings is solely at your own risk.
How It Works
Vacationing has never been easier or cheaper with the help of a dedicated travel consultant from AffordableTours.com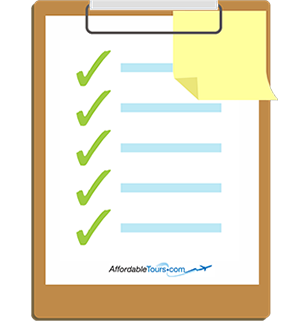 Find your perfect trip on our website and simply request a free quote. Need to speak to a live person? Call us 7 days a week at 1-800-935-2620. No robots here!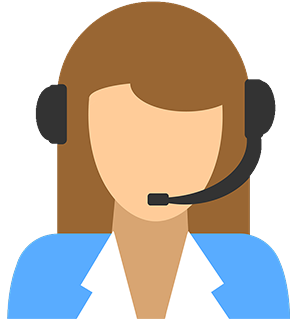 Your personal travel consultant will reach out and be your point of contact for your entire travel experience from start to finish. Did we mention you'll be working with an award winning team? Sweet!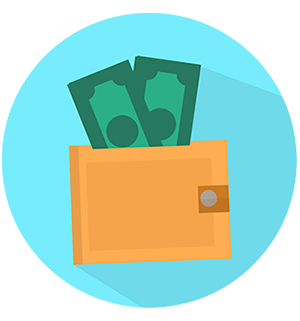 Because we're one of the largest sellers of travel, we're able to give you a discount on your vacation package. No one beats our prices!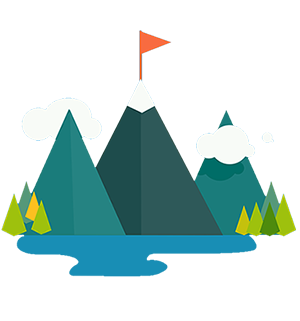 Knowing you got the best deal, all that's left is for you to pack your bags and enjoy your vacation!