Why Pay Retail? Call us or click for a quick quote and save money!
Overview
Dates & Prices
Start Date
End Date
Offers
Brochure
Land Price
Our Price
Quote
Aug 14, 2020
Sep 05, 2020
Call Us

$7,635

Get Lower Price
Get Quote
Sep 04, 2020
Sep 26, 2020
Call Us

$7,635

Get Lower Price
Get Quote
May 14, 2021
Jun 05, 2021
Call Us

$8,015

Get Lower Price
Get Quote
Jun 04, 2021
Jun 26, 2021
Call Us

$8,015

Get Lower Price
Get Quote
Aug 13, 2021
Sep 04, 2021
Call Us

$8,015

Get Lower Price
Get Quote
Sep 03, 2021
Sep 25, 2021
Call Us

$8,015

Get Lower Price
Get Quote
Call or submit a quote to get our Low Prices!
Tour Itinerary
Embrace romance on this 23-day tour through Croatia, Bosnia & Herzegovina, Serbia, Bulgaria and into Turkey. This itinerary combines the best of the Balkans; a colourful tapestry of cultures, landscapes and traditions, with whimsical villages and walled cities to sparkling waters and stunning national parks. Be charmed by the hearty food and opulent buildings of Sofia, learn the political history of Sarajevo, discover a 10th-century monastery in the Rila Mountains, and spend three nights on the Black Sea Coast. With local guides to illuminate the historic sights and cities along the way, this trip is a feast of ancient cultures, untouched wilderness and some of the best food and drink in Europe.
Day 1: Dubrovnik
Arrive in Dubrovnik, one of Croatia's most bewitching seaside cities. There are no activities planned before this evening's group meeting, so you may arrive at any time. If you arrive early, perhaps take a stroll through the charming Old Town, or simply enjoy the city's lively outdoor cafe culture. After the meeting head out for a group dinner at a traditional restaurant.
Day 2: Kotor / Dubrovnik
Set out from Dubrovnik on a day excursion to the stunning country of Montenegro. Montenegro occupies a thin strip of the Adriatic coast and is a land of beautiful sandy and pebbled beaches, dramatic mountain peaks and delightful old villages. Your excursion will take you to Europe's most southerly fjord, Boka Kotorska (Bay of Kotor), one of the most beautiful bays of the region. On the way, pass through the small and picturesque towns of Risan and Perast, situated on the banks of the bay, before arriving at the UNESCO World Heritage listed town of Kotor, where you will embark on a sightseeing tour with a local guide. Visit the Cathedral of St. Tryphun, which dates back to the 8th century (according to the annals of Constantine Porfirogenet, the Byzantine czar), the South Gates of Kotor (the "Gurdich Gate"), and the square "Trg od oruzija" (The Armory Square). Return to Dubrovnik in the afternoon.
Day 3: Blagaj / Mostar / Sarajevo
Depart Dubrovnik this morning and travel to the peaceful town of Blagaj, our first stop in Bosnia (approximately 2.5 hours). Blagaj is the location of the turquoise Buna River spring, where you'll visit a historical tekija (Dervish monastery). After lunch there is a short drive to Mostar (approximately 30 minutes), a town situated in a beautiful valley in the high mountains of Herzegovina. Thanks to the river Neretva, Mostar was able to develop as a city in the barren landscape of Herzegovina. Neretva's size turned Mostar into a trading centre of the region very early on. The most famous feature of the city is its bridge. Stari Most ('Old Bridge'), which was built by the Ottomans in 1565. It was the great architect Mimar Hajrudin who had succeeded with the impossible mission to cross the Neretva River with a single span stone bridge. In the late afternoon you will drive to Bosnia's capital, Sarajevo (approximately 2.5 hours). Enjoy a dinner in a local restaurant.
Day 4: Sarajevo
Explore Sarajevo this morning with a walking tour of the city. You will visit the famous Baščaršija, the old Turkish quarter, home to one of the most interesting market centres in the country. Sarajevo is one of the few cities in the world that features an Orthodox church, a Catholic church and a mosque (the famous Begova Džamija) all within close proximity. You will be visiting all three buildings on your tour. This city may well be one of the highlights of your trip. It has emerged from the brink of ruin in the 1990s to become one of the most interesting capital cities of Europe. After your exploration of the city, there will be free time for lunch before you depart for the Tunnel Museum in the suburb of Ilidža. The tunnel was dug underneath the airport runway and was used to smuggle provisions into the city during the siege. The rest of the afternoon ids free for you to explore this exciting city.
Day 5: Srebrenica / Belgrade
After breakfast transfer from Sarajevo for Srebrenica (approximately 2.5 hours). Explore the narrow streets and learn about the town's tragic past on a guided tour, including a visit to the Srebrenica Memorial Center. The Centre honours the thousands who died in the infamous Srebrenica Genocide of 1995. The local guide who has lived through the horrors of war will answer any question you might have. Take time to reflect on the experience over lunch at a local restaurant before travelling to Beograd, the Serbian capital more commonly known as Belgrade (approximately 3.5 hours). The 'White City' is one of the oldest cities in Europe. Sitting at the confluence of two major rivers, the Sava and the Danube, it's an important intersection between Eastern and Western Europe. Here you'll experience an energetic mix of progressive flamboyance and conservative customs.
Day 6: Belgrade
After breakfast take part in a guided sightseeing tour of Belgrade to give you some familiarity with the area and local amenities. Then you'll have the rest of the day free to explore the city. Perhaps begin with a wander around the city's wide boulevards and squares, and the historic and green heart of Kalemegdan Park. The park is home to Kalemegdan Fortress, which has overlooked the Danube River here for centuries. In the evening, head down to Skadarska Street in the bohemian quarter of Skadarlija to sample some authentic local food and enjoy the lively atmosphere.
Day 7: Novi Sad / Sremski Karlovci / Belgrade
Embark on a day trip to Serbia's second-largest city, Novi Sad (approximately 1.5 hours). Experience Novi Sad's fascinating blend of traditional culture and Austro-Hungarian architecture wit your leader. Visit the city's fortress of Petrovaradin, which sits right on the Danube and contains a museum of historic artefacts from the region. In the afternoon, head out of town to visit a local vineyard in Sremski Karlovci (approximately 30 minutes) and see the workings of a family-run wine making business. Visit the Zivanovic family's honey museum and winery. Their old house has been converted into museum full of beekeeping memorabilia and the have had a wine cellar here for 300 years. You'll try Bermet dessert wine which is a speciality of the region. Reports suggest it was drunk at the emperor's court in Vienna and was even served on the Titanic. This family are said to have kept the original recipe. Return to Belgrade in the evening and enjoy dinner with your group.
Day 8: Belgrade
Today is at your leisure, so perhaps spend your spare time exploring the markets near the Hram Svetog Save (St Sava Church) and Pijaca Venac. In the evening, meet for another group meeting at 6 pm, where new travellers may be joining you, and your group leader may change. Get to know each other with an included dinner of some Serbian food and perhaps enjoy a glass of Slivovitz (Serbian brandy) later on.
Day 9: Belgrade / Drvengrad
The morning is yours to do as you please. Perhaps take a wander through the historic, bohemian Skadarlija street and imagine life as an impoverished 20th-century poet. In the afternoon, travel by private vehicle to Drvengrad (4 hours). This traditional-style Serbian village was constructed under the direction of filmmaker Emir Kusturica, inspired by the ancient city of Ephesus, his memories of pre-war Sarajevo and a utopian ideal of village life. Kusturica's film Life is a Miracle (2004) was filmed in Drvengrad and the town has since hosted several festivals. Spend the evening at your feature stay in this whimsical village, where the streets are named for revolutionaries and artists.
Day 10: Tara National Park / Drvengrad
This morning you will further immerse yourself in antiquity with a ride on the Sargan Eight Railway. Board this old-fashioned train and travel along a narrow-gauge railway, which snakes (in the shape of a figure eight) around the mountain. Views of woodland and small villages greet you as you gaze out the window while the train slowly gains 300 metres in altitude. Your included lunch today is a real treat – a leisurely Serbian gastronomy experience with a cooking class hosted by a local villager, specialising in Western Serbian Cuisine. You can expect to prepare a range of typical dishes which may include some of the following, depending on seasonality: muckalica (barbequed meat and vegetable stew) or the vegetarian equivalent (duvec), burek (pastries, filled and baked), gibanica (cheese and egg pastry dish), cakes and preserves. All ingredients are locally grown and sourced. The experience is part of a locally developed sustainable tourism initiative, which is hoped to replace more impactful economical activities such as logging and hunting, and preserve local cultural heritage. The income the family receives from our visit stays within the community. After lunch, explore the serene Tara National Park on a 2-hour hike to the spongy meadows of Red Creek natural reserve. After your hike, return to Drvengrad for the evening and enjoy an included dinner in this unique village.
Day 11: Nis
Make the approximately 4.5-hour journey from Drvengrad to Nis by private vehicle, breaking up the drive with some stops along the way. On arrival in Nis, set out on a guided tour of the city with a passionate local. Nis has a rich history, occupied by the Romans, the Slavs and the Ottoman Turks, among others. The city was the staging ground for numerous Serbian rebellions and uprisings until it was absorbed by the Serbian state in 1878. Continue to Bubanj Memorial Park to observe the Three Fists monument, dedicated to the memory of local people executed in WWII. Enjoy a free evening to explore or relax in Nis. Perhaps ask your leader to point you in the direction of Tinkers Alley – a great place to grab a meal or sit and people watch.
Day 12: Sofia
Leave Nis behind to and make the 3-hour drive to Sofia, a city where Soviet, Ottoman, Russian and Bulgarian Renaissance influence is evident in the architecture. In the afternoon embark on an Urban Adventures tour of the city with a local guide, learning history while you sample local food and drinks. Wonder at icons like the National Theatre and King's Palace and refuel with snacks such as shopska (cucumber salad) and a glass of ayran (yoghurt drink). This 3-hour tour offers a fantastic introduction to the cultural and culinary delights of Sofia, after which you are free to explore on your own.
Day 13: Sofia
Enjoy an entire day to explore Sofia at your leisure. Bulgaria's capital is a cosmopolitan city with wide tree-lined boulevards and pleasant parks. There are a number of optional activities today that your leader can help you parse, so remember to ask them for advice. Maybe begin with a browse around the cured meats and cheese of the Central Market Hall, then take a walk through the city and see the gold-domed Alexander Nevski Church. You might want to sate your cultural curiosity at the National History Museum, discover artefacts from the many empires of old that have occupied the city at the National Archaeological Museum, or get cultural at the National Art Gallery. The Museum of Socialist Art is an interesting place to spend an hour or two observing propaganda and other works from Bulgaria's time as a Communist state. Or perhaps head to Vitosha Boulevard to wander and sip coffee. In the evening why not meet up with your group for dinner.
Day 14: Rila Mountains / Plovdiv
Travel into the Rila Mountains on a 2-hour drive through incredible scenery to the Rila Monastery. Founded in the 10th century by canonised hermit St John of Rila, the complex has architectural features that span from the 11th to the 19th century. Spend some time wandering under the curved arches and admiring colourful frescoes at the monastery, then continue driving to Plovdiv (approximately 4.5 hours) past lakes, farmland and scenic rural scenes. Arrive in Plovdiv and in the evening. If you have the energy, why not ask your leader where to grab a bite to eat. Plovdiv is a fairly relaxed city with a great casual dining scene.
Day 15: Bachkovo / Plovdiv
Spend the morning on a tour of Plovdiv with a local guide, getting a feel for the city's history and culture. Visit the Plovdiv Regional Ethnographic Museum, housed in a stately 19th-century home. Continue to Yustina Winery for lunch. There is a proud tradition of winemaking in the Balkans and you'll have the opportunity to try a few local varieties during your meal. In the afternoon visit the Bachkovo Monastery, a handsome stone building set over a ledge atop a valley. The 17th-century Church of Sveta Bogoroditsa features frescoes painted by Bulgarian master Zahari Zograf, in addition to many other beautiful murals in the complex. Return to Plovdiv for the evening.
Day 16: Plovdiv
Spend the day as you please in Plovdiv. Perhaps walk through the Old Town to Nebet Tepe, a hilltop lookout where the remains of a fortress can be found. From the hill the views of the city are spectacular, and the unassuming ruins offer a little slice of ancient life from one of Europe's oldest continuously inhabited cities. Then maybe return to the Old Town and grab a coffee or a beer and watch the world go by. Plovdiv is perfect for you to aimlessly wander through its narrow alleyways to see traditional coppersmiths, farriers and potters at work, or browse through the myriads of antique shops lining the streets. Alternatively discover one of the many hot springs in the Plovdiv region. One of the most well-known spa towns is Hisarya, famous for its 22 mineral springs. Your leader will be on hand to help you organise transportation to get there. No matter what you do remember to embrace aylyak – roughly translated as a state of relaxation and openness – while you're here.
Day 17: Veliko Tarnovo
Take a 3-hour journey to Veliko Tarnovo, stopping en route at Etar Ethnographic Village. Founded in the 1960s, this open-air museum recreates a typical Bulgarian town from the late 18th century. It features wooden bridges leading over streams, traditional craftspeople forging their wares, traditional shops and a tavern and a working water mill. Spend some time here in the past, then continue to Veliko Tarnovo, arriving in time for an optional lunch with the group. In the afternoon, explore Tsarevets Fortress – a medieval stronghold – with a local guide. The fortress, restored to its 14th-century glory, is home to the remains of a monastery, houses, workshops and churches from between the 12th and 14th centuries.
Day 18: Veliko Tarnovo / Sozopol
Spend the morning as you please in Veliko Tarnovo. Located seven kilometres north of the city is the Transfiguration Monastery, a small complex that nonetheless features some frescoes by Zahari Zograf in a peaceful environment. Ask your leader about how to organise a taxi if you wish to visit before you leave town. In the afternoon, take a 4-hour private transfer to Sozopol. Seaside Sozopol is your introduction to the glorious Bulgarian Coast. Enjoy an included dinner with your group and embrace the breezy lifestyle of the seaside.
Day 19: Bulgarian Coast / Sozopol
Embark on a day trip to the coastal hinterland. Just a few kilometres from town, see the fantastical Castle of Ravadinovo, designed by Georgi Kostadinov Tumpalov in a whimsical fairy-tale style. Spend some time exploring inside and in the extravagant gardens, wandering over arched bridges and admiring the peacocks and swans that roam. Continue to the Ropotamo Nature Reserve and set off on a boat tour of the park's eponymous river. Cruise through the peaceful marshes and observe forest flowers and (if you're lucky) perhaps turtles and waterbirds. Return to Sozopol for the evening.
Day 20: Bulgarian Coast / Sozopol
Enjoy a free day on the coast. You may wish to stay in Sozopol and enjoy a leisurely day exploring the Old Town. In addition to the restored ancient town walls, a few traditional churches and houses line the cobblestone streets, as do many restaurants. Unsurprisingly, seafood is on offer around every corner. Ask your leader for advice on where to spend your lev. Speak to your leader about the full range of optional activities on offer in and around Sozopol today.
Day 21: Istanbul
Today is primarily a travel day as we make the approximately 6-hour journey to Istanbul. The drive will be broken up with an included lunch stop around the halfway point in either Luleburgaz or Ahmetbey. Upon arrival in Istanbul the evening is free for you to either rest after a long day of travel or perhaps explore at your leisure.
Day 22: Istanbul
Take a cruise through the narrow strait that separates Turkey and the continents of Europe and Asia, the Bosphorus. The strait is small enough that you will enjoy stunning views of the iconic buildings that line either side, including the opulent Dolmabahce Palace and the massive intercontinental bridge connecting both sides of Istanbul. After your cruise enjoy a free afternoon. Istanbul can be overwhelming for some travellers, so as always, remember your leader is on had to advise you on how best to use your time. Perhaps spend a few hours in the Istanbul Museum of Modern Art. As night falls, gather with your group and leader for an included farewell dinner and toast to the journey that was.
Day 23: Istanbul
Your Eastern European Experience comes to an end after breakfast. If other parts of Turkey also intrigue, consider talking to your Peregrine representative before you leave about combining this trip with 'Treasures of Turkey' (trip code PETT), which departs from Istanbul and covers Selcuk, Fethiye, Cappadocia and more.
Kotor Sightseeing with Local Guide
St Tryphon's Cathedral
Blagaj Teke Monastery
Guided Tour in Mostar with a Local Guide & Craftsman Visit
Sarajevo Sightseeing with Local Guide
War Tunnel Museum
Gazi Husrev Beg Mosque
Srebrenica Memorial Centre with Local Guide
Guided Tour Belgrade
Petrovaradin Fortress
Wine & Honey Tasting in Sremski Karlovci
Novo Hopovo Monastery
Western Serbian Gastronomy Experience with Cooking Class & Lunch
Sargan Eight Heritage Railway
Hike in Tara National Park
Bubanj Memorial Park
Nis Walking Tour with Local Guide
Sofia - Food, Heritage, and Culture Urban Adventure
Rila - Monastery Visit
Yustina Winery Visit with Wine Tasting & Lunch
Bachkovo Monastery Visit
Plovdiv Walking Tour with Local Guide
Plovdiv Regional Ethnographic Museum
Veliko Tarnovo - Tsarevets Fortress
Etar Ethnographic Village
Ropotamo Nature Reserve Boat Cruise
Visit to Castle of Ravadinovo
Bosphorus Boat Cruise
Meals
22 Breakfast(s) Included
5 Lunch(es) Included
8 Dinner(s) Included

Style: Peregrine

Comfortable hotel (18 nights), Feature stay in Drvengrad and Sozopol (5 nights)
Question: How many suitcases can I take with me on my trip?
Each person is allowed one "check-in," and one "carry-on." Remember to take all valuables with you as "carry-on", because electronic equipment, cameras, laptops, jewelry, business documents and money are not covered by the airlines' liability, so always carry them aboard with you.
Question: Is Airfare Included in the Price?
Airfare from your point of origin to and from the trip is not included in the land price.
Similar Tours Other Travelers Liked
AffordableTours.com® does not itself offer, service or administer the Travel Packages, and the ultimate terms and conditions of any Travel Package made available via the Site Offerings (including the prices quoted in connection with same) will be determined by the applicable Third-Party Travel Service Provider. AffordableTours.com® does not represent or warrant that the Price Quotes are accurate, up-to-date or free of error, or that same will be honored by the applicable Third-Party Travel Service Providers. All Price Quotes, Travel Package availability, Travel Package details/itinerary and other Content are subject to change without notice. All travel details published by and through the Site Offerings should be confirmed directly with the applicable Third-Party Travel Service Provider prior to making any travel plans. Reliance on any information made available to you by and through the Site Offerings is solely at your own risk.
How It Works
Vacationing has never been easier or cheaper with the help of a dedicated travel consultant from AffordableTours.com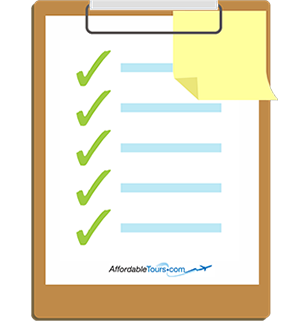 Find your perfect trip on our website and simply request a free quote. Need to speak to a live person? Call us 7 days a week at 1-800-935-2620. No robots here!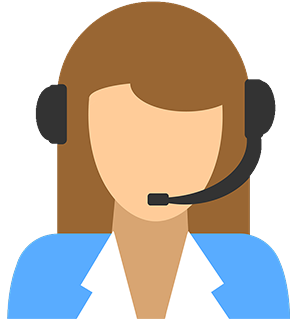 Your personal travel consultant will reach out and be your point of contact for your entire travel experience from start to finish. Did we mention you'll be working with an award winning team? Sweet!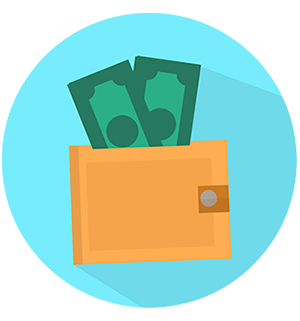 Because we're one of the largest sellers of travel, we're able to give you a discount on your vacation package. No one beats our prices!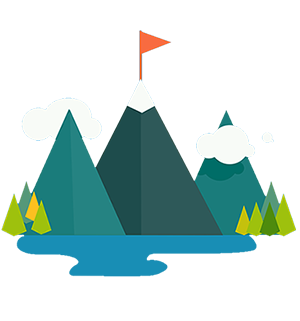 Knowing you got the best deal, all that's left is for you to pack your bags and enjoy your vacation!