Exotic Delights of Java + Bali - NEW!

From Yogyakarta to Denpasar
Why Pay Retail?
Call us for a quick quote!
Save 7% Off this Tour - Guaranteed!

Family & Friends Discount: Save up to $200 per person
Family & Friends Discount: Save up to $200 per person
Promotion Details
Save up to $200 per person off the listed price when you book a group of at least 3 or more guests. Save $50 per person when 3 guests travel together, save $100 per person when 4 guests travel together, save $150 per person when 5 guests travel together, save $200 per person when you have 6 or more guests traveling together. Plus as always, receive our AffordableTours.com 7% extra everyday savings.
Combinable with pay-in-full discount.
Must Book By Thu, Dec 31, 2020
World Traveler Club Members
World Traveler Club Members
Promotion Details
As a World Traveler Club Member, you'll receive extra benefits that save you money and make your travel planning experience faster and easier.
Must Book By Thu, Dec 31, 2020
Tour Itinerary
Day 1

Day 1 - FastTrack VIP Arrival in Yogyakarta, Java

You'll be warmly greeted at your arrival gate and personally assisted through immigration, baggage claim and customs formalities. Then meet General Tours driver for the scenic journey to Magelang where you check in to Amanjiwo. Settle in to your lavish ultra-spacious suite and take in the breathtaking views of Borobudur and the surrounding valley from your private walled garden. This evening, we'll gather for a Welcome Dinner. Meals D


Day 2

Day 2 - Sunrise at Borobudur + Living Traditions of Java

With roots going back to the Bronze Age, the distinctive curved-blade Kris recognized today is said to have originated in East Java sometime in the 14th century. Spending time with a master Kris-maker, we'll delve into the physical, historic and even spiritual qualities of these beautiful daggers. Later this afternoon, we'll discover the grandeur and magnificence of Borobudur ; built in the 8th and 9th centuries, it is a masterpiece of Buddhist architecture. General Tours visit has been carefully timed to finish on a spectacular high note as you watch the sun cast its last golden rays across the largest and most spectacular Buddhist temple complex in the world. Meals B+L


Day 3

Day 3 - Bugisan Village and Prambanan Temple

After a leisurely breakfast, we'll visit the Twin Temples of Candi Plaosan. With both Hindu and Buddhist elements, their blend of styles recalls a romantic story that General Tours engaging guide will share. We'll explore the village of Bugisan by ox cart, spending time with residents to enjoy some snacks and learn about their cottage industries - from the baking of Emping, a popular Javanese snack, to the preparation of Jamu, an old herbal remedy still used throughout Indonesia. They'll also teach us about Gamelan, the ancient ensemble music of Indonesia. After touring Prambanan , Indonesia's largest and most finely preserved Hindu temple complex dedicated to Lord Shiva, we'll continue to the Hyatt Regency Yogyakarta where Regency Club Rooms have been reserved for General Tours group. Meals B+D


Day 4

Day 4 - Sultan's Palace + General Tours Javanese Culinary Experience

At the 18th-century Sultan's Palace, we'll discover a vast complex, more like a walled city, that's home to nearly 25,000 people with their own market, cottage industries, schools and mosques. At the heart of this lavish complex is the stunning Golden Pavilion. From here, traditional rickshaws take us to Taman Sari to admire gardens, pavilions and pools built centuries ago for the pleasure of the Sultan and his harem.

Later this afternoon, General Tours special culinary tour finds us in a small family-run restaurant and a bakery – learning to prepare Java's traditional Lotek salad and sampling a variety of specialties, both sweet and savory. Of course, we'll feast on Gudeg; once reserved for the Sultan's family, this local favorite is a jackfruit stew simmered for hours with teak leaves and coconut milk. General Tours evening ends behind the Sultan Palace, an area that comes alive at night with illuminated pedi-cabs and residents out to enjoy some music in the fresh air. Meals B+L+D


Day 5

Day 5 - By Rail to Mojokerto + Onward to Bromo

After an early breakfast, we'll head to the station to embark on a scenic rail journey that will take us into East Java. On arrival in the lively town of Mojokerto, we'll continue to Plataran Bromo. Nestled in the lush highlands, General Tours enchanting resort offers magnificent views of the surrounding hills and their tapestry of plantations and farms. You'll have time to relax and enjoy this idyllic setting before General Tours gather for dinner. Meals B+D


Day 6

Day 6 - Sunrise over Bromo + Fly to Bali

Named for Brahma, the Hindu God of Creation, Mount Bromo is an active volcano in the middle of a vast crater known as the Sea of Sand; part of the Tengger Massif, a smoldering volcanic complex, it's an other-worldly landscape that knows no parallel! The day begins early as General Tours set out by jeep and then on a short walk along the slopes of Mt. Penanjakan; as General Tours near the summit, we'll have a breathtaking view as the sun rises over Mt. Bromo - and the four other volcanoes that rise up from the Sea of Sand!

Then we'll drive to the base of Mt. Bromo where a 45-minute walk takes us right up to the rim: Standing above the crater, there is only a short concrete barrier separating you from the steam that rises from the darkness below. The air is thick with sulphur vapors and the roar emanating from deep inside the Earth is something you will never forget!

After breakfast, General Tours drive to Surabaya and fly to Denpasar. On arrival, we'll be escorted to the luxurious Viceroy Bali for a 4-night stay in Ubud, a charming highland town revered as the artistic and cultural heart of the island. Set amidst lush tropical hills, your lavish villa offers more than 1,600 square feet of indoor and outdoor space - including an infinity edge pool overlooking the verdant valley. Meals B+D


Day 7

Day 7 - Balinese Culture Comes to Life

To provide you with a truly intimate experience of Balinese life and culture, we'll divide into two groups of just 8 guests each. Over the next two days, each group will have a chance to enjoy both of these specially planned activities:

One group will enjoy General Tours Babi Guling Feast. Starting at the residence of Bapak Enong Ismail, curator of the Sukarno Museum, you'll enjoy a brief cultural talk and then watch as his neighbors prepare Bali's classic roast pork feast. Then tour some of the nearby temples before returning to Ismail's home where your Babi Guling has been roasting to perfection. Served with a variety of Indonesian side dishes, this unforgettable meal is enlivened by the company of your host and the friendly locals who helped in its preparation.

Our other group will embark on General Tours adventure in Subak Guliang, described in detail below.

Meals B+L

Day 8

Day 8 - General Tours Switch Groups

If you didn't do it yesterday, today you'll enjoy the Babi Guling Feast described above. Those who already experienced this activity will embark on an adventure that starts in the quiet farming village of Subak Guliang, known for its uniquely Balinese homes. You'll spend time with local famers and school children, learning about their daily life and Bali's unique social system; known as Subak and centered on the island's water temples , it's both a philosophy and a way of life that cooperatively manages their most precious natural resource. After an alfresco lunch, this excursion also visits Pura Kehen, one of the island's most beautiful temples.

Tonight, we'll all regroup to enjoy the 8-course farm-to-table Degustation Menu at Aperitif, a stunning restaurant that blends modern gastronomy with traditional Indonesian flavors.

Meals B+L+D


Day 9

Day 9 - The Beauty of Central Bali

The gently descending roads from the mountain village of Kintamani are a delightful way to take in island landscapes – including Mt. Batur and a deep blue crater lake that both lie within the 7-mile wide Batur Caldera. Stopping to engage with villagers, discovering the iconic rice terraces of Tegalalang, and browsing in a colorful market also highlight General Tours morning. If you wish, you can make a part of this journey by bicycle!

After lunch at Kafe ARMA, we'll visit Pura Gunung Lebah, an 8th-century temple set in a lush forest. General Tours guided walk along the famed Campuhan Ridge Trail finds us winding General Tours way above two river valleys. In the distance, the towering silhouette of Mt Agung provides the backdrop for breathtaking views of small outlying villages surrounded by rice fields. Tonight, we'll dine at Manisan. Meals B+L+D

Day 10

Day 10 - Balinese Cuisine + Culture

As General Tours did before, dividing groups over the next two days gives us all a chance to enjoy special activities that have been uniquely planned for just 8 guests.

One group will travel to Belayu for General Tours Culinary Experience. Join a village family for coffee and conversation - and learn firsthand about Canang Sari, the daily offering ceremony practiced by Balinese Hindus. Then journey through the lush countryside, visiting Taman Beji Temple and continuing to the ancient town of Mengwi where a resident chef will meet you for a fascinating tour of the lively and colorful market. A hands-on cooking class at his villa ends this unique excursion. If you wish you can make the journey to Taman Beji Temple and Mengwi on a bicycle.

Our other group will experience the Spirit of Belimbing excursion, described in detail below.

After General Tours excursions, we'll all check in to the luxurious Soori Bali for a 2-night stay along a pristine stretch of the island's southwest coast. This evening's dinner features fine Indonesian cuisine inspired by the Majapahit Empire that rose to power in the 13th century. An enthralling performance of the music and ceremonies of the era enhance this theatrical dining experience.

Meals B+L+D

Day 11

Day 11 - General Tours Change Groups Again

If you didn't join our Culinary Experience yesterday, you'll have a chance to do so today. General Tours other 8 travelers will join our Spirit of Belimbing excursion. Delight in a pleasant walk through the coffee and cacao plantations that surround the quiet village of Belimbing. With General Tours engaging guide, you'll also learn about the many other crops you'll see being planted and tended - in terraced rice paddies, vegetable gardens, and fruit orchards. This walk ends at a secluded waterfall; regarded as sacred, a Hindu priest will be here to offer a blessing to those who come.

After General Tours excursions, we'll all have some free time this afternoon to enjoy the oceanfront setting and amenities of General Tours luxury resort. This evening, we'll gather together for General Tours farewell dinner at Ombak, a casually elegant, beachside restaurant with enchanting sunset vistas.

Meals B+L+D

Day 12

Tanah Lot Temple + Departure… Or Travel on to Komodo National Park

After breakfast and check out, we'll visit one of Bali's most iconic landmarks. Set on a rocky spur surrounded by the sea, Pura Tanah Lot is one of Bali's most venerated sea temples. During low tide, the temple is visited by island residents who come to drink and cleanse themselves in the fresh water spring at the base. At high tide, Tanah Lot presents a wondrous site surrounded by breaking waves.

From here, continue to Denpasar Airport for your homeward journey. Or continue on General Tours 4-day adventure featuring Komodo National Park. With a luxury hotel and naturalist-guided excursions, we'll encounter the largest lizard on Earth! Meals B
Hygiene and Safety Protocols for Alexander Roberts Tours
Committed to Your Well Being While You're With Alexander Roberts
All Alexander Roberts' staff will maintain appropriate physical distancing at all times, so expect a warm and genuine greeting but not a handshake or a hug!
All high-touch surfaces in coaches and private cars – like door handles, railings, arm rests, and window controls – will be sanitized each morning and regularly throughout the day.
Alexander Roberts' expert guides and drivers will don face masks whenever in proximity to guests.
Alexander Roberts staff have been trained on Extra Care procedures – and how to respond to issues that may arise as you travel.
Complimentary face masks and hand sanitizer will be available in all vehicles while touring.
More Space + Extra Care While Touring
Larger luxury motorcoaches so each traveler will have two seats to themselves while touring.
Private airport transfers with a spacious luxury vehicle when you come and go for every tour
Regular and frequent sanitizing of all high-touch vehicle surfaces.
Prearranged entry for all sightseeing minimizes standing in line with other travelers.
Whisper Headsets for groups of 5 or more allow for proper physical distancing while sightseeing, except for certain nature activities in remote areas like the Amazon.
More Space + Extra Care While Dining
Alexander Roberts carefully selects restaurants to avoid crowded high-capacity venues; Alexander Roberts emphasizes fine farm-to-table dining with attentive and efficient service – and the choice to dine al fresco whenever available.
No large-group dining; enjoy more spacious dining settings and smaller, well-spaced tables for included meals.
Restaurant staff will follow the guidance of local health authorities and WHO protocols which may include facial coverings.
Extra Care at Luxury Hotels
Alexander Roberts' hotels are always selected for their outstanding locations, evocative ambiance, impeccable service – and cleanliness.
OAlexander Roberts' partners include the most respected luxury brands – like Belmond, Four Seasons, Park Hyatt, Kempinski and JW Marriott; they are now leading the industry with their sophisticated hygiene standards and protocols to ensure the well being of all their guests.
Hotels will be continuously and rigorously vetted to ensure that they are following established WHO guidelines including social distancing and sanitizing procedures of guestrooms and public spaces.
Hotel breakfasts will usually feature à la carte service and group seating will be replaced by smaller, appropriately distanced tables.
And Always... Alexander Roberts' Distinctive Style
In a Small Group of Never More than 16 Guests or on a Privately Guided Tour for just your traveling party, their experienced guides have the flexibility to adjust your sightseeing based upon local conditions – to avoid times of heaviest traffic and crowding, for example. Alexander Roberts can dine in smaller authentic restaurants, minimize the time waiting in lines, and leave a lighter footprint. You'll learn the history and stories behind the world's most iconic landmarks, immerse more deeply in the wonders of the natural world, and delight in genuine cultural engagement not possible in a larger group. It's travel without a crowd.
Amanjiwo - Borobudur, Java
General Tours resort has been designed to evoke the grandeur of the Buddhist monuments it overlooks. A+R guests enjoy a lavish suite with 2,600 square feet of indoor + outdoor space.
Hyatt Regency Yogyakarta - Yogyakarta, Java
We'll enjoy Regency Club Rooms at this 5-star urban resort set on 54 acres of garden grounds.
Plataran Bromo - Pasuruan, East Java
Nestled in the highlands, General Tours Deluxe Rooms offer sublime views of the verdant countryside.
The Viceroy - Ubud, Bali
You'll love spending 4 nights here in a Deluxe Terrace Villa. Enjoy stylish interior spaces and a furnished outdoor pavilion perched above your personal plunge pool.
Soori Bali - Bali, Indonesia
End your tour at this luxury resort in a spacious light-filled 1-bedroom villa set on the beach. Enjoy your outdoor pavilion and a private pool overlooking the ocean.
Question: How many suitcases can I take with me on my trip?
Each person is allowed one "check-in," and one "carry-on." Remember to take all valuables with you as "carry-on", because electronic equipment, cameras, laptops, jewelry, business documents and money are not covered by the airlines' liability, so always carry them aboard with you.
Question: Is Airfare Included in the Price?
Airfare from your point of origin to and from the trip is not included in the land price.
Similar Tours Other Travelers Liked
Our tour guide was the best! He was knowledgeable about the country, always early, courteous and made us feel welcome in his country. Our tour had a side trip that was incredible due to our guide's particular experiences, The pick of our guide for our trip was absolutely perfect. Thank you for making our trip so wonderful.
AffordableTours.com® does not itself offer, service or administer the Travel Packages, and the ultimate terms and conditions of any Travel Package made available via the Site Offerings (including the prices quoted in connection with same) will be determined by the applicable Third-Party Travel Service Provider. AffordableTours.com® does not represent or warrant that the Price Quotes are accurate, up-to-date or free of error, or that same will be honored by the applicable Third-Party Travel Service Providers. All Price Quotes, Travel Package availability, Travel Package details/itinerary and other Content are subject to change without notice. All travel details published by and through the Site Offerings should be confirmed directly with the applicable Third-Party Travel Service Provider prior to making any travel plans. Reliance on any information made available to you by and through the Site Offerings is solely at your own risk.
How It Works
Vacationing has never been easier or cheaper with the help of a dedicated travel consultant from AffordableTours.com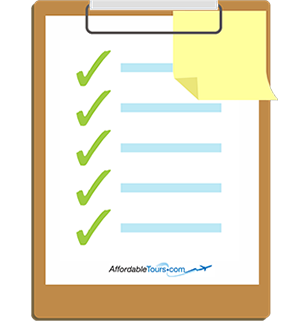 Find your perfect trip on our website and simply request a free quote. Need to speak to a live person? Call us 7 days a week at 1-800-935-2620. No robots here!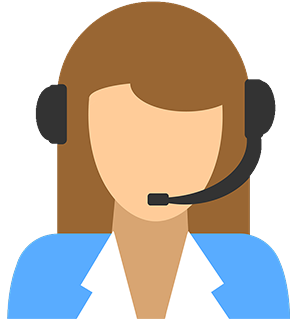 Your personal travel consultant will reach out and be your point of contact for your entire travel experience from start to finish. Did we mention you'll be working with an award winning team? Sweet!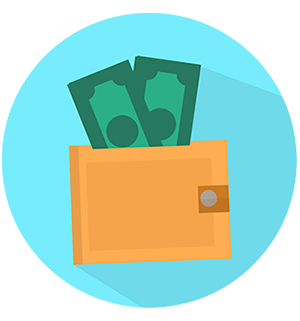 Because we're one of the largest sellers of travel, we're able to give you a discount on your vacation package. No one beats our prices!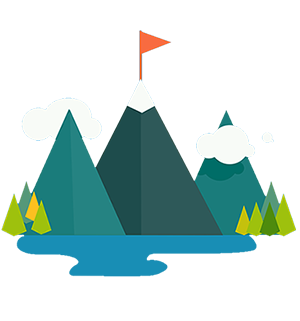 Knowing you got the best deal, all that's left is for you to pack your bags and enjoy your vacation!