Dates & Prices
Start Date
End Date
Offers
Brochure
Land Price
Our Price
Quote
Oct 05, 2021
Oct 30, 2021
Call Us

$5,240

Get Our Price
Get Quote
Apr 22, 2022
May 17, 2022
Call Us

$5,240

Get Our Price
Get Quote
May 10, 2022
Jun 04, 2022
Call Us

$5,240

Get Our Price
Get Quote
May 27, 2022
Jun 21, 2022
Call Us

$5,240

Get Our Price
Get Quote
Jun 14, 2022
Jul 09, 2022
Call Us

$5,240

Get Our Price
Get Quote
Aug 16, 2022
Sep 10, 2022
Call Us

$5,240

Get Our Price
Get Quote
Sep 02, 2022
Sep 27, 2022
Call Us

$5,240

Get Our Price
Get Quote
Sep 20, 2022
Oct 15, 2022
Call Us

$5,240

Get Our Price
Get Quote
Oct 04, 2022
Oct 29, 2022
Call Us

$5,240

Get Our Price
Get Quote
Call or submit a quote for award-winning value and service!
Tour Itinerary
Get to know - or under-Stan, if you will - the desert landscapes, multicultural influences and religious significance in Kyrgyzstan, Tajikistan, Uzbekistan and Turkmenistan on a 26-day Central Asian adventure. The region's allure lies in the heritage of the Silk Road, where ideas, culture and people flowed from East to West, and in the green field backcountry and sweeping mountain landscapes that play host to the traditional nomadic lifestyle. Journey through cities featuring crumbling reminders of Soviet occupation and influence and out into the stunning wilds, where the ancient history of these long-lived nations - Persian and Mongol, Buddhist and Muslim - becomes clearer. Samarkand's iconic Registan Square, the soaring Ak-Baital Pass, Khiva's city within a city, the 'Door to Hell' - Central Asia has got it all.
Day 1

Bishkek

Welcome to Central Asia! Your adventure begins with a welcome meeting at 6 pm tonight. If you arrive early, be sure to explore Bishkek. You'll find it's a relaxed city of wide streets, trees and parklands, and a palpable Soviet past. The State Museum of Fine Arts is the city's premiere museum and TSUM Department Store in the city centre is renowned for having the best range of Kyrgyz souvenirs for shopping.

Day 2

Chychkan/Toktogul/Kok Bel

Depart Bishkek and travel to Toktogul (approximately 6 hours) though spectacular mountain scenery today. This is an urban settlement in the Jalal-Abad province of Kyrgyzstan. You will arrive in the early evening, then enjoy a night of free time. Due to the limited options in this area, the accommodation tonight might be in Chychkan or Kok Bel rather than Toktogul. Your leader will advise you in Bishkek as to where you will stay for your departure.
Meals: Breakfast, Dinner

Day 3

Osh

Travel onward from Toktogul to Kyrgyzstan's second city, Osh (approximately 8 hours). Located in the Fergana Valley in the south of the country, Osh is often referred to as the capital of the south. It has a mostly Uzbek population, which is evidence of its proximity to the border. While you are here, you'll visit Suleiman's (Solomon's) Mountain, a site of huge Islamic importance that dominates the centre of the city. While the walk is not strenuous for those with good fitness, you will need sturdy footwear as there are many slippery and steep steps and slopes. You will also visit Osh Bazaar, one of the biggest markets in Central Asia. As well as browsing this intriguing bazaar, here you can change some money into Tajikistan Somani for the journey ahead. Depending on the arrival time, some activities in Osh will be scheduled for tomorrow instead of today.
Meals: Breakfast, Dinner

Day 4

Sary Tash

After a morning of exploring Osh, continue to Sary Tash (approximately 3 hours). On this journey you will cross the Taldyk Pass (3615 m). Conveniently located in the Alai Valley, bordering Tajikistan, Sary Tash is a junction for explorers heading off in many directions on the road to Osh, Murgab (Tajikistan), and Kashgar (China). You will spend the night in a basic guesthouse or homestay in this small, remote village at the junction of the Silk Road.
Meals: Breakfast, Dinner

Day 5

Kyrgyzstan/Tajkistan Border Crossing – Murgab

Today we drive to Murgab (approximately 6–7 hours). First, after breakfast, drive the 50 kilometres from Sary Tash to the Kyzyl Art Pass (4280 m). In this spectacularly remote spot, you will cross the border from Kyrgyzstan to Tajikistan. Remember to be patient as officials work through the various permits and procedures. Once inside Tajikistan, you'll make your way down the 95 km to Karakul Lake for lunch, with yet more dramatic scenery and photo opportunities along the way. Karakul Lake is too high to support aquatic life and is the largest out of 800 lakes in the Pamirs; these lakes were created by earthquakes, tectonic activity and glaciers. The final 135 km today takes you to Murgab via the Ak-Baital Pass (4655 m), the highest pass on the Pamir Highway and in the former Soviet Union. Murgab is located in a valley at approximately 3000 m above sea level, surrounded by high peaks. This region is inhabited mainly by Kyrgyz people. From here, on a clear day, you can see Muztag Ata (7546 m), the highest mountain in the Pamirs. While here, your hosts will prepare you a simple dinner and breakfast – homemade bread, plov (rice pilaf) and fried eggs or porridge. Keen stargazers will be treated to a great display on a clear night, with very little light pollution affecting views of the night sky.
Meals: Breakfast, Dinner

Day 6

Langar

Today is another long day of breathtaking driving (approximately 10 hours). Drive through the picturesque Alichur valley, over the Khargush Pass (4344 m), to the Wakhan Corridor. As you enter the Wakhan there are amazing views of the Pamirs to the right and of the Hindu Kush to the left. On the other side of the pass you will cross through another check point and travel along the Afghanistan border. In contrast to the previous village stays, the surroundings here are more fertile, with families growing tomatoes, cucumbers, cabbages and flowers on their own garden plots. A stop will be made somewhere along the way for lunch in a local chaikana (teahouse/cafeteria). Tonight you will stay in a traditional Pamiri house, which consists of a large pillared central room where all home life takes place. Home cooking awaits – perhaps lagman (noodle soup) or shorpa (meat and vegetable soup). After dinner your hosts will roll the mattresses and you'll share a sleeping area with the rest of the group.
Meals: Breakfast, Dinner

Day 7

Ptup

Today is one of the most active days of the trip so take advantage of the chance to stretch your legs! After breakfast there's the option of hiking to an interesting petroglyph site above the village. The images, carved into the rocks high above the village, depict goats, caravans, horses and Ismaili symbols. You'll hike up a gravelly slope for at least 30 minutes (depending on fitness) before the first carvings are visible. There is little shade and it's hard going, but it's well worth the exertion, especially after so long in a vehicle. Next you will drive to nearby Vrang, where on a cliff-side pitted with caves stands a Buddhist complex with 4th-century origins. It's another climb to get there, but the path is flatter in places and not as physically demanding as the hike to the petroglyphs. Continue to Ptup via the stunning valley that follows the winding river (approximately 3 hours). You'll stop en route for lunch. Ptup is the location of your next Pamiri homestay in the traditional Wakhan style. The multi-generation family who live here have a beautiful garden and house with a flush toilet and shower with solar-heated water. While you're in Ptup you'll visit the stunning Yamchun Fort, which some claim is the most spectacular sight in the country. To get to the fort you'll follow very windy, narrow mountain roads, so for safety reasons this journey will be made well before nightfall. Access to the fort itself is via a tricky scramble down and along the rocky valley. The views out over the valley are amazing. If time and road conditions permit, you might be able to visit Bibi Fatima hot springs too.
Meals: Breakfast, Dinner

Day 8

Khorog

From Ptup you will travel to Khorog (approximately 6 hours), which after our village experiences might seem like a bustling metropolis. You will pass through Ishkashim, perhaps stopping for lunch there, and continue along the Afghan border. Look out for the watchtowers and border crossings which, despite the proximity of the countries (sometimes only 100 metres apart), are few and far between, with very little contact between people on each side of the divide. Also watch out for ovrings, the spectacularly scary footbridges that Afghans have built along the cliff faces in order to be able to commute from one village to another. The contrast across the river valley here can be quite stark in places. Tajikistan is undoubtedly a poor country; in general the roads are sealed and buildings are connected with electricity, but over the river you will see locals living in much simpler conditions. You'll often be able to get a wave from your neighbours across the river as you travel along. Once in Khorog you will be in the capital of the Gorno-Badakshan Autonomous Oblast (GBAO). Here you'll stay in a guesthouse or hotel with private bathrooms. Perhaps enjoy a dinner at an Indian restaurant in town – one of the city's best.
Meals: Breakfast

Day 9

Khorog

Time to explore Khorog's sights today, including the bazaar. As you wander throughout this intriguing marketplace, your leader will be able to point out to you which stalls are selling Afghan goods from our neighbours across the river. There will also be time to check out the lovely botanical gardens that are perched high above the town, which boast some great panoramic views, and the curiously quaint Regional Museum.
Meals: Breakfast, Dinner

Day 10

Kala-i Khum

Set off to Kala-i Khum (sometimes written Kalaikhum), a small town on the Pamir Highway (approximately 10 hours). Today is mostly a travel day, and since the town is so far away, most groups will arrive too late to be able to explore on arrival. Tonight's accommodation is a guesthouse or homestay which sometimes also accommodates other independent travellers. The guesthouse is multistory, so be prepared for some steep steps to get to and from the sleeping spaces, dining area and bathrooms. There is a simple shower, some running water and both a flush and pit toilet in the courtyard. Dinner is included again this evening, perhaps local style dumplings.
Meals: Breakfast, Dinner

Day 11

Dushanbe

Enjoy some breakfast at the homestay before setting off for the nation's capital, Dushanbe (approximately 8 hours). In Dushanbe we stay for two nights in hotel with private bathrooms. For dinner tonight, the group might head out on the town to a Middle Eastern restaurant – one of the city's finest – or to a popular Chaikhana which has been in operation since Soviet times.
Meals: Breakfast

Day 12

Dushanbe

Check out the local central parks, fountains and monuments, with the option of visiting the main bazaar or Soviet-era Central Department Store for some souvenir shopping on our city tour toady. Just outside of Dushanbe (around 30 km) is the 18th-century Hissor Fort. Though this fort is being heavily restored, its colourful 20th-century history makes it quite an interesting visit. Back in Dushanbe, you'll check out the excellent Museum of National Antiquities. This relatively new museum reflects Tajikistan's diverse pre-Islamic cultural heritage, with exhibits from Bactrian, Buddhist, Zoroastrian and Hindu eras. The giant sleeping Buddha on the second floor may well be the highlight here.
Meals: Breakfast

Day 13

Penjikent

This morning, drive north to Penjikent (239 km). From Dushanbe we start climbing to the top of Anzob pass sitting at 3373 metres, and then decend to Ainy before heading to Penjikent through the mountains. Penjikent is strategically located on the way from Samarkand to Kuhistan – the mountainous area between Tajikistan, Afghanistan and Iran, now known as Fann Mountains. It was the last stop on the way to or from the mountains so the economy boosted with every caravan stopping here. After lunch, head to southeast edge of the town where the ancient ruins of Sogdian era Penjikent were found. It is a unique monument of pre-Islamic culture in Central Asia dating back to the fifth to eighth century AD.
Meals: Breakfast

Day 14

Tajikistan/Uzbekistan Border Crossing – Samarkand

This morning, head to the border between Tajikistan and Uzbekistan (approximately 70km). The border crossing can be a length process and has only recently been reopened, but after making it into Uzbekistan, it'll only be a short drive to the legendary Samarkand. Marco Polo described Samarkand as a 'very large and splendid city,' a truly breathtaking place that conjures up images of ancient splendour of the Silk Road. In the afternoon, enjoy some free time in the city. Maybe check out the remains of the remarkable medieval observatory developed by Ulug Beg, Tamerlane's (Amir Timur) brilliant astronomer grandson. These days, only half of the underground semi-circular track can be seen, but there is an the excellent small museum close by. Or visit the Afrosiab Museum with its fine collection of treasures unearthed from the site, including world famous 10th century frescoes. Tomorrow, there will be a full day city tour that include some of the key highlights in Samarkand.
Meals: Breakfast

Day 15

Samarkand

Be blown away by the sights you'll take in today. First, the great central square of Samarkand, the Registan. Then, Guri-Amir, where Tamerlane is buried, and finally the enormous Bibi-Khanum Mosque. Then we drive to Konigil village in the outskirts of the city for a special lunch with a family who have been making paper by traditional methods as long as they can remember. After lunch we'lllearn about this unique way of paper making from mulberry. Returning to Samarkand, visit the impressive Shak-i-Zinda ensemble of mausoleums. This unusual necropolis has monuments from the 14th and 15th centuries, reflecting the development of the monumental art and architecture of the Timurid dynasty and is photo worthy at every turn.
Meals: Breakfast, Dinner

Day 16

Tashkent

Head to Tashkent (approximately 4-5 hrs on private vehicle), the capital city of Uzbekistan. After arrival, your leader will take you on a short orientation walk. You'll have a free afternoon to explore this one of the largest cities in Central Asia. Choose to visit the exciting Chorsu Bazaar, the State History Museum, or the Abdul Khasim Medrassah with its hujra cells used as metalwork and craft workshops to produce jewellery and other goods, or the Khast Imom Complex. In the evening, get together for an optional dinner with your fellow travellers to toast to Tashkent.
Meals: Breakfast

Day 17

Tashkent

Have a day at leisure around the city of Tashkent. You could take a walk to see some of the contemporary architecture that sets this city apart from other Silk Road destinations, or just have a chilled-out day to get on top of your laundry. Keep in mind that there will be another group meeting at 6 pm and your leader will brief you on the next part of your Stans adventure. After then, why not get to know some of the new travellers joining you today with an optional dinner in town – your leader will know of some delicious options.
Meals: Breakfast

Day 18

Khiva

Take morning flight to Urgench (90 minutes) and transfer to colourful Khiva (45 minutes). Many global powers have laid claim to this city over the centuries, from khans to Silk Road traders and the Soviet Union. Get acquainted with Khiva on a tour of this walled-city. See the incredible blue-tiled Kalta Minor Minaret and the Mohammed Amin Khan Madressa. Explore the Kuhna Ark, the 'citadel within a citadel' which once housed the Khan and his family in the 17th century, then get a good look at this attractive city from the Ak-sheikh Baba Observatory. Finally, visit the Pahlavon Mahmud Mausoleum, a complex constructed in honour of the famous 13th-century poet, craftsman and fighter. A popular pilgrimage site, the mint-coloured dome that tops the main mausoleum is stunning. Spend the rest of the day as you wish. Maybe ask your leader where to grab the best plov (rice, meat, and carrots). The city is a photographer's delight, particularly in the evenings when the sun begins to set and fading light glints off turquoise tiles, so make sure you have your phone or camera ready to snap some pictures.
Meals: Breakfast

Day 19

Khiva

Khiva is particularly magic at dawn when the streets are empty. Later, you leader will guide you through some of the city's other impressive monuments and buildings. Visit the towering Islom Hoja Minaret, the tallest building in Khiva. Explore Juma Mosque, the roof of which is propped up by 212 wooden columns and designed to let in sunlight. If you want a peek at Uzbek luxury, look no further than the Tosh-Hovli Palace, which was built in the first half of the 19th century. Wander through elaborately decorated courtyards connected by labyrinthian corridors. The rest of the afternoon is yours to relax.
Meals: Breakfast

Day 20

Konye-Urgench – Darvaza

Say goodbye to Uzbekistan and cross the border into Turkmenistan at Khodjeyli (Xo'jayli). Meet the new leader who will be your key to local secrets, food and highlights for the rest of your journey. From the border, make a 1.5-hour drive to the World Heritage-listed Konye-Urgench. Once a centre of the Islamic world, it suffered destruction at the hands of Genghis Khan and the Timurid dynasty and fell into decay until the 20th century. But it still has tonnes of monuments from the 11th to 16th centuries, including a mosque, mausoleum and the 60-metre-high Gutlug Timur Minaret. Continue your journey with a 4-hour drive by 4WD to Darvaza Crater. This astounding 70-metre-wide hole in the Karakum Desert is permanently aflame. Soviet oil prospectors started drilling in 1971 expecting to find oil, and the ground collapsed to form the crater. Worried about the gas released into the air, they deliberately set the crater on fire to burn off the excess, expecting it to last a few weeks. As you'll see today, they were wrong, and the crater has been burning ever since. Watch the sunset over the 'Door to Hell' from your nearby camp, and enjoy a Turkmenistan-style barbecue for dinner. 
Meals: Breakfast, Dinner

Day 21

Yerbent – Ashgabat

Hit the sand again in the 4WD, making the 4-hour drive to Ashgabat with a stop along the way at the tiny settlement of Yerbent. The community here live primarily in yurts that are tucked between the sand dunes. Check out the local monument that pays tribute to the group of socialists that died in the Basmachi Revolt in 1931, then continue to Ashgabat. Little is left of the original Russian Imperial city as most of it was destroyed in a massive earthquake in 1948, and today the city centre is a bizarre mix of futuristic and outrageous public buildings. Get a sense of Ashgabat old and new with a tour that takes in both the ancient settlement of Nisa and the National Museum of Turkmenistan. Enjoy a free afternoon in this mind-bending city. Look out for the ornate, golden telephone booths, screens broadcasting official ceremonies on a loop and imposing statues of the president.
Meals: Breakfast

Day 22

Ashgabat

Take a full day to wrap your head around this desert city on an immersive guided tour taking in the four pointed minarets atop the Ertugrul Gazi Mosque and the the extravagant Independence Monument. This sculpted park is filled with statues of Turkmen heroes (and controversial politicians) that line paths that lead to a golden dome and a (surprise!) massive minaret. From this lavish ode to Turkmen identity, continue to the Neutrality Arch, which despite its name has a provocative history. Then travel outside of the city to the Turkmenbashy Ruhi Mosque, the mausoleum of former Turkmen leader Saparmurat Niyazov, before heading further out of town to the ruins of Anau. The crumbling remains of the medieval mosque still attract the devout, who come to pray and make offerings. After a day full of sightseeing, maybe spend the evening relaxing at your hotel.
Meals: Breakfast

Day 23

Mary

Rise and shine for the 5-hour drive to Mary (pronounced 'Mah-rih'). The somewhat ostentatious displays of wealth in the city can be traced to the long-running gas and cotton industries. Stop en route for lunch and to roam through the ruins of Abiverd. This fascinating archaeological site was an important trading town from 652 AD until the 12th century, and you can still see ancient shards of pottery scattered on the ground. Arrive in Mary in the afternoon and settle into your hotel.
Meals: Breakfast, Dinner

Day 24

Merv – Mary

Take a 40-minute drive to Merv, also known as Margiana or Margush, and enjoy some time to explore Turkmenistan's most recognised site. This sprawling World Heritage site is home to numerous walled structures from various periods spread across a 1200-hectare area. See impressive columns smoothed by wind and time at the Greater Kizkala and walk hills that were once the fortress walls of Erk Kala. While not the most impressive visually, Gyaur Kala dates to 400 BC and has a fascinating history. Spend some time exploring these relics of grand empires and then return to Mary for a free afternoon. Maybe visit the Mary Regional Museum. Housed in a palace of white marble, the museum features archaeological displays and exhibitions on traditional Turkmen life and culture.
Meals: Breakfast

Day 25

Ashgabat

Glittering Ashgabat awaits your return today, so make the 5-hour return drive to the City of White Marble. Enjoy a free afternoon to spend as you wish before an optional dinner with your travel group.
Meals: Breakfast

Day 26

Ashgabat

There are no activities planned for the final day and you are able to depart the hotel at any time.
Meals: Breakfast
Osh - Suleiman's Mountain
Osh - Bazaar
Tajikistan - Karakul Lake
Langar - Petroglyphs
Vrang - Buddist Stupa
Ptup - Yamchun Fort
Khorog - Regional Museum
Khorog - Pamir Botanical Gardens
Khorog – Bazaar
Dushanbe - City Tour
Dushanbe – Hissor Fort
Dushanbe – National Museum of Antiquities of Tajikistan
Samarkand - Shakh-I-Zinda
Samarkand - Registan
Samarkand - Gur-e-Amir Mausoleum
Samarkand - Bibi-Khanym Mosque
Samarkand - Paper making workshop & home cooked lunch
Khiva - Pahlavon Mahmud Mausoleum
Khiva - Kuhna Ark
Khiva - Islom Hoja Minaret & Medressa
Khiva - Juma Mosque
Khiva - Tosh-Hovli Palace
Darvaza - "Door to Hell" Crater
Konye-Urgench - City tour
Yerbent - Village visit
Ashgabat - National Museum of Turkmenistan
Ashgabat - Nisa ruins
Ashgabat - Anau ruins
Ashgabat - Independence Monument
Ashgabat - Neutrality Arch
Ashgabat - Turkmenbashy Ruhi Mosque & Family Mausoleum of the First President of Turkmenistan
Ashgabat - Ertugrul Gazi Mosque
Merv - Big & Small Kizkala
Merv - Erk Kala & Gayur Kala
Merv - Sultan Sanjar Mausoleum
Meals
25 Breakfast(s) Included
7 Lunch(es) Included
8 Dinner(s) Included

Style: Original

Hotel/Guesthouse with private rooms (19 nights), Homestay/Guesthouse Multishare (5 nights), Camping (1 night)
Question: How many suitcases can I take with me on my trip?
Each person is allowed one "check-in," and one "carry-on." Remember to take all valuables with you as "carry-on", because electronic equipment, cameras, laptops, jewelry, business documents and money are not covered by the airlines' liability, so always carry them aboard with you.
Question: Is Airfare Included in the Price?
Airfare from your point of origin to and from the trip is not included in the land price.
Similar Tours Other Travelers Liked
The trip was both both educational and exciting. I very much enjoyed the sights and culture.
The itinerary was just as I expected! The guide was very good as were the accomodations
Intrepid did such a great job. I never had to worry about where I was supposed to be and it felt so good not to worry about a thing but just to enjoy myself. Our guide was extremely knowledgeable about culture and history.
Taiwan people very friendly. Accommodation were centrally located and easily accessible. Did extra activities then in brochure which was greatly.
Larus our tour guide did an excellent job and was very attentive to our needs. He is very knowledgeable and has a great sense of humor.
Our guide Tarang chandola was exceptional. Courteous, knowledgeable, organized, polite, professional and went above and beyond taking care of our needs and requests offen anticipating what that might be. He made sure we all had the best possible time and offered suggestions to meet the needs of everyone on the tour. This made the trip even more enjoyable.
AffordableTours.com® does not itself offer, service or administer the Travel Packages, and the ultimate terms and conditions of any Travel Package made available via the Site Offerings (including the prices quoted in connection with same) will be determined by the applicable Third-Party Travel Service Provider. AffordableTours.com® does not represent or warrant that the Price Quotes are accurate, up-to-date or free of error, or that same will be honored by the applicable Third-Party Travel Service Providers. All Price Quotes, Travel Package availability, Travel Package details/itinerary and other Content are subject to change without notice. All travel details published by and through the Site Offerings should be confirmed directly with the applicable Third-Party Travel Service Provider prior to making any travel plans. Reliance on any information made available to you by and through the Site Offerings is solely at your own risk.
How It Works
Vacationing has never been easier or cheaper with the help of a dedicated travel consultant from AffordableTours.com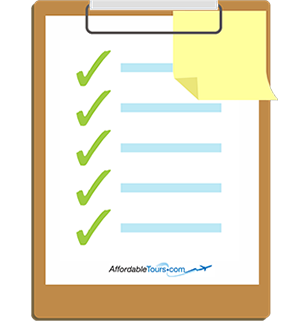 Find your perfect trip on our website and simply request a free quote. Need to speak to a live person? Call us 7 days a week at 1-800-935-2620. No robots here!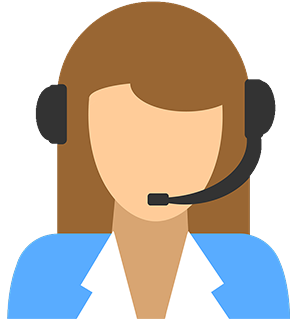 Your personal travel consultant will reach out and be your point of contact for your entire travel experience from start to finish. Did we mention you'll be working with an award winning team? Sweet!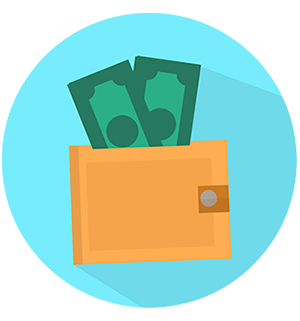 Because we're one of the largest sellers of travel, we're able to give you a discount on your vacation package. No one beats our prices!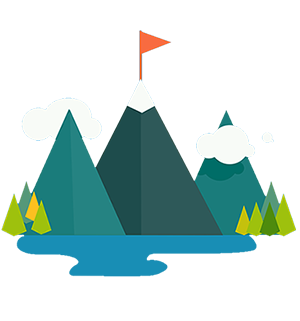 Knowing you got the best deal, all that's left is for you to pack your bags and enjoy your vacation!