Call or submit a quote for award-winning value and service!
Tour Itinerary
Say hola to an essential highlights tour of Central Mexico - more than just tacos and tequila - taking you into the heart and soul of this spicy land. Explore ruins at Teotihuacan and Tzintzuntzan, discover life in San Miguel de Allende as you travel the countryside, taste traditional sweets in Morelia and visit cathedrals and historical sizes of various colours, shapes and histories. Whether you're hanging out in a quirky bar in Puebla, exploring the ancient ruins of Mitla or discovering the vibrant art scene of Oaxaca, you're guaranteed to get a taste of Mexico's magic at every turn.
Day 1

Mexico City

Bienvenidos! Welcome to Mexico. Your adventure begins with a welcome meeting at 6 pm where you'll meet your group leader and travel group. Modern meets ancient in Mexico City – one of the world's largest urban centres. Although crowded, Mexico's capital offers a great variety of impressive museums, galleries and architecture, along with exciting nightlife and delicious street food. Head to the Zocalo, the city's central square, to see Aztec ruins and colonial architecture, relax in one of the many parks, plazas and gardens or, better yet, take an Urban Adventure tour with an expert local guide. Find out more at urbanadventures.com/destination/Mexico-City-tours.

Day 2

Mexico City

Enjoy a leader-led city tour taking in some of the most historic sights of the city, including a visit to the Zocalo in the centre of the city, as well as Templo Mayor, the Government Palace and the Metropolitan Cathedral. Afterwards, the rest of your day is free. If art is your thing, head to the Frida Kahlo museum in the Colonia del Carmen neighbourhood. If you prefer to get out of the city and escape the crowds, take a trip to the canals and gardens of Xochimilco. Speak to your group leader for more recommendations in and around this bustling metropolis. In the evening, explore Mexico's exciting night life, learn some dance moves from the locals and party the night away to the sounds of a mariachi band.
Meals: Breakfast

Day 3

Teotihuacan Ruins / Queretaro

Travel from Mexico City by private vehicle for a guided tour of the ancient city of Teotihuacan, and on the way, learn some Spanish lingo with an informal language class with your group leader. Located 50 kilometres north-east of Mexico City are the archaeological ruins of Teotihuacan. This was once the country's biggest ancient city and capital of the Aztec people, who ruled over the largest empire in the pre-Hispanic era. With the help of a local guide we have time to stroll down 'The Avenue of the Dead', uncover its many wonders and imagine what life must have been like nearly 2000 years ago. Continue on to Queretaro (approximately 3.5 hours), where the bustling city streets give way to a pretty scene of plazas and museums. On arrival, your leader will take you on an orientation walk around the city. Queretaro's downtown area was named a World Heritage site in 1996 and the town has been at the centre of several important events in Mexican history. This was where the Treaty of Guadalupe Hidalgo was ratified in 1848, ending the Mexican-American War and ceding a large amount of territory to the USA. Queretaro was also where Austria's Archduke Maximilian was executed in 1867, and the city where the Mexican Constitution was signed in 1917.
Meals: Breakfast

Day 4

Queretaro

Spend a free day exploring the pedestrian streets, plazas, churches and museums of Queretaro, or alternatively, head out on a day tour along the wine and cheese route. Several wineries and cheese farms allow visitors and let you see the different stages of production, as well as sample different varieties of their produce. Another option is to take a trip to Pena de Bernal: an imposing rock formation, considered to be the world's third largest monolith after Gibraltar and Brazil's Sugar Loaf. The village at the foot of the rock is a charming town with cobblestone streets and colourful houses as well as artisan stalls selling wool blankets and ponchos, quinces, guavas and peanut candy.
Meals: Breakfast

Day 5

San Miguel de Allende

Today, journey to the historic San Miguel de Allende (approximately 1.5 hours). On arrival, your leader will take you on an orientation tour of this colonial town and will also take you inside the San Felipe Neri and La Parroquia churches, as well as the Independence Museum, to learn about the town's role in the Mexican War of Independence. Spend some free time strolling the streets, visiting one the numerous galleries, and admiring the architecture, understanding why the city received World Heritage status in 2008.
Meals: Breakfast

Day 6

Guanajuato

Take a 2-hour drive to the colourful streets of Guanajuato. Today you leader will take you on a walking tour of the city to get you acquainted with its mansions and tree-filled plazas. The historic heart of the city has a very European feel with sidewalk cafes, museums, theatres, markets and monuments of mostly neoclassical and baroque architecture. This afternoon, why not visit the Alhondiga de Granaditas (Regional Museum of Guanajuato): a museum which was originally a grain storehouse, then a fortress, and the site of the first major rebel victory in Mexico's War of Independence. Today it showcases the history and art of the region. Especially impressive are Jose Chavez Morado's murals on the staircases.
Meals: Breakfast

Day 7

Guanajuato

Spend a free day strolling around the historic downtown and the colourful houses of Guanajuato. Alternatively, you could discover the city's silver mining history at La Valenciana mine. Silver was first discovered in Guanajuato in the 1600s and La Valencia subsequently became one of the richest and most productive silver mines in the world. You can see an example of the wealth generated from the mine at the nearby church. You may also like to visit the Museo de las Momias (Mummy Museum). Many mummified bodies have been found in the ravines around Guanajuato, due to the soil and weather conditions that prevail in the area. The mummies date from the mid-1800s up until the 1950s and the museum has over 100 in its collection. Guanajuato was also the birthplace of Diego Rivera, and his childhood home has now been converted into a museum, with the ground floor a reconstruction of how the home may have looked during Rivera's time, and the upper floors containing exhibitions of his art and sketches.
Meals: Breakfast

Day 8

Patzcuaro

Drive 4 hours south to Patzcuaro. Discover this city's pretty streets and impressive churches on an orientation walk with your group leader. Later in the afternoon, take a boat trip out to Janitzio Island. The boat takes about 20 minutes out to this popular island, famous for its fishermen using butterfly nets, and the dominating statue of Jose Maria Morelos: a hero of Mexico's independence.
Meals: Breakfast

Day 9

Tzintzuntzan Ruins / Morelia

Visit the World Heritage-listed stone ruins of Tzintzuntzan en route to Morelia (approximately 1.5 hours). These ruins were part of the Tarascan empire up until the conquest by the Spanish in the 1520s. The site that remains today was part of the ceremonial centre and contains a large plaza and five circular pyramids which are iconic to the region. On arrival in Morelia, your next stop, the group leader will take you on a walk through the city to get your bearings. You will also have time to visit the pink-stone cathedral, which houses one of the largest organs in Latin America.
Meals: Breakfast

Day 10

Morelia

Morelia is a great place to just walk around and take in the atmosphere, as well as being a photographer's dream. The historic town has been used in many movies and advertisements, and is a popular place for wedding and family photographs. One of the most impressive sights is the aqueduct that crosses the city, supported by 253 baroque-style arches. The music conservatory, housed in a former convent, is also well worth a look, as are taquerias dotted throughout the city. To satisfy a sweet tooth, Morelia also boasts the Mercado de Dulces, or Candy Market, with hundreds of sugary treats, as well as crafts and sweet liquors on offer.
Meals: Breakfast

Day 11

Mexico City

Return to Mexico City by public bus (approximately 5 hours) and spend some more time scratching the surface of this vibrant hub. You like seek a view of the city's vastness or head to the National Palace for a look at the intricate murals painted by Diego Rivera. Say salud to your group with an optional dinner at a local taqueria tonight – your leader will know a great spot to eat.
Meals: Breakfast

Day 12

Mexico City

Bienvenidos! Welcome to Mexico. Your adventure begins with an important welcome meeting at 6 pm, if you arrive earlier then why not use your free time to check out this incredible city! Modern meets ancient in Mexico City - one of the world's largest urban centres. Although crowded and smoggy, D.F. (Distrito Federal) offers a great variety of impressive museums, galleries and architecture, along with exciting night life and delicious street food. Head to the Zocalo, the city's huge central square, to see Aztec ruins and colonial architecture, relax in one of the many parks, plazas and gardens or take an Urban Adventure with an expert local guide, find out more at urbanadventures.com.

Day 13

Mexico City

Today your leader will show you around the historic city centre. Visit Zocalo Square, a prominent central meeting place since Aztec times, and soak up the sound of rapid-fire Spanish and booming drums that fill the vast space. The dome-topped Palacio de Bellas Artes is the next must-see attraction. Within the stark white marble palace, you will find walls painted by the likes of Diego Rivera. You can spend the afternoon doing whatever takes your fancy in the heart of Mexico. Why not sit down for lunch at a fonda (a home that a family has opened to the local community as a restaurant). You can usually grab a typically delicious three course meal for less than 5 AUD. Alternatively, you might like to join an Urban Adventure to the archaeological ruins of Teotihuacan where a local guide will take you down the 'Avenue of the Dead', pointing out the famous Pyramid of the Sun and Pyramid of the Moon. Find out more at urbandventures.com
Meals: Breakfast

Day 14

Cacalomacan / Puebla

Say Adios to Mexico City this morning and travel by private vehicle to Cacalomacan (approximately 2 hours) and get crafty with a Mexican Metal Embossing Workshop. Learn about the art of embossing and hear the stories behind the talented artisans as you create your own piece of intricate work. After mastering the art of embossing, indulge in a delicious lunch, wash it down with 'la copita', a unique cocktail made of capulin, guava and tejote, and perhaps try out some of your new Spanish – delicioso! Continue on your 4-hour journey to Puebla. Learn the local lingo en route as your learned leader teaches you the all-important phrases – like how to order a cerveza! Arrive in Puebla at around 6 pm and get to know the city on a short orientation walk with your leader. The rest of the evening is at leisure, Puebla has plenty of markets where you can brush up on your bargaining skills or pick up some local handicrafts. For dinner this evening, why not try some mole poblano, a native Puebla dish that's famous all over Mexico.
Meals: Breakfast, Dinner

Day 15

Puebla

Today is free for you to explore at your own pace. Perhaps check out one of the many well-maintained churches and buildings from the colonial period or brush up on your bargaining skills at one of Puebla's any markets. If you're looking for something active, go for a hike near one of the area's looming volcanoes, or visit the Great Pyramid of Cholula – containing five miles of tunnels and ancient history with the enormous Popocatepetl Volcano serving as a backdrop. Puebla is also Mexico's culinary capital, so why not head out and indulge in some street food such as chiles en nogada (stuffed chillies covered in creamy walnut sauce). For something a bit more dramatic, check out a Lucha Libre show, the famous Mexican sport where masked musclemen combine wrestling and theatre in a memorable performance. This evening, head out for an optional group dinner before joining your leader for a drink at La Pasita. Pasita is a sweet liqueur made of raisins, served in a caballito (tequila glass), and decorated with a cube of fresh goat cheese and a raisin stuck on a toothpick. This bar is particularly famous because of its particular way of serving the pasita – quench your thirst with this delicious beverage, listen to the story behind the fame, and admire the unique decor which makes the bar a stand-out.

Day 16

Oaxaca

Get cosy with the locals as you travel by local bus to Oaxaca (approximately 4 hours), where a culinary paradise will await you – this is a great time to crack a book or take a nap. Stretch your legs with an orientation walk once you arrive, and the rest is up to you. A beautiful old colonial town, Oaxaca is full of graceful arcades and colourful markets. Descendants of the Zapotec and Mixtec indigenous people selling colourful woven blankets and shawls populate the markets – a great place to shop for textiles and margarita flowers. The city is also known for its arts scene, including folk art, fine art and dance as well as its many unique regional dishes – and you should feel free to let your nose lead the way – tamales de rajas (chilli and tomato tamales) are a good place to start, a delicious hand-held meal that's been a staple in the area for thousands of years.

Day 17

Mitla / Oaxaca

Check out more of what Oaxaca has to offer on a full day tour of the city and the surrounds. Meet your local guide this morning, who will take you to the Mitla ruins, which were once the religious centre for the Zapotec, an indigenous people of Mexico. Later, sip on the famous, tequila-like local booze, mezcal, at a mezcal factory and visit the Tule Tree, a 1500-year-old tree that's over 11 metres in girth. Head back to your hotel and if you still have the energy, the evening is free for you to soak up the atmosphere and enjoy Oaxaca's nightlife.

Day 18

Oaxaca

Today is a free day to explore Oaxaca at your own pace. Why not try your hand at whipping up the local cuisine with a cooking class, or venture to Hierve el Agua which is a group of stunning natural rock formations where the minerals resemble cascading waterfalls, or perhaps visit to the archaeological site of Monte Alban and check out the amazing view across the three legs of the valley of Oaxaca. Alternatively, enjoy the relaxed atmosphere of the streets and take the opportunity to feast on some regional delicacies, including the delicious banana-leaf-wrapped 'tamales' to the spicy baked chilli and lime grasshoppers, there's no shortage of unique and delicious fare, usually sold by the lovely old ladies of the markets. Season depending, a folkloric ballet performance is an also a great optional activity.

Day 19

Oaxaca

Adios to those who are ending their journey here.
Mexico City - Leader-led City Tour of Historic Center
Teotihuacan - Archaeological site (Entrance fee, Guide & Transport)
Leader-led Informal Spanish Lesson
Queretaro - Leader-led orientation walk
Queretaro - Santa Rosa de Viterbo & San Felipe Church
San Miguel de Allende - Leader-led orientation walk
San Miguel de Allende - San Felipe Neri Church & La Parroquia Church
San Miguel de Allende - Independence Museum
Guanajuato - Leader-led orientation walk
Patzcuaro - Leader-led orientation walk
Patzcuaro - Boat ride to Janitzio Island
Tzintzuntzan - Archaeological site (Entrance fee & Transport)
Morelia - Leader-led orientation walk
Mexico City - Leader-led City Tour of Historic Center
Leader-led Informal Spanish Lesson
Cacalomacan - Mexican Metal Embossing Workshop
Puebla - Leader-led orientation walk
Puebla - Visit to La Pasita Bar
Oaxaca - Leader-led Orientation Walk
Mitla - Archaeological site (Entrance fee, Guide & Transport)
Oaxaca - Guided full-day tour including the Tule Tree and a Mezcal distillery
Meals
12 Breakfast(s) Included
1 Lunch(es) Included

Style: Original

Question: How many suitcases can I take with me on my trip?
Each person is allowed one "check-in," and one "carry-on." Remember to take all valuables with you as "carry-on", because electronic equipment, cameras, laptops, jewelry, business documents and money are not covered by the airlines' liability, so always carry them aboard with you.
Question: Is Airfare Included in the Price?
Airfare from your point of origin to and from the trip is not included in the land price.
Similar Tours Other Travelers Liked
The trip was both both educational and exciting. I very much enjoyed the sights and culture.
The itinerary was just as I expected! The guide was very good as were the accomodations
Intrepid did such a great job. I never had to worry about where I was supposed to be and it felt so good not to worry about a thing but just to enjoy myself. Our guide was extremely knowledgeable about culture and history.
Taiwan people very friendly. Accommodation were centrally located and easily accessible. Did extra activities then in brochure which was greatly.
Larus our tour guide did an excellent job and was very attentive to our needs. He is very knowledgeable and has a great sense of humor.
Our guide Tarang chandola was exceptional. Courteous, knowledgeable, organized, polite, professional and went above and beyond taking care of our needs and requests offen anticipating what that might be. He made sure we all had the best possible time and offered suggestions to meet the needs of everyone on the tour. This made the trip even more enjoyable.
AffordableTours.com® does not itself offer, service or administer the Travel Packages, and the ultimate terms and conditions of any Travel Package made available via the Site Offerings (including the prices quoted in connection with same) will be determined by the applicable Third-Party Travel Service Provider. AffordableTours.com® does not represent or warrant that the Price Quotes are accurate, up-to-date or free of error, or that same will be honored by the applicable Third-Party Travel Service Providers. All Price Quotes, Travel Package availability, Travel Package details/itinerary and other Content are subject to change without notice. All travel details published by and through the Site Offerings should be confirmed directly with the applicable Third-Party Travel Service Provider prior to making any travel plans. Reliance on any information made available to you by and through the Site Offerings is solely at your own risk.
How It Works
Vacationing has never been easier or cheaper with the help of a dedicated travel consultant from AffordableTours.com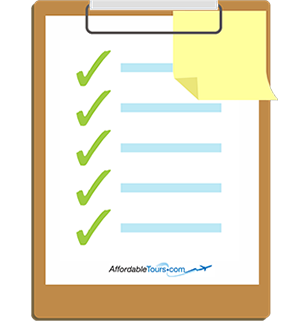 Find your perfect trip on our website and simply request a free quote. Need to speak to a live person? Call us 7 days a week at 1-800-935-2620. No robots here!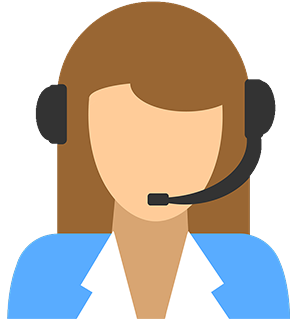 Your personal travel consultant will reach out and be your point of contact for your entire travel experience from start to finish. Did we mention you'll be working with an award winning team? Sweet!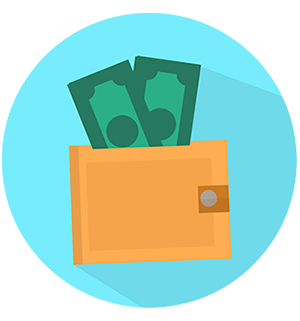 Because we're one of the largest sellers of travel, we're able to give you a discount on your vacation package. No one beats our prices!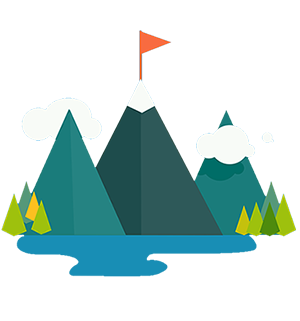 Knowing you got the best deal, all that's left is for you to pack your bags and enjoy your vacation!