Why Pay Retail? Call us or click for a quick quote and save money!
Overview
Dates & Prices
Start Date
End Date
Offers
Brochure
Land Price
Our Price
Quote
Apr 07, 2021
Apr 29, 2021
Deals

$3,769

Get Lower Price
Get Quote
May 05, 2021
May 27, 2021
Deals

$3,769

Get Lower Price
Get Quote
May 19, 2021
Jun 10, 2021
Deals

$3,769

Get Lower Price
Get Quote
Jun 02, 2021
Jun 24, 2021
Deals

$3,799

Get Lower Price
Get Quote
Jun 16, 2021
Jul 08, 2021
Deals

$3,799

Get Lower Price
Get Quote
Jul 07, 2021
Jul 29, 2021
Deals

$3,739

Get Lower Price
Get Quote
Jul 21, 2021
Aug 12, 2021
Deals

$3,679

Get Lower Price
Get Quote
Aug 04, 2021
Aug 26, 2021
Deals

$3,679

Get Lower Price
Get Quote
Aug 18, 2021
Sep 09, 2021
Deals

$3,739

Get Lower Price
Get Quote
Sep 01, 2021
Sep 23, 2021
Deals

$3,739

Get Lower Price
Get Quote
Sep 15, 2021
Oct 07, 2021
Deals

$3,799

Get Lower Price
Get Quote
Sep 29, 2021
Oct 21, 2021
Deals

$3,699

Get Lower Price
Get Quote
Oct 13, 2021
Nov 04, 2021
Deals

$3,389

Get Lower Price
Get Quote
LOW UNPUBLISHED PRICES ON COSMOS TOURS
Why pay full price? Call us or click above for a quick quote and save money on Cosmos Tours.
Save $100 on 2021 Worldwide Vacations
Save $100 on 2021 Worldwide Vacations
Promotion Details
Book a 2021 vacation to receive the $100 per couple ($50 per person) discount on the land price, plus receive our everyday AffordableTours.com savings.
Combinable with all other applicable promotions.
Must Book By Fri, Jul 31, 2020
View Promotion Terms & Conditions ›
*Book a select 2021 Cosmos vacation to receive the $50 per person discount on the land price. Booking must be made, under deposit and discount applied between March 19 - July 31, 2020 for travel in 2021. Discount will apply to individual members of groups adding a name and non-refundable per person deposit WITHIN the promo window. Not applicable on TBA space. Not applicable to custom tours. Combinable with all other applicable promotions. Applies to new bookings only and offer will not be applied to pre-existing bookings. Offer reliant on space availability. Full cancellation penalties will apply. Additional restrictions may apply; see Travel Terms & Conditions for details. May be withdrawn at any time. PRMX0579

Young Travelers Save 10%
Young Travelers Save 10%
Promotion Details
Young travelers ages 8-17 receive a 10% discount on the land only portion of their vacation, plus as always receive our AffordableTours.com extra savings.
Must Book By Thu, Dec 31, 2020
View Promotion Terms & Conditions ›
To receive the Young Traveler discount, the age of the traveler must qualify at start date of the vacation. Does not apply to custom groups. Discount is applicable to any accommodation. Additional restrictions may apply.

Up to $500 Welcome Back Credit for Repeat Travelers
Up to $500 Welcome Back Credit for Repeat Travelers
Promotion Details
Each time you travel on a Globus family of brands vacation (Cosmos, Globus, Avalon or Monograms) from 2019 onward you can earn up to $250 per person ($500 per couple) Welcome Back Credit to use towards your next vacation, plus as always our AffordableTours.com additional savings. There will be some select exceptions to the credit, including Escapes by Globus, Oberammergau, Monograms City Get-a-ways, Private Touring and any heavily discounted programs like Avalon Suite Rewards. Please see the list below for your potential credit amount listed per person.
Spend $2499 or less and receive $100 credit
Spend $2500 - $3499 and receive $150 credit
Spend $3500 - $4499 and receive $200 credit
Spend $4500 & Over and receive $250 credit
Combinable with all applicable consumer promotions except those with any Globus family of brands special discount programs of the vacation price.
Must Book By Thu, Dec 31, 2020
View Promotion Terms & Conditions ›
The Welcome Back Credit will be awarded upon completion in 2019 onward of Globus family of brands vacations. Credit amount can only be applied to the land/cruise or cruise only portion of a new Globus family of brands vacation (excluding Escapes by Globus, 2020 Oberammergau, select Cosmos tours, Monograms City Getaways, and Custom/Charter vacations). Credit amount is per person and must be redeemed for a future vacation with a deposit within 2 years from date of credit issue. Bookings can be made by contacting your preferred travel agent. Passenger name or past invoice number is required to redeem the credit. Combinable with all applicable consumer promotions except those with any Globus family of brands special discount programs of the vacation price. Credit is not redeemable for cash, non-refundable deposit, airfare, transfers, travel insurance, prepaid gratuities, pre/post nights, or optional excursions and is non-transferrable. All federal, state and local laws and regulations apply. Valid for all participating Globus family of brands offices. Additional restrictions may apply.
Cities Visited
Amboise, Amsterdam, Assisi, Avignon, Barcelona, Bilbao, Bordeaux, Burgos, Carcassonne, Cinque Terre, Eze, Florence, French Riviera, Heidelberg, Italian Riviera, London, Lucerne, Madrid, Montecatini, Paris, Pisa, Poitiers, Rome, Venice, Verona, Wiesbaden
Tour Itinerary
This extensive European tour stretches through Central Europe from London to Rome, then along the Mediterranean coast to Spain and France. You'll travel to some of Europe's most famous cities—London, Amsterdam, Lucerne, Venice, Rome, Florence, Barcelona, Madrid, and Paris, and see some of its most famous landmarks. You'll also stay in some smaller, but equally charming cities, including Nice, Carcassonne, and Poitiers in France; Wiesbaden in Germany; and Bilbao in Spain.This European tour is filled with historic sights. Italy is a country rich in natural and artistic treasures. In fact, Italy has the highest number of UNESCO World Heritage Sites in the world, some of which you'll visit on this European tour: Assisi's Basilica of St Francis and the historic city centers of Rome, Florence, Verona; Pisa's Piazza dei Miracoli, Venice with its lagoon and the stunning Cinque Terre. In France, see the ancient battlements in the beautifully preserved, medieval town of Carcassonne and admire the royal castle in Amboise. In Spain, see the Burgos beautiful gothic cathedral, begun in the 13th Century; in Barcelona, on your city tour, see Gaudi's eccentric architectural masterpieces. This tour through Europe also features stunning scenery. On your travels from Germany into Switzerland, admire awe-inspiring alpine scenery. Spend time on the gorgeous French Riviera and enjoy a scenic journey along France's Loire, with its rivers, and many castles. Drive through the scenic Rhineland and witness its picturesque countryside, historic castles, and charming villages. Marvel at the rolling hills, terraced vineyards, olive groves, and rural villages as you travel through Tuscany and Umbria. Discover the Cinque Terre region, with views that inspired artists and poets. Plus, enjoy some of France's loveliest scenery—right out of a Van Gogh painting—in the Provence region.This is the perfect vacation for value-minded travelers who want to see it all!
Day 1: ARRIVE IN LONDON, ENGLAND.
Check into your hotel. In the afternoon, you may want to start exploring the lively British capital. Uniformed hosts and the CosmosGO app are available to help you make the most of your stay.
Day 2: LONDON.
Enjoy a full day with your choice of optional activities: take a panoramic tour of London's landmarks, visit the Tower of London, or choose an excursion to Windsor Castle. Tonight, we recommend our optional Taste of London excursion with dinner, followed by a guided illumination cruise on the Thames River. (B)
Day 3: LONDON–AMSTERDAM AREA, HOLLAND.
Transfer to the railway station and board the EUROSTAR TRAIN to Brussels with your Tour Director. From here, travel on your luxury motorcoach to the Amsterdam area.
Today's Distance: 323 mi/ 520 km (B)
Day 4: AMSTERDAM AREA–WIESBADEN, GERMANY.
Today, enjoy a CANAL CRUISE to see Amsterdam from water level, then watch the cutting and polishing of precious stones at a DIAMOND CENTER. Later, sightseeing with a Local Guide points out the city highlights. In the afternoon, travel southward to Wiesbaden.
Today's Distance: 258 mi/ 415 km (B)
Day 5: WIESBADEN–HEIDELBERG–LUCERNE AREA, SWITZERLAND.
Drive through the scenic Rhineland and enjoy splendid scenery as you skirt the Rhine River. Continue into Germany's oldest university town, Heidelberg, nicely located at the confluence of the Neckar and Rhine Rivers, for a short visit. Carry on to Switzerland for two overnights in the Lucerne area.
Today's Distance: 270 mi/ 435 km (B)
Day 6: LUCERNE.
Lucerne is nestled amid snowcapped Alps, surrounded by Lake Lucerne, and graced by the clear mountain waters of the Reuss River. Your visit takes in the impressive city walls, CHAPEL BRIDGE, ornate patrician houses lining cobblestone streets, and the LION MONUMENT—a masterful stone sculpture in honor of the heroic Swiss Guard of Louis XVI. Sign up for an optional cable-car ride to the 10,000-foot summit of Mount Titlis. (B)
Day 7: LUCERNE AREA–VERONA, ITALY–VENICE AREA.
More wonderful alpine scenery as you drive into the mountain ranges that surround massive St. Gotthard Pass into the warmer and sunnier ambiance of Canton Ticino. Cross into Italy and drive across the Po Valley to Verona, medieval setting of Shakespeare's Romeo and Juliet. Stroll around the picturesque market square (Piazza delle Erbe). Tonight, arrive in the Venice area.
Today's Distance: 367 mi/ 590 km (B)
Day 8: VENICE.
Venice is more like a marvelous film set than a real-life city, with its crisscrossing canals, gondolas and water buses, arched bridges, and palaces. Your included orientation starts with a BOAT RIDE to St. Mark's Square and is followed by some time at leisure and a chance to visit a GLASSBLOWING WORKSHOP. Don't miss out on the optional gondola trip. (B,D)
Day 9: VENICE AREA–ASSISI–ROME
. Drive southward through the gentle Umbrian hills to Assisi, where St. Francis was born in 1182. Visit the world-famous BASILICA with its beautiful frescoes by Giotto, then head for Rome.
Today's Distance: 345 mi/ 555 km (B)
Day 10: ROME.
The "Eternal City" is steeped in history, vibrantly alive, exciting, and absolutely unique! Included sightseeing with a Local Guide starts with St. Peter's Square and Basilica. Other highlights are the iconic Colosseum, the largest amphitheater ever built, and Circus Maximus. An optional visit is available to the Vatican Museums and Sistine Chapel, world famous for Michelangelo's The Last Judgment. (B)
Day 11: ROME–FLORENCE–MONTECATINI.
Journey to beautiful Tuscany. Stop in Florence, Renaissance gem and city of the Medicis to admire the city's timeless beauty on the included walking tour with a Local Guide. Continue to Montecatini.
Today's Distance: 202 mi/ 325 km (B)
Day 12: MONTECATINI–PISA–CINQUE TERRE–GENOVA.
Take a break in Pisa and take a mini train to see the SQUARE OF MIRACLES and the amazing Leaning Tower. Then, hop aboard a TRAIN to discover some of the five spectacular Cinque Terre villages. Here, the beauty of the rugged cliffs and romantic fishing villages once inspired poet Lord Byron. From Levanto, head towards Genoa, birthplace of explorer Christopher Columbus.
Today's Distance: 149 mi/ 240 km (B,D)
Day 13: GENOVA–ITALIAN RIVIERA–ÈZE, FRANCE–FRENCH RIVIERA.
Today's included guided tour is an excellent introduction to Genoa. A maze of squares and alleys, the city grew around the port, a natural inlet, and boasts the largest medieval historical center in Europe. Journey northwest, with views of the Italian Riviera. Continue to France for a visit to a PERFUME WORKSHOP in Èze before traveling along the celebrated Côte d'Azur. An optional Monte Carlo by Night excursion with dinner is available.
Today's Distance: 124 mi/ 200 km (B)
Day 14: FRENCH RIVIERA–AVIGNON–CARCASSONNE.
Today's journey on the way to Provence will take you through some of France's loveliest scenery, sun-drenched landscapes right out of Van Gogh's paintings. Stop for a visit in historic Avignon. Continue westwards to Carcassonne.
Today's Distance: 336 mi/ 540 km (B,D)
Day 15: CARCASSONNE–BARCELONA, SPAIN.
Discover the medieval citadel of Carcassonne, an almost-untouched piece of fortified architecture, still standing in all its walled glory. See the drawbridges, towers, battlements, watch turrets and ramparts, used to defend the city from the enemy. Later, cross into Spain and arrive in Barcelona.
Today's Distance: 211 mi/ 340 km (B)
Day 16: BARCELONA.
This morning's sightseeing tour with a Local Guide includes a drive around Montjuïc to see the Olympic Stadium and a panoramic view of the port and city. The drive continues to the city center to Plaza Catalunya and Paseo de Gracia to admire the greatness and eccentricity of Gaudi's architectural masterpieces in the Houses Batlló and Mila and the Sagrada Familia (entrance fees not included). (B)
Day 17: BARCELONA–SARAGOSSA–MADRID.
See more of Catalonia as you drive northwest, stopping in Saragossa through the very heart of New Castile for two overnights in Spain's capital, Madrid.
Today's Distance: 395 mi/ 635 km (B)
Day 18: MADRID.
Not only because it's the capital of Spain, but also because it is situated 2,180 feet above sea level, the Spaniards say Madrid is the nearest thing to Heaven. Enjoy the main highlights on the included sightseeing excursion, and take a fascinating optional trip to Toledo. The splendid setting is like a great open-air museum of Spanish history and art. (B,D)
Day 19: MADRID–BURGOS–BILBAO.
Stop in Burgos to visit the beautiful gothic cathedral. Continue through the Basque Country to Bilbao, famous for four contemporary architects: Norman Foster, Santiago Calatrava, Cesar Pelli, and Frank Gehry.
Today's Distance: 273 mi/ 440 km (B,D)
Day 20: BILBAO–BORDEAUX, FRANCE–POITIERS.
A change of scenery as you travel into France across Gascony for an orientation of Bordeaux, the wine capital of France, and through the Cognac area to Poitiers, of Black Prince fame.
Today's Distance: 379 mi/ 610 km (B,D)
Day 21: POITIERS–CHÂTEAUX COUNTRY–AMBOISE–PARIS.
Leave the "Town of a Hundred Bell Towers" for a scenic journey along the Loire. Stop in Amboise before reaching Paris in time to enjoy an optional excursion.
Today's Distance: 249 mi/ 400 km (B)
Day 22: PARIS.
Enjoy a full day to explore the city that's known throughout the world for its fashions, art and museums, delicious food, and joie de vivre. Included sightseeing with a local expert shows off many of the best-known Parisian sights. Optional excursions are also available to discover more of this beautiful city. (B)
Day 23: PARIS.
Your vacation ends with breakfast this morning. (B)
December 10 Departure – Christmas in Barcelona and New Year's in Paris, including festive dinner
Local Host:
Host service in London
Sightseeing & Activities:
LONDON
Visit
AMSTERDAM
Canal cruise, guided sightseeing
LUCERNE
Visit
VERONA
Visit
VENICE
Canal boat ride, glassblowing workshop
ASSISI
Visit St. Francis Basilica
ROME
Guided sightseeing
FLORENCE
Guided walking tour
PISA
See the Leaning Tower
CINQUE TERRE
Visit
GENOA
Guided sightseeing
ÈZE
Visit a perfume workshop
AVIGNON & CARCASSONNE
Visit
BARCELONA & MADRID
Guided sightseeing
SARAGOSSA, BURGOS, BILBAO & AMBOISE

Visit
BORDEAUX
Orientation
PARIS
Guided sightseeingTouring by private, first-class, air-conditioned motorcoach with free Wi-Fi; Eurostar train London-Brussels; Amsterdam canal cruise; canal boat in Venice; Pisa mini-train ride; Cinque Terre train ride
Meals:
Buffet breakfasts daily; 6 dinners
Prices are per person based on double room occupancy.

Single room supplement:
$840-$1,220

No triple room reduction.

Additional accommodations before or after your tour may be available.

2021 departures are subject to itinerary and price modification. Details will be available in September 2020.
London: Novotel London West
Amsterdam: Hotel Ibis Styles Amsterdam Airport
Amsterdam: Best Western Plus Amedia Amsterdam Airport
Lucerne: Ibis Styles Luzerne City
Venice: Ambasciatori at Mestre
Montecatini: Grand Hotel Ambasciatori
Genova: Starhotels President
Nice: Ibis Promenade des Anglais at Nice
Carcassonne: Des Trois Couronnes
Barcelona: Hotel Ibis Styles Barcelona City Bogatell
Madrid: Elba Madrid Alcala
Poitiers: Ibis Poitiers Centre
Paris: Timohotel Berthier
Question: How many people per tour group?
Cosmos travels with an average of 38 to 44 guests.
Question: How many suitcases can I take with me on my trip?
Each person is allowed one "check-in," and one "carry-on." Remember to take all valuables with you as "carry-on", because electronic equipment, cameras, laptops, jewelry, business documents and money are not covered by the airlines' liability, so always carry them aboard with you.
Question: Is Airfare Included in the Price?
Airfare from your point of origin to and from the trip is not included in the land price.
Similar Tours Other Travelers Liked
Great bus and driver, very good tour director, accommodations in Spain and France were lacking: rooms extremely small and extremely hot.
The included tour is very limitted. Without extra tours you do not get the full experience. For two people that's a extra two thousand dollars that we did not count on. Also amount of tip suggested is too high. Should be a suggested fee of three euros per day per couple. Most people complained. For us it was an extra four hundred euros.
Everything worked out great. Easy to find contact people and made a few new good friends.
Affordable Tours is the best! For a year, he worked with us patiently in helping us create a vacation of a lifetime. His valuable advise from money to bring, travel insurance, hotels accommodations, even what clothing to bring, was very useful. He followed up with us throughout the year and was extremely quick in answering any of our questions and reassuring us that we would have a fantastic trip! Thanks again to the agent. Their help made our vacation goe a lot smoother. I highly recommend them to anyone else that is planning a vacation. Our tour guide in Europe from Cosmos and our bus driver were awesome. They went out of their way to meet all our needs. They were very friendly, helpful and provided much added value with great advise and information about all the locations. They knew the affordable places to eat and visit. The parts of town to avoid and those to definite go to. They also provided a rich history of each location and the people that lived there. They were the best!
The COMMENT button does not work on my iPad, so my comment about the rooms refers primarily to our stops in Italy. All our rooms were quite small but those in Italy were too small. We carry large bags for a 23 day tour! There was little floor space for two people. Also, in this day and age, the operator should always negotiate Internet access for us and include it in the price. The prices the hotels wanted to charge us, where not included, seemed exorbitant. Especially with the exchange rate. Overall, a great trip, though.
AffordableTours.com® does not itself offer, service or administer the Travel Packages, and the ultimate terms and conditions of any Travel Package made available via the Site Offerings (including the prices quoted in connection with same) will be determined by the applicable Third-Party Travel Service Provider. AffordableTours.com® does not represent or warrant that the Price Quotes are accurate, up-to-date or free of error, or that same will be honored by the applicable Third-Party Travel Service Providers. All Price Quotes, Travel Package availability, Travel Package details/itinerary and other Content are subject to change without notice. All travel details published by and through the Site Offerings should be confirmed directly with the applicable Third-Party Travel Service Provider prior to making any travel plans. Reliance on any information made available to you by and through the Site Offerings is solely at your own risk.
How It Works
Vacationing has never been easier or cheaper with the help of a dedicated travel consultant from AffordableTours.com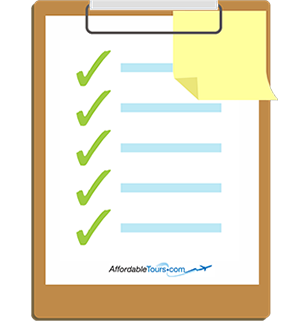 Find your perfect trip on our website and simply request a free quote. Need to speak to a live person? Call us 7 days a week at 1-800-935-2620. No robots here!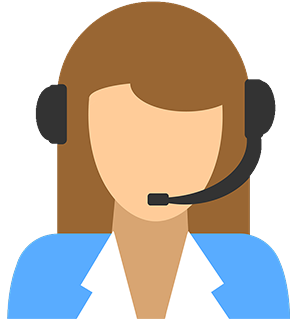 Your personal travel consultant will reach out and be your point of contact for your entire travel experience from start to finish. Did we mention you'll be working with an award winning team? Sweet!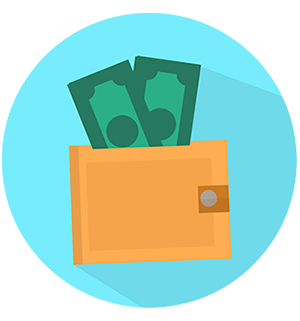 Because we're one of the largest sellers of travel, we're able to give you a discount on your vacation package. No one beats our prices!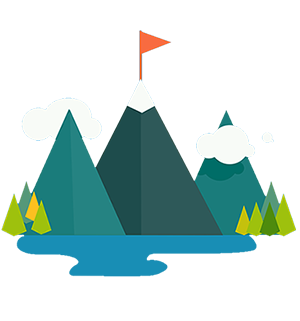 Knowing you got the best deal, all that's left is for you to pack your bags and enjoy your vacation!