Why Pay Retail? Call us or click for a quick quote and save money!
Overview
LOW UNPUBLISHED PRICES ON TRAFALGAR TOURS
Why pay full price? Call us or click above for a quick quote and save money on Trafalgar Tours.
$99 Deposit Special
$99 Deposit Special
Promotion Details
Book your vacation now with our limited-time, risk-free $99 deposit. For added peace of mind, if you need to cancel your booking within 30 days of deposit, you'll receive a full refund. Combine this with savings of up to 10% on select trips, plus no change fees up until 30 days before departure for maximum flexibility and the highest confidence booking your trip for travel this year or next. Plus as always receive our AffordableTours.com 10% extra savings!
$99 Deposit is combinable with Early Payment Discount, Early Booking Discount, Last Minute Deals, year-round savings and exclusive partner offers. Offer is not applicable to group deposit but can be applied for travelers booking within the group block.
Must Book By Tue, Sep 15, 2020
View Promotion Terms & Conditions ›
$99 per person deposit valid for new bookings only made between June 15, 2020 – September 15, 2020. Deposit due at time of booking. Applicable for travel September 1, 2020 – October 31, 2021. $99 Deposit is combinable with Early Payment Discount, Early Booking Discount, Last Minute Deals, year-round savings and exclusive partner offers. Offer is not applicable to group deposit but can be applied for travelers booking within the group block. $99 per person deposit qualifies for 30-day refund guarantee – cancel for any reason within 30 days of deposit and receive a full refund. Offers: based on availability, do not apply to all trips/departures, and may be withdrawn at any time and without notice.
10% Off for Young Travelers
10% Off for Young Travelers
Promotion Details
If you're travelling with a child between the age of five and 17, we'll give you a discount of up to 10% on the land-only portion of their vacation. Plus always receive our AffordableTours.com 10% extra savings.
Must Book By Fri, Dec 31, 2021
View Promotion Terms & Conditions ›
Young travelers must be under the age of 18 years on the date of departure, and must be accompanied by an adult (limit of one Young Traveler Discount per room). Please see below for a detailed breakdown of age groups for individual brochures. Asia 5 - 11, At Leisure 5 - 18 (5 -15 for Australia and New Zealand), Australia and New Zealand 5 - 15, CostSaver 5 - 17, Europe and Britain 5 -17, Family Experiences 5 - 17, Hidden Journeys 5 - 18 (5 - 11 for Asia), South America 5 - 17, trips to Costa Rica and Panama 5 - 12, trips to Mexico 5 - 12, USA and Canada 5 - 17.
Triple Room Share Reduction
Triple Room Share Reduction
Promotion Details
Travel with three people sharing one room and each of you will receive a reduction on the land-only portion of your trip's price. As always receive our AffordableTours.com 10% extra savings
Must Book By Fri, Dec 31, 2021
View Promotion Terms & Conditions ›
Triple room reductions are based on sharing a twin or a double bedroom with an extra bed, which may be a roll-away. Discount may not apply to all itineraries, countries, regions or travel types, ask your travel consultant for full details. Additional restrictions may apply.

Room Match Solo Traveler Savings
Room Match Solo Traveler Savings
Promotion Details
Are you travelling alone but don't want to pay a supplement? On many trips, you'll have the option to room share with another same-gender solo traveler, on a twin-bed basis. Plus receive our AffordableTours.com 10% extra savings.
Combine with past guest savings.
Must Book By Fri, Dec 31, 2021
View Promotion Terms & Conditions ›
Please note that there is no guarantee roommates will be of a similar age group. If you are unable to be matched, you will be provided a single room at no extra cost. This service does not apply to City Breaks, extra nights' accommodation and all Eastern Mediterranean vacations - with the exception of Highlights of Turkey (without cruise) and the Best of Turkey. Room match may not be available on all dates and/or vacations, ask your travel consultant for applicable itineraries. Additional restrictions may apply.

5% Savings on Group Vacations
5% Savings on Group Vacations
Promotion Details
Travel together and save money. Family, friends, club members or colleagues, gather 9 to 15 people and earn a 5% discount. Plus as always receive our AffordableTours.com 10% extra savings!
This discount is combinable with many of Trafalgar's other great savings! (Restrictions may apply)
Must Book By Fri, Dec 31, 2021
View Promotion Terms & Conditions ›
Not applicable to Hidden Journeys, Israel, vacations with trains, Greek Island Hopper, Solo Traveler Discount and extra nights' accommodations. Discount is combinable with Triple room and Young Traveler discounts. Discount limited to one group per coach.
VIT (Very Important Traveler) Savings
VIT (Very Important Traveler) Savings
Promotion Details
Are you a VIT (Very Important Traveler)? If you have traveled with Trafalgar, Cost Saver, Insight, African Travel, Contiki or Uniworld you are a VIT and will receive an additional 5% savings on select itineraries and/or departures as well as priority access on newly released vacations, exclusive launch offers and access to secret sales! Plus, receive our 10% AffordableTours.com additional everyday savings. Contact your Travel Consultant for applicable vacations.
Must Book By Thu, Dec 31, 2020
View Promotion Terms & Conditions ›
VIT (Very Important Traveler) program is valid to past TTC guests only. 5% savings is not valid on all itineraries and/or departure dates. Savings may be withdrawn at any time without notice. Offer is capacity controlled and applies to new bookings only. Additional restrictions may apply.
10% off for Active or Retired Military Personnel
10% off for Active or Retired Military Personnel
Promotion Details
Active military personnel or veterans will save an additional 10% on the land portion of your vacation. Also, receive our AffordableTours.com 10% extra savings. (Not all dates or vacations may qualify, contact your Travel Consultant for full details)
Combinable with Early Payment Discounts, past guest offers and standard brochure discounts.
Must Book By Thu, Dec 31, 2020
View Promotion Terms & Conditions ›
Offer applies to new bookings only. Must know the branch and rank of the active or military personnel for discount. Discount is combinable with all other promotions but is not combinable with Group 9+ discount. Restrictions may apply.
Sightseeing Highlights

ORIENTATION of Salisbury Plain, Plymouth, Bath, Cardiff, Limerick, Galway, Chester, Glasgow and York
VISIT the ancient stone circle at Stonehenge, the Roman Baths in Bath, Waterford Crystal Showroom, Blarney Castle to kiss the stone, Giant's Causeway, the Falkirk Wheel, Isle of Skye, Edinburgh Castle, Alnwick and Shakespeare's Birthplace in Stratford-upon-Avon
VIEW the Mayflower Steps in Plymouth, the magnificent Cliffs of Moher, the 18th hole at St. Andrews, Eilean Donan Castle, Culloden Battlefield and York Minster
SCENIC DRIVE on a Cornish Excursion, experience the Ring of Kerry
Dining Highlights

22 breakfasts
10 dinners (including Be My Guest)
First class travel Highlights

Audio Headsets for flexible sightseeing
Daily breakfast and up to half your evening meals
Luxury air-conditioned coach with Wi-Fi in most countries or alternative transportation (such as rail journeys)
The services of a Trafalgar Local Host at your London hotel
Use of Trafalgar's London Reception Centre offering a range of services including tickets for day trips and local attractions
Return ferry across the Irish Sea between Wales and Ireland
Cherry-picked hotels, all tried and trusted
Optional Experiences and free time
All porterage and restaurant gratuities
Must-see sightseeing and surprise extras
An expert Travel Director and professional Driver
All hotel tips, charges and local taxes
London airport transfer service is available to purchase. Conditions apply. See airport transfer page for details
Handcrafted Highlights
VIP entry to many sights
Hygiene and Safety Protocols for Trafalgar Tours
Trafalgar has introduced these enhanced hygiene protocols – for you and team members.
You can travel with Trafalgar and be assured that their team has put numerous new measures in place to elevate their hygiene standards and protocols. The well-being of guests and team has always been, and always will be, their primary concern.
In this new, fast changing Covid-19 era, Trafalgar is doing all they can to adapt to new requirements and expectations. Here are some important new steps and procedures that they have implemented to enhance hygiene protocols, to comply with physical distancing requirements by relevant government authorities and to give you the peace of mind when you are traveling during these new times.
Expertly Trained Travel Directors
Travel Director training equips them with enhanced hygiene and physical distancing procedures. During your trip, they will operate with a duty of care and monitor the hygiene etiquette of the guests, reacting and advising as needed, to ensure high standards are maintained. Before you travel, Trafalgar will also keep you well informed about new protocols required in these areas, and ask that you cooperate with and heed the advice and direction of Travel Directors while on your trip. The Travel Directors have preventative measures in place to try and ensure your well-being and in the event that any unexpected issues arise on trip, they will activate additional protocols.
Stringent On-the-Road Protocols
The customized luxury coaches are sanitised before the start of your trip and have always been kept to very high standards. Following the outbreak of COVID-19, Trafalgar have taken additional measures to elevate hygiene and sanitary practices in accordance with guidance from the World Health Organisation (WHO) and as required, applicable government regulations. The Driver training provides them with the latest hygiene protocols. They will clean and disinfect all surfaces including handrails, door handles, tables, seats, air-conditioning filters and overhead lockers on a daily basis. All the guests are asked to follow hygiene practices recommended by the World Health Organisation including the thorough and regular washing of hands and sanitising when required. Hand sanitiser is freely available on board for your use throughout the day. Please bring your own washable face mask and gloves with you, and additional hand sanitiser to make you feel comfortable, as these will be required to be worn in public in some countries. Should an unexpected situation arise, additional face masks, rubber gloves, antiviral sprays and wipes will be available for guest distribution on all trips.
A Full Team of Support 24/7
It's not just your Travel Director and Driver who will be taking care of you. Behind the scenes, the operations and guest support teams are in contact with them and on call 24/7, so you can rest assured that you're in good hands.
Physical Distancing
Adapting to the right size groups, based on government distancing requirements, you can rest assured that you will travel with the comfort of your own personal space. Have peace of mind that all of the experiences, hotels and restaurants you'll enjoy on your trip have been vetted to ensure they adhere to physical distancing and hygiene guidelines.
Trusted Partners, Exceptional Standards
Trafalgar is very selective in who they work with and choose to only use hotels, restaurants, ground handlers and venues that take the well-being of the guests as seriously as Trafalgar does and agrees to meet expected guidelines and specifications. Trafalgar only works with establishments that they are confident will consistently adhere to their high standards.
Always in the Know
As part of The Travel Corporation (TTC) , Trafalgar is kept up to date with all government advisories and travel alerts on a daily basis and is continually in touch with all of the partners on the ground in each destination. Also, rest assured that during your trip, the teams work to ensure the supplier partners (hotels, restaurants, museums and other venues) are also applying the same standard to these new hygiene and distancing protocols, to the extent possible.
Question: How many suitcases can I take with me on my trip?
Each person is allowed one "check-in," and one "carry-on." Remember to take all valuables with you as "carry-on", because electronic equipment, cameras, laptops, jewelry, business documents and money are not covered by the airlines' liability, so always carry them aboard with you.
Question: Is Airfare Included in the Price?
Airfare from your point of origin to and from the trip is not included in the land price.
Similar Tours Other Travelers Liked
UK has so many things going for it, unfortunately good weather is NOT one of those. It rained on 6 days of our trip. Moreover, weather was very cool and windy. it is imperative that travelers take the appropriate clothing and necessary accessories like umbrellas and waterproof footwear. Food in the UK is very bland, however cuisine from around the world is available in the larger towns and cities. The UK is rich in history and scenic beauty! Residents of the UK were friendly and helpful. A follow up trip to London in the future is something we are considering. Thank you to Trafalgar, it's staff and corporate partners!
The pace of the itinerary was a little hectic. We did cover a lot of territory however.
The Tour Director, Elizabeth was exceptional. She took great care to know and understand each of her travelers. The days were full of activities and supporting information (that was not read out of a TD booklet, she knew this material). Some days were necessarily long in the coach but were broken up by interesting stops for food and toilets. When "free time" was available she made every effort to help you make informed choices. This was my second tour, the first was Insight Luxury Gold Italy and it was no where near the quality of this trip!
The trip was 3300+ miles in 3 weeks. The bus needed to be more comfortable. Seats behind the driver to the side door had very limited leg room. Aisle seats didn't push out for more room. I thought more of the local walk-around trips should have been included in the price and not be extras.
Quick response, and operator really knew her business well.
British Isles Tour ? September 3 ? 26, 2014 My wife and I recently completed a Trafalgar tour. We were asked in the last two hours of the tour to fill out an evaluation of the trip. Since the trip was quite long and involved, it was in no way an adequate amount of time to properly evaluate all aspects of the trip both good and bad. I can't believe in 2014 that there is not an online option with room for comments/suggestions. It was our first opportunity to be in the UK, as well as taking a bus tour. Since we didn't know what to expect, it was learning experience. After reflection is was an amazing trip considering the places we were able to go and see. I did feel in many aspects that we were only able to see, or in many cases drive by places and/or things that we definitely could have enjoyed 'experiencing' rather than just passing by. One of the things we did learn is that trips such as this are fairly regimented and don't allow free lancing as we are accustomed to doing, a negative for us. Additionally we learned that information passed on prior to our trip from our booking company did not mesh with actual Trafalgar information.

I'd like to relate that our tour guide was not only a capable and extremely knowledgeable but she was genuinely interested in us having a great trip. She was however at the mercy of the Trafalgar expectations/processes, etc. I would say that if we'd ever decide to take another such tour, she and our driver would be our choice to lead us on the adventure. I do feel like as a customer, and a first time customer that you would welcome the opportunity to improve your products by honest customer feedback. I don't want you to feel that this is only negative but observation for our view point for you to consider. I understand business processes and customer service as I've just completed a 35 year career. This was our retirement present to each other.

Please see items below.
1. When we got to the airport and made our way to the baggage area, we had no idea where to go from there. We expected to see a Trafalgar representative to assist us or at least point the way. We were finally directed by a competitor's representative as to Trafalgar's process for their arriving guest. We did finally see on transfer vouchers what we should have done. Expecting that information to be adequate was not in our case, or in the experience of quite a few other Trafalgar customers even close to adequate based on our conversations with them.

2. From arriving in the baggage area to getting to the hotel it was a 3 hour ordeal. That's too long especially after traveling in some case all day and thru the night. We waited over an hour once we got to the hotels by bus location for a shuttle to take us to the hotel.

3. We were assured that each bus was equipped with a wi-fi system. I guess we should have asked if it was a working wi-fi system because ours never worked the entire trip. This is some cases may not be a big deal for some but it was advertised and an expectation for us that wasn't fulfilled.

4. Optional Tours - We discussed and even tried to pin down our booking agent on optional tours prior to beginning the trip. We understood after getting on the trip that the optional tours listed and what would be available during the trip was at the mercy of the tour director. We were somewhat disappointed that some of the ones we hoped to do were not available. Our greatest heartburn about optional tours came within the first few days. We never imagined that the tour we paid for would be interrupted in the middle of the day for an optional tour. Optional for us would mean extra time, at the beginning or end of the day. This first optional tour offered was in the middle of the afternoon with those of us opting out having to remain on the bus traveling to where the others were going to be picked up! We had no OPTION! This remained an aggravation for us throughout the tour as our trip, paid for at the price Trafalgar requested was interrupted by Trafalgar?s preference for additional revenue. Big time let down in our book! We would like a refund for the Beara Penisula Drive, Cruise and Dinner in Kenmare and also the Dinner and Cabaret in Dublin. The Beara Penisula Cruise and Dinner was just very disappointing. The captain of the boat was yelling at his help and at the passengers about not moving around the boat, he did not even get close enough for us to tell if we were seeing rocks or seals plus he had a bad odor. The food took forever to get and then our fish and chips were cold and very unpleasant. It was the worst fish and chips that we have ever had and the worst boat ride that we have ever experienced!!! The Dinner and Cabaret in Dublin was truly over booked. We sat in back behind a pole, so we could not see most of the show. Our food was cold and we had no choice of dessert because they ran out. This building was so hot that I had to leave before the show was over. I got sick to my stomach.

5. Hotels - generally the hotel accommodations were adequate. One issue is that we were assured by our booking agency that all hotels would have air conditioning. 80 % of them did not. While we were fortunate that the weather was mild during our trip, many of the rooms had little or no air movement making good rest fitful at best. We took many showers and sleep with no covers. It's something we are accustomed to and something that was promised. If it's not available, don't tell us it is! I can only imagine taking similar tour in warmer weather. Your information also said each hotel would have wi-fi. 80 % of the hotels had a very very slow or no-working wi-fi.

6. Hotel Locations - Again, predominately locations for the hotels were good compared to the town centers/sightseeing options. One GLARING exception to this was the hotel Trafalgar secured related to our time in Edinburgh. It was a minimum of a one hour drive from the city center. Over the two days there we spent literally more than 5 hours just getting back and forth to Edinburgh/Hotel. If a person was inclined to not want to spend a lot of time in the city center, or was merely interested in resting/recharging at the hotel, it was impossible. We were told early on that the hotel choice was because of the "referendum" and general lack of options but then learned that this is a regular thing in the area, not town of Edinburgh. An hour drive is not even in the area!! We were even asked to put comments in our evaluations on this very thing.

7. Food - Most of the food was decent. A few of the venues for the meals were unique and worth a visit. The selection of food however was unimaginative at the least. Our expectation, especially during the extra charge dinner was to experience traditional cuisine from the country/area. It appears that traditional English, Wales, Irish, and Scottish cuisine consisted of a beef/lamb choice, a fish/salmon choice and a vegetarian offering. All cooked the same with the same vegetables. In hind sight, we would opt out of any optional dinners regardless of venue or entertainment. Also, most of the places we ate were very uncomfortable as far as not having air conditioning.

We most likely will not take another Trafalgar vacation or recommend you to our friends and family!!
We enjoyed the itinerary of our trip very much. It visited all of the places we wanted to see. The tour guide was great
AffordableTours.com® does not itself offer, service or administer the Travel Packages, and the ultimate terms and conditions of any Travel Package made available via the Site Offerings (including the prices quoted in connection with same) will be determined by the applicable Third-Party Travel Service Provider. AffordableTours.com® does not represent or warrant that the Price Quotes are accurate, up-to-date or free of error, or that same will be honored by the applicable Third-Party Travel Service Providers. All Price Quotes, Travel Package availability, Travel Package details/itinerary and other Content are subject to change without notice. All travel details published by and through the Site Offerings should be confirmed directly with the applicable Third-Party Travel Service Provider prior to making any travel plans. Reliance on any information made available to you by and through the Site Offerings is solely at your own risk.
How It Works
Vacationing has never been easier or cheaper with the help of a dedicated travel consultant from AffordableTours.com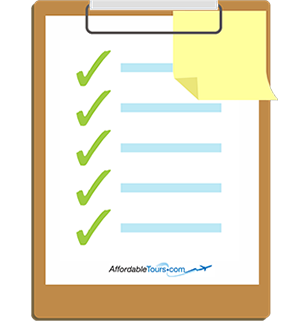 Find your perfect trip on our website and simply request a free quote. Need to speak to a live person? Call us 7 days a week at 1-800-935-2620. No robots here!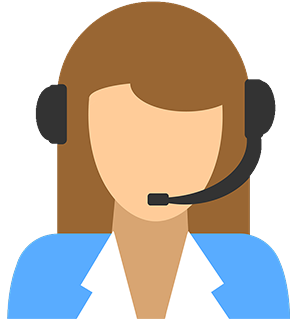 Your personal travel consultant will reach out and be your point of contact for your entire travel experience from start to finish. Did we mention you'll be working with an award winning team? Sweet!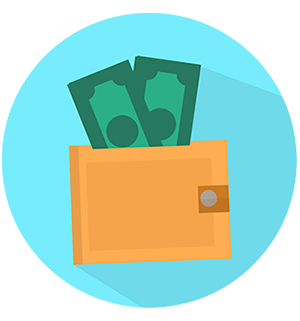 Because we're one of the largest sellers of travel, we're able to give you a discount on your vacation package. No one beats our prices!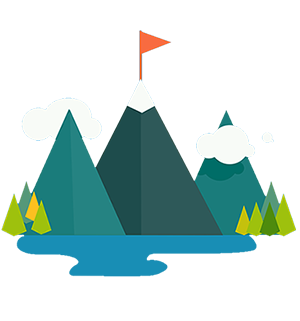 Knowing you got the best deal, all that's left is for you to pack your bags and enjoy your vacation!