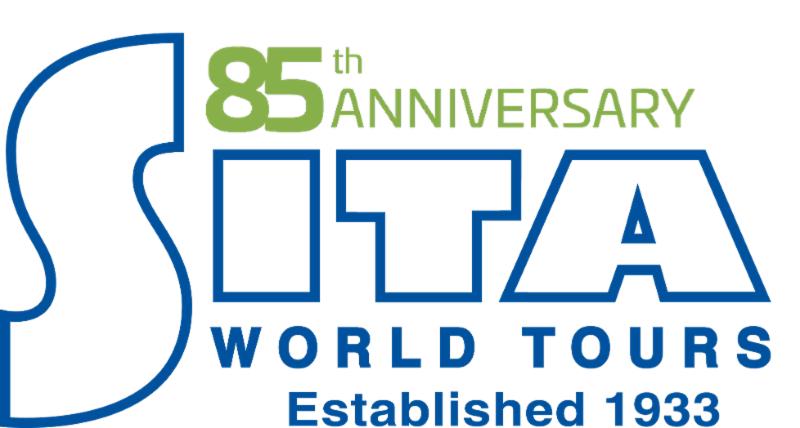 Why Pay Retail?
Call us for a quick quote!
Dates & Prices
Start Date
End Date
Offers
Brochure
Land Price
Our Price
Quote
Sep 23, 2020
Oct 07, 2020
Call Us

$4,095

Get Lower Price
Get Quote
Sep 30, 2020
Oct 14, 2020
Call Us

$4,095

Get Lower Price
Get Quote
Oct 07, 2020
Oct 21, 2020
Call Us

$4,095

Get Lower Price
Get Quote
Oct 14, 2020
Oct 28, 2020
Call Us

$4,095

Get Lower Price
Get Quote
Oct 21, 2020
Nov 04, 2020
Call Us

$4,095

Get Lower Price
Get Quote
Oct 28, 2020
Nov 11, 2020
Call Us

$4,095

Get Lower Price
Get Quote
Nov 04, 2020
Nov 18, 2020
Call Us

$4,095

Get Lower Price
Get Quote
Nov 11, 2020
Nov 25, 2020
Call Us

$4,095

Get Lower Price
Get Quote
Save 5% Off this Tour - Guaranteed!
Tour Itinerary
With this 15 day tour experience everything that China promises. You'll feel the grandeur of the Great Wall, marvel at the intricacies of terra cotta warriors, cruise through the extraordinary Three Gorges, journey to a land where limestone peaks pierce the air and rice fields abound, and roam the streets of an ultra-modern city.
Day 1

Arrive Beijing

Arrive in Beijing the capital of the People's Republic of China. You are welcomed at the airport and escorted to the hotel.

Day 2

Tiananmen Square, Forbidden City & Summer Palace

Start your tour this morning with a visit to the Tiananmen Square, the largest public square in the world and the Forbidden City, the 250-acre palace containing more than 9,000 rooms. Closed to the common people for centuries, it was only opened to the public in 1949. Afternoon explore the Summer Palace, the retreat of China's royal families for over 2,000 years (BL)
Meals: Breakfast, Lunch

Day 3

Great Wall Excursion & Ming Tomb

Visit the Great wall, stopping en route at the Bird's Nest & Water Cube for a picture stop. The Great Wall, built 2,300 years ago and extending 3,750 miles, can be seen from space!. Afternoon visit Sacred Way and Ming Tomb - Changling Tomb. Tonight enjoy Peking Duck dinner. (BLD)
Meals: Breakfast, Lunch, Dinner

Day 4

Temple of Heaven & Lama Temple / Xian

In the morning visit the Temple of Heaven, possibly the country's most popular symbol and the Lama Temple, considered as the largest and most perfectly preserved lamasery in present day China. Later fly to Xian, once the largest city in the world. Xian was the national capital for eleven Chinese dynasties and a major link between Asia and Europe. You will be met and transferred to your hotel. (BL)
Meals: Breakfast, Lunch

Day 5

Terra Cotta Warriors & Wild Goose Pagoda

Xian captured the interest of the world in 1974 with the discovery of the astonishing third-century BC burial sites of the first emperor to unite China, Qin Shi Huangdi. Visit the archaeological site to see thousands of Terra Cotta Warriors, which have been standing guard over the Imperial Tomb for 2,000 years and the the ceramics & pottery workshop. Enjoy Noodle making demonstration followed by lunch. Afternoon visit the Big Wild Goose Pagoda Temple and the Ancient City Wall. In the evening, enjoy a dumpling dinner and Tang Dynasty Show. (BLD)
Meals: Breakfast, Lunch, Dinner

Day 6

Xian / Guilin

Morning visit the Big Wide Goose Pagoda Temple and the Ancient City Wall. Afternoon fly to Guilin. Upon arrival, met and transfer to your hotel. (B)
Meals: Breakfast

Day 7

Guilin / Yangshuo / Guilin

Relax and enjoy the natural beauty of this region from the decks of a slow-moving boat on the Li River. Disembark in Yangshuo, and explore the famous West Street, and vsisit the local village and farms. Dinner at a ocal restaurant followed by Impression Liu San Jie Light Show. Late evening transfer back to Guilin. (BL)
Meals: Breakfast, Lunch

Day 8

Guilin / Chongqing

Fly to Chongqing, the biggest metropolitan in west of China. After lunch at a local restaurant visit the Chongquing Panda Zoo and the Stillwell Museum.Dinner at Sichuan Hot Pot local restaurant. Following dinner, embark on MV President No.7 (Outside Cabin with Private Balcony on Main Deck) to explore and discover the mysteries of the Yangtze River. Relax and enjoy your downstream Cruise on the Yangtze. (BD)
Meals: Breakfast, Dinner

Day 9

Shibaozhai

Shore excursion to Shibaozhai, literally translated into English as the "Stone Treasure Fortress." Located in Zhong County at the south bank of the Yangtze River (30 miles away from Wanxian), it was first built in Qing Dynasty in 1750 with a height of 56 meters. Shibaozhai is simply a rectangular rock with sheer cliffs, standing on the riverside. A red wooden pagoda, 12 stories high, was built against the rock wall. Visitors can climb to the top by spiral staircase in the pagoda, 160 meters above the river to gain a panoramic view of the winding river, the village and the countryside. (BLD)
Meals: Breakfast, Lunch, Dinner

Day 10

Qutang Gorge / Wu Gorge / Shennong Stream

Qutang Gorge finds the river carving its way between sheer precipices of overhanging mountains on both sides. Continue through the wondrous Wu Gorge, a meandering landscape of dazzling peaks and rocks, forming a whimsical gallery of natural beauty. Upon arrival at the famed Shennong Stream, board the small boat and sail deep into the fabled Three Lesser Gorges. Enjoy the vistas of Parrot Gorge and Dragon Boat Gorge with their breathtaking scenery. Return back to the boat and continue to the third Xiling Gorge as we pass through many historical sites. Sail through the huge Three Gorges Dam and the five ship locks. (BLD)
Meals: Breakfast, Lunch, Dinner

Day 11

Xiling Gorge / Yichang / Shanghai

Take a shore excursion to see the massive construction of Three Gorges Dam, the world largest hydroelectric project. Continue sailing down in the second section of Xiling Gorges. Disembark in Yichang and proceed to the airport for your flight to Shanghai, "the Paris of the East" - China's most westernized and largest city. Upon arrival, you are met and transferred to the hotel. (B)
Meals: Breakfast

Day 12

Shanghai Sightseeing

Your morning tour of Shanghai includes a visit to Yuyuan Garden and the Old town. Afternoon visit the Shanghai Museum and the Bund, a wide, tree-lined avenue along the Huangpu River and Tianzifang Artist area, famous for small craft stores, coffee shops, trendy art studios and narrow alleys. Evening enjoy a performance by the famous Chinese acrobats. (BD)
Meals: Breakfast, Dinner

Day 13

Shanghai / Home

Morning transfer to the airport for your flight for back home. (B)
Meals: Breakfast
First-class accommodations with private facilities
3 nights Yangtze Cruise with private balcony.
Breakfast, lunch and dinner as specified
Arrival & departure transfers
All sightseeing as per the itinerary
Local English-speaking guides
Entrance fees to monuments and cultural events
Internal flights - Beijing / Xian / Chongqing, Yichang / Shanghai
Domestic airport tax and fuel surcharge.
Baggage handling
Great Wall
Visit to a local home.
Terra Cotta Warriors
Dinner and Tang Dynasty Show
Impression Liu San Jie light Show
Chinese Acrobat Show
Visit to a Watertown
Question: How many suitcases can I take with me on my trip?
Each person is allowed one "check-in," and one "carry-on." Remember to take all valuables with you as "carry-on", because electronic equipment, cameras, laptops, jewelry, business documents and money are not covered by the airlines' liability, so always carry them aboard with you.
Question: Is Airfare Included in the Price?
Airfare from your point of origin to and from the trip is not included in the land price.
Similar Tours Other Travelers Liked
Madagascar is a hard place but the folks made it a pleasant visit.
Affordable tours did a remarkable job on our trip to Italy. The itinerary was very detailed and, although there were a couple of minor changes during the week, we were extremely satisfied with the accommodations, the level of professionalism and knowledge of the tour guides, and would not hesitate to recommend them for your next vacation.
Guides were good, especially Gin.
While the hotels were rated 3+ stars, they are group travel hotels - fair rooms and buffet breakfast and dinner. It's OK as an experience and the food was adequate.
1. We were never informed that this would be a bilingual tour! Very disappointing and annoying! We could not bond with 3/4 of the guests or understand their questions and answers. We were the only Americans on most of the trip. 2. We were totally unaware of the fact that we could have upgraded our hotels. 3. 50% of the buses provided did not have Wi-Fi available. Some didn't even have overhead lights. 4. Buffets provided in Morocco's hotels were almost inedible. Very few choices and actually hardly anything was palatable. 5. The tour guide for Morocco (Idame ?) was unenthusiastic and did nothing extra to make this more enjoyable (doing his job-"phoning it in")One problem was the optional tour on April 16, Fantasia, was 65 but he was charging US$83. By any account I could find this was not a fair and equitable exchange rate.
Three nights in Queensttown at the Rydges was more of an economy motel than a first class hotel. The intra-country transportation was on passenger buses with many stops and pickups encounter from one location to another. Also I thought transfer back to airport would be private like the meet and greet but was a shared airport shuttle with several stops.
I know that the price was right for the tour that was offered, but the accommodation were not that great. I had done several tours before. even one in the Germany- Hungary area just a few days before, and I was always in a group where we all started together with a meeting the night before at the first hotel and the whole group stayed together for the whole tour. In this occasion there was people s joining the group and leaving all the time, And we were separated in two hotels, the nicer hotel for some of them and the second grade hotel for the rest of us. That made us feel discriminated and divided into two groups. Yes, you may think that we were being able to afford this tour, but I still think that for the price we paid, we did not get the value.
I have been traveling once or twice a year and so far this is the WORSE!!! Never imagined this kind of tour can still exist with so many choices around. Kanesia who booked us was wonderful. She was very professional and courteous but the tour itself was a nightmare from start to finish!! When we arrived at the airport, when we notify the lady holding our name card she just pointed to the driver and walked away without any word of assurance and explanation not even an eye contact! WOW! Next the driver dropped us off the hotel and that is it. No receiving party nor the hotel desk knows anything. Our daughter arrived later in the evening and nobody picked her up from the airport. She has to take a taxi alone in the middle of the night, a young lady in an unknown city. Paid extra to the driver for being grateful. All these times we tried contacting the local operator many times, NO ANSWER!!! Our schedule given to us (refer to page 3/10 on the attached documents, it says we are free the next day. Day 3 (Saturday) in Rome. The next day, we were suddenly awakened by the front desk saying that somebody is picking us up for a 3 hour Rome walking tour. We panicked and dressed so fast hardly able to comb our hair. During that time, the person who picked us up gave me the paper about today's schedule please refer to Italia Gartour page A indicated attached. The hotel had a very tight shower and not even a soap dish inside the shower.The trip after Pompeii was chaotic. Transferring from one bus to another. The guide was so disorganized exchanging passengers with another bus and we looked after our own luggage and wheel them to another bus. The hotel in Sorrento was a breather to be fair. Grand Hotel Vesuvio was nice quite and great location. Good food and staff. The brochure description of the trip from Sorrento to Amalfi was that we will be passing through breathtaking views and what happened we were separated from the other parties and we were driven through the highway and into the mountains then dropped off in a hotel in Maouri. We were on our own confused thinking we were in Amalfi itself. Again no receiving party at the hotel. We towed our own luggage and checked in and not knowing what is next!!! We have to inquire from the front desk how to get to Amalfi. Good thing he was very helpful even in broken English. The worse part is going back to Rome where our service voucher and revised itinerary showed we were booked with the Building Hotel. We were dropped off by the bus near the taxi station and it was raining so hard and we dragged our luggage in those cobble stone falling in line at the taxi line. We have to beg the taxi to take us in since there are 3 of us with luggage and it cannot fit in a regular sedan. When we arrived at the hotel another surprise that our name is not in the list and they are fully booked. Refer to the attached documents. We have to take another taxi to the proper hotel. THIS IS A TOTAL NIGHTMARE instead of a dream vacation. NEVER AGAIN!!!!!! I will spread the word and I hope you better drop this tour operator. SO DISORGANIZED and INCOMPETENT!!!!
1. The guide is making us take taxis and meeting them places since others are staying at different hotels. Definitely not what I have experienced in the past, I am used to the tour bus coming for us, when it says "transportation provided" 2. So far Day 2 and 3 are not as advertised. 9/29: Had to provide own transportation. Met group at 1030 at BMW Welt, left at 11, drove to Marienplatz, watched the glockenspiel. At 1215 we were dismissed, no tour of Munich did not visit the city's main attractions. Had to provide our own transportation to Dinner. 9/30: Had to take a cab to other guests hotel, did not leave until almost 9, did not get to Berchtesgaden until 11, after Eagles Nest I had to complain, because they were going to skip the lake, we were only allowed to go for 40 minutes, no possibility to take the boat trip. Had to get own transportation back from other hotel. Dinner was supposed to be provided but was not. She said it is not included but our itinerary says dinner and breakfast 9/30 10/1 Did not leave until after 9 did not have enough time in Rothenburg Ober Taber, Itinerary says "tour" of well perserved castle-but we did not tour it, we walked up to one gate and took pictures, 10/2 Bamberg was OK, should have skipped Bayreuth and had more time in Nuremberg 10/3 Wurzburg: was very nice, could have used more time, needed to get going earlier each day. Would have been nice to have a driving tour of Frankfurt upon arrival. Tour should have advertised this was a National Holiday, most all shops were closed. The guide did not seem to know much about each stop, could have benefitted from a local guide at stops, and or side excursions should have been available.
It said it included: "Holy Land crafted to CATER to Catholic individuals. Daily Holy Mass included." The guide was not Catholic nor the other couple which made things uncomfortable. I got to go to one Mass. I considered cancelling after the first day but felt it would not be fair to my grandson who was traveling with me. I do not blame the guide, he was great considering, but I feel I was miss lead. I could not recommend this trip to any Catholics. I have made Sita World aware of my opinion.
It was an amazing expererience
We had a wonderful experience and all of the local guides were top notch. Having a personal guide allowed us to see so much more in the limited time we had. Also, we saved so much time not having to wait in line for tickets, not getting lost and having to find transportation. It made our trip so much more enjoyable and relaxed. In addition, we learned so much about the local way of life. My children benefited from this greatly. For the slight additional amount of money you pay, you gain so much more value in your travel experience.
We had local guides, drivers and even an armed guard accompany us to all the sites. The guides were very helpful and knowledgeable and wanted us to feel completely safe and happy at all times. Abeer was our guide in Cairo and she was absolutely fantastic!! She helped us to understand the local customs and was very proud of the world class tourist sites we visited. Loay was our guide on the Nile cruise and he was equally helpful to teach us the history of the Pharohs. Both were proud of their country and proud to show it to us. One downfall was the constant prodding by the locals to sell us everything and anything. Also we had to pay to use the local restrooms and some locals were not very friendly about the amount of money offered!! Another problem was that our boat did not have 'working' wifi. We needed to stay in touch with business emails and reliable wifi is to be expected. Luckily Loay let me use his personal phone as a hotspot to obtain service - very generous of him! We travelled as a family of 4 and felt safe at all times. The drivers would drop us off at the sites and were always ready when we were to depart, no waiting at all!
SITA was not the operator of the tour, it was the tour of Baltic Visions from Riga. Unfortunately, the real tour operator was not professional enough. The tour manager even left the tour half way through. From that point it was the local tour guides only. On top of that, 90% of what was promised turned out to be optional, to be paid cash only!
The itinerary was not always correct. Messages at hotels was very helpful.
AffordableTours.com® does not itself offer, service or administer the Travel Packages, and the ultimate terms and conditions of any Travel Package made available via the Site Offerings (including the prices quoted in connection with same) will be determined by the applicable Third-Party Travel Service Provider. AffordableTours.com® does not represent or warrant that the Price Quotes are accurate, up-to-date or free of error, or that same will be honored by the applicable Third-Party Travel Service Providers. All Price Quotes, Travel Package availability, Travel Package details/itinerary and other Content are subject to change without notice. All travel details published by and through the Site Offerings should be confirmed directly with the applicable Third-Party Travel Service Provider prior to making any travel plans. Reliance on any information made available to you by and through the Site Offerings is solely at your own risk.
How It Works
Vacationing has never been easier or cheaper with the help of a dedicated travel consultant from AffordableTours.com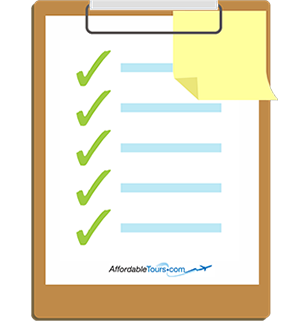 Find your perfect trip on our website and simply request a free quote. Need to speak to a live person? Call us 7 days a week at 1-800-935-2620. No robots here!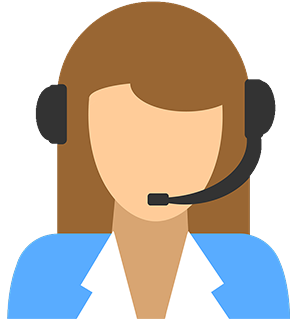 Your personal travel consultant will reach out and be your point of contact for your entire travel experience from start to finish. Did we mention you'll be working with an award winning team? Sweet!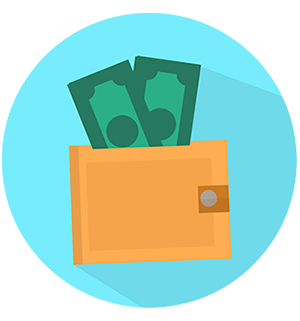 Because we're one of the largest sellers of travel, we're able to give you a discount on your vacation package. No one beats our prices!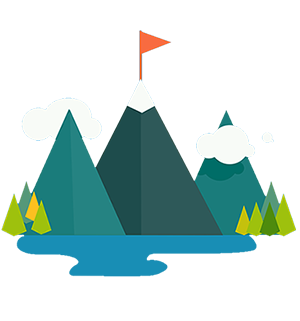 Knowing you got the best deal, all that's left is for you to pack your bags and enjoy your vacation!