Dates & Prices
Start Date
End Date
Offers
Brochure
Land Price
Our Price
Quote
Apr 05, 2020
Apr 21, 2020
Call Us

$3,495

Get Our Price
Get Quote
Apr 19, 2020
May 05, 2020
Call Us

$3,495

Get Our Price
Get Quote
May 03, 2020
May 19, 2020
Call Us

$3,495

Get Our Price
Get Quote
May 17, 2020
Jun 02, 2020
Call Us

$3,495

Get Our Price
Get Quote
May 31, 2020
Jun 16, 2020
Call Us

$3,495

Get Our Price
Get Quote
Jun 14, 2020
Jun 30, 2020
Call Us

$3,495

Get Our Price
Get Quote
Jun 28, 2020
Jul 14, 2020
Call Us

$3,495

Get Our Price
Get Quote
Jul 12, 2020
Jul 28, 2020
Call Us

$3,495

Get Our Price
Get Quote
Jul 26, 2020
Aug 11, 2020
Call Us

$3,495

Get Our Price
Get Quote
Aug 09, 2020
Aug 25, 2020
Call Us

$3,495

Get Our Price
Get Quote
Aug 23, 2020
Sep 08, 2020
Call Us

$3,495

Get Our Price
Get Quote
Sep 06, 2020
Sep 22, 2020
Call Us

$3,495

Get Our Price
Get Quote
Sep 20, 2020
Oct 06, 2020
Call Us

$3,495

Get Our Price
Get Quote
Oct 04, 2020
Oct 20, 2020
Call Us

$3,146

Get Our Price
Get Quote
Oct 11, 2020
Oct 27, 2020
Call Us

$3,146

Get Our Price
Get Quote
Oct 18, 2020
Nov 03, 2020
Call Us

$3,146

Get Our Price
Get Quote
Call or submit a quote for award-winning value and service!
Countries Visited
Cities Visited
Adelaide, Alice Springs, Coober Pedy, Darwin, Grampians National Park, Kakadu National Park, Katherine, Kings Canyon, Mary River, Melbourne, Quorn, Uluru, Yulara
Tour Itinerary
Thought you knew what an epic Aussie road trip was? Well, think again. Crank the tunes and leave the big cities in your dust on the ultimate 17-day Outback adventure between Melbourne and Darwin. Discover the beauty of the Great Ocean Road coastline, check out the quirky opal mining town of Coober Pedy, witness the majestic Uluru at sunrise, gain an insight into the significance of First Nations cave paintings, rock art and connection to the land in Kata Tjuta and Katherine, and see some seriously spectacular vistas at the Grampians, the Flinders Ranges and Kakadu. With plenty of time to appreciate the natural beauty and learn a little bit more about the Traditional Owners of the land, let Australia's southern interior, Red Centre and Top End lead the way.
Day 1: The Great Ocean Road
Let's get road tripping! Departing Melbourne, hit the road west to Geelong and the chilled-out surf town of Torquay. From there, begin the journey along one of Australia's most beautiful and famous drives – the Great Ocean Road. This coast road at points is the only barrier between the lush forests of Victoria's southwest and the cliffs down to the Bass Strait. Along the way, experience a guided walk through an ancient and rare temperate rainforest in the Otways, checking out the enormous trees that are native to the area. Stop for some koala spotting in Kennett River, then break for lunch in seaside Apollo Bay. In the afternoon, continue on to the Twelve Apostles and Loch Ard Gorge – these rocky landscapes braving the southern oceans are a sight to behold. Continue on your drive for another hour or so, spending the night in Warrnambool.
Day 2: The Grampians
Begin the day checking out more of the Great Ocean Road's natural wonder on the Warrnambool foreshore, then take a drive into the Grampians National Park – an area full of rugged rock landscapes, scenic lookouts and rich in First Nations culture. During the day, you'll visit the Brambuk Aboriginal Culture Centre to learn about an important period of this ancient culture known as the Dreaming, then hike up to the Pinnacles for impressive views across the Grampians. Keep an eye out for any native flora or wildlife that may pass you by as you walk. Tonight, head to Halls Gap for the evening, enjoying a traditional Aussie-style barbecue with your small group.
Day 3: The Grampians to Adelaide
This morning, hike to the base of McKenzie Falls – the highest and arguably most impressive waterfalls in the Grampians – and check out other sites such as The Balconies and Reeds Lookout. Leaving the Grampians, pass through the town of Horsham and the enchanting Loch Lel – also known as the Pink Lake – before crossing the mighty Murray River and making your last leg of the journey into Adelaide. Most of the afternoon is taken up by the drive, but you'll arrive in Adelaide around 7.30 pm, in time for an optional celebratory dinner with your group. There is no accommodation planned for tonight, but if you would like to spend more time in Adelaide, we'll be happy to organise additional accommodation (subject to availability).
Day 4: Flinders Ranges
Welcome to South Australia, where your adventure begins. You'll be picked up from the YHA Adelaide at 8.30 am and head to the culinary epicentre of the State's capital, the Adelaide Central Market. We'll meander through the markets to collect some local produce to enjoy a little later in the day. Next, visit Australia's Aboriginal Cultural Institute, Tandanya. The First Nation precinct provides a wonderful opportunity to experience both traditional and contemporary Aboriginal and Torres Strait Islander art. Leave South Australia's capital behind and head north to the Clare Valley, home to some of the country's best wines. Perhaps purchase a bottle (or two!) and pair it with your delicious lunch. After lunch enjoy expansive views of the Flinders Ranges as you drive towards Wilpena Pound, a natural amphitheatre of rocky mountains. Experience the sunset at Wilpena Pound before settling into your accommodation for the night.
Day 5: Quorn
It's an early (but worthwhile) start this morning as you enjoy a short and leisurely walk along one of the many tracks in Flinders National Park. Spanning a massive 450 km, you won't be able to cover it all, but your guide will choose the best trail for your group, depending on the time of year. Travel to the site of the Yourambulla Caves where you'll have the opportunity to view some Aboriginal rock art before stopping for lunch at Quorn. Spend the afternoon enjoying a couple of walks. Warren Gorge provides stunning ochre rock faces that complement the blue skies. Keep your eyes peeled for the very well camouflaged local rock wallabies. Tonight, you'll stay in the quintessential South Australian town of Quorn.
Day 6: Coober Pedy
Leave Quorn in the rearview mirror and head to Coober Pedy, the 'opal capital of the world'. Due to extremely hot temperatures in the area most of the town is constructed underground, with residents living in homes carved into the hillsides. Upon arrival take a guided tour of the town, an underground house and the opal mine (with n opal-cutting demonstration). The rest of the afternoon is free to explore. You may even like to try your hand at 'noodling' (fossicking) for opals. End the day with some rescued joeys at Josephine's Gallery and Kangaroo Orphanage. Tonight, stay in a multi-share underground bunkhouse in Coober Pedy.
Day 7: Coober Pedy / Yulara
We'll be honest, there's a fair bit of driving today. From Coober Pedy travel past the Dingo Fence and Breakaways Reserve, and into the Northern Territory. Be prepared to 'hold on' as your guide hits the indicator on the vehicle for the first time, leaving the Stuart Highway and turning left onto the Lasseter Highway towards Uluru. Make sure you have your phone fully charged and your neck cushion handy!
Day 8: Yulara/Uluru
Rise early this morning and be rewarded with a glorious Uluru sunrise. While the day is still fresh, enjoy a walk around the base of this incredible sandstone formation, which is of great spiritual significance to the Anangu people. Walk to the cave paintings near Mutitjulu Waterhole at the base of Uluru where you will be in the hands of an Anangu guide who will share the stories of this unique landscape. This exclusive experience will give you an insight to the meaning behind Anangu art and traditional culture. The onsite Cultural Centre also houses an extensive collection of Aboriginal and Torres Strait Islander arts and crafts for you to browse. Head back to camp for lunch.
Day 9: Uluru/Kings Canyon
Today, explore one of the Red Centre's greatest treasures, Kata Tjuta, a group of domed red rocks rising spectacularly out of the desert. Like Uluru, they're sacred to the Anangu people and are believed to be 600 million years old. Return to camp for lunch before travelling to Watarrka National Park (Kings Canyon). Spend the night in an exclusive campsite inside the park.
Day 10: Kings Canyon/ Alice Springs
With its 300-metre high sandstone walls, hidden waterholes, fern forests, chasms, canyons and caverns, Watarrka National Park is central Australia's answer to an oasis. The highlight attractions here are the Garden of Eden, the Amphitheatre and the Lost City – all sites you'll get to visit on the Rim Walk. Following lunch, it's back on the road for the onward drive to Alice Springs, where this adventure concludes.
Day 11: Alice Springs
Today is free for you to do as you wish in and around Alice Springs. You may have bid some of your travel crew farewell last night, so now it's time for you to make your own fun! There's a heap to see and do in Alice Springs town, including checking out what's on display at the Araulean Cultural Precinct, visiting the Reptile Centre or walking up ANZAC Hill to see a stunning sunset over the city. A little bit further out, hire a bike and take a ride out to Simpsons Gap – a gorge between the towering cliffs of the West MacDonnell Ranges. Otherwise, you could get active and head on a steep hike up to the top of Mt Gillen for some epic views over the arid countryside.
Day 12: Alice Springs – Darwin
Today, skip the 1,500km of driving which is about 24 hours by road, and fly from Alice Springs to Darwin with Qantas (QF). Qantas is Australia's first commercial airline and is now recognised as one of the world's best International airlines. We'll arrange your air tickets and issue them a couple of weeks prior to your departure.
Day 13: Darwin
Today is as clear as the blue skies in the Northern Territory for you to choose your own adventure. With the whole day at your leisure in Darwin, you might like to take a swim at the recreational lagoon or wave pool in the Waterfront Precinct, check out the varied range of native and tropical flora at the Darwin Botanic Gardens, discover more about the region at the Museum and Art Gallery of the Northern Territory, or have a walk along Mindil Beach and catch an incredible Top End sunset over the ocean. The best thing is, you've got the power to decide! Keep in mind that you'll have an early start tomorrow, so feel free to chill out with a good book today.
Day 14: Darwin – Mary River via Litchfield National Park
Welcome to the Northern Territory! Your adventure begins in the tropical city of Darwin. Set off from Darwin and head south to Lichfield National Park, a huge sandstone plateau with dozens of waterfalls. Explore Florence Falls, Wangi Falls and the Buley Rockholes. After a picnic lunch, stroll through steamy rainforests and cool off with a dip in one of Litchfield's picturesque swimming holes. Enjoy some relaxed time at the campsite and a meal before climbing into bed at the secluded Mary River campsite.
Day 15: Kakadu National Park: Ubirr & Barramundi Gorge
After breakfast this morning, head to onto the water on a wildlife cruise in the Mary River Wetlands, a network of waterways home to crocodiles and native bird species. Kakadu National Park and discover ancient Aboriginal rock art in Ubirr. Your guide will lead an interpretive cultural walk through the numerous rock galleries, before you climb to the top of a lookout for views over the Nardab floodplain. Tonight, relax by the pool at the Kakadu campground and enjoy a group dinner.
Day 16: Kakadu – Katherine
This morning you have the option to take a scenic flight over Kakadu (at your own expense). The flight takes in views over the Arnhem Land escarpment, vast flood plains and billabongs. Later spend time exploring Kakadu's other major Aboriginal rock art site – Nourlangie (Burrunggui), while your guide provides a glimpse into how the local Aboriginal and Torres Strait Islander people live. After lunch head south and stop to visit the historic gold-mining centre of Pine Creek. Stop for a quick dip at Maguk or Gunlom Falls, before continuing on to Katherine, where you'll settle in for the night at a private campsite near Nitmiluk National Park (Katherine Gorge).
Day 17: Katherine Gorge – Darwin
Depending on the season, head out on a morning cruise along the inky waters of Katherine Gorge, or canoe between red rock walls that are up to 70 metres high (both of these activities are optional and at your own expense). This 23 million-year-old landscape was formed by the Katherine River, which flows from Arnhem Land out to the Timor Sea. After lunch we head to the beautiful Edith falls for one last refreshing swim in the huge plunge pool before we hit the road back to Darwin, where your adventure comes to an end on arrival.
12 Apostles & London Bridge
Koala spotting - Great Ocean Road
Melba Gully Walk - Otway Ranges
Swim at Lorne (Summer months)
Loch Ard Gorge
Brambuk Culture Centre
Mackenzie Falls - Grampians
Pinnacles Walk - Grampians
Reeds Lookout (The Balconies) & Boroka Lookout
Wilpena Pound
Anna Creek Station
Coober Pedy Mine tour
Josephine's Gallery and Kangaroo Orphanage
Dingo Fence
Uluru & Kata Tjuta National Park Entrance
Uluru Base Walk
Uluru Cultural Centre
Kata Tjuta
Maruku Arts cultural experience
Watarrka National Park Entry Fees
Kings Canyon Rim Walk
Litchfield National Park
Ubirr Rock
Kakadu National Park Fee
Mary River cruise
Bowali Visitor Centre
Pine Creek Gold-Mining Centre
Maguk (Barramundi Gorge)
Edith Falls
Top Didj Indigenous Experience
Meals
12 Breakfast(s) Included
14 Lunch(es) Included
12 Dinner(s) Included

Style: Original

Camping (with shared facilities) (9 nights), Dormitory (5 nights), Underground bunkhouse (1 night).
Question: How many suitcases can I take with me on my trip?
Each person is allowed one "check-in," and one "carry-on." Remember to take all valuables with you as "carry-on", because electronic equipment, cameras, laptops, jewelry, business documents and money are not covered by the airlines' liability, so always carry them aboard with you.
Question: Is Airfare Included in the Price?
Airfare from your point of origin to and from the trip is not included in the land price.
Similar Tours Other Travelers Liked
The trip was both both educational and exciting. I very much enjoyed the sights and culture.
The itinerary was just as I expected! The guide was very good as were the accomodations
Intrepid did such a great job. I never had to worry about where I was supposed to be and it felt so good not to worry about a thing but just to enjoy myself. Our guide was extremely knowledgeable about culture and history.
Taiwan people very friendly. Accommodation were centrally located and easily accessible. Did extra activities then in brochure which was greatly.
Larus our tour guide did an excellent job and was very attentive to our needs. He is very knowledgeable and has a great sense of humor.
Our guide Tarang chandola was exceptional. Courteous, knowledgeable, organized, polite, professional and went above and beyond taking care of our needs and requests offen anticipating what that might be. He made sure we all had the best possible time and offered suggestions to meet the needs of everyone on the tour. This made the trip even more enjoyable.
AffordableTours.com® does not itself offer, service or administer the Travel Packages, and the ultimate terms and conditions of any Travel Package made available via the Site Offerings (including the prices quoted in connection with same) will be determined by the applicable Third-Party Travel Service Provider. AffordableTours.com® does not represent or warrant that the Price Quotes are accurate, up-to-date or free of error, or that same will be honored by the applicable Third-Party Travel Service Providers. All Price Quotes, Travel Package availability, Travel Package details/itinerary and other Content are subject to change without notice. All travel details published by and through the Site Offerings should be confirmed directly with the applicable Third-Party Travel Service Provider prior to making any travel plans. Reliance on any information made available to you by and through the Site Offerings is solely at your own risk.
How It Works
Vacationing has never been easier or cheaper with the help of a dedicated travel consultant from AffordableTours.com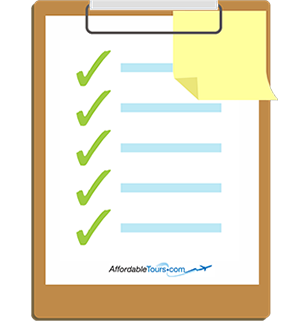 Find your perfect trip on our website and simply request a free quote. Need to speak to a live person? Call us 7 days a week at 1-800-935-2620. No robots here!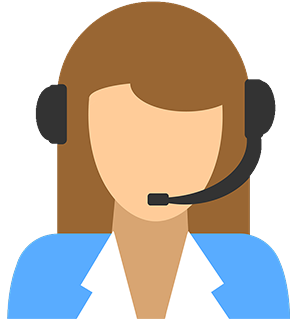 Your personal travel consultant will reach out and be your point of contact for your entire travel experience from start to finish. Did we mention you'll be working with an award winning team? Sweet!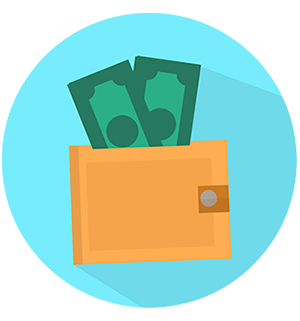 Because we're one of the largest sellers of travel, we're able to give you a discount on your vacation package. No one beats our prices!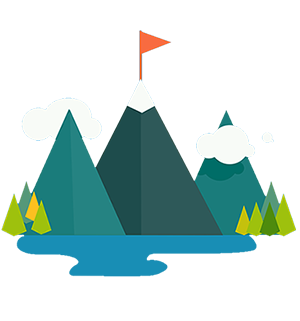 Knowing you got the best deal, all that's left is for you to pack your bags and enjoy your vacation!