Dates & Prices
Start Date
End Date
Offers
Brochure
Land Price
Our Price
Quote
Oct 01, 2020
Oct 18, 2020
Call Us

$2,210

Get Our Price
Get Quote
Oct 04, 2020
Oct 21, 2020
Call Us

$2,210

Get Our Price
Get Quote
Oct 07, 2020
Oct 24, 2020
Call Us

$2,340

Get Our Price
Get Quote
Oct 08, 2020
Oct 25, 2020
Call Us

$2,210

Get Our Price
Get Quote
Oct 10, 2020
Oct 27, 2020
Call Us

$2,210

Get Our Price
Get Quote
Oct 11, 2020
Oct 28, 2020
Call Us

$2,210

Get Our Price
Get Quote
Oct 14, 2020
Oct 31, 2020
Call Us

$2,210

Get Our Price
Get Quote
Oct 15, 2020
Nov 01, 2020
Call Us

$2,210

Get Our Price
Get Quote
Oct 18, 2020
Nov 04, 2020
Call Us

$2,210

Get Our Price
Get Quote
Oct 22, 2020
Nov 08, 2020
Call Us

$2,210

Get Our Price
Get Quote
Oct 25, 2020
Nov 11, 2020
Call Us

$2,275

Get Our Price
Get Quote
Oct 29, 2020
Nov 15, 2020
Call Us

$2,340

Get Our Price
Get Quote
Nov 01, 2020
Nov 18, 2020
Call Us

$2,210

Get Our Price
Get Quote
Nov 02, 2020
Nov 19, 2020
Call Us

$2,210

Get Our Price
Get Quote
Nov 03, 2020
Nov 20, 2020
Call Us

$2,210

Get Our Price
Get Quote
Nov 06, 2020
Nov 23, 2020
Call Us

$2,210

Get Our Price
Get Quote
Nov 07, 2020
Nov 24, 2020
Call Us

$2,210

Get Our Price
Get Quote
Nov 09, 2020
Nov 26, 2020
Call Us

$2,210

Get Our Price
Get Quote
Nov 10, 2020
Nov 27, 2020
Call Us

$2,210

Get Our Price
Get Quote
Nov 12, 2020
Nov 29, 2020
Call Us

$2,210

Get Our Price
Get Quote
Nov 13, 2020
Nov 30, 2020
Call Us

$2,210

Get Our Price
Get Quote
Nov 14, 2020
Dec 01, 2020
Call Us

$2,210

Get Our Price
Get Quote
Nov 16, 2020
Dec 03, 2020
Call Us

$2,210

Get Our Price
Get Quote
Nov 19, 2020
Dec 06, 2020
Call Us

$2,295

Get Our Price
Get Quote
Nov 20, 2020
Dec 07, 2020
Call Us

$2,295

Get Our Price
Get Quote
Nov 26, 2020
Dec 13, 2020
Call Us

$2,295

Get Our Price
Get Quote
Dec 02, 2020
Dec 19, 2020
Call Us

$2,295

Get Our Price
Get Quote
Dec 03, 2020
Dec 20, 2020
Call Us

$2,295

Get Our Price
Get Quote
Dec 04, 2020
Dec 21, 2020
Call Us

$2,295

Get Our Price
Get Quote
Dec 05, 2020
Dec 22, 2020
Call Us

$2,295

Get Our Price
Get Quote
Dec 10, 2020
Dec 27, 2020
Call Us

$2,295

Get Our Price
Get Quote
Dec 14, 2020
Dec 31, 2020
Call Us

$2,295

Get Our Price
Get Quote
Dec 17, 2020
Jan 03, 2021
Call Us

$2,295

Get Our Price
Get Quote
Dec 18, 2020
Jan 04, 2021
Call Us

$2,295

Get Our Price
Get Quote
Dec 19, 2020
Jan 05, 2021
Call Us

$2,295

Get Our Price
Get Quote
Dec 21, 2020
Jan 07, 2021
Call Us

$2,295

Get Our Price
Get Quote
Dec 22, 2020
Jan 08, 2021
Call Us

$2,295

Get Our Price
Get Quote
Dec 24, 2020
Jan 10, 2021
Call Us

$2,295

Get Our Price
Get Quote
Dec 28, 2020
Jan 14, 2021
Call Us

$2,340

Get Our Price
Get Quote
Dec 30, 2020
Jan 16, 2021
Call Us

$2,340

Get Our Price
Get Quote
Jan 06, 2021
Jan 23, 2021
Call Us

$2,245

Get Our Price
Get Quote
Jan 09, 2021
Jan 26, 2021
Call Us

$2,245

Get Our Price
Get Quote
Jan 14, 2021
Jan 31, 2021
Call Us

$2,245

Get Our Price
Get Quote
Jan 20, 2021
Feb 06, 2021
Call Us

$2,245

Get Our Price
Get Quote
Jan 23, 2021
Feb 09, 2021
Call Us

$2,245

Get Our Price
Get Quote
Jan 27, 2021
Feb 13, 2021
Call Us

$2,245

Get Our Price
Get Quote
Feb 01, 2021
Feb 18, 2021
Call Us

$2,245

Get Our Price
Get Quote
Feb 06, 2021
Feb 23, 2021
Call Us

$2,245

Get Our Price
Get Quote
Feb 10, 2021
Feb 27, 2021
Call Us

$2,245

Get Our Price
Get Quote
Feb 15, 2021
Mar 04, 2021
Call Us

$2,245

Get Our Price
Get Quote
Feb 20, 2021
Mar 09, 2021
Call Us

$2,245

Get Our Price
Get Quote
Feb 25, 2021
Mar 14, 2021
Call Us

$2,245

Get Our Price
Get Quote
Feb 27, 2021
Mar 16, 2021
Call Us

$2,245

Get Our Price
Get Quote
Mar 03, 2021
Mar 20, 2021
Call Us

$2,245

Get Our Price
Get Quote
Mar 05, 2021
Mar 22, 2021
Call Us

$2,245

Get Our Price
Get Quote
Mar 08, 2021
Mar 25, 2021
Call Us

$2,245

Get Our Price
Get Quote
Mar 11, 2021
Mar 28, 2021
Call Us

$2,245

Get Our Price
Get Quote
Mar 13, 2021
Mar 30, 2021
Call Us

$2,245

Get Our Price
Get Quote
Mar 17, 2021
Apr 03, 2021
Call Us

$2,245

Get Our Price
Get Quote
Mar 19, 2021
Apr 05, 2021
Call Us

$2,245

Get Our Price
Get Quote
Mar 20, 2021
Apr 06, 2021
Call Us

$2,245

Get Our Price
Get Quote
Mar 22, 2021
Apr 08, 2021
Call Us

$2,245

Get Our Price
Get Quote
Mar 24, 2021
Apr 10, 2021
Call Us

$2,245

Get Our Price
Get Quote
Mar 25, 2021
Apr 11, 2021
Call Us

$2,245

Get Our Price
Get Quote
Mar 27, 2021
Apr 13, 2021
Call Us

$2,245

Get Our Price
Get Quote
Mar 29, 2021
Apr 15, 2021
Call Us

$2,245

Get Our Price
Get Quote
Apr 01, 2021
Apr 18, 2021
Call Us

$2,245

Get Our Price
Get Quote
Apr 02, 2021
Apr 19, 2021
Call Us

$2,245

Get Our Price
Get Quote
Apr 05, 2021
Apr 22, 2021
Call Us

$2,245

Get Our Price
Get Quote
Apr 07, 2021
Apr 24, 2021
Call Us

$2,165

Get Our Price
Get Quote
Apr 09, 2021
Apr 26, 2021
Call Us

$2,165

Get Our Price
Get Quote
Apr 10, 2021
Apr 27, 2021
Call Us

$2,165

Get Our Price
Get Quote
Apr 15, 2021
May 02, 2021
Call Us

$2,165

Get Our Price
Get Quote
Apr 16, 2021
May 03, 2021
Call Us

$2,165

Get Our Price
Get Quote
Apr 17, 2021
May 04, 2021
Call Us

$2,165

Get Our Price
Get Quote
Apr 22, 2021
May 09, 2021
Call Us

$2,165

Get Our Price
Get Quote
Apr 24, 2021
May 11, 2021
Call Us

$2,165

Get Our Price
Get Quote
Apr 28, 2021
May 15, 2021
Call Us

$2,165

Get Our Price
Get Quote
Apr 29, 2021
May 16, 2021
Call Us

$2,165

Get Our Price
Get Quote
May 05, 2021
May 22, 2021
Call Us

$2,165

Get Our Price
Get Quote
May 06, 2021
May 23, 2021
Call Us

$2,165

Get Our Price
Get Quote
May 08, 2021
May 25, 2021
Call Us

$2,165

Get Our Price
Get Quote
May 13, 2021
May 30, 2021
Call Us

$2,165

Get Our Price
Get Quote
May 15, 2021
Jun 01, 2021
Call Us

$2,165

Get Our Price
Get Quote
May 20, 2021
Jun 06, 2021
Call Us

$2,165

Get Our Price
Get Quote
May 26, 2021
Jun 12, 2021
Call Us

$2,165

Get Our Price
Get Quote
May 27, 2021
Jun 13, 2021
Call Us

$2,165

Get Our Price
Get Quote
May 29, 2021
Jun 15, 2021
Call Us

$2,165

Get Our Price
Get Quote
Jun 03, 2021
Jun 20, 2021
Call Us

$2,165

Get Our Price
Get Quote
Jun 05, 2021
Jun 22, 2021
Call Us

$2,165

Get Our Price
Get Quote
Jun 09, 2021
Jun 26, 2021
Call Us

$2,165

Get Our Price
Get Quote
Jun 12, 2021
Jun 29, 2021
Call Us

$2,080

Get Our Price
Get Quote
Jun 16, 2021
Jul 03, 2021
Call Us

$2,080

Get Our Price
Get Quote
Jun 17, 2021
Jul 04, 2021
Call Us

$2,080

Get Our Price
Get Quote
Jun 19, 2021
Jul 06, 2021
Call Us

$2,080

Get Our Price
Get Quote
Jun 23, 2021
Jul 10, 2021
Call Us

$2,080

Get Our Price
Get Quote
Jun 24, 2021
Jul 11, 2021
Call Us

$2,080

Get Our Price
Get Quote
Jun 26, 2021
Jul 13, 2021
Call Us

$2,080

Get Our Price
Get Quote
Jun 28, 2021
Jul 15, 2021
Call Us

$2,080

Get Our Price
Get Quote
Jun 30, 2021
Jul 17, 2021
Call Us

$2,080

Get Our Price
Get Quote
Jul 01, 2021
Jul 18, 2021
Call Us

$2,080

Get Our Price
Get Quote
Jul 03, 2021
Jul 20, 2021
Call Us

$2,080

Get Our Price
Get Quote
Jul 08, 2021
Jul 25, 2021
Call Us

$2,080

Get Our Price
Get Quote
Jul 12, 2021
Jul 29, 2021
Call Us

$2,080

Get Our Price
Get Quote
Jul 15, 2021
Aug 01, 2021
Call Us

$2,080

Get Our Price
Get Quote
Jul 21, 2021
Aug 07, 2021
Call Us

$2,080

Get Our Price
Get Quote
Jul 24, 2021
Aug 10, 2021
Call Us

$2,080

Get Our Price
Get Quote
Jul 28, 2021
Aug 14, 2021
Call Us

$2,080

Get Our Price
Get Quote
Jul 31, 2021
Aug 17, 2021
Call Us

$2,080

Get Our Price
Get Quote
Aug 02, 2021
Aug 19, 2021
Call Us

$2,080

Get Our Price
Get Quote
Aug 04, 2021
Aug 21, 2021
Call Us

$2,080

Get Our Price
Get Quote
Aug 05, 2021
Aug 22, 2021
Call Us

$2,080

Get Our Price
Get Quote
Aug 07, 2021
Aug 24, 2021
Call Us

$2,080

Get Our Price
Get Quote
Aug 11, 2021
Aug 28, 2021
Call Us

$2,080

Get Our Price
Get Quote
Aug 12, 2021
Aug 29, 2021
Call Us

$2,080

Get Our Price
Get Quote
Aug 14, 2021
Aug 31, 2021
Call Us

$2,080

Get Our Price
Get Quote
Aug 16, 2021
Sep 02, 2021
Call Us

$2,080

Get Our Price
Get Quote
Aug 18, 2021
Sep 04, 2021
Call Us

$2,080

Get Our Price
Get Quote
Aug 19, 2021
Sep 05, 2021
Call Us

$2,080

Get Our Price
Get Quote
Aug 21, 2021
Sep 07, 2021
Call Us

$2,080

Get Our Price
Get Quote
Aug 23, 2021
Sep 09, 2021
Call Us

$2,080

Get Our Price
Get Quote
Aug 25, 2021
Sep 11, 2021
Call Us

$2,080

Get Our Price
Get Quote
Aug 26, 2021
Sep 12, 2021
Call Us

$2,080

Get Our Price
Get Quote
Aug 28, 2021
Sep 14, 2021
Call Us

$2,080

Get Our Price
Get Quote
Aug 30, 2021
Sep 16, 2021
Call Us

$2,080

Get Our Price
Get Quote
Sep 01, 2021
Sep 18, 2021
Call Us

$2,080

Get Our Price
Get Quote
Sep 02, 2021
Sep 19, 2021
Call Us

$2,080

Get Our Price
Get Quote
Sep 04, 2021
Sep 21, 2021
Call Us

$2,080

Get Our Price
Get Quote
Sep 08, 2021
Sep 25, 2021
Call Us

$2,080

Get Our Price
Get Quote
Sep 09, 2021
Sep 26, 2021
Call Us

$2,080

Get Our Price
Get Quote
Sep 11, 2021
Sep 28, 2021
Call Us

$2,080

Get Our Price
Get Quote
Sep 13, 2021
Sep 30, 2021
Call Us

$2,080

Get Our Price
Get Quote
Sep 15, 2021
Oct 02, 2021
Call Us

$2,080

Get Our Price
Get Quote
Sep 16, 2021
Oct 03, 2021
Call Us

$2,080

Get Our Price
Get Quote
Sep 18, 2021
Oct 05, 2021
Call Us

$2,080

Get Our Price
Get Quote
Sep 20, 2021
Oct 07, 2021
Call Us

$2,080

Get Our Price
Get Quote
Sep 22, 2021
Oct 09, 2021
Call Us

$2,080

Get Our Price
Get Quote
Sep 23, 2021
Oct 10, 2021
Call Us

$2,080

Get Our Price
Get Quote
Sep 24, 2021
Oct 11, 2021
Call Us

$2,080

Get Our Price
Get Quote
Sep 25, 2021
Oct 12, 2021
Call Us

$2,080

Get Our Price
Get Quote
Sep 27, 2021
Oct 14, 2021
Call Us

$2,080

Get Our Price
Get Quote
Sep 29, 2021
Oct 16, 2021
Call Us

$2,080

Get Our Price
Get Quote
Sep 30, 2021
Oct 17, 2021
Call Us

$2,080

Get Our Price
Get Quote
Oct 01, 2021
Oct 18, 2021
Call Us

$2,080

Get Our Price
Get Quote
Oct 02, 2021
Oct 19, 2021
Call Us

$2,080

Get Our Price
Get Quote
Oct 06, 2021
Oct 23, 2021
Call Us

$2,080

Get Our Price
Get Quote
Oct 07, 2021
Oct 24, 2021
Call Us

$2,080

Get Our Price
Get Quote
Oct 08, 2021
Oct 25, 2021
Call Us

$2,080

Get Our Price
Get Quote
Oct 09, 2021
Oct 26, 2021
Call Us

$2,080

Get Our Price
Get Quote
Oct 13, 2021
Oct 30, 2021
Call Us

$2,080

Get Our Price
Get Quote
Oct 14, 2021
Oct 31, 2021
Call Us

$2,080

Get Our Price
Get Quote
Oct 15, 2021
Nov 01, 2021
Call Us

$2,080

Get Our Price
Get Quote
Oct 16, 2021
Nov 02, 2021
Call Us

$2,080

Get Our Price
Get Quote
Oct 20, 2021
Nov 06, 2021
Call Us

$2,080

Get Our Price
Get Quote
Oct 21, 2021
Nov 07, 2021
Call Us

$2,080

Get Our Price
Get Quote
Oct 22, 2021
Nov 08, 2021
Call Us

$2,080

Get Our Price
Get Quote
Oct 23, 2021
Nov 09, 2021
Call Us

$2,080

Get Our Price
Get Quote
Oct 24, 2021
Nov 10, 2021
Call Us

$2,080

Get Our Price
Get Quote
Oct 25, 2021
Nov 11, 2021
Call Us

$2,080

Get Our Price
Get Quote
Oct 27, 2021
Nov 13, 2021
Call Us

$2,080

Get Our Price
Get Quote
Oct 28, 2021
Nov 14, 2021
Call Us

$2,080

Get Our Price
Get Quote
Oct 29, 2021
Nov 15, 2021
Call Us

$2,080

Get Our Price
Get Quote
Oct 30, 2021
Nov 16, 2021
Call Us

$2,165

Get Our Price
Get Quote
Oct 31, 2021
Nov 17, 2021
Call Us

$2,165

Get Our Price
Get Quote
Nov 01, 2021
Nov 18, 2021
Call Us

$2,165

Get Our Price
Get Quote
Nov 03, 2021
Nov 20, 2021
Call Us

$2,165

Get Our Price
Get Quote
Nov 04, 2021
Nov 21, 2021
Call Us

$2,165

Get Our Price
Get Quote
Nov 05, 2021
Nov 22, 2021
Call Us

$2,165

Get Our Price
Get Quote
Nov 06, 2021
Nov 23, 2021
Call Us

$2,165

Get Our Price
Get Quote
Nov 07, 2021
Nov 24, 2021
Call Us

$2,165

Get Our Price
Get Quote
Nov 08, 2021
Nov 25, 2021
Call Us

$2,165

Get Our Price
Get Quote
Nov 10, 2021
Nov 27, 2021
Call Us

$2,165

Get Our Price
Get Quote
Nov 11, 2021
Nov 28, 2021
Call Us

$2,165

Get Our Price
Get Quote
Nov 12, 2021
Nov 29, 2021
Call Us

$2,165

Get Our Price
Get Quote
Nov 13, 2021
Nov 30, 2021
Call Us

$2,165

Get Our Price
Get Quote
Nov 14, 2021
Dec 01, 2021
Call Us

$2,165

Get Our Price
Get Quote
Nov 15, 2021
Dec 02, 2021
Call Us

$2,165

Get Our Price
Get Quote
Nov 17, 2021
Dec 04, 2021
Call Us

$2,165

Get Our Price
Get Quote
Nov 18, 2021
Dec 05, 2021
Call Us

$2,165

Get Our Price
Get Quote
Nov 19, 2021
Dec 06, 2021
Call Us

$2,165

Get Our Price
Get Quote
Nov 20, 2021
Dec 07, 2021
Call Us

$2,165

Get Our Price
Get Quote
Nov 21, 2021
Dec 08, 2021
Call Us

$2,165

Get Our Price
Get Quote
Nov 24, 2021
Dec 11, 2021
Call Us

$2,165

Get Our Price
Get Quote
Nov 25, 2021
Dec 12, 2021
Call Us

$2,165

Get Our Price
Get Quote
Nov 26, 2021
Dec 13, 2021
Call Us

$2,165

Get Our Price
Get Quote
Nov 27, 2021
Dec 14, 2021
Call Us

$2,165

Get Our Price
Get Quote
Nov 28, 2021
Dec 15, 2021
Call Us

$2,165

Get Our Price
Get Quote
Nov 29, 2021
Dec 16, 2021
Call Us

$2,165

Get Our Price
Get Quote
Dec 01, 2021
Dec 18, 2021
Call Us

$2,245

Get Our Price
Get Quote
Dec 02, 2021
Dec 19, 2021
Call Us

$2,245

Get Our Price
Get Quote
Dec 03, 2021
Dec 20, 2021
Call Us

$2,245

Get Our Price
Get Quote
Dec 04, 2021
Dec 21, 2021
Call Us

$2,245

Get Our Price
Get Quote
Dec 05, 2021
Dec 22, 2021
Call Us

$2,245

Get Our Price
Get Quote
Dec 06, 2021
Dec 23, 2021
Call Us

$2,245

Get Our Price
Get Quote
Dec 08, 2021
Dec 25, 2021
Call Us

$2,245

Get Our Price
Get Quote
Dec 09, 2021
Dec 26, 2021
Call Us

$2,245

Get Our Price
Get Quote
Dec 10, 2021
Dec 27, 2021
Call Us

$2,245

Get Our Price
Get Quote
Dec 11, 2021
Dec 28, 2021
Call Us

$2,245

Get Our Price
Get Quote
Dec 12, 2021
Dec 29, 2021
Call Us

$2,245

Get Our Price
Get Quote
Dec 13, 2021
Dec 30, 2021
Call Us

$2,245

Get Our Price
Get Quote
Dec 15, 2021
Jan 01, 2022
Call Us

$2,245

Get Our Price
Get Quote
Dec 16, 2021
Jan 02, 2022
Call Us

$2,245

Get Our Price
Get Quote
Dec 17, 2021
Jan 03, 2022
Call Us

$2,245

Get Our Price
Get Quote
Dec 18, 2021
Jan 04, 2022
Call Us

$2,245

Get Our Price
Get Quote
Dec 19, 2021
Jan 05, 2022
Call Us

$2,245

Get Our Price
Get Quote
Dec 20, 2021
Jan 06, 2022
Call Us

$2,245

Get Our Price
Get Quote
Dec 22, 2021
Jan 08, 2022
Call Us

$2,245

Get Our Price
Get Quote
Call or submit a quote for award-winning value and service!
Tour Itinerary
Take an unforgettable adventure through two of the most colourful yet contrasting cultures in South East Asia. Starting off in Vietnam, cruise through dramatic karst scenery on a boat tour of Halong Bay, step back into the world of the country's last emperors in Hue, soak up the old-world charm of Hoi An and be awed by the endless energy of Ho Chi Minh City. In Cambodia, discover the country's fascinating history and culture in Phnom Penh's heaving streets and in the awe-inspiring temples of Angkor. This is a journey that draws you away from the crowds and into heart and soul of this captivating region, and its equally enchanting people.
Day 1: Hanoi
Xin chao! Welcome to Hanoi! Your adventure begins with a welcome meeting at 6 pm and is followed by a group dinner at KOTO restaurant. This organisation is dedicated to developing the hospitality careers of disadvantaged youth.If you arrive before your tour begins there's plenty to see and do. Consider booking the Hanoi Morning Highlights Urban Adventure, a wide-ranging tour with a local expert guide. This optional tour visits the Temple of Literature, stops by a traditional tea house, and takes you through the Hoa Lo Prison Memorial before concluding at Hoan Kiem Lake. Or maybe take it at your own pace and wander the Old Quarter to admire the city's French-colonial architecture.
Day 2: Halong Bay
Travel by private minibus to World Heritage-listed Halong Bay, which is dotted with sandy coves, grottoes and 1600 limestone islands formed over millennia by wind and water erosion (approximately 4 hours). Board a private boat and cruise the bay, exploring Surprise Cave and perhaps even enjoying a swim from Ti Top Island Beach during the warmer months. Access to Surprise Cave is via staircases. Once inside the cave the pathways are a little uneven and slippery. To end the day, spend an evening aboard the boat beneath the night sky. What better way to get to know your fellow travellers than an old school sleepover in an unforgettable location?
Day 3: Hanoi – Overnight train
Return by boat to Halong Bay. At approximately midday, return to Hanoi by bus. Arrive late this afternoon and enjoy free time until tonight's train voyage. Be sure to grab a bowl of pho while you're in town and slurp down this local specialty made from broth, noodles and meat. Maybe chill by Hoan Kiem Lake until you board an overnight train to Hue this evening.
Day 4: Hue
Arrive in Hue at approximately 11 am and transfer to the hotel. Once the imperial capital of Vietnam, Hue holds the treasures of the country's royal past. Enjoy free time in the morning to rest or explore. If you choose the latter (and who can blame you) the bustling Dong Ba Market is a great place to sample some of the specialties that once graced the Nguyen emperors' tables like banh khoai (royal rice cake). Reunite with the group to visit the war-damaged ruins of the Imperial Citadel, a sprawling city-within-a-city which contains the remains of temples, state houses and the emperor's palace.
Day 5: Hue
See Hue like a local – from the back of a motorbike! Straddle the saddle and whiz around town with a local guide, taking in historic and contemporary sights along the way. Stop at Thanh Toan to see the 18th-century covered bridge and villagers shopping at their local market. Visit the 17th-century active Buddhist monastery of Thien Mu Pagoda and see the car that belonged to Thích Quang Duc, the monk who self-immolated in 1963 in protest against the treatment of Buddhists by the South Vietnamese regime. For lunch, savour a vegetarian feast in a nunnery. Finish at the lakeside royal tomb of Emperor Tu Duc before heading back to town.
Day 6: Hoi An
This morning travel by bus through coastal rice paddies and the spectacular Hai Van Pass (approximately 3 hours). After a photo stop en route, arrive into Hoi An. Recently declared a World Heritage site, Hoi An was a major international trading port during the 17th, 18th and 19th centuries. Today, parts of the beautifully-preserved town retain the feel of centuries past. It's also a shopping mecca, famous for its plethora of tailors. On arrival your leader will take you on a sightseeing walk through the Old Town to visit a handful of the city's major attractions. You'll also be given a sightseeing pass so you can further explore select attractions at your leisure.
Day 7: Hoi An
Today is a free day to explore Hoi An. Maybe browse the cobbled streets and art galleries or hire a bike and cycle through rice paddies out to Cua Dai Beach. Maybe browse for paintings, ceramics and colourful cloth lanterns in the town's markets and preserved Chinese shophouses. If you're craving a new look, you could pay a visit to one of the hundreds of tailors and get something special made. Hoi An is also known for its delicious regional food, so be sure to enjoy a meal at a riverside restaurant or perhaps partake in a cooking class.
Day 8: Ho Chi Minh City
Today take a short, early morning flight to Ho Chi Minh City (approximately 1.5 hours). Formerly known as Saigon, Ho Chi Minh City has a fascinating history and is arguably Vietnam's capital of commerce and culture. After landing, take a sightseeing tour around the city by bus. Pass the Reunification Palace, Notre Dame Cathedral and the Opera House, then stop in at the War Remnants Museum to discover some of the sobering stories of the 20-year-long Vietnam/American War.
Day 9: Mekong Delta – Ho Chi Minh City
This morning head out on a day trip to explore the Mekong Delta. Board a private boat to Ben Tre to visit the coconut gardens and stop at a local home to sample tropical fruits and coconut jams. Afterwards, paddle in sampans (small rowing boats) past coconut trees along the Mekong Delta. Take a tuk-tuk tour around the villages and learn about rural life and the industry created around coconut products like brooms and coconut fibre mats. Eat lunch at a restaurant in the heart of the Delta, sampling regional specialties such as the famous elephant ear fish. Cruise the major waterways to Ben Tre boat pier, then return by bus to Ho Chi Minh City. This evening, perhaps head out to sample some local specialties as a final farewell with your fellow travellers and leader.
Day 10: Ho Chi Minh City
Enjoy a free day in Ho Chi Minh to get out and discover the city at your own pace. Alternatively, why not get an up close and personal history lesson on guerrilla warfare during an Urban Adventures tour to the Cu Chi tunnels. This underground network in the middle of the jungle was used by the Viet Cong during the war. Take the chance to climb into the tunnels and imagine what it would've been like to eat, sleep, work and cook – even go to school underground as conflict raged above. Return to Ho Chi Minh where there will be a meeting at 6 pm to welcome any new travellers joining you on the next stage of your adventure. Afterwards, perhaps get to know your new travel buddies over an optional group dinner.
Day 11: Phnom Penh
Travel by public bus across the border, through rural Vietnam and Cambodia and onto Phnom Penh (approximately 10 hours including two border crossings and lunch). Cambodia's capital city is set on a major junction of the Mekong and Tonle Sap rivers and boasts some fine examples of French-inspired architecture. If you're looking for a tasty beverage on arrival, head to the Foreign Correspondents' Club for a mojito on the rooftop or if you're in the mood for shopping, stop in at the art-deco Psar Thmei (Central Market) or travel out to Psar Tuol Tom Pong (the Russian Market) for the best range of local souvenirs.
Day 12: Phnom Penh
Today, confront Cambodia's tragic past on a guided tour of the Tuol Sleng Genocide Museum (S21), a former school which served as a Khmer Rouge torture centre. It's estimated that more than 20,000 people were held and tortured here. You'll also head out to the Killing Fields of Choeung Ek, where a stupa made up of some 8000 human skulls marks the execution ground for the torture victims of Tuol Sleng. Afterwards, you may wish to learn about a brighter period in Cambodian history from an optional visit to the Royal Palace and Silver Pagoda. Wat Phnom, shrouded in myth, is equally worth a visit, as is the National Museum with its excellent Khmer collection. Cyclo tours around the city are a great alternative to walking and generally include the Central Market, US Embassy, Wat Phnom, Mekong riverfront, Independence Monument and Royal Palace.
Day 13: Battambang
Travel by private minibus to Battambang (approximately 6 hours). Break up an otherwise long trip with a visit to Kampong Luong, a marvellously colourful village that floats on the water. Spend an hour traversing between houses and other boats before hitting the road once more. Cambodia's second-largest city, Battambang, is a pretty riverside town of French elegance, friendly Khmer people and beautifully preserved colonial architecture. Why not take part in an optional cooking class to learn the secrets of local dishes such as amok, Khmer curry & fried spicy chicken.
Day 14: Siem Reap
Spend a bit of time riding around the countryside by bike, travelling out to local cottage industries to meet with on-site producers. Get a better insight into rural life in Cambodia, share a few snacks, then continue by private minibus to Siem Reap (approximately 3 hours). Arrive in Siem Reap in the evening and relax as you prepare for your much-anticipated visit to Angkor tomorrow. Perhaps hit the markets for some delicious street food.
Day 15: Siem Reap / Angkor Wat
Temple-hop with your local guide and make the most of your visit to the world-famous Angkor complex. The temples, dating back as far as the ninth century, were believed to represent the cosmic world and were set in perfect balance, symmetry and composition. The intricately carved bas-reliefs and architectural designs are mind-blowing and there are spectacular photo opportunities at any time of day. Watching a sunrise or sunset is a must. The ruins are scattered over an area of some 160 square kilometres, but the main cluster of temples is close to Siem Reap, so there will be plenty of time to fully appreciate the great archaeological sites of Angkor Wat, Bayon and the jungle-covered Ta Prohm.
Day 16: Siem Reap / Angkor Wat
Continue your explorations of the Angkor complex. You may like to spend just the morning making further discoveries here and save your afternoon for an optional activity elsewhere. Keen adventurers can take the Angkor zip-line adventure which gives an amazing birds-eye view of the rainforest, not to mention an adrenaline rush.
Day 17: Bangkok
It's a long drive by private minibus from Siem Reap to Bangkok (approximately 10 hours including border crossings and lunch). Arrive in Thailand's bustling capital and take in this exciting world of tuk tuks, khlong boats, and street vendors serving up delicious Thai food. Perhaps head out to sample some local specialties as a final farewell with your fellow travellers.
Day 18: Bangkok
Your trip comes to an end this morning, with no further activities planned. However, if you have more time, Bangkok is full of things to do, including the Grand Palace, Temple of the Emerald Buddha, and the fascinating Jim Thompson museum.
Hanoi - KOTO dinner
Halong Bay - Overnight boat cruise with seafood lunch and dinner
Halong Bay - Cave entry
Hue - Imperial City Full Day Tour Urban Adventure
Hue - Royal tomb of Emperor Tu Duc
Hue - Highlights & back streets by motorbike (lunch included)
Hue - Thien Mu Pagoda
Hoi An - Old Town walking tour
Ho Chi Minh City - War Remnants Museum
Ho Chi Minh City - City tour
HCMC - Mekong Delta day trip including coconut gardens & village tuk-tuk tour
Phnom Penh - The Killing Fields of Choeung Ek
Phnom Penh - Tuol Sleng Genocide Museum (S21)
Kampong Luong - Tonle Sap floating village visit
Battambang - Rural Food and Cycle Tour
Siem Reap - Three day Angkor Pass
Siem Reap - Angkor Temples Guided Tour
Siem Reap - Angkor Temples Guided Tour
Meals
14 Breakfast(s) Included
3 Lunch(es) Included
2 Dinner(s) Included

Style: Original

Hotel (15 nights), Overnight boat (1 night), Overnight sleeper train (1 night)
Question: How many suitcases can I take with me on my trip?
Each person is allowed one "check-in," and one "carry-on." Remember to take all valuables with you as "carry-on", because electronic equipment, cameras, laptops, jewelry, business documents and money are not covered by the airlines' liability, so always carry them aboard with you.
Question: Is Airfare Included in the Price?
Airfare from your point of origin to and from the trip is not included in the land price.
Similar Tours Other Travelers Liked
The trip was both both educational and exciting. I very much enjoyed the sights and culture.
The itinerary was just as I expected! The guide was very good as were the accomodations
Intrepid did such a great job. I never had to worry about where I was supposed to be and it felt so good not to worry about a thing but just to enjoy myself. Our guide was extremely knowledgeable about culture and history.
Taiwan people very friendly. Accommodation were centrally located and easily accessible. Did extra activities then in brochure which was greatly.
Larus our tour guide did an excellent job and was very attentive to our needs. He is very knowledgeable and has a great sense of humor.
Our guide Tarang chandola was exceptional. Courteous, knowledgeable, organized, polite, professional and went above and beyond taking care of our needs and requests offen anticipating what that might be. He made sure we all had the best possible time and offered suggestions to meet the needs of everyone on the tour. This made the trip even more enjoyable.
AffordableTours.com® does not itself offer, service or administer the Travel Packages, and the ultimate terms and conditions of any Travel Package made available via the Site Offerings (including the prices quoted in connection with same) will be determined by the applicable Third-Party Travel Service Provider. AffordableTours.com® does not represent or warrant that the Price Quotes are accurate, up-to-date or free of error, or that same will be honored by the applicable Third-Party Travel Service Providers. All Price Quotes, Travel Package availability, Travel Package details/itinerary and other Content are subject to change without notice. All travel details published by and through the Site Offerings should be confirmed directly with the applicable Third-Party Travel Service Provider prior to making any travel plans. Reliance on any information made available to you by and through the Site Offerings is solely at your own risk.
How It Works
Vacationing has never been easier or cheaper with the help of a dedicated travel consultant from AffordableTours.com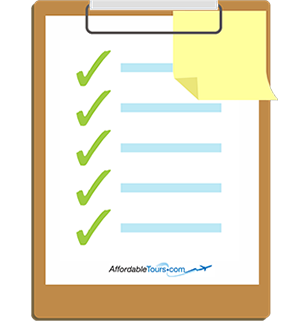 Find your perfect trip on our website and simply request a free quote. Need to speak to a live person? Call us 7 days a week at 1-800-935-2620. No robots here!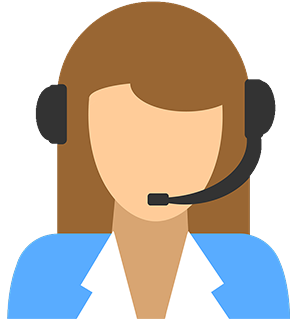 Your personal travel consultant will reach out and be your point of contact for your entire travel experience from start to finish. Did we mention you'll be working with an award winning team? Sweet!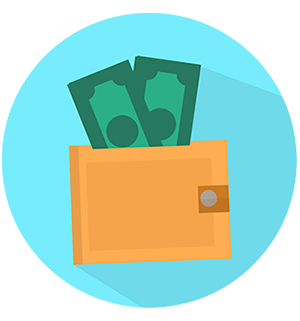 Because we're one of the largest sellers of travel, we're able to give you a discount on your vacation package. No one beats our prices!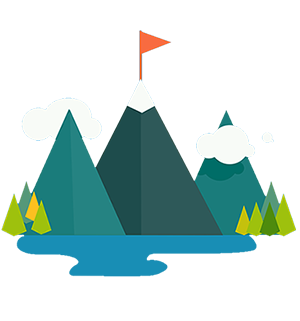 Knowing you got the best deal, all that's left is for you to pack your bags and enjoy your vacation!