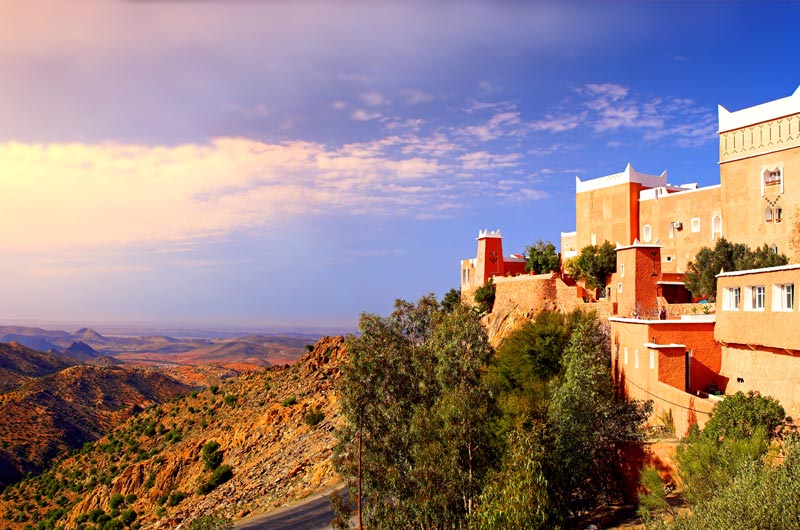 13 Day Kasbahs & Deserts of Morocco
Why Pay Retail?
Call us for a quick quote!
Dates & Prices
Please Note: Land Price does not include airfare, departure or arrival transfers, airline taxes and fuel surcharges.
Start Date
End Date
Offers
Brochure
Land Price
Brochure
Land & Air Price
Quote
Mar 20, 2021
Apr 01, 2021
Deals
$1,699
$2,629
Get Quote
Sep 04, 2021
Sep 16, 2021
Deals
$1,709
$2,799
Get Quote
Sep 18, 2021
Sep 30, 2021
Deals
$1,709
$2,629
Get Quote
Oct 23, 2021
Nov 04, 2021
Deals
$1,699
$2,889
Get Quote
Oct 30, 2021
Nov 11, 2021
Deals
$1,699
$2,889
Get Quote
Nov 13, 2021
Nov 25, 2021
Deals
$1,699
$2,889
Get Quote
Nov 27, 2021
Dec 09, 2021
Deals
$1,699
$2,889
Get Quote
Dec 18, 2021
Dec 30, 2021
Deals
$1,699
$2,889
Get Quote
Call or submit a quote to get our Low Prices!
Save 15% on Worldwide Vacations
Save 15% on Worldwide Vacations
Promotion Details
Book now to save 15% on select 2021 and 2022 tours. Plus, Gate1's Flexible Booking Policy makes it easier to book with confidence. If you are not comfortable traveling as your departure date approaches, you are able to change your plans before final payment.
Must Book By Sun, Nov 15, 2020
View Promotion Terms & Conditions ›
Offer applies to new bookings only. Must book before November 15, 2020 to receive discounted rate. Blackout dates/packages may apply. Discount is removed from the land price and does not apply to extra packages, air, surcharges or government taxes. Additional restrictions apply.
Save 5% - Cash Payment Discount
Save 5% - Cash Payment Discount
Promotion Details
Gate 1 offers the flexibility of paying for your vacation by check. Save 5% off of your remaining balance when the final payment is made by check.
Must Book By Thu, Dec 31, 2020
View Promotion Terms & Conditions ›
Gate 1 offers the flexibility of paying for your vacation by credit card or check. Choose check for your final payment to save 5% off of your remaining balance. Full details will be sent with your invoice.

Travel Free with Friends & Family
Travel Free with Friends & Family
Promotion Details
Traveling with friends and family is rewarding - and Gate1 is making it even more rewarding with their Friends & Family program. Start earning cash rewards when 7 friends or family join your escorted tour or river cruise and with only 10 companions, earn yourself a free land tour!

7 traveling / paying passengers: $100 discount to the group leader
8 traveling / paying passengers: $200 discount to the group leader
9 traveling / paying passengers: $300 discount to the group leader
10 traveling / paying passengers: $400 discount to the group leader
11 or more traveling / 10 paying passengers: Earn 1 free place twin/double occupancy
Must Book By Thu, Dec 31, 2020
View Promotion Terms & Conditions ›
FFP reservations apply to select Escorted Tours, European River Cruises and Escorted Tour & Sea Cruises. Eligible products will display the Friends and Family icon. Additional restrictions may apply.

Refer A Friend & Earn Travel Credits
Refer A Friend & Earn Travel Credits
Promotion Details
As a past customer, when you refer a friend you both benefit. Not only will your friend receive $50 off their first escorted tour or river cruise booking, but when you book your next new tour or cruise you will also receive $50 off.
Must Book By Thu, Dec 31, 2020
View Promotion Terms & Conditions ›
To be eligible for this incentive, the referring customer must have previously traveled with Gate1, and the passenger receiving the referral must be a new client. Only valid on escorted tours and river cruises. Only one person per room may earn a credit. The new traveling passenger must be booking their first reservation with Gate 1 Travel or Discovery Tours. The referrer's next trip must be booked within 24 months of earning the credit. Not valid on independent vacations, voucher bookings or Group reservations. Additional restrictions may apply.
Book With Flexibility
Peace of Mind
Complimentary "Peace of Mind" Travel Plan. Change your travel plans before final payment.
Change Destination / Vacation
Change to a different destination or vacation.
Change Dates
Choose new departure dates if your plans change.
Great Service
Award-winning service, low prices, client satisfaction
Tour Itinerary
DAY 1, Saturday - Depart for Morocco
Depart for Morocco
DAY 2, Sunday - Arrive in Marrakesh
Arrive in Marrakesh and transfer from the airport to your hotel. This evening, attend an orientation meeting with your Tour Manager and fellow travelers at approximately 6 PM. We recommend that you select flights which arrive in your destination no later than 4 PM on day 2 of the itinerary or earlier, if possible
Overnight: Marrakesh
DAY 3, Monday - Marrakesh City Tour
Following breakfast, take a morning tour of the city of Marrakesh, otherwise known as the "Ochre City". Home to a population of over one million, Marrakesh was one of the major imperial cities of historical Morocco. The city is divided into two areas; the Medina, or the historical city, and the Ville Nouvelle, the European-inspired modern city. Marvel at the city's pink mud-brick architecture. Visit the Saadian Tombs, the resting place of many members of the Saadi Dynasty, who claimed to descend from Muhammad's bloodline. Journey to the magnificent site known as the Bahia Palace, the 19th century home of Si Moussa, whose name literally means "brilliance." The balance of the day is at leisure
Overnight: Marrakesh
Meals: Breakfast
DAY 4, Tuesday - Full Day in Marrakesh
Today, the entire day is yours to explore the city on your own. Perhaps head to the Dar Si Said Museum, a homage to the influence of wood in Moroccan crafts. Consider a visit to the souks, the famed markets of the city. Here, you'll find everything from handicrafts to spices to clothing. Perhaps join the morning optional Ourika Valley tour. The Ourika Valley rises slowly to the first hills of the High Atlas, where typical Moroccan villages are scattered amidst the towering mountains. See the natural majesty of Morocco at its finest, a pristine and marvelous place where only the birds disturb the silence. Tonight, attend the optional Dinner with Horse-Drawn Carriage Ride
Optional: Ourika Valley tour (AM)
Optional: Dinner with Horse-Drawn Carriage Ride (PM)
Overnight: Marrakesh
Meals: Breakfast
DAY 5, Wednesday - Travel to Boumalne Dades, Ouarzazate
This morning, depart from Marrakesh on a journey through the famous Tichka Pass to Boumalne Dades. Then onto a tour of Ouarzazate, a desert city at the gates of the Sahara. Its strange name means "without noise" in the Berber language. Walk in the Taourirt village, which is a former post for monitoring the caravan routes into West Africa. It was an important village located at the crossroads between the Sahara Desert and the north of Morocco. Your tour also includes the Kasbah Taourirt, an amazing example of Moroccan architecture, which was built to house hundreds of people. You will also have the opportunity to browse for Moroccan rugs in a carpet store. Lunch is on your own before arriving in Boumalne Dades for check-in and dinner at the hotel
Overnight: Boumalne Dades
Meals: Breakfast, Dinner
DAY 6, Thursday - Travel to Erfoud, Todra Palmeraie Gorge
After breakfast, depart your hotel and travel to Dades Gorges where you will get to experience an orientation tour of the stunning landscapes and canyons. Then travel to Erfoud, an oasis town in eastern Morocco. En route stop at one of Morocco's most popular natural sights, the lush Todra Palmeraie Gorge. Don't forget your camera as you take a walking tour of the wondrous 985 feet high gorge and surrounding area. Continue on your journey to Erfoud, also known as "The Desert Gate". After check-in at your hotel, time to relax before dinner
Overnight: Erfoud
Meals: Breakfast, Dinner
DAY 7, Friday - Rissani, Erg Chebbi, Camel Ride in the Dunes
This morning, explore the small city of Rissani on the edge of the Sahara. Wander its lively souk, and visit a 17th-century ksar. Next, stop at a fossil factory to learn more about this unique activity which is famous in the region. Then, pass by the ancient ruins of Sijilmasa on the River Ziz, once a bustling Berber city and medieval trade depot. Depart by 4x4 caravan into the desert, exploring numerous small villages before reaching Tisserdimine, an oasis village at the bottom of Erg Chebbi. Enjoy a picnic-style lunch before continuing the journey to the peak of Erg Chebbi. After taking in this splendid view of the surrounding desert, leave your man-made transports behind and journey into the heart of the dunes as the local nomads do; by camel back. Return to your hotel after sunset
Overnight: Erfoud
Meals: Breakfast, Lunch, Dinner
DAY 8, Saturday - Travel to Ait Benhaddou
Depart Erfoud this morning, then stop for a tour of Ait Benhaddou*. A prime example of classic Southern Moroccan architecture, this fortified city's high-angled towers stand out above the family dwellings, all set near the foothills of the Atlas Mountains*Winter departures will visit Ait Benhaddou on Day 9
Overnight: Ait Benhaddou (Ouarzazate Region)
Meals: Breakfast, Dinner
DAY 9, Sunday - City Tour of Agadir
Journey today to the coast and the delightful resort of Agadir. During your orientation tour upon arrival in the afternoon, you will have the chance to view the beaches of this former fishing village as well as the hilltop ruins of the old kasbah. It was at Agadir that the European conflict began between Germany and France that opened the door for France to seize nearly all of Morocco. Spend the evening at leisure to relax and enjoy the resort
Overnight: Agadir
Meals: Breakfast
DAY 10, Monday - Travel to Essaouira
This morning, set out for the city of Essaouira. Along the way, stop at the Marjana Cooperative, to view traditional methods of extracting Argan Oil. The demand for the oil has grown drastically due to its heavy use in cosmetics and cuisine in the West. Continue on to Essaouira. Also known as Mogador, the modern city of Essaouira was not constructed until the late 18th century by Mohammed III. French and Arab influences shine through in this medina's architecture. Essaouira played a major role in maritime trade, bridging Sub-Saharan Africa with Europe. A multicultural lifestyle thrives there as people of various ethnic groups and religious backgrounds live in harmony with one another. Upon arrival, check into your hotel and enjoy the evening at leisure
Overnight: Essaouira
Meals: Breakfast
DAY 11, Tuesday - Essaouira City Tour
Take a guided tour through Essaouira's medina, a UNESCO World Heritage Site and an excellent example of a fortified North African town. Spanish cannons still line the battlements while parasols dot the harbor's beaches, creating a remarkably picturesque setting. You will walk along the city's ramparts just north of Moulay Hassan Square where local artists sell their paintings. Continue on to the Skala de la Ville, which is a fortification built along the cliffs that defended the city from sea attacks, but now provides visitors with an unparalleled view of the port and its bright-colored fishing boats. In the Medina, artisans, and craftsmen practice their trades as they have for hundreds of years. Explore the many souks in the medina, including the spice and jewelry souks. Visit a jewelry shop, renowned for its quality and design. Browse the extensive collection of uniquely handcrafted silver jewelry and watch artisans create beautiful silver pieces The city is also famed for hosting the Gnaoua World Music Festival, which draws musicians from across the world who come to play with the Gnaoua mystics. Spend the balance of the day at leisure
Overnight: Essaouira
Meals: Breakfast
DAY 12, Wednesday - Depart for Casablanca, Hassan II Mosque
Today, travel to Casablanca, the largest city in Morocco. Casablanca's history goes back thousands of years as the Berbers established settlements there around the 10th century BC. Famed civilizations such as the Phoenicians and Romans were known to have traveled through there as well. During World War II, the city served as General Patton's headquarters for the North Africa campaign, and the host of the 1943 meeting between the heads of state to plan the Normandy landing. Upon arrival, take a bus tour of the city including the exterior of the Hassan II Mosque*; the largest Mosque in Morocco and the beautiful corniche seaside. View Mohamed V Square and Notre Dame de Lourdes Cathedral. Take in all of this and more throughout your day. Your last night features a special Farewell Dinner at a local restaurant*Hassan II Mosque is subject to unexpected closures for local religious observances. Details will be provided locally by your Tour Manager.
Overnight: Casablanca
Meals: Breakfast, Dinner
DAY 13, Thursday - Depart Morocco
Transfer to the airport for your departure flight
Meals: Breakfast
Please Note: Land Price does not include airfare, departure or arrival transfers, airline taxes and fuel surcharges.
Please Note: Land Price does not include airfare, departure or arrival transfers, airline taxes and fuel surcharges.
Escorted Package Includes

Flights New York-Marrakesh, Casablanca-New York
Other departure cities available.
Airline taxes & fuel surcharges
11 nights First Class accommodations
3 nights Marrakesh
1 night Boumalne Dades
2 nights Erfoud
1 night Ouarzazate
1 night Agadir
2 nights Essaouira
1 night Casablanca
Hotel taxes, fees & service charges
Hotel porterage
All transfers included only with airfare purchase on package arrival & departure dates†
17 meals: 11 breakfasts, 1 lunch, 5 dinners
Sightseeing per itinerary in modern air-conditioned motor coach
Services of English-speaking tour manager throughout
Entrance fees per itinerary
Special Features
Visit Ait Benhaddou, a perfect example of eastern clay architecture and a UNESCO World Heritage Site
Tour Kasbah Taourirt, one of the most beautiful Kasbahs in Morocco, built in the 19th century
View Todra Gorge, a trench of gigantic rock walls that run through the High Atlas Mountains
Admire the beautiful sand dunes of Erg Chebbi, one of the greatest sights in Morocco
View Hassan II Mosque, the largest mosque in Morocco
†Transfers are available for purchase for land only or on alternative flight dates
Not Included:
Optional tours and gratuities.

Additional Information:
Land only price does not include arrival/departure transfers.
During Ramadan (Apr 12 - May 11, 2021), historic and cultural sites may close early and operate with minimal staff. The order of sightseeing may be changed to accommodate the holiday observance. Many hotels, restaurants, and bars may not serve alcoholic beverages and some local restaurants may not be open. Entertainment may be limited to be respectful of the holiday observance. Modest dress is suggested during Ramadan (no shorts, short skirts, or sleeveless tops). Use discretion when drinking, eating, and smoking in public between sunrise and sunset.
Le Meridien N'Fis
This deluxe hotel is a short ride away from the Menara gardens.
Hotel Xaluca Dades
This first class hotel is located within the heart of the Atlas Mountains.
Kasbah Xaluca Maadid
This first class hotel is a Kasbah-style property located on the edge of the desert near to Erfoud and its many attractions.
Berbere Palace
This deluxe hotel is set close to the town center and offers superb facilities and hospitality.
Iberostar Founty Beach
This first class hotel is located very close to a beach of fine sand.
Hotel Atlas Essaouira & Spa
This deluxe hotel is located on the beachfront in Essaouira.
Grand Mogador City Center
This deluxe hotel is a ten minute drive from the Old Medina of Casablanca.
Question: How many people in the group?
The amount of people on a Gate1 tour vary. It will be between 24-42 travelers.
Question: How many suitcases can I take with me on my trip?
Each person is allowed one "check-in," and one "carry-on." Remember to take all valuables with you as "carry-on", because electronic equipment, cameras, laptops, jewelry, business documents and money are not covered by the airlines' liability, so always carry them aboard with you.
Question: Is Airfare Included in the Price?
Airfare from your point of origin to and from the trip is not included in the land price.
Awesome experience... knowledgeable and helpful tour guide (Hend), as well as all other employees.
As always, everything went very smoothly.
Very interesting itinerary
Great trip, loved the hotels and the service provided..
Fabulous trip. Great value
Prompt, courteous, and professional service at a fair cost.
We had a wonderful trip and we especially appreciated our tour guide in Vietnam, Tom. We're now looking into booking another trip with Gate1
Gate 1 is really good at what it does.. Highly recommend.
The trip and the experience exceeded our expectations. Both Affordable Tours and Gate 1 were outstanding.
Gate 1 did a wonderful job of planning all the details so we could enjoy our experience. Well worth the money.
The trip was excellent, well organized
Gate 1 Discovery Tour was more than we expected, hotels were excellent, attraction entrance fees were all included. Couldn't be more pleased!
Gate 1 was much better than I expected. I was really pleased with the tour and would consider traveling with them again.
Alex was a super tour guide. The itinerary was full, enjoyable, interesting, and with the other travelers we truly enjoyed our trip. Thank you
Affordable Tours took care of my booking and arranged my flights. It was handled efficiently and everything worked out beautifully.
AffordableTours.com® does not itself offer, service or administer the Travel Packages, and the ultimate terms and conditions of any Travel Package made available via the Site Offerings (including the prices quoted in connection with same) will be determined by the applicable Third-Party Travel Service Provider. AffordableTours.com® does not represent or warrant that the Price Quotes are accurate, up-to-date or free of error, or that same will be honored by the applicable Third-Party Travel Service Providers. All Price Quotes, Travel Package availability, Travel Package details/itinerary and other Content are subject to change without notice. All travel details published by and through the Site Offerings should be confirmed directly with the applicable Third-Party Travel Service Provider prior to making any travel plans. Reliance on any information made available to you by and through the Site Offerings is solely at your own risk.
How It Works
Vacationing has never been easier or cheaper with the help of a dedicated travel consultant from AffordableTours.com
1. Free Quote
Find your perfect trip on our website and simply request a free quote. Need to speak to a live person? Call us 7 days a week at 1-800-935-2620. No robots here!
2. Dedicated Travel Consultant
Your personal travel consultant will reach out and be your point of contact for your entire travel experience from start to finish. Did we mention you'll be working with an award winning team? Sweet!
3. Lowest Price Guaranteed
Because we're one of the largest sellers of travel, we're able to give you a discount on your vacation package. No one beats our prices!
4. Stress Free Travel
Knowing you got the best deal, all that's left is for you to pack your bags and enjoy your vacation!