Best of Italy - Winter 2020 2021

Why Pay Retail?
Call us for a quick quote!
Dates & Prices
Start Date
End Date
Offers
Brochure
Land Price
Our Price
Quote
Dec 03, 2020
Dec 13, 2020
Deals

$3,125

Get Lower Price
Get Quote
Mar 04, 2021
Mar 14, 2021
Deals

$3,125

Get Lower Price
Get Quote
Mar 11, 2021
Mar 21, 2021
Deals

$3,125

Get Lower Price
Get Quote
Mar 18, 2021
Mar 28, 2021
Deals

$3,125

Get Lower Price
Get Quote
Mar 25, 2021
Apr 04, 2021
Deals

$3,295

Get Lower Price
Get Quote
Apr 01, 2021
Apr 11, 2021
Deals

$3,450

Get Lower Price
Get Quote
Apr 08, 2021
Apr 18, 2021
Deals

$3,525

Get Lower Price
Get Quote
Apr 15, 2021
Apr 25, 2021
Deals

$3,425

Get Lower Price
Get Quote
LOW UNPUBLISHED PRICES ON INSIGHT VACATIONS TOURS
Why pay full price? Call us or click above for a quick quote and save money on Insight Vacations Tours.
$99 Deposits on Worldwide Vacations
$99 Deposits on Worldwide Vacations
Promotion Details
For a limited time, enjoy a reduced deposit of $99 per person (regularly $200) and a 30-day refund guarantee on guided trips with Insight Vacations, plus receive our 10% AffordableTours.com everyday savings.
Must Book By Thu, Dec 17, 2020
View Promotion Terms & Conditions ›
*Terms & Conditions: $99 per person deposit valid for new bookings only made between June 15, 2020 – December 17, 2020. Deposit due at time of booking. Applicable for travel September 1, 2020 – October 31, 2021. $99 Deposit is combinable with Early Payment Discount, Early Booking Discount, Last Minute Deals, year-round savings and exclusive partner offers. An additional deposit is required at 120 days for select Europe, USA/Canada, Asia and Africa trips that include internal segments. Offer is not applicable to group deposit but can be applied for travelers booking within the group block. $99 per person deposit qualifies for 30-day refund guarantee – cancel for any reason within 30 days of deposit and receive a full refund. Offer based on availability and may be withdrawn at any time without notice. CST No. 20687545-20. Temporary changes to standard terms and conditions apply to new bookings until further notice. This penalty waiver allows you to change the destination and/or trip you are traveling on. If you choose a trip or departure that is more expensive than the original, you are responsible for the difference in price; if the trip or departure is less expensive than the original, a future travel credit will be issued for the difference. Normal penalties apply for full cancellation without rebooking or cancellations within 30 days of departure. Please note, airlines may impose different change policies, and if you declined travel insurance, you are responsible for any airline cancellation penalties. Other conditions apply.

Young Travelers Save up to 10%
Young Travelers Save up to 10%
Promotion Details
Young travelers between the ages of 5 through 17 yrs of age save up to 10%, plus receive our AffordableTours.com 10% extra savings!
Must Book By Thu, Dec 31, 2020
View Promotion Terms & Conditions ›
Young Travelers must be under the age of 18 years old on the tour departure date and accompanied by an adult (limit of one Young Traveler Discount per room). Children under 5 years old are not accepted on any escorted tour. This discount cannot be combined with our Milestone Celebrations offers.
Take Two or More Trips and Save up to $212
Take Two or More Trips and Save up to $212
Promotion Details
Save up to $212 when you book two Insight vacations of 7 days or longer or take three tours and save on two. Plus receive our AffordableTours.com 10% extra savings!
Combine with Club Bon Voyage past traveler savings.
Must Book By Thu, Dec 31, 2020
View Promotion Terms & Conditions ›
Does not apply to additional accommodations, stopovers, airfares of flight supplements, Independent City Breaks, Egypt, Israel, Jordan, Greece, trips with included cruises or cruise extensions. All trips must be booked at the same time to qualify. Additional details may apply.
Triple Room Share Reduction
Triple Room Share Reduction
Promotion Details
Travel with three people sharing one room and each of you will receive a reduction on the land-only portion of your trip's price. As always receive our AffordableTours.com 10% extra savings.
Must Book By Thu, Dec 31, 2020
View Promotion Terms & Conditions ›
Offer may not be available on all vacations. Note the third bed may be a foldaway. Cannot be combined with our Small Group Discount. Discount varies by package. Additional restrictions may apply.

5% Club Bon Voyage Savings
5% Club Bon Voyage Savings
Promotion Details
If you have traveled with Insight, Luxury Gold, Trafalgar, Brendan, African Travel, Contiki or Uniworld in the past you may be eligible for up to a 5% discount on the land portion of your next trip, plus receive our 10% AffordableTours.com additional everyday savings. Contact your Travel Consultant for applicable vacations, not all vacations will qualify.
Combinable with most other offers, exceptions may apply.
Must Book By Thu, Dec 31, 2020
View Promotion Terms & Conditions ›
Discounts and savings only apply to the land portion of your vacation and are not applicable to extra nights' accommodations, optional extensions, airfares, taxes and fees, flight supplements, surcharges and airport transfers. Sometimes more than one discount can apply. Eastern Mediterranean trips may have additional restrictions. 5% savings is not valid on all itineraries and/or departure dates. Savings may be withdrawn at any time without notice. Offer is capacity controlled and applies to new bookings only. Additional restrictions may apply.

5% Savings on Group Vacations
5% Savings on Group Vacations
Promotion Details
Travel together and save money. Family, friends, club members or colleagues, gather 9 or more people and earn a 5% discount. Plus as always receive our AffordableTours.com 10% extra savings!
Discount is combinable with Early Payment savings as well as Past Guest discount and second trip savings.
Must Book By Thu, Dec 31, 2020
View Promotion Terms & Conditions ›
Group vacations may not be offered on all dates and/or itineraries. Discount is combinable with Early Payment savings as well as Past Guest discount and second trip savings. Offer applies to new bookings only. Additional restrictions may apply.
Book With Flexibility
Peace of Mind
Complimentary "Peace of Mind" Travel Plan. Change your travel plans until 30 days before your trip
Change Destination / Vacation
Change to a different destination or vacation with the Travcorp Family of Brands.
Change Dates
Choose new departure dates if your plans change.
Great Service
Award-winning service, low prices, client satisfaction
Tour Itinerary
Roman antiquities, saintly Assisi, Venetian canals, Renaissance Florence and Capri's brilliant sunlight come together on this superb journey across Italy, with the option to end in Naples or Rome.
Day 1

Rome the Eternal City.

Welcome to Rome, a glorious city filled with classic antiquities, medieval buildings, Renaissance palaces and Baroque churches. Transfers depart from Rome's Fiumicino Leonardo da Vinci Airport for the your hotel at 09:30, 12:30 and 15:30. Join your Travel Director at 17:30 for a uniquely Roman Welcome Dinner at a local restaurant.(Dinner with Wine)Accommodation: Hotel Romanico Palace, Rome.
Meals: Dinner

Day 2

VIP Vatican and Rome with a Local.

The day is devoted to the Eternal City. Join a Local Expert for an in-depth visit to the Vatican Museums, full of priceless art treasures collected by the Popes. Insight has arranged special VIP entry to skip the lines and gain behind-the-scenes access to the Bramante Staircase, a marvel of Renaissance architecture normally off-limits to visitors. Visit the Sistine Chapel, where the Popes are elected, to admire Michelangelo's famous ceiling. Continue to St. Peter's Basilica, to wonder at another of his works, the emotive 'Pietà,' and stand beneath the dome completed after his death. There's free time to do as the Romans do, or perhaps join a tour inside the Colosseum? Rome is about art, antiquity, piazzas and pizzazz, and our included walking exploration has it in abundance. Toss a coin into the spectacular Trevi Fountain, see the Pantheon, the best preserved monument from the Roman period, and enjoy free time in Piazza Navona.(Breakfast)Accommodation: Hotel Romanico Palace, Rome.
Meals: Breakfast

Day 3

Renaissance Florence.

Travel north through glorious, peaceful Tuscan landscapes. Meet your Local Expert for a guided visit through the house of the Italian Renaissance diplomat and writer, Niccolo Machiavelli, with a special opening of his private office where he wrote 'The Prince.' Visit the Italian garden for views of Florence's iconic domed cathedral and see the historic cellar which connects to one of the oldest restaurants in Italy by a secret underground tunnel. Taste wines made from the vineyards surrounding the home, accompanied by delicious samples of local Tuscan fare. Continue on to Renaissance Florence.(Breakfast / Lunch with Wine / Dinner with Wine)Accommodation: Hotel Athenaeum Florence.
Meals: Breakfast, Lunch, Dinner

Day 4

Florence Sightseeing.

Explore Florence with Insight Choice. Choose between a visit to the Accademia Museum with an art historian to see Michaelangelo's monumental statue, David. Alternatively, wander through the market stalls on a guided shopping tour and enjoy all the treats and trinkets on show. Continue to the multi-coloured marble cathedral to admire Giotto's bell tower and Gates of Paradise. Visit Piazza della Signoria and explore the area around Santa Croce Basilica. After a demonstration of leatherwork, there's free time to shop or venture on your own. In the evening, why not sample the fine Florentine cuisine of tasty starters and rich pastas accompanied by Chianti wine?(Breakfast)Accommodation: Hotel Athenaeum Florence.
Meals: Breakfast

Day 5

Pisa to Venice, the Queen of the Adriatic.

In the morning, journey to the coastal town of Pisa to see the famous Leaning Tower in the Square of Miracles as well as the baptistery, with its intricately detailed marble facade, and the colonnaded bell tower lurching behind the cathedral. Then relax and enjoy the scenery as you cross the spectacular Apennine Mountains, through the Emilia-Romagna region - one of Europe's most intensely farmed fertile plains. Continue through the marshes of the Venetian Lagoon before crossing the causeway into the floating city of Venice.(Breakfast / Dinner with Wine)Accommodation: Splendid Venice - Starhotels Collezion.
Meals: Breakfast, Dinner

Day 6

Venice and the Magic of La Serenissima.

In the morning, visit an arts centre on Giudecca Island will allow you to admire the age-old skill of glassblowing by skilled artisans. In the afternoon, take a short stroll past historic churches and 13th century palaces to St. Mark's Square. The first sight is the pink marble of the Doge's Palace, connected to the prisons by the Bridge of Sighs. It was from here that Casanova made his daring escape. Turn the corner, and the gilded regalia of St. Mark's Basilica comes into view. After, board a traditional gondola for a serenade along the romantic canals.(Breakfast)Accommodation: Splendid Venice - Starhotels Collezion.
Meals: Breakfast

Day 7

Into the Hills of Umbria to Assisi.

Leave Venice and journey to peaceful Assisi, one of Italy's most beautiful mountain towns. In the valley, see the Church of St. Mary of the Angels, much venerated as the place of St. Francis' death, then continue up Mount Subasio to the upper town. With your Local Expert, step inside the huge Basilica of St. Francis, built in the 13th century, where the frescoes by Giotto heralded a new era in Italian art.(Breakfast / Dinner with Wine)Accommodation: Hotel Giotto Assisi.
Meals: Breakfast, Dinner

Day 8

Sorrento on the coast.

Travel south passing Cassino, the scene of a fierce battle during World War II. Follow the spectacular clifftop road to the picturesque resort of Sorrento, overlooking the Bay of Naples to Mount Vesuvious. After checking in to your hotel, spend the rest of the day at your leisure.(Breakfast)Accommodation: Hotel Regina, Sorrento.
Meals: Breakfast

Day 9

Capri, the Isle of Dreams.

In the morning, cruise to the Isle of Capri. Under the Mediterranean sun, take one of the island's iconic open-top taxis up to Capri town where your Local Expert will take you around the narrow alleyways to browse exclusive boutiques and enjoy views over the Tyrrhenian Sea. Perhaps join an optional cruise around Capri? Descend to the port on a funicular ride and return to Sorrento for some time to relax. In the evening, join your fellow travellers for a memorable Celebration Dinner of delicious Italian cuisine and wine.(Breakfast / Dinner with Wine)Accommodation: Hotel Regina, Sorrento.
Meals: Breakfast, Dinner

Day 10

Pompeii, frozen in time and onto Rome.

Continue to Pompeii, the opulent Roman town which was preserved by layers of ash from the disastrous eruption of Mount Vesuvius in A.D. 79. A walk with your Local Expert through the cobbled streets and extensive excavations reveals the daily life of ancient Roman civilisation. Visit the Forum and peer into shops and patrician villas, decorated with colourful wall paintings. Then continue north as you travel to your hotel in Rome.(Breakfast)Accommodation: Hotel Romanico Palace, Rome.
Meals: Breakfast

Day 11

Arrivederci Rome.

Departure transfers arrive at Rome's Fiumicino Leonardo da Vinci Airport at approximately 07:00 and 09:30.(Breakfast)
Meals: Breakfast
Authentic Dining

Tuscany: Taste locally-made wines and sample delicious Tuscan snacks in the underground cellar of Machiavelli's home. Visit the Italian gardens and be privy to a private opening of the office where he wrote 'The Prince.'
Sorrento: Enjoy a glorious Celebration Dinner of fresh, rustic dishes served with local wine.
Dining Summary: 10 Breakfasts (B), 1 Afternoon Tea (AT) and 5 Dinners with Wine (DW) all with tea or coffee.
Insight Experiences

Rome: Sightsee the local way with a leisurely passeggiata through the backstreets, where a friend in Rome will explain how modern life takes place around ancient treasures.
Vatican City: Gain VIP fast-track entrance into the Vatican Museums and enjoy a special private viewing of the Bramante Staircase before admiring the genius of Michelangelo's painted ceiling in the Sistine Chapel. You'll also visit St. Peter's Basilica.
Venice: Witness the ancient skill of glassblowing while watching artisans create delicate works of art.
Top Rated Highlights

Venice Carnival: For a selected time in February, Venice welcomes exuberant costumes during the world-famous carnival. Don a traditional Venetian mask and join in the extravagant festivities of the Carnevale Venezia.
Rome: See the mighty Colosseum and Roman Forum. You will also see other medieval buildings, including Renaissance palaces and Baroque churches, scattered throughout the city.
Florence: Enjoy panoramic views over of the city and see the Florence Cathedral. During your guided walking orientation, see the bell tower, Gates of Paradise on the baptistery and visit Piazza della Signoria.
Florence: Witness a leather-work demonstration and visit the area around Piazza Santa Croce, famous for the quality of its luxury goods.
Pisa: See the famous gravity-defying Leaning Tower in the Square of Miracles, along with the 11th century cathedral and beautifully decorated baptistery.
Venice: With your Travel Director cruise to St. Mark's Square and see the Doge's Palace, Bridge of Sighs and St. Mark's Basilica.
Venice: Enjoy a traditional gondola serenade along the romantic canals.
Assisi: With your Local Expert, visit this hill-town with its stone-built structures. See Mount Subasio and the Church of St. Mary of the Angels.
Assisi: Find out why the Basilica of St. Francis is considered one of the crowning achievements of medieval Europe with a Local Expert.
Sorrento: Perched upon the cliffs, lookout to see the mighty Mount Vesuvious across the Bay of Naples.
Isle of Capri: Cruise to this famous isle through beautiful blue Mediterranean waters to meet your Local Expert.
Isle of Capri: Wander through the narrow streets led by your Local Expert and see all the boutiques as you enjoy captivating sea views.
Isle of Capri: In unique style, ascend by open-top taxi and return to the port by funicular.
Pompeii: Walk with a Local Expert through the cobbled streets of this ill-fated town, frozen in time since the 1st century.
Included Insight Services

Our highly-skilled Travel Director will ensure your journey is seamless, serving as your expert guide, consummate organiser, and friend overseas.
Enjoy the comfort of Insight's luxury, air-conditioned, 40-seat coach with double the standard legroom and onboard washroom.
Personal radio headsets give you the freedom to wander during visits to famous highlights, without missing any of your Local Expert's fascinating commentary.
We carry your bags for you and promptly deliver them to your hotel door.
Hotel and restaurant tips are included - you'll never have to worry about how much to give, nor search for foreign currency. We also include all taxes and porterage charges at hotels.
Stay connected with friends and family with our complimentary coach and hotel Wi-Fi (where available).
From time to time, your Travel Director will enchant you with an Insight Flourish, which is a local specialty representing the destination.
If your arrival and/or departure flights are as per the itinerary start and end dates, then transfers are available at scheduled times. If your flights are outside these times, or you have booked additional nights accommodation with Insight Vacations, you may purchase transfers or make your own way from/to the airport.
Hygiene and Safety Protocols for Insight Vacations Tours
Insight Vacations has introduced these enhanced hygiene protocols – for you and team members.
You can travel with Insight Vacations and be assured that their team has put numerous new measures in place to elevate their hygiene standards and protocols. The well-being of guests and team has always been, and always will be, their primary concern.
In this new, fast changing Covid-19 era, Insight Vacations is doing all they can to adapt to new requirements and expectations. Here are some important new steps and procedures that they have implemented to enhance hygiene protocols, to comply with physical distancing requirements by relevant government authorities and to give you the peace of mind when you are traveling during these new times.
Expertly Trained Travel Directors
Travel Director training equips them with enhanced hygiene and physical distancing procedures. During your trip, they will operate with a duty of care and monitor the hygiene etiquette of the guests, reacting and advising as needed, to ensure high standards are maintained. Before you travel, Insight Vacations will also keep you well informed about new protocols required in these areas, and ask that you cooperate with and heed the advice and direction of Travel Directors while on your trip. The Travel Directors have preventative measures in place to try and ensure your well-being and in the event that any unexpected issues arise on trip, they will activate additional protocols.
Stringent On-the-Road Protocols
The customized luxury coaches are sanitised before the start of your trip and have always been kept to very high standards. Following the outbreak of COVID-19, Insight Vacations have taken additional measures to elevate hygiene and sanitary practices in accordance with guidance from the World Health Organisation (WHO) and as required, applicable government regulations. The Driver training provides them with the latest hygiene protocols. They will clean and disinfect all surfaces including handrails, door handles, tables, seats, air-conditioning filters and overhead lockers on a daily basis. All the guests are asked to follow hygiene practices recommended by the World Health Organisation including the thorough and regular washing of hands and sanitising when required. Hand sanitiser is freely available on board for your use throughout the day. Please bring your own washable face mask and gloves with you, and additional hand sanitiser to make you feel comfortable, as these will be required to be worn in public in some countries. Should an unexpected situation arise, additional face masks, rubber gloves, antiviral sprays and wipes will be available for guest distribution on all trips.
A Full Team of Support 24/7
It's not just your Travel Director and Driver who will be taking care of you. Behind the scenes, the operations and guest support teams are in contact with them and on call 24/7, so you can rest assured that you're in good hands.
Physical Distancing
Adapting to the right size groups, based on government distancing requirements, you can rest assured that you will travel with the comfort of your own personal space. Have peace of mind that all of the experiences, hotels and restaurants you'll enjoy on your trip have been vetted to ensure they adhere to physical distancing and hygiene guidelines.
Trusted Partners, Exceptional Standards
Insight Vacations is very selective in who they work with and choose to only use hotels, restaurants, ground handlers and venues that take the well-being of the guests as seriously as Insight Vacations does and agrees to meet expected guidelines and specifications. Insight Vacations only works with establishments that they are confident will consistently adhere to their high standards.
Always in the Know
As part of The Travel Corporation (TTC) , Insight Vacations is kept up to date with all government advisories and travel alerts on a daily basis and is continually in touch with all of the partners on the ground in each destination. Also, rest assured that during your trip, the teams work to ensure the supplier partners (hotels, restaurants, museums and other venues) are also applying the same standard to these new hygiene and distancing protocols, to the extent possible.
Question: How many people are in your tour groups?
The amount of people on tour will vary. Insight does have a max of just 40 travelers on their trips.
Question: How many suitcases can I take with me on my trip?
Each person is allowed one "check-in," and one "carry-on." Remember to take all valuables with you as "carry-on", because electronic equipment, cameras, laptops, jewelry, business documents and money are not covered by the airlines' liability, so always carry them aboard with you.
Question: Is Airfare Included in the Price?
Airfare from your point of origin to and from the trip is not included in the land price.
Similar Tours Other Travelers Liked
This was a very active tour. More walking than I expected on cobblestone streets.
Great trip, Affordable Tours did an outstanding in booking this trip and was one of the best we have taken. The person that we worked with (Tamara) was very courteous, professional and knowledgeable in getting us get the best price available for the tour.
Couldn't be happier with our trip, Taste of Italy. Our family of four highly recommends it.
Insight Vacations is a good tour operator. The only thing I had trouble with was the large size of the group (40). I will not travel with more than 30 in the future.
The tour by Insight Vacations was extremely good. Our tour director really knew how to manage a group of 40 - keeping everything on time - while making it very enjoyable. I can't imagine any other way to see so much in 11 days as we did with the group. There was never a line as we were expected and went right thru.
Pricing was not transparent. It failed to disclose additional expenses for optional experiences, tour guide & driver gratuities and local guides. These fees added nearly $1000 to our tour. I resent being trapped into demonstrations of extremely high end products & associated sales pitches of which I have no interest & then forcing me to use my free time to shop at these places. All these took time away from visiting local sites. The pace of the tour was such that very little time was allowed for personal needs & rest. Finding the itinerary was changed the day we arrived, forcing us to visit the Colosseum & Forum (due to the fact they were free the next day when we were scheduled) was exhausting. By the end of the first day, we had been up 32 hrs. Then the hotel in Assissi was changed to the Grand Hotel where the appetizers were potato chips & peanuts!! The "4/5" star hotel rooms didn't exist. We've stayed in cleaner, quieter hotels with comfortable beds without that rating. Very disappointed.
We had a great time seeing all the best sights in Italy. The Insight tour director was very good. We have used Globus in the past and thought we'd try Insight as they were supposedly higher-end. Thus we thought the hotel accommodations would be better. But it seems to us they were the same level as Globus. In fact sometimes there was a Globus group in our hotel. As advertised, the coach has extra leg room with Insight. Also the WiFi in the coach was very good. Still we question the wisdom of paying more for Insight.
Great trip to Italy! Insight Tours were very professional, friendly, and accommodating.
Tour Director exceeded expectations! Itinerary certainly included the "Best of Italy". Tour guides at each place were also outstanding-knowledge, insights, ability to explain. The private serenaded gondola ride in Venice was superb! Will never forget! Also the water taxi tour of grand canal at night. And Sorrento and Capri were fantastic. Funicular to Capri town and private taxis down were the way to go! And private balcony outside room in Sorrento added pleasure!
We had an excellent Tour director on our Insight Vacations "Best of Italy" tour. She was extremely knowledgeable and professional and everything was handled so well that we didn't have to worry about anything!
Would strongly recommend Insight's Best Of Italy tour, even for singles traveling alone.
Insight Vacations was a good value for the money. I especially appreciated the unexpected treats they call "flourishes".
It was an awesome trip! We definitely recommended.
The itinerary and staff for the Insight tour were terrific = our director, she was a perfect blend of fun and competent. Our driver was also terrific. The first hotel, Vittorio Veneto was very good. The hotels in Venice and Florence were not acceptable. Dirty and not ideally situated at all -- our Venice hotel was in the Jewish Ghetto and was just terrible. The showers in the rooms were "portable" and the shower door in Florence came off the wall and the entire shower structure collapsed on me! But the day to day Insight touring was very good.
Beginning, Ending hotels were nice. Hotels in Venice, Florence were below par. Venice we were put into the "Jewish Ghetto". Put a damper on a once in a lifetime trip to be literally in a "Ghetto" in one of the nicest cities. Would never recommend this hotel on any tour.
Superior experience. Our agent recommended an Insight Tour of Italy that turned out fantastic. We could never have experienced everything that we did if we tried to do it ourselves.
It was a great tour, we've seen so much and loved every moment of it.
I had excellent assistance from Affordabletour agents. They was conscientious, courteous, extremely helpful, and responded quickly and completely to my emails and telephone calls. They absolutely made my booking and planning for my trip extremely easy and I commend her highly for her excellent customer service. She is a tremendous asset to Affordable Tours. Anne Mingolelli
The Insight Vacations tour was fabulous, especially the places visited and the fantastic Tour Director--which makes or breaks any trip. Overall, this was a very positive experience.
My husband and I thoroughly enjoyed our 11 day Best of Italy guided tour. Everything was perfect and we learned so much. Our tour guide with Insight Tours was exceptional, as was our booking agent with Affordable Tours. We can't wait to travel again.
Only complaint about this tour was the Hotel in Rome. Extremely noisy, Very spartin in furnishings and decor and No AC (because of time of year). Desk staff was no help on AC issue and amount of road noise made opening windows for ventilation very uncomfortable. All other hotels met or exceeded expectations.
First tour that experiened extra excursion costs that should been included in paid tour. No time for leisure, looking on our own or shopping. Too rushed. Bus driver asked me out and I am married. Tour director when asked him a question referred for me to read my information provided. He was very helpful in other ways. Dinners were good. When someone has not arrived to designated mtg area a representative shoulD stay as they have no communication in foreign country. A little disappointed in experience. But planning with the staff of Affordable tours was good.
Trip exceeded all; expectations. Would recomend Affordable Tours, Insight Vacations to everyone.
AffordableTours.com® does not itself offer, service or administer the Travel Packages, and the ultimate terms and conditions of any Travel Package made available via the Site Offerings (including the prices quoted in connection with same) will be determined by the applicable Third-Party Travel Service Provider. AffordableTours.com® does not represent or warrant that the Price Quotes are accurate, up-to-date or free of error, or that same will be honored by the applicable Third-Party Travel Service Providers. All Price Quotes, Travel Package availability, Travel Package details/itinerary and other Content are subject to change without notice. All travel details published by and through the Site Offerings should be confirmed directly with the applicable Third-Party Travel Service Provider prior to making any travel plans. Reliance on any information made available to you by and through the Site Offerings is solely at your own risk.
How It Works
Vacationing has never been easier or cheaper with the help of a dedicated travel consultant from AffordableTours.com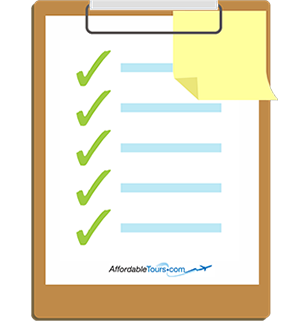 Find your perfect trip on our website and simply request a free quote. Need to speak to a live person? Call us 7 days a week at 1-800-935-2620. No robots here!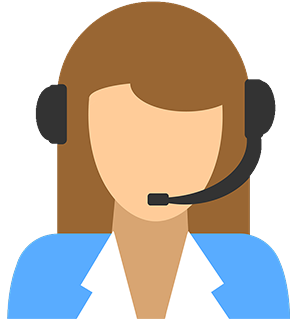 Your personal travel consultant will reach out and be your point of contact for your entire travel experience from start to finish. Did we mention you'll be working with an award winning team? Sweet!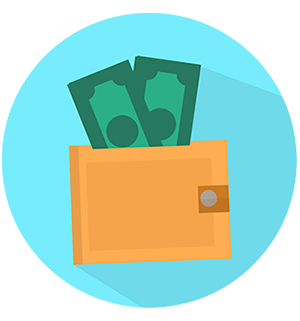 Because we're one of the largest sellers of travel, we're able to give you a discount on your vacation package. No one beats our prices!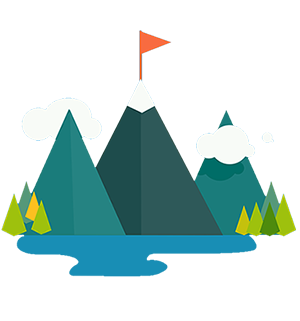 Knowing you got the best deal, all that's left is for you to pack your bags and enjoy your vacation!