Canada from East to West 2020

From Toronto to Vancouver
Why Pay Retail?
Call us for a quick quote!
LOW UNPUBLISHED PRICES ON COSTSAVER TOURS
Why pay full price? Call us or click above for a quick quote and save money on Costsaver Tours.
5% Savings on Group Vacations!
5% Savings on Group Vacations!
Promotion Details
Travel together and save money. Family, friends, club members or colleagues, gather 9 to 15 people and earn a 5% discount. Plus as always receive our AffordableTours.com 10% extra savings!
Discount is combinable with Triple room and Young Traveler discounts.
Must Book By Tue, Dec 15, 2020
View Promotion Terms & Conditions ›
Not applicable to Hidden Journeys, Israel, vacations with trains, Greek Island Hopper, Solo Traveler Discount and extra nights' accommodations. Discount limited to one group per coach.
Second Trip Discount - Save up to 2.5% When You Book Two Trips
Second Trip Discount - Save up to 2.5% When You Book Two Trips
Promotion Details
Book two trips - both seven days or longer - and save up to 2.5% on the land-only portion of your shortest vacation, plus receive our AffordableTours.com 10% extra savings!
Must Book By Wed, Jan 15, 2020
View Promotion Terms & Conditions ›
Please note that vacations must be booked at the same time. The discount is per person only and does not apply to City Breaks, extra nights' accommodation, extensions and airfares, taxes and fees, and airport transfers. Europe – excludes all Eastern Mediterranean vacations except the Greek Island Hopper. Additional restrictions may apply.
Up to 10% Off for Young Travelers
Up to 10% Off for Young Travelers
Promotion Details
If you're travelling with a child between the age of five and 17, we'll give you a discount of up to 10% on the land-only portion of their vacation. Plus always receive our AffordableTours.com 10% extra savings.
Must Book By Thu, Dec 31, 2020
View Promotion Terms & Conditions ›
Young travelers must be under the age of 18 years on the date of departure, and must be accompanied by an adult (limit of one Young Traveler Discount per room). Discounts may vary and may not be available on all vacations. Additional restrictions may apply.
Book With Flexibility
Peace of Mind
Complimentary "Peace of Mind" Travel Plan. Change your travel plans until 30 days before your trip
Change Destination / Vacation
Change to a different destination or vacation with the Travcorp Family of Brands.
Change Dates
Choose new departure dates if your plans change.
Great Service
Award-winning service, low prices, client satisfaction
Tour Itinerary
It's all about taking Canada from all angles as you discover Canada, your way. Starting off in trendy Toronto, visit romantic Quebec City, contemporary Montreal, dramatic Banff and outdoorsy Vancouver, all via the snowcapped peaks of the Rocky Mountain range. Be charmed, be amazed, and be left speechless by this county's impossible beauty.
Day 1 - Arrive Toronto (2 Nights)
Welcome to the world's most multiculturally diverse city, Toronto. Known to locals as the 'Six', Canada's hipster enclave and largest city is all about unique neighbourhoods, fusion food, fascinating museums, vintage shopping and a healthy obsession with all things hockey. At the centre of it all is the city's icon, the CN Tower, its 553 metre spire dominating the landscape. Meet your Travel Director at your hotel then you have the option to wander around the district's open-air markets which will no doubt get tummies rumbling. For dinner why not head to nearby Kensington Market, arguably the most diverse of all the city's neighbourhoods where the idea of fusion food is taken to all new heights.
Accommodation: Chelsea Hotel Toronto
Day 2 - Niagara Falls Excursion
Pack your raincoats and your sense of adventure this morning as you're off to visit Niagara Falls! The biggest (and loudest) falls in North America, an incredible 750,000 gallons of water thunder into the gorge below every second, creating a natural phenomenon many have dubbed the 8th Wonder of the World. We'll be getting you up close and personal on a cruise to Horseshoe Falls, allowing you to see both the Canadian and American sides. Remember that raincoat? Now's the time to use it. Back in Toronto later, the rest of the day is yours to do as you please. Maybe head to Queen West to explore the neighbourhood's impressive collection of art galleries and design studios or take advantage of our CN Tower Optional Experience to test your head for heights.
Day 3 - Toronto – Kingston – Ottawa (2 Nights)
Leaving Toronto behind this morning, enjoy the gorgeous drive alongside Lake Ontario, one of the five Great Lakes of North America, as you make your way to Kingston. Known as the 'Limestone City' thanks to its grand 19th century buildings built from - you guessed it - limestone, take in the sights before hopping on board a cruise to explore the utterly spellbinding Thousand Islands region. Over 1,800 islands are dotted throughout the St. Lawrence River, many of which are home to elaborate mansions, fairytale castles, lighthouses and a whole realm of wildlife. If ever there was a time to wish you could give it all up and move to a beautiful and remote island, this would probably be it. Back on land, you'll finish today in Ottawa, Canada's dynamic capital city.
Accommodation: Quality Inn and Suites Gatineau
Day 4 - Ottawa Sightseeing
Waking up in lively Ottawa, you'll start today with a group sightseeing tour of the city's best loved icons (and trust us, there are many). You'll be ticking off Parliament Hill, its copper topped turrets and gargoyles reflective of the Gothic architecture style, visiting the stunning Notre Dame Cathedral Basilica, the oldest church in Ottawa, and having a little spy at the home of the Canadian Prime Minister. Icons ticked and feeling fully versed on Ottawa's history, the rest of the day is yours to explore your way. Our suggestion? Why not jump on board the Empress of Ottawa, a Costsaver Optional activity that will gently carry you down the Ottawa River, cruising past sites including the Canadian Museum of History and Rideau Falls en route, or perhaps pay a visit to the Canadian War Museum.
Day 5 - Ottawa – Quebec City (2 Nights)
Ready for some romance? We've got good news - timeless, elegant Quebec City is up next. Exuding class, grandeur and a distinctly European feel, Quebec City is almost a country within a country; 95% of the population speak French, and around 75% are native Francophiles. Arriving here, we'll be listening out for the collective sighs of appreciation as you set eyes on the narrow cobblestone streets and pretty parks for the first time. No doubt itching to explore, why not unearth the city's gastronomic side today, or head to Saint-Rich for a truly authentic Quebec experience, browsing the many shops, restaurants and art galleries that line the streets here.
Accommodation: Hôtel Universel Québec
Day 6 - Quebec City Sightseeing and Free Time
After grabbing a taste of France with a croissant and coffee, you'll be heading out to join a Local Specialist this morning for a tour of the UNESCO World Heritage listed Old Town. Checking out sites including The Citadel, the historically significant Plains of Abraham, and the famous turrets of the Chateau Frontenac, the world's most photographed hotel, prepare to fall even more in love with this city. This afternoon why not continue your Quebec love affair with our Optional Experience that will get you out of town to admire the towering Montmorency Falls. Standing at 83 metres these falls are actually higher than Niagara Falls, forming the mouth of the Montmorency River. Travelling back to Quebec City, you'll then be treated to a 3-course dinner in the historic district of Vieux-Quebec, tucking in to a menu of freshly sourced, organic ingredients.
Day 7 - Quebec City – Montreal
We hope you're hungry this morning as for breakfast you'll be heading to the iconic Erabliere le Chemin du Roy, a traditional Cabana a Sucre (sugar shack) to learn how maple syrup, one of Canada's most famous exports, is made. You'll then make the short drive to Montreal, Canada's cultural capital where festivals, art, good food and a certain joie de vivre are all part of the daily make up. On arrival you'll meet up with a Local Specialist to learn the in's and outs of the UNESCO World Heritage Site designated 'City of Design', admiring how old European style architecture can sit so naturally beside beautiful contemporary masterpieces. This evening and with free time to explore, why not head for dinner at one of the cute terraced cafes along Plateau Mont-Royal.
Accommodation: Hotel Place Dupuis
Meals: Iconic Breakfast
Day 8 - Montreal – Toronto
Saying goodbye to Montreal, you'll travel back to Toronto this morning to finish up the Eastern leg of your trip. Arriving back into 'the Six' will be like meeting an old friend, and having found your bearings the first time round today should be all about discovering the quirky neighbourhoods that make Toronto so enticingly eclectic. Perhaps consider heading over to Parkdale to enjoy its unique mix of architecture, diverse community spirit and delicious West Indian food, or travel westside to King West, the city's main entertainment and fashion district. Want to understand more about Canada's national obsession with all things hockey? A trip to the Hockey Hall of Fame should be on the cards.
Accommodation: Chelsea Hotel Toronto
Day 9 - Toronto – Calgary (2 Nights)
Switching from East to West today, you'll transfer to Toronto Pearson International Airport to catch your flight to big hearted, fun loving Calgary, where you'll be met on arrival and transferred to your hotel. A beautiful city packed with trendy restaurants, a lively nightlife scene and all the honky tonk fun you could ever want, Calgary is best known for hosting the annual Calgary Stampede, which happens every July and pulls in crowds from around the world. After settling in to your hotel the rest of your day will be free, and if good coffee is calling your name then the neighbourhoods of Inglewood and Kensington should be high on your agenda. Please note, the flight from Toronto to Calgary is not included in the tour price and requires separate purchase. It may be included as part of some international air tickets.
Accommodation: Ramada Plaza Calgary Downtown
Day 10 - Calgary Free Time
The day is yours to enjoy Calgary's many delights, your options are varied and plentiful. Perhaps start by taking a stroll through the bustling Downtown area, then head over to Prince's Island Park to walk its many hiking trails and enjoy a drink in the sunshine. Calgary Zoo is another firm favourite, and with over 1000 different animal species. If it's icons you're after look no further than the 191 metre high Calgary Tower, which boasts one of the highest observation decks in the world, or for a glimpse of Calgary of old head to the Heritage Park Historical Village, which has been recreated to portray the city as it would have once looked, complete with a fort, grain mill, old school and even costumed interpreters who are happy to educate and entertain.
Day 11 - Calgary – Banff (2 Nights)
After one final orientation tour of Calgary, you'll be hitting the road this morning in the direction of Banff. The journey is part of the adventure so enjoy watching the changing landscape from the comfort of your seat as the craggy, snow-capped peaks of the Rockies come into view. Banff is famed for its world class national parks, glassy emerald green lakes and dramatic vistas, a taste of which you'll be getting on a sightseeing tour that will take you along Tunnel Mountain Drive, spotting sights such as Cascade Mountain, Mt. Rundle, Bow Falls, and the surreal, nature beaten Hoodoos rock formations, which have formed their bizarre twisted shapes over years of erosion from water and wind.
Accommodation: Inns of Banff
Day 12 - Banff Free Time
Waking up today we hope you're full of energy, as the vast natural playground outside of your front door isn't going to explore itself. Venture into the stunning wilderness of Banff National Park, or better still you could take advantage of our enticing range of Optional Experiences to truly unlock this region in real Costsaver style. We've got a variety of helicopter flights to see you soaring over sights including the Three Sisters Peak, the Sundance Ranges and the Gloria and Assiniboine Glaciers, or perhaps you'd prefer to catch the gondola to the very top of Sulphur Mountain for a bird's eye view of six mountain ranges within the Rockies, spotting glorious Lake Louise and Moraine Lake in the distance. However you choose to explore today, one things for sure - Banff will be an experience you'll never forget.
Day 13 - Banff – Icefields Parkway – Jasper (2 Nights)
The magnificent Icefields Parkway awaits you this morning, a striking 232km stretch of road that cuts straight through the backbone of the Rockies, serving up ancient glaciers, mountain lakes and broad sweeping valleys en route. You'll be making a stop at glacier fed Peyto Lake, one of the most photographed lakes in the world (for good reason), before heading on to explore the Columbia Icefield which covers an area of over 200 square miles and is as deep as 1000 feet in parts. Here, you'll ride the giant Ice Explorer across the Athabasca Glacier for a closer look at this ancient marvel of nature, before heading on to unpretentious, heart-warming Jasper, which sits at heart of one off the most beautiful protected wildernesses in the world.
Accommodation: Lobstick Lodge
Day 14 - Jasper National Park Free Time
Today promises to be action packed! Stepping outside and smelling the fresh mountain air, let the prospect of a day exploring stunning Jasper bring a smile to your face. As the largest national park in the Canadian Rockies your options are limitless, and as always we've also got a range of exciting Optionals on hand to help personalise your experience. Perhaps you'll choose our to add our Optional Experience, a gentle float down the Athabasca River, which provides ample wildlife spotting opportunities, or maybe a guided walk on the "Path of the Glaciers" as you make your way to the emerald green "Lake of Forgiveness". Have your heart set on exploring beautiful Maligne Lake? Then a boat cruise around the largest glacially fed lake in the Canadian Rockies has your name all over it.
Day 15 - Jasper – Kamloops
Heading out of Jasper today you'll continue your journey through Jasper National Park, passing towering pine forests, surging rivers, vast waterfalls and alpine meadows on the way. The crowning glory of your journey will undoubtedly be catching your first glimpse of Mount Robson, the most prominent mountain in the North American Rockies and the highest point in the Canadian range. You'll then finish your journey in Kamloops, where you could head straight to Victoria Street in the downtown area where all the action is at.
Accommodation: Comfort Inn Suites Kamloops
Day 16 - Kamloops – Victoria (2 Nights)
Passing through the pretty town of Hope, a playground for outdoor enthusiasts, you'll board a ferry this morning bound for the capital of British Columbia, Victoria. Docking at Swartz Bay and making the short drive into the city, you'll no doubt be struck by the English influence of Victoria. A sightseeing tour of the city will take you along the waterfront district and into the downtown area, passing the Parliament Buildings, Government Street and through Beacon Hill Park so you can really get your bearings. Keen to explore even further? Victoria has more cycle routes than any other Canadian city, so the best way to get around is undoubtedly on two wheels.
Accommodation: Comfort Inn and Suites Victoria
Meals: Breakfast
Day 17 - Victoria Free Time
Breakfast this morning is a real treat - you'll be heading to the world famous Butchart Gardens in the Blue Poppy Restaurant where, surrounded by beautiful blossoms and blooms, you'll eat a fresh, seasonal breakfast with sunlight pouring in from the vast skylights above. Feeling full, the rest of the day is yours to explore Victoria your way. Keen to make your visit here memorable? Why not join our Whale Watching Optional Experience, where you'll head out into the protected waters of Haro Strait and the Strait of Juan de Fuca, to try and catch a glimpse of the orca whales who are known to reside here in spring and summer. Of course, with wild animals sightings are never guaranteed, but even if the orcas are a no show you'll be sure to spot magnificent bald eagles, porpoises and seals.
Meals: Iconic Breakfast
Day 18 - Victoria – Vancouver
The outdoorsy, trendy city of Vancouver awaits today, which you'll reach by ferry. Regarded as one of the world's most naturally beautiful cities, Vancouver is framed by dramatic vistas on all sides, and is the kind of place where, given its proximity to nature, you can ski in the morning and swim in the ocean in the afternoon! You'll kick off your stay here with a sightseeing tour of historic Gastown, vibrant Chinatown and the green jewel in the city's crown, the much-loved Stanley Park. With the rest of the day at your disposal, you could opt for our Capilano Suspension Bridge Optional Experience, which hangs 70 metres above the Capilano River and really tests your head for heights, or alternatively take to the streets and explore Vancouver's diverse culinary scene which boasts some of the best Asian cuisine in North America.
Accommodation: Pacific Gateway Hotel
Meals: Breakfast
Day 19 - Depart Vancouver
After one final wander round lovely Vancouver, your trip will come to an end today. No doubt leaving with happy memories of warm Canadian hospitality, glorious glacier fed lakes and a new-found love for poutine, you'll make your way to the airport and bit a fond Canadian farewell.
Sightseeing Highlights

Banff View stunning landscapes on a sightseeing tour
Jasper Enjoy an orientation tour of this charming town and free time in Jasper National Park
Kingston Embark on a narrated cruise through the scenic Thousand Islands area of the St. Lawrence River
Montreal Embark on a tour of the city led by a Local Specialist
Niagara Falls See the American and Canadian side of the falls aboard a cruise
Quebec Explore Old Quebec with a Local Specialist
Quebec Iconic Breakfast at a Cabane a Sucre (Sugar Shack) where you'll learn how maple syrup is made
Toronto Orientation tour including Chinatown
Vancouver Sightseeing includes Gastown, Chinatown, Stanley Park and Prospect Point
Victoria Enjoy a sightseeing tour of the city
Victoria Iconic Breakfast at world-famous Butchart Gardens in the Blue Poppy Restaurant with light pouring in through skylights and garden views
Dining Highlights

First class travel Highlights

Audio Headsets Provided throughout your holiday to enhance your included sightseeing experiences
Luxury air-conditioned coach
Ferry across to Victoria from the coast of British Columbia and from Victoria to Vancouver
Cherry-picked hotels, all tried and trusted
Variety of Optional Experiences
City orientation tours
An expert Travel Director and separate driver
All hotel service charges and tips, baggage handling fees and local taxes
Hygiene and Safety Protocols for Costsaver Tours
Costsaver has introduced these enhanced hygiene protocols – for you and team members.
Costsaver asks that you please take personal responsibility for your wellbeing. This begins with packing any personal protective equipment and sanitizers you require. Please adopt physical distancing and hygiene practises throughout your pre-trip travel arrangements and follow all health instruction whether physical signage, or requests from the professional staff once you are vacationing.
Expertly Trained Travel Directors
Travel Director training equips them with enhanced hygiene and physical distancing procedures. During your trip, they will operate with a duty of care and monitor the hygiene etiquette of the guests, reacting and advising as needed, to ensure high standards are maintained. Before you travel, Costsaver will also keep you well informed about new protocols required in these areas, and ask that you cooperate with and heed the advice and direction of Travel Directors while on your trip. The Travel Directors have preventative measures in place to try and ensure your well-being and in the event that any unexpected issues arise on trip, they will activate additional protocols.
Stringent On-the-Road Protocols
The customized luxury coaches are sanitised before the start of your trip and have always been kept to very high standards. Following the outbreak of COVID-19, Costsaver have taken additional measures to elevate hygiene and sanitary practices in accordance with guidance from the World Health Organisation (WHO) and as required, applicable government regulations. The Driver training provides them with the latest hygiene protocols. They will clean and disinfect all surfaces including handrails, door handles, tables, seats, air-conditioning filters and overhead lockers on a daily basis. All the guests are asked to follow hygiene practices recommended by the World Health Organisation including the thorough and regular washing of hands and sanitising when required. Hand sanitiser is freely available on board for your use throughout the day. Please bring your own washable face mask and gloves with you, and additional hand sanitiser to make you feel comfortable, as these will be required to be worn in public in some countries. Should an unexpected situation arise, additional face masks, rubber gloves, antiviral sprays and wipes will be available for guest distribution on all trips.
A Full Team of Support 24/7
It's not just your Travel Director and Driver who will be taking care of you. Behind the scenes, the operations and guest support teams are in contact with them and on call 24/7, so you can rest assured that you're in good hands.
Physical Distancing
Adapting to the right size groups, based on government distancing requirements, you can rest assured that you will travel with the comfort of your own personal space. Have peace of mind that all of the experiences, hotels and restaurants you'll enjoy on your trip have been vetted to ensure they adhere to physical distancing and hygiene guidelines.
Trusted Partners, Exceptional Standards
Costsaver is very selective in who they work with and choose to only use hotels, restaurants, ground handlers and venues that take the well-being of the guests as seriously as Costsaver does and agrees to meet expected guidelines and specifications. Costsaver only works with establishments that they are confident will consistently adhere to their high standards.
Always in the Know
As part of The Travel Corporation (TTC) , Costsaver is kept up to date with all government advisories and travel alerts on a daily basis and is continually in touch with all of the partners on the ground in each destination. Also, rest assured that during your trip, the teams work to ensure the supplier partners (hotels, restaurants, museums and other venues) are also applying the same standard to these new hygiene and distancing protocols, to the extent possible.
Question: are your prices in US dollars?
Yes all pricing on our website is in USD
Question: How many suitcases can I take with me on my trip?
Each person is allowed one "check-in," and one "carry-on." Remember to take all valuables with you as "carry-on", because electronic equipment, cameras, laptops, jewelry, business documents and money are not covered by the airlines' liability, so always carry them aboard with you.
Question: Is Airfare Included in the Price?
Airfare from your point of origin to and from the trip is not included in the land price.
Similar Tours Other Travelers Liked
This was a great trip. It included things that I never would have chosen on my own that I really enjoyed. The tour director was great. I would use CostSaver again. Great value.
I will strongly refer your company to my friends and relatives
Steve our travel director is excellent! He went above & beyond to give us a trip of a Lifetime. Very well organized and had some fun activities while on the road to make our ride time less boring. Very professional and courteous but treat everyone like Family. Very knowledgeable about geography & history of the places we were visiting. Our driver Giuseppe has a top knotch driving skills and very professional and courteous. Keeping us all safe on the road as well as helping everybody while getting off the bus. And looking out for our luggage's safety. I would definitely recommend to my friends & Family and I will book a trip with Costsaver again.
Hotels were even better than expectrd. We saw do many and wonderful attractions.
The trip itinerary was very detailed. From the booking to the end of my trip I was totally satisfied. It was my second trip, but I think I will book my future trips again. The trip director and all local guides were very knowledgeable and had great sense of humor, never boring. The optional excursions were excellent.
If people would ask me if I got my money's worth, I would reply that I got much much more than my money's worth. My trip was beyond wonderful, beyond amazing, beyond breathtaking.... Trent Plaine gave great background history of every country we visited; he took us to places morning noon and night... if there were places on the way out of a country he'd have us visit them and stop for great views. He was knowledgeable on flavors, food... the road trip was fantabulous!
The trip was well organized,the director Annarika is excellent in all aspects .our driver Marco is excellent too.They are both highly recommended in the fields they chose.In my next travel I wish I will be with them again.
Another excellent trip from start to finish. I am looking forward to my next trip already!!
We had a great experience with this company on this tour and would recommend this trip to anyone.
This was my first Costsaver tour and it was amazing. Our consultant, Maureen and tour guide Rose were top notch, extremely knowledgeable, and true professionals. I will definitely use Costsaver again!
Novotel Hotel was disappointing.
The trip to Italy was beyond my expectations! Our tour guide Amedeus was knowledgeable, kind, intuitive and made sure each one of us felt like royalty!
Our tour director Gianmarco was enthusiastic, informative and engaging. If I could pick him as my personal tour director to with me as I travel the world I would. The locations and sites were awe inspiring, but Gianmarco made this a very memorable experience. One I will cherish for a long time.
This was my 6th trip with Costsaver/Trafalgar, and I look forward to my next.
AffordableTours.com® does not itself offer, service or administer the Travel Packages, and the ultimate terms and conditions of any Travel Package made available via the Site Offerings (including the prices quoted in connection with same) will be determined by the applicable Third-Party Travel Service Provider. AffordableTours.com® does not represent or warrant that the Price Quotes are accurate, up-to-date or free of error, or that same will be honored by the applicable Third-Party Travel Service Providers. All Price Quotes, Travel Package availability, Travel Package details/itinerary and other Content are subject to change without notice. All travel details published by and through the Site Offerings should be confirmed directly with the applicable Third-Party Travel Service Provider prior to making any travel plans. Reliance on any information made available to you by and through the Site Offerings is solely at your own risk.
How It Works
Vacationing has never been easier or cheaper with the help of a dedicated travel consultant from AffordableTours.com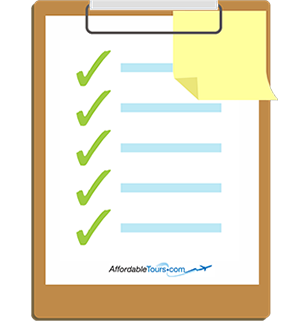 Find your perfect trip on our website and simply request a free quote. Need to speak to a live person? Call us 7 days a week at 1-800-935-2620. No robots here!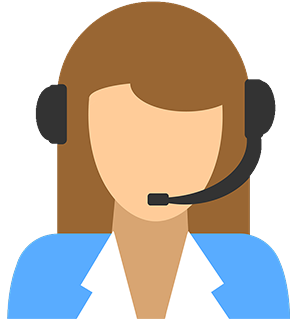 Your personal travel consultant will reach out and be your point of contact for your entire travel experience from start to finish. Did we mention you'll be working with an award winning team? Sweet!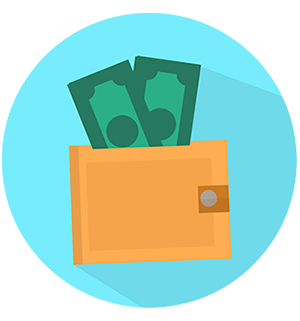 Because we're one of the largest sellers of travel, we're able to give you a discount on your vacation package. No one beats our prices!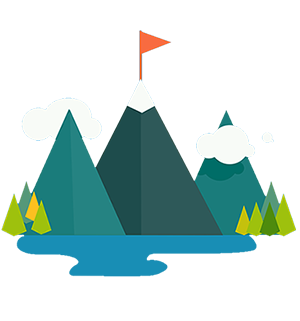 Knowing you got the best deal, all that's left is for you to pack your bags and enjoy your vacation!